Flamingos are known for their pink feathers and characteristically long legs. These birds, which can be easily found in most zoos, are commonly used as garden ornaments, but in recent years their likeness can be found printed on clothing and other fun accessories.
I've compiled a list of 24 flamingo gifts and gift ideas for the flamingo lover in your life, including things that can be used at home, for fun in the sun, and even flamingo gifts for kids.
16 Flamingo Gifts for Her
1. 3 Panel Pink Flamingo Canvas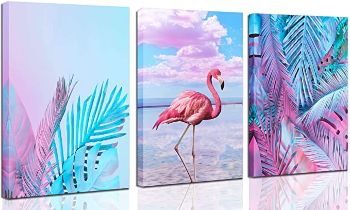 Brighten up their space with this vibrant flamingo artwork! This cool art piece will add life to their space and will look amazing in a bedroom, living room, or even in the dining area.
2. Lovely Flamingo Necklace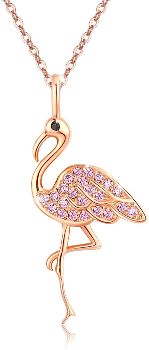 For the stylish ladies who love jewelry and enjoy flaunting their love for flamingos, hit two birds with one stone with this elegant flamingo pendant necklace that will go well with whatever she wears.
3. Waterproof Flamingo Tote Bag
Is she a self proclaimed beach bum? Then let her travel in pink flamingo style by giving her this 2-in-1 waterproof tote bag that converts from a large tote into a small hand clutch!
4. Giant Inflatable Flamingo Pool Float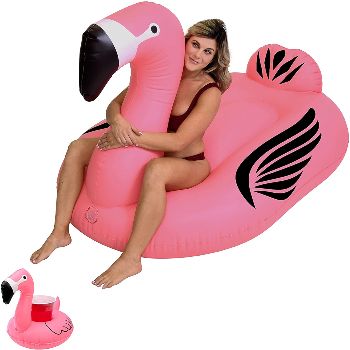 Is she hosting a pool party soon? Then what better way to celebrate than with this inflatable flamingo pool float! It also comes with a tiny inflatable flamingo to hold their drink.
5. Cute Flamingo Pajama Set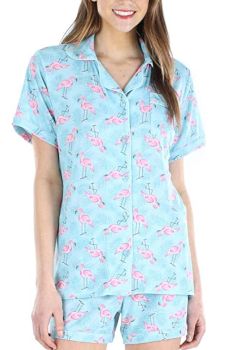 She can catch some Zs with her feathery pink friends with this pajama set that features numerous flamingos and comes in various patterns.
6. Flamingo Bucket Hat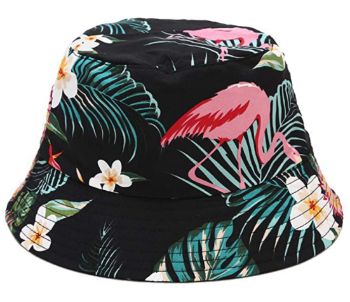 Bucket hats are great for going out, walks around the neighborhood, or summer weekend getaways. Regardless of where she goes, help her protect her heads by getting her this flamingo bucket hat.
7. Cosmetic Case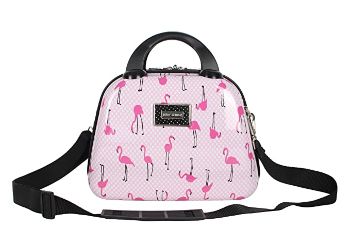 This flamingo cosmetic case will be a gamechanger if your giftee loves to travel. Since it's designed with a hardshell, the bag will prevent her makeup from spilling or breaking.
Add this matching luggage to complete the set!
8. Comfy Flamingo Top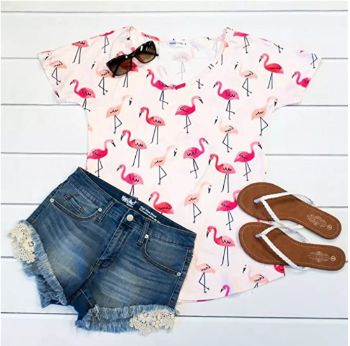 Of course, she won't always be swimming at the beach, so get her a comfy and stylish flamingo top, like this one, she can dress up or dress down!
9. Clark's Flamingo Flip Flops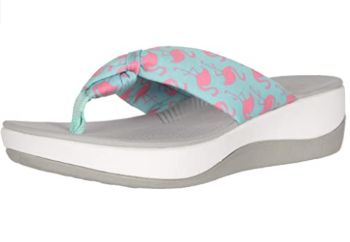 Clark's is known for their attention to foot comfort, and these flamingo flip flops are made with ortholite insoles to keep her feet comfortable and supported.
10. Hooded Blanket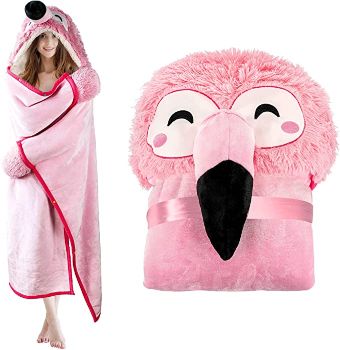 Wearing this hooded blanket feels like being hugged by a real flamingo! It's super soft and cozy since it's made with fluffy sherpa and flannel fleece. It's also convenient since it has sleeves to prevent the blanket from slipping off.
11. Fluffy Flamingo Slippers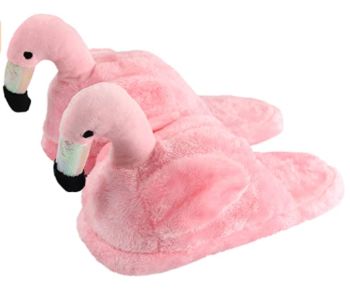 These cute flamingo slippers will let anyone who enters her domain that flamingos are her life. They're soft, fluffy, pink, and are definitely "a whole vibe."
12. Flamingo Wine Bottle Holder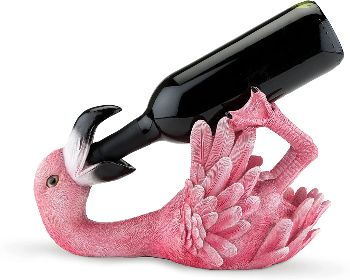 Ever seen a flamingo down an entire bottle? Well, neither have I, but now you and your flamingo loving friend can with this decorative wine bottle holder.
13. Eyeglasses Holder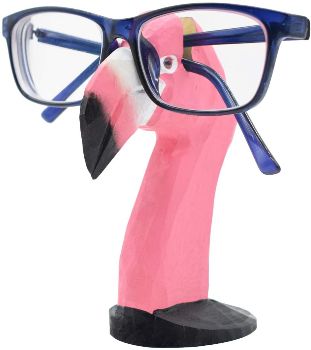 A fellow feathered intellectual, I see. *Adjusts glasses.*
Kidding aside, this makes for a useful gift as fans of flamingos can let their spectacles or shades rest on this pink bird's head when they're not using them.
14. Decorative Flamingo Throw Blanket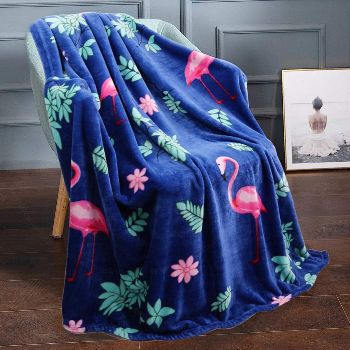 She'll enjoy staying warm in the embrace of her favorite pink-feathered friends with this soft and cuddly flamingo blanket.
15. Flamingo Kitchen Set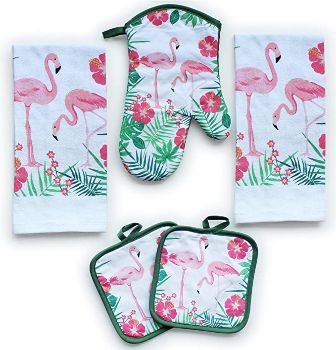 If your giftee loves to cook, then this flamingo kitchen set will be a hit. Aside from being decorative pieces, these towels and pot holders are also functional and will provide an awesome cooking experience.
The set includes two kitchen towels, two pot holders, and an oven mitt.
16. Flamazing Flamingo Keychain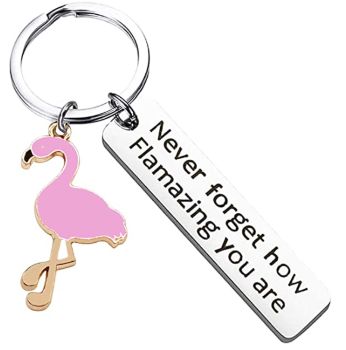 Remind them how amazing they are in the most flamingo way ever by giving them this simple keychain. They'll definitely remember how "flamazing" they are anytime they use their keys.
5 Flamingo Gifts for Gardeners
17. Flamingo Planters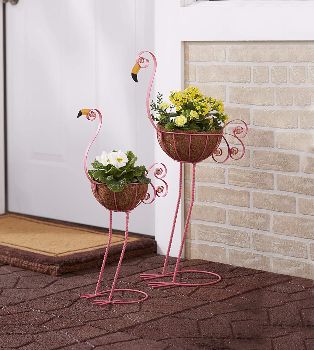 Let them show off their love for both flamingos and gardening with this set of ornamental flamingo planters.
18. Flamingo Watering Can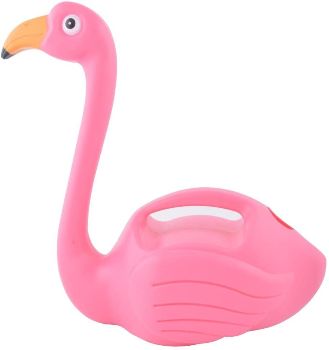 What better way for a flamingo fan to water their plants than with this flamingo watering can? Giving them this trendy watering can will let them enjoy gardening even more!
19. Flamingo Welcome Sign
Guests will instantly feel at home once they see this beautiful welcome sign at your giftee's front porch! They also won't have to wait for summer to display this welcome sign since it's weather and fade resistant.
20. Solar Flamingo Lantern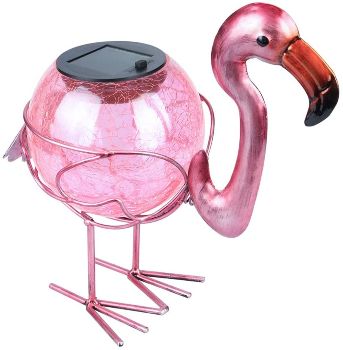 Here's a more deLIGHTful flamingo yard ornament to give them! This solar powered flamingo lantern will brighten up any flamingo lover's day.
4 Cool and Unique Flamingo Gifts for Kids
Let's not leave kids who love flamingos out of the fun! Here are 5 flamingo gifts kids can use and play with.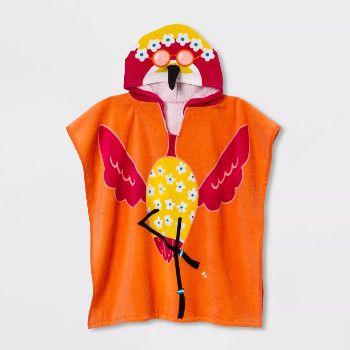 Just like an animagus from Harry Potter, kids can turn themselves into their favorite animal with this hooded towel. Whether they're at the beach or it's at bath time, they'll love wearing and using this brightly colored flamingo towel.
22. LEGO Flamingo Cube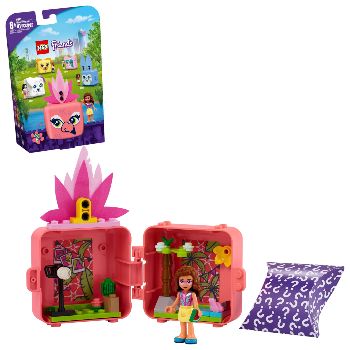 If they collect and play with LEGOs, then here's a very simple flamingo themed kit for younger kids. This case features a cute flamingo with textile feathers and includes various pieces to spark creative play.
23. Adorable Flamingo Rocker and Plush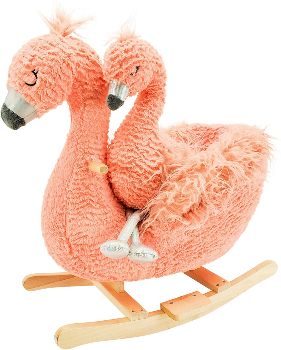 This cute flamingo rocker will keep children busy for hours. It even includes an adorable flamingo plush kids can hug while riding the rocker or while they sleep.
24. Little Live Pets Gotta Go Flamingo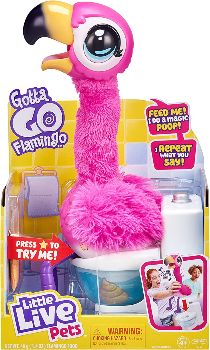 Lastly, kids can experience firsthand what it's like to take care of their own pet flamingo with this interactive flamingo plush. It eats, sings, chats back, and even poops!
Flamingo Themed Gifts for Flamingo Lovers
Make flamingos a part of any flamingo lover's home with these 24 gift ideas that can be used in day-to-day life or just for fun.
How obsessed is the flamingo lover you know? Which of these flamingo gifts did they love the most? Share your experience in the comments section below!
Is the flamingo fan in your life also a fan of llamas? Then check out my article for gift ideas for llama lovers.