The Harry Potter series by J.K. Rowling has been (and still is) a magical journey for many people around the world.
From the books to the movies to the play, a lot of people have grown up with the franchise. Some are even still waiting for their Hogwarts acceptance letter!
If you know someone who is an avid fan of or even just starting to dip their toes into the Potterverse, then here are 43 Harry Potter gift ideas to draw inspiration from.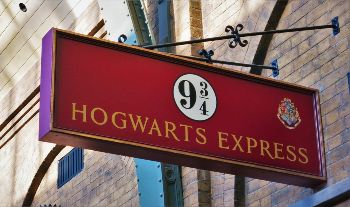 Harry Potter Gifts for Girls
Need a gift for your daughter or niece? Then here are 7 Harry Potter gifts for girls to choose from!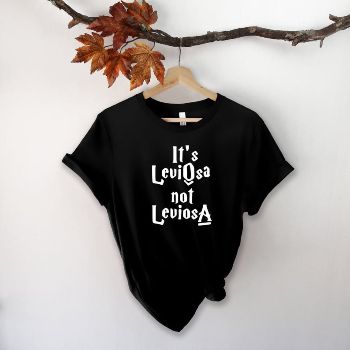 Let her channel her inner Hermione and remind everyone how to pronounce this spell properly with this fashionable Leviosa shirt!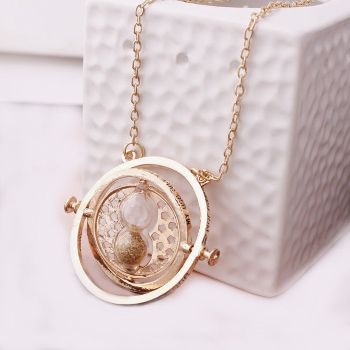 Does the Potterhead in your life need more time in their day? Then get her this beautiful replica of the time-turner necklace Hermione used in Harry Potter and the Prisoner of Azkaban.
Just remind her not to run into herself for safety reasons.
3. Tom Riddle's Diary Collectible Set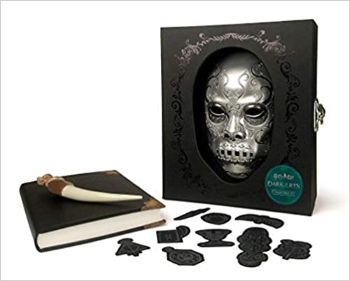 This time, she can channel her inner Ginny Weasley with this lovely collectible set of Tom Riddle's diary.
This set has it all: a keepsake box with a molded Death Eater mask, Tom Riddle's diary featuring Dark Arts quotes, descriptions of the 7 horcruxes, and photos and illustrations, the messages between Harry Potter and Tom Riddle, a Basilisk fang pen, and metallic-ink Dark Mark stickers.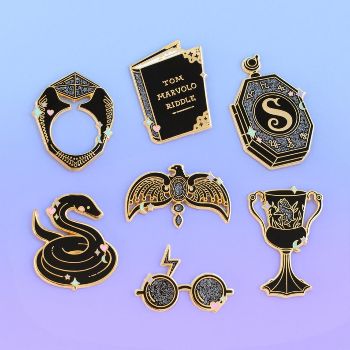 Give Potterheads a memento of each of Voldemort's horcruxes with this enamel pin set she can pin on her clothes, backpack, shoes, hats, bags, and anywhere else she wants to show off her fandom.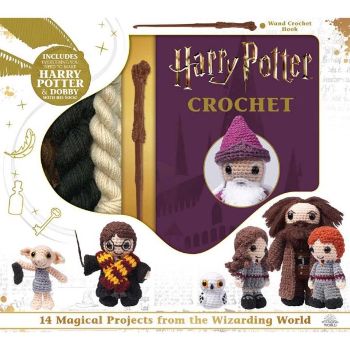 Crocheting is a nice and relaxing hobby to pick up, and fans will be thrilled to make Harry and Dobby dolls with this kit. Potterheads will require more yarn to make the rest of the characters featured on the packaging, though.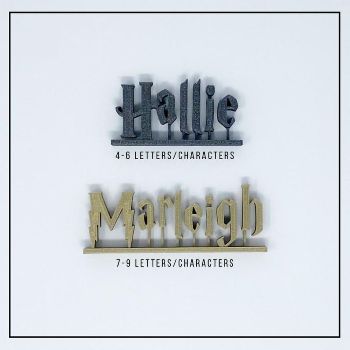 A great Harry Potter gift she can display on her shelf or desk is this name plate stylized in Harry Potter font. This seller also has a wide selection of colors to choose from, so be sure to choose your Potterhead's favorite color!
7. Harry Potter Schoolbooks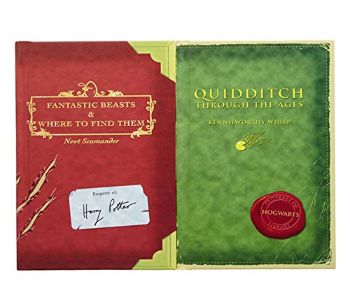 Give your little girl or niece the chance to feel as if they're a student at Hogwarts with these two books styled as used textbooks that also include scribbles from Harry, Hermione, and Ron.
These are cool gifts, especially for kids who want to learn more Harry Potter lore!
Harry Potter Gifts for Boys
Here are 6 Harry Potter gifts for boys your son and nephews will enjoy!
8. Invisibility Cloak Kit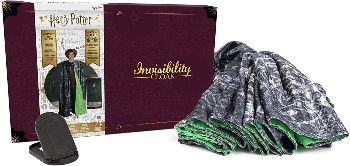 Let them pretend to disappear like Harry does with this invisibility cloak kit. Even though the cloak can't actually make them invisible in real life, the kit comes with an app to turn kids invisible in pictures and videos!
9. Monster Book of Monsters Collector Plush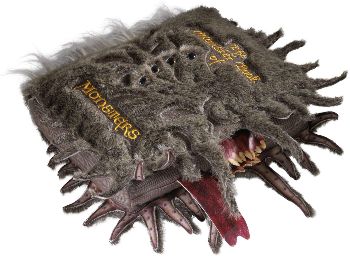 Boys will adore being given this neat plushie of the Monster Book of Monsters from the 3rd book and film. Make sure to tell them that it won't actually bite or hurt them!
10. Electronic Plush Mandrake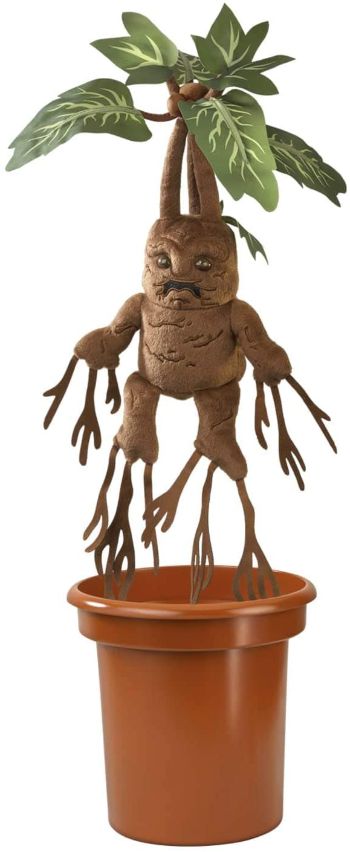 Let your Harry Potter fan hold as close to a real mandrake as possible in the Muggle world without needing ear muffs!
This electronic plushie cries and shakes when pulled from the pot – a must have for the fans who love herbology or who just want to annoy their buddies with its cries!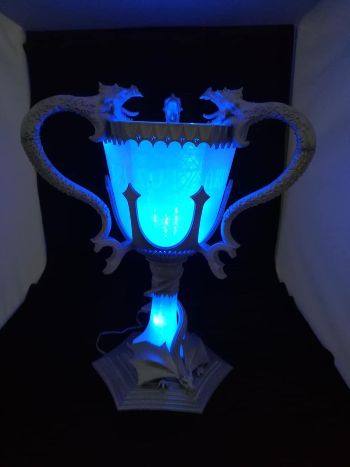 Have them hoist their very own chalice of champions – vessel of victory – the Triwizard cup! It even lights up, making it a beautiful night light and display piece for those who especially loved Harry Potter and the Goblet of Fire.
12. LEGO Hedwig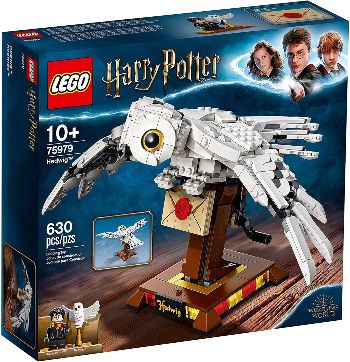 Boys will love building and playing with this LEGO set of Hedwig delivering a Hogwarts letter. A great display piece, Hedwig is Harry's beloved pet owl, and kids can show it off to their relatives and friends!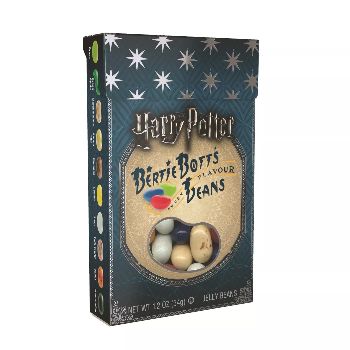 "Alas, earwax!" – Dumbledore
When they say every flavor, they mean it (trust me – I speak from personal experience)! Harry Potter fans will know this iconic snack from the books and films that can be found at your local Target store.
Harry Potter Gifts for Adults
Here are 11 Harry Potter gifts for adults that are perfect for those who grew up with or are just discovering the franchise for the first time.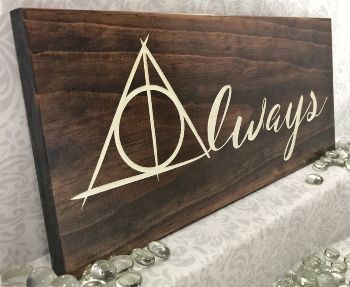 Here's a cool Harry Potter gift for women or the romantic at heart. Die hard fans of the books or films will know the significance of the word "Always" and will happily display this decor piece in their home.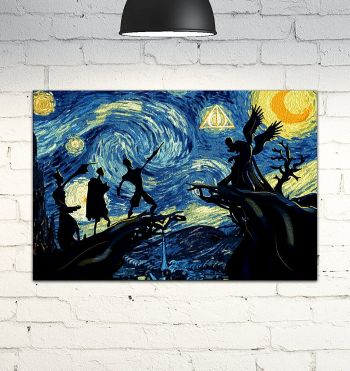 This poster mixes an iconic Van Gogh painting with an iconic and Harry Potter moment from films.
Fans of one or both will fawn over this Deathly Hallows themed Starry Night poster they can hang in their room, right next to the "Always" sign.
16. Original Screenplay Set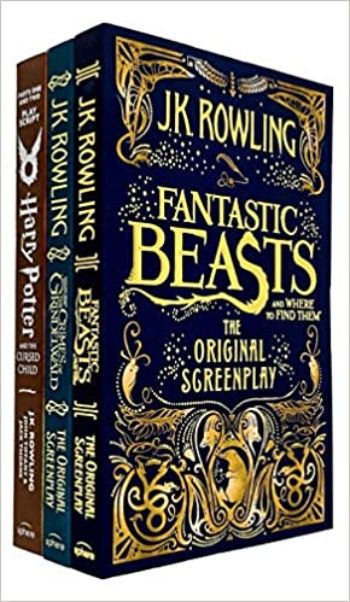 For the Harry Potter fans that yearn for more beyond Harry's 7-book adventure, here's a fantastic set of screenplays of the films Harry Potter and the Cursed Child, Fantastic Beasts and Where to Find Them, and The Crimes of Grindelwald.
17. Dobby and Hedwig Greeting Cards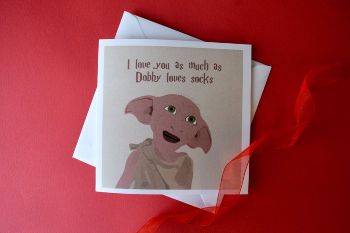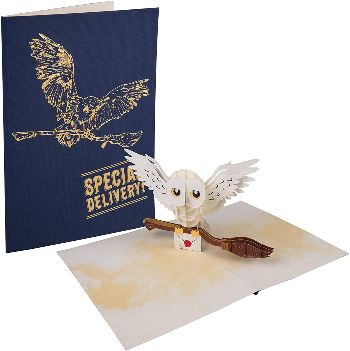 For the simple and sentimental Potterhead in your life, a sweet Dobby greeting card or this pop-up Hedwig card with your own personal message for them is all they need. Nothing is more magical than a personal note from a loved one!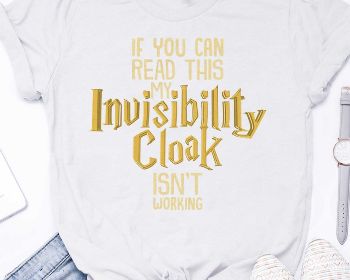 Are their invisibility cloaks not rendering them invisible at the moment? Then give them this t-shirt so everyone else knows to leave them alone. A lovely novelty gift for Potterheads!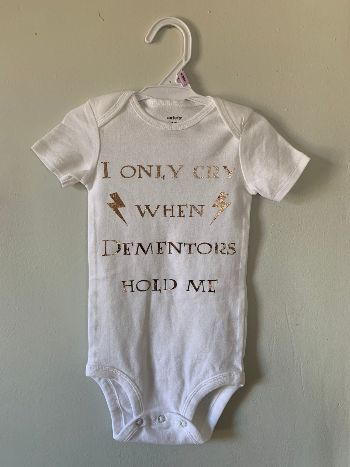 If the Harry Potter fan in your life is expecting, then give them this Dementor onesie to lift their spirits when the baby cries!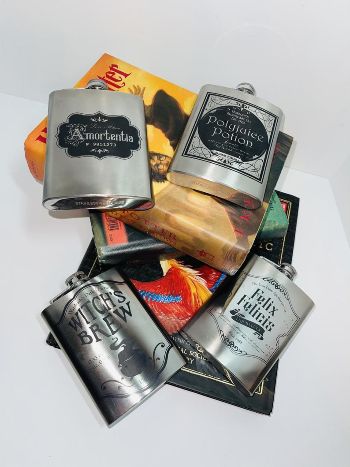 If Potions is their favorite Hogwarts subject, then give them these flasks that have popular potion names engraved onto them. I would personally recommend Felix Felicis for a little good luck!
21. Knight Bus 3D Puzzle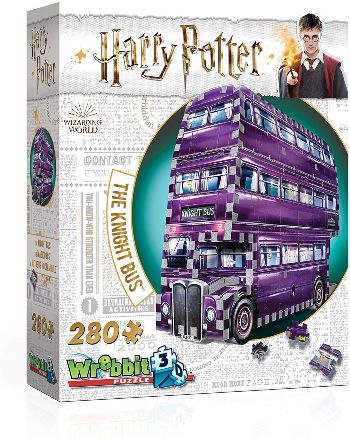 Does your Potterhead friend love a challenge? Let them relive Harry's time on the Knight Bus (introduced in book and film 3) with this 3D puzzle!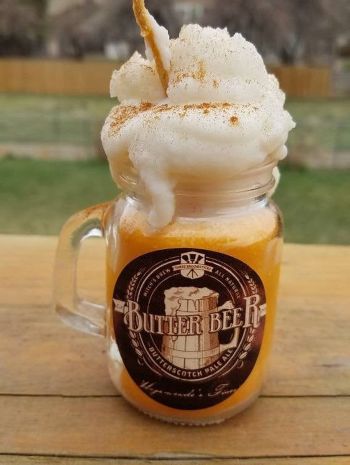 This butterbeer candle looks and smells so legit your giftee will be tempted to drink it!
This candle includes a mix of butterscotch, rum, and vanilla-scented essential oils that will take them straight to Hogsmeade.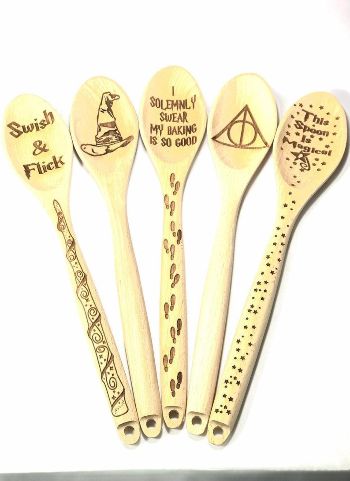 The Potterhead in your life can serve food with style with these wooden spoons that have some of the most popular symbols and phrases from the series engraved onto them.
24. "Accio Wine" Wine Glass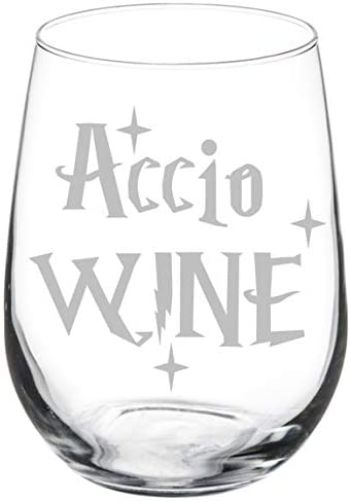 Accio, aka the summoning charm, summons objects towards the caster. While they won't be able to summon wine out of thin air, it still makes for a nice novelty drinking glass for the Harry Potter fans you know.
Hogwarts Houses Harry Potter Gifts
Here are 7 gift ideas for Harry Potter fans to show their allegiance to their Hogwarts house.
25. Sorting Hat Mug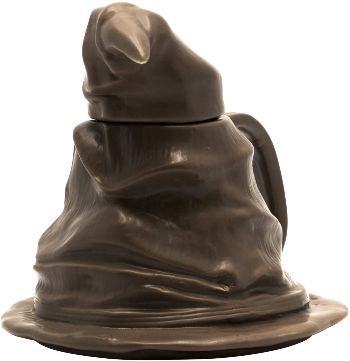 While this won't sort them into Gryffindor, Slytherin, Ravenclaw, or Hufflepuff, Harry Potter fans will love drinking from this Sorting hat mug that sorted each character to one of these four houses during their first year at Hogwarts.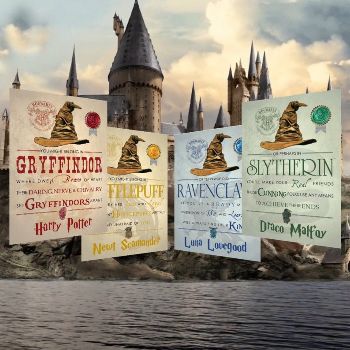 This will require a bit more work on your part as you'll need to print this certificate. These certificates, when printed out, look official and solidify your Harry Potter fan's house (make sure to ask them which house is theirs first!).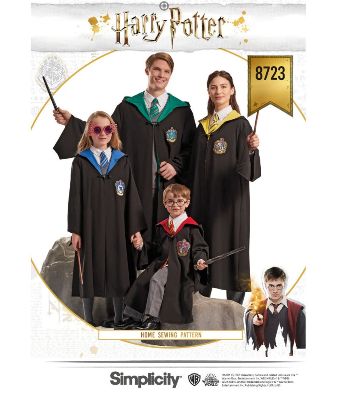 Suggesting Hogwarts houses themed gifts wouldn't be complete without recommending these Hogwarts robes. Any die-hard fan deserves to show off their house with their very own set of robes!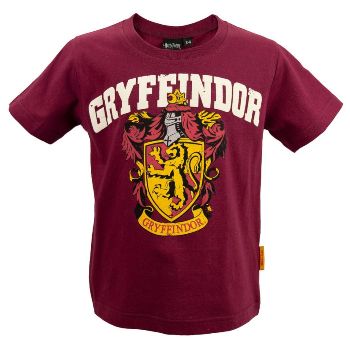 Here's a simple Gryffindor t-shirt with the house crest for the brave and chivalrous Potterhead who will make Godric Gryffindor proud.
29. Slytherin Quidditch T-Shirt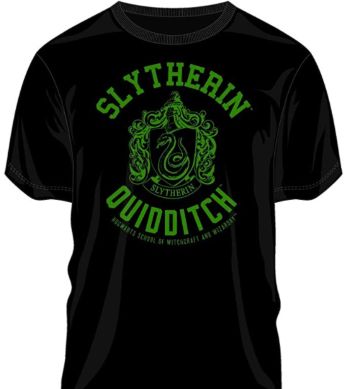 If they're ambitious and cunning (like Salazar Slytherin), and a member of the Slytherin house, then here's a stylish Slytherin quidditch shirt just for them.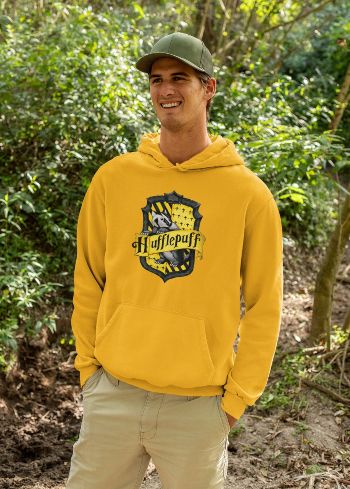 Are they hardworking and loyal, and a member of the Hufflepuff house? Then get them a Hufflepuff hoodie!
31. Ravenclaw Crest Sweatshirt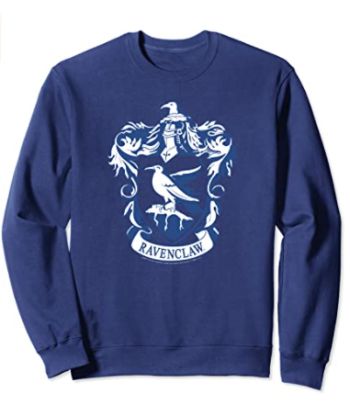 And lastly, if the Harry Potter fan in your life has a creativity and intelligence that rivals Rowena Ravenclaw herself, then they definitely deserve this Ravenclaw sweatshirt.
Unique Harry Potter Gifts
Lastly, here are 12 unique Harry Potter gifts for lovers of costumes, replicas, or other novelty items.
32. Harry Potter Clue Board Game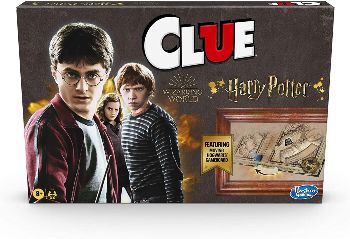 Let the Potterhead in your life (together with some fellow fans) solve a fictitious murder with this Harry Potter themed Clue board game. This game includes all the elements of the classic Hasbro game, so it's fun for the whole family!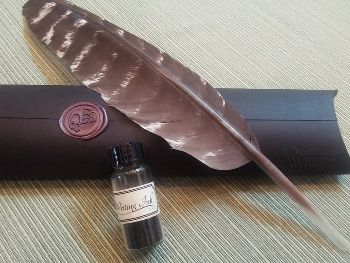 Quills are the standard writing instruments of the wizarding world, so Harry Potter fans will love the opportunity to write just like witches and wizards with this feather quill pen set.
34. Wizard Chess Set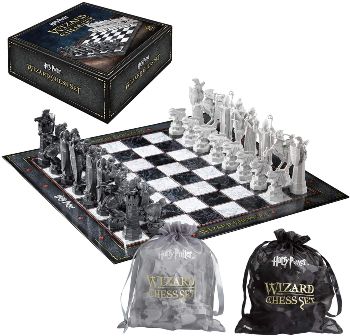 While the pieces don't come alive and attack each other, fans of the Harry Potter franchise will love this wizard chess set, even if it's just for display!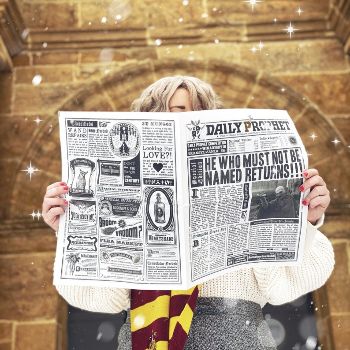 Another item to give lovers of Harry Potter lore is this fanmade Daily Prophet newspaper replica. It's 12 pages and fully readable!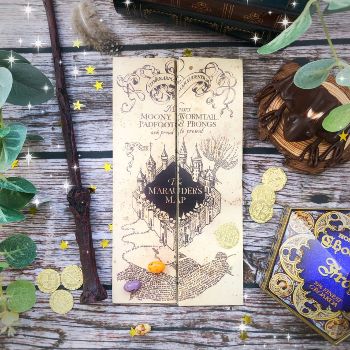 Do they solemnly swear that they are up to no good? If so, then let them channel their inner Fred and George Weasley with this nifty Marauder's Map replica that features a detailed map of the Hogwarts castle.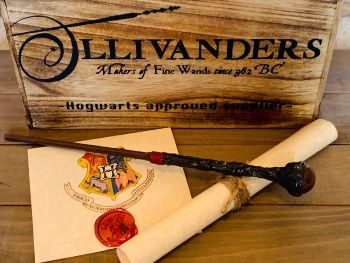 Of course, no Harry Potter gift list would be complete without a custom-made wand. Wands are essential in the Harry Potter universe. Any fan would be ecstatic to own one!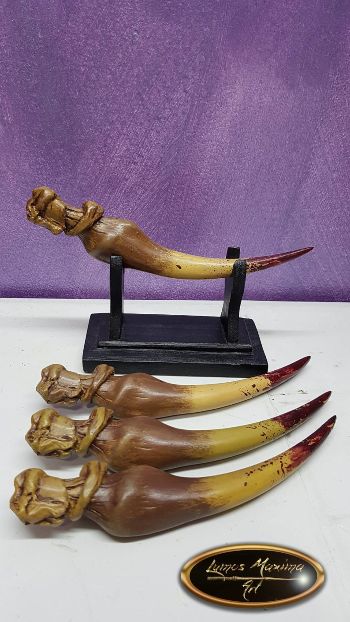 The Potterhead in your life can start destroying horcruxes with this basilisk fang replica. It's size and colors make it seem as if it was taken from the Chamber of Secrets itself!
You can opt to choose a fang with or without Basilisk blood, too (the authenticity!).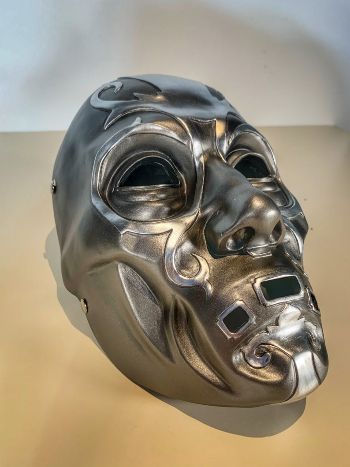 Give your Harry Potter fan a wearable Death Eater mask that can be used for halloween or whenever they feel like dressing up as a Death Eater for a day (no judgement).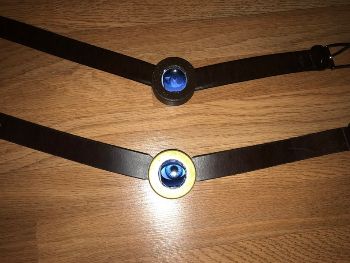 While fans of the franchise might not be able to see a full 360 degrees with this replica of Mad Eye Moody's magical eye, it's still a neat costume accessory to wear during parties if they're going as one of the greatest aurors known to wizards.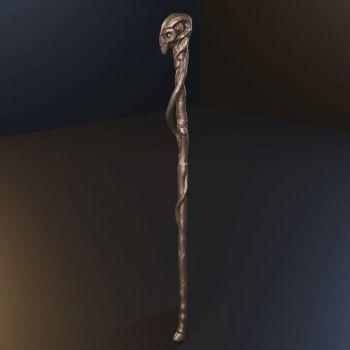 A fan cosplaying as Mad Eye Moody would need his staff as well, and here's a custom made staff for the Mad Eye Moody fan to make their costume that much more authentic.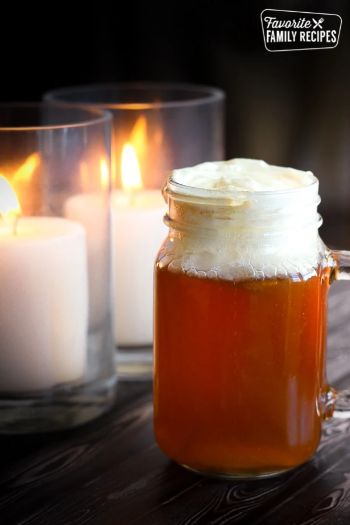 Butterbeer is a well-known drink amongst Harry Potter fans, and this recipe from Favorite Family Recipes teaches exactly how to make it! Show your giftee how much you know and care about them by making them homemade butterbeer.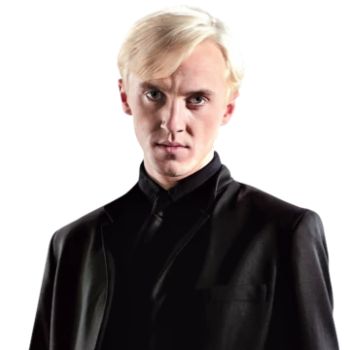 "My father will hear about this!" – Draco Malfoy
If there's no limit to your budget, hire THE Tom Felton (the actor who plays Draco Malfoy in the films) to record a video message for your Harry Potter fan!
There are a variety of Harry Potter stars available for hire through Cameo, such as the actors who play the Weasley Twins, Oliver Wood, and Gregory Goyle, so you can be sure to get in touch with your Potterhead's favorite character.
Find the Best and Coolest Harry Potter Gifts Today!
Help them turn invisible with an invisibility cloak or make them giddy with a message from Draco Malfoy with these 43 Harry Potter gift ideas that will transport them to Hogwarts to relive the series all over again.
Do you have a Potterhead in your life? Let me know in the comments below!
If the Harry Potter fan in your life is also a Tolkien fan, check out my gift ideas for The Lord of the Rings fans.