Llamas are lovable creatures!
They're gentle giants that can weigh up to 450 pounds and grow up to six feet! Llamas are also generally shy, inquisitive, and calm.
No wonder a lot of people are drawn to this adorable animal.
We've compiled a list of the 25 best llama gifts that every llama fan should have. This list has two categories to make your search easier: llama gifts for kids and adults.
The Best Llama Gifts for Kids
1. Plush Hooded Llama Blanket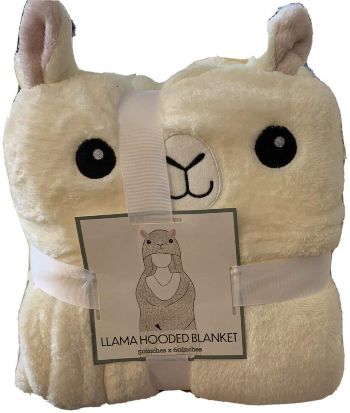 Wearing this llama plush hooded blanket feels like hugging a real-life llama! It's super cute, soft, and snuggly, which is perfect for night-ins and movie nights.
Any llama fan will have a hard time taking this off when it's time to wear casual clothes again.
2. Llama Drama Card Game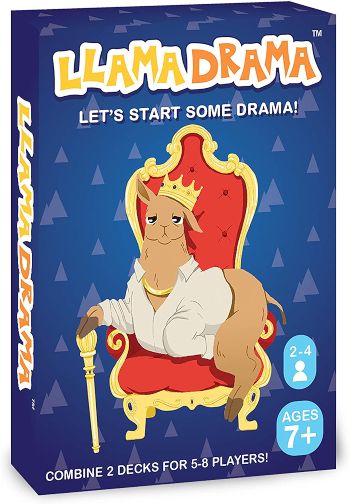 Say goodbye to boring game nights with the Llama Drama Card Game! It's a foolproof way to create fun memories with family and friends.
The game is easy to learn and can be played with two to four players aged seven and above. You can also purchase another deck to double the fun and increase the number of players to eight.
3. Vinyl Llama Stickers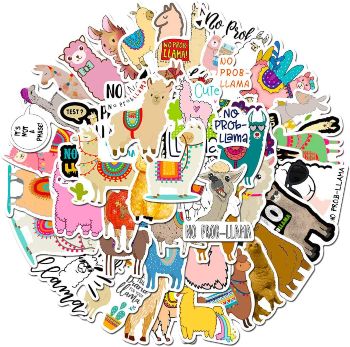 If your recipient is truly head over heels with llamas, then give them a hundred llama (stickers)!
Vinyl stickers are waterproof and long-lasting. Kids can choose whether to stick these to their laptops, water bottles, mugs, or even skateboards.
The good thing is that this set contains a hundred stickers, so it will be a long time before they run out.
4. Llama-Themed School Supplies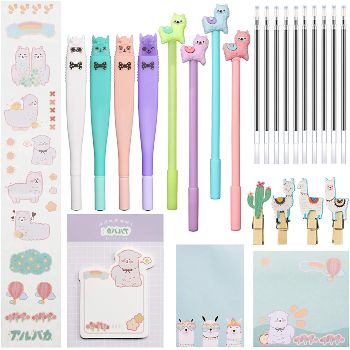 This llama stationery set is the ideal gift for young student llama fans.
It will also give you your money's worth because it contains 32 different school supplies, such as pens, sticky notes, and stickers, for only $12.99!
5. Llamacorn Plush Stuffed Animal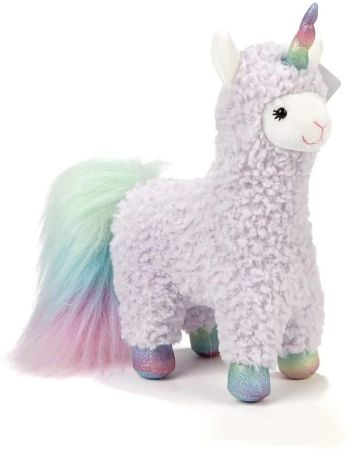 As much as we'd love to take a llama home as a pet, it's sadly not recommended.
Turn that frown upside down, though, because there are other ways to bring a llama home with this stuffed animal!
You'll win the cutest gift award because there's obviously nothing more adorable than a llamacorn!
6. Llama Naturals Organic Vitamin D3 Gummies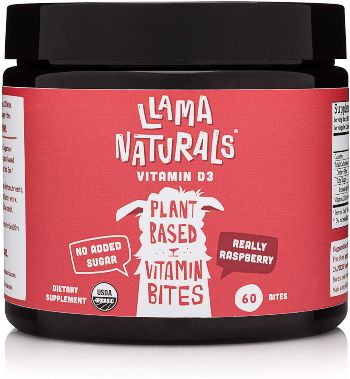 Help the little llama fan in your life get their daily vitamin D3 with these plant-based Llama Naturals Organic Vitamins.
They're made with real fruit with no added sweeteners, proven to improve immunity, build stronger bones, and improve mood.
Plus, they're vegan!
7. Vacuum Insulated Water Bottle

Give your kid a "funbler" to keep their drinks warm or cold all day.
It comes with a tight push-button lid that maintains the cleanliness of the straw and prevents any leakages.
This pretty water bottle comes in two sizes: 12 oz, which is perfect for ages three to nine, and 17 oz, which is great for 10-15 year olds.
8. Tin Tea Party Set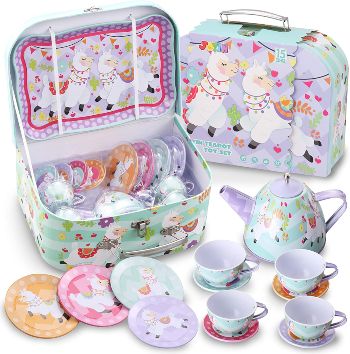 Complete your tea party with this epic llama tea set.  
This is a phenomenal gift for two reasons: first, pretend play has been proven to improve a child's creative and social skills, and second, it has cute llamas all over it!  
The tin box includes a teapot, four cups, and nine plates.   
9. Converse Llama-Print Shoes
These cool kicks are every llama fan's dream!  
The llama and heart pattern give a youthful and playful touch to the shoes. Since they're made by Converse, they're sure to be high-quality and long-lasting.   
Check out the reviews to see how much kids love these llama shoes!  
10. Kiddie Umbrella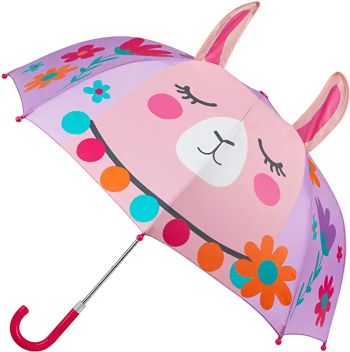 Rainy weather can abruptly dampen a kid's spirits. Break that gloomy feeling with this colorful llama umbrella!  
This umbrella has a unique 3-D feature which makes the llama design look more realistic. It has easy open and close mechanics which makes it safer and easier for kids to use.   
I'm sure they'll be excited for the rainy season to come because of this awesome umbrella.  
11. National Geographic Readers: Llamas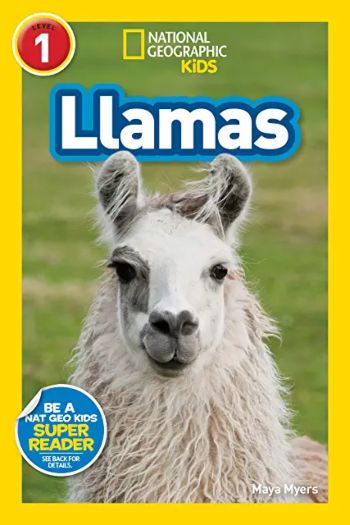 A book is always a great kid's gift, but a book about llamas is definitely better.  
Kids will enjoy reading this book, especially because it contains interesting facts and trivia about llamas. It's also filled with amazing photos for a greater reading experience.
National Geographic Readers: Llamas is perfect for beginner readers, too (four to six years old).  
12. Llama-Print Headphones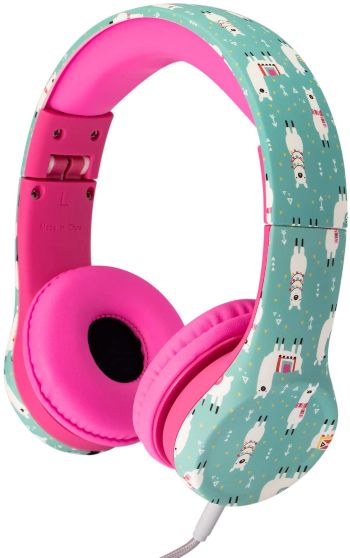 Say goodbye to old boring earphones and say hello to these cute llama headphones!  
These llama headphones are kid-friendly and feature a sharing port so they can be connected to another set of headphones. Plus, they're the perfect fit and size for children.  
The maximum volume is also adjusted to match the appropriate sound levels for kids.  
13. Llama Craft Kit ($24.99)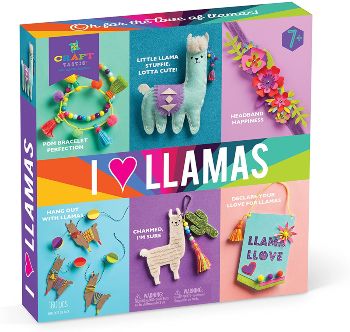 Enhance the creative skills of any child with this llama craft kit. Studies show that craft activities help kids with their physical and mental development.  
This kit comes with detailed and easy-to-follow instructions so kids will have no problem following them.   
They can make six artsy crafts with this kit: a llama banner, pom pom bracelet, stuffie, headband, garland, and charm.  
It'll be an instant hit for playdates!  
Best Llama Gifts for Adults
14. Cute Llama Socks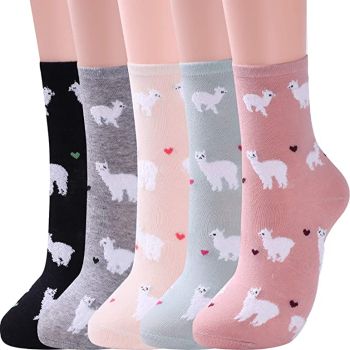 Socks don't have to be dull, and thanks to these cute llama socks, those boring sock days are finally over! These socks have the power to brighten up any outfit.  
Your giftee can rock these socks at home, school, or even at the office.  
This set comes in five different colors (black, gray, beige, green, and pink) to brighten up the weekdays!  
15. Funny Stemless Wine Glass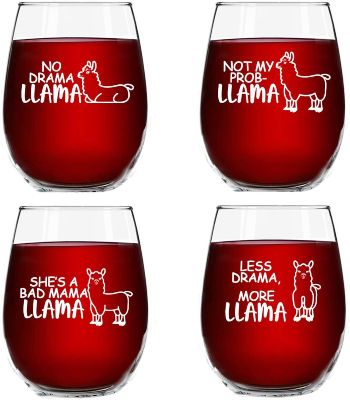 Wine + llama humor = perfection. Have a laugh and enjoy a night with your friends with these ergonomic llama wine glasses.   
The glasses were specially crafted to be non-slip so that you enjoy the night worry-free. It also uses the latest printing technology to ensure that the llama prints are dishwasher safe.  
This would be an awesome and unforgettable gift for any llama fan!  
16. Women's Llama-Print Jogger Pants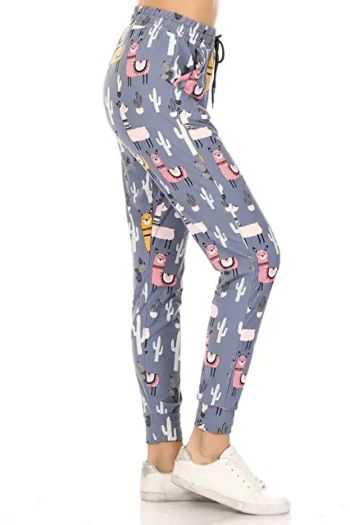 These chic jogger pants from Legging Depot will make your giftee stand out from the crowd! The cactus and llama design will be a head-turner.  
She won't just look cute in these pants, but she'll also be comfortable.   
These pants are great for fitness activities such as running, jogging, and even biking. 
 
17. Llama Costume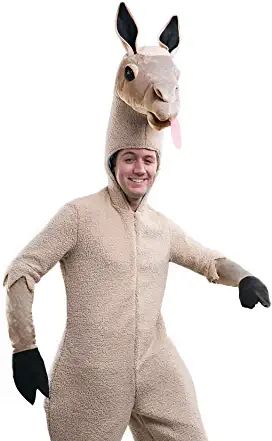 Want a unique gift that will be remembered and treasured forever? This llama costume is the answer!   
It's an unconventional but legendary present and guaranteed to be the talk of the town for years to come.   
If you can't give them a llama, then let them be the llama.  
18. Llama Jigsaw Puzzle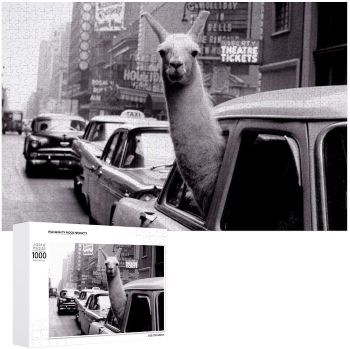 Jigsaw puzzles stimulate both sides of the brain and are known to be a great meditation and relaxation tool.   
I'm sure that completing this 1000-piece puzzle and seeing that cute llama face at the end would be an incredible accomplishment for your giftee.  
Plus, this is actually two llama gifts in one! Once finished, it's a great piece to frame and display in the house!  
19. Llama-Print Face Mask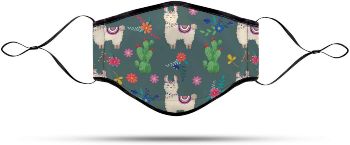 Protect your loved ones with this beautiful llama-print face mask. This has a 3-ply design for maximum comfort and protection.   
It can be difficult to express ourselves during the pandemic because our mouths are covered with masks, but that shouldn't stop anyone from showing their love for llamas!  
The mask is also reusable, so it's eco-friendly.  
20. "Ask Me About My Llama" T-Shirt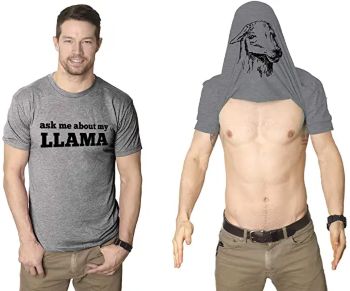 This funny Llama flip-up shirt may be the only thing missing from a llama fan's wardrobe. It's perfect because it's casual, comfortable, and witty!  
They would surely get a kick out of this one and make it their new favorite shirt!
 
21. Adult Llama Coloring Book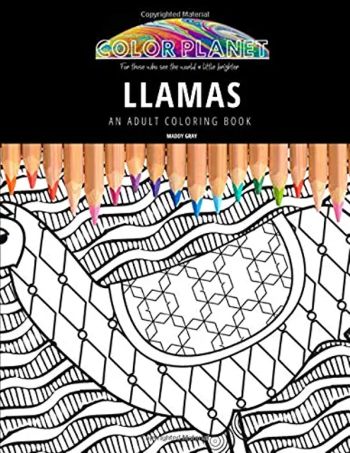 This adult coloring book is a relaxing activity for llama fans.  
This 60-page coloring book is filled with beautiful llama designs on each page and contains two copies of each picture that allows for creative freedom.  
22. Llama Cactus Backpack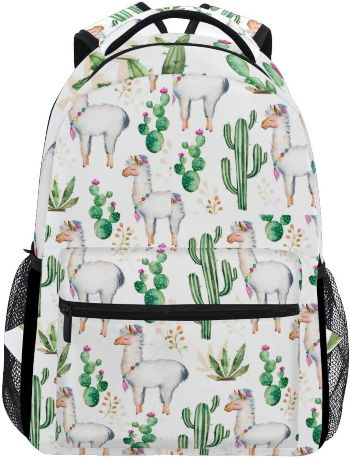 Take your love for llamas everywhere you go with this chic llama cactus backpack! This is a great backpack for college, work, and even camping!  
It's also practical since it has eight pockets and can fit a 14-inch laptop inside.  
Also, it's very lightweight and waterproof!  
23. Sensor Llama Night Light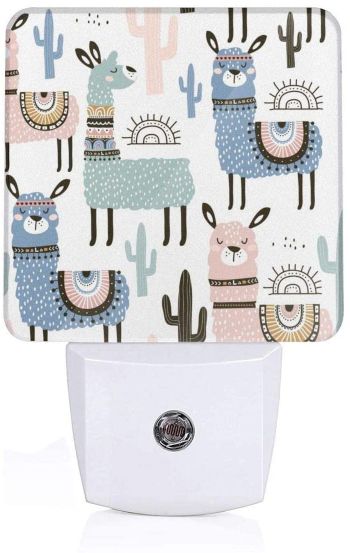 Llamas don't just brighten up your day.
Bring light to your recipient's room with this cool night light that automatically turns off when it's bright and on when it's dark!
 
24. Elope Spitting Llama Sprazy Hat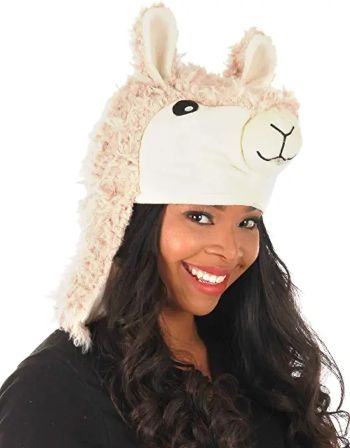 Elope's Spitting Llama Sprazy Hat is one-of-a-kind.   
It's cute, fuzzy, and comfortable to wear. The perks don't end there – it also functions as a spray toy to simulate the llama "spitting" effect.  
I promise you that this hat will leave everyone laughing on the floor. 
 
25. Inflatable Llama Swimming Ring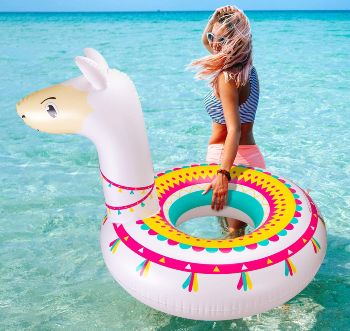 If you're wondering if llamas can swim, the answer is yes!   
It's amusing to see llamas enjoy themselves in the water, and now you can bring your own llama to a pool party with this inflatable llama swimming ring.   
It's super cute and safe since you can hold on to its head for more balance.   
The Best Llama Gifts for All Llamaphiles
Finding the perfect present for a llama fan can be challenging, but I hope this list made your search a little easier!   
Llamas are cute and magnificent animals, so you can really never go wrong with a llama gift for any occasion.   
Which item from the list do you think your giftee would enjoy the most? Share with us in the comments and check out more fun gift ideas here!