The Dallas Cowboys has one of the biggest, most loyal, and dedicated fanbases in football history.
Whether it's because of their great players, beautiful cheerleaders, or cheerful mascot, it's undeniable that the Cowboys have a tight connection with football fans not just in Texas, but across the entire United States.
I'm sure that you know at least one person (whether that may be your parents, siblings, partner, or coworker) who's a die-hard Cowboys fan.
To make the holiday and football season more special, give them thoughtful Cowboys memorabilia. Read on to find the coolest and best Cowboys gifts found online.
11 Gifts for Cowboys Fans
1. Cowboys Vintage Flag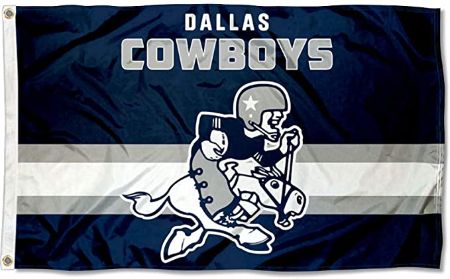 Be proud and loud while supporting America's Team by displaying this awesome flag on their porch or room.
This gift will also be useful in showing their team spirit during game day at the Dallas Cowboys' home field, AT&T Stadium, with fellow die-hard fans.
2. Cowboys BBQ Grill Set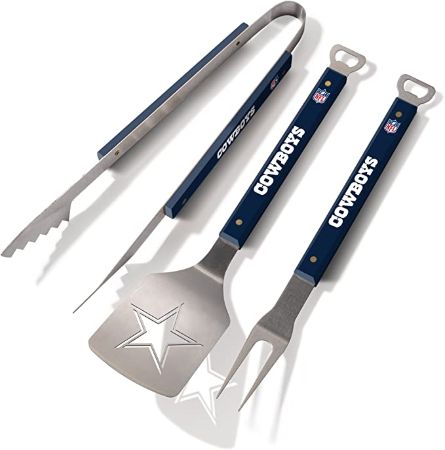 Watching the Dallas Cowboys with a stomach full of their signature BBQ will make each game a lot more enjoyable.
Give this three-piece BBQ grill set to your gracious host to thank them for a great day filled with laughter, cheering, and of course, BBQ.
3. Dallas Cowboys Steak Knife Set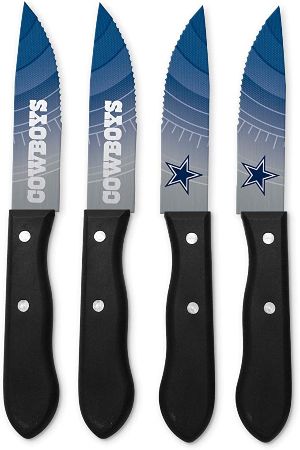 Pair their BBQ grill set with these Cowboys knives to complete the collection. It includes four heavy-duty steak knives that will last for multiple championships.
4. Laser-Cut Team Coaster Set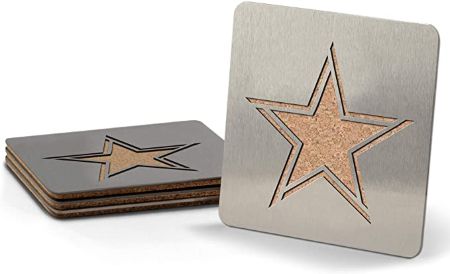 Their guests will appreciate how well thought of their football watch party is with these coasters. After all, they got everything in line with the Dallas Cowboys' theme, including the tiny detail of these coasters.
Each set includes four durable stainless steel coasters.
5. Dallas Cowboys Bottle Suit

When the game becomes too intense, leaving them on the edge of their seat (and they forget that they have a bottle of beer waiting patiently to be consumed), this bottle suit will be super handy as it will keep their drinks cold.
6. Dallas Cowboys Robe

Chill and unwind after a long day at work, school, or even after an unforgettable game with this Dallas Cowboys robe. It features a silk tie belt that lets the wearer adjust the size of the robe.
Check out these other awesome self care gifts to pair with this robe.
7. Cowboys Socks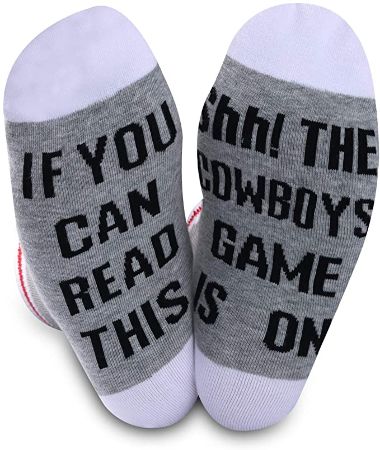 These socks will be a great present for the person who shushes everyone every other minute while watching a Cowboys game.
They will fall in love with these socks not only because these will let them watch the game in peace, but also because they're super comfy and cozy.
8. Bedding Set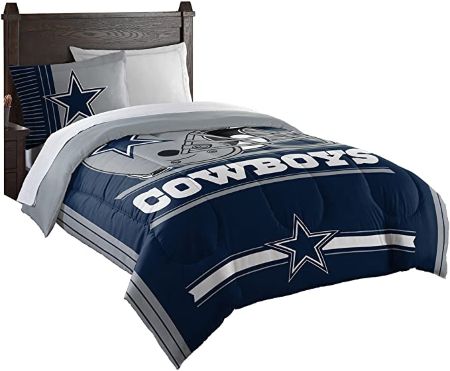 For the ultimate fan who's thinking about the Cowboys even in their dreams, this bedding set will be a fantastic present. The set includes a cool comforter and sham.
9. Cowboys Texas-Shaped Keychain
Leaving their hometown will be hard, especially if everything they know and love is in Texas. Give that Cowboys fan a thoughtful going-away present as they start a new chapter in their life with this keychain.
Having this with them wherever they go will always remind them of home.
10. Electric Football Game Set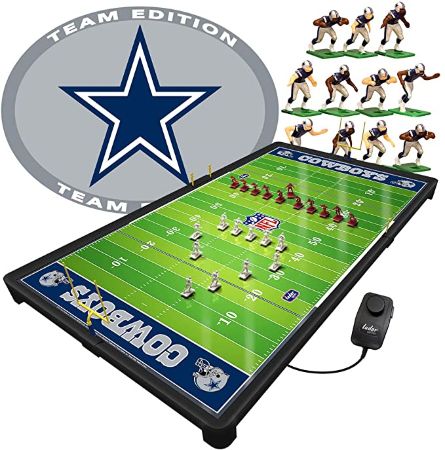 This electric football game set will give them a fun and memorable game of their own. Your recipient will enjoy playing this with their brother, sister, or friends.
The game looks and feels like the real thing since it includes goal posts, rugged players, and more.
11. You Gotta Know Dallas Trivia Game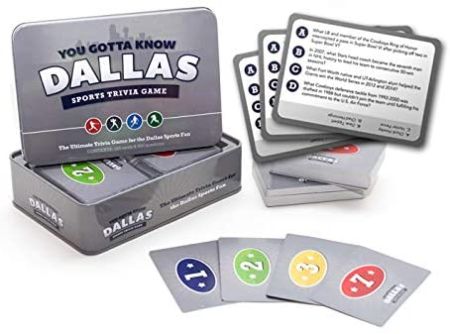 For game nights and Cowboys-themed parties, this game is a must-have. Know who the ultimate champion is when it comes to sports trivia (Dallas edition) with this fun game.
It comes with 125 trivia cards with 500 tough sports-related questions.
7 Dallas Cowboys Gifts for Him
12. Full Body Player Comfy Throw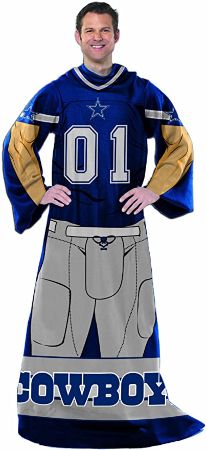 This comfy throw is for fans who want to feel like a true Dallas Cowboys football player.
Run, jump, and throw freely while feeling like a superstar with this blanket with sleeves.
13. Dallas Cowboys Hoodie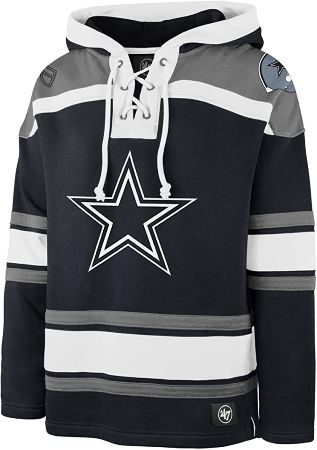 This lacer hoodie will look good on him and will be the perfect outfit for chilly game days. It has a pull-on closure and is made with cotton and polyester for a nice and snug fit.
It also comes in the color navy blue.
14. Stainless Steel Hip Flask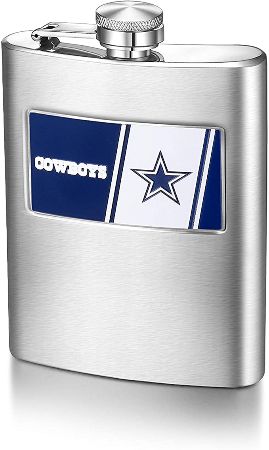 This stainless steel Cowboys flask will be a great gift for any occasion. It will make a cool birthday, Christmas, and anniversary present since it's classic and convenient.
15. Crystal Freezer Mug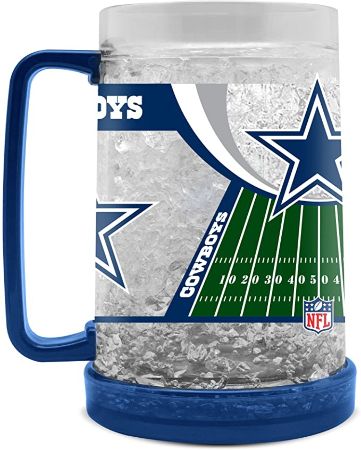 Don't you hate it when your nice cold beer loses its coolness even before the game ends? With this freezer mug, that won't be a problem anymore.
Place this in the freezer for half an hour and it will be ready for game time.
16. Velcro Sport Slide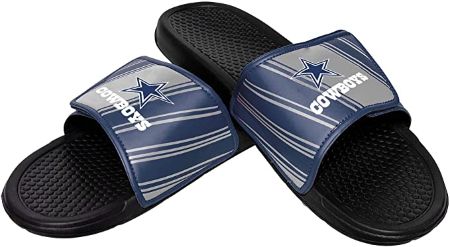 These slides prove that you don't have to pay a fortune to experience maximum comfort. They're high-quality, durable, and affordable slippers.
Since they're made with rubber, these are lightweight and waterproof as well.
17. Drawstring Backpack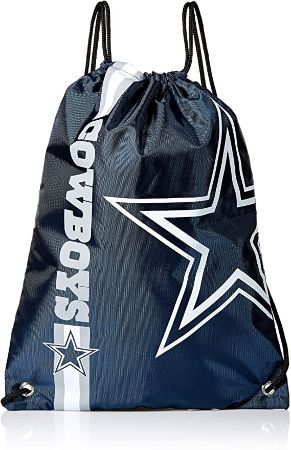 Here's an awesome and spacious bag that will be useful at games, school, and the gym. It features the famous Cowboys logo and colors that will proudly show their team spirit.
18. Hanging Wall Sign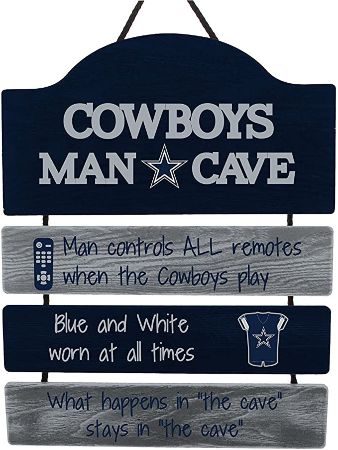 In a Cowboys fan's man cave, there are only three unbreakable rules which must be followed at all times, and each is prominently displayed on this cool sign.
Check out these other epic man cave gifts to really make his space special.
6 Dallas Cowboys Gifts for Her
19. Dallas Cowboys Timex Watch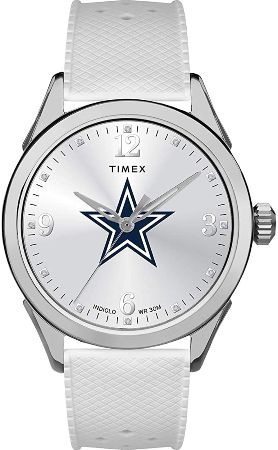 Get this stylish watch for the biggest cheerleader-slash-fan of the Dallas Cowboys. It's a great gift since it's both practical and beautiful.
Plus, the watch is durable, water-resistant, and scratch-proof.
20. Dallas Cowboys Beanie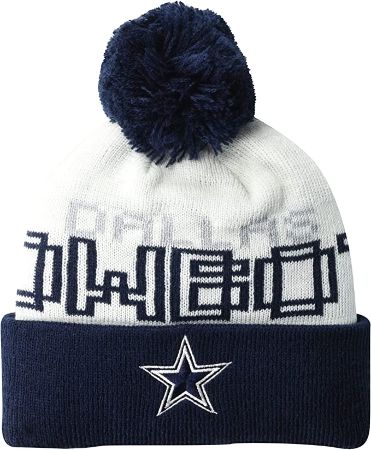 She'll stay warm (and cute) while wearing this soft beanie. Complete with a navy pom at the top, this is one of those gifts for Cowboys fans that will make their game outfit extraordinary.
21. Dallas Cowboys Women's Stripe Sweater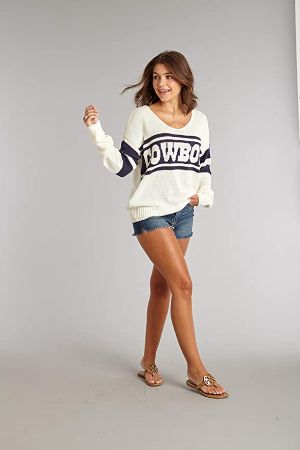 This is the sweater she needs if she's going for an effortlessly stylish (yet comfy) look. She'll look phenomenal while wearing this regardless if she chooses to pair it with a skirt, leggings, shorts, or pants.
22. Swirl Heart Earrings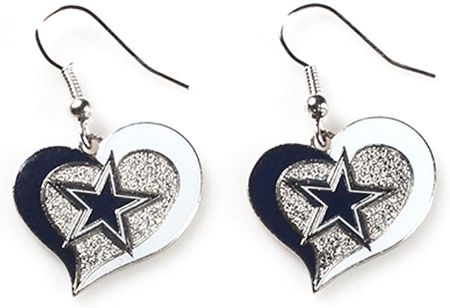 Is there any clearer and more obvious way to show their love for the Dallas Cowboys than by rocking these adorable earrings? The answer is none, zilch, nada.
These earrings are great accessories that will display their support for the blue and silver team.
23. Canvas Shoes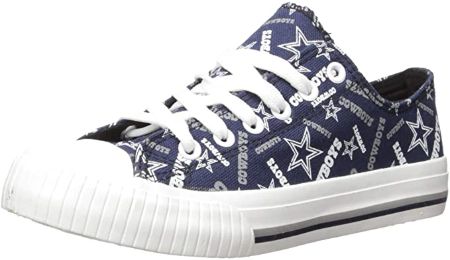 Wear these cool kicks while watching the Dallas Cowboys kick some butt on the NFL. They're versatile too, so she won't have an issue matching it with her other Cowboys merch.
24. Cowboys Throw Blanket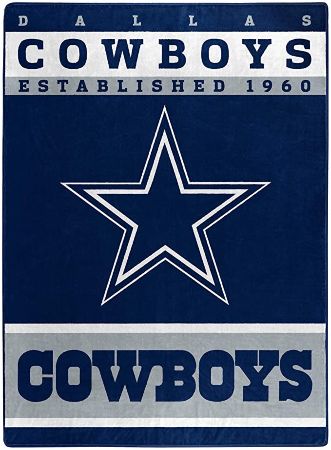 If the Dallas Cowboys fan in your life is the type of person who gets cold no matter the weather, this throw blanket will be a thoughtful present for her.
It's also super soft and cuddly, which is a big plus!
5 Christmas Gifts for Cowboys Fans
25. Cowboys Ugly Sweater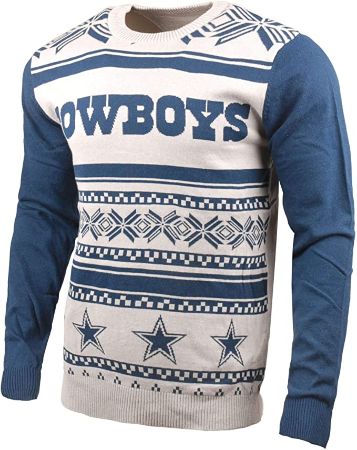 Win The Best Ugly Sweater award of the season with this Cowboys sweater. This two-tone sweater may be ugly, but it sure is comfy.
Here's another cool Cowboys sweater that your recipient will like.
26. 3-Piece Tailgate Kit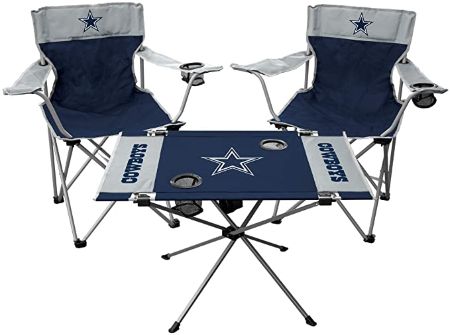 Drink a cold beer, eat some barbecue, and watch the game with family and friends while chilling in this cool tailgate kit. This foldable set is sturdy and includes two chairs and a table.
27. Acacia Wood Pilsner Beer Glass Gift Set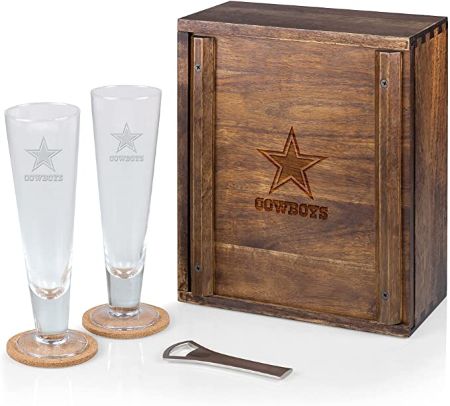 This fancy Cowboys gift set will be an excellent present for the man who you look up to, like a father, boss, or coach. The set includes two beer glasses, two coasters, and a bottle opener.
28. Dallas Cowboys Gift Bundle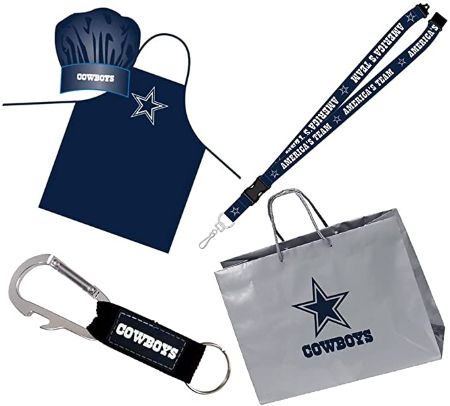 Can't pick from all the amazing gifts for Cowboys fans available on the internet? Get this all-in-one gift bundle instead. With this gift, they'll get something useful for the kitchen (apron and hat), office (lanyard), and home (key holder).
It even includes a Cowboys bag that will complete the set.
29. Cowboys Pens
Add these pens to the Christmas stocking of the Cowboys fan in your life. They're nice gifts since they're affordable AND functional.
Get even more awesome stocking stuffers for college students and friends here.
The Greatest Dallas Cowboys Gifts for the Best Fans
These awesome Cowboys gifts will give your recipient their best NFL season yet!
Don't miss out on more great gift ideas from these other posts on the site:
Do you think the Dallas Cowboys has got what it takes to be the season's champion? I'd love to know your thoughts and opinion. Share them in the comments below.
Go Birds.