Being sorted into the house of Ravenclaw means that you have a brilliant mind and are of quick wit. Symbolized by the colors blue and bronze, Ravenclaw gives importance to the pursuit and advancement of knowledge.
Ravenclaw prides itself on students and alumni who are clever and kind like Garrick Olivander, Filius Flitwick, Luna Lovegood, and more.
Whether you're a proud house member of Ravenclaw or know someone who's is, you'll find the best Ravenclaw gifts here.
12 Ravenclaw Gifts
1. Sorting Hat Morphing Mug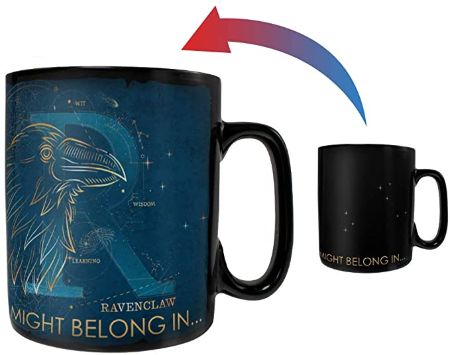 The sorting hat is known for its ability to sort wizards and witches into the house to which they belong, just like this magical mug!
Get sorted in the best house ever, where the most clever and witty students come from, with this mug.
Just add hot water and see the magic unfold right before your eyes. No magic spells required!
2. Ravenclaw Porcelain Dinnerware Set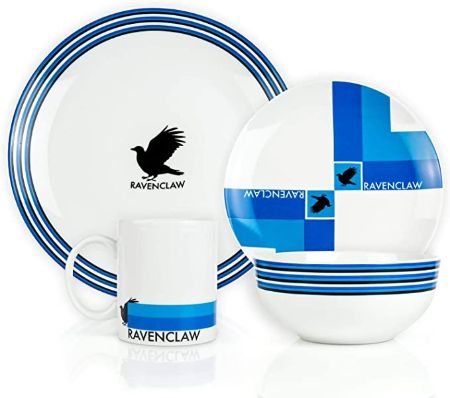 This dinnerware set is a low-key adulting gift for the Ravenclaw in your life who continues to be a Potterhead even as a grownup.
Be it a housewarming, birthday, or anniversary present, this porcelain set will be a great gift choice.
It comes with dinner and salad plates, bowls, and mugs.
3. Ravenclaw Decorative Goblet Figurine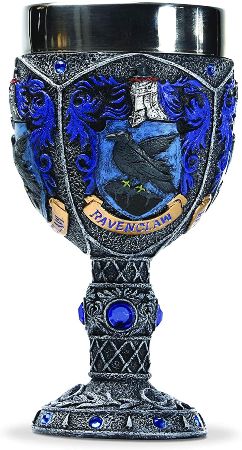 Looking for a unique and stunning piece that will be perfect for their Harry Potter collection? Get this awesome goblet figurine.
To make your gift an unforgettable one, make sure to add all the goblets from the different houses (Gryffindor, Hufflepuff, and Slytherin) for the best Harry Potter gift ever.
4. Ravenclaw Cross Stitch Kit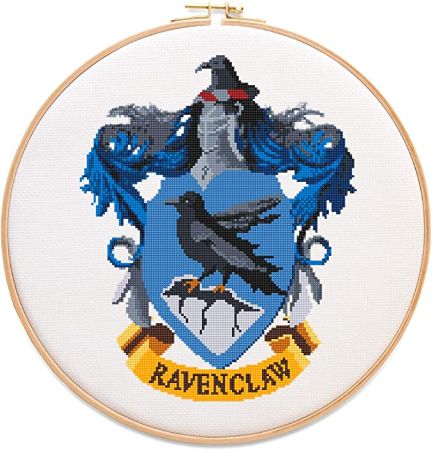 Ravenclaws are well-known for their undeniable cleverness, but they're also famous for being all-around achievers. They're creative and excel in the arts.
For the Ravenclaw fan in your life who wants to tap into their creative side, this cross stitch is a great way to start since it's easy and convenient!
5. Ravenclaw Scented Candle and Necklace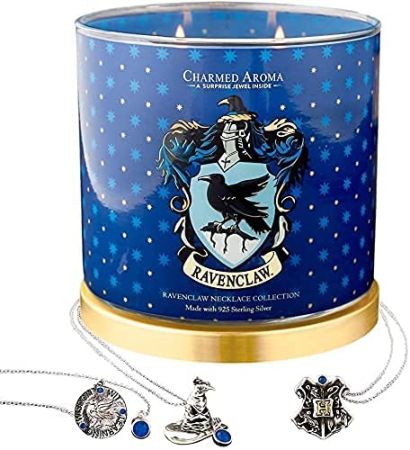 Scented candles help set the mood for a productive environment, and this Ravenclaw themed candle will help the Harry Potter fan in your life focus while they study or work.
Plus, each candle comes with a surprise necklace!
6. Ravenclaw Themed Deck of Cards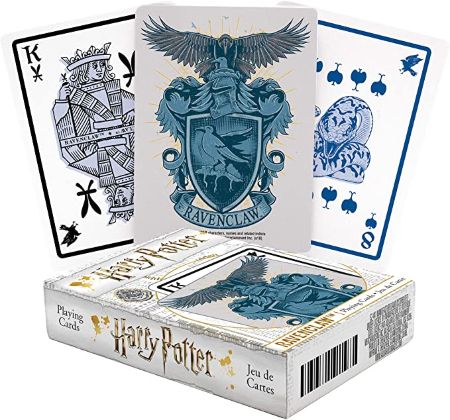 Even though Ravenclaws love to learn by reading books and attending classes, they also know how to have fun with their friends.
Fun nights will be in store for the biggest Ravenclaw fan in your life with this deck of cards. It will be a great way to pass the time or relax after an intense semester.
7. Ravenclaw Banner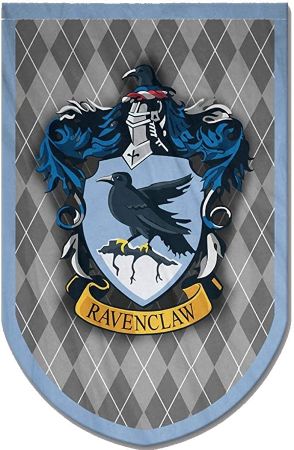 For your recipient who's a proud Ravenclaw through and through, this awesome banner will be a fantastic gift. Hang it in their space to make it homier and 100x cooler.
8. Ravenclaw Glitter Tumbler with Straw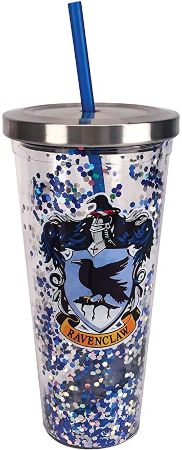 Here's a pretty tumbler that your giftee will find useful in school or the office. Whatever they're craving, whether it be iced coffee, juice, or water, this will become their go-to cup.
Brownie points, for being eco-friendly and cute!
9. Ravenclaw House Wand Stand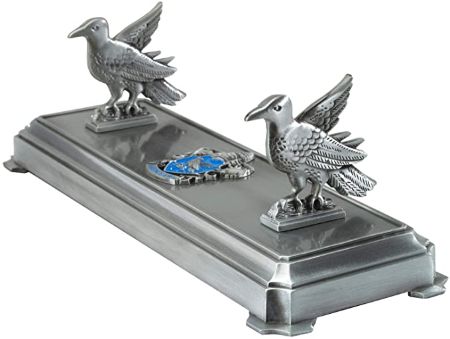 This special wand stand will be a worthy place to keep that precious wand they've collected. Aside from the eagles (symbol of Ravenclaw) on both sides, it also features the Ravenclaw house emblem.
This will be a cool and functional display piece that will keep their wand safe while waiting for their letter from Hogwarts.
10. Wax Seal Stamp Kit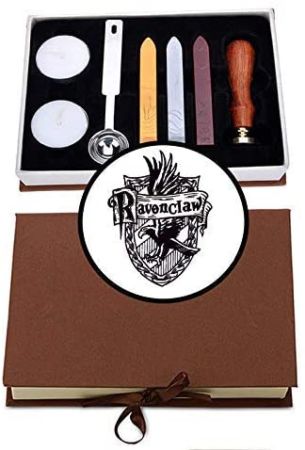 Speaking of letters, this wax seal stamp kit is one of the best Ravenclaw gifts you can give!
They'll have a blast writing letters and topping them all off with a beautiful seal stamp. Although wax stamps may look intimidating, it's actually a fun and easy activity to do. Watch this video tutorial to learn more.
11. Ravenclaw Emblematics Wood Puzzle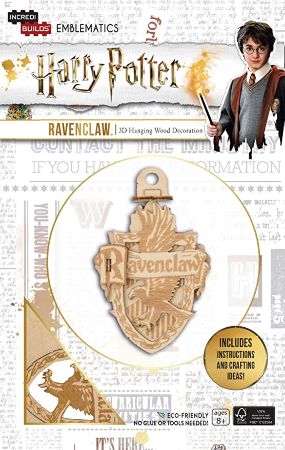 Ravenclaws like good brain teasers that will challenge their logic and critical thinking. This wooden puzzle will be an awesome choice since it will do just that and will also be a great ornament once completed.
More great gifts for puzzle lovers can be found in this post!
12. Pillow Cover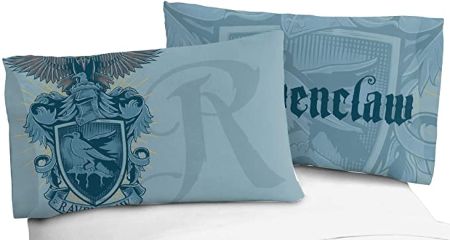 Get this pillow cover for a gift that's a combination of beauty and comfort. An overall excellent gift for the sophisticated Ravenclaw fan in your life.
11 Ravenclaw Merch Gifts
13. Harry Potter Boxed Set: Ravenclaw Edition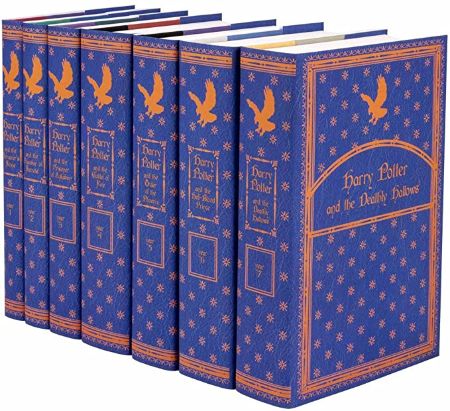 A Potterhead's collection won't be complete without the Harry Potter book set, which is why it's a foolproof present for any occasion.
Make your gift more unique and special for the Ravenclaw in your life by getting the Ravenclaw edition of the book set.
14. Ravenclaw Backpack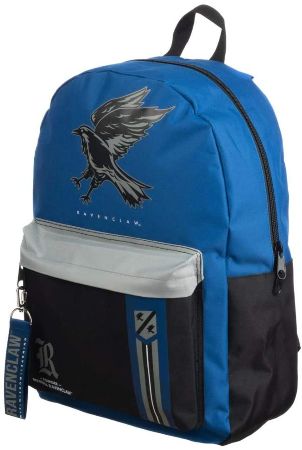 Get ready for school with this Ravenclaw backpack. It's very spacious so it will fit everything they need for the day, like their notebooks, books, pens, and more.
It even includes a pocket for a laptop that will protect it from scratches.
15. Ravenclaw Teddy Bear
Don't forget about Ravenclaw gifts for the little ones in your life. This teddy bear will be a nice present to welcome them to the fandom.
This will be the first of many Harry Potter merch they'll collect in the years to come.
16. Harry Potter Charm Bracelet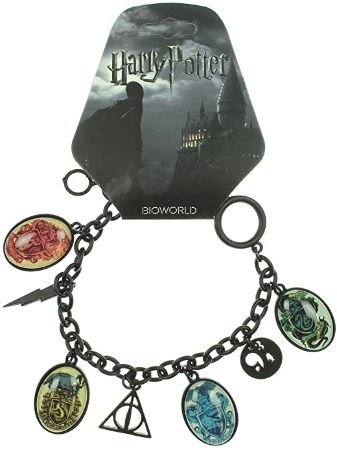 A girl can never have too much jewelry, especially Harry Potter pieces. Add this to their accessories to turn ordinary outfits into magical ones.
This bracelet includes eight charms: one charm for each house, one for Platform 9 & 3/4, a lightning bolt, and a deathly hallows symbol.
17. Woven Tapestry Throw Blanket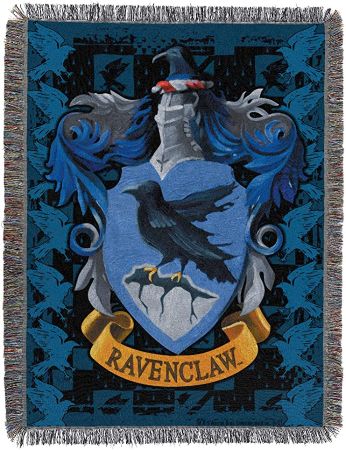 This throw blanket will keep them cozy and warm while they binge-watch the Harry Potter film series.
The fringe around the edges makes it look more antique and like an authentic piece from the Wizarding World.
18. Ravenclaw Knit Scarf & Pom Beanie Set
Winters at Hogwarts are magical. Seeing the Great Hall covered in snow, the amazing food, and the winter clothes of the students transport us into the world of wizards and witches.
Now, your recipient can experience the winter season the Hogwarts way with this scarf and beanie set.
19. Ravenclaw Ruled Notebook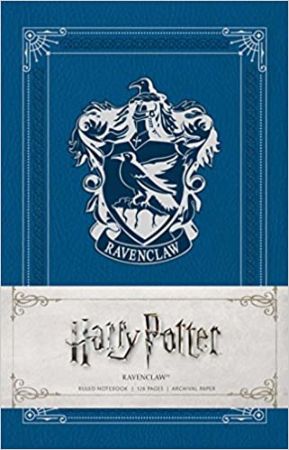 Taking notes is an integral part of being a Ravenclaw. After all, it has been scientifically proven that writing notes help in retaining information better.
Since Ravenclaws constantly have brilliant ideas and thoughts, it's important to have a handy notebook they can take anywhere.
20. Ravenclaw Pen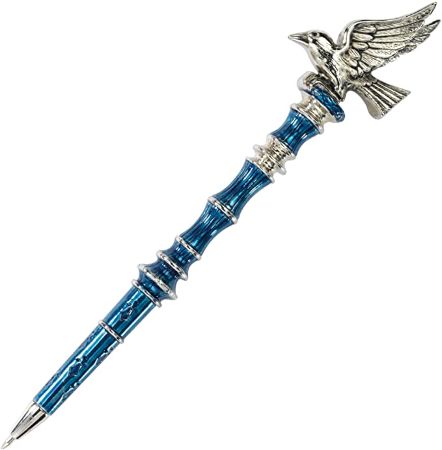 Having a notebook will be ineffective if they don't have a writing tool to accompany it, so don't forget to add this cool pen to your gift!
21. Ravenclaw Crest Bookmark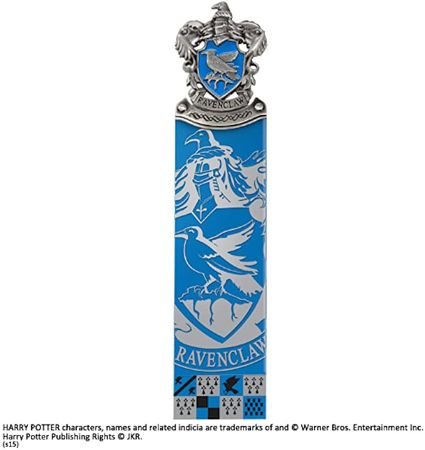 They won't get lost or have to fold a page of their book to be reminded of where they stopped reading with this bookmark.
Reading will be easy breezy and be even more enjoyable! It's the perfect bookmark for the perfect book series.
22. Ravenclaw Lanyard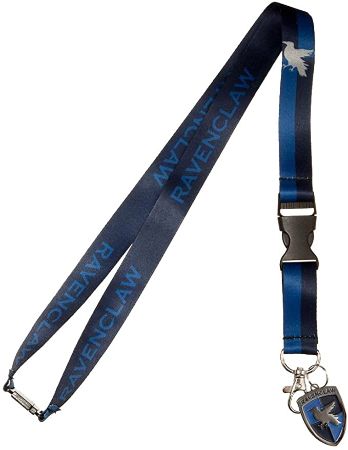 Let the Ravenclaw fan in your life stand out from the crowd with this lanyard. It's a cool lanyard that will be the envy of their classmates and coworkers.
23. Ravenclaw Emblem Embroidered Patches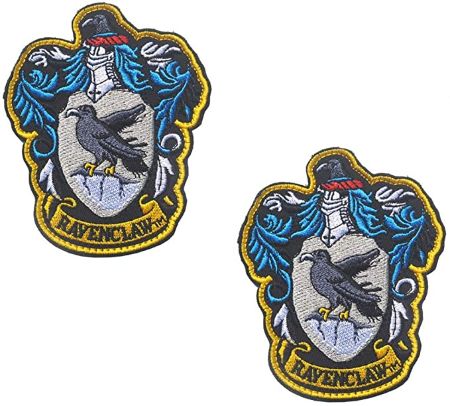 These patches will add flare to their bags, pants, and jackets. They'll feel like a true house member whenever they rock these patches.
8 Ravenclaw Shirts and Apparel Gifts
24. Ravenclaw Throw Blanket with Sleeves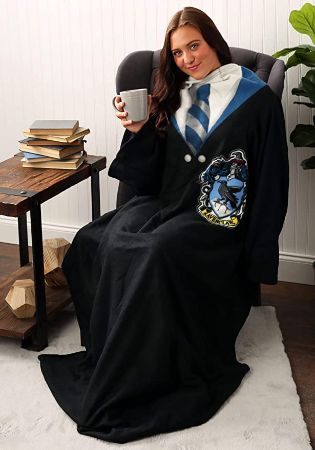 For lazy days when they just want to watch Harry Potter on repeat, this will be the perfect outfit. It looks like the Hogwarts uniform, but is 100x cozier.
This also works as a great costume for Halloween or Harry Potter-themed parties.
25. Ravenclaw Team Seeker Shirt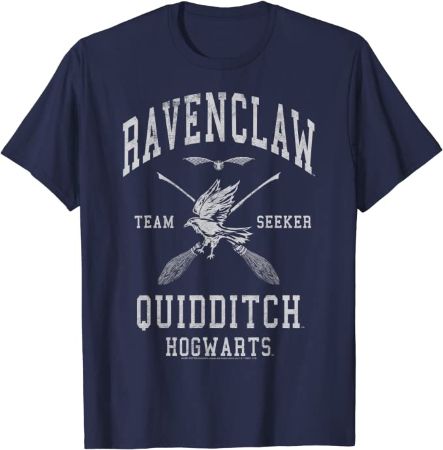 Does your recipient wish to become the greatest Quidditch player in history? While they practice and hone their flying skills, this team seeker shirt will be a cool present to support their dream.
26. Ravenclaw Quidditch Long Sleeve T-Shirt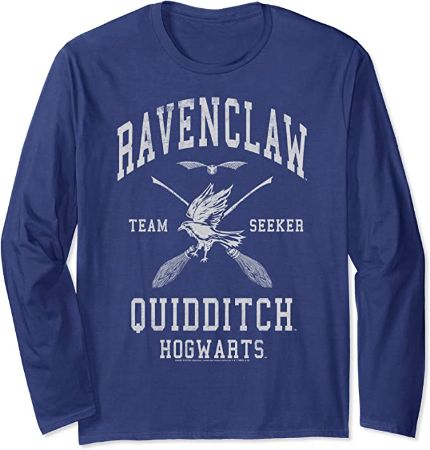 Here's a long sleeve version of the t-shirt listed above. It's still comfy and cool and perfect for cuddle weather.
27. Kids Ravenclaw House Crest T-Shirt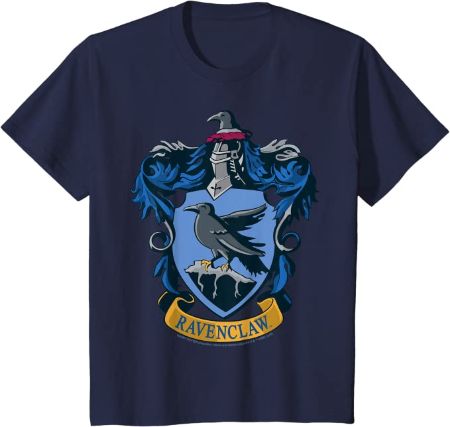 Your recipient will be able to proudly show their blue and bronze colors with this shirt. It's a great gift for kids since it's both functional and practical.
Plus, they'll love how this shows off their house, Ravenclaw.
28. Kids Hooded Ravenclaw Pajama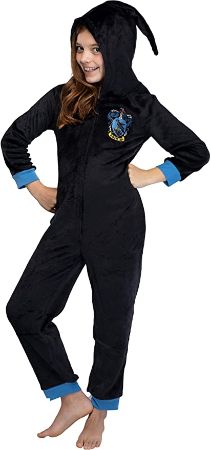 If your recipient loves onesies and Harry Potter, then there's no better gift option than this one.
I wouldn't blame them if they'll want to wear this all day, every day because of how comfy and cool it is.
29. Kids Ravenclaw Costume Robe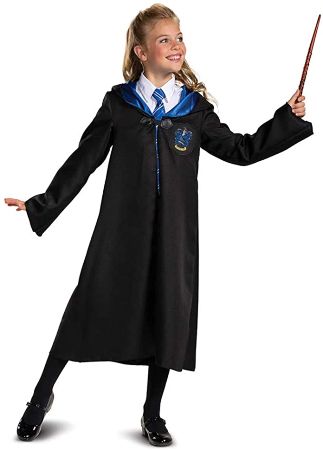 Wearing this will magically transform them from being a muggle into a brilliant witch or wizard. They'll love this cool robe since it's easy and comfortable to wear (even perfect for everyday use!)
It won't be a problem if your recipient wants to be a Ravenclaw now and change houses tomorrow since these robes are offered in all house designs.
30. "Don't Worry, You're Just As Sane As I Am" T-Shirt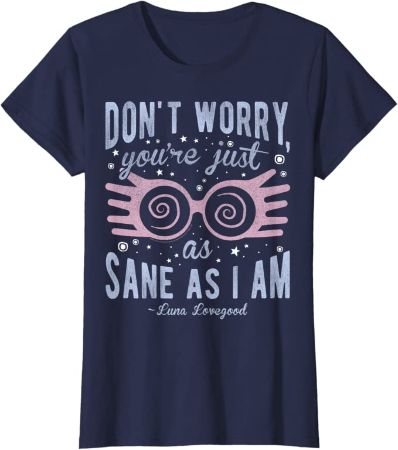 Gryffindor may have Hermione Granger, but Ravenclaw has the whimsical and pure-hearted Luna Lovegood.
Luna is a one-of-a-kind, irreplaceable character in the Harry Potter franchise, so if your recipient adores her (just like 99.9% of the population does) this shirt will be perfect.
31. Men's Ravenclaw House Varsity Hoodie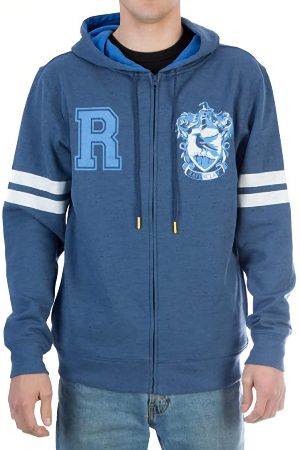 Another good choice for the biggest Ravenclaw fan in your life is this varsity hoodie. It's a cool gift for mature fans who want a low-key way of showing their love for their house.
Let's Hear It for the Cleverest Team—Ravenclaw!
"Or yet in wise old Ravenclaw, if you've a ready mind, where those of wit and learning, will always find their kind," said the Sorting Hat.
Brilliance and wisdom define what makes a Ravenclaw. But more than intelligence, Ravenclaws show that a good and pure heart is crucial.
Want more exciting gift ideas? Check out these other gift lists below:
Did I miss something you think the Ravenclaw fan in your life would love? Share your thoughts in the comments below.