Minecraft is a game where players can explore and build a world using blocks. Think of it as digital Lego.
The things that can be built are only limited by one's imagination!
If you know a kid who is addicted to this game, then here are 35 minecraft gift ideas that will make any fan giddy.
7 Minecraft Toys for Kids
Here are 7 cool toys for kids to bring the magic of the game to reality! Kids at heart will enjoy these fun gifts as well.
1. Transforming Sword/ Pickaxe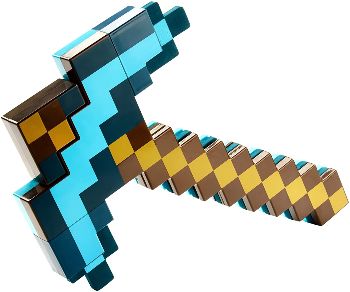 Let kids mine materials even outside the game with this toy pickaxe that transforms into a sword. You never know when creepers, zombies, or other monsters will show up.
2. Bow with Potion Tipped Arrow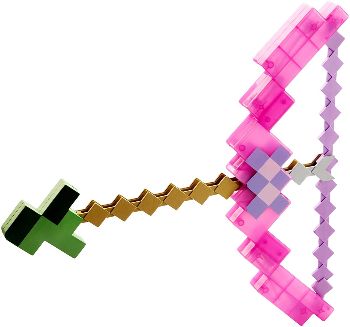 If they're into ranged combat, then give them this colorful "enchanted" bow and "poison" arrow set instead to defend against monsters.
3. Minecraft Steve & Alex Action Figures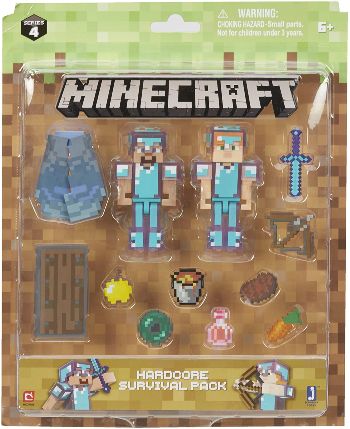 Of course, a Minecraft gifts list wouldn't be complete without action figures, and this set features both Minecraft Steve and Alex decked out in diamond armor and includes various weapons and accessories.
Kids will have fun playing with them, and adults will enjoy displaying this collector's piece in their home or office.
4. Creeper Action Figure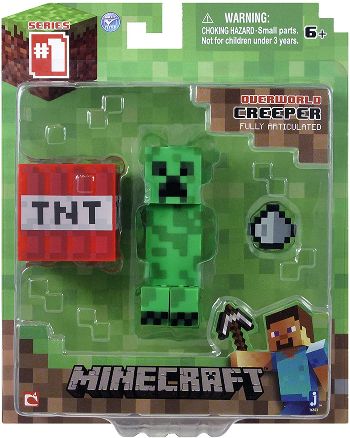 Minecraft Steve and Alex will need something to fight, so here's a creeper action figure kids can play with alongside their Steve and Alex action figures.
Or, if they like creepers, they can create a scenario where this green guy wins!
5. Collectible Minecraft Figures Set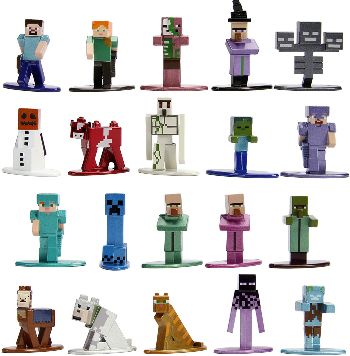 Here's a set of 20 Minecraft figures for kids. They're made of metal and the accuracy of the figures should please die-hard players of the game.
These are great display pieces, or can make great cake toppers for a kid's party.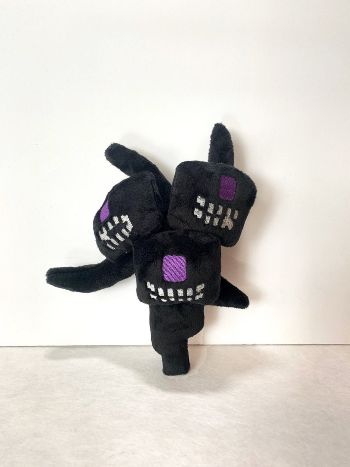 This antagonist from the spin-off game Minecraft: Story Mode makes for a cute plushie in real life. Kids, or fans in general, who have played the spin-off will adore this Wither Storm stuffed toy.
7. LEGO Ender Dragon Kit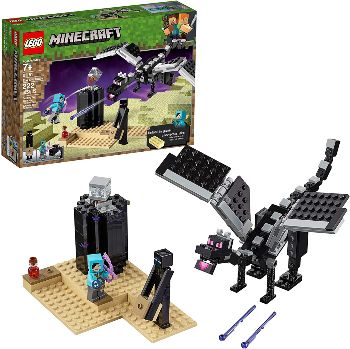 Using LEGO blocks to build a scenario from a game in which everything is made of blocks? That's some blockception for ya!
Kids and adults who play Minecraft will love recreating the final boss encounter of the game!
7 Kids' Room Decor Minecraft Gifts
Here are 7 Minecraft gifts for kids to decorate their rooms with.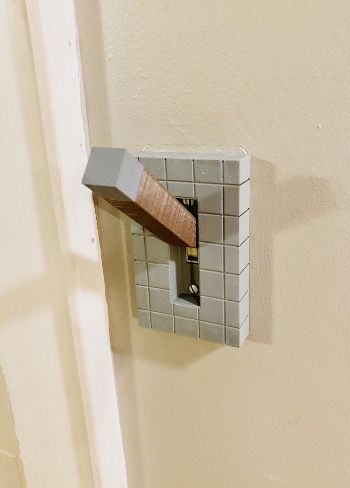 Replace a normal boring lightswitch with this Minecraft lever light switch plate. It works just like it would in the game!
9. Creeper and Ore Night Lights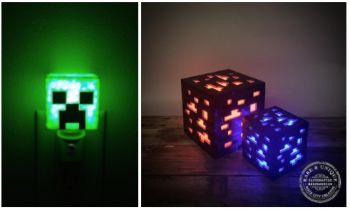 Kids use nightlights, so give a Minecraft fan these night lights to help them sleep (or stay up all night playing the game).
10. Creeper Rug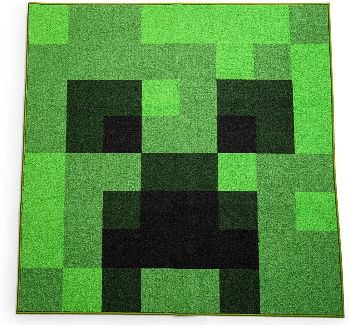 Creepers are probably the most recognizable creatures from Minecraft for players and non-players alike, and this creeper rug is sure to keep parents or unwanted guests out of a kid's room. Don't worry, it won't explode!
11. Creeper Laundry Hamper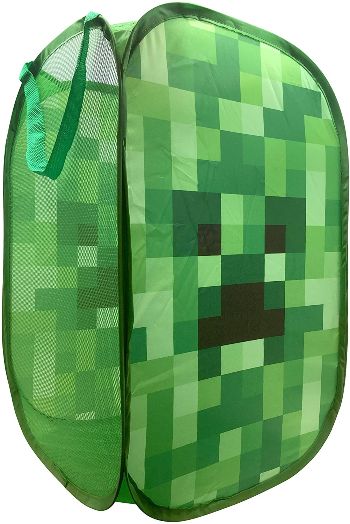 Here's a simple creeper hamper kids can put their dirty clothes in after fighting monsters or discovering new locations all day.
12. Minecraft Bedding Set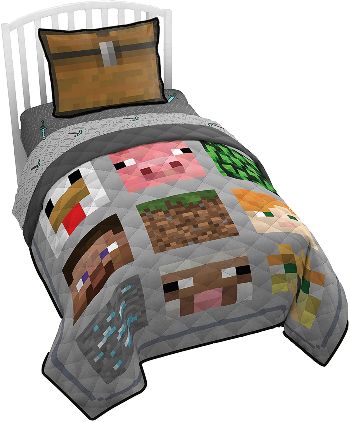 Let kids who love Minecraft sleep on this themed bedding set featuring iconic characters and symbols as they dream about what to build next in the game.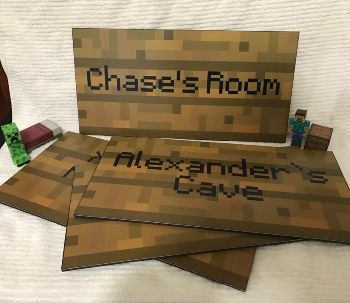 To make sure guests know that they're entering a Minecraft player's quarters, here are Minecraft inspired foam signs that can be personalized to feature kids' names.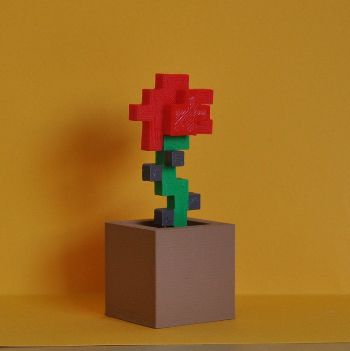 Here's a neat Minecraft gift for girls in the form of this pixel rose. It's a great display piece that will liven up any Minecraft lover's room.
5 Minecraft Apparel Gift Ideas for Kids
Let them wear their love for the game with these 5 Minecraft themed clothing items and accessories.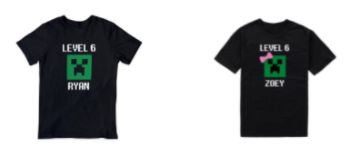 Give them a Minecraft inspired t-shirt that features their name and age printed as their level in the game. The creeper even comes with a cute bow for girls!
16. Creeper Zip-Up Hoodie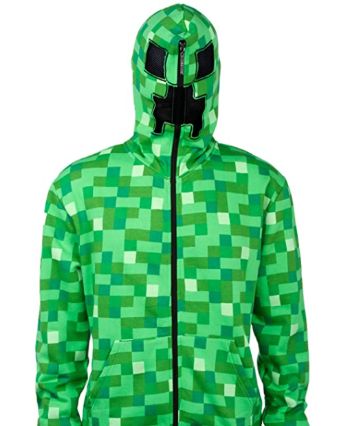 For kids (and adults), this cool creeper hoodie is a must-have if they want to impress their minecraft buddies. Just remind them not to actually explode like creepers do in the game.
17. Minecraft TNT Beanie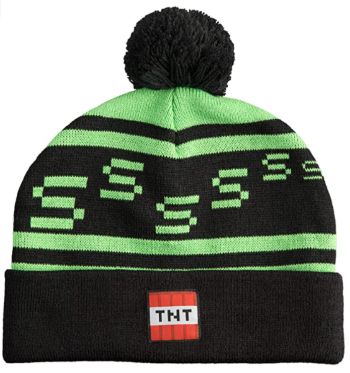 Creepers aren't the only thing that go boom in the game. This simple Minecraft TNT beanie is a neat addition to any fan's wardrobe.
18. Minecraft Themed Pants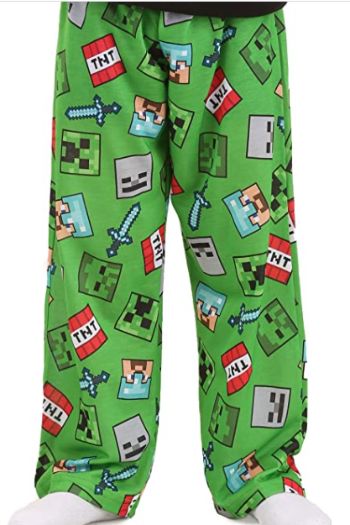 Adorned with numerous familiar objects and icons from the game, kids will enjoy wearing these pants while playing or lounging around the house.
19. Minecraft Havaianas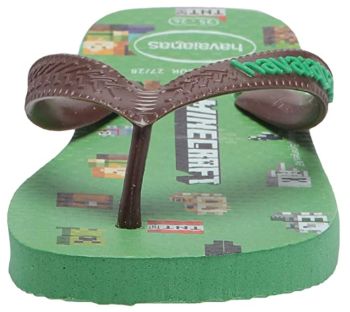 Let them keep even their feet in the game with these comfy Minecraft slippers that are also adorned with recognizable symbols from the game!
4 Minecraft Accessory Gift Ideas for Kids
Up next are 4 nifty Minecraft themed accessories kids can use everyday at school or at home.
20. Creeper Hooded Towel for Toddlers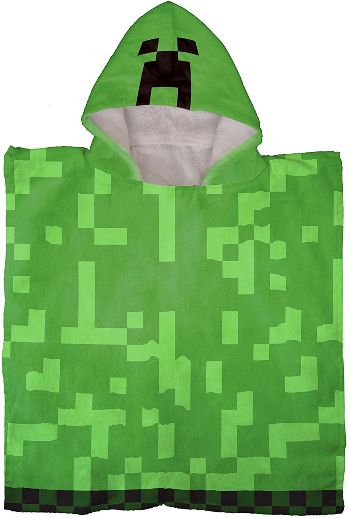 Does the Minecraft fan in your life have a toddler? Then let their kid be a creeper even while bathing or swimming with this awesome hooded towel that doubles as a poncho!
21. Minecraft Torch Water Bottle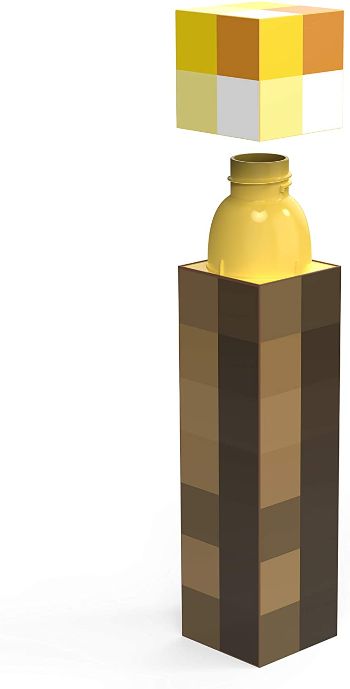 Encourage kids to stay hydrated and take their water wherever they go by giving them this torch inspired travel water bottle.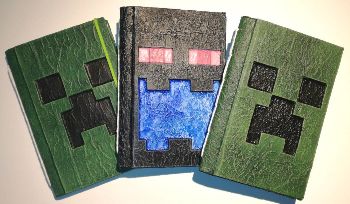 Kids can use these creeper and Enderman notebooks to plan out new builds or take notes at school.
23. Creeper Backpack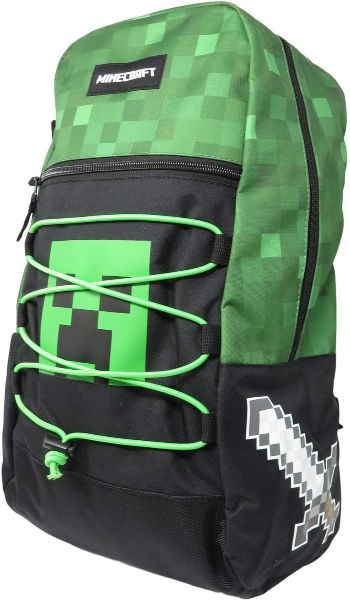 Let that Minecraft fan keep their essentials or toys in this bag to take to school or wherever they go. This backpack is also a great gift for an adult!
5 Minecraft Gifts for Adults
Let's not leave adults out of the fun. Here are 5 Minecraft gift ideas for adults who are avid players of the game!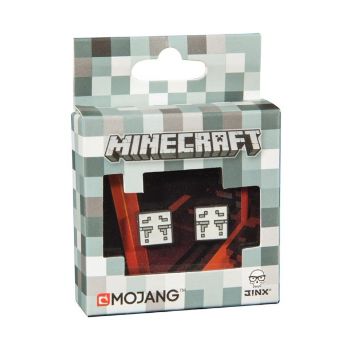 For female Minecraft players, this simple pair of Minecraft ghast earrings is a simple way for them to show their love for the game.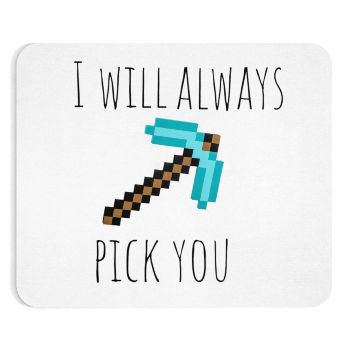 If your significant other is also an avid Minecraft player, then get them this pickaxe mousepad so they'll always know that you "picked" them.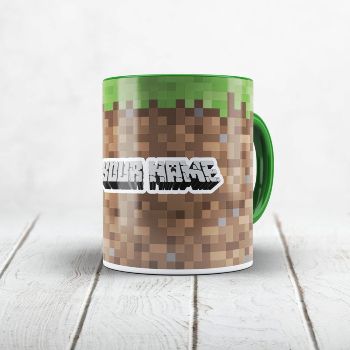 Get them this Minecraft inspired personalized mug to drink from when they're supposed to be working but are actually playing the game.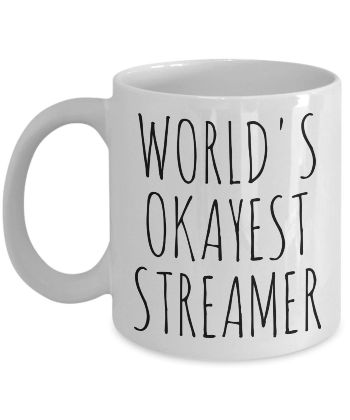 Does your Mincraft fan live stream their gameplay? Simultaneously show them you support their hobby and give them a confidence boost with this "World's Okayest Streamer" mug.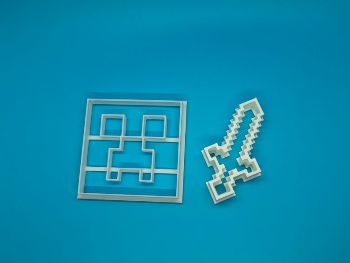 Get them these cookie cutters in the shape of a creeper's face and sword so they can serve up a batch of cookies for fellow fans of the game or just eat them to restore their health bar.
3 Minecraft Inspired Books and Games
29. Minecraft Woodsword Chronicles Book Set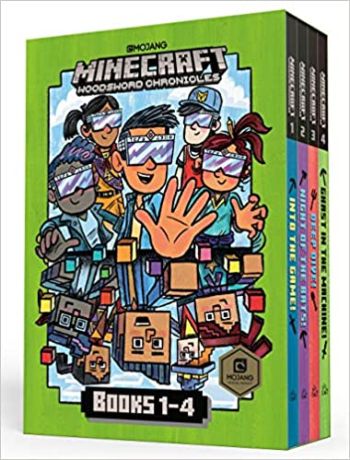 Written for kids 7 and up, The Woodsword Chronicles follow the adventures of middle schoolers playing an augmented reality version of the game.
30. Minecraft Card Game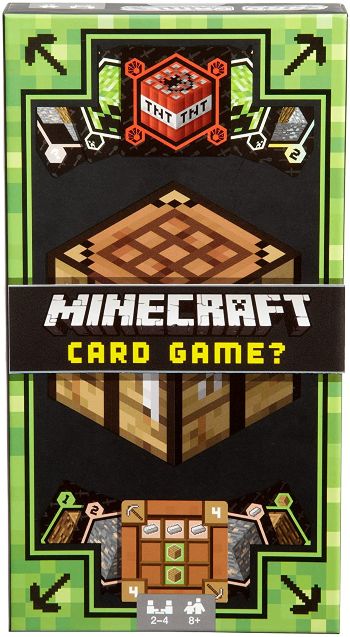 In this Minecraft inspired card game, kids can mine resources like wood or diamonds and use them to craft "craft cards" to earn points and win the game.
31. Minecraft Board Game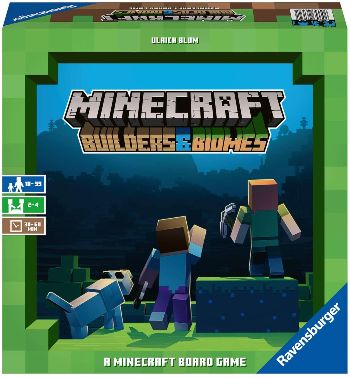 The goal of this game is to mine resources and build structures. The player with the most structures and largest connected biomes wins!
They will be hindered by Endermen and, of course, creepers along the way.
4 Unique and Personal Minecraft Gifts
Lastly, here are 4 unique and personal Minecraft gifts for fans of the game.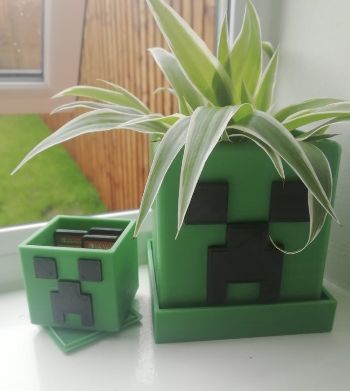 Get them interested in gardening with these creeper plant pots. If they've experienced much grief from these monsters, then using their heads to hold plants should be satisfying.
33. Minecraft Creeper and Party Mode Birthday Cards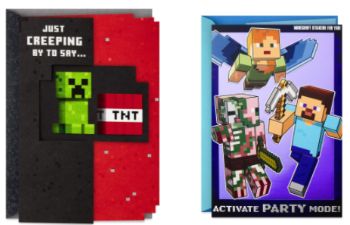 Nothing gets more personal than a greeting card, like these simple creeper or party mode birthday cards that come with stickers!
Regardless of which one you choose, they'll appreciate the personal message you write to them.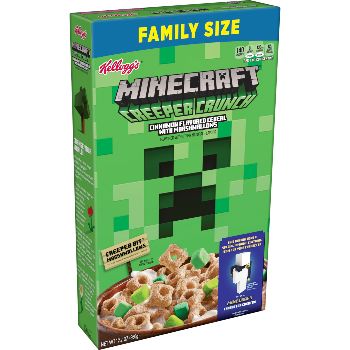 Here's an awesome Minecraft cereal from Kellogg's for lovers of the game. Crunchy cinnamon cereals with square-shaped creeper marshmallows are sure to satisfy any Minecraft player's appetite!
35. Minecraft Cake
Lastly, here's a sweet treat! Ann Reardan of How to Cook That was challenged to make a cake featured in Minecraft using the in-game measurements.
After presenting the "game accurate" cake as a gag, give them the better one (skip to the 10:40 mark) to enjoy.
Ann also has numerous other recipes for Minecraft inspired cakes (such as this TNT cake) if you want to make a different treat for the Minecraft fan in your life.
The End Portal to the End…of This Minecraft Gift List
These are just 35 Minecraft gift ideas to draw inspiration from that fans of the game, new and old, will love.
Did the Minecraft fan in your life enjoy the items on the list? Didn't see a gift you were looking for? Share your thoughts in the comments below!
Looking for gifts for a table-top gamer? Then here's a list of gifts for the Dungeons and Dragons player or DM in your life.