If you've never played or heard about Dungeons and Dragons (commonly referred to as DnD) then you're clearly missing out. This 49-year-old tabletop role-playing game is iconic!
Although you're here to find the best DnD gifts and ideas (more on that later, I promise!), I think that reading a brief background about the game will help you choose the best gift for the DnD player or Dungeon Master in your life.
What is Dungeons and Dragons?
If you've watched Stranger Things on Netflix (let's be honest – who hasn't?), then I'm sure you're familiar with the scene where Dustin, Lucas, Mike, and Will gather in Mike's basement to play DnD. But this game isn't just for kids.
Dungeons and Dragons is a multiplayer role-playing game that puts people's imagination and creativity to the test. No one and everyone's a winner in this game.
I know that sounds confusing, but all the players (yes, even the Dungeon Master) are a team here and work together to accomplish a specific goal known as "Quests" that can take months to achieve. There are also a wide variety of characters that players can choose to play as like a monk, fighter, and even a warlock.
To see the game in action, check out this video.
Now that you have a better idea of what the game is, here are the coolest gifts you can give a Dungeons and Dragons fanatic to enhance their role-playing experience.
Dungeons and Dragons Gifts for Players
1. Battle Grid Game Mat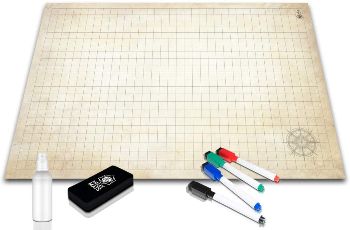 Everything can change on a whim in this game, so help players keep track of everything that's happening with this essential battle grid game mat.
It comes with a board, erasable markers, and a spray bottle.
A game mat can help players keep records so they can play the game for months on end without any problem!
2. Dungeons and Dragons Waterproof Stickers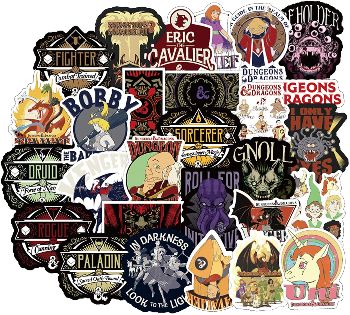 Let them show their love for DnD everywhere with these awesome stickers.
These are vinyl waterproof stickers so they can be placed on laptops, tumblers, or even cars.
Any DnD enthusiast will love these stickers since the designs are unique and contain references that only true DnD fans know.
3. Dice Storage Mini Chest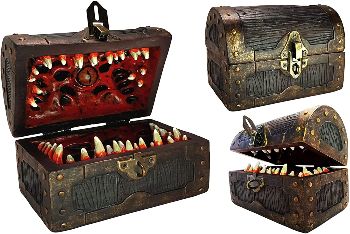 Want to help your DnD fan easily look for their dice when it's time to play? This dice storage mini chest is a great option!
This medieval-themed chest keeps dice safe and secure since it's portable and contains a lock.
This storage box will make the gaming experience more realistic and fun, too!
4. Dungeons and Dragons Pint Glass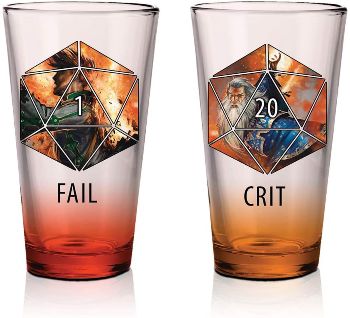 For the adult fan, these glasses will complete their Dungeons and Dragons gaming set.
These durable glasses will enable them to drink their juice, smoothies, or beer in style. The set comes with two tinted DnD-themed pint glasses.
5. Throw Plush Pillow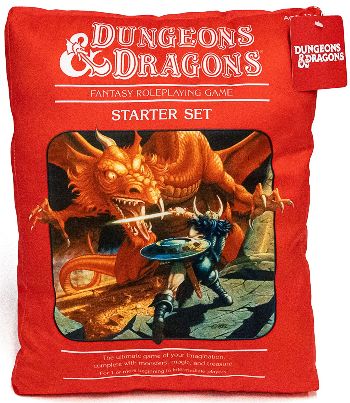 Since the game can last for a very long time (I'm talking 3-4 hours per session), the players need to stay comfortable. This pillow is super soft and cuddly, which is perfect for late-night games with friends and family.
This pillow is a great gift for a DnD player since it's aesthetic and functional.
6. Dungeon and Dragons Mini Figures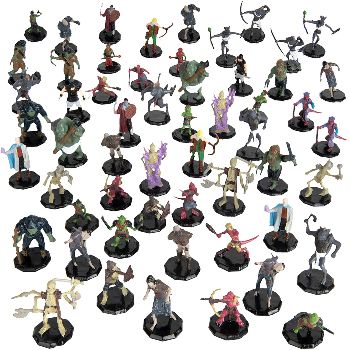 If they're looking for more mini-figures to add to their collection, then this set is, hands-down, the best out there.
The set contains 28 highly-realistic figures that can be used to play out any DnD scenario.
7. Dungeons and Dragons Enamel Pin Set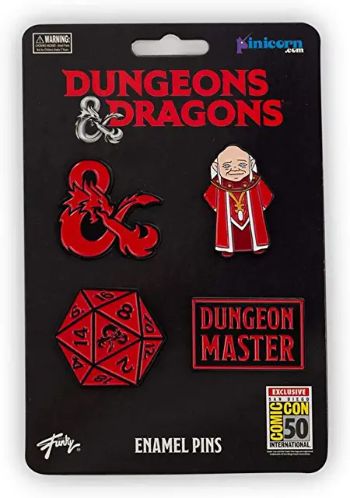 This set of pins is an exclusive 2019 collector's item that is a must-have for every fan. It contains four unique designs: dice, ampersand-style dragon logo, DM, and a DM character.
You won't find better DnD pins than these!
8. Fantasy Coins with Leather Bag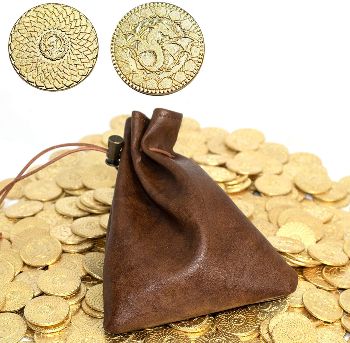 Trade out their old paper game tokens for these realistic metal coins. The set comes with a leather storage bag and 50 fantasy coins.
What's great about this gift is that it can also be used for other RPG games!
9. Dungeons and Dragons Throw Blanket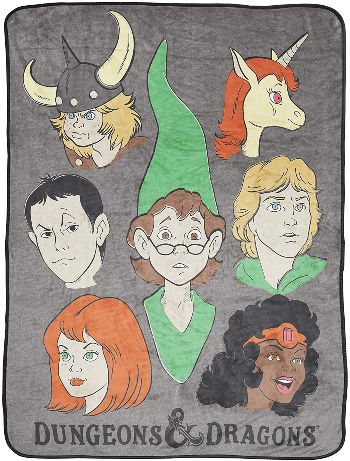 The adventure shouldn't stop after the game. Let them take their love for D&D in the living room, RV, and wherever they go with this DnD adventure squad throw blanket.
It's also very warm and cozy, so they'll get a good night's rest with this blanket.
10. Dice set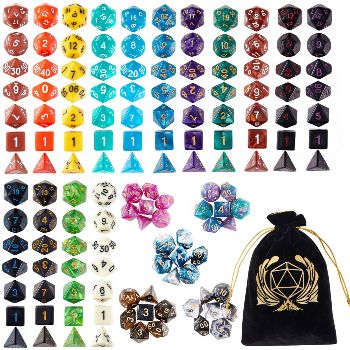 A Dungeons and Dragons player knows the importance of dice in the game. Without them, there would be no game at all!
This dice set has every dice design you can possibly think of. It contains 140 pieces with different shapes, sizes, and colors. It will definitely give you your money's worth!
11. Dungeon Mayhem Card Game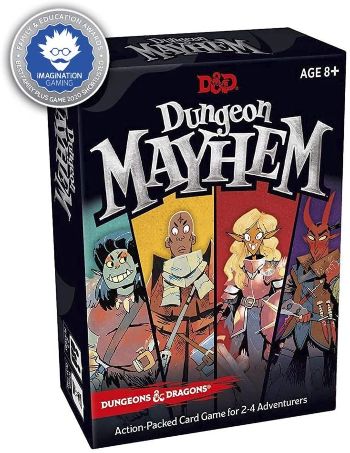 If the DnD fan in your life has a busy schedule, then Dungeon Mayhem is the perfect gift for them!
Dungeon Mayhem is a DnD card game that can be played by up to four players aged eight and above.
One game usually lasts for five to 10 minutes, so they can still enjoy their favorite game despite their busy schedule.
12. Monster Card Organizer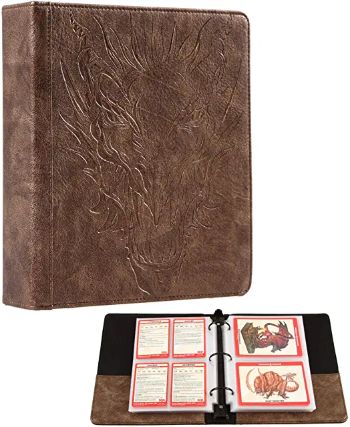 This organizer is the best D&D monster card holder available online.
The cover has an embossed dragon design which makes it look authentic and is made from polyurethane leather, and it contains 40 pages with two card slots each.
It also comes in 6 colors such as brown, black, and bronze.
13. Miniature Marker Set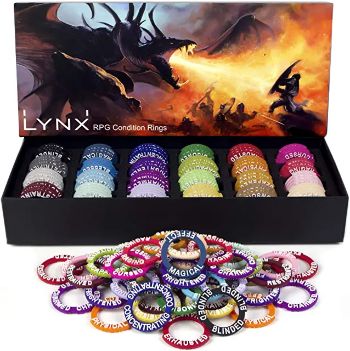 Another must-have for an avid DnD player is this miniature marker set.
The miniature marker set contains 96 different rings that track 24 different character status and spell effects.
Complete the collection and give this set with the mini-figures (#6).
14. Dragon Coaster Set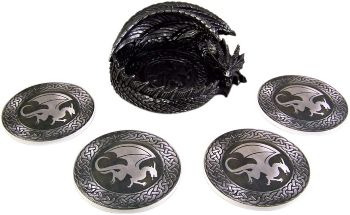 They won't forget to use a coaster with coasters this cool! The set comes with four heavy-duty coasters and a beautiful dragon coaster holder.
If you want to step up your gift-giving game, add a mythical dragon salt and pepper shaker set!
15. Dungeons and Dragons Player's Handbook 5th Edition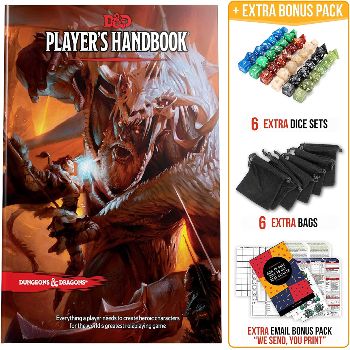 Give them the latest (5th) edition of the Dungeons and Dragons player's handbook. You can't go wrong with this one because it's an essential component of the game.
Plus, it comes with dice, paper figures, and character sheets!
Thoughtful Dungeon Master Gifts
If you're a player, then you know the game can't go on without the wisdom and cleverness of a Dungeon Master (DM). Show your appreciation for the dedication they put into crafting the best gaming experience with these epic gifts.
16. Dungeon Master Keychain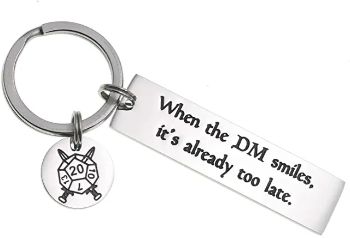 Remind your DM of all the fun and laughter you've shared with this funny keychain.
The engraving that says "When the DM smiles, it's already too late" is an inside joke any DM will appreciate because it happens all the time in a game.
Since it's made from high-quality and hypoallergenic materials, it won't rust or tarnish!
17. Dungeon Master Screen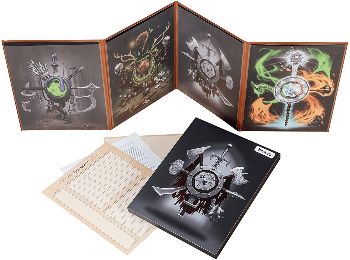 A DM must always have a game master screen to do their job effectively— and this will easily do the trick!
The screen shows an overview of the basic D&D rules which can really be helpful for newbie and even veteran DMs. The panels are also customizable, which allows their creative juices to flow.
18. Dungeon Master Mug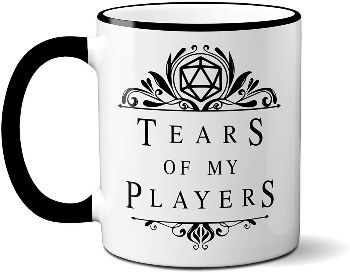 Let's be honest, Dungeon Masters can be ruthless sometimes with their scenarios.
But at the end of the day, playing DnD is always about bonding and having fun.
Your DM will surely laugh if they receive this funny mug!
19. Handcrafted Leather Journal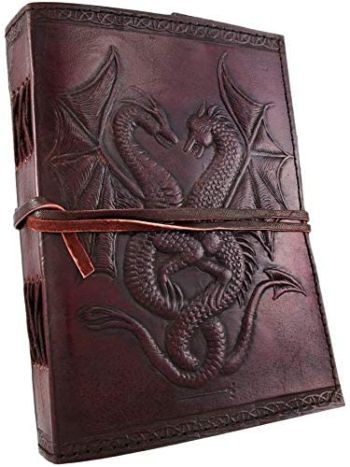 Give a DM one of the most useful tools they'll ever use – this handcrafted dragon leather notebook.
It doesn't just look cool, it's also very handy to easily write and conceptualize their ideas for the game.
The Best DnD Gifts
That's a wrap for the best DnD gifts for massive fans of the game. I'm sure the items on the list will make each game more fun and memorable for players and DMs alike!
What's your pick on the list? Share with us in the comments!
Looking for more gift ideas? Check out this comprehensive list I made for Lord of the Rings fans.