While it may not be as popular as basketball, softball players and spectators are just as passionate about it as any other sports fan. Choosing the right gift for a softball player can be daunting, but that's why I'm here.
Whether you're looking for gifts for softball players, softball keepsakes, personalized softball gifts, or any softball items, chances are there's something for you on this list.
Choose from homeware, accessories, softball gear, and other softball items. Whatever type of fan they are, you'll find a softball gift on this list to suit teammates, friends, and family.
7 Softball Gifts for Girls
1. Silver Stud Earrings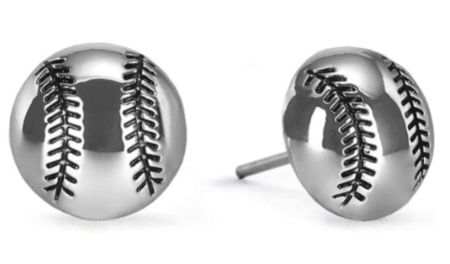 These silver studs are very cute and pretty to look at. She can show her love for the sport, even when she's out of her jersey and cleats. Its subtle style and delicate softball markings don't tarnish because they're lead and nickel-free.
2. Softball Bath Bombs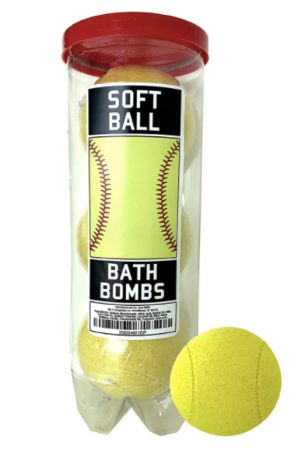 These all-natural bath bombs look just like real softballs and contain Epsom salts that help to ease tired and aching muscles after a rigorous training session.
3. Softball Stickers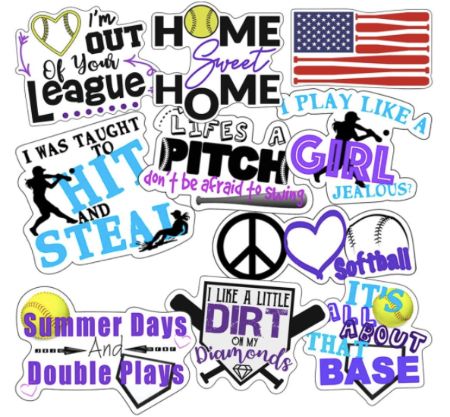 Whether it's for decking out their helmets, water bottles, phones, tablets, or anything else they want to add a little softball love to, these stickers will do the trick perfectly. They can choose whatever design they want or just peel them off and switch them out!
4. New Balance Fresh Foam Softball Shoes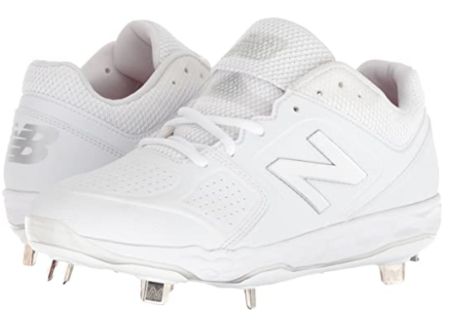 These fresh Women's Velo V1 softball shoes from New Balance come highly recommended by serious softball players. They're incredibly comfortable to wear and have eight metal cleats and fresh foam midsoles.
Plus, these shoes are available in seven different color options to suit most team colors.
5. Cooling Towel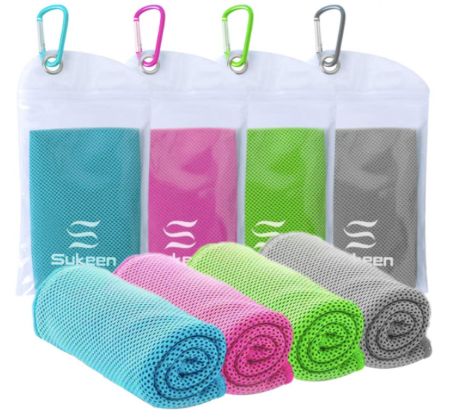 For intense training sessions, these cooling towels will keep softball players cool so they can stay on top of their game. These cooling towels are made from microfiber mesh material and each pack comes with a set of four in cool colors.
The cooling function is easy to activate. Just get it wet, wring the extra water out, and snap it. These towels are designed to draw sweat away from the skin and stay cool for up to three hours.
6. Nike Dri-Fit Head Tie Headband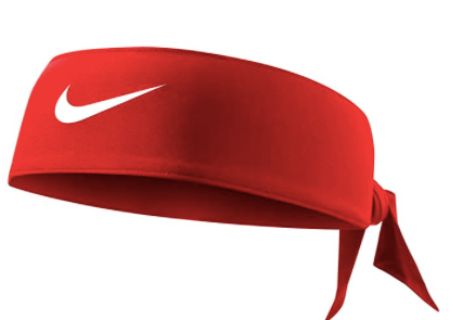 This tie headband features sweat-wicking material with Nike's patented Dry-Fit technology. It will keep sweat out of their faces and keep hair in place so they can concentrate on the game.
7. Throw Like a Girl: How to Dream Big & Believe in Yourself  by Jennie Finch and Ann Killian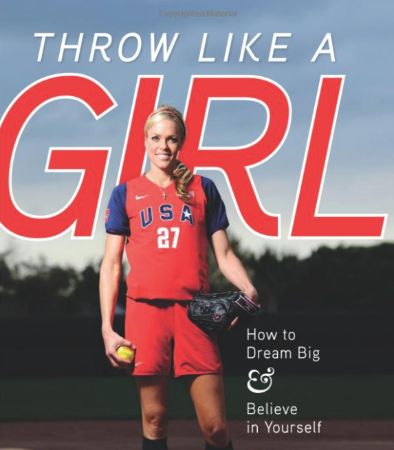 A wonderful gift for any girl who loves softball, Throw Like a Girl chronicles the story of two-time Olympian Jennie Finch and her rise to the top. This book offers lots of advice to inspire the softball player in your life to keep reaching for her dreams.
5 Softball Team Gift Ideas
If you're looking for softball gift ideas for softball teams, I found five great ones that come in bulk so you don't have to worry about buying for each person on the team.
8. Silicone Softball Bracelets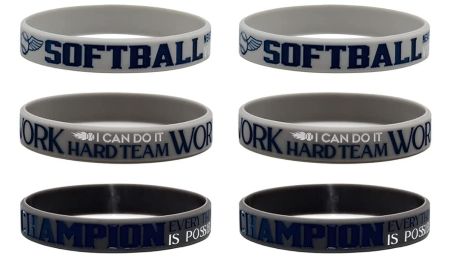 Keep the team spirit alive, especially on the field, with these inspirational silicone bracelets. Each pack comes with 12 unisex bracelets in black and grey so it's easy to match with their team colors.
9. Softball Keychains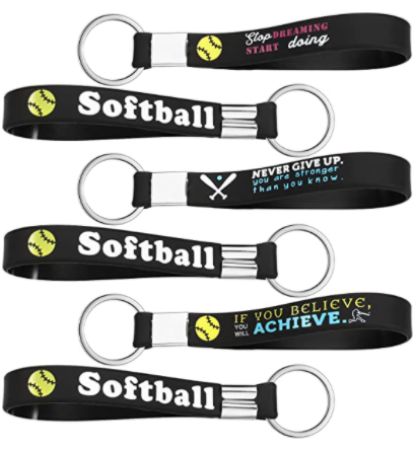 Keychains are fun little knick-knacks that are also functional. These softball-themed keychains are made from quality silicone and stainless steel that won't break easily and feature inspirational quotes for additional motivation.
Each pack contains 36 keychains that are enough for the entire softball team and their loyal fans. They're also great as party favors!
Also, check out these neat softball-themed chapstick holder keychains!
10. Sports Squeeze Water Bottles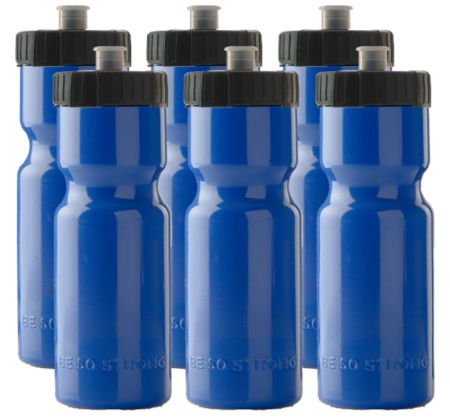 For maximum hydration, these plastic sports bottles are made from durable polyethylene and are available in a variety of colors. They're leak-proof and great for short water breaks during games.
This team pack includes six bottles that are the perfect canvas for decals and stickers.
11. Reflective Drawstring Backpack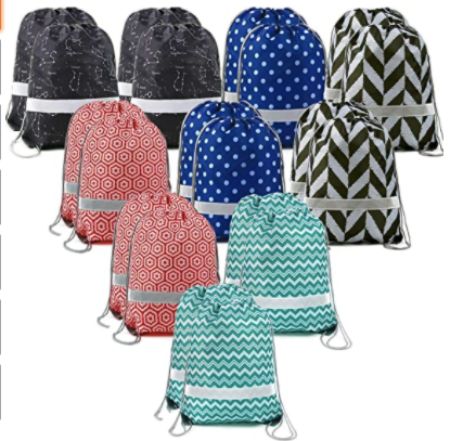 These reflective drawstring backpacks are great for that quick team meeting or practice session. The pack contains string backpacks that are big enough to carry snacks, a water bottle, towels, and other essentials.
12. Dog Tag Necklaces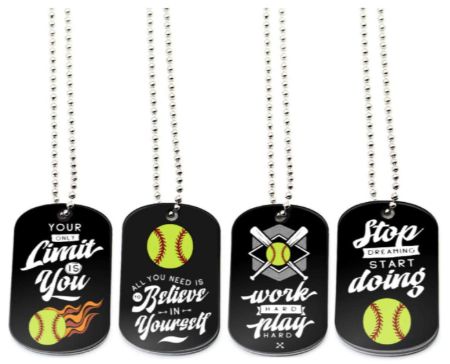 This pack of 12 one-size-fits-all softball themed dog tags includes four unique designs with motivational sports quotes. They're the perfect versatile softball gift item!
They feature colors and designs that will fit tween and teen boys and girls, as well as adults.
7 Softball Christmas Gifts
13. Bat & Equipment Backpack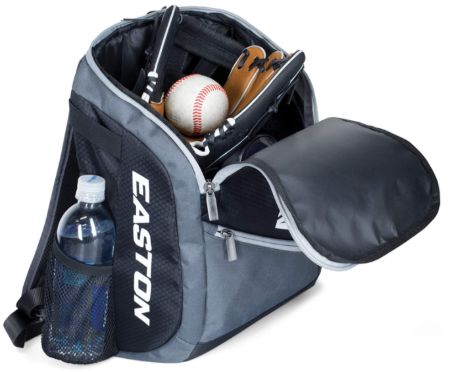 This Easton bat and equipment backpack is popular with softball players of all ages. It has enough room for all their softball gears and personal items, and has an external helmet holder and bat sleeves on both sides.
This bag also features a vented shoe compartment and a hook for hanging the bag easily.
14. Softball-Themed Ornaments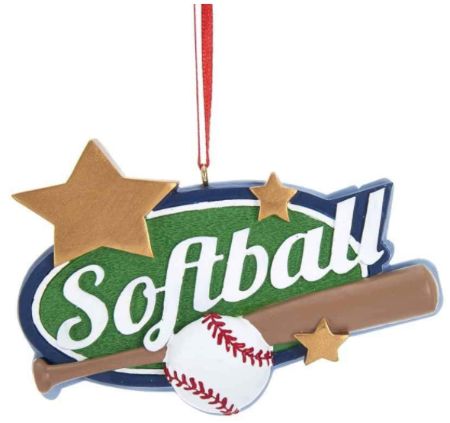 If you want a Softball stocking stuff, this ornament from Kurt Adler is the way to go. This ornament can also be personalized because it features a gold star that can be written on with a permanent marker.
Another awesome choice is this hand-crafted Glass Blown Softball Ornament. It's made from molten glass and features amazing details to make it look like a real softball.
15. Shower Steamers Bundle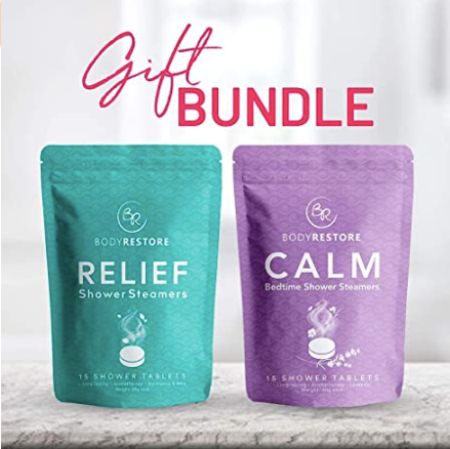 This shower steamer bundle can help wash the day's stress away. It comes with a Relief (eucalyptus and mint) and Calm (lavender) pack infused with 100% essential oils for that spa experience right in the shower.
Each pack contains 15 individually wrapped tablets that last longer than similar diffuser tablets. They're great for nasal congestion relief, too.
16. Softball Glove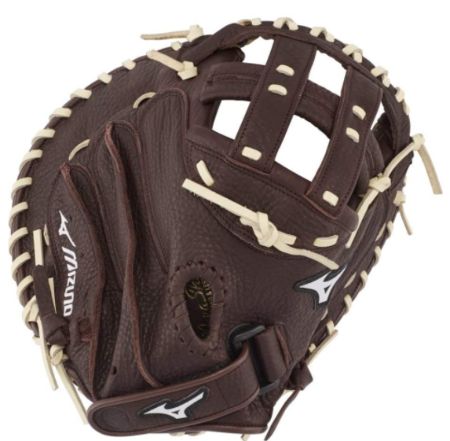 Another popular softball gift for players is this Mizuno softball glove. Made from pre-oiled Java leather, this glove will make a handsome addition to their softball kit.
Plus, this glove comes in left or right-handed options and features an ortholite palm pad to reduce the ball's impact.
17. Softball Pendant Necklace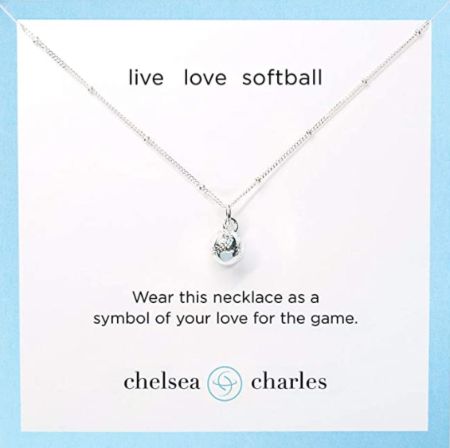 This dainty necklace is the perfect accessory for softball-loving girls during the holidays (or any time of the year). The chain is made from sterling silver while the softball pendant is silver-plated – it's sure to compliment any outfit, no matter the occasion.
Plus, it comes in a beautiful box to showcase their love for the sport.
18. Softball Pitching Trainer w/Leather Ball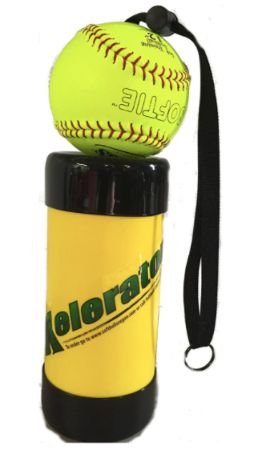 Help them perfect their pitch with this softball pitching trainer. The Xelerator 2nd Gen Softball Pitching Trainer's lighter weight is effective for all skill levels and closely duplicates the actual pitch. Plus, it features adjustable straps to fit any age.
19. Softball Print Beach Towel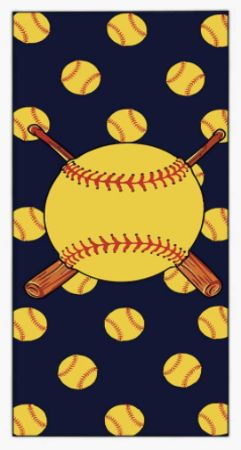 This fun beach towel will take their love for softball to the beach! It features double-sided printing and is made from ultra-absorbent and lightweight microfiber.
Plus, the material is sand-proof so your favorite softball player doesn't have to take the sand home with them.
8 Softball Novelties and Senior Softball Gift Ideas
The next items on this list are softball keepsakes, novelties, and some senior softball gifts that any fan would love to receive.
20. Funny Softball T-Shirt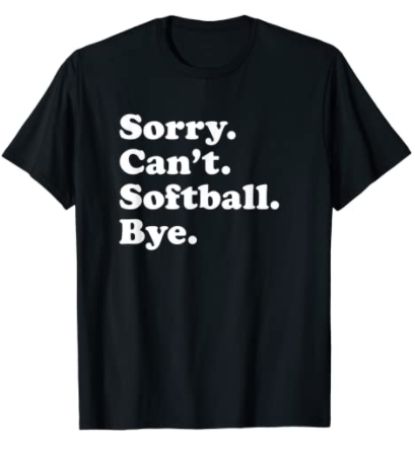 Help them make a statement with this funny softball shirt. It comes in a variety of colors and sizes to suit kids and adults. This shirt is also machine-washable and is made from a shrink-resistant cotton-polyester blend.
21. Softball Rose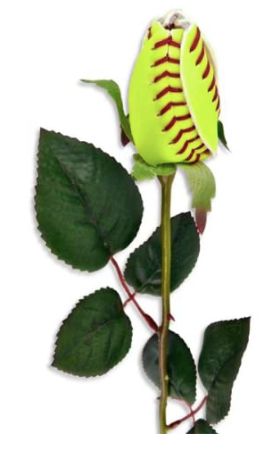 This beautiful hand-crafted rose is made from genuine softball leather material and is the perfect graduation gift for senior softball players. Just like their love for the sport, this rose will last forever.
22. Personalized Softball Necklace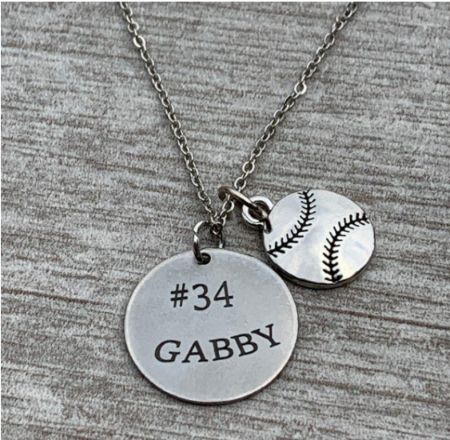 Another senior softball gift idea is this unique personalized necklace made from hypoallergenic stainless steel. It features a small silver-plated softball charm and a jersey number plate that can be customized.
23. Softball Senior T-Shirt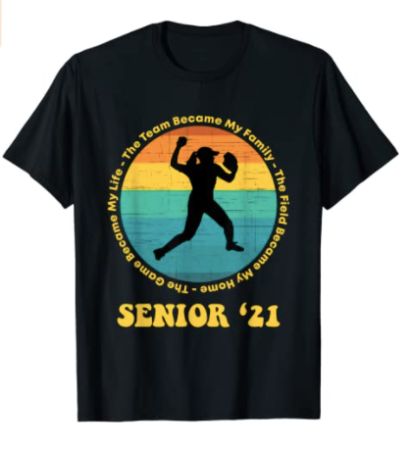 This softball senior t-shirt will make a great senior year gift that's sure to help them remember their time with the team fondly. This shirt has a classic fit, is lightweight, and features double stitching on the sleeves and hem for extra durability.
24. Softball Novelty Socks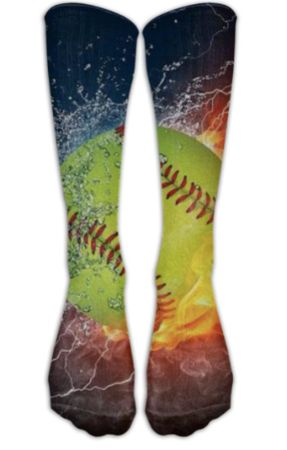 These compression novelty softball socks are sure to be appreciated by softball players and fans. They're perfect for training and will also keep feet warm.
25. Novelty Mug
Another softball novelty item is this mug that describes a normal day in the life of a softball player. This mug is dishwasher and microwave safe and is printed with fade-resistant ink that will last no matter how many times it's washed.
26. 3D Led Night Light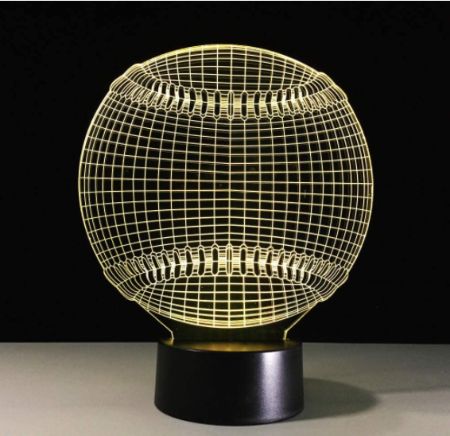 This softball night light gives off a 3D effect due to a specialized laser engraving on a durable acrylic plate. It features a sturdy base with LED bulbs that project light onto the plate when turned on.
It comes with a remote control they can use to change the lights' color.
27. Flannel Throw Blanket
Last on this list is this baseball-themed throw blanket made from super soft polyester material that would add a little baseball flair in any bedroom. This blanket is machine washable and comes in three sizes for kids, teens, and adults.
Find the Perfect Softball Gift Right Here
Softball is a sport beloved by many, so help the softball player or fan in your life show off their passion for the sport with the 27 gifts on this list.
Also, if you have other sports fans in your life, check out our other gift lists of sports-themed gift ideas: