Sunflowers symbolize happiness, optimism, and loyalty. They're not just beautiful, they're also meaningful. No wonder lots of people are captivated by these yellow flowers!
Giving someone a sunflower is special in itself, but if you want something less ephemeral, then this list is for you!
I've gathered the best 39 sunflower gifts that will brighten up your giftee's day in this list. You'll find everything here – from home decor, gardening essentials, and jewelry!
11 Must-Have Sunflower Themed Products
1. Sunflower Blanket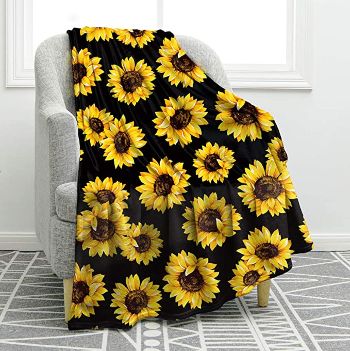 Looking for something to keep them warm and cozy all year round? This lightweight sunflower blanket will do the job!
You won't be disappointed with this blanket – not only can it be anywhere (on the couch, in bed, and even on road trips), the print quality is excellent so the sunflowers will never fade.
2. Wristlet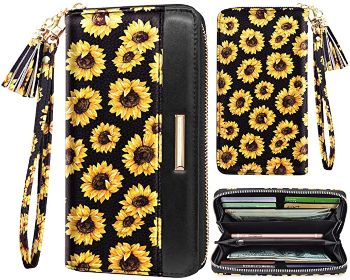 Everyone needs a reliable and spacious place to keep their money, IDs, and credit cards safe. This wristlet features 12 card slots, three cash holders, and a zippered pocket for coins.
It also has an RFID blocking feature that protects credit cards, IDs, and passports from clever thieves.
3. Sunflower Car Accessories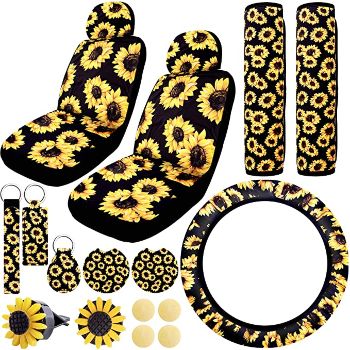 Transform a sunflower lover's car into a haven on wheels!
This 16 piece accessory set is complete with anything and everything sunflower-related – from front and passenger seat covers to air vent decor.
4. Card Holder Bracelet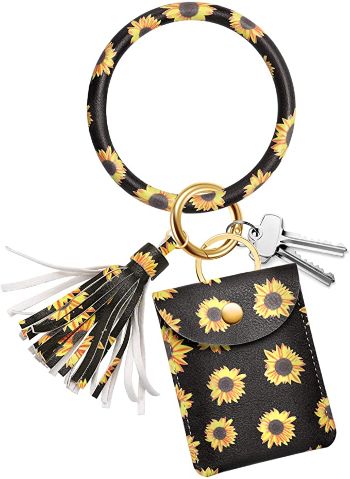 Can't decide whether to go for something cute or something practical? Why not give them both with this sunflower wristlet!
It's a great gift that keeps all their essentials in one place (such as keys and cards). Brownie points for the cute sunflower print!
5. Baseball Cap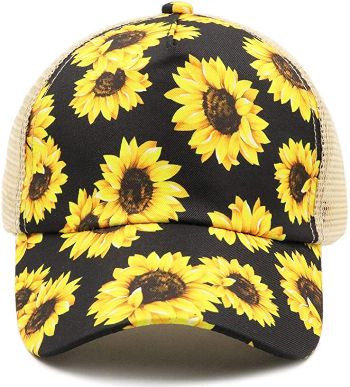 Even sunflowers need protection from the sun. Too much sun exposure causes skin cancer, eye damage, and immune system suppression.
Protect your giftee with this pretty baseball cap. This cap is top-quality because it's lightweight, breathable, made from 100% cotton, and one of the safest sunflower gifts you can give.
6. Dinnerware Set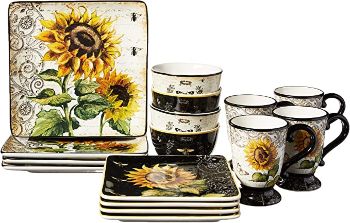 Make their kitchenware a little cheerier with this elegant sunflower dinnerware set. It includes four dinner plates, salad plates, mugs, and ice cream bowls.
Complete this dinnerware set with a three-piece sunflower canister that perfectly complements it.
7. Pen Holder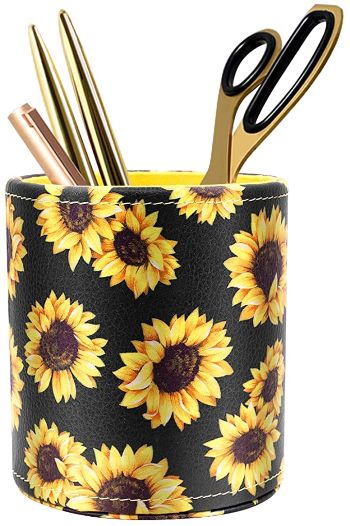 As the saying goes, it's the little things that matter, just like this sunflower pen holder! They'll feel energized and ready to take on the day's challenges just by looking at it.
8. Wooden Sunflower Cooking Utensils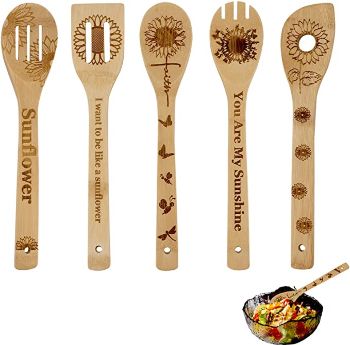 Does your giftee love to cook? Then they'll love these wooden sunflower themed cooking spoons!
The set includes five different spoons that are made from 100% natural bamboo. They're not just pretty, they're earth-friendly too!
9. Paper Towel Holder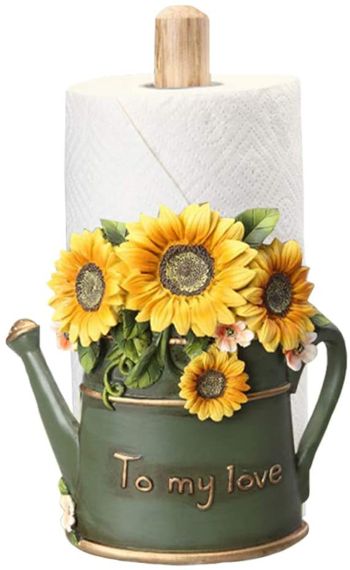 This sunflower paper towel holder is the definition of cuteness overload. It features a watering can decoration with flowers and a quote that says "To my love."
The set also contains a resin base and two detachable wooden sticks that give the option for paper towels or toilet paper.
10. Ceramic Tea Cup with Saucer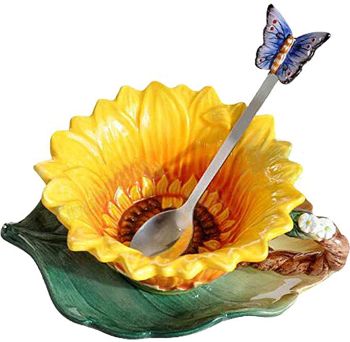 There's nothing better than drinking a cup of coffee in the morning, so elevate that experience with this sunflower teacup and saucer. They'll feel like they're a character straight out of a fairytale!
11. Twelve Sunflowers by Van Gough Replica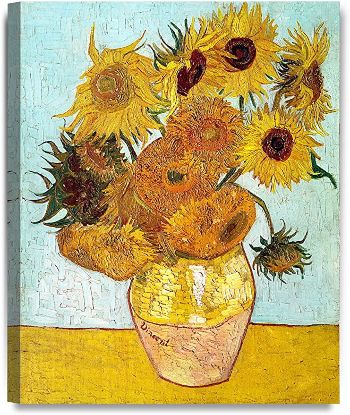 Most sunflower lovers dream of owning a piece from the Sunflower series by Vincent van Gogh. Unfortunately, owning one is highly improbable since an original costs around $155.8m.
But that dream isn't entirely out of reach thanks to this high-quality replica of his Twelve Sunflowers painting.
This replica is certified museum-quality because it's made from durable materials that make it almost identical to the original.
6 Sunflower Home Decor Gift Ideas
12. Sunflower "Welcome" Door Hanger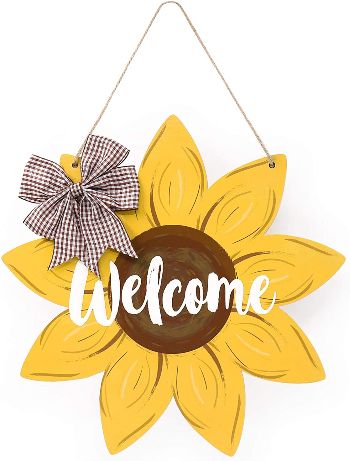 If you're looking for the best housewarming present for a sunflower lover, then look no further! This gorgeous sign will make their new home welcoming and inviting.
13. Sunflower Pillow Covers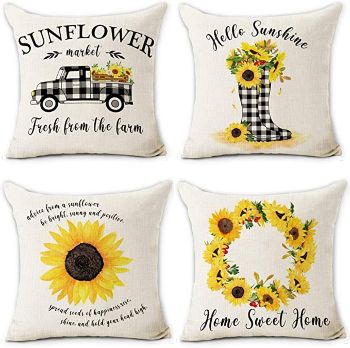 Add a homey feeling to your giftee's space with these adorable country-themed sunflower pillow covers. They are made from high-quality linen that makes them very soft and, best of all, durable.
14. Sunflower Rug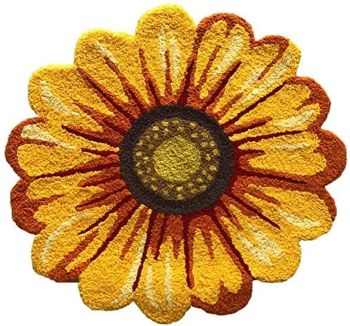 According to Into the Wash (a Ruggable blog), rugs are one of the best presents you can give somebody since they're useful, practical, and durable.
Your giftee will love this non-slip sunflower rug because it's super cute and made from premium quality materials.
15. Sunflower Mason Jar Wall Sconces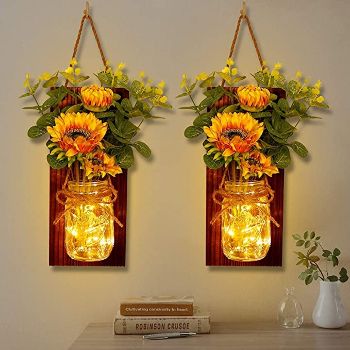 This exquisite wall decor adds a cozy feeling to any place. This is multiple sunflower gifts in one because it includes two mason jars, two wooden boards, two large sunflowers, fairy lights, and more.
The fairy lights are adjustable and can be set to automatically turn on or off throughout the day.
16. Artificial Sunflowers in Glass Dome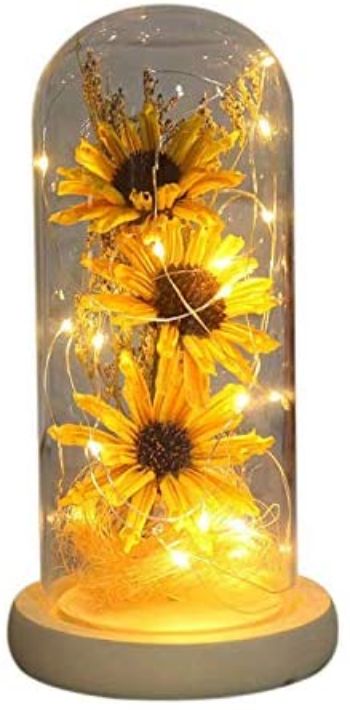 With these artificial flowers, they'll always have sunflowers ready to boost their mood any time of the day.
Aside from being pleasing to look at, the sunflower glass dome also acts as a dreamy lamp.
17. Sunflower 3D Wall Sticker Set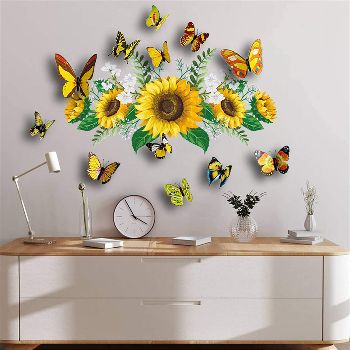 This sunflower 3D wall sticker set will instantly make their room brighter and livelier! It's also a terrific choice for nurseries and kid's rooms since it's non-toxic and waterproof.
4 Sunflower Gardening Essentials
18. Garden Tool Set
This beautiful garden toolset is a must-have for people who grow sunflowers because it contains every tool needed to cultivate this iconic flower.
The 10-piece set includes a shovel, rake, and shears, to name a few.
19. Sunflower Grow Kit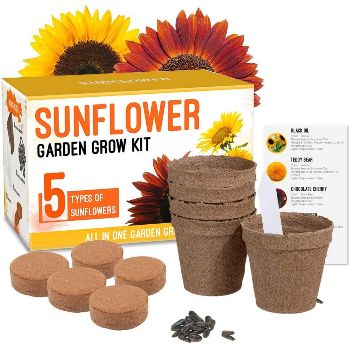 This sunflower grow kit is perfect for those who are just starting out in gardening.
It includes everything they'd need to get started on their sunflower garden such as a guide on how to grow sunflowers, growing cups, soil discs, and five types of sunflower seeds.
20. Soil Moisture Meter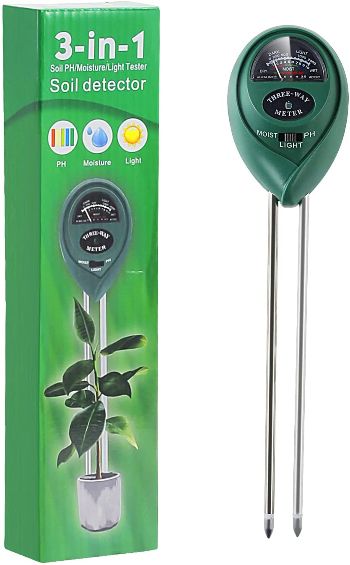 The Alkey soil moisture meter is a 3-in-1 tool that's helpful to sustain a sunflower garden because it measures the soil moisture, sunlight levels, and pH value of plants.
With this instrument, gardeners will accurately know when and how much water their plants need.
21. Plastic Minimalistic Pots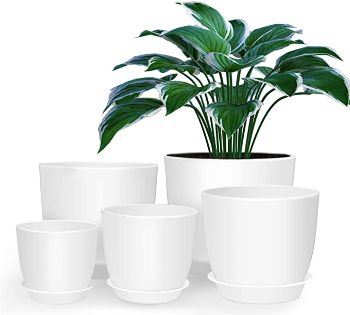 Their sunflower plants will look more aesthetic when placed in these modern and minimalistic flower pots.
Each set contains five matte-finished pots that also come in five different sizes.
8 Sunflower Themed Jewelry Gifts
22. "You Are My Sunshine" Necklace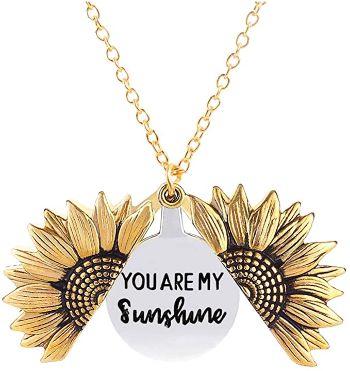 This necklace is a special gift fit for someone who radiates joy. It's a 22″ 14K gold plated necklace that's also hypoallergenic and lead-free.
23. Sunflower Pendant Necklace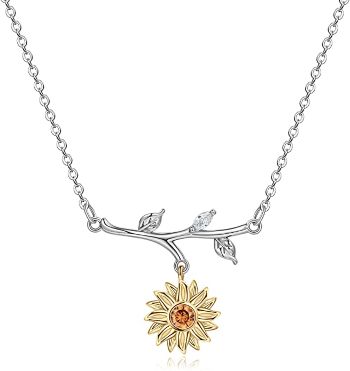 This necklace is a timeless piece that's perfect for women of any age. Choose from six beautiful designs available, such as a tree branch with a sunflower in gold and a heart with a sunflower in rose gold.
24. Sunflower Print Jewelry Set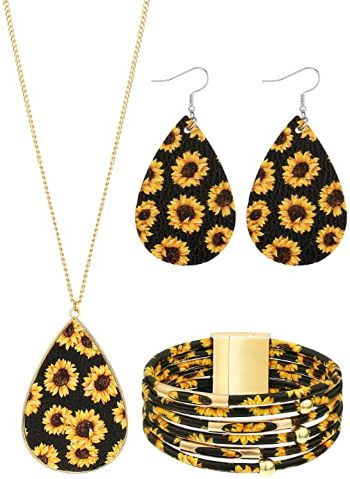 This fashionable sunflower print jewelry set levels up any outfit effortlessly.
The jewelry set includes a bracelet, dangle earrings, and a pendant necklace, and comes in two colors: black and white.
25. Laura Ashley Sunflower Dial Watch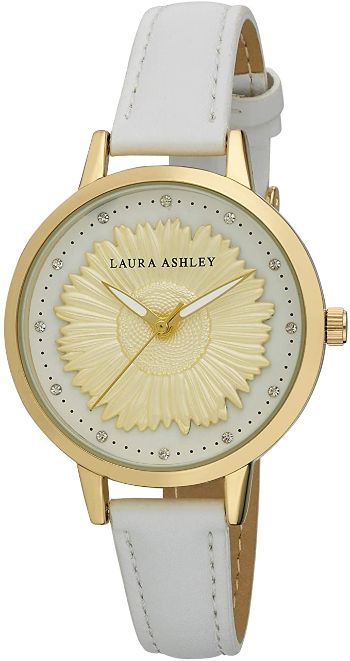 Watches are meaningful presents that show you value the time you spend with your giftee. It also symbolizes a rite of passage or a celebration of an accomplished milestone.
Whatever the occasion may be, this elegant sunflower watch is an excellent choice.
26. Sterling Silver Sunflower Ring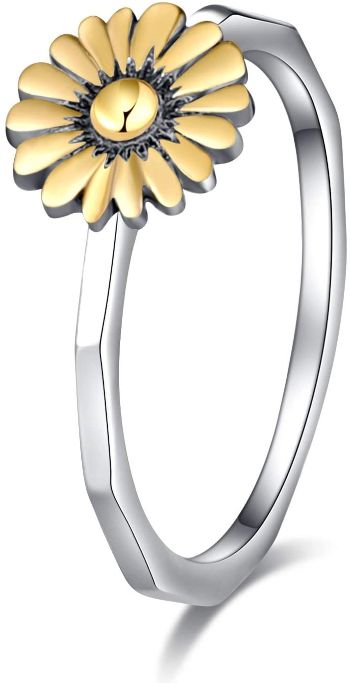 This antiquated sunflower ring embodies warmth, positivity, and happiness. It's made from sterling silver and comes with a gift box and velvet bag.
27. 100 Languages "I Love You" Necklace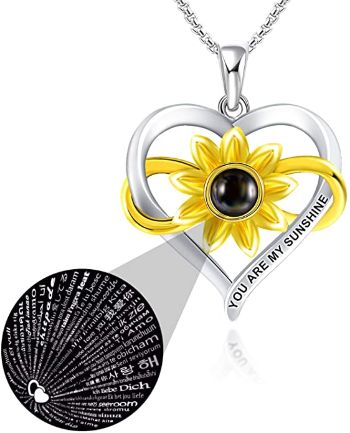 This necklace is a cool way of professing your love to the sunflower fan in your life.
They'll see the phrase "I love you" in a hundred different languages when light is shone through the necklace. How cool is that?!
28. Gold Chain Anklet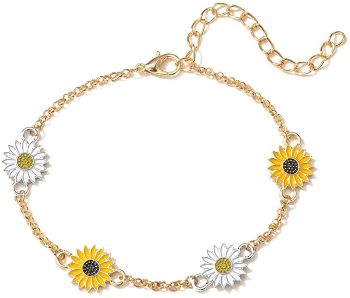 If you want to give your giftee a more unique piece of jewelry, then an anklet is the way to go! Plus, it's a chic and thoughtful present that won't break the bank – a "win,win" for everyone.
29. Van Gogh Sunflower Trinket Dish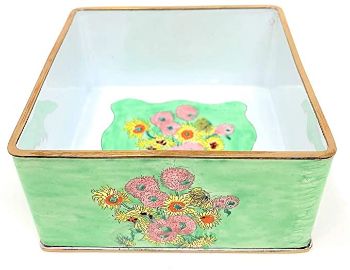 This Van Gogh-inspired trinket dish will organize and keep all their pieces of jewelry in one place. This jewelry tray is hand-painted which makes it more personal and special.
6 Sunflower Apparel Gift Ideas
30. Cute Graphic Shirt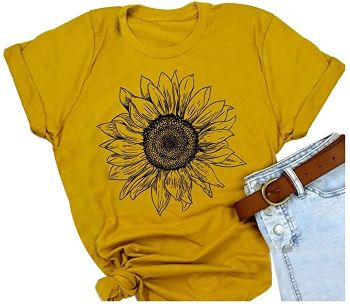 You can never go wrong with a classic graphic tee since it's a practical and low-cost gift option.
This sunflower shirt is made from cotton and polyester for a comfortable fit and comes in five vibrant colors.
31. Summer Floral Dress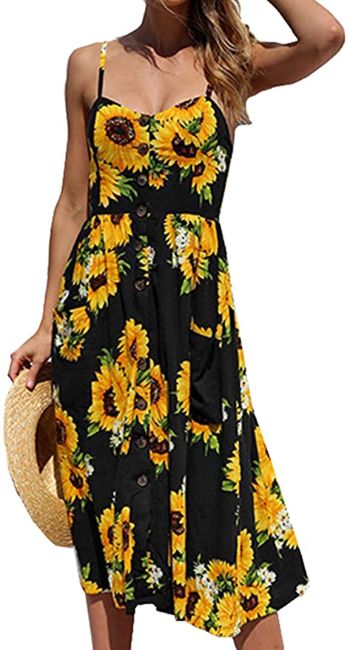 Nothing screams "I'm ready for summer!" more than this beautiful floral midi dress. Most sunflower fans are also massive fans of summer, so this item is like hitting two birds with one stone!
32. Women's Sunflower Print Shorts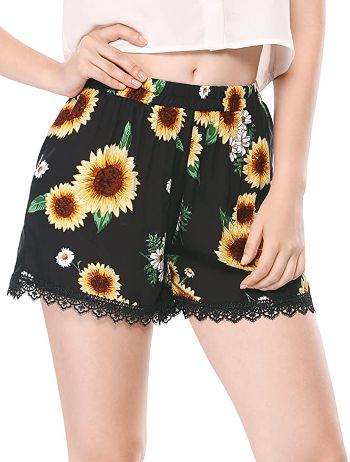 These cute sunflower shorts will complete your giftee's look whether they choose to pair it with a plain tank top or a comfy shirt.
There are also other patterns to choose from such as floral, cactus, and lemon!
33. Comfy Sunflower Print Pajama Pants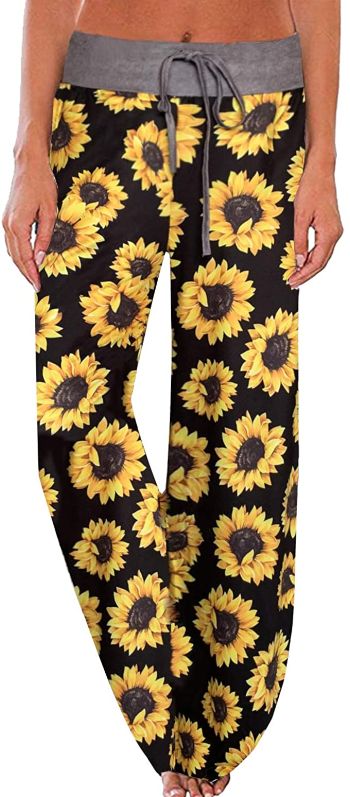 If your giftee is the kind of person who stays at home and loves to chill all day, then this sunflower print pajama pants is a great gift choice!
It's super comfortable and they'll look chic and cute without exerting much effort.
34. Kimono Sunflower Print Cover Up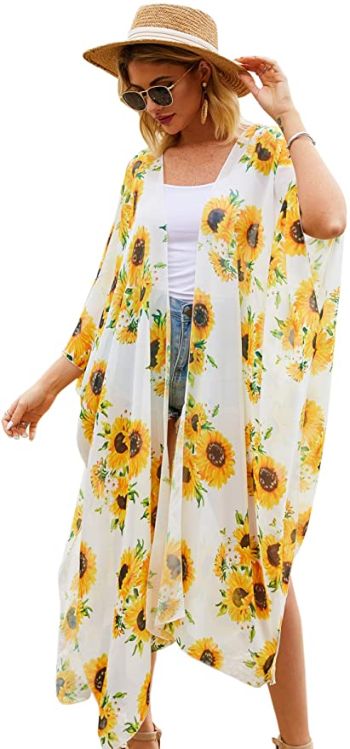 This beautiful kimono cardigan is perfect for all figures! It's a multipurpose accessory that's a cardigan, cape, and bikini cover.
35. Maternity Sunflower Print Maxi Dress

This casual maternity dress highlights the glow of any soon-to-be-mother. What's also great about this dress is that it's comfortable, stylish, and has a lot of room for mom's growing belly.
She'll be able to use it from the start of her pregnancy journey until the day the baby arrives.
5 Sunflower Gifts for Self Care
36. Handheld Mirror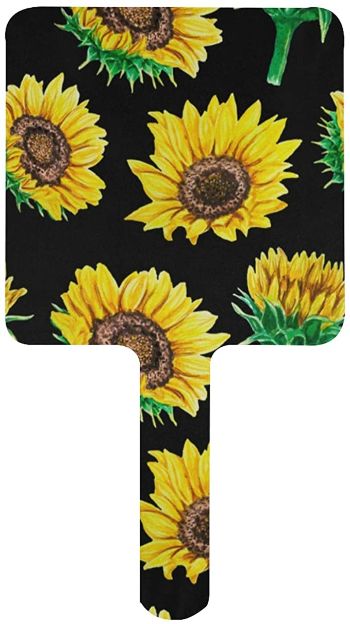 There's a lot of good hand mirrors online, but this one stands out from the rest!
Aside from the adorable sunflower design, the mirror features a non-slip sleek comfort grip that makes it the best mirror for applying makeup and cutting hair.
37.  Travel Manicure Set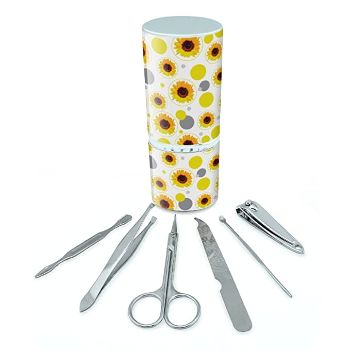 If your giftee is always on the go, then this travel manicure kit is the best present for them! With this sunflower kit, they'll be able to carry a little sunshine wherever they go.
The kit contains grooming essentials such as a nail clipper, scissors, a metal file, and tweezers.

This retired Bath and Body Works' Golden Sunflower body cream smells like sunflower petals and vanilla. Plus, it moisturizes the body and leaves it feeling soft and smooth for 24 hours.
39. Makeup Travel Case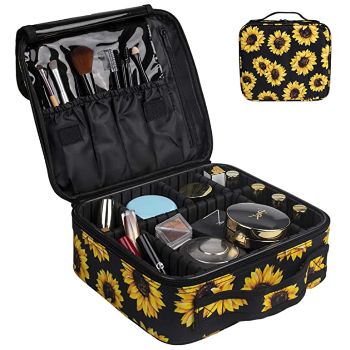 This makeup case is handy while travelling and even good to use at home. It's spacious and organizes hairbrushes, makeup, and toiletries.
The compartments are also adjustable to fit their things perfectly!
40. Thermal Spray with Sunflower Extract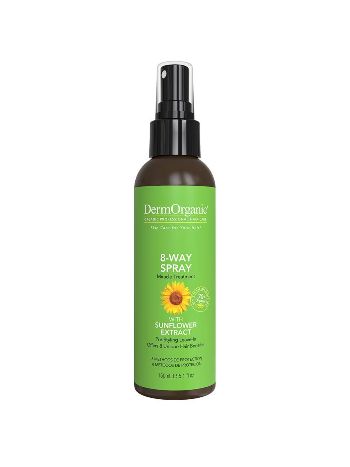 They'll enjoy heat styling without feeling guilty about damaging their hair with this DermOrganic thermal spray.
It repairs and adds moisture to damaged hair and is suitable and recommended for all hair types.
The Prettiest Sunflower Gifts to Make Someone's Day
Sunflowers are breathtaking flowers that are beloved by many! It's no wonder they also make excellent presents.
I'm sure that whatever sunflower gifts you choose from the list, it'll bring light and happiness to your giftee.
What item from the list stands out for you? Have you received a sunflower gift before? Share with us in the comments below!
Looking for more gift ideas? Check out this post about the most thoughtful gifts for daughters-in-law.