Truck drivers spend a lot of time on the road. If you're looking for gifts for truck drivers, you'd want to pick items that would help make their trucks feel like home and their lives on the road safer, comfortable, and more interesting.
Whether it's for your spouse or partner, or a friend or family member who drives trucks for a living, I found 30 trucker gift ideas that are sure to make them smile. 
From accessories to safety gear, these thoughtful gifts for truck drivers will make them feel appreciated and cared for.
12 of the Best Practical Gifts for Truck Drivers
Let's start this list of gifts for truckers with essential and practical items to help make their jobs safer and easier.
1. Car Vacuum Cleaner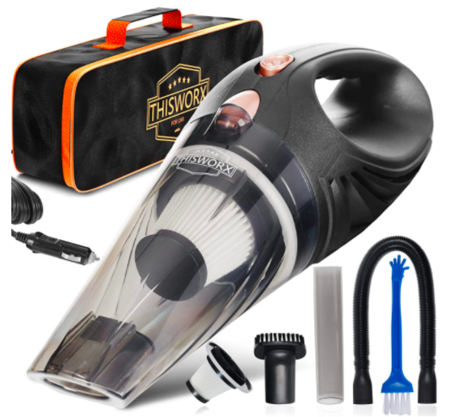 When they're on the road, dust and dirt have a way of hiding in nooks and crannies that are hard to reach. Give the trucker in your life this powerful handheld vacuum cleaner to keep the cab clean and pristine.
It has three different attachments that fit in all the small places where dirt could hide. This device plugs into the 12V lighter socket and is safe to use for both wet and dry messes.
2. Premium Roadside Assistance and Emergency Kit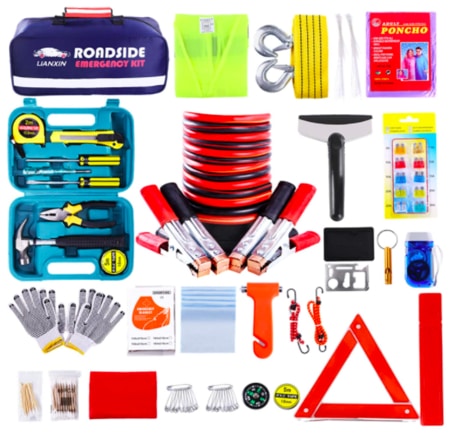 Even big, mean, well-oiled machines break down unexpectedly. Make sure they have everything they need for road emergencies no matter where they happen with this premium roadside assistance and emergency kit.
This kit contains jumper cables, emergency repair tools, flashing lights, warning signs, towing rope, safety gear, and so much more! Plus, it comes in a compact pouch so it won't take up precious cab space.
3. Dual Dash Cam with Built-in WiFi GPS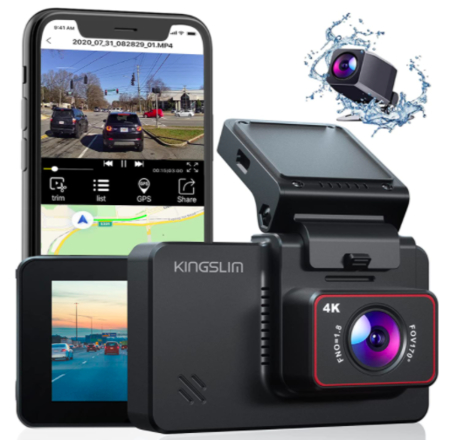 The road can get a little crazy sometimes, and these dual dash cameras are sure to come in handy to record whatever they run into on the road.
This device can simultaneously record clear front and rear images even at night and has a built-in GPS that records routes and speed. It also features WiFi connectivity so they can view, download, and adjust the settings via the app for Android or iOS devices.
4. Garmin GPS Truck Navigator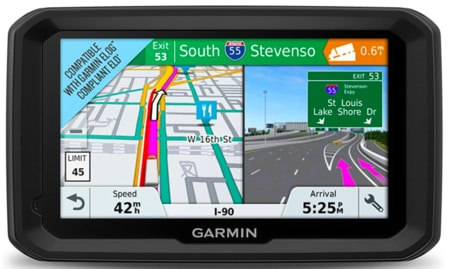 Not all roads are made for trucks. If you're planning to buy the trucker in your life a GPS navigator, I recommend getting this particular Garmin model that's specially made for truckers.
This GPS Navigation system comes preloaded with maps of the U.S. and free real-time traffic updates.  They can get customized routes based on their truck's size and weight, plus alerts for upcoming bridge heights and weight limits.
5. Driver Fatigue Alarm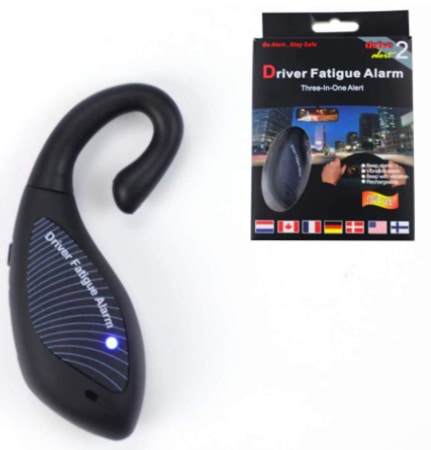 Or, if you're looking for gifts for long-distance drivers, how about something that will keep your trucker safe behind the wheel? This device can detect fatigue or drowsiness and alerts the driver to let them know it's time to get off the road. 
Plus, it features an ergonomic design and is made from quality rubber so they can wear it comfortably behind the ear for hours.
 6. All-Purpose First Aid Kit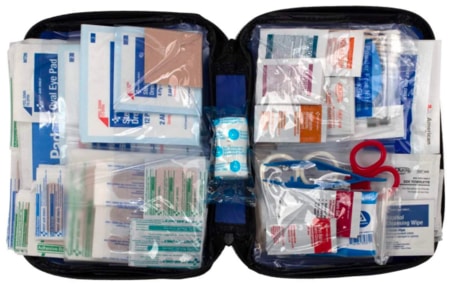 This first aid kit has everything they'd need to take care of scrapes, headaches, sore muscles, burns, or any other minor aches and pains they might get while on the road.
This kit comes with a comprehensive first aid guide and a well organized compact carrying pouch to store all 298 pieces.
7. LED Road Flares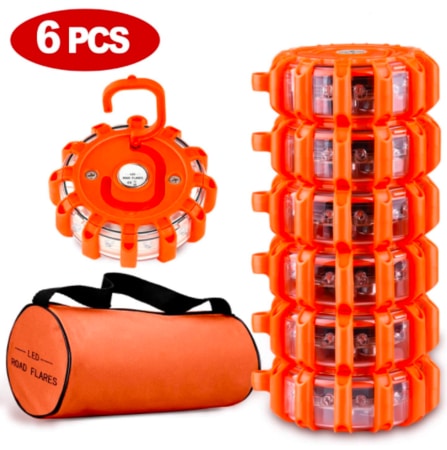 One good consideration in choosing gifts for truck drivers is their safety on the road. Give your trucker these ultra-bright LED road flares in case their truck breaks down. This pack contains six lights, each with nine different flashing modes, to alert other motorists or to signal for help.
8. Cowhide Leather Work Gloves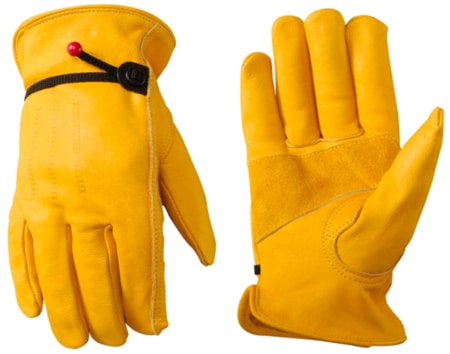 Truckers don't just drive, they also do a lot of repairing, heavy lifting, and securing cargo. Keep their hands warm and protected while working with these leather work gloves from Wells Lamont.
These gloves are made from cowhide leather with reinforced palms that are abrasion and puncture-proof and feature an ergonomic design for comfort and hand dexterity.
9. Front Seat Organizer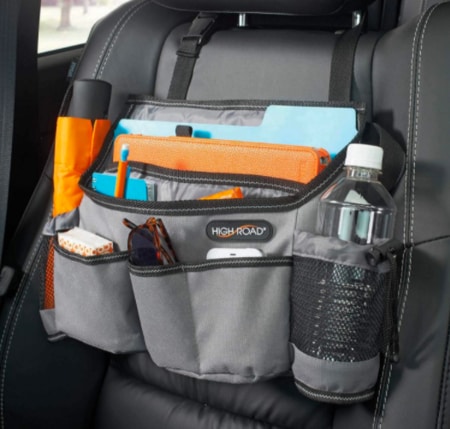 Keep everything they need accessible and in one place with this front seat organizer from High Road. It features several different-sized pockets to store maps, electronic gadgets, and other accessories, and adjustable straps they can easily attach to the headrest.
10. Portable Clipboard Storage Case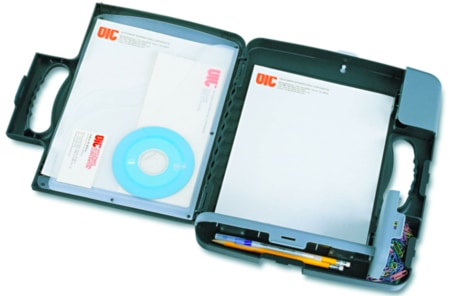 This portable clipboard storage case is all they need to keep their paperwork organized and in one place. It's practically a small briefcase that can fit letter-sized papers and features compartments for pens, pencils, and other smaller items.
The hard case can also function as a writing surface!
11. Car Trash Can with Lid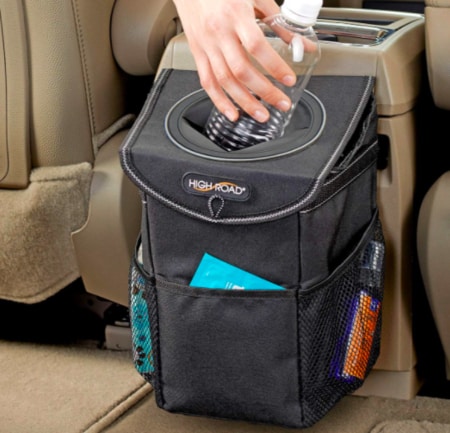 When on the road, the cab is practically every truck driver's home, so any item that will help them keep it clean is a great gifts for truck drivers.
Give them this StashAway car trash can with a patented StuffTop lid to keep garbage safely contained. This 1.5-gallon trash can securely attaches to any headrest post or console lid to keep it upright and stable.
12. Gerber Gear Tactical Pen

This Gerber Gear Tactical Pen isn't just a pen. Not only is it a pen that works in all weather conditions, indoors or outdoors, but it's also a tool that can be used for self-defense.
It has an integrated tempered steel tip that truckers can use to break through a windshield or to defend themselves in emergencies.
4 Personalized Truck Driver Gifts
13. Metal Sign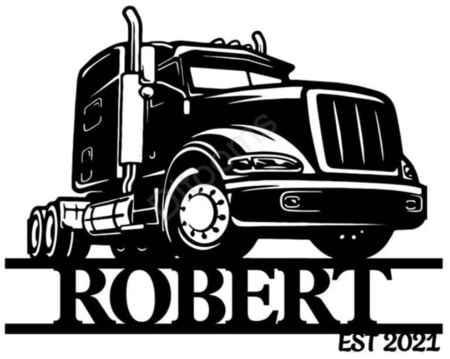 This personalized metal trucker sign is the perfect gift to say "I appreciate you." This sign is made from durable, fade-resistant metal and can be hung indoors or outdoors.
14. Multifunction Bottle Opener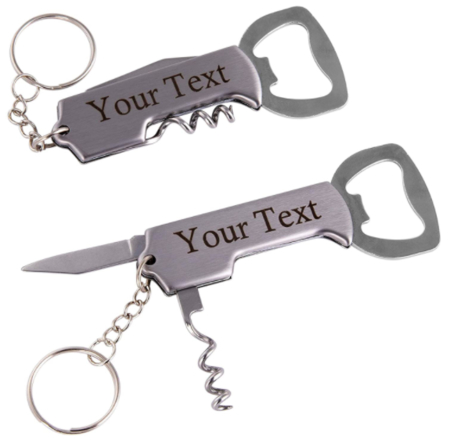 If you're looking for great stocking stuffer for the trucker in your life, how about this personalized bottle opener? It features a serrated foil cutter and corkscrew to open wine and a bottle opener for beer or other bottled beverages.
15. Personalized Leather Toiletry Bag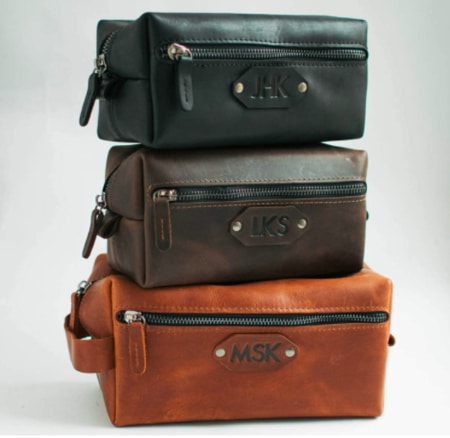 Another personalized trucker gift option is this leather toiletry bag. It features sturdy metal zippers, an external pocket, and a leather plate that can be embossed with their initials. This gift is both beautiful and practical.
16. Tumbler and Multitool Hammer Gift Set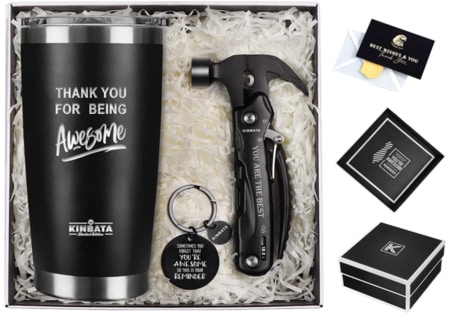 Let them know how awesome you think they are with this gift set that contains a tumbler, keychain, and a multi-tool hammer – all useful things for truck drivers.
This set comes in a classy gift box with a card you can personalize with a thoughtful message.
12 Christmas Gift Ideas for Truck Drivers
17. Audible Membership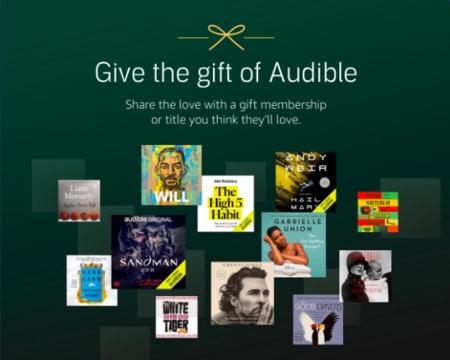 If your trucker enjoys books or listening to podcasts, what better time to listen to their favorite classics, bestsellers, or new releases than while logging miles on the road? Give them the gift of Audible so they can be entertained or learn something new from over 200,000 titles to choose from.
18. Portable Thermoelectric Car Cooler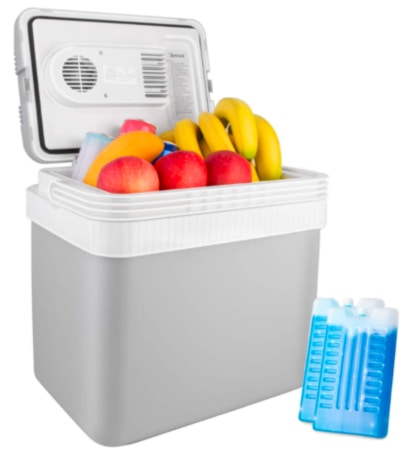 This portable fridge is a godsend for someone who's on the road as much as your trucker is. This fridge has a 24 liter capacity and a removable divider to keep drinks and cold treats organized.
19. Heated Travel Mug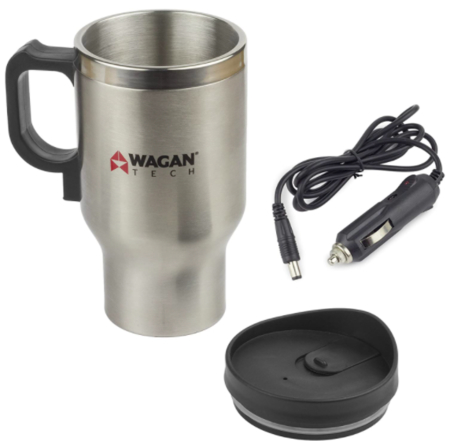 There's nothing more disappointing than taking a sip of coffee on cold mornings only to find out that it's gone cold. Give the trucker in your life this heated travel mug so they won't have to drink cold coffee again.
This stainless steel mug plugs into a 12V electric socket and features double-wall insulation with a leak-proof vacuum lid.
20. Memory Foam Lumbar Support Cushion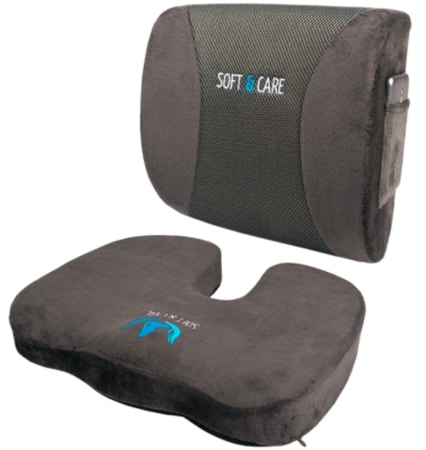 Sitting on those big rig seats for hours on end can take a toll on backs. Make their driving experience more comfortable with these memory foam lumbar and pelvic support cushions.
These ergonomic cushions will conform to their body to maintain proper posture and prevent lower back pain.
21. Portable Espresso Machine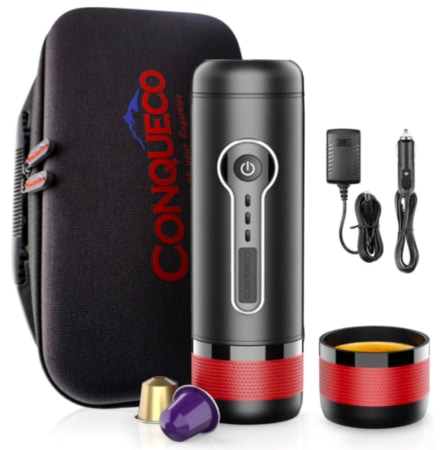 Save them from having to drink gas station coffee with this portable espresso machine. This device connects to a 12V power socket to produce a cup of satisfyingly great coffee that rivals anything made by a barista. Plus, it's self-cleaning and comes with a carrying case.
22. USB Essential Oil Diffuser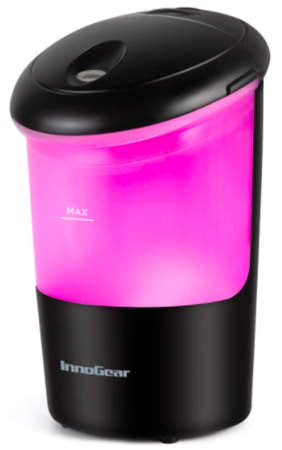 Give them this essential aromatherapy oil diffuser to get rid of unpleasant odors and keep their cab smelling fresh and clean. This device plugs into the 12V socket and functions as a vaporizer, a humidifier, and a night lamp. Its light and compact design can fit into their cup holder so it stays stable even while driving.
23. Microfiber Towels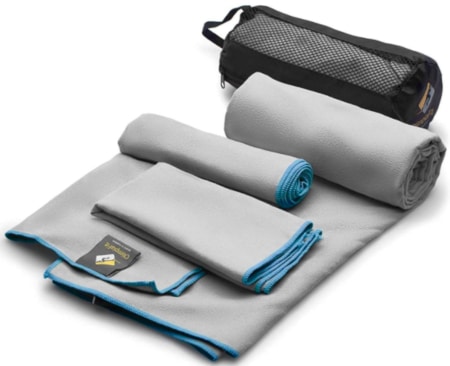 This travel towel can absorb up to three times its weight in liquid and dries in no time. Plus, it packs four times smaller than regular terrycloth towels to save luggage space and comes with it's own mesh carrying bag.
Each set contains three different sized towels they can use for showering and cleaning up spills or cleaning the windshield. This is a great practical gift for someone always on the road.
24. Noise Cancelling Bluetooth Headset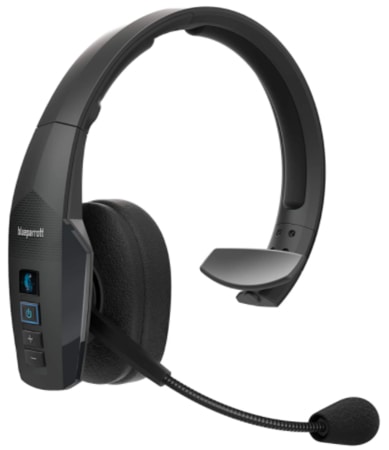 Make it easier for them to keep in touch with family and friend back home with these good-quality noise cancelling headphones from BlueParrott. This headset has crystal clear audio and one full charge delivers up to 24 hours of talk time.
It comes with three different sized ear gels for better fit and comfort, and pairs with any Bluetooth enabled phone.
25. Trucker's Hat
How about this oilskin mesh trucker hat that protects their face from the sun but is lightweight and breathable? It features an adjustable velcro closure and a structured crown for a snug fit.
26. Polarized Driving Sunglasses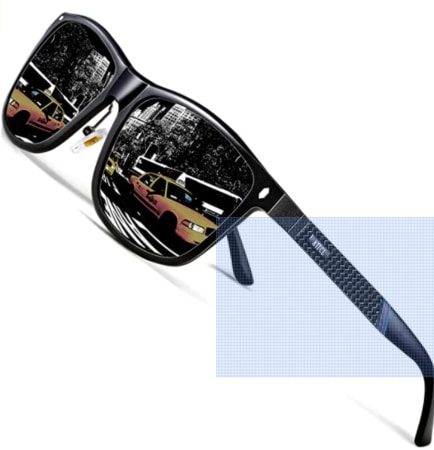 These stylish driving sunglasses will protect their eyes and keep them safe on the road. It has polarized and multi-coated lenses that can reduce glare, block UV rays, and reflect light without distorting true colors.
They're made from polycarbonate lens and metal frames that are lightweight and impact and scratch resistant.
27. Casio Pro-Trek Solar Digital Sport Watch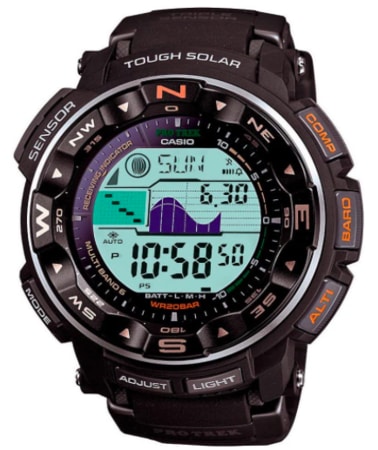 This Casio Pro-Trek Sport watch is as tough, multi-functional, and advanced as any higher-priced sports watch on the market. It features a dual LCD display with fully automatic backlight for easy access to data such as directions, atmospheric pressure, temperature, and so much more.
This watch also has atomic timekeeping that automatically adjusts time wherever they are in the world, self-charging abilities with solar power, and is completely water resistant for up to 200M.
28. Portable Memory Foam Mattress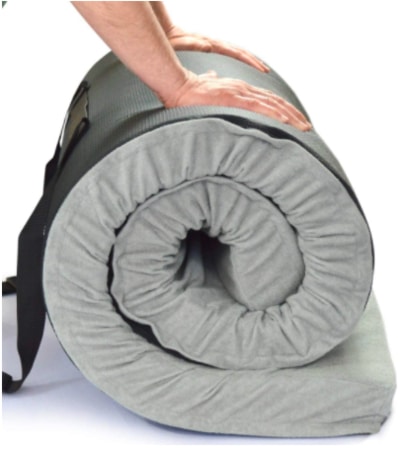 This roll-out memory foam mattress is all they need to get a good night's sleep no matter where they are. It's the perfect choice for truckers to save precious space in the cab, but also for its comfort, easy storage, and hypoallergenic and breathable cotton terry cover.
Make Your Trucker Feel Close to Home Wherever They Are
And there you have it – 28 gift ideas for truck drivers to make their lives on the road a little easier.
If you found this list helpful, we have a lot more awesome gifts lists on the site to help you with your gift shopping: