Whether you're welcoming your future daughter-in-law to the family or showing your appreciation to her for being such a great mom, a present is always a nice gesture.
We've compiled the best gift ideas to give your daughter-in-law on five joyous occasions: Engagement, Wedding Day, Birthday, Christmas, and Mother's Day.
Future Daughter-in-Law Gifts
Giving a present to your future daughter-in-law is a great way to show that you welcome her into your family with open arms. Here are six of the most thoughtful gifts you can give her as she enters a new chapter in her life.
1. FaceTory Facial Mask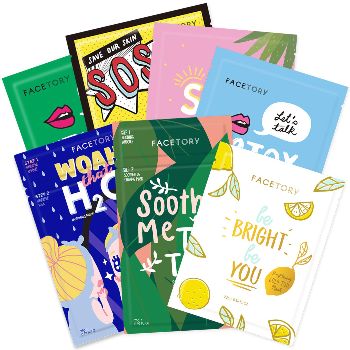 Preparing for a wedding can be stressful, especially for the bride. This facial mask will keep her skin looking fresh and hydrated throughout this chaotic time.
The package comes with seven FaceTory sheet masks she can use in the week leading up to the wedding.
2. Calvin Klein Flap Backpack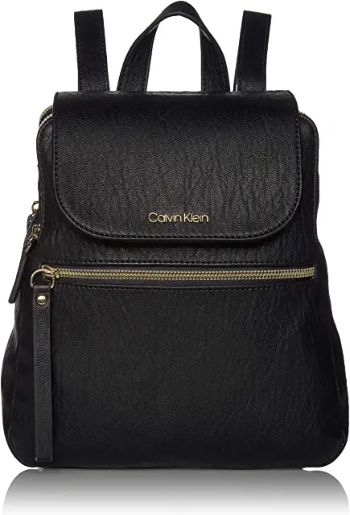 A classic black backpack is a must-have in every woman's closet.This one from Calvin Klein is stylish, chic, and beautiful. It's also a great investment since it can be paired with any outfit.
3. Wedding Planner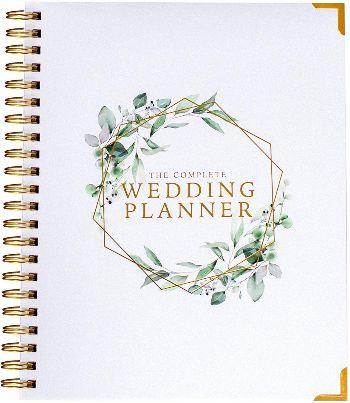 This wedding planner will keep her on top of all the things regarding her special day.
The notebook allows her to organize everything about the wedding—from appointments, fittings, vendors, etc. It even has a space for magazine cutouts, photos, and fabric swatches!
4. Wedding Countdown Calendar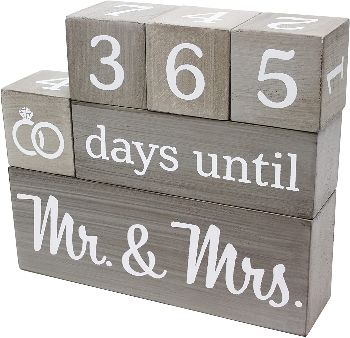 The days leading up to the wedding day can be the most stressful yet most exciting moment in a bride's life. She can use this calendar to count down the days until she marries her one true love.
The best thing about this is that it's small and portable so she can place it anywhere she likes.
5. Dog Bandanas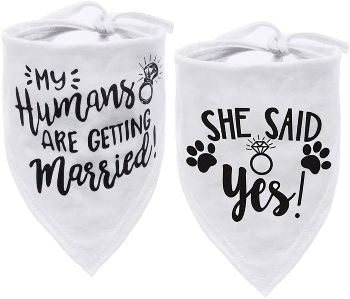 If your future daughter-in-law is a proud fur mom, then she'll love this dog bandana. This gift would include her beloved pet in one of the most momentous events of her life – talk about cuteness overload!
This banda fits most dog sizes so you won't have to worry about buying the wrong size.
6. "I'm Getting Meowied" Wine Glass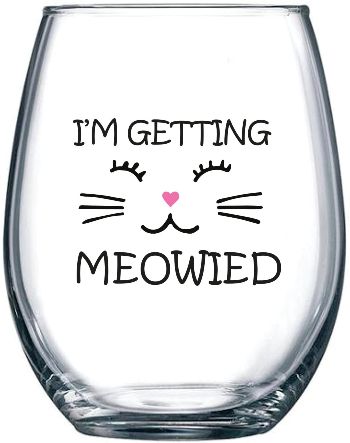 We also included the cutest gift for the cat ladies out there—the "I'm getting Meowied" wine glass!
The glass is made from high-quality material so she'll be able to use it years after her wedding. You'll get your money's worth with this one!
Gifts for Your Daughter-in-Law on Her Wedding Day
The special day she's been waiting for has finally arrived! Commemorate the significant event by giving your new daughter one of these five thoughtful gifts.
7. Cher Perfume
CHER Eau de Couture is an irresistible scent mixture of vetiver, sandalwood, and vanilla orchid that she can use daily.
As one of the best-selling perfumes of all time, you can't go wrong with this perfume.
8. Throw Blanket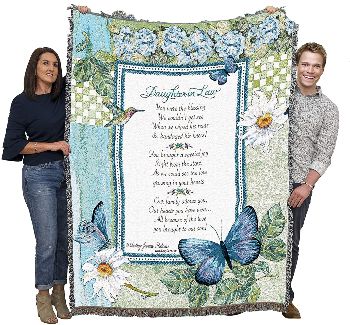 No grander gesture will show your acceptance and affection for your daughter-in-law than this throw blanket.
It contains a lovely poem dedicated to a daughter-in-law that is guaranteed to keep her warm, inside and out.
9. "I Do" Slippers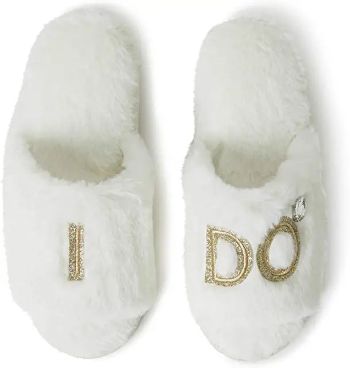 These chic "I Do" slippers are the perfect addition to her wedding day wardrobe.
It's made of multi-density cushioned insoles and memory foam built for maximum comfort, a perfect solution for when the high-heels become too uncomfortable.
They also come with matching black slippers specially made for the bridesmaids.
10. Insulated Tumbler

This elegant tumbler is a great way to remind her of two things: to stay hydrated and that she's finally married!
The tumbler is made of double-wall insulation to maintain the temperature of her beverages for a long time.
11. Plane Tickets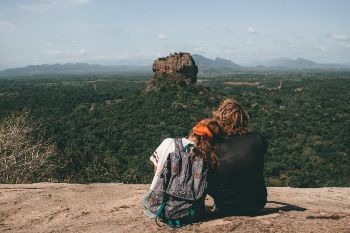 The gift of travel is priceless. The newlyweds will create new fond memories with each other as they explore the world together.
If you decide to give plane tickets as a gift, it's best to consult with the couple what time and place work best for them to avoid pricey rebooking fees.
Birthday Gifts for Your Daughter-in-Law
There's no better day to make your DIL feel loved than on her birthday. Help make her birthday a special day by giving her one of these six precious gifts.
12. Women's Bangle Watch and Bracelets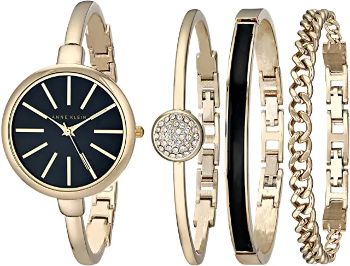 A watch is a timeless accessory every person should have, and this bangle watch and bracelet set serves two purposes: fashion and function.
The set comes with an elegant watch and three matching bracelets.
13. Double Zip Wristlet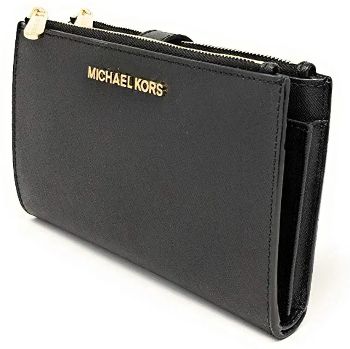 You can also give her this classy 6-inch wristlet on her birthday. There are two compartments where she can keep essentials such as keys, phone, etc.
If black isn't her thing, there are 11 other designs and colors to choose from.
14. Kindle Paperwhite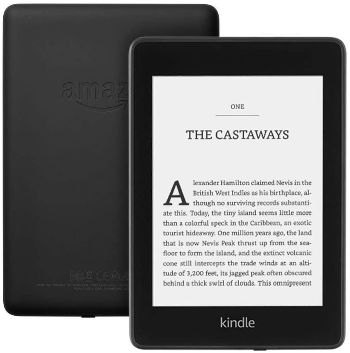 If your daughter-in-law is a bookworm, then a Kindle is the perfect gift for her. This e-reader will cut her book expenses down. Plus, it's also a more environmentally friendly option.
Don't forget to load the Kindle with some of her favorite books so she can use it right away!
15. 36 Pairs of Tassel Earrings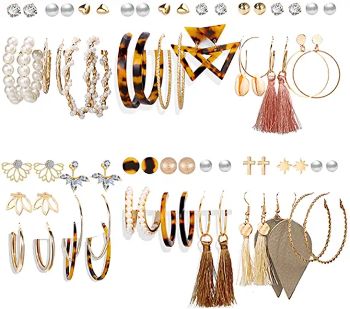 With this earring set, she can wear a different pair of earrings every day for a month!
16. SOJOS Retro Sunglasses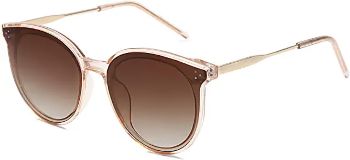 These sunglasses are good for everyday use. She can use them while doing errands, driving, or even when lounging on the beach. They're certified to block 100% of UVA and UVB radiation.
SOJOS offers nine beautiful designs on their retro round sunglasses.
17. Silk Scarf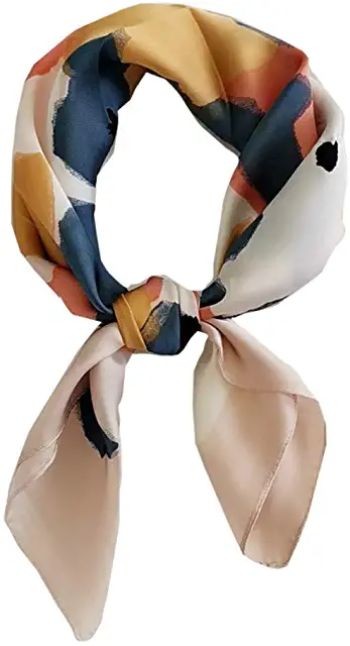 This silk scarf is a multifunctional accessory that she'll love. She can use it as a headscarf, necktie, headband, and more!
It's also suitable for any occasion. She can use it at parties, weddings, etc.
Christmas Gifts for Your Daughter-in-Law
You don't have to spend hundreds of dollars to make your Christmas gift extra special. In this section, we've listed four great Christmas gift ideas that are below $20!
18. Handwoven Serape Blanket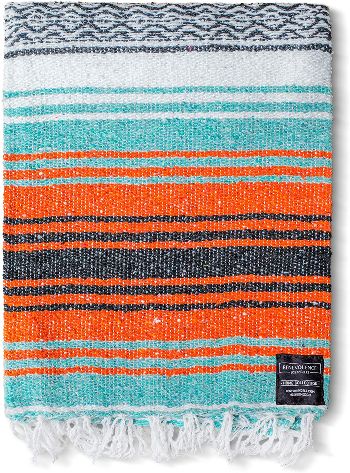 As the days get colder, this gorgeous blanket can keep her warm and comfy.
This blanket is handcrafted by Mexican artisans on a traditional wooden loom which makes it unique and durable. The vibrant designs and colors also add to the charm of the product.
19. Scented Candles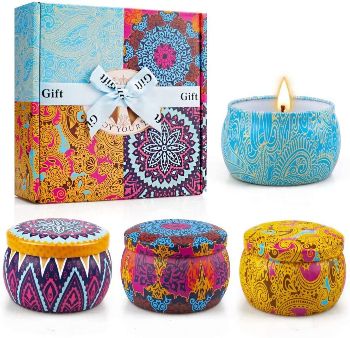 These long-lasting candles are great for relaxation after a long and tiring day. Plus, it can also make the room smell heavenly!
The set comes with four scented candles: spring, lavender, lemon, and Mediterranean Fig.
20. Motivational Water Bottle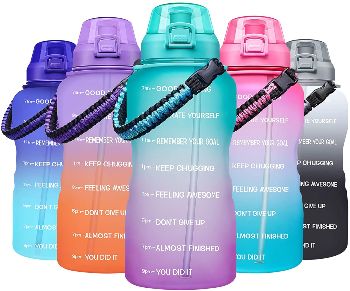 Drinking the right amount of water every day yields lots of benefits for the human body. It aids in digestion, regulates body temperature, and helps with weight loss.
She'll be motivated to stay hydrated thanks to this cute water bottle.
21. 10 pcs Headband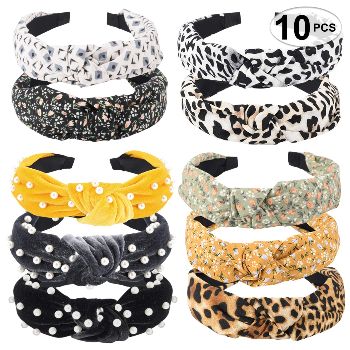 According to TheList.com, headbands aren't going anywhere in 2021.
You'll get the maximum bang for your buck with these headbands since they're timeless essentials that'll still be fashionable in the years to come.
Mother's Day Gifts for Daughter-in-Law
Show your appreciation to the mother of your grandkids on this important day. Here are two functional items that she can use in her role as a Super Mom.
22. Smart Wireless Meat Thermometer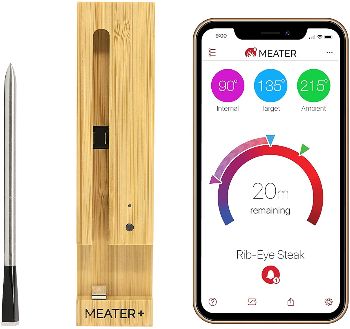 This smart wireless thermometer makes cooking effortless. It enables you to monitor food wherever you are through the free app that can be downloaded from the app store.
Meater Plus is the future of cooking!
23. Ceramic Trinket Dish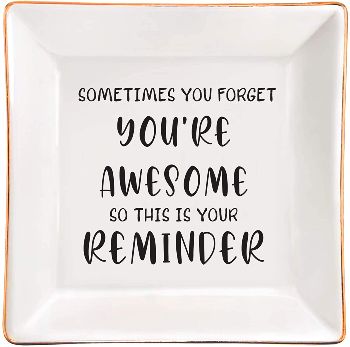 We all have bad days—even the super moms. This ceramic dish will remind her of how great she is whenever she's having one of those days.
The Best Gift Ideas for A Daughter-in-Law
We hope that you found the perfect gift for your daughter-in-law in this article. The fact that you put effort into finding the best gift shows how much you value her.
Remember that the best gift is the one that comes from the heart. Whatever you may choose, we know that she'll love it because it came from her sweet in-law.
Do you have gift suggestions for someone looking for the perfect daughter-in-law gift? Share your tips in the comments! And browse more gift ideas while you're here!