If you're ever presented with the joy and challenge of giving a gift to a Scorpio, then don't worry because I've listed 27 gifts for the tenacious Scorpio woman in your life.
The Scorpio sign is governed by the water element, which means that people born under this sign tend to be reflective, intuitive, and go along with the waves of feeling.
Indeed, most Scorpios are very intelligent and are often multiple steps ahead in any given situation.
Scorpios are considered one of the most intense and strong-willed zodiac signs, biding their time to strike when an opportunity arises, a characteristic behavior of their zodiacal symbol, the scorpion.
8 Scorpio Gifts for Her
1. Scorpio Lip Gloss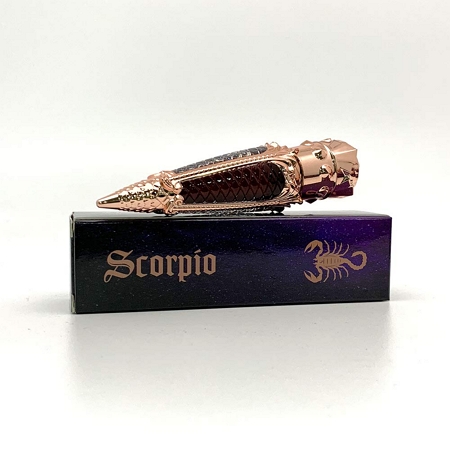 Buy your Scorpio recipient this small lip gloss that she can carry around and use whenever she needs to touch up her makeup, which can be more often than you think.
Lip gloss is essential in a Scorpio's life, especially around October and November when the cold weather easily dries up lips.
2. Matte Lipstick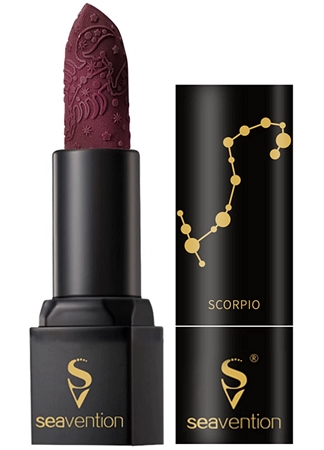 While Scorpios tend to appear calm and collected on the outside, they don't back away from dressing fashionably and exuding an intense aura through provocative colors, such as from this matte lipstick.
This lipstick makes her look self-assertive and even seductive, perfect for your single Scorpio friend looking to mingle at fancy dinner parties or on the dance floor.
3. Vera Wang "Princess" Perfume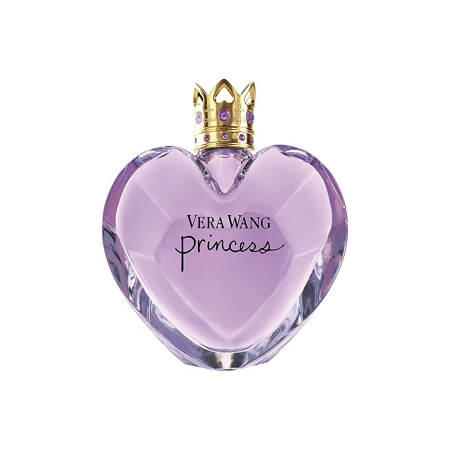 One of the more admirable characteristics of Scorpios is that they're daring. While they may not be familiar with its scent, this perfume will provide a chance for Scorpios to explore new emotions and experiences.
This Vera Wang perfume hits with fruity notes, like apple and apricot, which are complemented with a rich vanilla note.
4. Columbia Fleece Jacket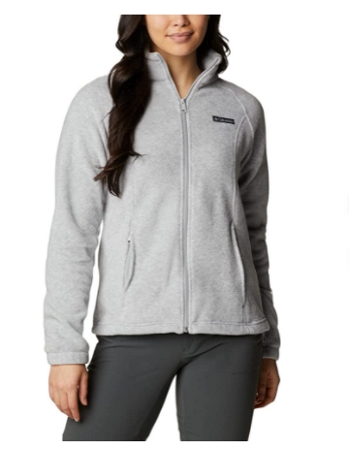 Scorpios are ambitious, so they will try to control nearly every aspect of their life.
I'm sure that being physically fit and keeping a fitness routine is an area within their control, so give them this fleece jacket which is perfect to wear when going for a jog during the colder seasons.
The polyester material will wick sweat easily, making it a comfortable wear for any exercise routine.
5. A Real Preserved Rose Gift for a Scorpio Woman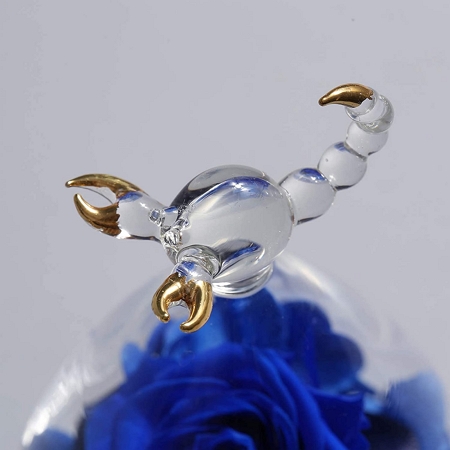 Make a romantic gesture this coming Valentine's day and prove your eternal love for your Scorpio woman by buying her a preserved rose with a Scorpion design.
The benefit of a preserved rose is like your love for her: it won't wither. The color blue appropriately reflects the color of water and the Scorpio's personality.
6. T-Shirt for the Strong Scorpio Queen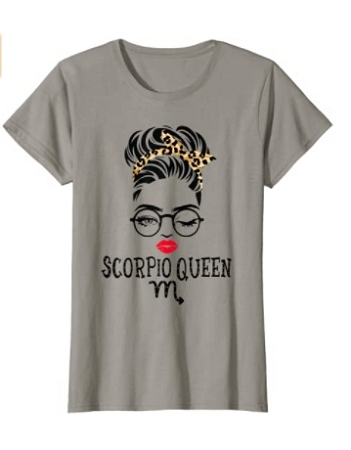 Remind your Scorpio lady that she'll always be treated like a queen with this plain t-shirt.
Don't get me wrong, she's a strong woman, but sometimes she also needs a little love and affection.
7. Swarovski Scorpio Bear with Yellow Gemstone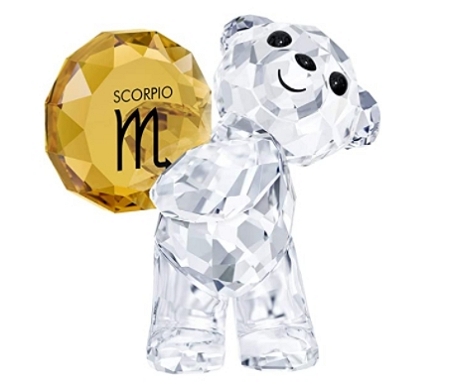 Scorpios are considered to be very clever and stay several steps ahead of the game.
Prepare to face your Scorpio woman's wrath if you fail to prepare a worthy gift for your upcoming anniversary with this Swarovski bear holding a precious yellow gemstone. This could be the gift you're seeking for their special day!
8. Scorpio Simple Shoulder Bag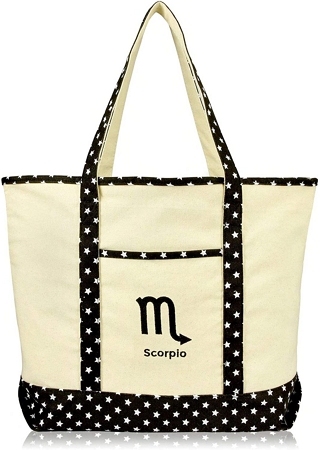 Scorpios often have a commanding presence. Those times that don't require such attention call for a simple shoulder bag such as this one.
Being the enigmatic person that Scorpios are, this simple bag can allow them to be less conspicuous when they want to.
10 Scorpio Birthday Gifts
9. Oil Diffuser with Scorpion Design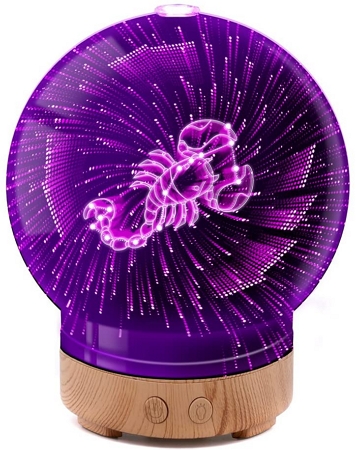 Underneath the collected appearance of the Scorpio is an intense, sometimes pent-up mix of emotions that are not immediately visible to those near her.
One way to release those bottled-up emotions is by having a relaxing evening with an oil diffuser, which she can fill with various essential oils useful to relieve stress or provide a good night's sleep.
10. Scorpio LED Candle Holder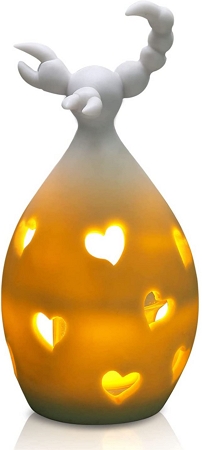 Here's another stress reliever that your Scorpio recipient will appreciate. The scorpion design of this candle holder is something that they'll find adorable.
The user will immediately feel the relaxing and mellow light that the battery-operated candle emits from this holder, especially in a dim room.
11. Scented Soy Wax Candle for Scorpios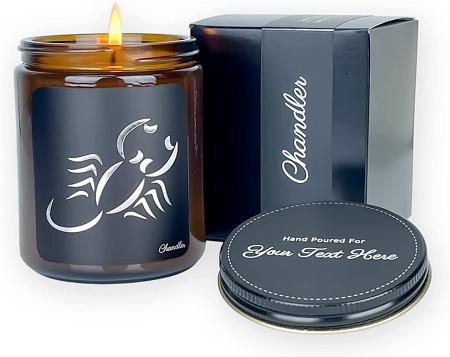 Pick a fragrant scent to eliminate bad odors or for a relaxing evening bath experience.
There are plenty of fragrances to choose from, ranging from minty peppermint and eucalyptus to more exotic scents like santal and coconut.
12. Scorpion Bottle Opener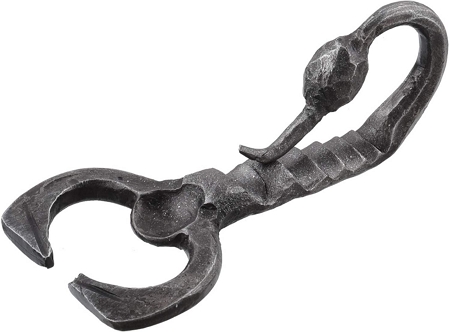 This has to be one of the coolest gifts you to give a Scorpio who is also an aficionado of beer.
You have admit – it's a badass gift and a great addition to her kitchen tools, which she'll no doubt show off to her unsuspecting guests.
13. Sports Bottle with Artistic Scorpio Design

Scorpios tend to have a really intense personalities. Remind them to take it easy and stay hydrated with this sports bottle that features an artistic Scorpio design.
14. Scorpio Ceramic Mug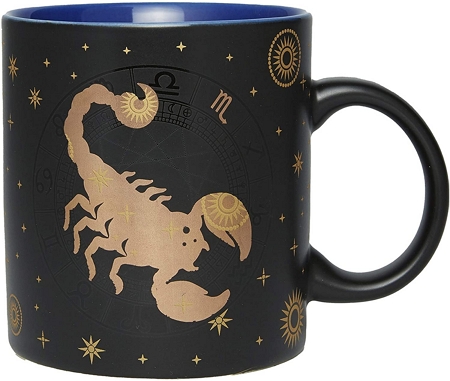 No Scorpio will be able to channel their intensity into meaningful work if they haven't had their energizing drink in the morning, whether it be coffee or tea.
Make her Monday mornings more bearable by giving her a Scorpio mug.
15. Cute Engraved Scorpio Spoon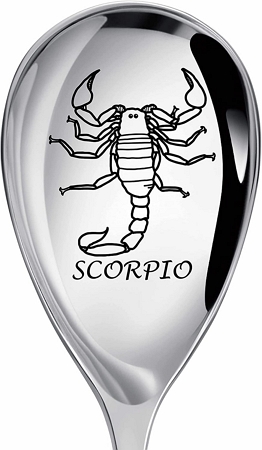 There's nothing like a new addition to your kitchen utensils, and this adorable engraved Scorpio spoon would be great to stir sugar into a cup of coffee.
16. Jewelry Tray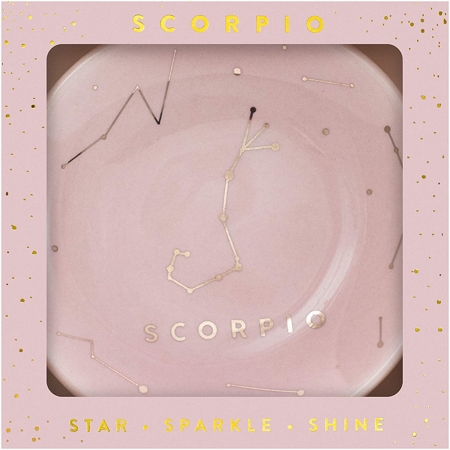 Stay organized and give your lovely wife this jewelry tray on which she can place numerous accessories. This small jewelry tray is also easily portable!
17. Customizable Beanie with Scorpio Sign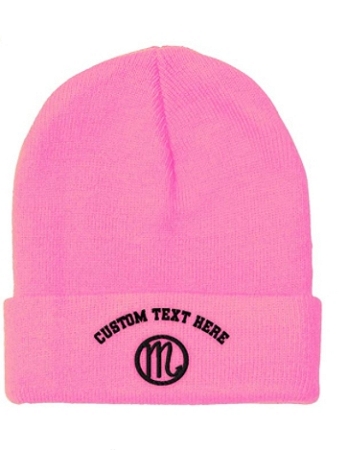 Don't let an adorable, pink beanie fool the dignified manner of the Scorpio. Underneath that cool and meek persona lies a fierce personality.
This beanie is customizable with text no longer than 14 characters.
18. Baseball Cap for Scorpios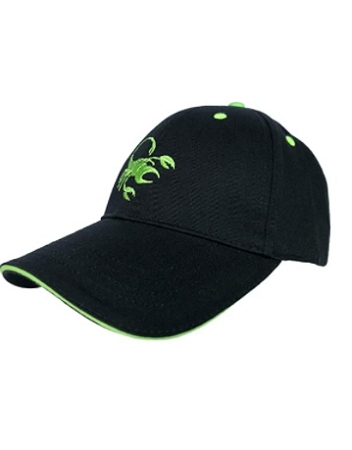 Even non-baseball fans can appreciate this stylish cap that features a green Scorpio design on the front and back.
This is a great gift for Scorpios who love wearing hats!
9 More Scorpio Gift Ideas
19. Adorable Hello Kitty in Scorpio Costume T-Shirt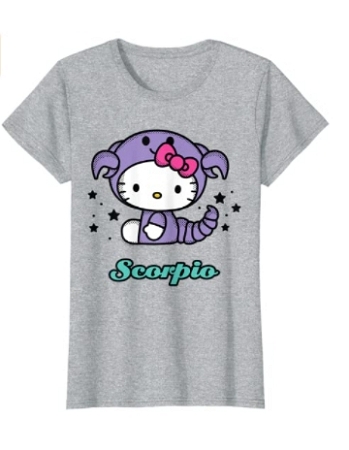 This is such an adorable t-shirt that you can give your Scorpio daughter or niece as a birthday or Christmas gift.
To add to Hello Kitty's already endearing figure is a scorpion costume that takes her cuteness to another level.
20. Another T-Shirt Gift for Scorpio Woman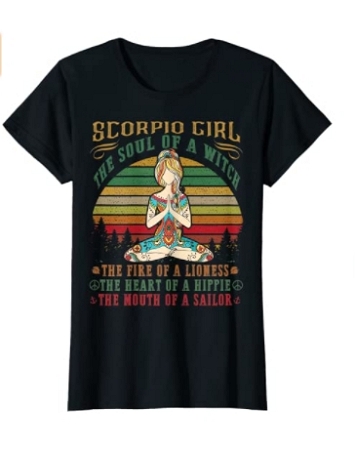 Scorpios tend to think multiple steps ahead and are tenacious enough to play the long game.
Allow your Scorpio recipient to meditate and plan for the future with this shirt that inspires calmness.
21. Scorpio Ring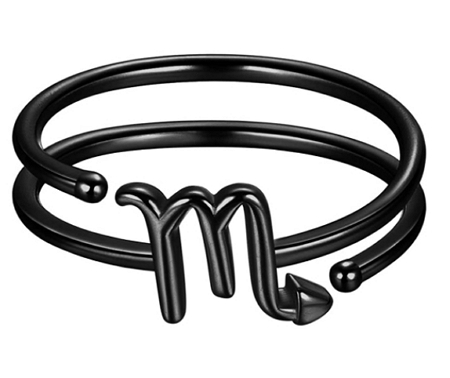 Give your Scorpio friend a ring that they'll treasure for years to come. This Scorpio fashion statement ring is easily adjustable, which is perfect for any finger size.
22. Zodiac Bath Bombs for Scorpio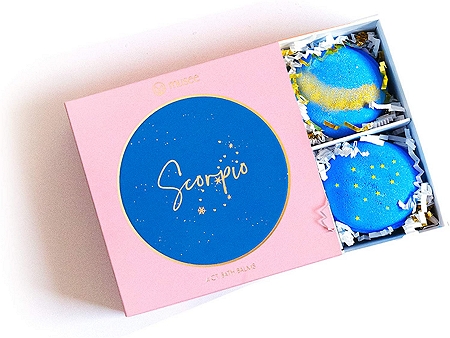 Dropping bath bombs in a bathtub full of water is one of the most satisfying sights, especially when they have a wonderful variety of colors.
Although the sight of the bath bomb dissolving is already a relaxing experience in itself, your Scorpio recipient will have a blast when she soaks in the tub with these unique Scorpio bath bombs.
23. Fleece Blanket with Golden Scorpion Design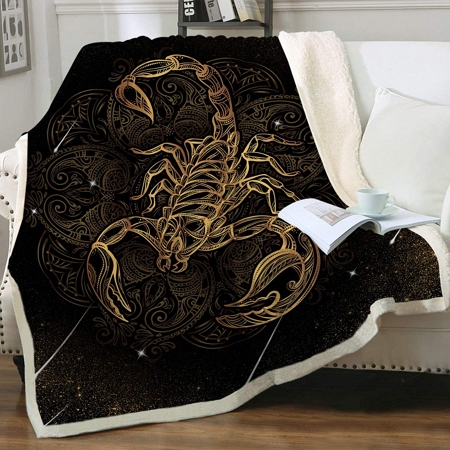 This fleece blanket will keep your recipient warm and cozy whether they're watching a movie in bed or reading a book on the couch.
The fleece and polyester material will provide maximum comfort while being perfect for those with sensitive skin.
24. Stephen King Book Collection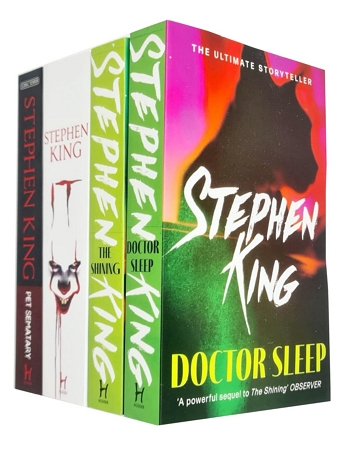 Scorpios are born around the Halloween season, so it's only fitting that horror fiction lovers receive a copy of Stephen King's most popular novels.
These four books, which have been adapted into blockbuster films, will undoubtedly give Scorpio readers the Halloween vibes and a new hobby to "kill" their time with.
25. Refillable Leather-Bound Spiral Journal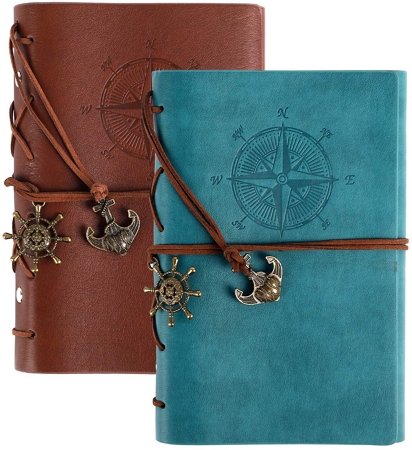 Scorpios love keeping things to themselves, which adds to their secretive and mysterious aura.
If you know a Scorpio who reveals just enough to pull you within their magnetic and mysterious orbit, then they might appreciate this journal where they can jot down their thoughts.
The best thing about this journal is that your recipient can insert additional pages when they've filled up the notebook.
26. The Little Book of Self-Care for Scorpios by Constance Stellas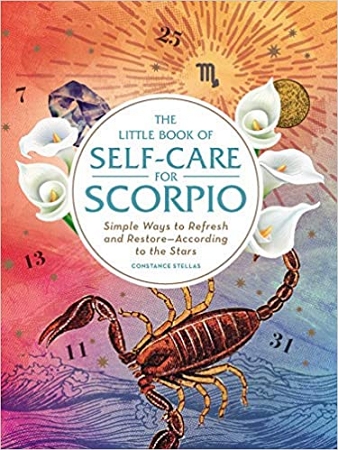 Scorpios can become too ambitious at times. Here's a book to remind them to slow down every once in a while and focus on their self-care.
Even those who don't have an affinity with astrology will find hundreds of useful tips on how to stop and reset before embarking on their new initiative.
27. Scorpion Pendant Gift for Scorpio Woman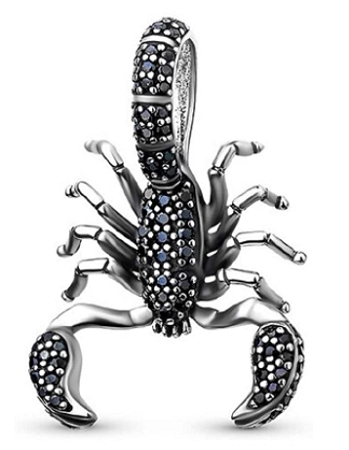 Passionate believers in their astrological sign will without a doubt value a gift like this detailed handmade scorpion pendant.
This is a perfect gift for Scorpios who love to show off their zodiac sign.
Gifts for the Ambitious Scorpio Woman
Whether you're buying a birthday gift for a friend or giving your wife the ideal Valentine's day present, the gift ideas on this list shouldn't fail to bring a smile to any Scorpio woman's face.
Get more inspiration from these other gift ideas: