Marking your 15th year together is an incredible milestone that must be celebrated. With a simple and thoughtful 15 year anniversary gift, you can make the love of your life feel extra loved on your special day.
If you're looking for the best gift, you must first consider whether you'd like to follow the traditional or modern 15th wedding anniversary gift.
The traditional 15 year anniversary gift is represented by crystal, while watches are known as the modern gift for this anniversary milestone.
You'll find what you're looking for in this list regardless if you choose a traditional or modern present! I've also included cute gift items and presents specifically made for him and her.
Traditional 15 Year Anniversary Gifts
1. Crystal Bonsai Tree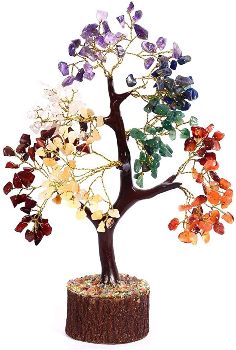 This beautiful crystal chakra tree will bring good health, peace of mind, and wealth into your relationship.
The tree is beautifully crafted and imported from India and holds seven gemstones, such as amethyst, quartz, and carnelian.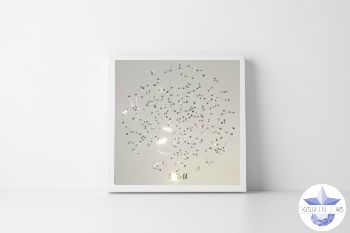 This crystal-embedded artwork is the perfect way to commemorate your 15th year together. It's a beautiful constellation map with crystal highlights that will brighten up any room.
This star map is available in black, rose gold, and gold.
3. Crystal Glass Ornament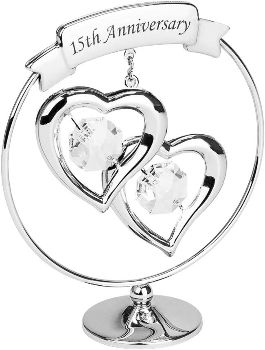 Commemorate your 15th wedding anniversary with this stunning silver-plated metal ornament.
It's made with Swarovski crystals and silver hearts that make this decorative piece more special and memorable.
4. Rose Crystal Scented Candle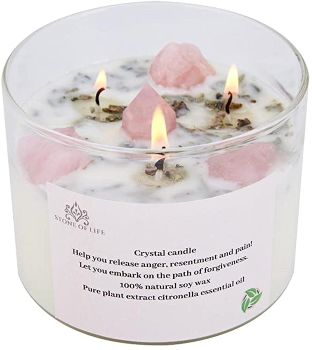 Aside from making their space smell amazing, this crystal candle will also bring positive energy to their life. The crystal chakra will help in the release of anger, resentment, and pain.
It's made with 100% natural soy wax and pure plant extract citronella oil.
5. 3D Engraved Crystal Photo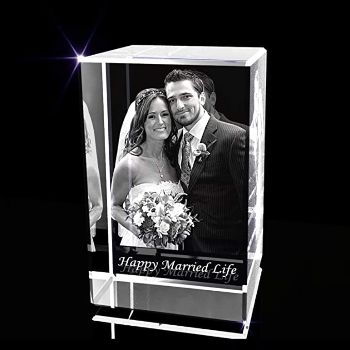 Decorate your home with a lovely photo of you and your partner engraved in crystal. It's a unique and thoughtful present that will show how much you love your SO.
Different sizes and shapes of the crystal are available for customization.
6. Potted Crystal Desk Rose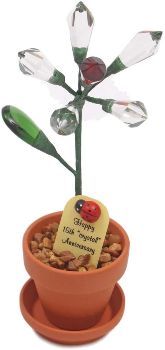 If you want an eye-catching and unique piece for their desk, then this potted crystal rose is a great gift choice!
It's made with crystal chandelier drops that are attached to a flower stem. A small note with a ladybug on it makes the gift even more heartfelt.
7. Keepsake Paperweight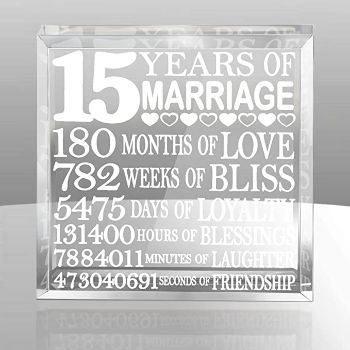 This classy paperweight perfectly sums up the past 15 years that you've shared – memories filled with love, laughter, and friendship.
The text is engraved ensuring that this gift will last for a long time (just like your marriage)!
Modern 15 Year Anniversary Gifts
8. Anne Klein Crystal-Accented Watch and Bracelet Set for Her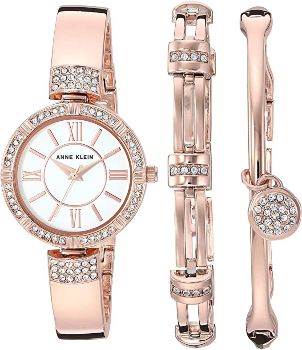 Looking for a wonderful present to show your appreciation for the last 15 years? This Anne Klein crystal accent watch and bracelet set is a beautiful accessory that she'll love to wear every day.
It features a Japanese quartz movement with 76 premium crystals and adjustable clasps.
9. Swarovski Women's Crystal Watch for Her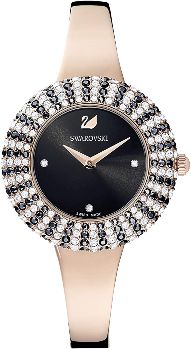 This Swarovski watch offers both style and function. She'll love the detailed and intricate design and admire the durable rose-gold stainless steel case and bangle.
10. Nine West Crystal-Accented Bracelet Watch for Her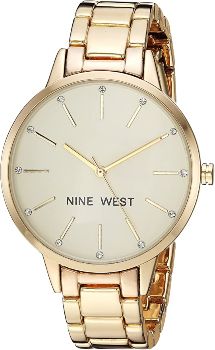 This will be the perfect watch for your minimalist wife since it can be paired with any outfit! It's chic, sleek, and elegant – that's a lot of bang for your buck!
11. BENYAR Wrist Watch for Him
This watch proves that you don't have to pay thousands of dollars to look and feel good! It's trendy, durable, and functional since it's waterproof and made from genuine leather.
He can effortlessly wear this Benyar watch with any outfit for any occasion.
12. Stainless Steel Wrist Watch for Him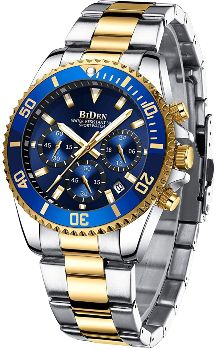 If you're looking for a durable watch that can keep up with the adventurous lifestyles of your husband, then this Biden watch is a great choice!
It features a luminous display and is made from stainless steel, making it shock and water-resistant.
13. Chronograph Quartz Watch for Him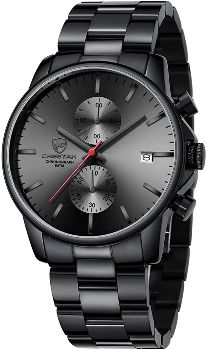 Give your husband an elegant accessory with this Cheetah chronograph watch. It's made with high-quality stainless steel that provides a comfortable and relaxed fit.
Choose from seven colors such as black, blue, and silver.
15th Wedding Anniversary Gifts for Her
14. Heart Sterling Silver Pendant Necklace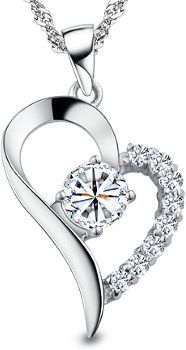 A beautiful and sparkly necklace is essential in every woman's jewelry box. This heart sterling silver necklace is also a romantic way to say that she's the only one for you.
The company offers a three-year warranty so you can rest assured that you'll get your money's worth with this anniversary gift.
15. Ceramic Jewelry Dish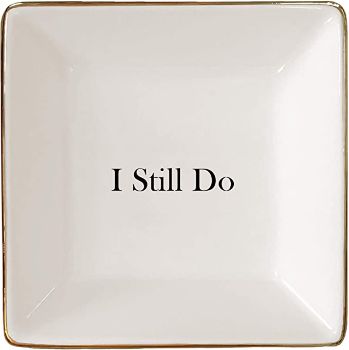 Remind your SO that you'll always choose her with this minimalistic jewelry dish. Plus, this dish will keep her jewelry, keys, and other trinkets in one safe place.
16. 24K Gold Dipped Rose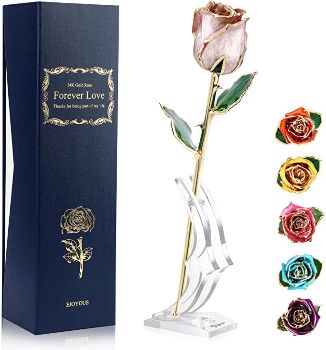 An eternal rose is an excellent present to show your undying love and devotion to her. It comes with elegant packaging and a stand for displaying.
Pick the color that suits her personality the best with eight lovely colors to choose from such as blue, purple, and yellow.
17. "I Don't Need Google, My Husband Knows Everything" Shirt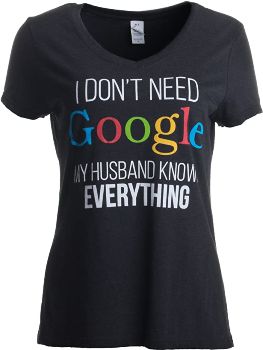 Who needs Google when she has a husband that knows everything? This funny shirt is a modern reversal of the famous quote "Women know best."
Aside from the funny print, she'll also love how soft and comfortable this shirt is!
15th Wedding Anniversary Gifts for Him
18. Slim Wallet with Money Clip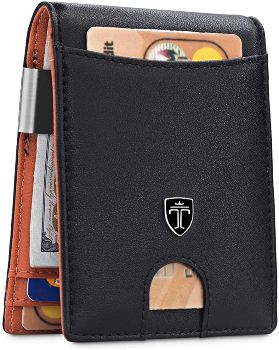 Does your husband still carry a thick wallet that can hardly fit in his pocket? This slim wallet is the solution to his problem!
Aside from a functional design, it also has a cool RFID blocking feature.
19. Fishing Hook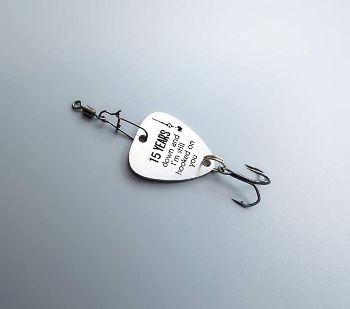 For men who love to fish, this fishing hook is one of the greatest gifts you can give since it's a great reminder of this annivesary milestone and a useful tool for their favorite hobby.
Looking for more presents like this? Check out this post about the best fishing gifts!
20. Best Husband Ever Gift Set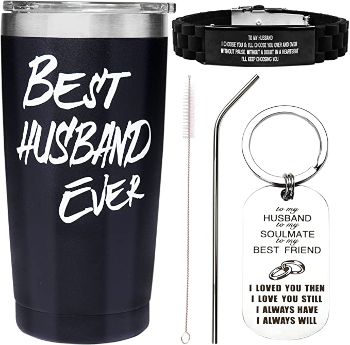 Show your husband and the world how amazing he is with this gift set. It comes with a tumbler, bracelet, and keychain that all contain sweet messages.
21. Gaming Chair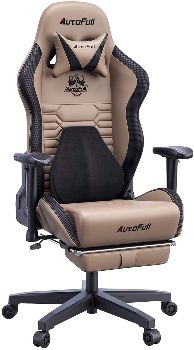 Make him comfortable while he works or plays his favorite online game with this ergonomic gaming chair that features a high-quality footrest and lumbar support, lessening the possibility of body aches.
Cute 15 Year Anniversary Gifts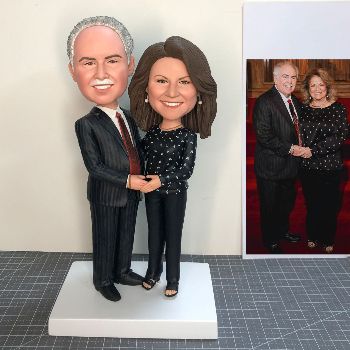 Transform your favorite photo together into a cute bobblehead figure! This is a great cake topper or decor for your home.
It's an adorable, unconventional, and unique present that will make your anniversary even more memorable.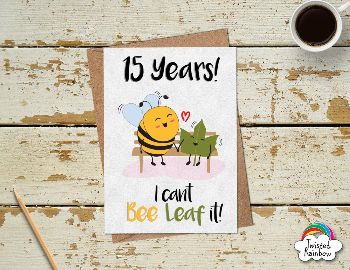 Writing a message in this adorable card is a fantastic idea if you're on a tight budget but still want to make your SO feel loved and special.
Plus, the card is made from fully recycled materials so you won't just be giving them a thoughtful gift, you'll also be helping to save the planet!
24. Puzzle Keychain Set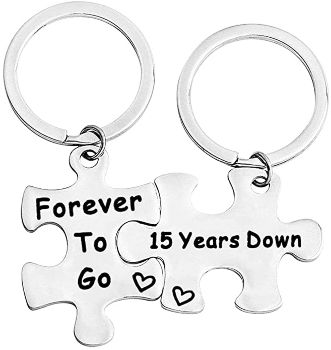 For the person that completes you, this cute puzzle keychain will be a fantastic gift. It's a simple yet meaningful gesture that shows you're grateful for the last 15 years and are looking forward to many more anniversaries with them.
25. The Couple's Bucket List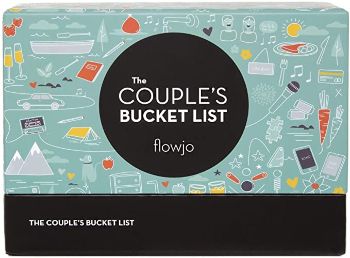 Never run out of fun activities to do with your SO with this fun couple's bucket list! It includes unique games, fresh date night ideas, and more that will keep the fire and love alive.
A Decade and A Half of Love
Congratulations on your 15th year as a married couple! I know that relationships entail a lot of hard work and understanding, so surpassing all of life's challenges in the past decade and a half is laudable. May these simple yet thoughtful gifts bring more laughter and joy into your marriage.
What's the best anniversary gift you've received? Share it in the comments below!
On the hunt for more presents to surprise your spouse? Check out this article about the best 21st wedding anniversary gifts to get more great ideas!