Some believe 30 is the age when "life" truly begins. For the woman who worked her ass off to get where she is now, get her something to enjoy in this new chapter of her life.
I've compiled a list of 30 gifts for a 30 year old woman that includes useful and fun everyday items as well as novelty or unusual gift ideas.
15 Birthday Gift Ideas for a 30 Year Old Woman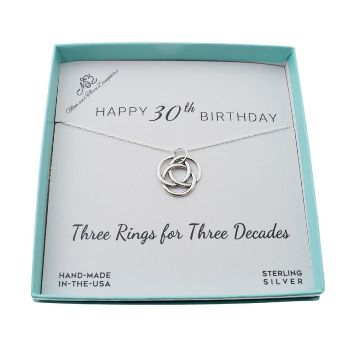 Give her something symbolic of her age that she's sure to love. This lovely three rings sterling silver necklace features the interlocked rings that each symbolize one decade of life.
2. "Always" Harry Potter Bracelet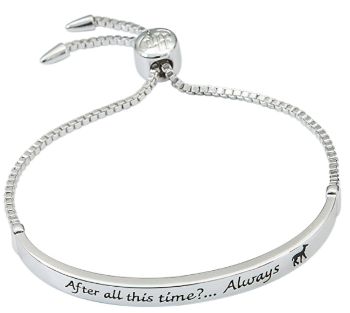 Is she still a Harry Potter fan even after all these years? "Always." This simple yet lovely bracelet features one of the most iconic lines from the franchise.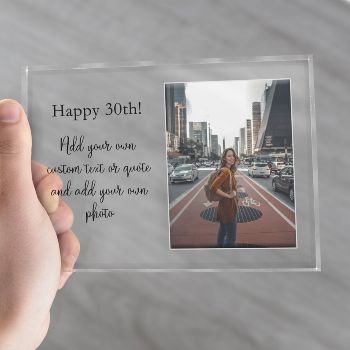 For the 30 year old woman who is sentimental, this photoblock would make an excellent birthday gift. Adding a personal message or her favorite quote alongside her picture will make her smile on her special day!
4. "To My Daughter" Leather Journal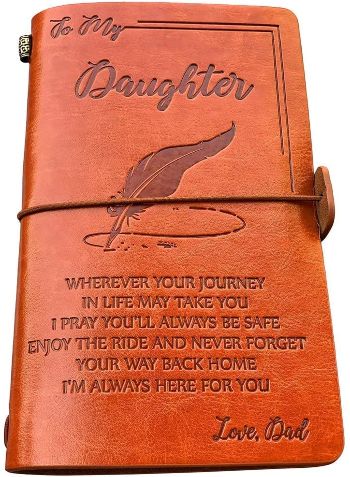 For all the daddy's girls out there, show her your love with this Father-to-Daughter leather journal. Remind her that you support her in all her endeavors!
There's also a journal for daughters who share a special relationship with their mothers.
5. Hair Dryer Brush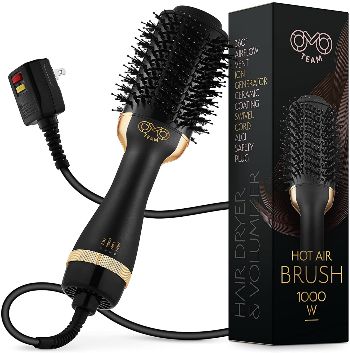 Is the 30 year old woman you know always in a hurry? Then this brush that doubles as a hair dryer is just what she needs. Now she'll be on her way in no time!
6. 2-in-1 Hair Straightener and Curler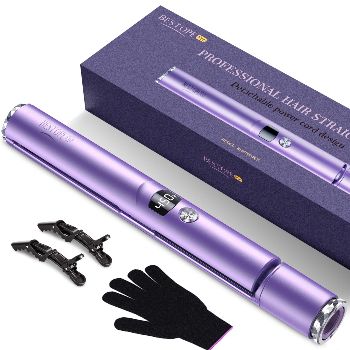 Another 2-for-1 gadget is this hair straightener and curler. Whether she wants to style her hair for a special occasion or simply conquer the day, she'll be able to do both with this unique styling tool.
7. Compact for Sister or Daughter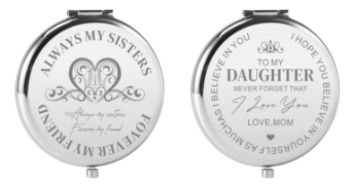 Get your sister or daughter a compact so she'll have a mirror wherever she goes. A compact is a small accessory that really comes in handy, especially on those days when you're on the go-go-go!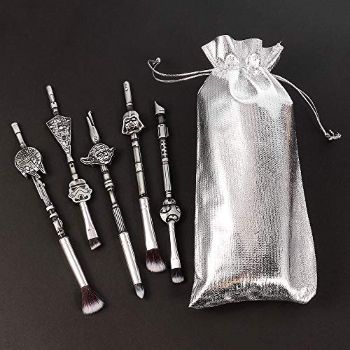 If she's a Star Wars fan and loves makeup, then the force will definitely be with her with these Star Wars themed makeup brushes. The handles of the brushes are styled in iconic weapons, characters, and vehicles from the franchise.
9. Essential Oil Diffuser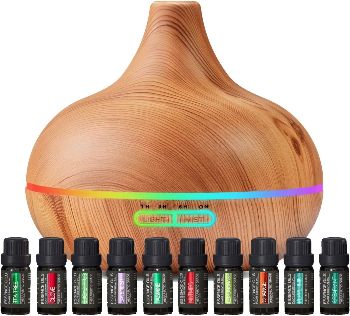 She'll have her home smelling like eucalyptus or peppermint with this essential oil diffuser that includes 10 different bottles of essential oils.
10. Cordless Vacuum Cleaner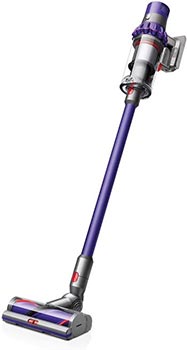 Dyson is considered the cream of the vacuum crop! This cordless vacuum is easy to use and clean, and comes with a charger.
11. Portable Water Filter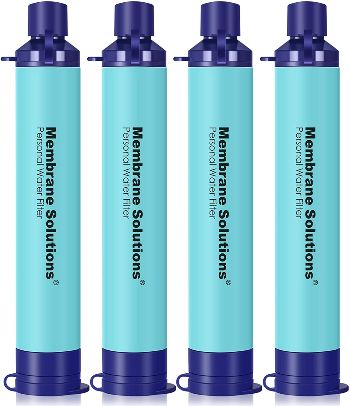 If she enjoys hiking or outdoor activities, then it's important she stays hydrated. These portable water filters from Membrane Solutions are easy to bring along and use!
Each has the capacity to filter 1500 liters of water from lakes or streams, making any water perfectly drinkable. All she needs to do is open both ends, put the bottom end on the body of water, and sip away like she would a straw. Perfect for women who love outdoor adventures!
12. Mama Bear Slippers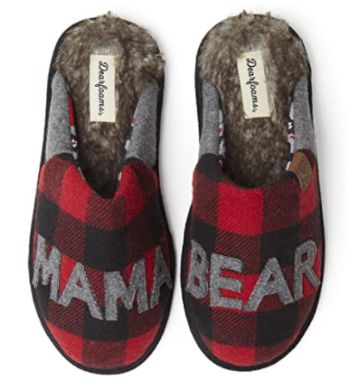 Is she a mother? Keep her feet cozy and remind the household who the mama bear is on her 30th birthday with these slippers.
13. Weighted Blanket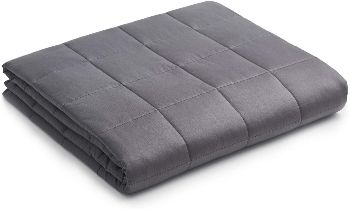 Is the weight of the world on her shoulders? Then give her a different kind of weight that will help her relax instead! This weighted blanket will make any woman in her 30s comfortable and forget about her daily stressors.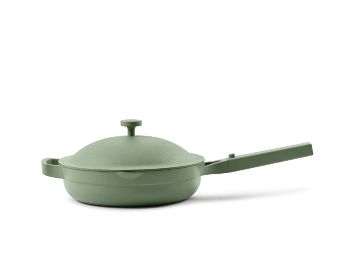 If she loves cooking, then she'll love The Always Pan which does virtually everything. It can be used to fry, boil, braise, steam, saute, and so much more!
This is one of the most versatile gifts for a 30 year old woman because it lets her say goodbye to every other pan in her kitchen.
15. Ceramic Baking Dishes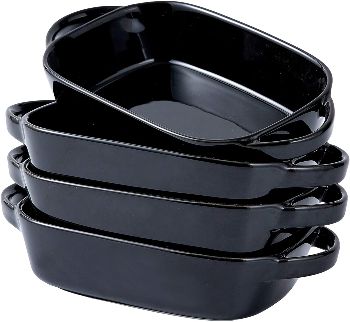 Does the 30 year old woman in your life love to bake? Then these non-stick and dishwasher safe ceramic baking dishes are a great 30th birthday gift. They're available in 5 different colors including grey, red, blue, black, and classic white.
6 Unusual 30th Birthday Gift Ideas for Her
16. Herstory Museum Puzzle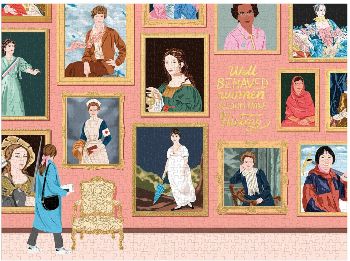 Show that passionate feminist that you're an ally with this puzzle featuring iconic women. This 1000 piece puzzle will inspire her to continue to leave her mark in the world.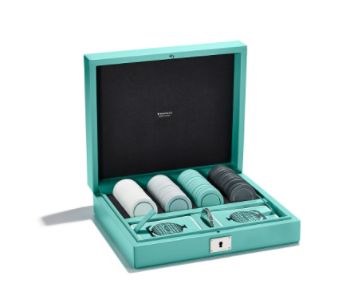 She'll be playing poker in style with this Tiffany & Co. travel poker set. This simple yet elegant set includes 100 porcelain poker chips in white, gray, Tiffany Blue®, and black, a leather box, a sterling silver dealer button, and a set of two decks of Tiffany Travel playing cards with the iconic Tiffany's logo. Who says gifts for a 30 year old woman can't be fashionable and entertaining?
18. Eiffel Tower 3D Puzzle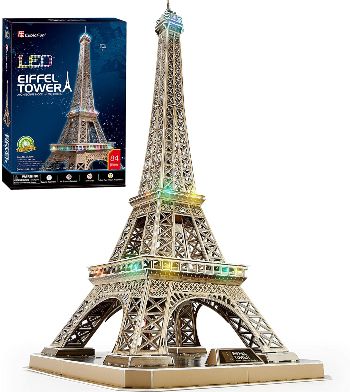 This simple 3D puzzle will bring the iconic Eiffel Tower from the "city of love" right into her home. It's easy to build and comes with LED lights to mimic the real tower in the evenings!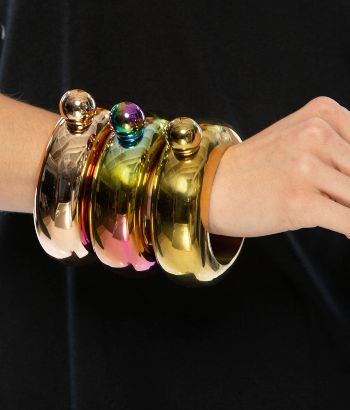 Support her endeavor to always be the life of the party with a unique bracelet flask that's both stylish and functional. You can pick from three color variations (gold, rainbow, and rose gold) and choose to have her name engraved on the bracelet, too!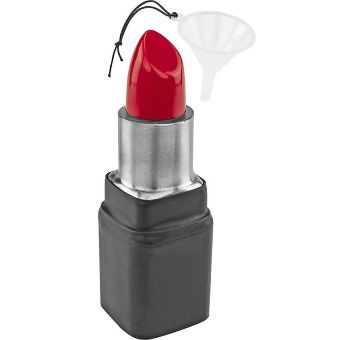 Or, if she wants to be more inconspicuous, this lipstick flask will blend right in with the other essentials she carries.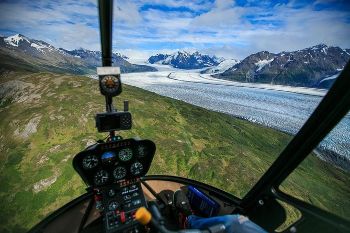 Finally, here's a really fun and unique idea for those living in or near Alaska: a helicopter tour! Explore glaciers and wildlife on this exciting aerial adventure for her 30th birthday.
Don't live in Alaska? Check out local helicopter tours and see your city in a whole new way!
9 Novelty 30th Birthday Presents for Women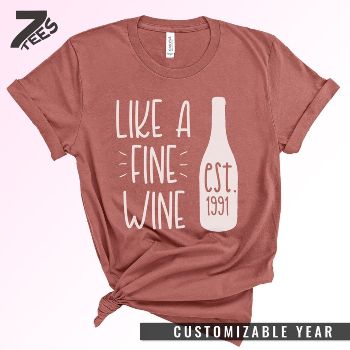 We all know wine becomes better with age, and women are no different. Remind her, as well as those around her, that she has been turning into a fine woman ever since she was born.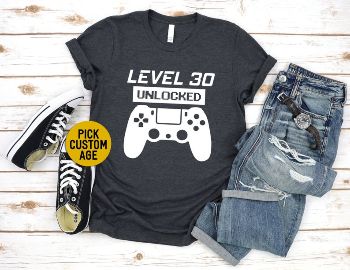 If she's a gamer, then get her this simple "Level 30" shirt to show people that she's unlocked a new level in life.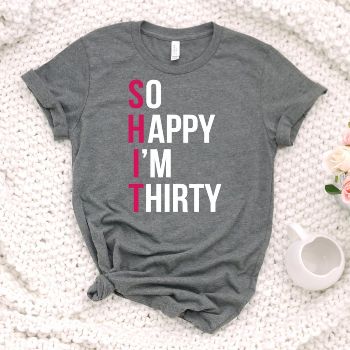 Is she ecstatic to turn 30? Then let her show off how happy she is for this new milestone in life with this fun 30th birthday shirt!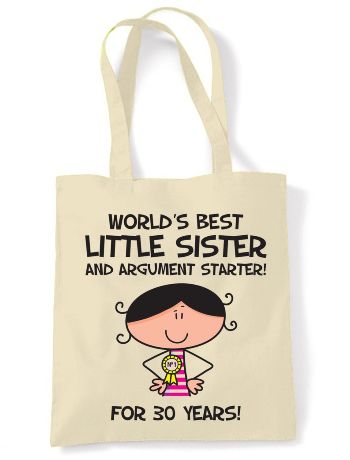 Show your 30 year old little sister that she's the best, from being a great sister to being a thorn in your backside, with this adorable tote bag.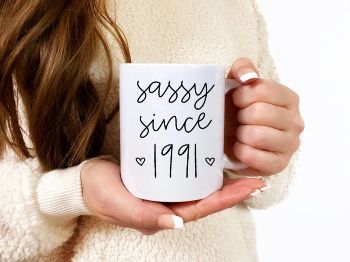 Raise a drink to 30 years sassiness with this simple statement mug she can use to drink her morning coffee or tea.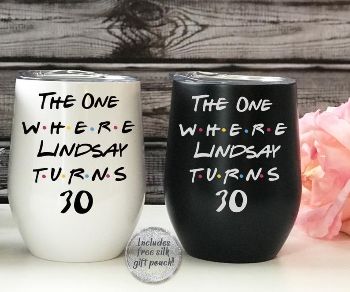 So no one told her life was gonna be this way? If she loves the (now classic) show Friends, then get her a personalized Friends themed wine tumbler.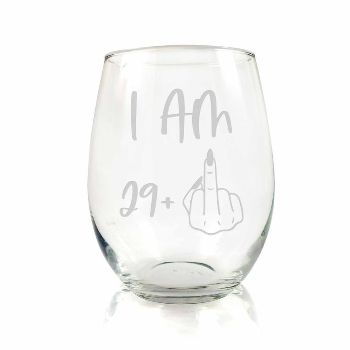 If her sense of humor is a little on the vulgar side, then she'll appreciate this wine glass that showcases her new age in the most unforgettable way.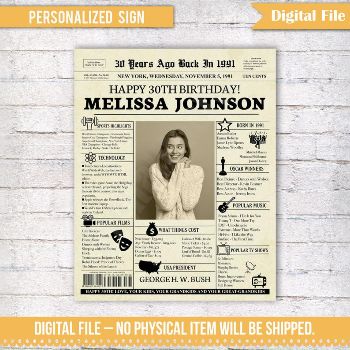 For a more unique and unusual gift, get the 30 year old woman in your life this faux news paper poster that features her name and photo on the front page. With plenty of size options, this poster also features important events and news from the year she was born.
Go the extra mile and have it framed as well!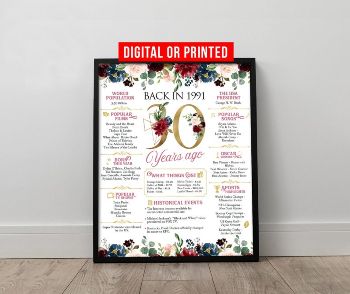 And finally, remind her of all the things that happened 30 years ago with this poster that includes interesting facts and figures from the year she was born.
Gifts for a 30 Year Old Daughter, Mother, or Friend
Show her some love, make her laugh, and help her celebrate the start of this new decade in life with these 30 gifts for 30 year old women.
Out of all of these gifts for a 30 year old woman, which one are you leaning towards? Share your insights in the comments below!
If you know a guy turning 30, then check out my post about gift ideas for 30 year old men.