Slytherins are the most ambitious, calculating, and cunning of all the Houses. Represented by the colors green and silver, Slytherins are driven and relentless to achieve their goals regardless of the consequences.
Although a lot of wizards (and muggles) fear this House, the Slytherins also have redeeming attributes despite being often portrayed as the villains in the story. They're clever, daring, and ambitious.
If you know someone who's sorted into the House of Snakes, then these Slytherin gifts will be the perfect present for them.
14 Slytherin Gifts
1. Throw Blanket with Sleeves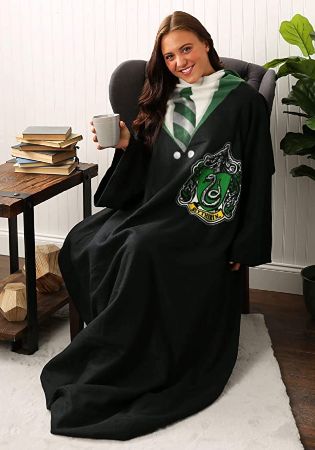 Most Slytherins are born with a silver spoon in their mouth. They're spoiled and given the best life has to offer.
To keep them warm and cozy while doing their daily tasks, this blanket will be a good choice. Plus, it looks like the actual Hogwarts robe!
2. Slytherin Quidditch Team Seeker Sweatshirt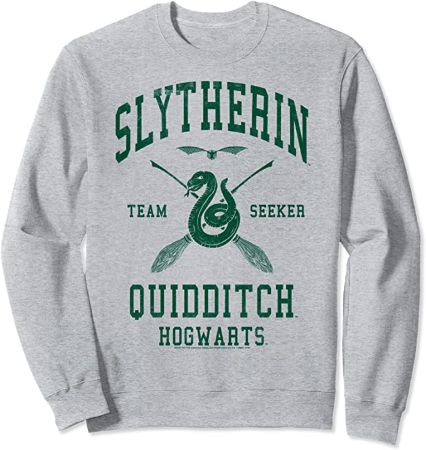 They don't have to be a Draco Malfoy to be worthy of wearing this Slytherin seeker shirt.
Any Slytherin is proud and supportive of their players when it comes to Quidditch. After all, they're one of the leading Houses when it comes to winning the Inter-House Quidditch Cup.
3. Slytherin Snake Art T-Shirt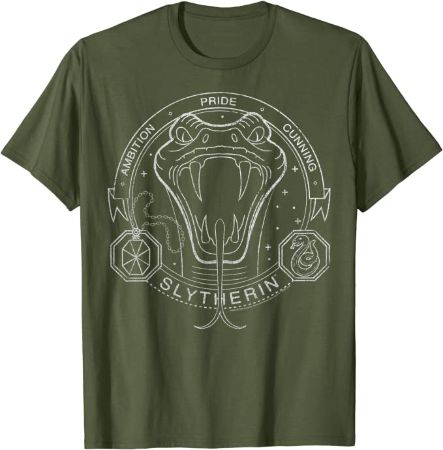 This Slytherin shirt will be perfect for everyday use. People from all Houses will appreciate the delicate and stylish line art design found on this shirt.
4. Kids Slytherin Hooded Poncho

For kiddos who are proud members of the House of Slytherin, this hooded poncho will show that they're part of the green team.
It will come in handy especially on beach trips and swimming parties. Wearing this cool poncho will make them the cutest wizard slash witch!
5. Pet Wizard Costume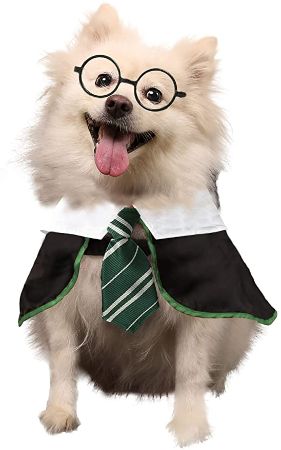 Don't forget their adorable fur babies, too! This pet wizard costume will let their precious pets join in the wizarding fun.
With a complete set that includes a robe and glasses, their pets will be prepared to slay the scariest monsters like the Dementors, Acromantula, and Mountain Trolls.
6. Shoulder Satchel Bag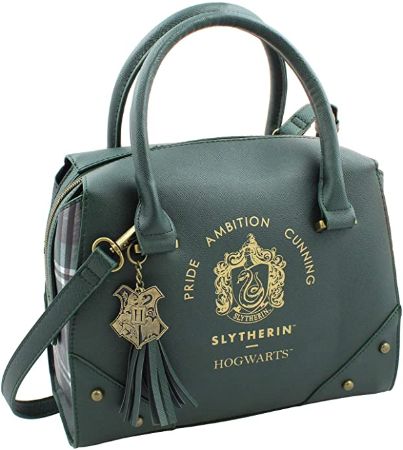 Slytherins are known for their wealth and classiness. That's why this designer bag will be a great gift to the Slytherin in your life.
It has two compartments, a pendant charm, and anti-wear studs. Plus, the quality and craftsmanship are impeccable,  making this bag #SlytherinApproved.
7. Slytherin Backpack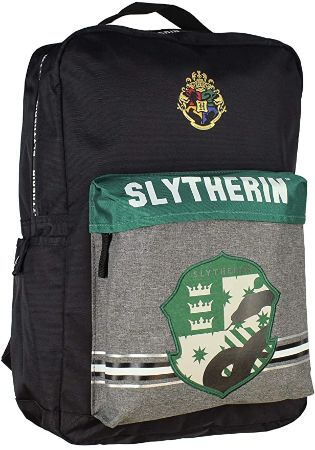 Go to school looking like a million bucks with this cool Slytherin backpack. The epic logo and design of this bag will be the envy of fellow Harry Potter fans.
It will be the perfect bag for school since it has a laptop compartment and adjustable shoulder straps.
8. Color Changing Candle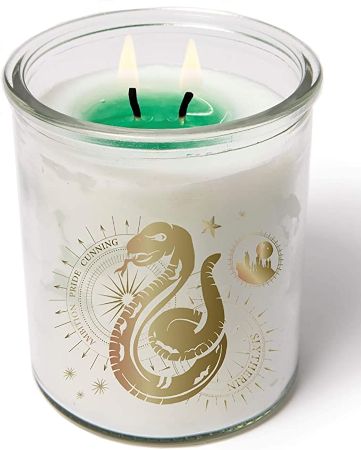 Slytherins are famous for being hot-headed and easily irritable. This color-changing candle will be a fantastic gift to help them calm down and relax.
Get more self-care gifts for the Slytherin in your life found in this list.
9. Slytherin Wall Collage Kit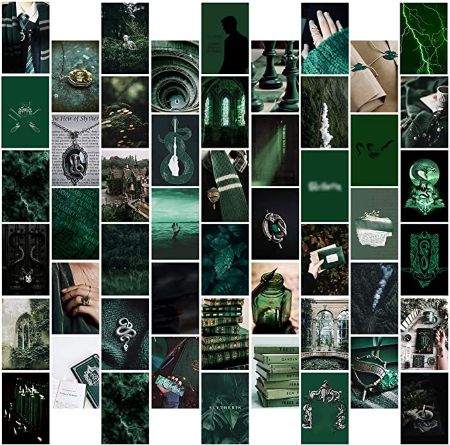 Turn their room into the coolest and most aesthetic Slytherin lair with this collage kit. It includes awesome images that represent what it is to be a true Slytherin.
The colors and subjects of the images also make it ideal for a modern Slytherin space.
10. Slytherin House Mascot Plush and Pillow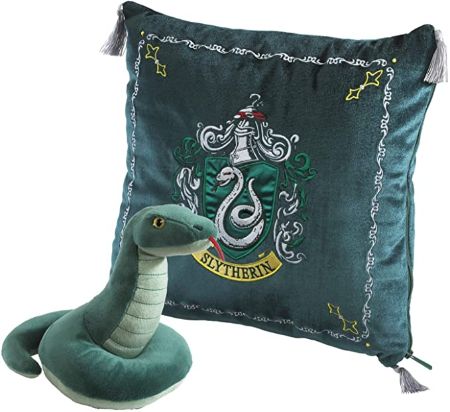 This two-in-one gift will be a good choice for a Slytherin. It comes with a comfy pillow and a plush snake, the House's mascot. It will be a fantastic addition to their Slytherin-themed room.
Get more magical Harry Potter gifts right here.
11. Slytherin Crest Puzzle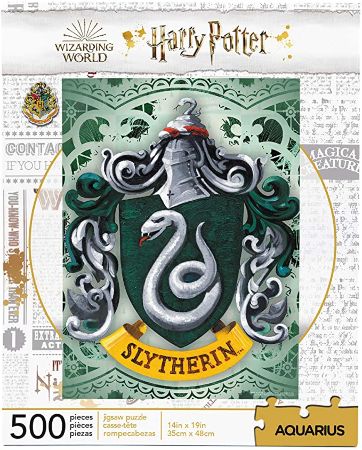 Being clever is one of the most famous attributes of Slytherins. This puzzle will be an easy and fun activity for them especially after slowly seeing the Slytherin Crest unfold in the puzzle.
More gifts for puzzle lovers can be found here!
12. Slytherin Storage Box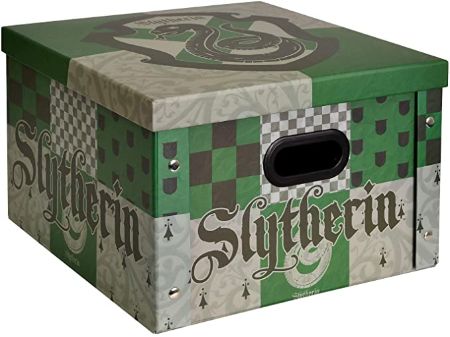 Place all their Harry Potter memorabilia and collectibles in this safe storage box. This will make it easier to organize their collections effortlessly.
Plus, the print will make it stand out from all the other basic boxes out there making it easy to find.
13. House Slippers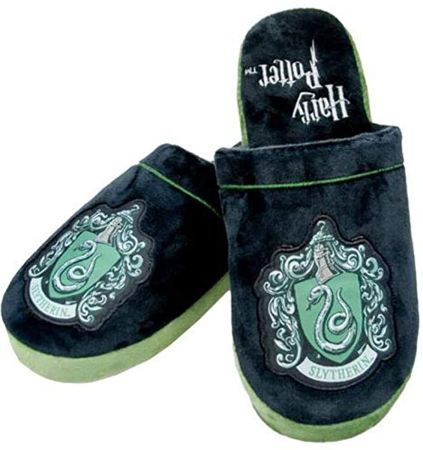 Give the Slytherin in your life the luxury they need and deserve with these classy house slippers. It has an anti-slip sole so wearing this will be super safe even while doing their intense spells and magical moves.
14. Slytherin Mousepad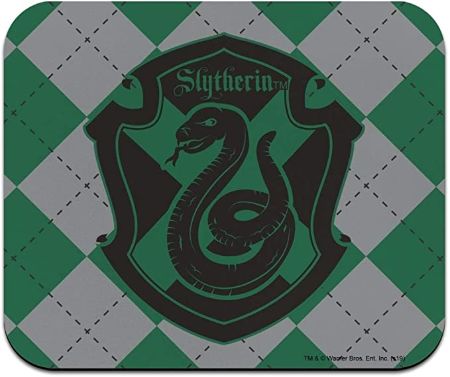 Spice up their workspace with this Slytherin mousepad. It's a good choice if you're on a tight budget since it's affordable and a practical present.
Plus, look at how fancy and stylish the design is!
8 Slytherin Merch Gifts
15. Harry Potter Boxed Set: Slytherin Edition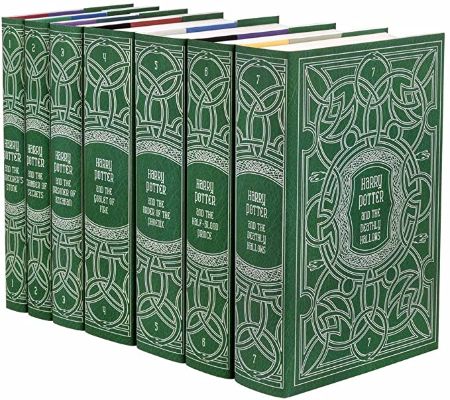 The story and adventures of Harry and the gang will never get old for a Potterhead no matter how many times they've read and watched the franchise.
Here's a complete book set of Harry Potter in Slytherin version. Your recipient will love that it's made specifically with their beloved House in mind.
16. Kids Hogwarts Robe

Feel like the unstoppable Draco Malfoy in this Slytherin robe. Whether it's for a Halloween party or a show and tell, wearing this will give the wearer the confidence and charm all Slytherins possess.
This Hogwarts robe is suitable for young wizards and witches alike.
17. Slytherin Adult Fleece Bathrobe

For the adult Slytherin in your life, this cozy bathrobe will be a convenient gift. Picking this will ensure that they get what they love (a Slytherin-themed gift) and a practical gift (bathrobe) that can be used daily.
The house crest is also embroidered making sure that it will stick even after multiple washes.
18. Men's Plaid Pajama Pants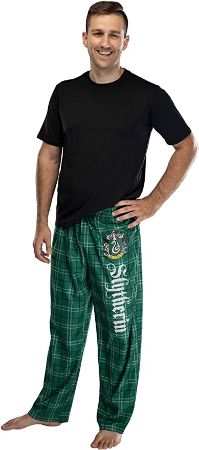 Let them wear something comfortable while they binge-watch the best wizard films of all time with these cool pajamas.
The plaid design topped with the Slytherin logo makes the pants manly and stylish at the same time. It will be the perfect Christmas gift for your Slytherin brother, friend, or partner.
19. Slytherin Journal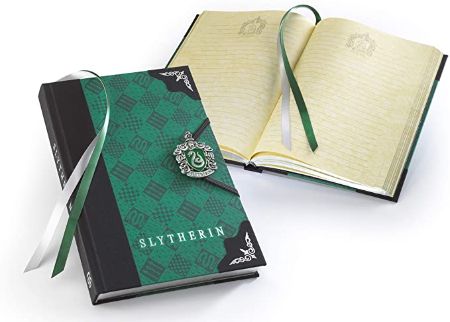 Writing in a journal yields lots of benefits. It helps in reducing stress, strengthening memory, and being organized.
Plus with this cool Slytherin journal, your recipient will be motivated to write their thoughts, feelings, and ideas in the notebook regularly.
20. Cauldron Ceramic Mug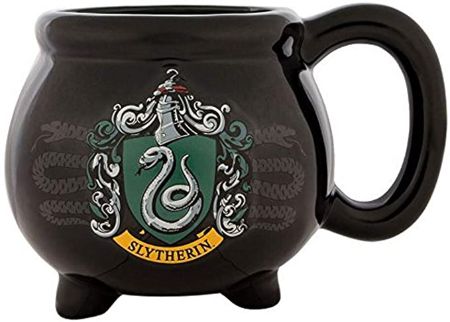 Is your recipient like Professor Snape who's the master of potions? Then this cauldron mug will be a treat!
For all their potion experiments and mixings, this mug will do the job perfectly. Plus, it's ideal for their coffee and tea needs!
21. Slytherin Wall Banner

Make their new place a lot homier and cooler with this wall banner. If your recipient recently rented an apartment or is going away for college, this will add character and beauty to their space.
Their guests will know that they're a Slytherin at heart the moment they see this awesome banner.
22. Slytherin Doormat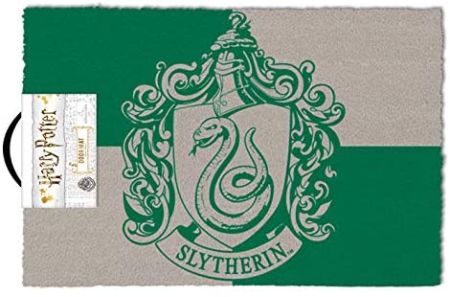 Your recipient will find this doormat useful in welcoming wizards, witches, and muggles alike into their space.
It will be a great decoration that will also keep their space neat. The size of this mug is also perfect with a dimension of 40 x 60 centimeters.
6 Slytherin Accessories
23. Knit Scarf & Pom Beanie Set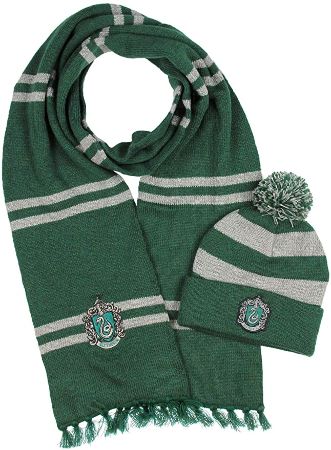 Look irresistibly cute even with the harsh cold weather in this matching knit scarf and beanie. Your recipient will love how easy it is to pair these two with any outfit. Even a simple green sweater will do the trick!
24. Costume Headband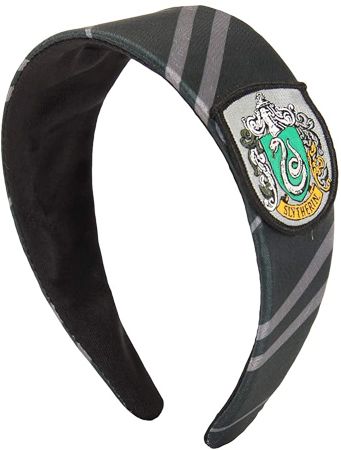 Their Slytherin costume won't be complete without this headband. Since it's a classic accessory, your recipient will not be restricted to using this only for costumes. They'll be able to use this for ordinary days as well.
25. Slytherin Lapel Pin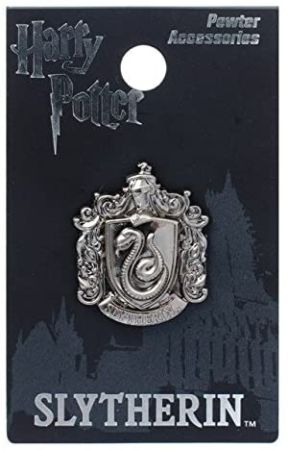 For proud Slytherins who will take any chance to showcase their amazing House, this lapel pin will be an excellent gift. Featuring an intricate design with a snake at the middle, this will get a definite thumbs up from a Slytherin.
26. Charms Bracelet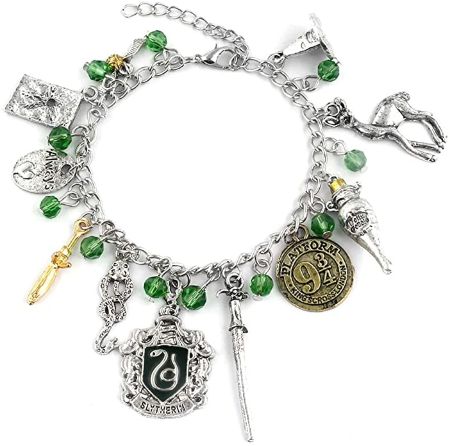 This bracelet has every charm a Potterhead needs and wants. It has a wand, snake, and of course, a Slytherin charm. It's a fun accessory that all fans of Harry Potter must have.
27. Slytherin House Crest Necklace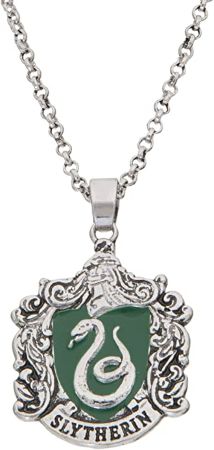 Here's another piece of jewelry that's sure to bring a smile to your recipient's face. It's a lovely necklace that features the intricate crest of Slytherin.
This will perfectly match the beautiful Slytherin earrings below.
28. Earrings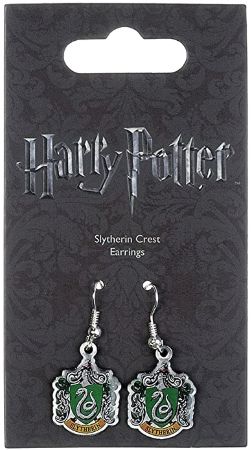 Complete their Slytherin jewelry collection by getting these pretty earrings. These will be a hit for the Slytherin fan in your life because of how intricate and well-crafted these earrings are.
Let's Hear it for the Most Ambitious House— Slytherin!
Slytherins believe in the motto "Be the Best," so they're always in pursuit of excellence in everything they do. This list has nothing but the greatest and most awesome gifts that the Slytherin fan in your life will approve of.
Get more exciting gift ideas by exploring the posts below:
Do you think Slytherins are given the recognition they deserve in the books? Tell us what you think by leaving a comment below.