Doing puzzles is a great pastime since they're fun, entertaining, and educational. Some of the benefits of doing puzzles include an increase in IQ, improved problem-solving skills, and stress relief.
So if you're not into puzzles, what are you waiting for?
This list shares 20 of the best, coolest, and unique gifts for puzzle lovers that includes both kids and adults.
8 Gifts for Puzzle Lovers: Kids Edition
1. Wooden Name Puzzle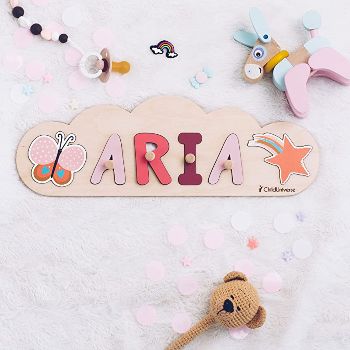 Start their interest in puzzles at a very young age with this name puzzle. Pick from multiple color palettes and designs that you can mix and match to build the perfect puzzle they'll love.
Adding an engraved personalized message on the back makes the gift more thoughtful and timeless.
2. Dinosaur Push Ball Puzzle Board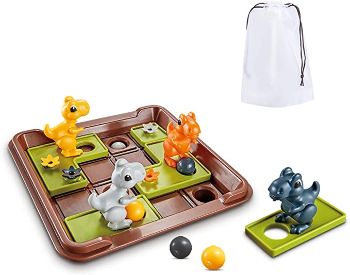 If you're looking for a fun and educational gift, then this puzzle board is an excellent choice. Kids will have a hard time putting this down because of the challenging levels needed to unlock the game.
It also includes a handy storage bag to avoid losing any game pieces.
3. Wooden Peg Puzzle Bundle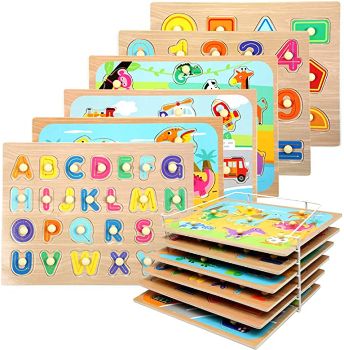 For the kid who's starting to learn the alphabet, numbers, and shapes, this puzzle bundle will be incredibly helpful. The themes of the puzzle include transportation, animals, and dinosaurs.
A metal rack is included with this set for easy and safe storage making this one of the most versatile gifts for puzzle lovers.
4. Solar System Floor Puzzle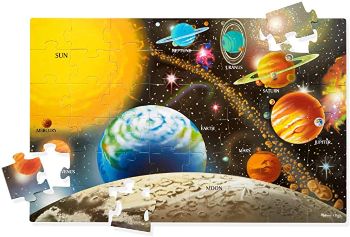 Take them on an adventure far far away with this solar system puzzle. They'll feel like they're going on a real adventure to outer space because it's huge and has lots of vibrant colors.
Each planet is labeled to make it easier for the little adventurer in your life to learn about the solar system.
5. Map of the United States of America Puzzle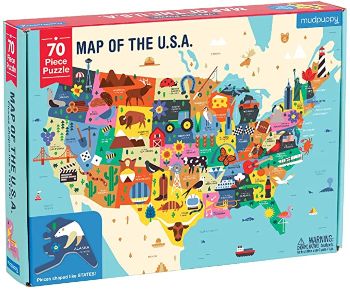 This cool map puzzle will let kids explore the wonders of the United States. What's cool about this puzzle is that it also includes the states, their capitals, and nicknames. This will foster a love for geography starting at a young age!
6. Marvel Avengers Jigsaw Puzzle Set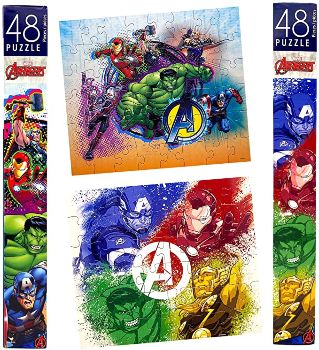 Can't pick who among the Avengers is the best? You're not alone because all of these superheroes are awesome!
The good news is that is you don't have to choose a single Avenger with this puzzle. The puzzle features a lot of well-loved Marvel superheroes such as Captain America, Thor, Iron Man, and more.
7. Disney Princesses Glitter Jigsaw Puzzle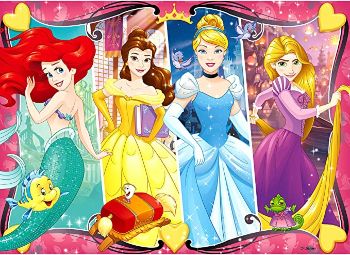 Does the little puzzle lover in your life dream of becoming a princess? Whether they love to swim like Ariel or read a book like Belle, this puzzle will be a great gift. This 60-piece puzzle is recommended for ages three and above.
8. #Selfies 4-Pack Puzzle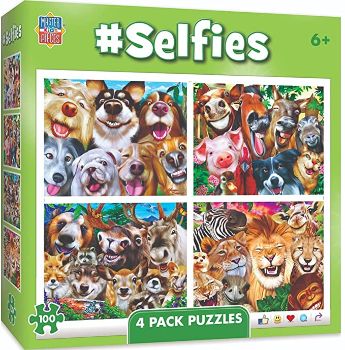 The puzzle lover in your life will be all smiles when they receive this adorable puzzle set. These unique puzzles show safari, farm, and pet animals displaying their silliest smiles for a selfie.
The set includes four 100-piece puzzles that are 10×8 inches.
8 Gifts for Puzzle Lovers: Adults Edition
9. Purple Succulents 1000 Piece Puzzle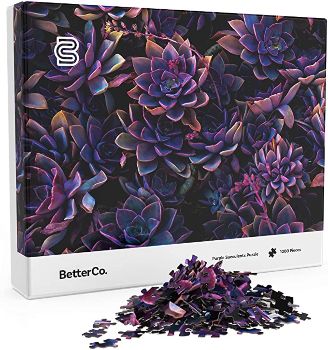 Your recipient will not only have fun doing this purple succulents puzzle, it will also become a fantastic display piece. This puzzle features vibrant hues of purples and greens, making it even more amazing to know that the product is made from recycled paper.
10. Horoscope Puzzle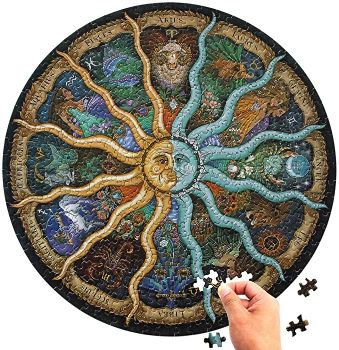 Does the puzzle lover in your life believe in the powers of the stars and planets? Whether they're a Libra, Capricorn, or Leo, this puzzle will be a hit with them!
11. 1000 Piece Pizza Jigsaw Puzzle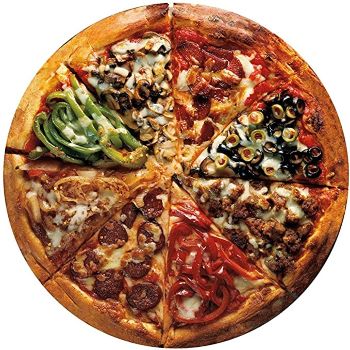 An everlasting pizza that will never run out may seem like an impossible dream for a foodie, but not with this tasty puzzle. Plus, it features eight fan-favorite toppings such as pepperoni, onions, mushrooms, and more!
12. Sweet Tooth Jigsaw Puzzle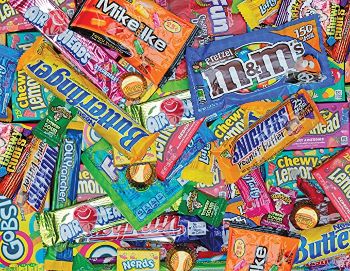 On the hunt for a housewarming gift for a puzzle fan? This jigsaw puzzle will be a sweet treat! Just looking at this delightful puzzle satisfies MY sweet tooth cravings.
13. Cinque Terre 1000 Piece Jigsaw Puzzle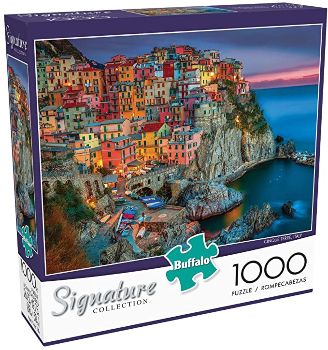 Travel the world one destination at a time with puzzles. It's an affordable way to see the wonders of the world in the comfort of your own home.
First Destination: Cinq Terre! It's a famous seaside village found in Italy that's one of the places a person must see at least once in their life.
14. Dog Gone Funny Jigsaw Puzzle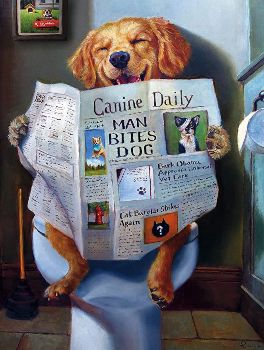 For the puzzle lover who always makes the people around them smile with their bright and positive outlook on life, this puzzle perfectly matches their personality.
Need a gift idea for the important man in your life who keeps everyone laughing? Check out these brilliant funny gifts for men!
15. Hogwarts Castle Puzzle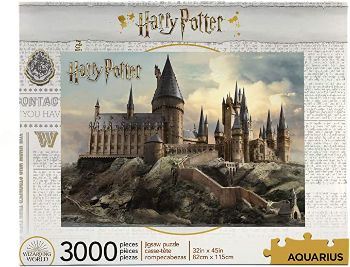 Relive the adventures of the Boy Who Lived with this Hogwarts Castle puzzle. If your puzzle lover is a massive Harry Potter fan (both book and movie-wise), this will be a fantastic addition to their collection.
No spell is required to finish this puzzle although it's most suitable for advanced puzzle lovers.
And for more ideas for the Wizarding World fan, check out these Harry Potter gift ideas!
16. Flowing Rainbow Lines Puzzle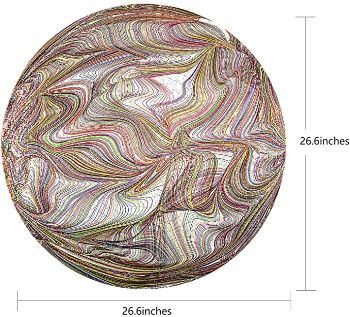 This flowing rainbow lines puzzle can be counted amongst one of the most challenging puzzles on the market because of its abstract design.
It will take your recipient days (if not weeks) to complete this 1000-piece puzzle (although seeing this puzzle in its complete form will make it worth the effort).
4 Unique Puzzle Gifts
17. Personalized Photo Jigsaw Puzzle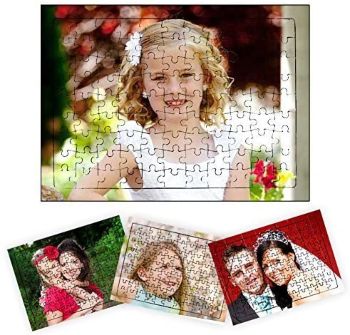 Got a favorite photo with your giftee? Why not immortalize the memory through a puzzle?
This 99-piece A4 personalized jigsaw puzzle is suitable for all puzzle lovers. It will be a heartfelt gift perfect for Valentine's Day, Christmas, Mother's Day, etc.
18. 3D Wooden Puzzle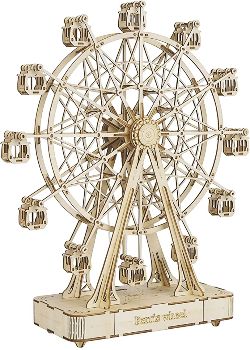 Add a new and unique piece to their puzzle collection with this 3D Ferris wheel puzzle. Don't worry if they're new to this type of puzzle because it includes easy-to-follow instructions that will guide them in creating this masterpiece.
This puzzle is also more than just a display piece since it's fully functional — the wheel goes around and even plays music!
19. 3-in-1 Starry Night Puzzle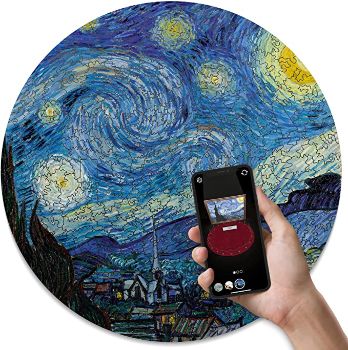 If you're looking for a high-tech puzzle, then this Van Gogh artwork is exactly what you're looking for. This present is a puzzle, AR game, and wall decor all in one!
It's made with birch plywood that makes it water-resistant and long-lasting.
20. Aztec Labyrinth Puzzle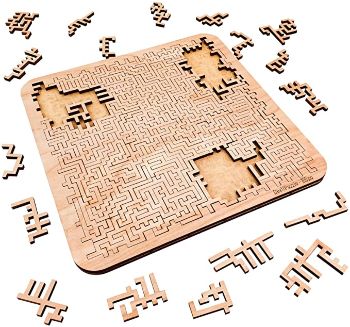 For the puzzle lover in your life who claims to have mastered all the puzzles in the world, this Aztec Labyrinth puzzle will be a real head-scratcher. It's a modern puzzle made with unique puzzle pieces that will put their skills to the test.
Choose from three levels of difficulty: medium, hard, and expert.
Fun Puzzles for Everyone!
Open the box, spread out the pieces, and let the fun begins! Puzzles are one of the best gifts you can give a person because they're personal, unique, and provide lots of mental benefits. This proves that you can never go wrong with puzzles.
Check out these other amazing gift ideas that puzzle lovers will also like:
Which puzzle on the list do you think your recipient will like the most? Let me know in the comments below!