Spoil your man and make him feel special with these awesome Valentines gifts for him. He's made every Valentine's Day the happiest time and it's your turn to return the favor.
I know that it's difficult to pick an exceptional present because it has to be perfect to show him how much he means to you, so that's exactly what this list is for!
Get gift inspirations that he'll appreciate and love right here. Scroll through these 30 ideas to find the right Valentine's Day gift for him!
12 Valentines Gifts for Your Boyfriend

Compile all your precious moments together in this mini-album. Include photos from your first date, first anniversary, and first out-of-town trip.
Reminisce and see how much you've grown as a person and as a couple together.
2. Baked Goods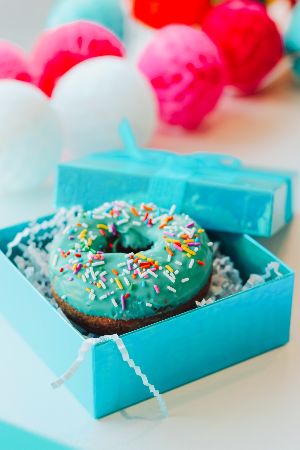 They say that the way to a man's heart is through his stomach…and that's absolutely true!
Spice it up and make him his favorite meal and pastry on Valentine's Day. Here's a best-selling baking book that you must try out to achieve the perfect treats.
3. "Hot Girlfriend" Travel Coffee Tumbler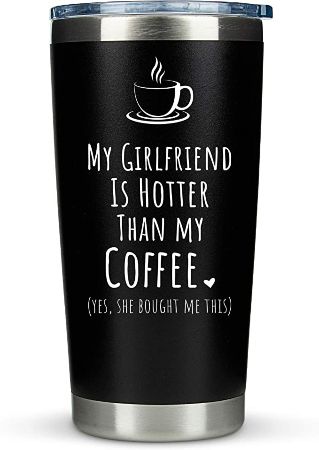 He'll think about his incredibly funny and beautiful girlfriend everytime he drinks his morning coffee with this gift.
Plus, it's a not-so-subtle way of showing the world how lucky he is to have you as his girlfriend.
Have you ever wondered what you would look like as characters in The Simpsons? You'll have your answer through this gift.
Smart Designs Studios reimagines you in your favorite TV show. There are also portraits inspired by Friends, Harry Potter, and Rick and Morty.
5. "Why I Love You" Love Journal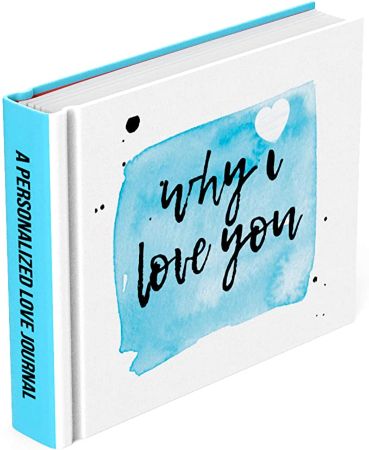 DIY gifts are always a great choice. They show you've put a lot of thought and effort into creating the perfect gift.
Why not make him a book that tells him all the things that you like and love about him. I'm sure it will be a hit!
6. Love Coupons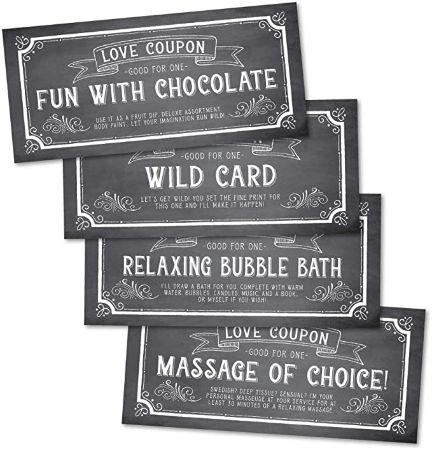 Coupons and gift cards may sound impersonal but you need to hear me out first. There are no ordinary coupons. These are love coupons.
Plus, this gift will last even after Valentine's Day. (If he uses it wisely 😉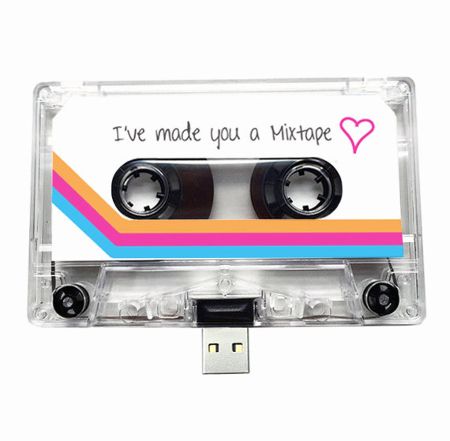 Go old school and make him a mixtape of all his favorite songs.
Don't worry if he doesn't have a cassette player since this is compatible with laptops that have a USB port. A very modern and classic present, indeed.
8. "I Chews You" Chewbacca T-Shirt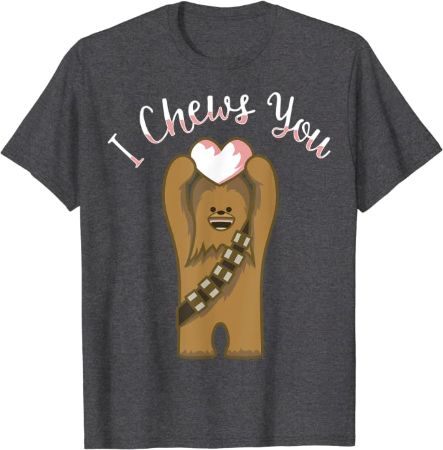 Give this adorable Chewbacca shirt to your loyal boyfriend. Not only does it show one of his favorite characters, but it will also remind him of your thoughtfulness.
Brownie points if he's a huge Star Wars fan.
9. Guitar Pick with Special Message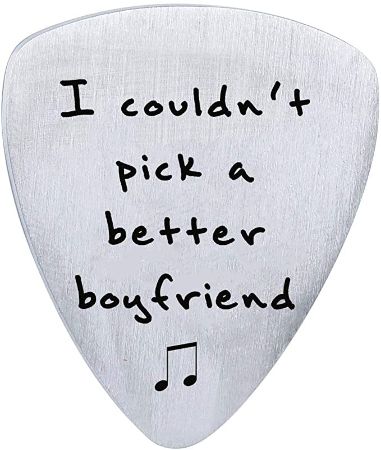 Does he appreciate a goon pun? If he does, then this guitar pick will be an excellent present to your musician boyfriend.
Check out this list for more fant-axe-stic gifts for guitar players.
10. Stitch & Angel Funko Pop! Keychain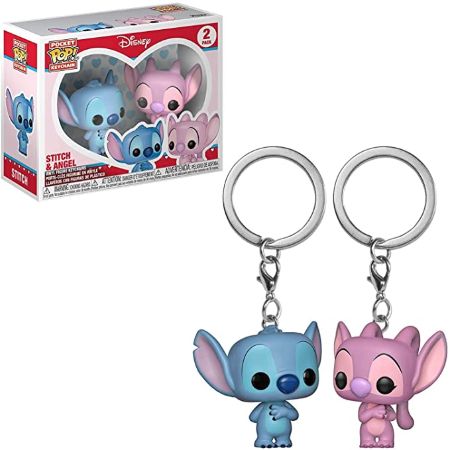 Say aloha to these cute matching keychains!
These Stitch and Angel keychains will be a fantastic present to your SO. Even if you're not with them 24/7, having these keychains will be like carrying a piece of them with you wherever you go.
11. Talk, Flirt, Dare Card Game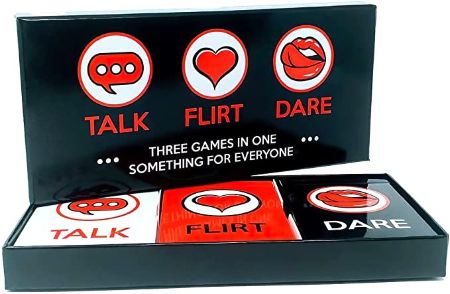 Valentine's Day just got a lot more interesting thanks to this game.
It's a fun and new way to celebrate the day of love. Catch up with your partner and know their quirks and preferences that you've never known before through this gift.
12. "Hooked on You" Fishing Lure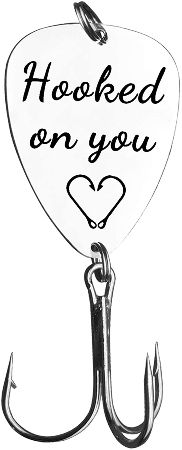 You need to get this hook for your boyfriend if his favorite hobbies include fishing. It's a sweet Valentine's Day gift that's functional as well.
Plus, it's made from high-quality stainless steel that won't rust or fade. This gift will give you a bang for your buck.
9 Valentines Gifts for Your Fiance
13. Special Date Night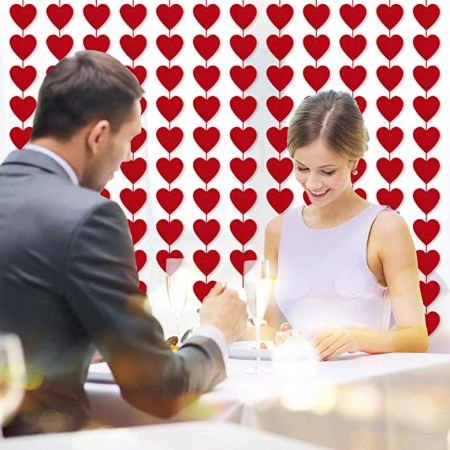 Surprise your fiance with a romantic dinner date that you organized by yourself.
Cook his favorite meal, get his favorite wine, and decorate the place with this heart garland to make the night more special.
14. Michael Kors Two-Piece Leather Billfold Wallet With Card Case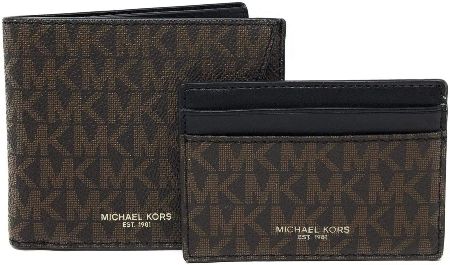 Looking for a practical present that your SO will like and use for years to come? The quest ends here since this stylish wallet and card case fit the bill.
He'll be able to put a lot of things in this since it has eight card slots, two bill compartments, and two side slips. It also comes in the colors blue and black.
15. DIY Plaster Statue Molding Kit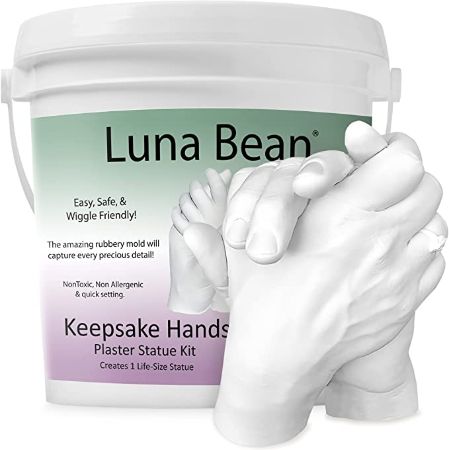 It's important to continuously create precious memories that will make your relationship stronger.
Molding your hands together will be a fun and unique way to spend Valentine's Day. You don't have to be a pro to make the perfect cast since the four-step procedure is easy to follow and do.
16. Bearington Lawless Lover Teddy Bear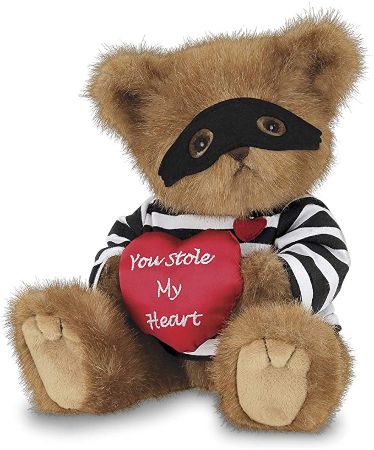 If stealing is a crime then your fiance will be guilty…of stealing your heart!
Men don't usually get flowers, chocolates, or teddy bears so receiving this will be a breath of fresh air. Plus, nobody can say to those adorable eyes!
17. Romantic Picture Frame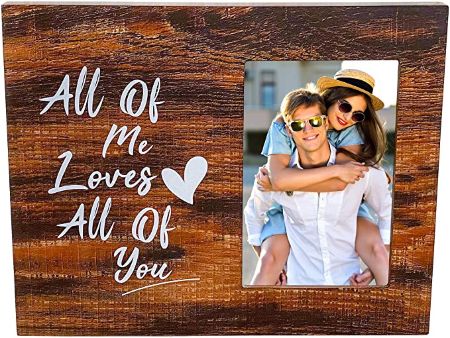 There will be no room for doubts about your intentions and feelings for him thanks to this rustic picture frame and its sweet message.
Make sure to add your favorite photo together to make it more personalized.
18. Couples Bracelet and Necklace Set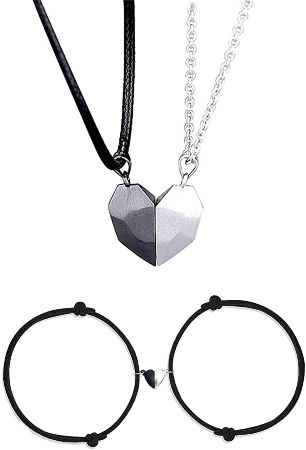 For your better half who completes you, these matching accessories will be a fantastic representation of your love to them.
The set includes magnetic heart-shaped necklaces and bracelets.
19. "Sorry This Beard is Taken" Shirt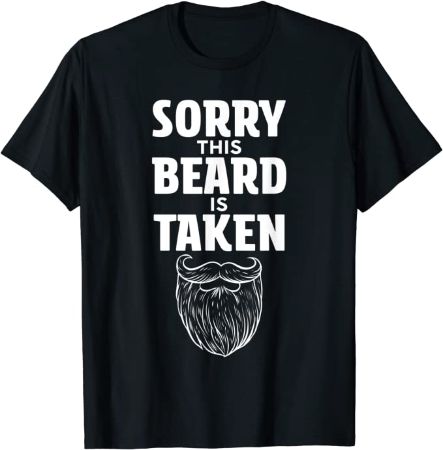 Let everyone know that he's out of the market and is ready to settle down with you through this funny shirt.
He'll love wearing this shirt whether it's Valentine's Day or just any other ordinary day since it's comfy, lightweight, and longlasting.
20. "I Wish I Were an Octopus" Card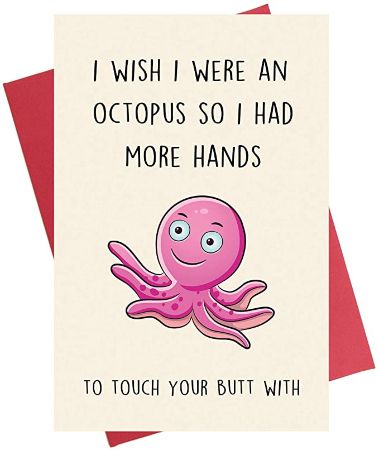 Express your feelings for him through writing and put the words in this cute card. It's a win-win since both the inside and outside of the card are thoughtful and sweet.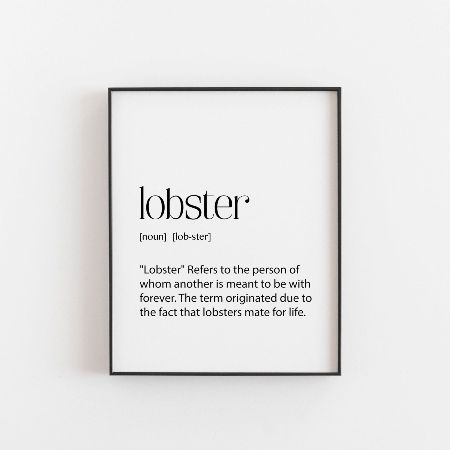 Give this to your lobster aka your significant other, lover, and partner in life. He'll instantly get the reference if he's a huge fan of Friends. Check out this list for more Friends TV show gift ideas.
9 Valentines Gifts for Your Husband
22. A Romantic Getaway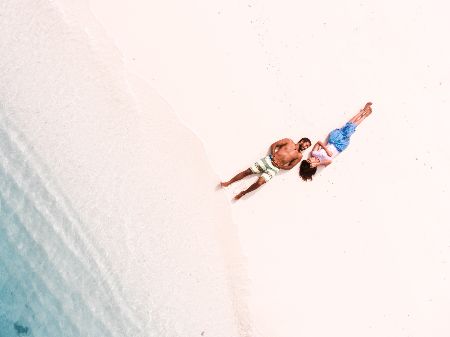 It's time to run away from all the problems and stress of the city and go on a romantic vacation with just the two of you.
I'm sure that it will be a memorable and fun trip regardless if it's in another state, country, or continent, as long as you're together.
23. Spiderman "Captured by Your Love" Couples Pillowcases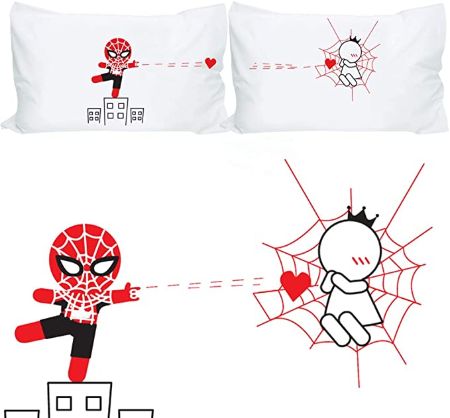 Get these pillowcases for your superhero husband who always manages to capture your heart.
There are other options for you to choose from such as Batman and Catwoman, Captain America and Wonder Woman, and Star Wars matching pillowcases.
24. Personalized Acrylic Song
He'll feel like a superstar who has his own album cover with this gift.
What's cool about this present is that you can also add the song code to his favorite song and he'll be able to scan the plaque to listen to it. This video will help you out if you choose to make a DIY plaque.
25. Engraved Electronics Docking Station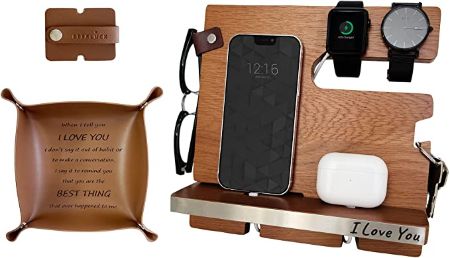 Get him a place where he can conveniently store all his daily essentials such as his phone, watch and keys.
This solid oak wood docking station can also charge up to three devices. It's really an all-in-one gift!
26. Long Fleece Bathrobe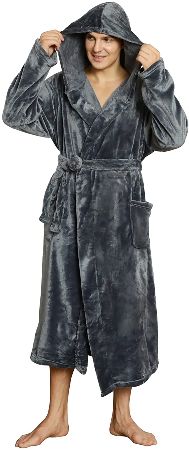 Pamper your hardworking husband with love and give him a well-deserved time off. Me-times won't be complete without this soft and comfy bathrobe.
It comes in other colors such as black, red, and blue.
27. Awesome Husband Mug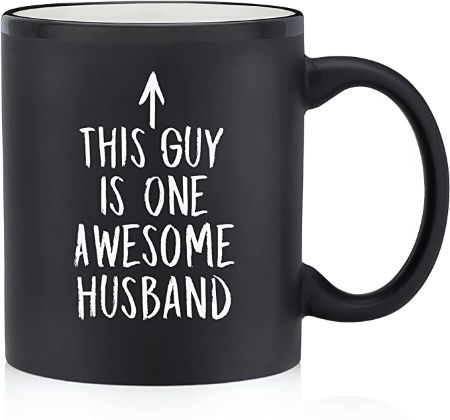 Need I say more?
Your husband who works hard to provide for the family, loves you unconditionally, and brings so much joy into your life deserves the most awesome husband award.
28. Magnetic Pickup Tools
This tool will be useful for your husband who always amazes you with his ability to fix everything and anything around the house. It can also be used for construction, auto repair, and DIY projects.
29. Massage Gun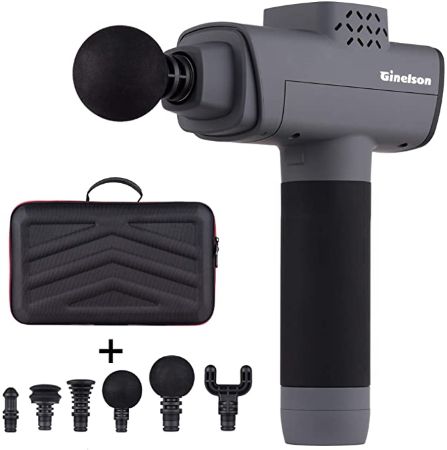 This gift will be a treat for him after a long and tiring day at work.
It comes with six head attachements and four speeds that will cater to his needs. Plus, it's lightweight so it will be easy to carry around the house, car, and gym.
30. Cute Valentine's Day Card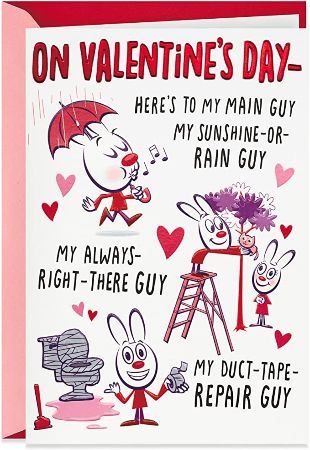 Sometimes actions are not enough. People also need to hear how grateful you are to have them in your life.
Writing will be a great way to give him all the love and attention that he deserves on this special day.
Valentines Gifts for Him
Make him the happiest guy on the planet with these awesome Valentine's Day gifts just for him. Whether it's for your boyfriend, fiance, or husband, the presents here will be a hit.
Check out these lists for more amazing gift ideas: