The hit TV show Friends continues to be a massive hit even though it first premiered 27 years ago (feel old yet?). Since then, the show has been aired in more than 220 territories, watched over 100 billion times, and was nominated for 62 primetime awards.
If you're here looking for awesome Friends TV show gifts for a friend or family member (or just wanting to treat yourself), then you've stumbled upon the right blog post. This gift list includes 28 gift ideas and inspiration for every occasion.
5 Iconic Friends TV Show Merchandise
1. Monica's Door Peephole Frame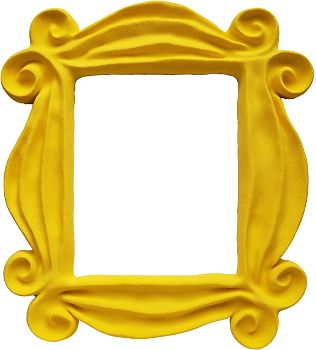 Friends fan will be psyched to receive this iconic door peephole frame from Monica's apartment! Since most of the scenes in the show happened there, this peephole frame is recognized as one of the most loved pieces in the series.
2. Central Perk Oversized Mug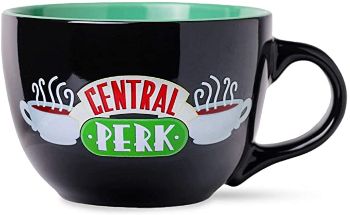 This Central Perk mug will make anyone feel like they're in the famous fictional cafe from the show while they drink their cup of coffee in the morning. Whether it's for their favorite latte, cappuccino, or drip coffee, this mug is certified Gunther-approved!
3. Friends Cast Autograph Reprint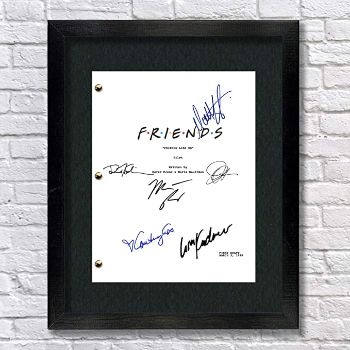 Add this unique Friends cast autographs reprint to their collection. It's a must-have piece for ultimate fans. The frame includes a complete script of the Friends pilot episode printed on high-quality FSC-certified paper. Choose between a framed and unframed version.
4. LEGO Friends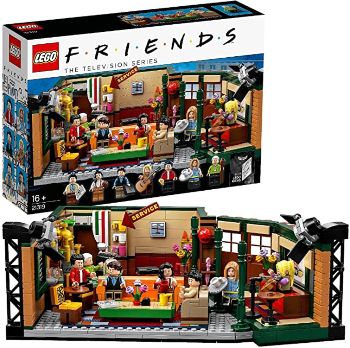 In celebration of the show's 25th anniversary, LEGO created this awesome Central Perk build set that perfectly replicates every detail of the Warner Bros studio set. It also comes with mini-figures of the whole gang, plus Gunther (because let's be honest, the set wouldn't be complete without him).
5. Friends – Complete Series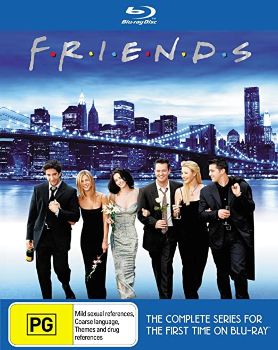 Want a foolproof present the Friends fan in your life will constantly use? The can relive the epic adventures of Ross, Rachel, Monica, Phoebe, and Joey with this complete Blu-Ray set of Friends!
5 Friends Christmas Gift Ideas
6. Jigsaw Puzzle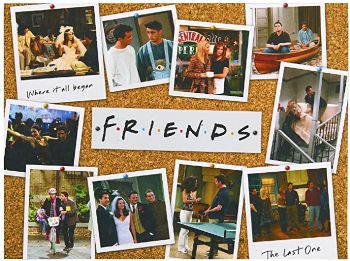 Completing this 1000-piece jigsaw puzzle will be a fun bonding activity on Christmas Day. It features the most memorable scenes from each season—from Rachel meeting the gang to the last bow of the cast (pass the tissues). This challenging puzzle is suitable for fans aged five and older.
7. Central Perk Iconic Couch Christmas Ornament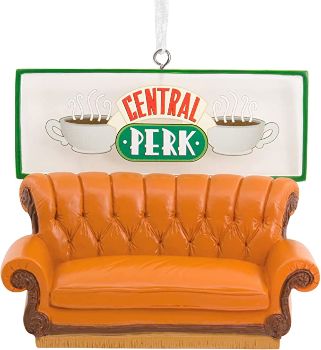 Spread joy and cheer with this adorable ornament of the iconic Central Perk couch. This one-of-a-kind adornment will be the center of attention of any Friends fan's holiday tree. It works as a cake topper, too!
8. Central Perk Blanket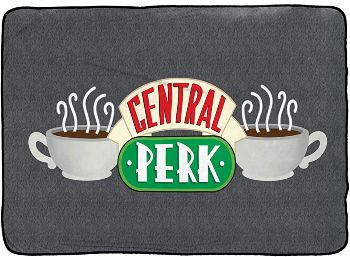 This central perk blanket will keep fans warm and cozy while they watch Friends for the nth time. They'll always have a keepsake of the show wherever they go since they can take this blanket into their bedroom, living room, car, and even on road trips.
9. Lip Balm Set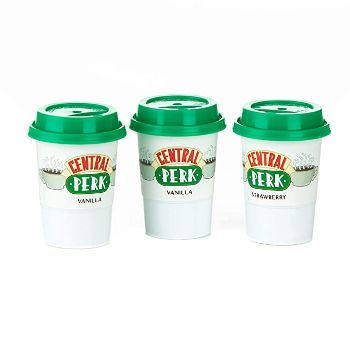 Since buying a cup of coffee from Central Perk isn't possible, these lip balms are the next best thing. These moisturizing balms are packed in cute coffee cups with the Central Perk logo and come in two flavors: vanilla and strawberry.
10. Friends Charm Bracelet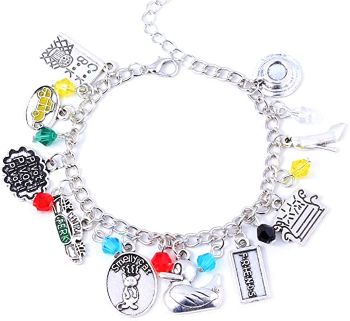 Give this adorable charm bracelet to the Friends fan in your life. It includes 10 cute charms inspired by the show such as a cookbook, rubber duck, cab, top hat, and more!
3 Rachel-Inspired Gifts
11. "Girls" T-Shirt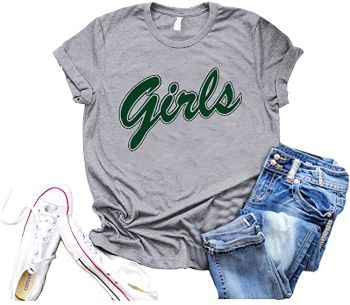 Channel her inner Rachel with this chic "Girls" t-shirt that was worn by Rachel in Sea­son 6 Episode 18, "The One Where Ross Dates a Student." This shirt gets brownie points for being comfortable, breathable, and durable.
12. Plaid Pleated Skirt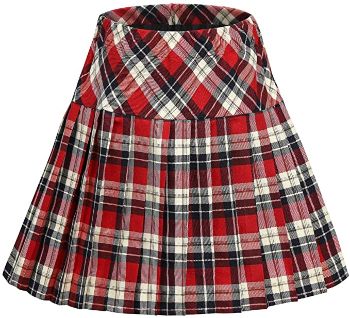 Rachel Green is undeniably one of the most famous fashion icons from the 90s, and one of her best iconic looks is the chic red plaid skirt. Now that 90s fashion is making a comeback, this skirt will be a fantastic gift for that fashionista Friends fan. This best part is that this skirt comes in 20 colors and prints.
13. "You are The Rachel to My Monica" Trinket Dish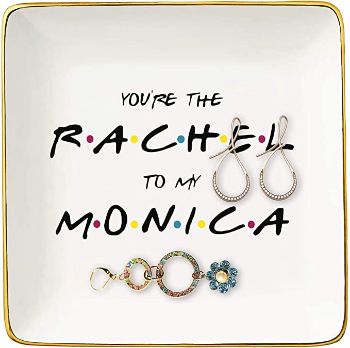 For your best friend who's always been there for you, this trinket dish will let them know that you appreciate them and that you'll always be there for them, too.
3 Monica-Inspired Gifts
14. Friends: The Official Cookbook by Amanda Yee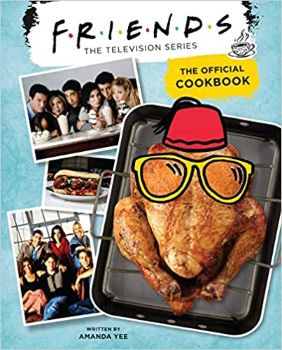 If the Friends fan in your life is a chef like Monica and has always wanted to try Friends dishes (like Rachel's trifle, the Moist Maker, and Phoebe's grandmother's cookies), then this cookbook will be a massive hit.
The cookbook includes 70 unique recipes from the TV show and each recipe includes a reference to which episode the recipe is inspired from.
15. Body Polish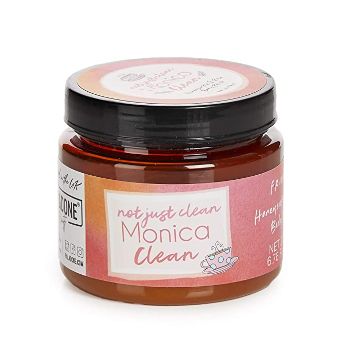 A body scrub that will leave them not just clean, but Monica clean? Yes, please! Pamper them with this body polish that will effectively remove dead skin cells leaving smoother and healthier looking skin. Plus, this product smells heavenly, like a combination of sweet and floral fragrances.
16. MONOPOLY: Friends The TV Series Edition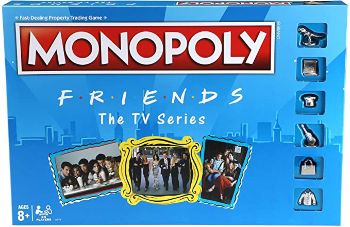 The classic game of Monopoly is made more awesome with this Friends TV Series Edition that features places, phrases, and characters inspired by the show. The game pieces represent the whole gang: a vest for Chandler, a dinosaur for Ross, a handbag for Rachel, pizza for Joey, a chef's hat for Monica, and a guitar for Phoebe.
3 Phoebe-Inspired Gifts
17. "Crap Bag" Tote Bag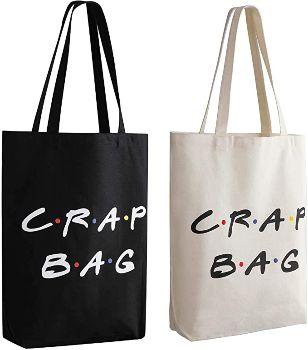 "First name: Crap. Last Name: Bag." If they don't have a Mike Hannigan in their life, then give them their very own Crap Bag. Trust me – a true fan will appreciate the gesture.
18. "THAT GIRL" T-Shirt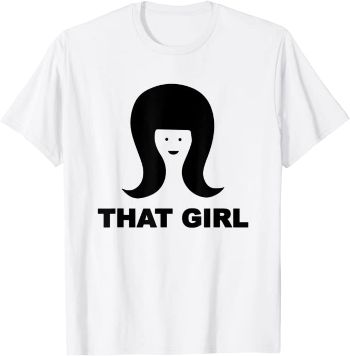 Remember the legendary Thanksgiving episode where the whole gang played football to win the coveted Geller Cup? Phoebe proved that girl power rules and this "That Girl" shirt is what she wore in the iconic match.
Pair it with a yellow long-sleeved shirt to complete the look.
19. Smelly Cat Mug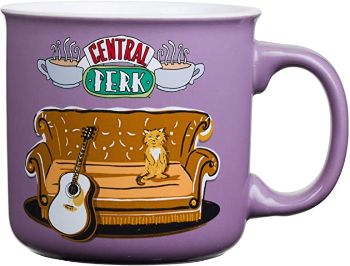 Did you know that because of the immense popularity of the song, Lisa Kudrow and the Pretenders (aka Phoebe Buffay and the Hairballs) recorded an updated version called the Smelly Cat Medley?
If your giftee also loves the song, then this mug will be a hit!
3 Joey-Inspired Gifts
20. Baseball Cap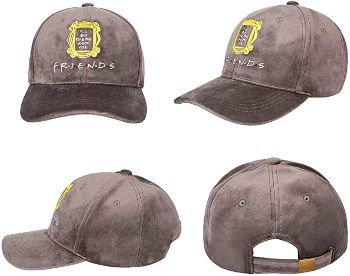 From his eye-catching London hat to his red Porsche cap, Joey proved that he can rock any headgear! This novelty baseball cap is the perfect present for the Joey fan in your life since it's cool, functional, and good for the price.
21. Joey Flip Sequin Pillow Cover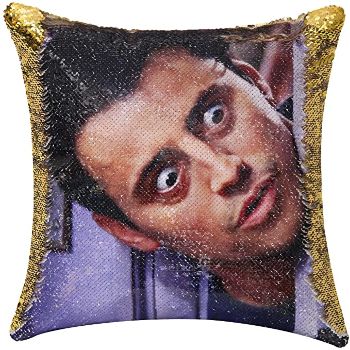 Before memes were created, there was Joey Tribianni. If you're on the search for a unique present that will make a Friends fan laugh, then get them this Joey magic pillow! The pillowcase comes in black, blue, gold, purple, red, and silver.
Want more meme-inspired gifts? Check out this gift list of hilarous meme gifts.
22. Hugsy Plush Toy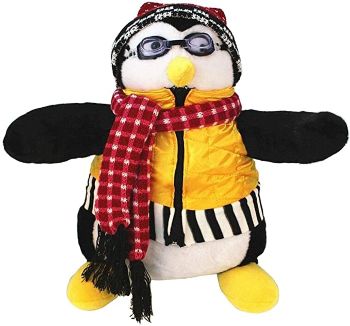 Any fan of Friends will want to get their hands on Hugsy, the bedtime penguin pal. Even Emma, Rachel's daughter, became attached to this lovable plush toy. The accessories of this Hugsy plush toy such as the glasses, hat, and scarf are all detachable.
3 Ross-Inspired Gifts
23. Ross "I'm Fine" Birthday Card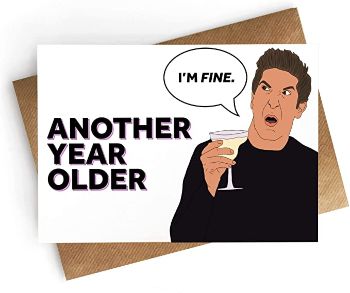 Turning another year older won't be so bad with this funny birthday card. With Ross's high-pitched greeting and a thoughtful message inside, this may be the start of their best year yet.
24. "Pivot" Fridge Magnet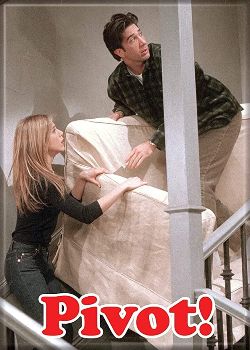 "Pivot! Pivot! Pivot!"
This is one of those Friends TV show gifts that you can just hear out loud.
The scene where Ross, Chandler, and Rachel carry Ross's brand new couch is one of the funniest and memorable in the series. Get them this cool magnet to stick on their fridge and look at whenever they need a good laugh.
25. Friends Trivia Game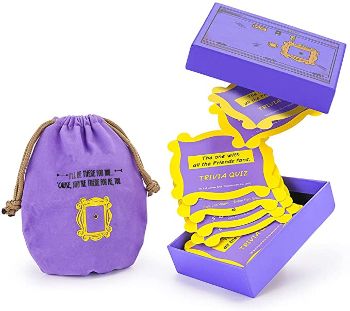 With these fun Friends trivia cards, game nights will be more awesome and exciting. The set includes 100 cards that will reveal who among their friends is the ultimate fan of the show. Call in the game master and let the fun begin.
3 Chandler-Inspired Gifts
26. Cable Protector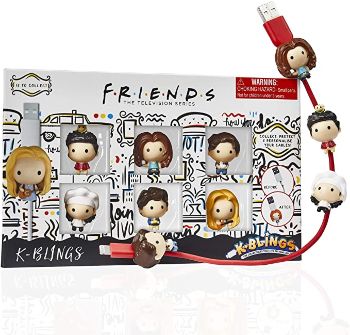 Is the Friends fan in your life a techie like Chandler? Then this cable protector set is a good gift choice. Aside from protecting their phone chargers, earphones, etc., these are also great collectibles for fans of the show.
Each pack contains six cable protectors, one for each main character.
27. Turkey Bath Fizzers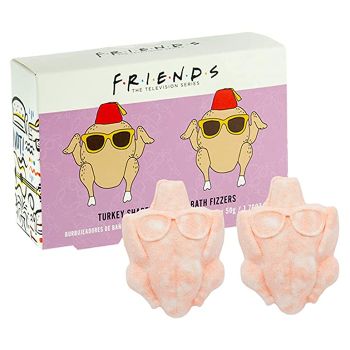 These unique bath fizzers will make your them love taking baths like Chandler. They're perfect for me-time or to relax after a long week. Infused with a fresh tropical fragrance that will leave their skin feeling fresh and hydrated, these will become their new favorite bath staple.
28. Funko POP! Bunny Chandler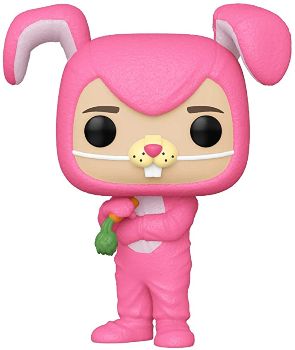 All episodes of Friends are funny and witty, but "The One with the Halloween Party" is just plain hilarious. Complete the collection with the rest of the cast in their Halloween costumes by getting them Funko POP! figures of not just Chandler as a Bunny, but also of Monica as Catwoman, Phoebe as Supergirl, and Ross as Sputnik.
Could We BE More Excited for Friends TV Show Gifts?
As a fellow fan, I'm sure that your gift recipient will love any and all of these Friends TV show gifts. Whether they're a fan of Phoebe or Joey, or a Roschel and Mondler shipper, this list has everything a Friends TV show fan could want.
If you're looking for more gift ideas or inspiration, check out this gift list of gift ideas for a 30 year old woman.
Who's your favorite Friends TV show character? Were they or were they not on a break? Share your thoughts in the comments!