The Seattle Seahawks has a colorful history in American football. It played in 46 NFL seasons, appeared in three Superbowls, and won the title for the first time in 2014.
The Seahawks may not have as many fans as that the Dallas Cowboys, New England Patriots, or the Pittsburgh Steelers, but the 12s make up for it through their immense loyalty to the team.
Are you looking for an amazing Seahawks gift for your recipient who's cheering for the blue and green team? Look no further because this list has everything a 12th man could ever want.
14 Seattle Seahawks Gifts for Everyone
1. Bluetooth Speaker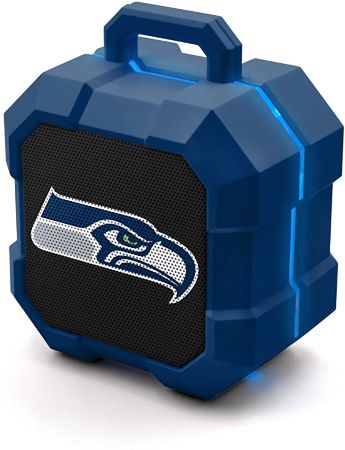 The 12s know how to party making this Bluetooth speaker a great gift choice. Whether it's for watching the game or listening to music, this high-quality speaker will be the top choice of an audiophile.
2. Drawstring Backpack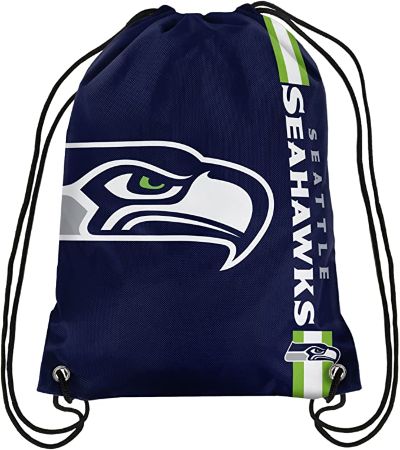 Go to the Lumen Field prepared by bringing all the things they'll need to enjoy the match. Place their phone, keys, and water bottle conveniently inside the backpack.
Plus, it will be a great way to show their support for the team.
3. Seahawks Hoodie Purse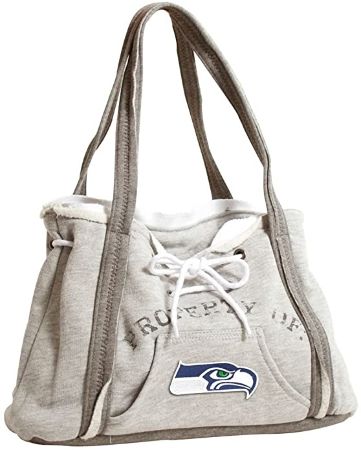 Here's another great buy for the lady fans of the Seattle Seahawks. It's a spacious and pretty bag that will come in handy for both NFL season and everyday use.
The bag also features an adorable Kangaroo-style pocket that makes it look more like a hoodie.
4. Youth Football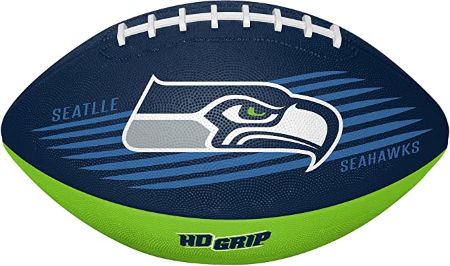 Show your support to the young Seahawks player in the making through this football. The ball features the team logo and colors as the design.
Any fan will be psyched to own this whether for playing or display.
5. Throw Blanket
Cuddle up and get warm under this throw blanket. This officially licensed blanket is made from high-quality polyester which means that it's super soft and cuddly.
Pick this blanket if you're looking for a housewarming gift or going away present for the Seahawks fan in your life.
6. BBQ Grill Set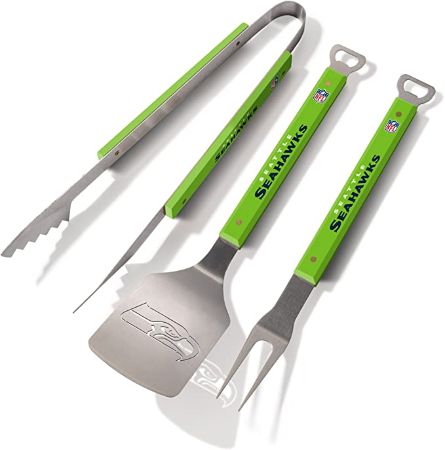 Barbeque is one of the most in-demand food during NFL season. Aside from it being delicious, it also symbolizes family and togetherness.
Get this Seahawks BBQ grill set that will let the 12s fan in your life enjoy cooking as much as they enjoy eating.
7. Insulated Cooler Bag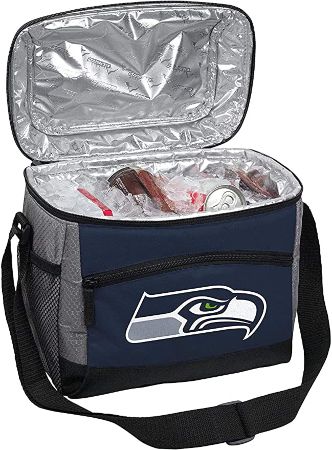 Keep all the beverages cold even while outside during the summer season through this insulated bag. Everyone can place their favorite drinks in this bag (from the sodas of the children to the beers of the adults) since it will hold up to 12 cans.
Plus, the glacier guard foil technology through its anti-microbial feature keeps the bag clean and sanitized.
8. Chef Hat and Apron Set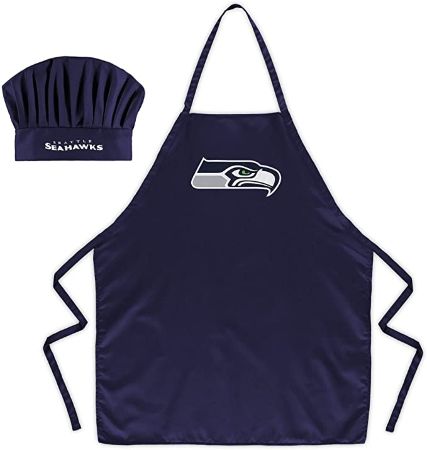 Wearing this matching apron and chef hat will make them feel like a pro cook while preparing food for the game. It's the best gift for the host of the party during barbeques, team parties, and tailgate parties.
9. Hanging Wall Sign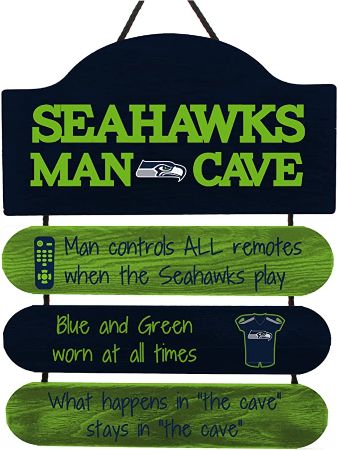 He who dares enter the cave must know the rules.
A place doesn't have to be chaotic to be considered fun. They can still have a fun time with the gang even with a few rules in place that will keep everything in order. And the best rule ever made? Man controls ALL remotes when the Seahawks play. Always!
10. LED Torch Light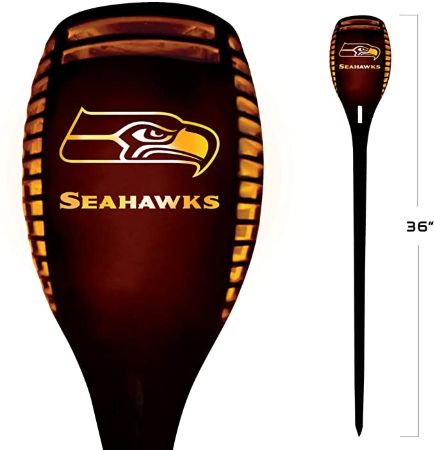 Let the Seahawks light up their life figuratively and literally.
Your recipient's day instantly gets better when the Seahawks is on. Now, their yard will also illuminate that same happiness and light through this LED torch.
11. Hip Flask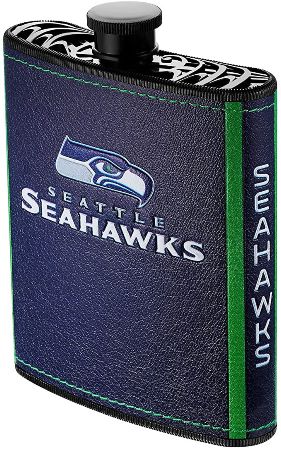 Your recipient doesn't need an ordinary flask for their drinks. They deserve a high-quality flask that's durable and also represents their interests such as the Seattle Seahawks.
This plastic flask with a leather wrap can hold up to seven-ounce of their favorite beverage.
12. Fabric Storage Cube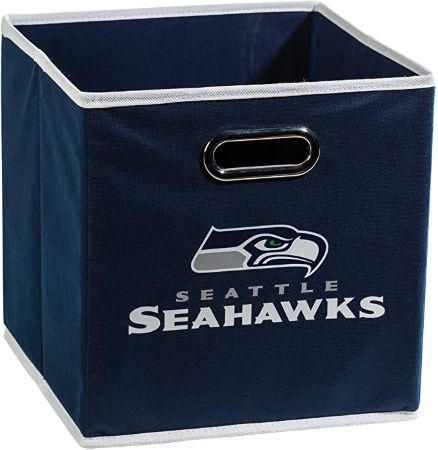 This storage cube will be a great present for the 12th man in your life since it will be useful as an organizer for all their Seahawks memorabilia.
Plus, it will be an ideal organizer everywhere— even in the car or workspace.
13. Stackers Block Game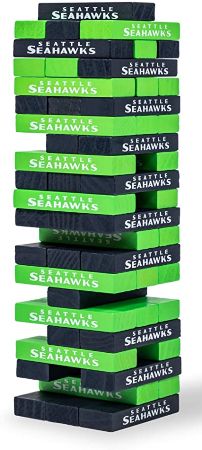 The kids may not enjoy the match as much as the adults. But that doesn't mean they can't have fun on their own.
Let the kids play and have fun as the game engrossed the adults (but still with the Seahawks colors and brand) through this block game.
14. Sports Trivia Game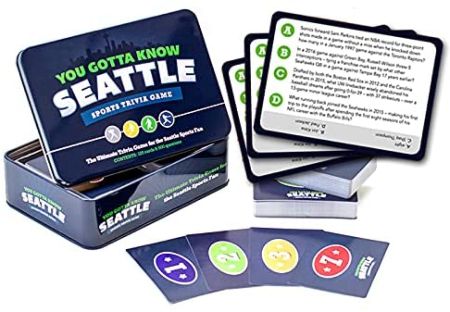 You gotta know Seattle! Not only because it's their hometown but also because it's the home of the best team: the Seattle Seahawks.
Learning about the team will be a blast while playing this trivia game. The best part? Everyone can learn and join in the fun!
7 Seahawks Accessories and Apparel
15. Silicone Bracelets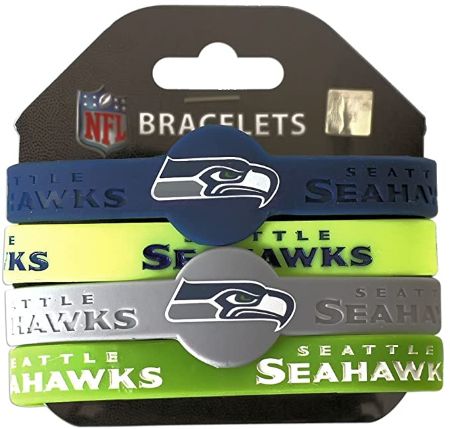 This will be the best bracelet for the game since it's not too flashy or too plain. It features the Seahawks logo in the middle and their name throughout the band.
Each pack comes with four bracelets in the team's colors: blue, silver, and green.
16. Bead Dangle Earrings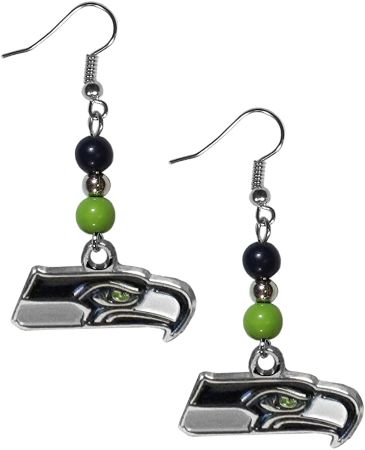 Your recipient will look fierce and beautiful at the same time while wearing these dangle earrings. Plus, they'll be able to wear these on any occasion to bedazzle their outfit. After all, who said that people can only wear team merch during the game? No one!
17. Charm Bracelet
The sophisticated fan of the Seahawks will be psyched to get this charm bracelet. It has three charms that fully represent what it is to be a 12s: #1 fan, team logo, and football-shaped charms.
18. 3 Pack Bodysuit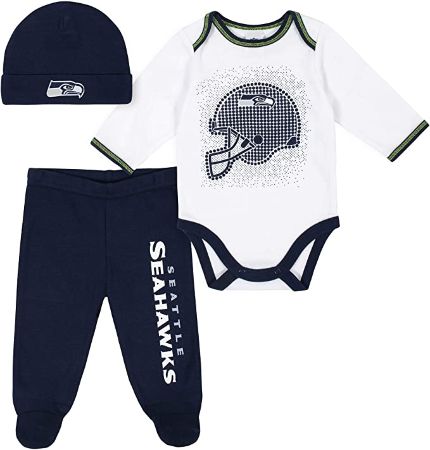 The youngest Seahawks fan in your life should wear merch that matches their team spirit. Here's an adorable three-pack bodysuit that's complete with a top, bottom, and beanie that will make your recipient even cuter.
Get this gift for Christmas, birthdays, or baby showers.
19. Pullover Sweatshirt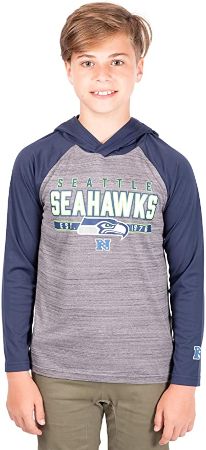 There comes a time in every Seahawks fan's life when they wish to be part of the dream team. Foster that aspiration by giving them this cool pullover sweatshirt.
They may not play for the Seahawks professionally, but wearing this will still make them feel like they're part of the squad.
20. Reversible Oversized Hoodie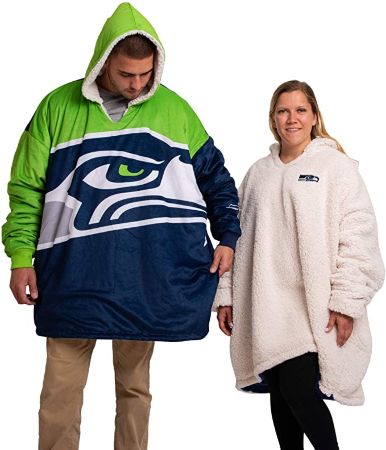 I know that fans are anything but chill when their team is playing. But that doesn't have to be the case all the time.
Your recipient will be able to chill and enjoy the game with this cool reversible hoodie. It's super warm and cozy no matter which side they choose.
21. Team Jersey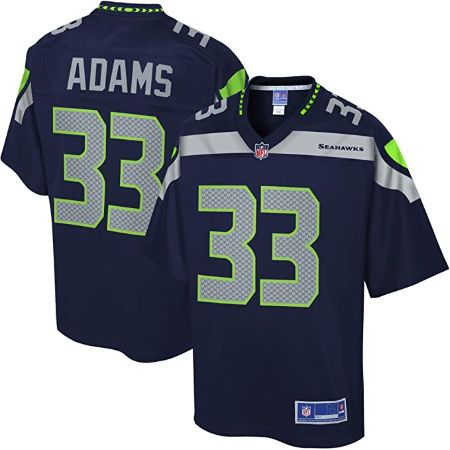 Can someone even call themself a fan without a jersey of their own? I doubt it! Let the 12th man in your life show their love and pride for the Seattle Seahawks through this awesome jersey.
5 Seattle Seahawks Novelty Items
22. StadiumView Coasters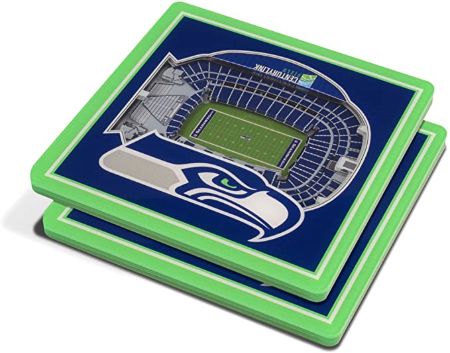 The Lumen Field witnessed the rise and successes of the Seahawks so it has a special place in every 12s heart. Relive the best moments of the Seahawks in the field through these coasters.
23. NFL Retro Series Puzzle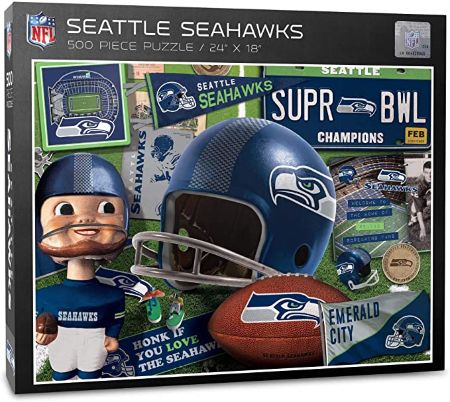 Waiting for the Seahawks to play? Why not be productive and complete this puzzle? It will not only entertain them while waiting but will also be a great mental exercise.
More challenging gifts for puzzle lovers await you in this post.
24. Picture Frame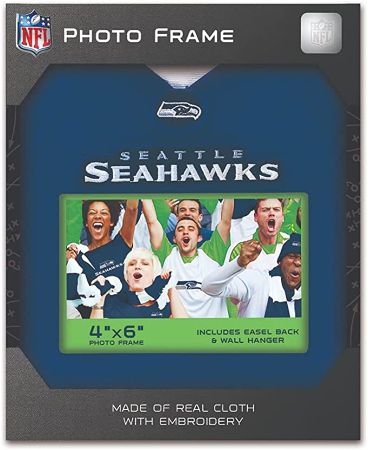 Immortalize the happiest moment of being a 12th man by displaying a photo of them while watching a live game. No matter how many years have passed, they'll always remember that glorious moment thanks to your gift.
25. Cap Clip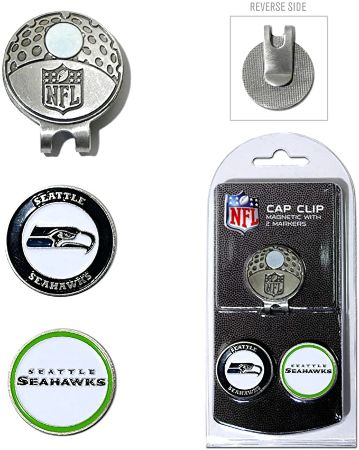 Turn their ordinary cap into an exceptional cap by simply adding these cap clips.
The pack includes three clips: two Seattlehawks and one NFL clip.
26. Seahawks Cap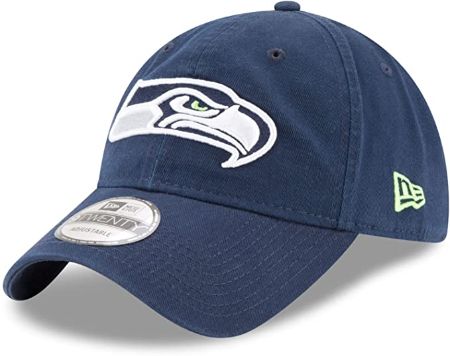 Fans of sports teams have caps on the top of their team merch wish list because it doesn't just look cool but is useful as well. This New Era cap is a great choice since it's durable and will last for many NFL seasons.
Let's Hear It For the "SEA…..HAWKS"
The Seahawks have yet to win the Vince Lombardi trophy since their historic win in 2014. But each passing year, they become stronger, bolder, and fiercer. Isn't that what football is all about?
Here are more amazing gift finds that you need to check out: