Want to give something special to the gymnast in your life that will help them become the best in their sport? Here's a guide to the most awesome and functional presents any gymnast would love. From personal items to gym equipment, this list has it all!
The list is divided into four parts: gymnastic gifts for adults, gymnastic gifts for kids, gymnastics equipment, and gymnastics toys. Continue reading to find the perfect gymnastic gifts for the gymnast in your life.
5 Gymnastic Gifts for Adults
1. Inspirational Tile Artwork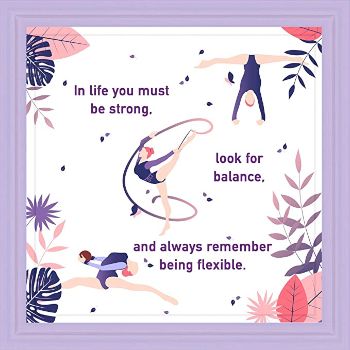 This motivational artwork will brighten up the space of the gymnast in your life! This beautifully painted ceramic piece will always remind them to face life's challenges courageously and with grace.
Plus, it already comes in a pretty gift-ready box.
2. Gymnast Pendant Necklace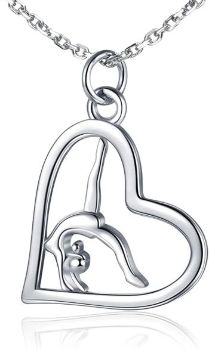 This necklace is a simple yet meaningful reminder of their passion for gymnastics wherever they go. The necklace features a beautiful heart pendant with a gymnast inside and is available in both gold and rose gold.
3. Gymnastics Medal Hanger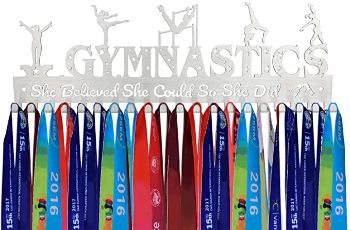 Allow them to show off the fruits of their hard work, sacrifices, and perseverance with this cool medal hanger wall mount the can use to display their medals, awards, and ribbons. This sleek and stylish holder has 20 hooks and is made of stainless steel, making it durable, long-lasting, and resistant to rust and corrosion.
4. "Gymnastics Nutrition Facts" T-Shirt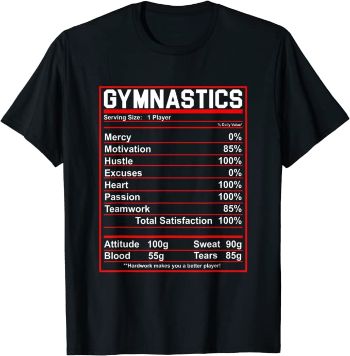 Being a gymnast is not a piece of cake! It entails a lot of motivation, passion, and teamwork. This t-shirt is a great present for gymnasts since it breaks down exactly what it takes to be phenomenal in this challenging sport. It's also made with 100% cotton and is lightweight, making it THE perfect post-training shirt.
5. Cooling Towel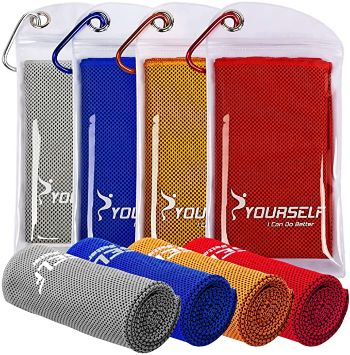 For athletes who spend countless hours training, it's important to have towels handy at all times. Each set includes four breathable and compact microfiber towels as well as a handy portable pouch for each that can be easily attached to a gym bag.
5 Gymnastic Gifts for Kids
6. "This is My Handstand" T-Shirt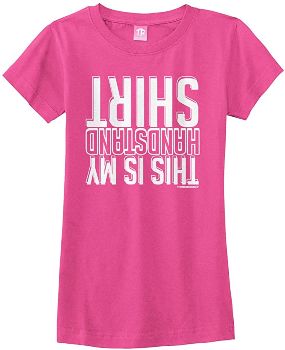 This cool shirt is a fantastic gift for the gymnast in your life who has mastered the handstand and is proud to show it! It's also ideal for kids since the shirt won't ride up whenever they show off their skills.
Choose from 10 vibrant colors.
7. Gymnastics-Themed Hair Ties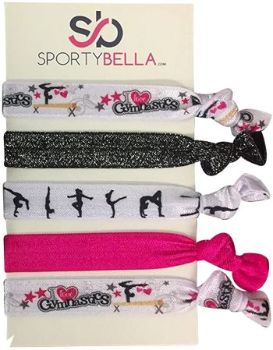 Is their hair distracting them from mastering their routines? Then these cute gymnastics-themed hair ties are an excellent gift choice! These sports hair ties are specifically made for gymnasts because they're made with stretchy fabric that will securely keep their hair in place.
They also work as adorable bracelets!
8. Unicorn Print Gymnast Leotard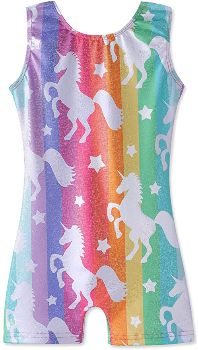 Give them the confidence they need to do well in their performance with this adorable unicorn leotard!
This colorful leotard is a great gift for a little gymnast not only because the unicorns make it look magical, but also because it's comfortable, which will help them execute their routines flawlessly.
9. Gymnast's Water Bottle

Keep the little gymnast in your life hydrated with this pretty sports water bottle that holds up to 24 oz of liquids and will keep them hydrated throughout training sessions and competitions. This water bottle is also guaranteed to be safe for kids since it's 100% BPA-free and shatterproof!
10. Gymnast's Drawstring Bag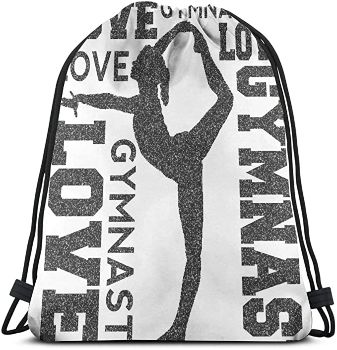 A bag where they can conveniently place a change of clothes, a water bottle, and a towel is a great present for an athlete. This drawstring bag will do the job well since it's spacious, durable, and lightweight. Your little gymnast will also love the beautiful gymnast-themed print on the bag!
10 Gymnastic Equipment Gift Ideas
11. Tumbling Air Mat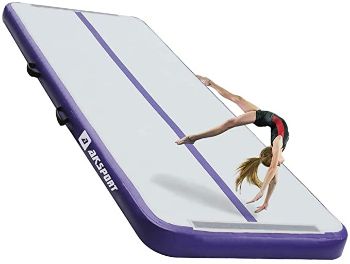 One of the most important skills in gymnastics is tumbling, and the gymnast in your life can develop that skill with the help of this air mat. Aside from gymnastics, this mat is also suitable for Taekwondo, yoga, and cheerleading.
This set also comes with an electric pump, carry bag, and repair kit!
12. Folding Balance Beam Bar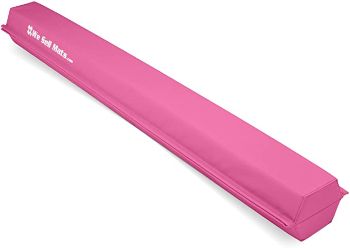 This balance beam will help in making him or her a phenomenal gymnast since it will hone their skills in walkovers, donkey kicks, leaps, and more It's also portable, so they can practice wherever the go.
13. Push Up Parallette Bars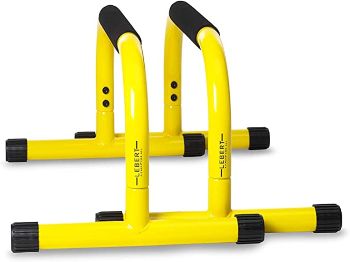 Parallette bars are must-haves for gymnasts since they help build strength, endurance, and stability. These push-up bars are made with solid stainless steel and non-slip grade grips, making them long-lasting and suitable for gymnastics exercises.
This gymnastics gift also comes with a downloadable workout guide and a membership to an exclusive support and coaching group.
14. Ankle Weights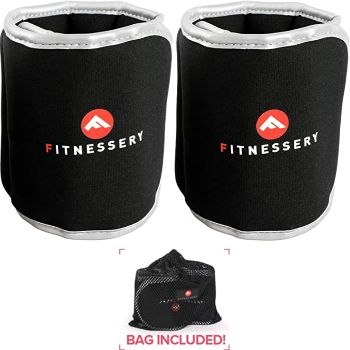 If your giftee needs to build endurance and muscular strength, then these ankle bars will be great addition to their training equipment. These Fitnessery ankle weights are ideal for athletes since they're made with neoprene fabric that provides a secure and snug fit.
15. Exercise Mat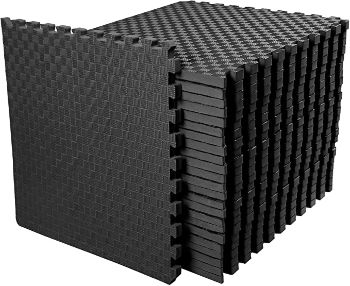 Falling is part of the process of becoming a champion— whether they're an amateur or a professional, falling is inevitable! Help prevent accidents with this exercise mat that's made with thick cushion. They're also non-slip, so difficult routines will be much easier and safer to execute.
16. Dance Ribbons Streamers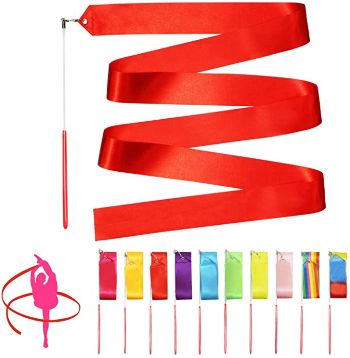 These ribbon streamers will make routines look more fascinating and breathtaking! Each pack contains 10 streamers with different colors to mix and match with leotards, such as red, purple, yellow, and baby pink.
17. Stretch Band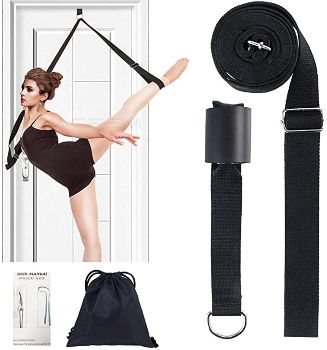 Is your giftee having trouble doing the splits? Then this leg stretcher is the perfect gift option for them. This user-friendly stretcher will help them improve their flexibility and balance in no time.
It's also easy to assemble since everything they need to set it up is included.
18.
Sports Chalk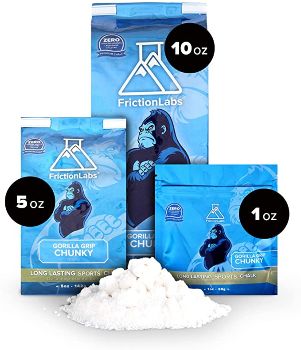 This sports chalk is a game-changer since it provides a better grip to execute routines perfectly. It can also withstand sweat, rain, humidity, and oils. Plus, the materials used in making this product are non-toxic,  silica-free, and pigment-free, making it safe for both kids and adults.
19. Rebounder Trampoline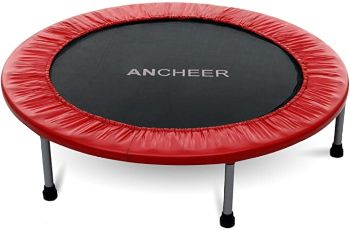 Trampolines aren't just a fun and enjoyable activity, they're also used as a good form of exercise for gymnasts! This Ancheer trampoline is not only high-quality, it's also recommended for gymnasts because it's made with 32 enhanced springs and six stainless steel legs that make it durable and reliable.
20. Calf & Foot Stretcher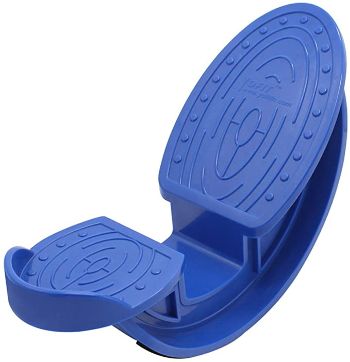 Did you know that the most injured body parts of female gymnasts is feet and ankles (39%)? That's why it's crucial to have proper equipment that will help prevent foot sprains and fractures.
This neat device also helps in relieving lower body pain caused by plantar fasciitis, Achilles tendonitis, and other chronic conditions.
5 Gymnastic Toys
21.Gymnastics Kids Jigsaw Puzzle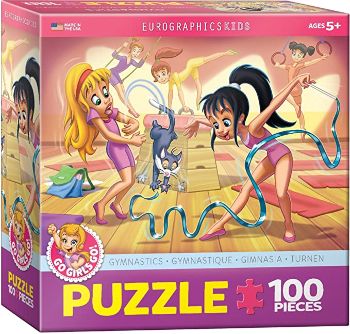 When it's time to relax after a particularly challenging practice, this puzzle will be a fun activity for the little gymnast in your life. This 100-piece puzzle is ideal for kids aged five and above.
22. LEGO Friends Gymnastics Show Building Kit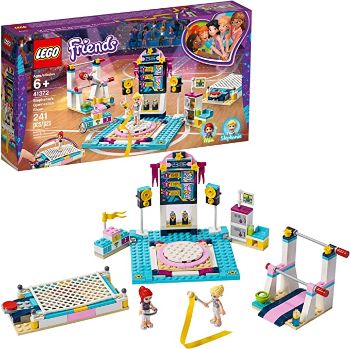 This building kit is a fantastic gift choice for gymnasts who also love playing with LEGOs! They'll have a great time playing with this LEGO set alone or with friends and fellow athletes. The kit has 241 LEGO pieces and includes two mini-dolls, a mat, a trampoline, and parallel bars.
23. Stackable Stepping Stones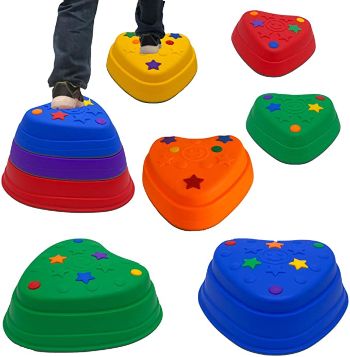 The little gymnast in your life will gain valuable gymnastic skills, such as balancing and coordination, while playing with these stepping stones! It's a multifunctional toy since it also works as a stool or chair. The different sizes and colors of these steps will challenge a child's imagination to play in fun and unique ways.
24. NinjaSafe Warrior Obstacle Course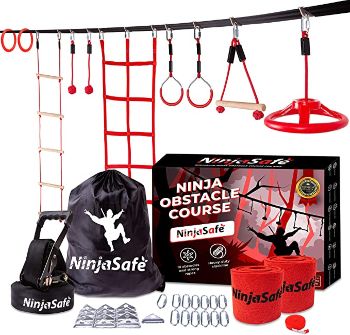 Challenge kids to play fun outdoor games with this obstacle course inspired by the popular show, Ninja Warrior. With 10 pieces of equipment included in this kit, they'll never run out of something enjoyable to do. The kit includes a ladder, gymnastics rings, climbing net, wheel, monkey bars, and more!
25. ​Barbie Gymnastics Play Set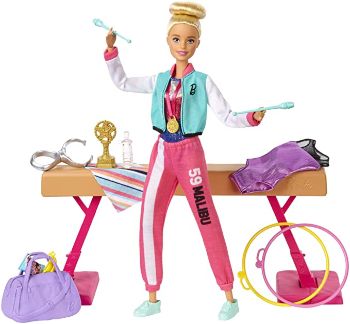 Barbie dolls have been a child's gift staple for decades. Even though there has been controversy in the past surrounding the Barbie brand, it's well known that playing with dolls helps a child's development because it promotes empathy and creativity.
This play set is complete with a balance beam, two rings, spinning clip, and more!
The Best Gymnastic Gifts for Gymnasts of All Ages
Gymnasts will love these gifts because they'll help them become a better gymnast and will serve as a constant reminder of their beloved sport. From toys to gymnastics equipment, these items will be a massive hit for the gymnast in your life!
Which item do you think a gymnasts would like the most? Please share your thoughts in the comments. You never know how your experience can help someone else!
Looking for more awesome gift ideas for an athlete? Check out this gift list of the best boxing gifts!