Unlike most of Marvel's famous superheroes, Deadpool hasn't been around that long. He was first introduced into the Marvel universe in 1983 and never made it into a live-action film until 2009 in X-Men Origins: Wolverine.
Now, with two full-length feature films and a couple of cameos under his belt, this irreverent, witty, and sarcastic "Merc with a Mouth" antihero has gained a massive cult-like following from adult fans all over the world.
Thanks to his popularity, the selection of awesome Deadpool stuff has never been better, and I've rounded up some of the best Deadpool items available online.
If you're looking for Deadpool gifts for the mega-fan in your life, odds are good there's something for them on this list!
7 Clothing and Accessory Gifts for Deadpool Fans
1. Deadpool Sword and Logo Necklace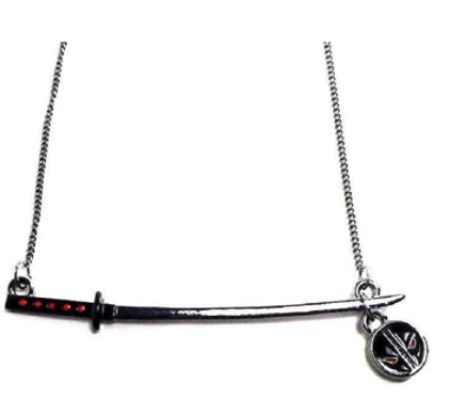 This Deadpool sword and logo necklace that features the famed Deadpool katana and logo in black would make a cool gift for anyone.
Both the chain and pendant are made from hypoallergenic stainless steel.
2. Mens' Deadpool Pajama Pants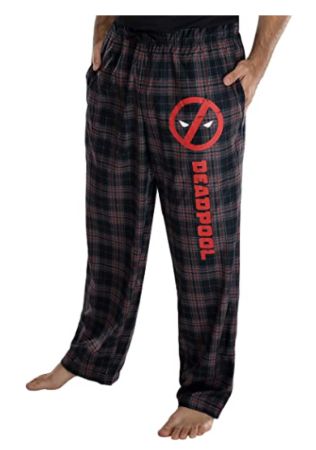 This is the perfect Deadpool present for him. Now he can sleep or lounge around the house eating chimichangas, Deadpool style.
These plaid Deadpool pajamas are made from a soft cotton poly-blend and come in different sizes for a comfortable fit. They're definitely more comfortable than spandex!
3. Deadpool Infinity Scarf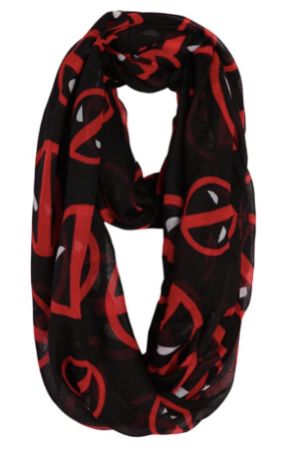 This Deadpool infinity scarf features Deadpool's logo as a subtle nod to Wade Wilson.
The scarf is made from a soft, lightweight polyester material that makes it a perfect accessory for the female Deadpool fan for any occasion and any time of the year.
4. Deadpool Graphic T-Shirt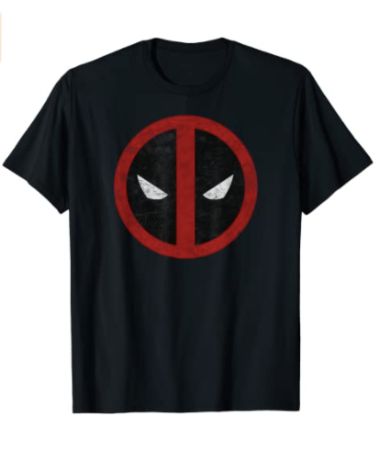 If you want something minimalist for the Deadpool fanatic in your life, this simple Deadpool graphic t-shirt that features the antihero's logo is the way to go. Nothing fancy, but that's what makes this cool.
Now, if you want funny Deadpool stuff they can wear, here are some more t-shirt options:
Deadpool "Beautiful Just Like Tacos" Graphic T-Shirt
Deadpool "To-Do List" Graphic T-Shirt
Deadpool "Love For Tacos" Graphic T-Shirt
5. Deadpool Fleece Hat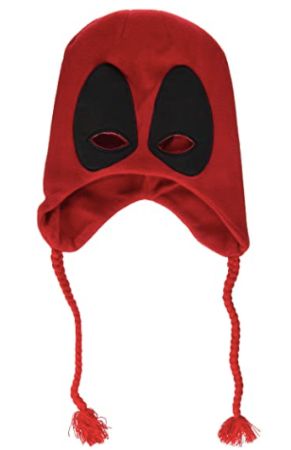 This fleece hat will not only keep any Deadpool fan's head warm, it can also double as a mask in a pinch to complete their costume. Fellow Deadpool fans would never accuse them of not making the effort.
6. Mens' Deadpool Slides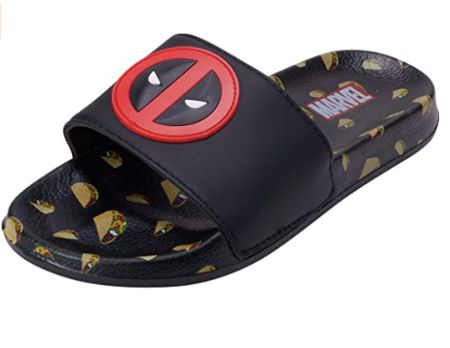 Deadpool's love for tacos and chimichangas is no secret to any Deadpool fan, so these sandals are perfect for anyone who loves the mouthy superhero.
The non-skid bottoms are perfect for slippery surfaces, the beach, and summer barbeques.
7. Deadpool Backpack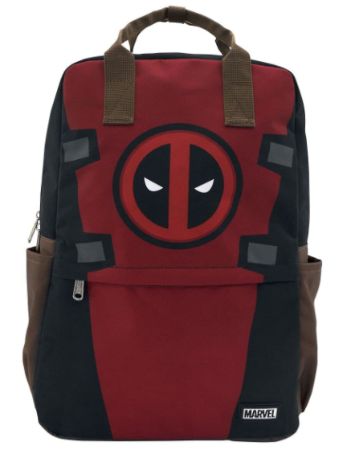 This Deadpool backpack is the perfect accessory to store all the chimichangas! It's made with a high-quality nylon construction and features a Deadpool graphic, polished metal hardware, and adjustable straps for a comfortable fit.
Your favorite Deadpool fan will look awesome carrying this backpack around town.
8 Deadpool Gifts for Him
8. Deadpool Whiskey Glasses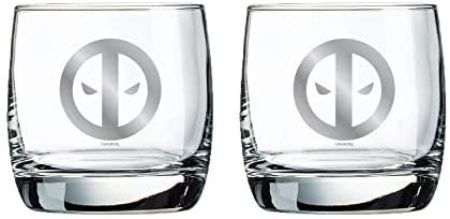 For the more sophisticated Deadpool fan, try this set of eye-catching 10 oz. whiskey glasses that each have a weighted sturdy base that's perfect for all types of cocktails and features the iconic Deadpool logo.
9. Deadpool 3D Ceramic Mug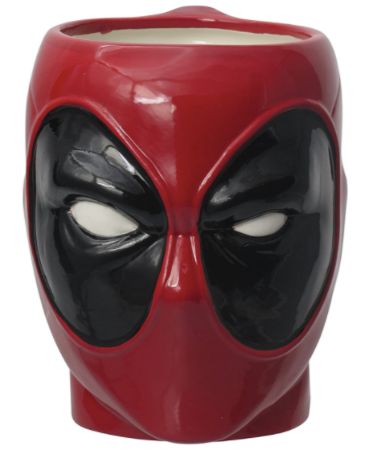 The ultimate Deadpool fan's morning coffee will be a lot more exciting with this 3D Deadpool mug. This mug is hand-painted and made of ceramic, so it holds heat well to keep drinks warm.
10. Deadpool 3D Night Light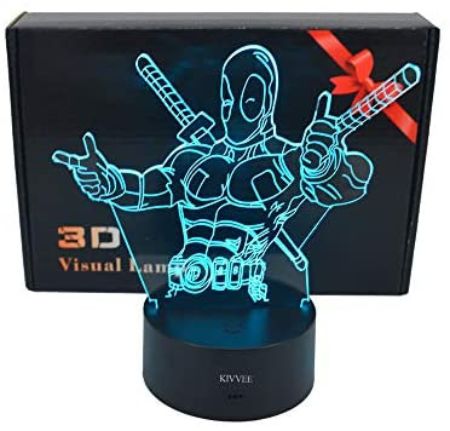 This impressive color-changing Deadpool 3D effect night light will help any X-Force wannabe sleep soundly at night.
11. Witty Deadpool Insulated Tumbler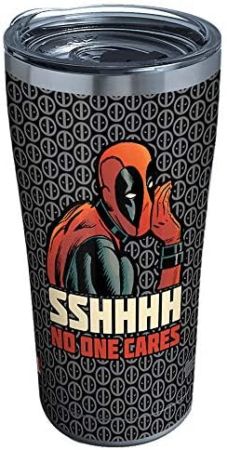 There's no shortage of Deadpool gag gifts out there, so why not go with something funny AND useful at the same time?
This triple-insulated tumbler not only features a snarky quote from Deadpool himself, it's also BPA-free, leak-resistant, and easy to clean. It can keep drinks hot for up to eight hours, or cold for up to 24 hours.
12. Deadpool Mini Spice Grinder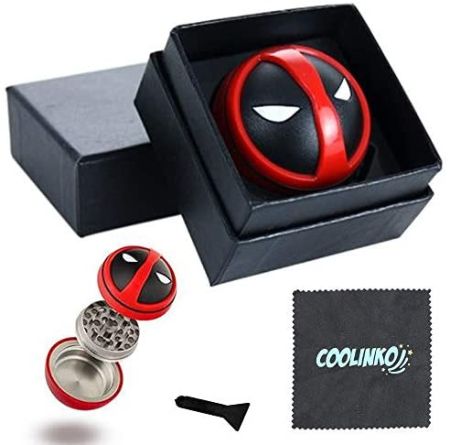 This Deadpool spice grinder might be small, but it will still make the perfect Deadpool gift for him. Not only does it look cool, it will come in handy.
This spice grinder is easy to assemble and features a magnetic cap, teeth and mesh layer, bottom catcher, and a mini plastic spatula to scoop freshly crushed spices in no time.
13. Cooking with Deadpool by Marc Sumerak and Elena Craig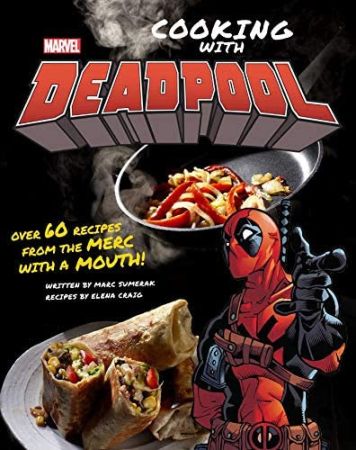 This funny Deadpool gift is a hilarious take on the traditional cookbook. Written from the point of view of Deadpool himself, this cookbook features his favorite meals, including chimichangas, tacos, and more.
This is a great Deadpool gift for fans of all cooking skill levels.
14. Deadpool Charging Dock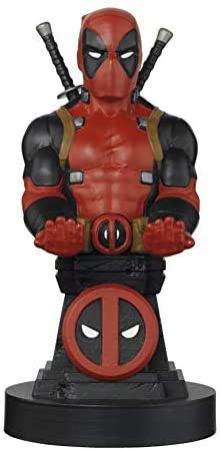 No Deadpool fan would look down on this bust of the wisecracking superhero. Not only does this look awesome, it also serves a purpose.
This bust features a sturdy base that can easily hold any hand-held electronics, including game controllers, without tipping over.
15. Deadpool Comforter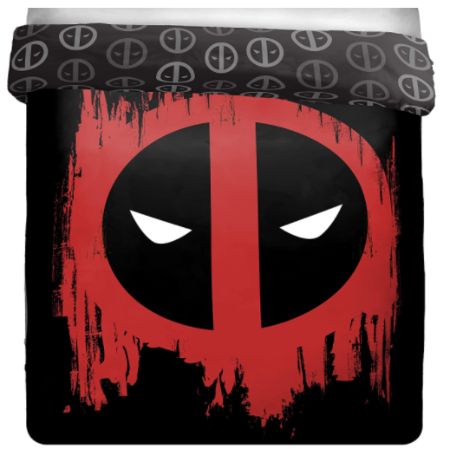 Nothing is too much for the committed Deadpool fan. This Deadpool queen-size reversible comforter would be a welcome addition to their bedroom. Made from microfiber polyester, this comforter resists fading and washable.
9 Deadpool Gag Gifts and Collectibles
16. Deadpool Interactive Head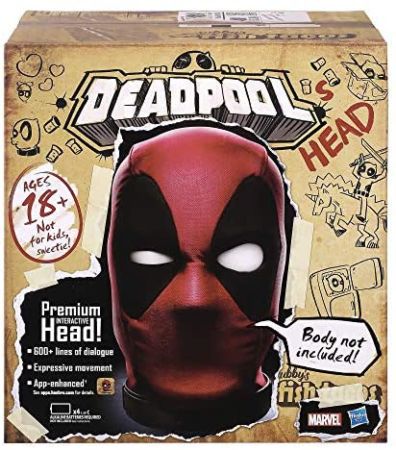 This Interactive Deadpool head is not for kids. Only serious Deadpool fanatics would appreciate the over 600 sounds and wisecracks this moving and talking head blurts out.
It comes with a free app that can be used to get the head to tell jokes and insults.
Did I mention this is for ages 18 + only?
17. Deadpool Action Figure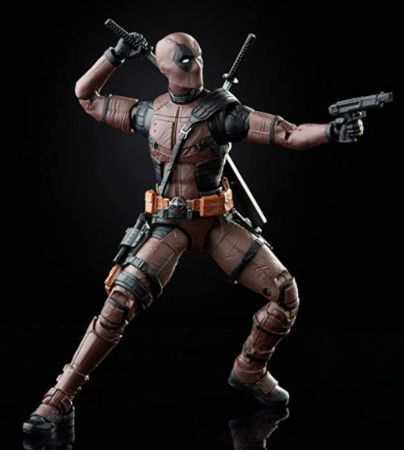 Fans and collectors alike will enjoy this Deadpool action figure that features several interchangeable hands that can hold the different weapons used by this foul-mouthed superhero.
18. Monopoly Game: Marvel Deadpool Collector's Edition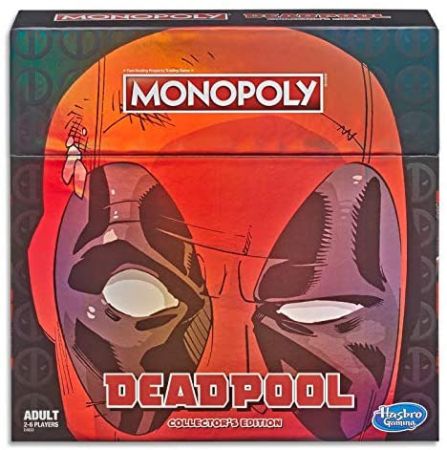 This is Monopoly with a Deadpool twist! In this edition of the classic family game, the mayhem begins with players building their team of mercenaries.
This version of Monopoly requires a lot of wheeling, dealing, and stealing other players' stuff – the perfect game for the ultimate Deadpool fan.
19. Deadpool 2: Super Duper Cut Blu-Ray Set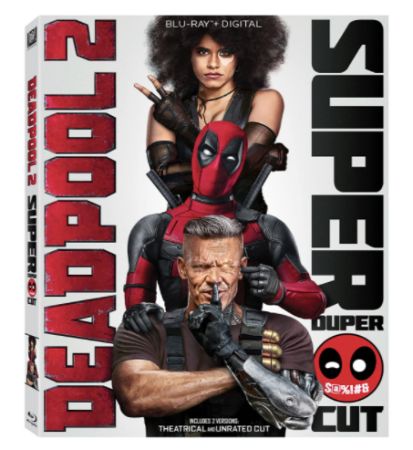 This Blu-Ray set includes both the theater release version and the unrated cut version of Deadpool 2.
Now your favorite Deadpool fan can experience watching their favorite movie like it's the first time with the Super Duper Cut that features an extra 15 minutes of action and jokes inserted throughout the film.
20. Deadpool Playing Cards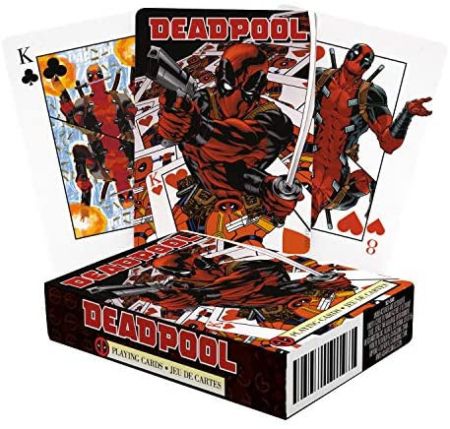 These Deadpool playing cards will complete poker night for Deadpool fanatics. This deck features 52 cards with amazing artwork from the movies.
21. Funko POP! King Deadpool Figure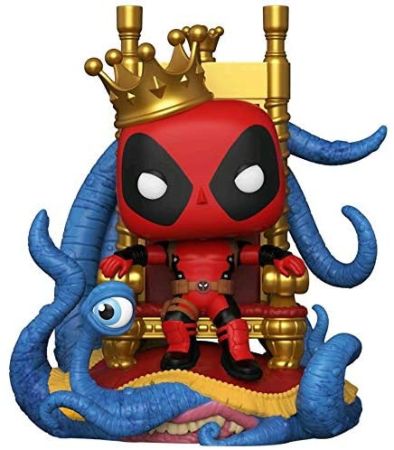 This 6 inch King Deadpool Funko POP! is so over-the-top that it straddles between a Deadpool gag gift and a collector's item, which makes it a no-brainer for any Deadpool stuff collection.
22. Funko POP! Deadpool on Scooter Figure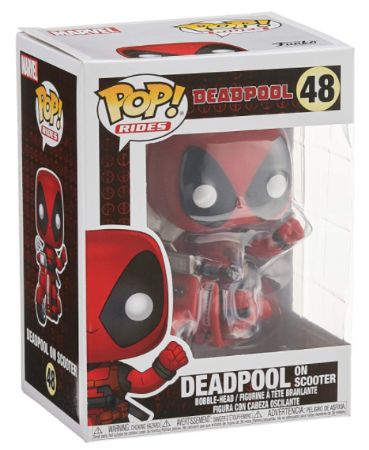 This Funko POP! Deadpool figure features the iconic Deadpool scooter from the comic book. If you're looking for something to complete their Deadpool collection, I'm sure they'll appreciate this gift.
23. Deadpool Costume Weapon Set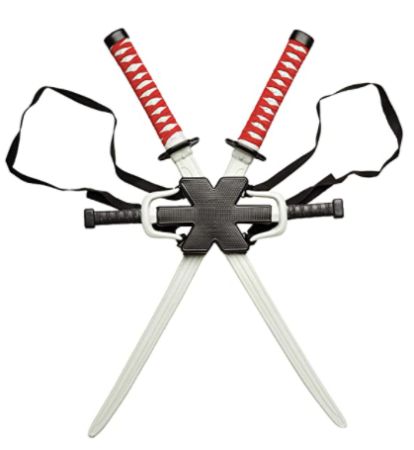 Whether you're looking for something to complete a fan's Deadpool costume, or want to give them something just for fun, this Deadpool weapon set might just be the thing the Deadpool fan in your life needs.
This set includes two toy ninja swords, two toy ninja knives, and a backpack carrying case to wear them, Deadpool style.
24. Deadpool Unicorn Selfie Figure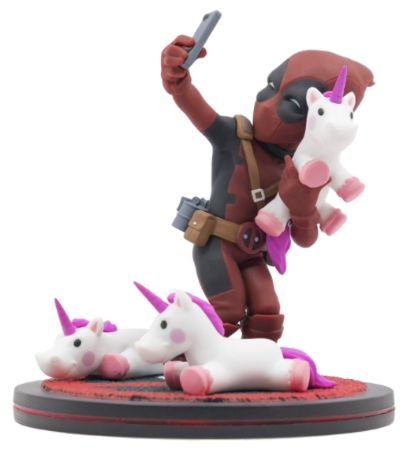 This diorama of Deadpool taking selfies with unicorns is a nod to several inside jokes true Deadpool fans will instantly understand. This is the perfect Deadpool gag gift or conversation starter.
5 Cute Deadpool Valentine's Day Gifts
Next on this list are funny (bordering on cheesy) Deadpool gift ideas for you and your partner to have an epic Deadpool Valentine's Day celebration.
25. Deadpool Heart T-Shirt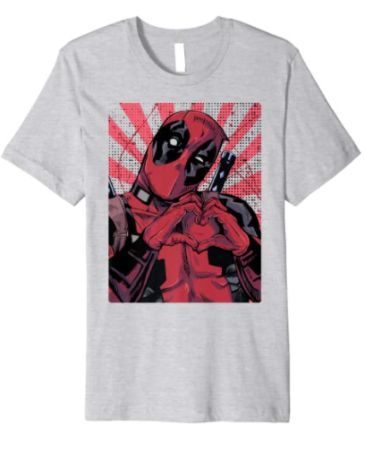 This graphic T-shirt features Deadpool spreading the love with a heart gesture. It comes in men's and women's sizes and a variety of colors so you and your SO can have matching outfits.
Or be a little more direct with this Deadpool "Be Your Valentine" T-Shirt. If you're with a true Deadpool fan, they'll get it – I promise.
26. Deadpool and Unicorn Plushie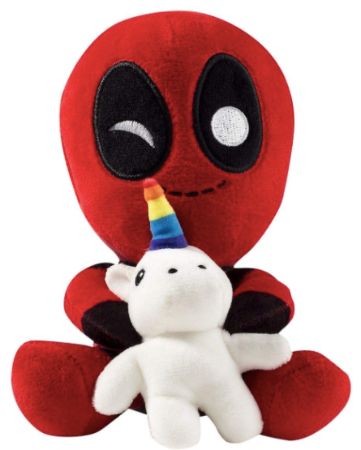 This plushie is another Deadpool Valentine's Day appropriate gift idea. Plus, it's super cute and is sure to make the Deadpool fan in your life happy.
27. Deadpool Cupid Figure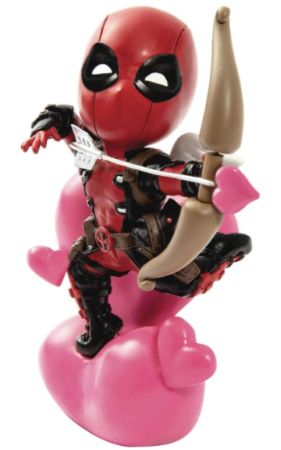 What's a more perfect Deadpool Valentine's Day gift than the unlikely superhero himself moonlighting as Cupid? Enough said.
28. Deadpool Throw Blanket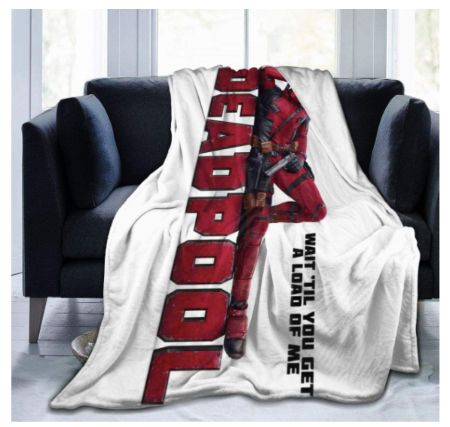 This throw is the perfect gift for snuggling on the couch and watching both Deadpool movies back-to-back.
This soft blanket is big enough for two adults to get comfy in and features a cheeky one-liner from the man himself.
29. Couple Keyring Set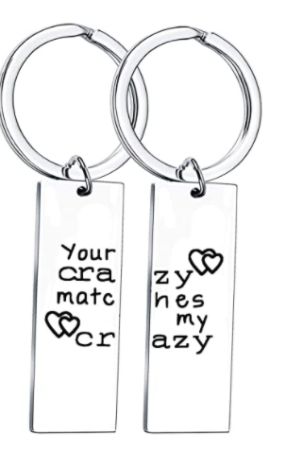 Lastly, this couple's keyring set features the sweet iconic line from the Deadpool movie that's the perfect sentiment for your Valentine.
Deadpool Gifts for Every Occasion
Find something for every Deadpool fan on this list! Whatever you decide to get that ultimate Deadpool fanatic, I'm sure it will be appreciated.
If you're not done gift shopping for your Deadpool fan though, discover more ideas from these equally amazing gifts lists: