oenophile: a lover or connoisseur of wine
Do you know someone who's an oenophile? Continue reading this article to find the best gifts for wine lovers.
There are more than 6000 different variations of wine so it's perfectly understandable to be overwhelmed with the task of looking for the best gift. The most common types include red, white, sparkling, and rosé.
You don't have to know everything about wines to choose an awesome present. Below are the best gift choices for the wine lover in your life.
15 Gifts for Wine Lovers
1. Wine Cork Holder
Give their corkscrew collection a nice home with this cool cork holder. This practical decor is handmade with durable metal so it will last for many more new years, birthdays, and anniversaries.
It also comes in other symbols and letters like &, A, and C.
2. Coasters
Bring out the wine and coasters to get the party started! These funny coasters will be a perfect housewarming or birthday gift to the wine lover in your life.
Each set includes six coasters with prints like "wine not", "screw it", and "it's always wine o'clock".
3. Initial Letter Wine Stopper

Seal the deal with this fancy wine stopper.
It's important to have a wine stopper since it will prevent the wine from becoming flat or unpalatable. Plus, the wine stopper includes a pretty box so it's gift-ready.
4. Personal Wine Chiller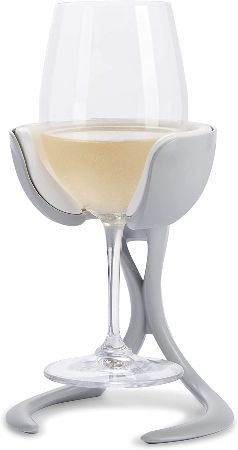 Keep their guests' glass of wine chilled throughout the party with this cool personal chiller. It's perfect for outdoor parties since it will keep the temperature of the wine for up to 45 minutes.
It comes in three colors: gray, pink, and white.
5. Wine Decanter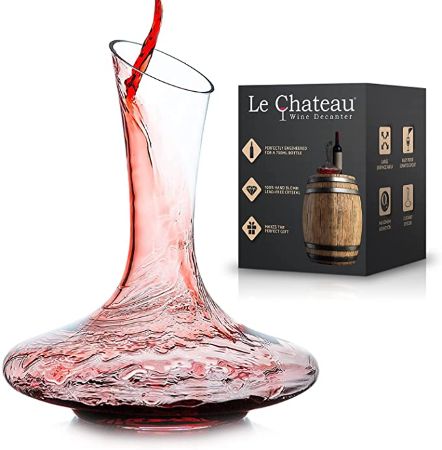 This classy decanter will be a pleasant addition to any wine lover's home. Oenophiles know how difficult it is to remove wine stains but with this decanter, it won't be a problem because of its slanted spout.
Your recipient can place up to 750 ml of wine in this gift.
6. Wine Aerator Pourer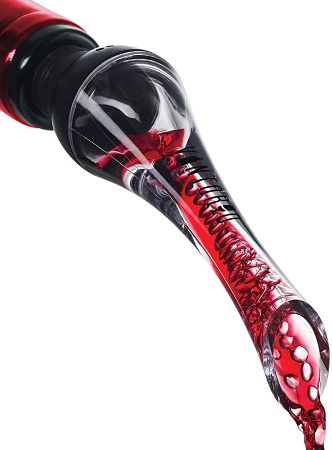 They'll have a better wine-drinking experience with this gift since aerating wine enhances its flavor and aroma.
It also serves a dual purpose since aside from being an aerator, it's also a pourer. Guaranteed that there will be no spilled wine thanks to this gift.
7. Stemless Aerating Wine Glasses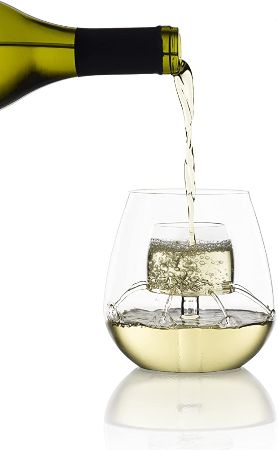 Here's another great aerating device that is perfect if they want it directly inside the wine glasses.
These are made with pyrex glasses so they're durable and high-quality.
Each set includes two of these fancy glasses. Check this out for aerating wine glasses with a stem.
8. Bottle Wine Tote Carrier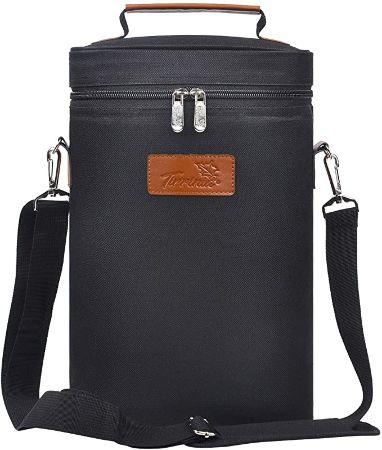 Bring this wine carrier to make any outdoor activity more fun.
It's a great buy since it's fully insulated and leakproof that makes it ideal for traveling. This bag can hold up to two bottles of wine for the whole family to savor.
Brownie points for the minimalistic and stylish designs available.
9. Wine Opener Gift Set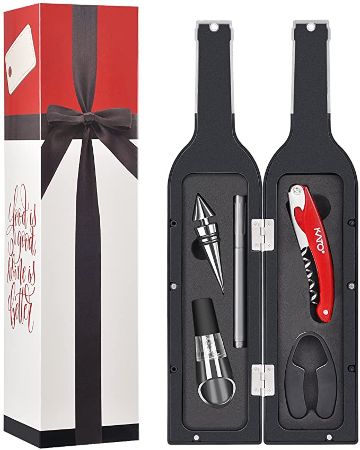 This gift set is a nonnegotiable for wine lovers. It comes with all the accessories and tools needed by a wine connoisseur such as a wine stopper, mark pen, foil cutter, and wine pourer.
The present also comes with a cute bottle-shaped container and a gift box.
10. Wine Holder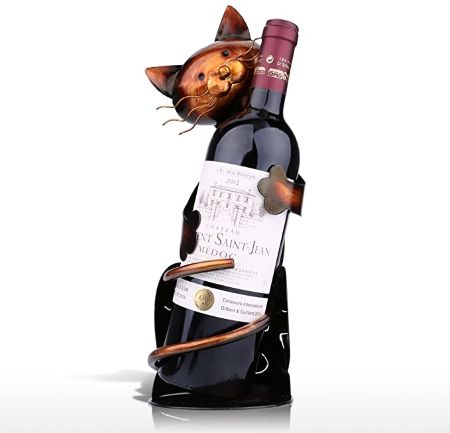 Your recipient's heart will melt once they see this adorable wine holder. This metal cat will safeguard their wine bottle while also acting as a fantastic decor.
Brownie points if they're a proud fur parent.
11. Copper Coated Wine Glass Set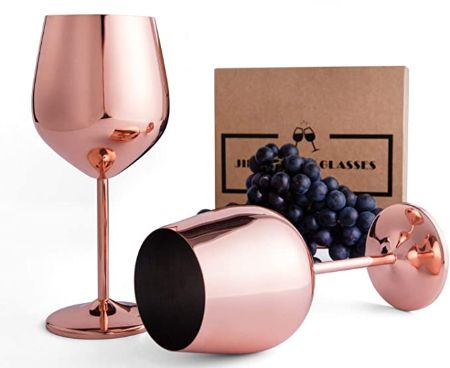 Give this glass set to the strong independent woman in your life who doesn't mind enjoying a glass of wine by herself. These glasses are very aesthetic so they'll also be IG-worthy.
These copper-coated glasses come in three colors: rose gold, black, and dark pink.
12. Wine Soap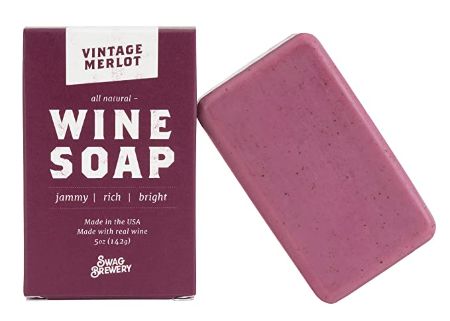 Here's the perfect self care gift for your hardworking friend.
It doesn't only smell heavenly but is also safe to use since it's phthalate and cruelty-free. The best thing about this soap is that it also moisturizes the skin.
13. "Drop It" Wine Drops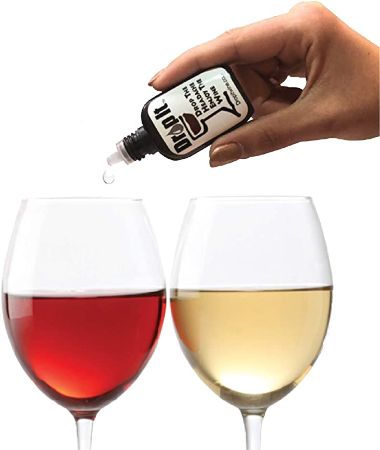 Drinking wine is all fun and games until you wake up with a massive hangover the next day. With these amazing drops, your recipient will be able to drink wine until they drop without hangovers stopping them.
Sulfites are the main culprit in inducing headaches after drinking wine. These drops will remove the sulfites and tannins for an amazing wine experience.
14. Wine Gift Set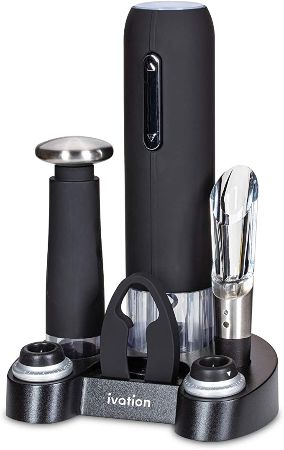 Complete their kitchen or mini bar with this cool wine set.
All they'll need to have an excellent wine tasting or drinking party is included in the set. It has an electric bottle opener, wine aerator, wine preserver, and more.
15. Wine Wars: A Trivia Game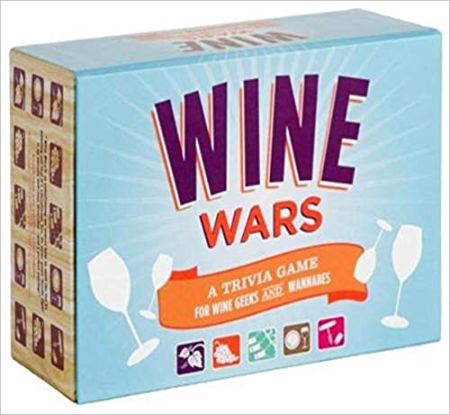 Let the wine wars begin!
Enhance their knowledge about the world of wines with this fun game. It will teach them fun facts about growing grapes, making wine, and storing bottles as well.
6 Wine Gifts for Her
16. Leather Purse With Hidden Spout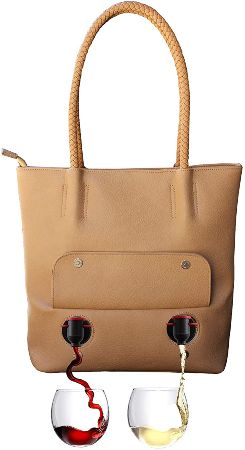 This bag has a fun surprise in store for them: two spouts for their wine!
Use this bag whenever they're headed to a stressful environment to lessen the tension. Brownie points for the pretty design that will look great on any outfit.
17. Mismatched Drop Earrings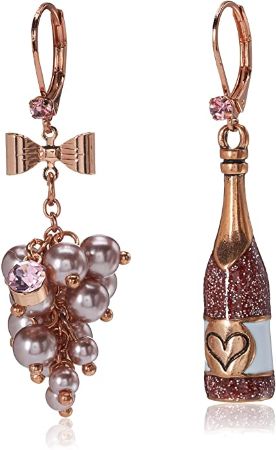 Look fabulous and chic while sporting these drop earrings.
Whether they're going to a wine tasting event or a birthday party, these earrings will be a great accessory choice.
18. Wine Bracelet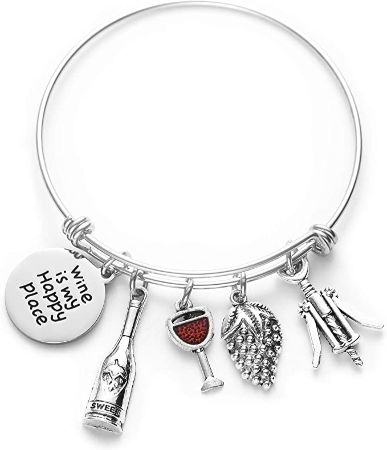 Imagine wearing this gorgeous bracelet while drinking wine. It will be awesome!
Not only does it look classy, but it also shows their love for the drink. It has five cute charms like a wine glass, bottle, and opener.
19. Adult Coloring Book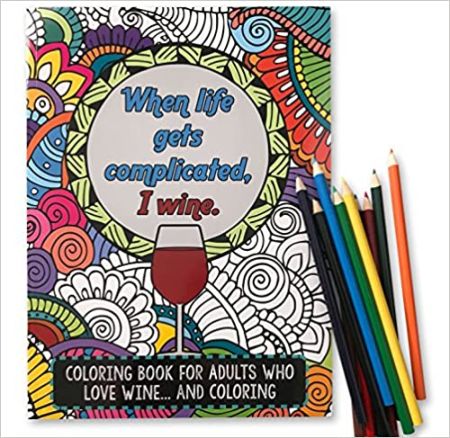 This will be a fun activity to do while they're sipping their wine.
Wine and coloring books will be a perfect combination for a relaxing night. Plus, coloring for adults yields a lot of benefits like the improvement of motor skills.
20. "Wine Because" Hoodie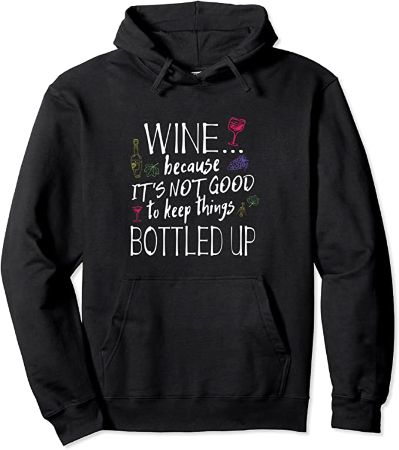 Keep them warm and cozy even in the coldest weather with this hoodie.
It will also be a cool outfit while chilling out and catching up with friends over a glass of wine.
21. Wine Gift Set for Her
Does your significant other love wine? Then you should definitely get this gift set.
It has items that will make her feel like a queen while she sips her favorite beverage such as this comfy pair of socks.
5 Wine Gifts for Him
22. Mounted Wine Rack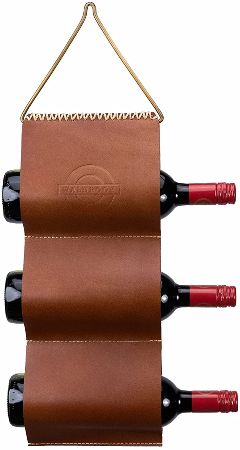 Some wine bottles are just too good to be hidden in the cellar.
Display their one-of-a-kind wine selection through this mounted rack. This rack will also be perfect for wine lovers who have limited space in their apartment since it's compact.
Aside from wine, it also fits champagne and beer bottles.
23. Electric Wine Decanter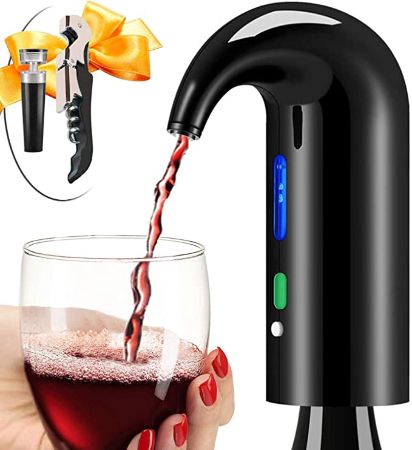 Techie individuals will love this electric decanter since it's like having their own robotic bartender.
Just press a button to instantly refill their glass. It also features an aerator that will preserve the wine longer, making this one of the more versatile gifts for wine lovers.
24. Portable Cooler Bag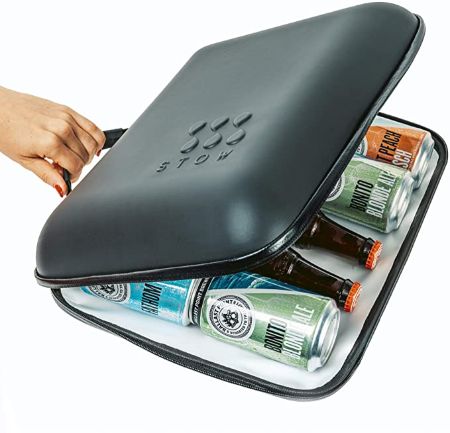 Take this cooler bag on camping, fishing, or hiking trips. It can carry beverages for the whole gang since it can hold up to three wine bottles, six beer bottles, and 10 beer cans.
This cooler will keep their drinks cold for up to five hours.
25. Wine Gems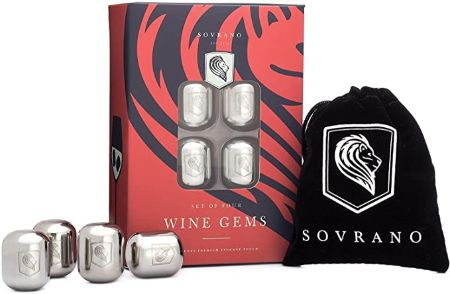 Give these stylish wine gems to the wine fanatic in your life. Adding these gems to their glass will make it look more classy and sophisticated.
They won't misplace these wine gems since it comes with a pouch as well.
26. Electric Gun Wine Opener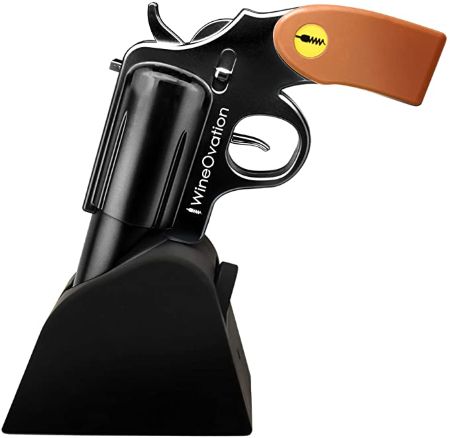 Opening up a bottle of wine has never been this cool! Simply aim and pull the trigger at the top of the bottle to remove the cork.
Watch this video to see the gun in action.
Impeccable Gifts for Wine Lovers
Wine is more than just a great beverage. It represents good company, friendship, and celebrations. Get these gifts for wine lovers together with their favorite wine to make any occasion more extraordinary.