Star Trek was ahead of its time in so many ways. The show was a pioneer in promoting diversity, abolishing sexism, and of course, in technological advancements.
If you haven't watched Star Trek but need a Star Trek gift for a fan, I 1) highly recommend that you watch it ASAP, and 2) that you use this list as the perfect resource to find a gift for your favorite Trekkie.
Read on and explore these epic Star Trek gifts.
9 Star Trek Merchandise Gifts
1. Star Trek Transporter Heat Changing Mug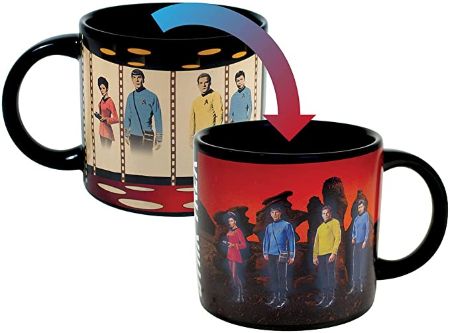 Though this mug may not be at par with all the amazing technological advancements found in Star Trek, I think we can all agree that it's still pretty cool.
Choose from the two designs available and see how the cast "teleports" as the mug absorbs heat.
2. Star Trek Ceramic Dinnerware Set

Looking for a great housewarming present for the Trekkie in your life? This dinnerware set will be perfect!
It's great for a family of four as it includes dinner plates, bowls, mugs, and more.
3. USS Enterprise NCC 1701 Replica Bluetooth Speaker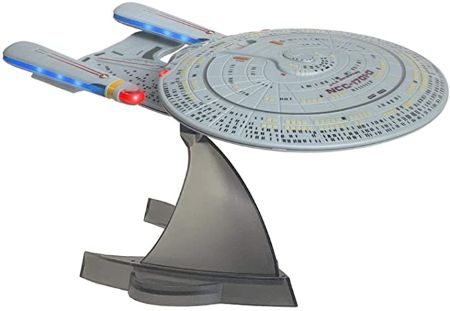 Star Trek introduced us to a lot of out-of-this-world-cool ships like the Narada, USS Voyager, and the Klingon Bird-of-Prey (to name a few).
But the U.S.S Enterprise 1701 remains unbeatable (at least in my opinion).
This replica will be an awesome and functional piece in their space since it also works ad a Bluetooth speaker.
4. "Property Of U.S.S. Enterprise" Rocks Glass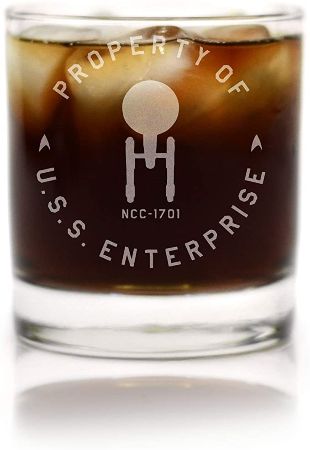 They'll feel like part of the team aboard the most powerful ship in the galaxy while drinking out of this rocks glass labeled as property of the USS Enterprise.
With a capacity of 11 ounces, it's the perfect glass to use while watching a Star Trek episode (or movie).
5. Hot Wheels Star Trek U.S.S. Enterprise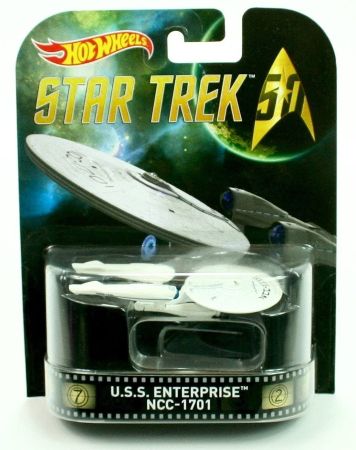 Here's one of the coolest Hot Wheels you'll ever see. Not only does it fly, but it's also boarded by the most awesome and courageous team ever.
And since it's produced by Hot Wheels, this starship is guaranteed to be made of high-quality materials that will last for many years to come.
6. Star Trek Sticky Notes Booklet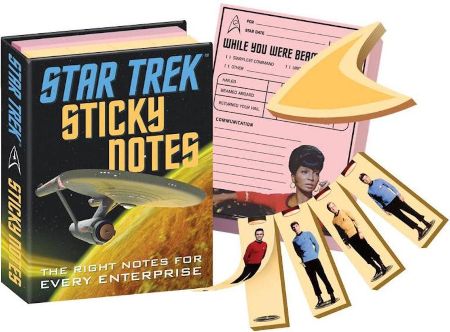 Once a person becomes a certified Trekkie, there's no turning back. They'll have to watch every season, episode, and movie in the Star Trek franchise. They'll also want to all the Star Trek merch imaginable.
This sticky notes booklet will be useful to spice up their workspace.
7. Captain's Log Mini Notebook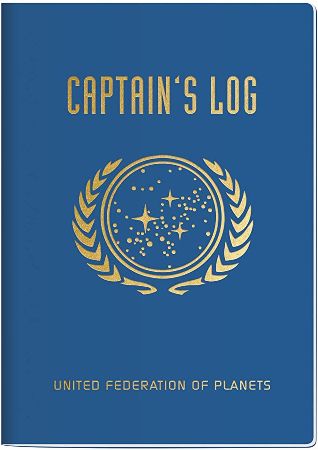 This mini notebook will come in hand for all their note-taking needs.
Aside from the iconic logo of the United Federation of Planets printed on the front, what makes this gift great is that it's also small, making it portable and convenient.
8. The Women of Star Trek Collectible Postage Stamps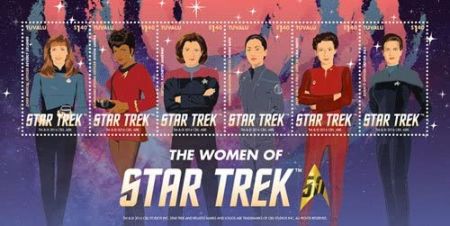 It's common knowledge that without all the amazing women in the franchise, Star Trek wouldn't be the Star Trek that we've come to know and love.
To celebrate Star Trek's 50th anniversary and all the women who made the series more awesome, here's a commemorative stamp set featuring Nyota Uhura, Kathreen Janeway, and more.
9. Star Trek Original (Remastered)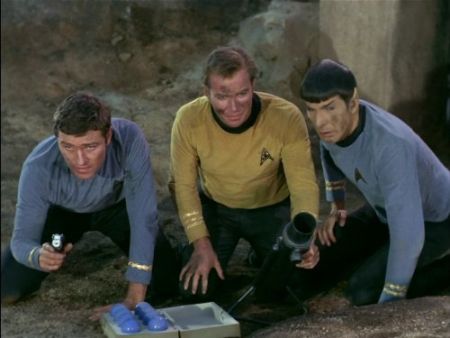 Just because they're a Trekkie doesn't mean they own the original series. This is your opportunity to give your favorite Star Wars fan the privilege of watching it from the beginning, over and over again, without having to wait for reruns.
Not only that, this remastered version will take them through the familiar adventures of the characters in high definition.
8 Star Trek Apparel Gifts
10. Starfleet Academy T-Shirt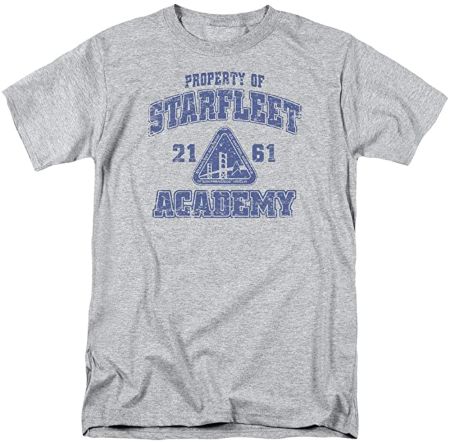 Only the most dedicated Trekkies get to wear this honorary Starfleet Academy shirt. If your recipient knows the dates, history, and characters in all the Star Trek series, movies, and books, then give them this cool shirt.
11. Picard Facepalm T-Shirt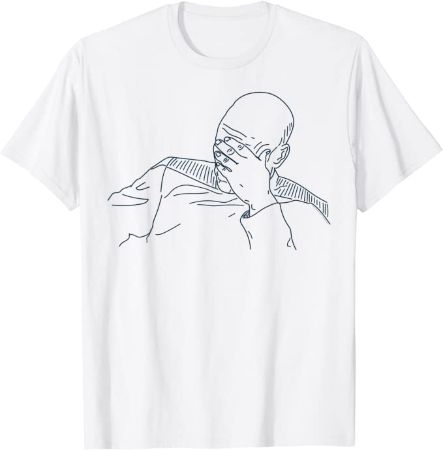 Fans always experience that Jean-Luc Picard facepalm moment. Whether it's because of a family member who won't watch Star Trek or a friend who doesn't know who Admiral Kirk is, it deserves a Picard facepalm moment.
Get this funny shirt for the biggest Trekkie you know to save them from all the "facepalming" they have to do.
12. "Live Long And Prosper" T-Shirt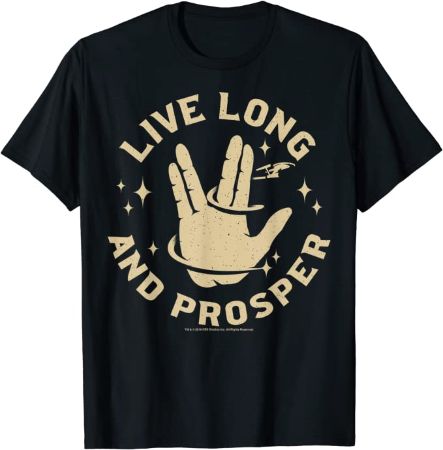 Wish all the people (or aliens) they encounter the best in life with this wholesome shirt. It's available in sizes for kids and adults and comes in five colors.
13. "Make It Snow" T-Shirt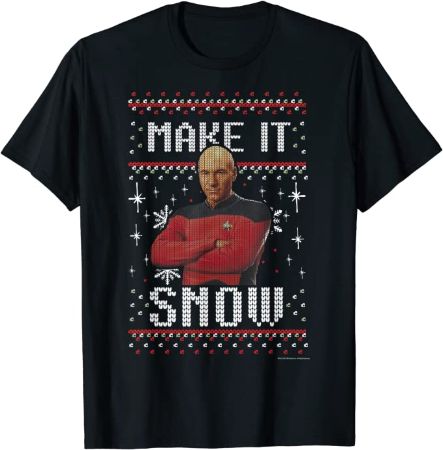 If your recipient idolizes Jean-Luc Picard because of his expertise and leadership skills, then this shirt will be a hit. Any fan of Star Trek will appreciate this shirt because Picard is undoubtedly one of the best characters in the show.
14. "The Janeway" T-Shirt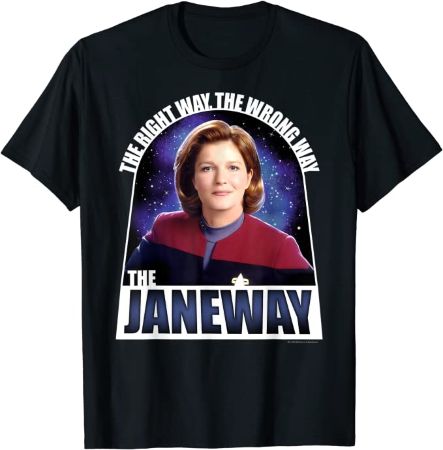 We may have great leaders like Kirk, Picard, and Sisko, but the contributions of the great Kathryn Janeway are undeniable. Leading the USS Voyager was not an easy task, but she managed to do it incredibly, making this Janeway shirt an iconic gift for any Trekkie.
15. Star Trek Uniform Emblem Socks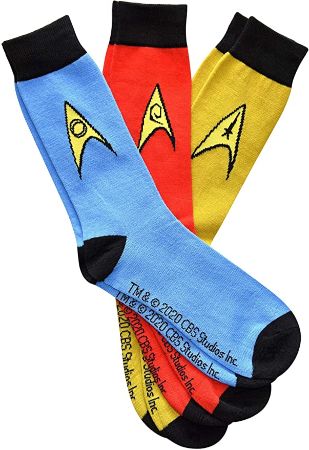 Whatever the rank of your Trekkie recipient is, these socks will be a great addition to their daily outfits.
16. Star Trek Nightgown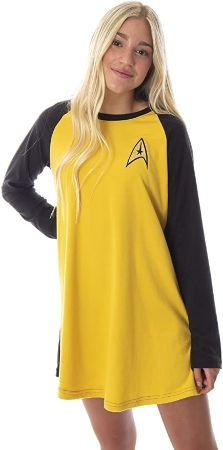 Sleep comfortably knowing that the room is guarded by the fiercest crew.
Kidding aside, your recipient will really sleep peacefully while wearing this cute nightgown since it's soft and cozy.
17. Star Trek Plush Bathrobe

Another awesome gift that you can give a Trekkie is this cool bathrobe since it's perfect for lounging and binge-watching. Who would've thought that the crew uniform can be this cozy?
9 Star Trek Gifts for Fans
18. Whiskey Decanter Set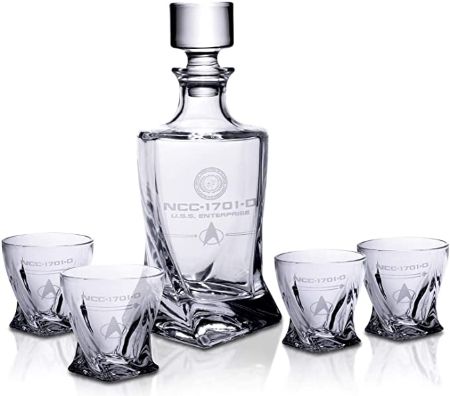 Impress fellow Trekkies with this unique decanter set. This will be perfect if they host a lot of Star Trek watch parties or have a massive collection of Star Trek memorabilia.
19. Kirk vs. Gorn Tin Sign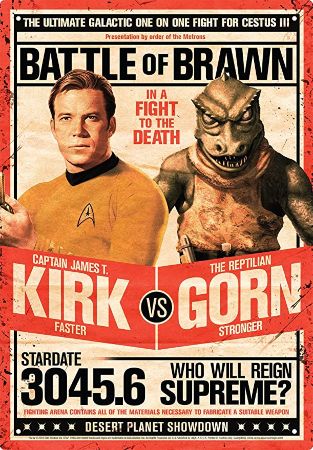 This vintage sign will give their favorite space a little bit of extra cool. Regardless if they're rooting for Kirk or Gorn, this is very nice piece of Star Trek merch to own.
20. Fun With Kirk and Spock: A Star-Trek Parody by Robb Pearlman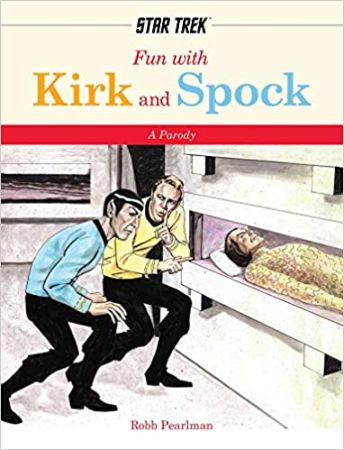 Enter into a different world where Kirk and Spock have hilarious adventures in this parody book by Pearlman. The Star Trek lover in your life will definitely LOL while reading this book.
It's available in paperback, hardcover, and Kindle versions.
21. Star Trek 3D Crystal Ball Lamp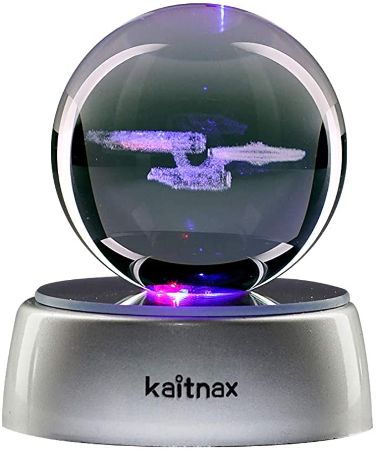 Throughout the years, we've seen how the ships became modernized and more powerful. Since giving a life-sized ship is not an option, this little memorabilia will be the next best thing.
22. Leonard McCoy Collectible Rubber Duck Figurine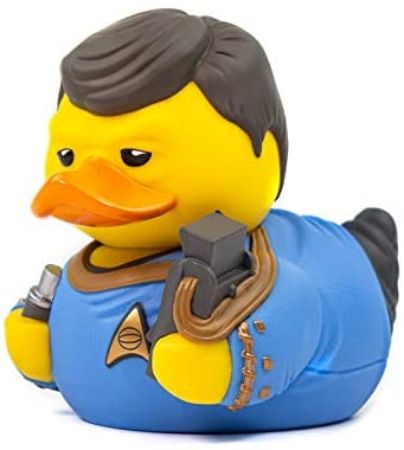 Leonard McCoy may not be everyone's cup of tea, but for those who like him, he's one of the most relatable and loyal characters in Star Trek.
This adorable duck figurine will be a nice addition to their McCoy collectibles. Here are Nyota Uhura, Captain Kirk, and Deanna Troi figurines as well.
23. Captain Kirk Drink Kooler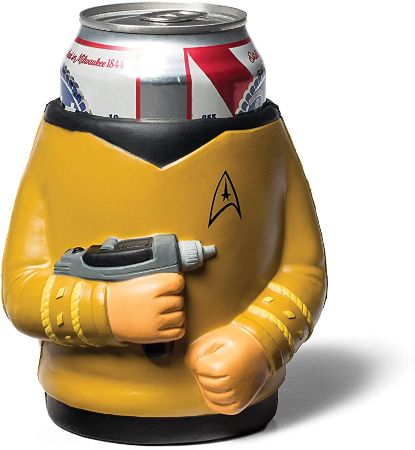 As if protecting the galaxy from evil forces isn't tiring enough, Captain Kirk's job description also includes keeping drinks cold.
This Kirk-inspired drink kooler is the perfect gift since it's both fun and practical.
24. Commander Saru and Michael Burnham Christmas Ornament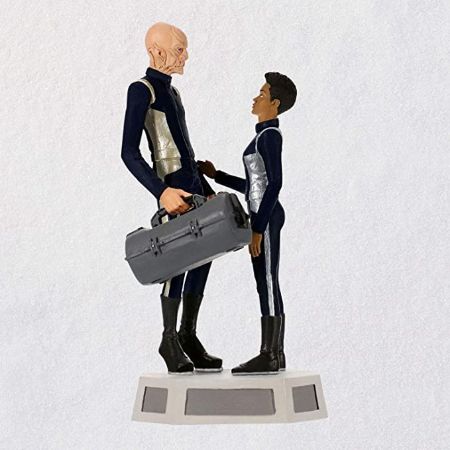 Get this unconventional Christmas ornament for the Trekkie in your life. It will be a cool piece to bring on the Holiday spirit.
25. Space Station Curtains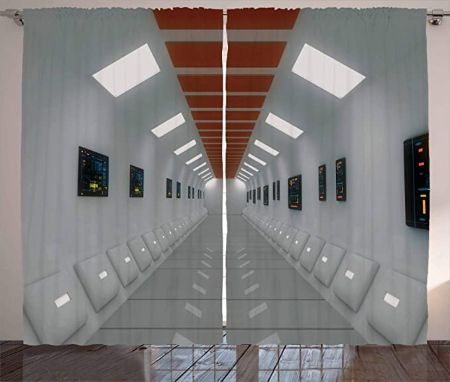 Your recipient doesn't have to board a starship to feel like they're in the 24th century. With this curtain, they'll feel like they've been transported to the future every day.
26. Star Trek Chrono-Trek Card Game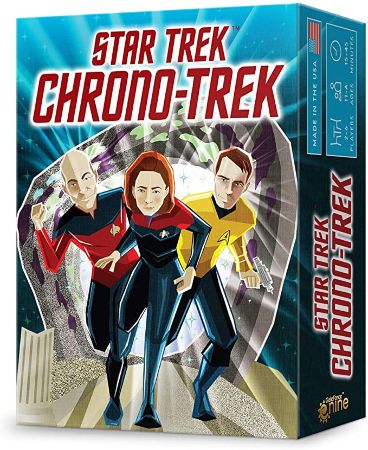 Plan a fun game night playing this Star Trek card game with fellow fans. It's going to be a night filled with laughter thanks to this game that can be played by two to six players aged 11 and above.
Star Trek Gifts for Every Fan
Whatever the event may be (birthday, graduation, or housewarming), these Star Trek gifts will make it more memorable for a certified Trekkie.
You can find more cool gift ideas in these posts:
If you ranked all the Star Trek movies and shows, which one would top the list? I'd love to know your thoughts, so share them in the comments below.