Lewis Caroll's novel of a girl named Alice falling through a rabbit hole into a fantasy world subverts logical reasoning, but that's what fans love about it.
Alice meets whimsical characters such as the Cheshire Cat, the White Rabbit, the Mad Hatter, and the infamous Queen of Hearts along her journey. These characters and her adventure have remained popular among children and adults alike throughout the years.
Here are 24 Alice in Wonderland gifts that range from Cheshire Cat merch, items for everyday use, collector's items, books, and films.
4 Cheshire Cat Themed Gift Ideas
The Cheshire Cat is one of the most recognizable characters in the Disney films. If the fan you know loves this vanishing grinning cat, then here are some Cheshire Cat themed merchandise.
1. Disappearing Cheshire Cat Mug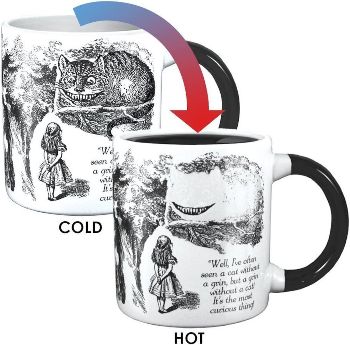 Let the Cheshire Cat vanish once again, leaving only its grin, as that Alice in Wonderland fan drinks their morning coffee or tea in this whimsical heat reveal mug.
2. Cheshire Cat 3D Crystal Puzzle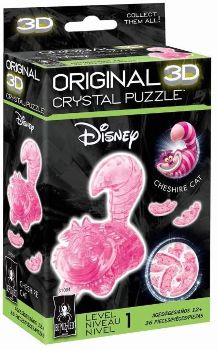 Get your Alice in Wonderland fan this semi-translucent 3D Disney crystal puzzle that will provide them with a much needed brain break from work or study time.
3. Funko POP! Cheshire Cat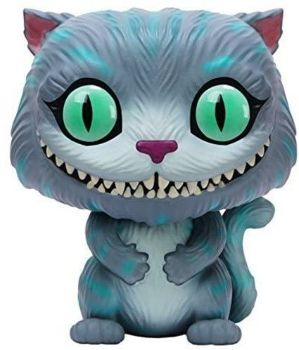 Did they enjoy the live action Tim Burton film? Then grab this adorable grinning Funko Pop! of the live action Cheshire Cat. Fortunately, this one won't disappear on them anytime soon.
4. Cheshire Cat Plush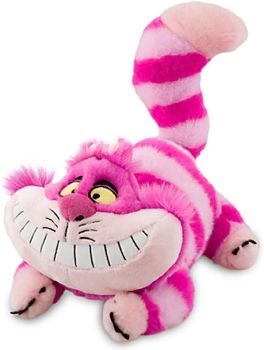 Disney's version of Alice in Wonderland is iconic, and this Cheshire Cat is cute and huggable. Alice in Wonderland fans will love a plushie of this grinning pink cat!
9 Alice in Wonderland Themed Presents for Everyday Use
From shirts to cups, below are 9 Alice in Wonderland presents your giftee can use on a daily basis.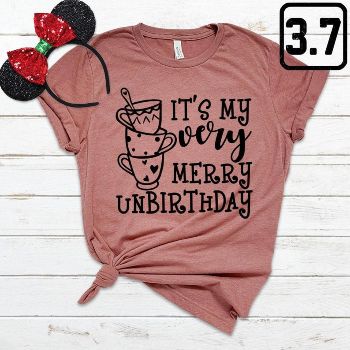 Want to celebrate their birthday Alice in Wonderland style? Then let them celebrate it every day, the way the March Hare and Mad Hatter do, with this very merry unbirthday themed shirt!
6. Alice in Wonderland Socks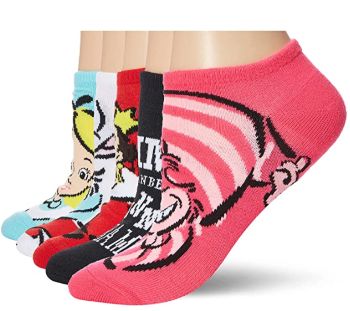 These socks won't take them adventuring through the looking glass anytime soon, but it will keep an Alice in Wonderland fan's feet comfy and looking adorable.
7. Alice in Wonderland Blanket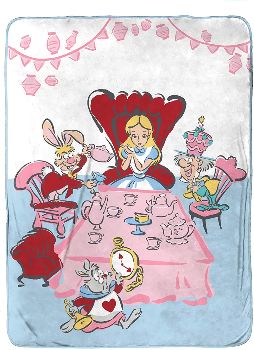 Keep them cozy with this Alice in Wonderland blanket that depicts the classic Mad Hatter and March Hare scene from the Disney animated film. A blanket is a wonderful gift for both kids and adults!
8. Alice in Wonderland Rug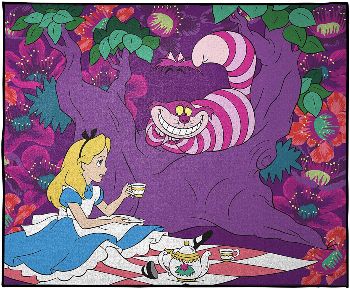 Turn an Alice in Wonderland fan's room into a piece of Wonderland with this tea time rug featuring Alice and the Cheshire Cat from the Disney version.
9. White Rabbit Purse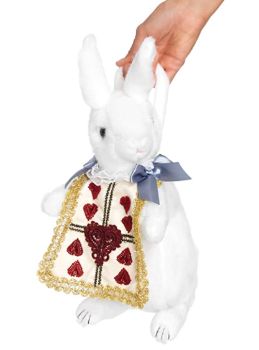 "I'm late! I'm late!" Is Halloween coming up? Are they dressing up as their favorite Alice in Wonderland character for the umpteenth time? Then here's a cute White Rabbit purse to add to their ensemble. Just remind them to not be late for that costume party!
10. Mad Hatter Pillbox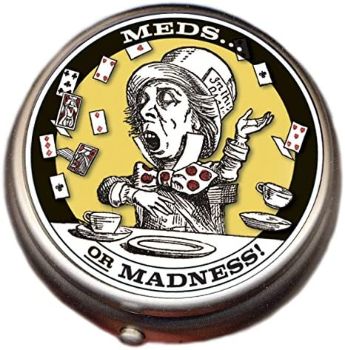 What's a better reminder to take your daily medication than this adorable Mad Hatter pillbox?
11. Funko POP! Alice in a Teacup Keychain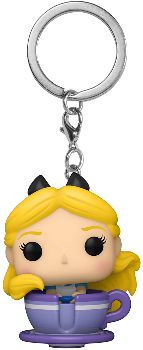 This gift idea is a small yet perfect gesture for the Disney Parks fan. This small Funko POP! Keychain featuring Alice in one of the spinning teacups from Disneyland's The Mad Tea Party Attraction is absolutely precious!
12. Alice in Wonderland Stacked Teacups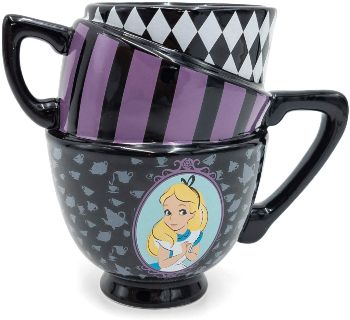 Tea time! Before any Alice in Wonderland fan goes to a tea party or drinks their morning tea, they must be properly prepared with their very own stacked teacup.
13. Alice in Wonderland Whiskey Glass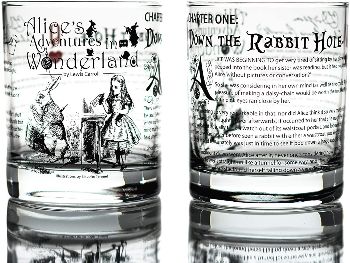 Is bourbon more along the lines of their poison? Let them share a drink with a loved one or a friend and reminisce about their favorite story with these Alice in Wonderland whiskey glasses that feature snippets of the first chapter.
8 Alice in Wonderland Collector's Items
This cool Alice in Wonderland stuff is for fans or adults who appreciate unique collector's items or decorations.
14. Alice Doll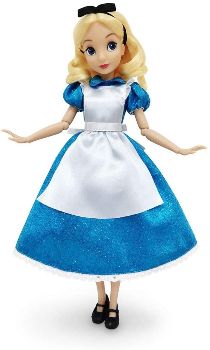 Alice is such a lovely and courteous character, and female fans will be able to bring her home for other wonderful adventures with this classic doll.
15. Alice in Wonderland Fob Watch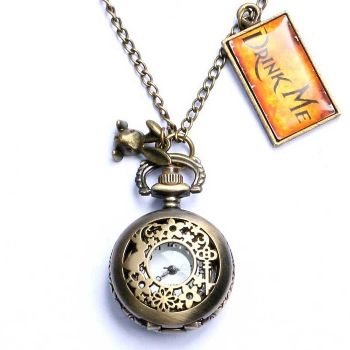 Make sure that they'll never be late like the White Rabbit was with this Alice in Wonderland themed fob watch. Remind them not to give it to the Mad Hatter for repairs, though!
16. "Drink Me" Necklace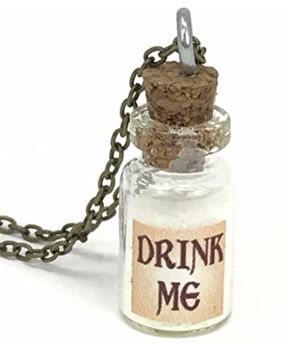 Are they itchin for their own adventure to Wonderland? They can absolutely try with this replica of the bottle that shrunk Alice down. They can even take it wherever they go since it doubles as a necklace!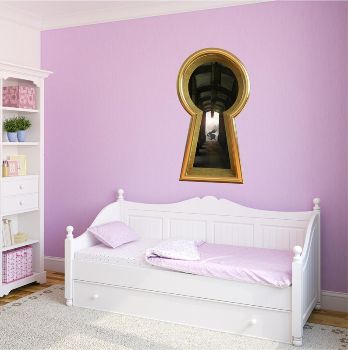 Curiouser and curiouser! Hopefully that bottle works so they can catch up with the White Rabbit through this Alice in Wonderland keyhole decal!
18. Vintage Alice in Wonderland Signs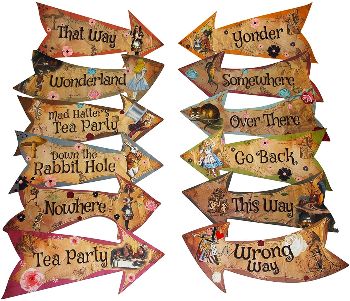 Are you throwing them a surprise Alice in Wonderland themed party? Then you'll be needing these (kind of?) helpful signs so guests know where to go.
19. Alice in Wonderland Playing Cards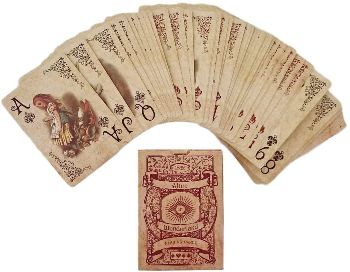 These playing cards might not come to life like they do in the story, but your giftee will love playing poker with these Alice in Wonderland themed cards. Make sure they don't lop off their opponents' heads when they lose a hand, though.
20. Tarot in Wonderland by Barbara Moore and Eugene Smith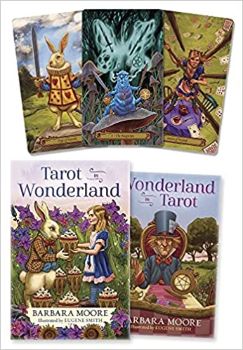 Barbara Moore and Eugene Smith have created 78 tarot cards featuring illustrations of numerous characters from Alice in Wonderland that fans who practice tarot reading (or who just dabble in the art) will love.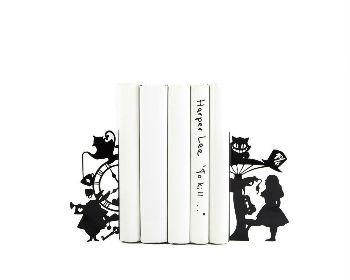 For the bookworms who've read the original Alice's Adventures in Wonderland novel by Lewis Caroll, they will LOVE these Alice in Wonderland bookends to hold their ever-growing book collection.
3 More Alice in Wonderland Gift Ideas
22. Disney's Alice in Wonderland Blu-Ray + DVD Bundle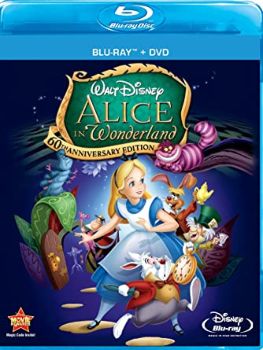 Originally released in 1951, Disney's Alice in Wonderland is probably the most well known adaptation of Lewis Caroll's classic novel. Take fans back in time with this timeless classic that was restored in HD for its 60th anniversary in 2011.
23. Live-Action Alice in Wonderland Blue-Ray Movie Bundle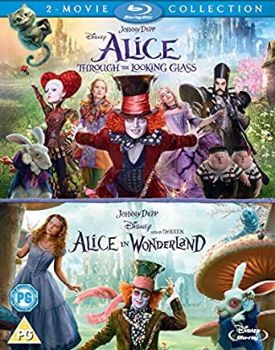 Dark and gritty, Tim Burton's live action Alice in Wonderland movies appealed to those who wanted a mature version of the childhood classic. The fans you know who loved these films are in luck with this complete live-action movie Blu-ray collection.
24. Vintage Alice in Wonderland Book Collection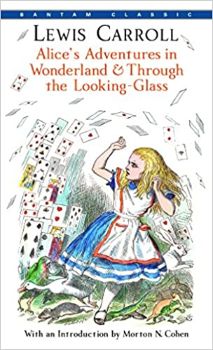 Lastly, this is a MUST have for Alice in Wonderland aficionados! This collection includes 2 books: Alice's Adventures in Wonderland (the original title) and Through the Looking Glass, and What Alice Found There.
Get the Alice in Wonderland fan in your life this book collection (if they don't already have it) so they can immerse themselves in the original childhood classics they love.
Some of the Coolest Alice in Wonderland Gifts
Any fan, young and old, will definitely have a grand time in their very own Wonderland with these 24 Alice in Wonderland themed gifts.
Did the fan you know enjoy any of these Alice in Wonderland gifts? Let me know in the comments below!
Is the person you're shopping for also a Greek mythology fan? Then check out these Percy Jackson themed gifts as well!