Being married for over 2 decades is something special and worthy of celebration. But what do you give your partner for your 23rd anniversary?
Traditionally, the gift for a 23rd anniversary is silver themed, specifically a silver plate, but in modern times, non silver themed gifts are perfectly acceptable.
Below are 23 wedding gifts, such as jewelry and other non-traditional gifts, for those celebrating 23 years of marriage.
What Symbolizes the 23rd Wedding Anniversary?
A 23rd wedding anniversary is symbolized by a silver plate to serve as a reminder to always share a meal with your spouse. It represents togetherness, which is why silver dinnerware is also an acceptable 23rd anniversary gift!
Silver Themed Gift Ideas for Your 23rd Anniversary
As mentioned, a silver plate is the traditional gift for a 23 year wedding anniversary. If you're looking to do something more than just give a silver plate, here are 8 silver themed (or silver colored) gift ideas to give to your spouse for this occasion.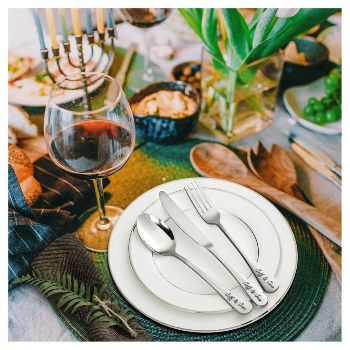 Here's a lovely set of silver utensils to give to your significant other for your 23rd wedding anniversary that can be personalized with each other's names on the handles.
2. Sunburst Silver Mirror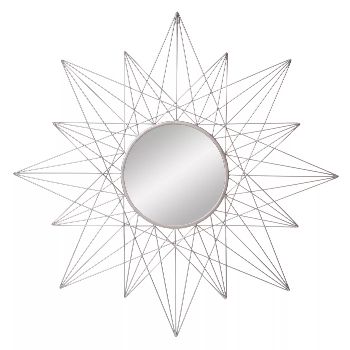 Get your spouse this modern silver sunburst mirror to celebrate 23 years of marriage. Now every time they look at themselves in the mirror, they'll remember their own sunburst in their life – you!
3. Silver Picture Frame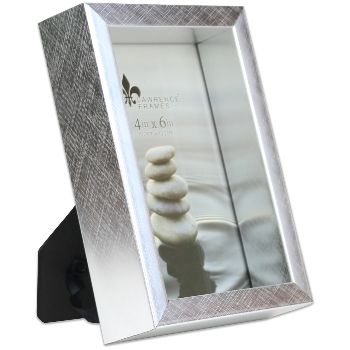 A simple silver picture frame with a picture depicting a special moment together is a lovely gift for your spouse. It emphasizes the togetherness of being married to each other for 23 years (and counting).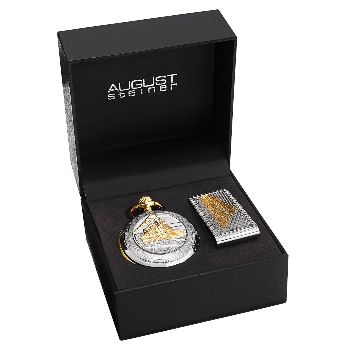 Keep your husband looking classy with this pocket watch and money clip set. He'll remember the love of his life anytime he checks the time or grabs some cash.
5. Couple Cups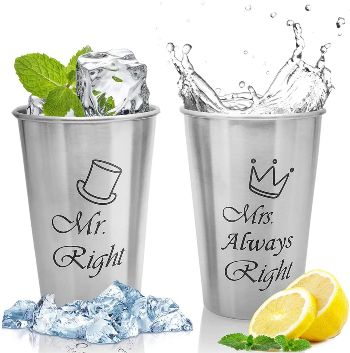 Couple cups are great! And a pair showing how one of you is Mr. Right while the other is always right is a cute and adorable way to celebrate 23 years of marriage.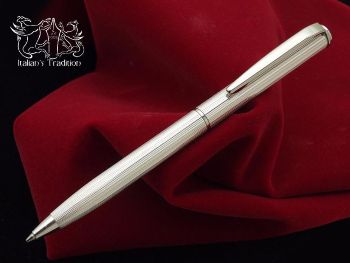 A simple silver pen makes for a great and useful gift that your spouse can use daily and be reminded of your thoughtfulness every time he/she writes something down.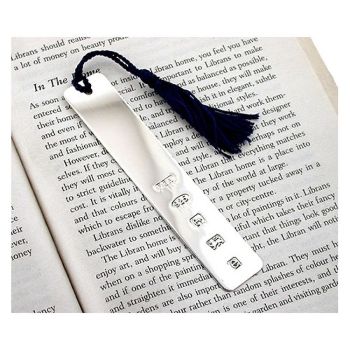 If your spouse is an avid reader, then here's a silver bookmark to celebrate your 23rd anniversary and remind them of your commitment to each other every time they pick up their latest favorite book.
8. Silver Dipped Rose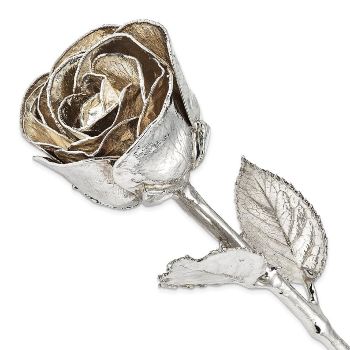 Flowers are always a nice gesture, but their beauty is short-lived. Here's a lovely silver dipped rose to give to your spouse of 23 years to symbolize your everlasting love.
23 Year Anniversary Jewelry Gift Ideas
Imperial topaz is the traditional jewelry gift for 23 years of marriage. Below are 4 pieces of silver and imperial topaz jewelry to give to your significant other to celebrate being together for 23 years.
9. Sterling Silver Imperial Topaz Necklace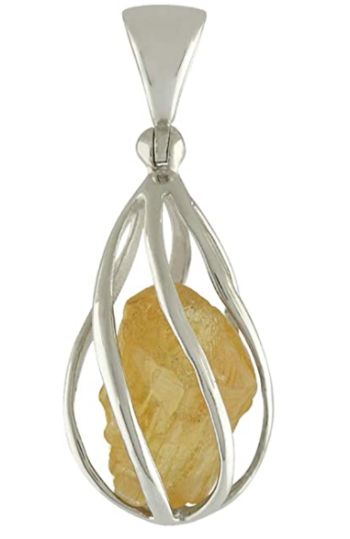 Deciding whether to get a silver or imperial topaz piece of jewelry? Why not both? A necklace symbolizes wealth and status, and with a combination of silver and imperial topaz, this beautiful piece makes for a wonderful gift for your partner of 23 years.
10. Custom Sterling Silver Ring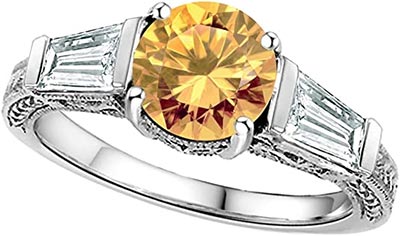 While you and your partner probably already have rings to symbolize your marriage, this seller on Etsy can make a custom sterling silver ring with your spouse's favorite gemstone, like this imperial topaz ring, to symbolize 23 years of marriage.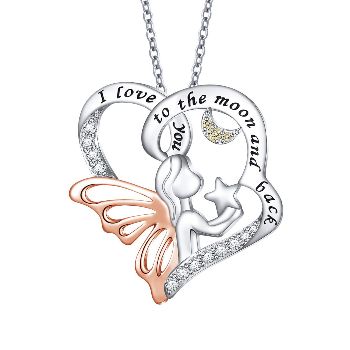 Show how much you love her with this silver statement pendant that says "I love you to the moon and back." The angel symbolizes that you will always be there for her, in sickness and health, till death do you part (and beyond).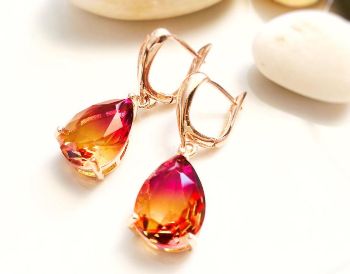 Earrings symbolize prestige and elegance, and these stunning imperial topaz earrings will ensure your spouse looks their best at any special event.
Non Traditional Gifts for 23 Years of Marriage
Below are 11 non-traditional gifts to celebrate a 23 year anniversary. Despite being non-traditional, these gifts will still show how much you both love each other, and continue to do so.
13. 23rd Anniversary Date Night Dice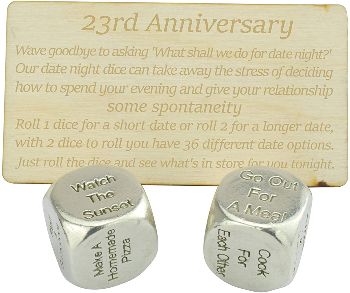 Thinking of what to do for your 23rd anniversary date night? Then give your hubby or wifey this pair of dice and let a roll decide! With multiple different options and combinations, rolling one or both will spice up your future date nights.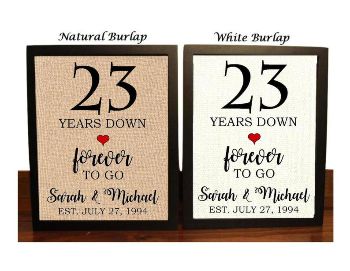 Here's a sweet burlap print to give your spouse to hang on a wall to remind you both that 23 years have gone by and there's still forever to go! With two colors to choose from, it's sure to go well with your current decor.
15. Love Reminder Card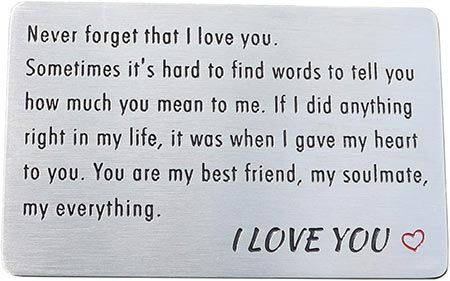 Give your husband or wife a reminder of how it's been 23 years since tying the knot. This will remind them of how much you still mean to each other after all these years.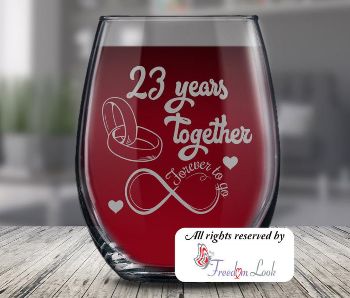 Cheers to 23 years and to sticking by each other for all this time (and will continue to stick together)! This stemless wine glass can be purchased individually or as a "his and hers" pair and features 2 different infinity symbol styles.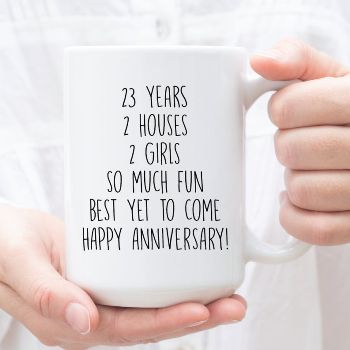 Or get your spouse a personalized mug that shows your achievements as a married couple for the past 23 years.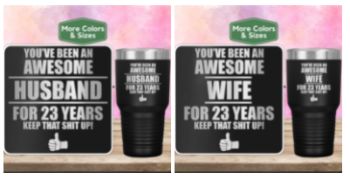 Remind your husband or wife how awesome they've been for the past 23 years with these travel mugs they can take anywhere. They'll be sure to remember to keep up the good work for many more years to come!

Aside from travel mugs, here are shirts you can get for the both of you to show the world how awesome of a husband and wife you've been to each other for 23 years and counting.
20. Greeting Cards for Husband or Wife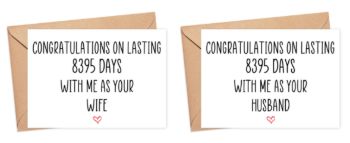 If you're feeling sentimental, then grab a greeting card for your hubby or wifey and write down how much you have loved and appreciated them for the past 23 years!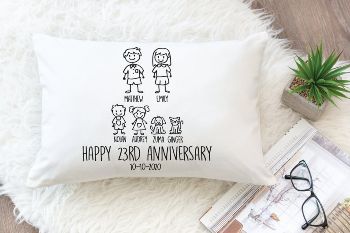 Have adorable cartoon drawings of your family, including your pets, printed on a pillow for your partner to show the importance of the life you've built together as you celebrate 23 years of marriage.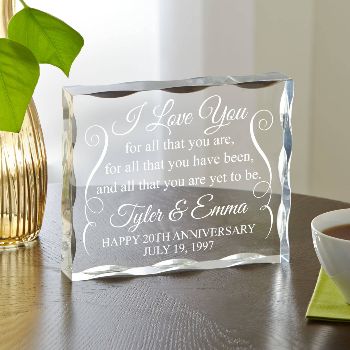 Cherish your 23 years of being together with this anniversary acrylic block. The picture, the name, the date, and the anniversary milestone can be personalized! The message, however, can't be changed.
23. Song Sound Wave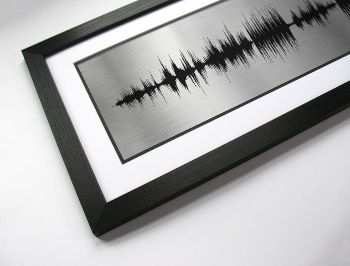 Last but not least, here's a unique gift to give your spouse to celebrate your 23rd wedding anniversary. This print of a song's sound wave can be personalized to be your spouse's favorite song or even your wedding song! Best of all, it's printed on a metal sheet, so it'll last a lifetime.
2 Decades and 3 Years of Marriage
Celebrate your 23rd wedding anniversary the traditional and modern way with the love of your life with these 23 gift ideas. Each gift on this list will help you both commemorate more than two decades of marriage!
Are you celebrating your wedding anniversary soon? Let me know what you think of these gift ideas in the comments below!
For those who aren't quite at the 23 year mark just yet, check out my article that features gift ideas for 21 years of marriage.