A lot of people consider themselves to be part of the Steelers fanbase regardless of age, gender, or ethnicity. It's not hard to see why this is the case since the Pittsburgh Steelers are one of the most decorated teams in the NFL.
Their colors and steam logo are one of the most easily recognizable logos in the world of sports as well. Although these have gone through a lot of modifications in the past decades, their fans remain loyal and dedicated to the team.
Read on to find the coolest gifts for Steelers fan who have never wavered in their support for the team.
12 Steelers Gifts for Fans
1. Heinz Field & Stadium View Coasters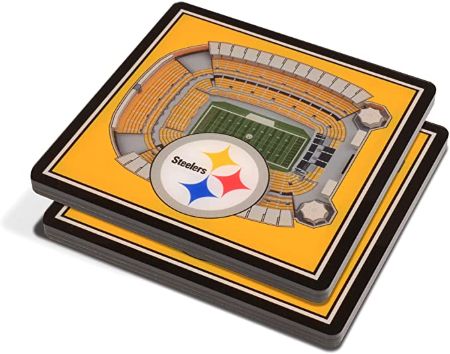 For the ultimate Steelers fan who's going off to college or relocating to a new place, these coasters will always remind them of home. These feature the impressive home of their favorite team, Heinz Field.
The pack comes with two 3D coasters, so why not spring for two packs?
2. Steelers Drawstring Backpack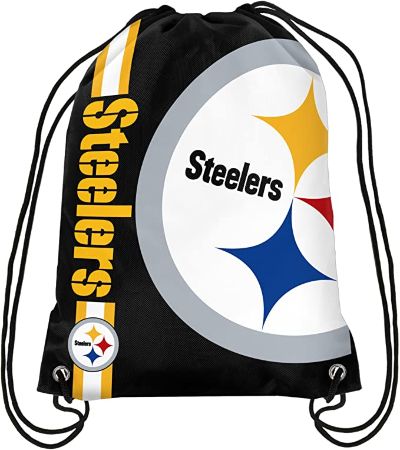 Help them get ready for the next tailgate with this Steelers drawstring backpack. It will fit everything they need to make the game memorable and fun such as their phone, camera, The Terrible Towel, and more.
3. Steelers 3-Piece Tailgate Kit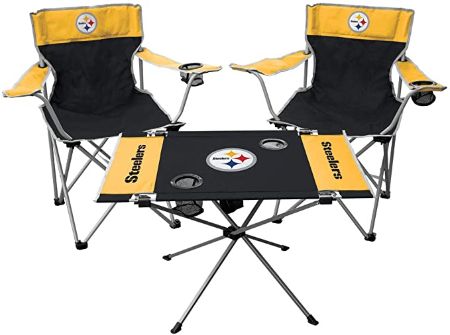 This will be an awesome set up to hangout with fellow Steelers fans. Set up this tailgate kit outside and watch the intense game with family and friends. Even if they're not in the stadium, this tailgate kit will proudly show their team spirit.
4. Steelers Insulated Cooler Bag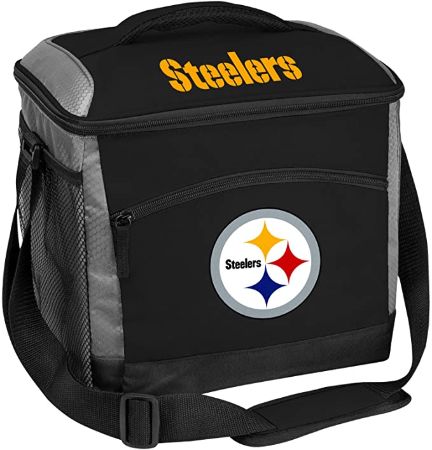 Cold and refreshing drinks are essential for every game because it's easy to get dehydrated while cheering for your favorite team. Give them this practical cooler bag so they can take it with them to every game and tailgate.
5. Steelers Printed Fleece Throw Blanket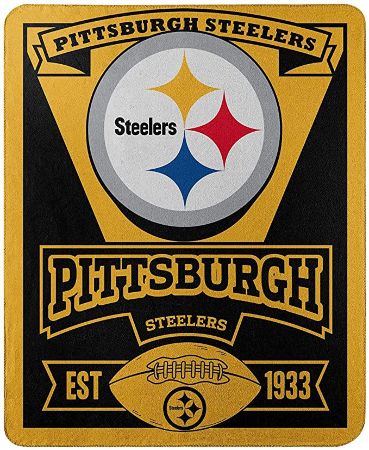 Add this throw blanket to their Steelers merchandise collection. It'll be the perfect decorative addition to their man cave or great to use as a cozy blanket to keep them warm during chilly nights.
6. Steelers 3-Pack Socks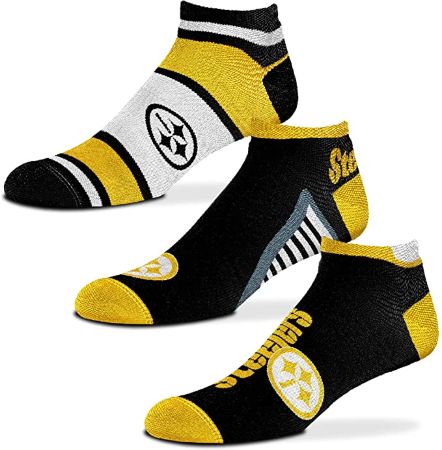 If you want a practical present that the Steeler fan in your life will use, then get them this set of cool Steelers-themed socks.
These socks are available for all Steelers fans since they offer sizes for kids, women, and men.
7. Steelers Embossed Outdoor Mat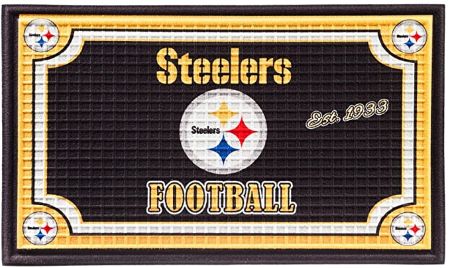 You'll know someone is a true Steelers fan when you visit their home and and greeted by this welcome mat. This outdoor mat will be a great housewarming present for the Steelers fan in your life!
8. Steelers Chef Hat and Apron Set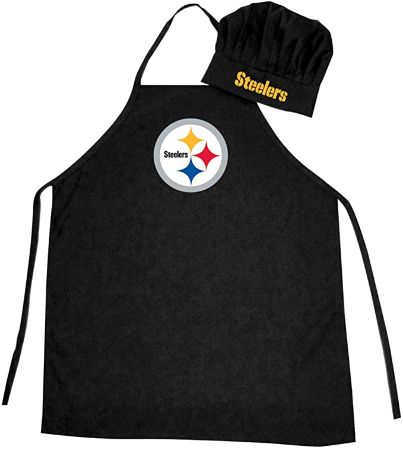 Does your recipient love football and grilling? This gift will hit two birds with one stone. You'll get them a present that will cater to both their passions and interests in one single affordable gift set! Now they'll truly be the grill master when they host the next game day.
9. Steelers Travel Mug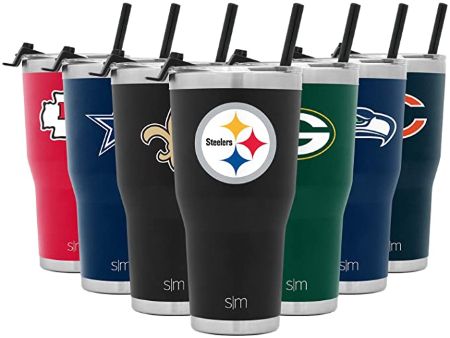 Help a Steeler's fan be loud and proud by showcasing their favorite team wherever they go with this durable travel mug. This NFL-themed tumbler has a press flip lid so it's splash and leakproof.
Simple Modern also gives back to the community by donating 10% of their profits to the organization of their choice, making this tumbler a great buy.
10. Steelers Mug

Get motivated to start the day right by drinking your next cup of Joe in this Steelers mug. This Steelers gift is one-of-a-kind because the logo is 3D sculpted.
The mug can hold approximately 14 oz of coffee, tea, or hot chocolate.
11. Pittsburgh Steelers Umbrella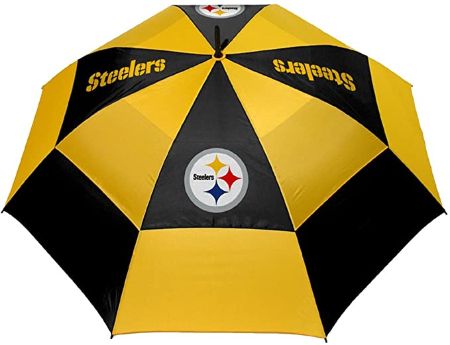 Give this umbrella to the Steelers #1 fan who will support the team rain or shine. This umbrella will also be a hit if your recipient is a golf player.
12. Steelers-Branded Free Standing Display Case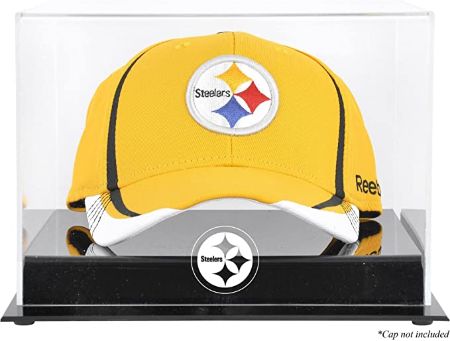 Do they have precious memorabilia that needs protected but also should be shared with fellow Steeler fans? By displaying it here, their souvenir can be appreciated by others while still being protected.
5 Steelers Gifts for Men
13. Pittsburgh Steelers Jersey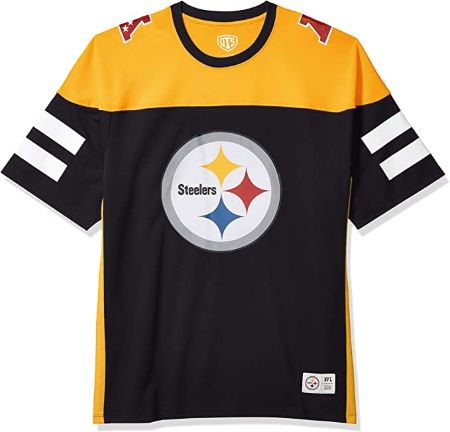 All NFL fans must have at least one jersey to show off their favorite team. This Pittsburgh Steelers jersey is one of the best in the market because it's comfortable, durable, and features the iconic team colors: black, white, and gold.
14. Steelers Ugly Sweater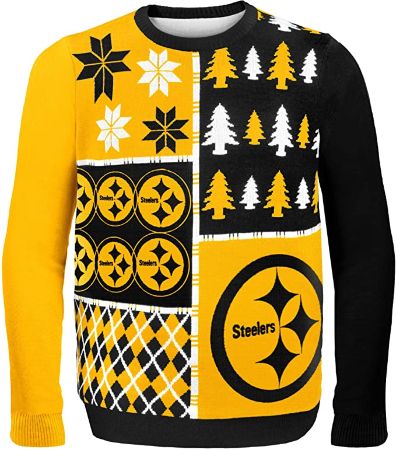 Your recipient will be able to flaunt their love for the black and gold team at the next office or family holiday party with this ugly (But not so ugly?) sweater. Each sweater is handmade, so that makes this gift for Steelers fans even more special.
15. Pittsburgh Steelers Slides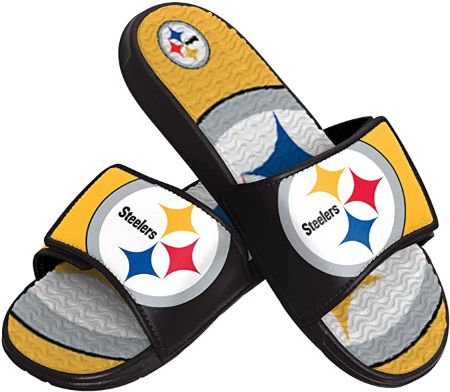 These sandals will be perfect for your father, brother, or partner who's a certified Steelers fan. They're available in four different colors and designs so you can pick the one that will fit their style the best.
16. Premium Steelers Golf Gift Set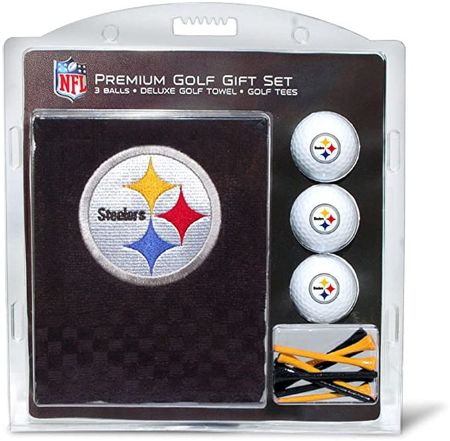 For the Steelers fan in your life who also loves to spend time on the golf course, this gift set will be a fantastic gift. The set comes with a towel, three golf balls, and golf tees.
17. Chrome Wrap Sunglasses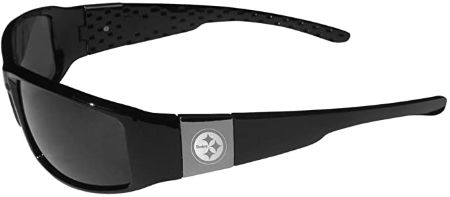 Help them look effortlessly stylish with these minimalist Pittsburgh Steelers sunglasses. These frames have a plastic body and lenses that offers UVA and UVB protection.
These sunglasses are ideal if your recipient is into outdoor activities like fishing, camping, and hiking.
5 Steelers Gifts for Women
18. Steelers Team Jersey Earrings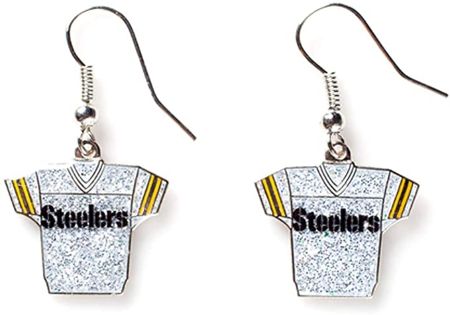 These adorable Steelers earrings will go well with all her Steelers apparel. She'll get a lot of compliments at the next game or tailgate when she wears these because of their unique and sparkly quality.
19. Steelers Charm Bracelet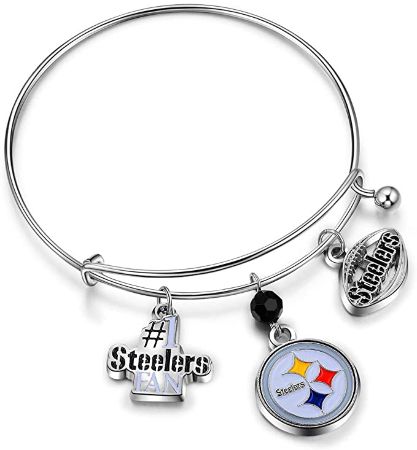 Pair those fun Steelers earrings with this lovely Steelers charm bracelet that comes with charms that only a true Steelers fans will appreciate: a #1 Steelers fan charm, a Steelers logo charm, and a football charm.
20. Steelers Hoodie Purse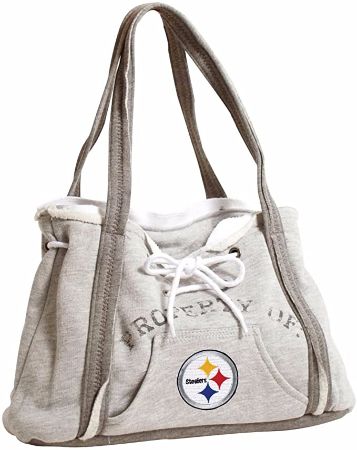 Is it a purse? Is it a hoodie? The choice is yours. If you want a low-key Steelers merch gift that's also functional for your recipient, this hoodie purse is the best choice.
It's very spacious and includes pockets that will fit all her items.
21. Steelers Infinity Scarf for Women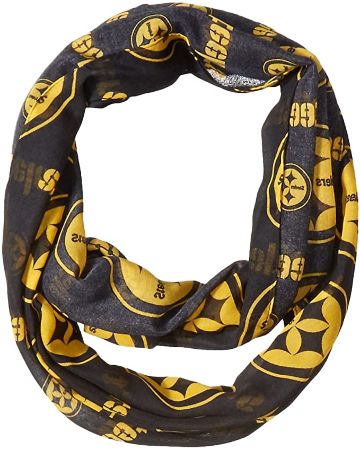 Is she always unsure of what to wear for the game? Help her out by giving her this infinity scarf that will level up any outfit.
The scarf is also not too thick nor too thin, so it's perfect for warm and cool weather.
22. Steelers Leggings for Women

They'll look like a piece of modern art while wearing these beautiful swirl leggings. They also feature the Steelers team colors, so that's a huge plus in my book.
5 Steelers Gifts for Kids
23. 3-Pack Steelers Onesie Gift Set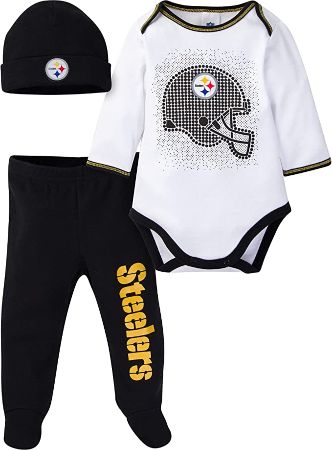 Dress the little Steelers fan in your life in this adorable outfit. It's complete with a onesie, pants, and cap. Who knows, maybe they'll become part of the team someday!
24. Baby Girl's Steelers Team Jersey Dress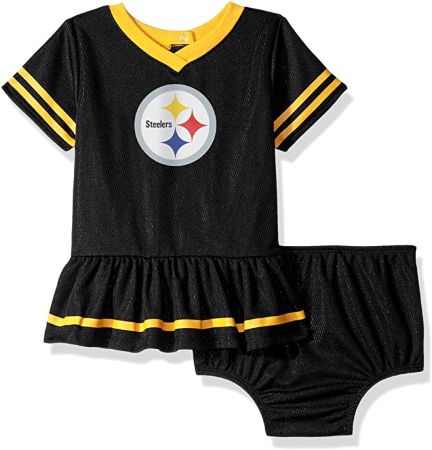 As they say, "start them young."
Regardless of age, there's no reason not to be a Steelers fan. For your little Steelers fan, this cute dress will welcome and incorporate her into the fan base, where she belongs.
25. Steelers Football Kids Uniform Set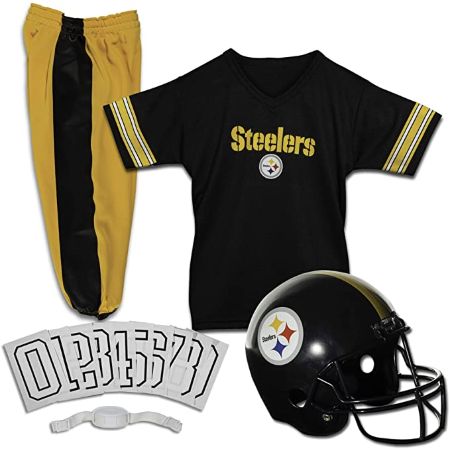 Is your recipient starting to show interest in playing football? Lead them in the right direction (and team) with this football uniform set. The set includes a helmet, jersey, pants, chinstrap, and iron-on numbers.
This gift set is suitable for both girls and boys!
26. Kids Steelers Pullover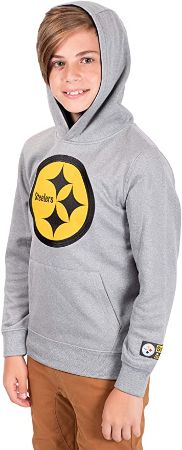 Is the kid Steelers fan in your life the biggest Steelers fan you know? Even if they have a ton of Steelers merch, this pullover hoodie will still be a great addition to their collection since it has a classic fit and is comfortable.
27. Jersey Toothbrush

Bring the team spirit into their morning and bedtime routine with this gift. Any little Steelers fan will be motivated to take care of their pearly whites with this toothbrush.
It also features soft bristles that will are comfortable and ideal for children.
5 Fun Steelers Gifts
28. Steelers Hover Football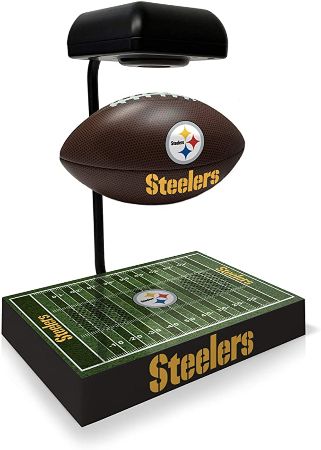 This present is perfect for the ultimate Steelers fan. It's a cool decorative piece, Bluetooth speaker, lamp, and USB charging port all-in-one. This Steeler's gift will give you a lot of bang for your buck!
29. Steelers Family Decal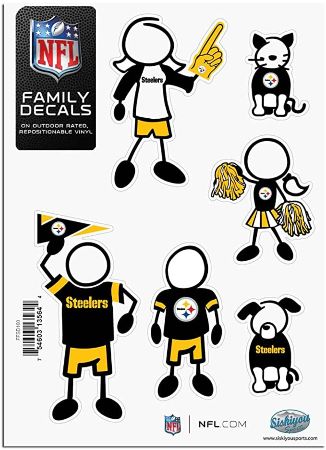 Get this cute family decal if supporting the Steelers runs in their family. It includes two adults, two kids, and some furry friends as well. The decals will look great on a car window!
30. Steelers 3D Stadium Picture Frame
Help them remember the fun time they had at that special Steelers game by placing their favorite photo from the game in this cool picture frame. That way, they can reminisce about some of the iconic events that happened in the season whenever they admire it.
31. Steelers Tabletop Stackers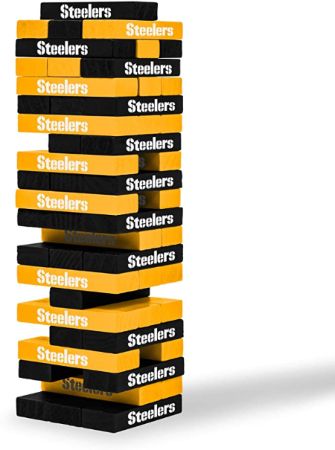 Game nights are a great opportunity to spend time with fellow Steelers fans and talk about the season. These blocks are made with durable wood stand up to nine inches when stacked together. This is a must-have game for Steelers fans get-togethers and parties.
32. Pittsburgh Steelers Puzzle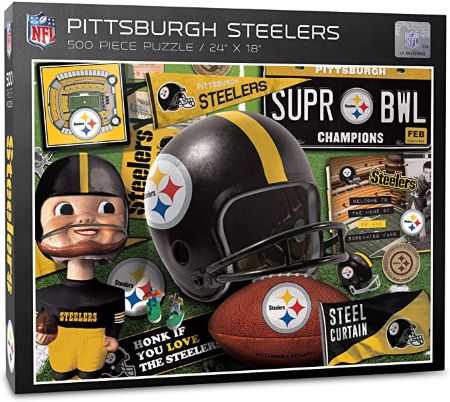 This 500 piece puzzle will be a challenging but enjoyable activity for any Steelers fan. It features some of the iconic symbols associated with the team such as the helmet, football, and flag.
Does the person you're shopping for absolutely love puzzles? Check out this list for more even more gifts for puzzle lovers.
Here We Go Steelers, Here We Go!
These Pittsburgh Steelers gift ideas are a great to say you understand and support their passion, and for them to showcase their love for their favorite NFL team. Whether they're new to the fan base or one of their oldest fans, I'm sure you'll find the perfect gift for them here.
Below are more epic gift ideas for sports fans:
What's the most iconic Super Bowl season in your opinion? Share your thoughts in the comments below.