It's important to encourage your kids to have fun under the sun and take a screen break, so check out these awesome outdoor gifts for kids that will get them excited to play outside!
Playing outside is healthy for growing children because it keeps them active and boosts their stamina.
Not sure what the latest and coolest outdoor gifts for kids are nowadays? Read on to find out.
21 Cool Outdoor Gifts for Kids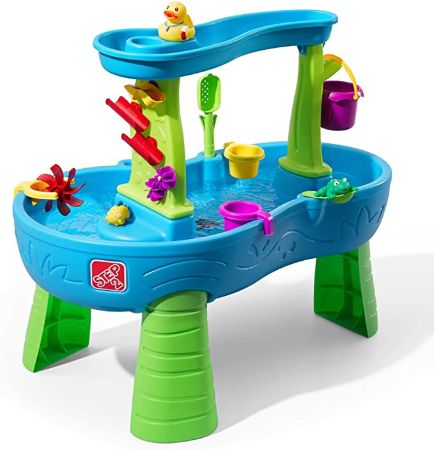 Having this water table is like having a mini water park right in your backyard. They'll have a lot of fun splashing water while playing with the toy accessories, like the jumping frog.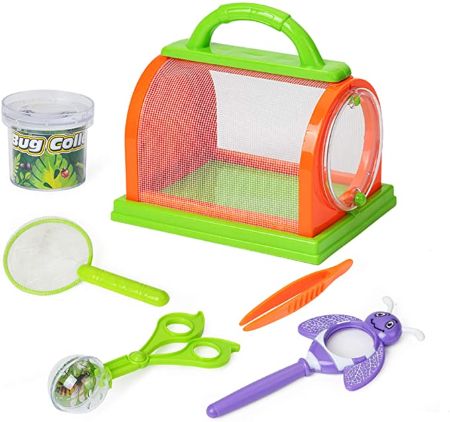 Discover the world one adventure at a time with this bug catcher kit. Your little explorer will be able to learn and observe insects in real life and ignite their love for these important creatures.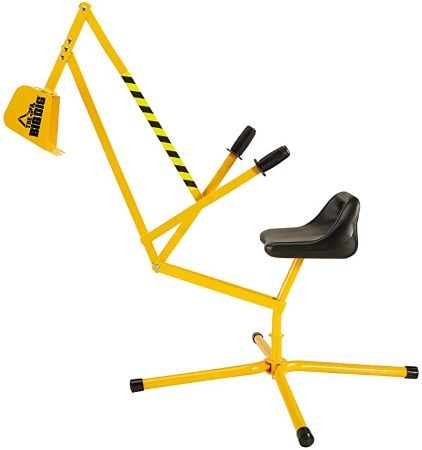 Is your kid interested in cranes, tractors, and forklifts? This outdoor toy will be an incredible present then! Let them experience how it is to operate construction equipment through this mini crane.
Use it to dig sand, dirt, and even snow.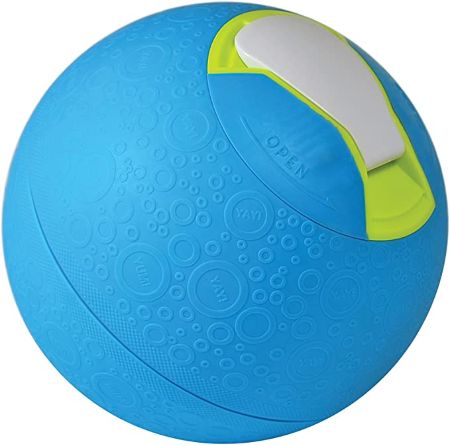 Homemade ice cream has never been this yummy and fun. This will gift will combine two things that kids love: playing with balls and eating ice cream!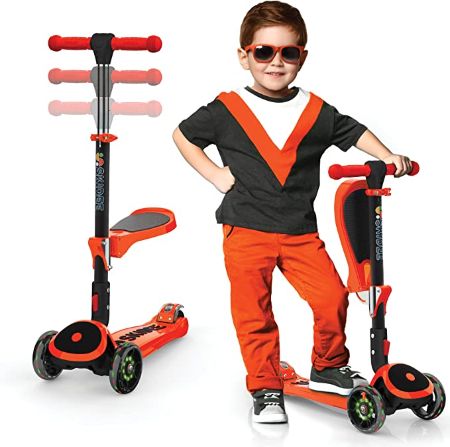 They see me rollin'…
Riding on this scooter will make your recipient the coolest kid on the block. The scooter comes with LED flashing wheels and a comfortable seat.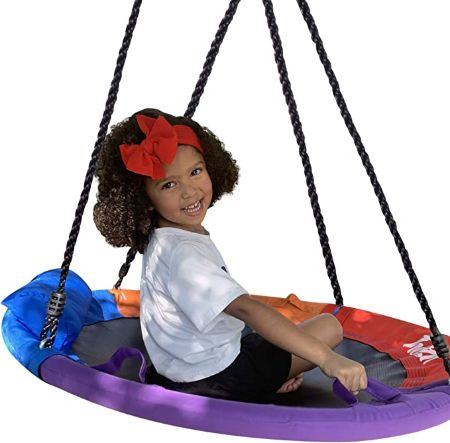 Create lasting memories while chilling in this tree swing.
This will become their new favorite place to hang out since they'll be able to do a lot of things in the swing like reading and playing while basking in the warmth of the sun.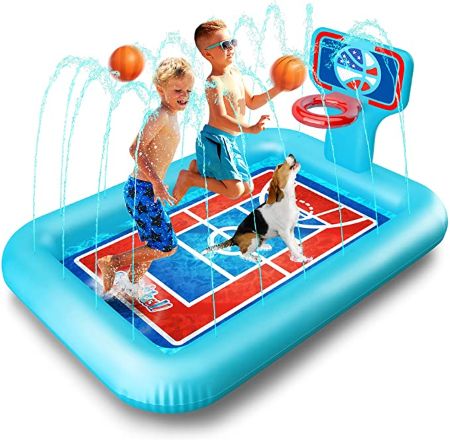 I swear that this splash pad is as fun and exciting as it looks. Your recipient will be able to jump, shoot, and swim all at once with this inflatable pool.
It even comes with sprinklers to help them cool off after an intense basketball game.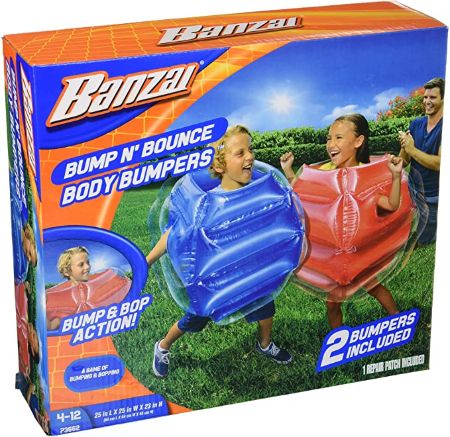 Who needs bumper cars when you have body bumpers at home?
Challenge friends into a bump-off match to know who's the strongest among the bunch. Plus, the bumpers are cushioned so they're safe to use even for small kids.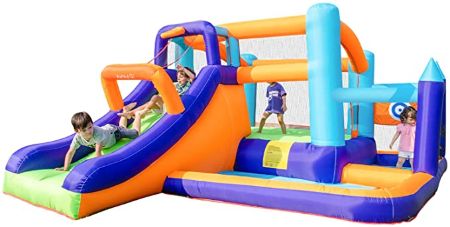 Endless hours of fun and laughter are guaranteed when you buy this bounce house.
Aside from the slide, it also features a ball hoop, pool, and target. They'll never get bored in this inflatable pool!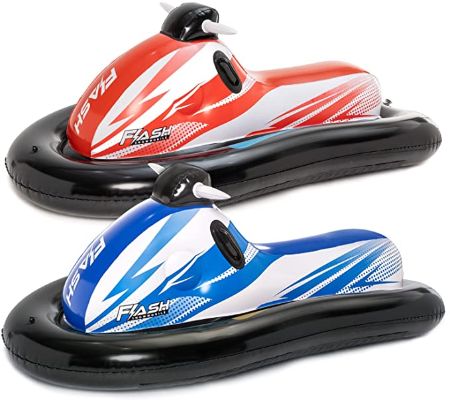 Don't let the snow stop them from enjoying a fun day outdoors.
These cool rides can fit up to four people so they can bond and have a good laugh with the whole family while sleighing in the snow.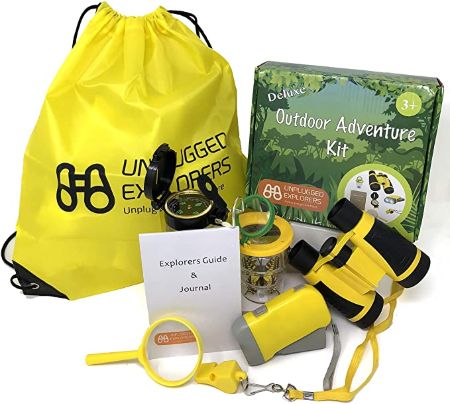 Is your little one going on their first camping trip soon? This kit will be useful.
They'll be psyched to go on an adventure since this has some cool outdoor tools such as binoculars, magnifying glass, and explorer's journal.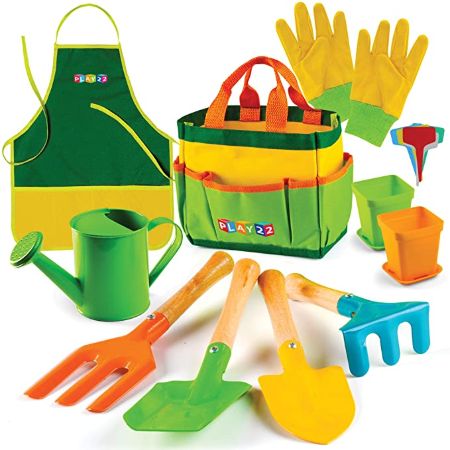 It's important to teach them to appreciate and love Mother Earth at a young age. Gardening is one great way to do that.
It will be a fulfilling experience for kids to see the plants grow and eat the fruits of their labor.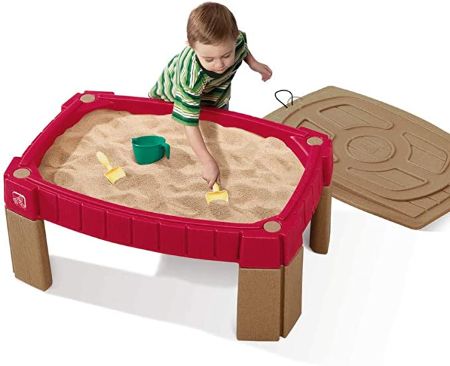 Bring the beach into their backyard with this adorable sand table.
They'll be looking forward to each morning when they can finally build sandcastles and go on treasure hunts. This gift will be a fantastic tool to nurture a child's imagination and spark their creativity.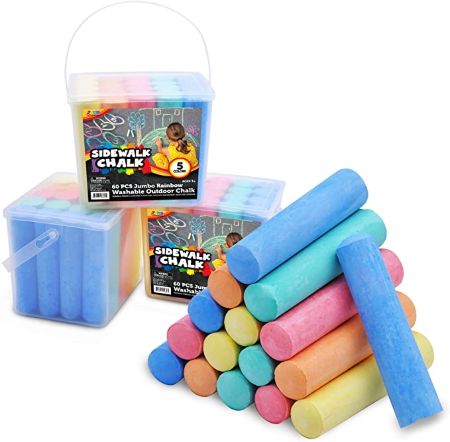 Let their imagination run wild and create sidewalk artworks through these giant chalks.
These are perfect for children since each set includes 60 vibrant chalks that are long-lasting and non-toxic.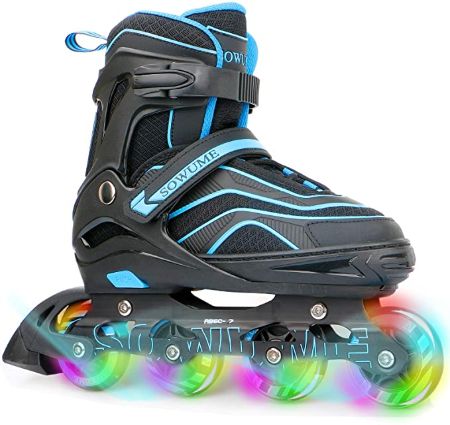 Want to get them to be more active but can't find an outdoor activity that they'll enjoy? These rollerblades will be the solution.
Slide through the neighborhood with the eight illuminating wheels. These will be the coolest and trendiest shoes they'll own.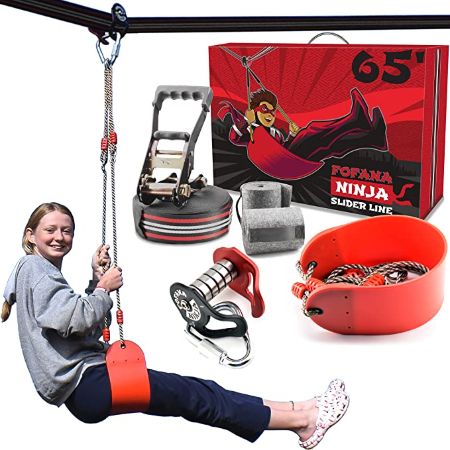 Here's an awesome outdoor gift for kids who enjoy the adrenaline.
Playing with this Ninja kit will get their heart pumping with excitement. Make sure that your recipient's house has two trees for them to be able to use this gift.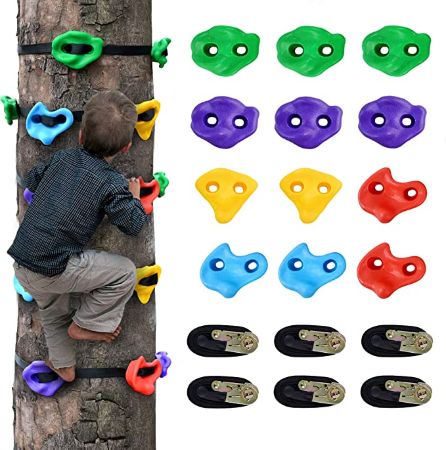 Rock climbing will be an excellent activity to strengthen the muscles of your little recipient. Plus, it will enhance their balance, agility, and flexibility.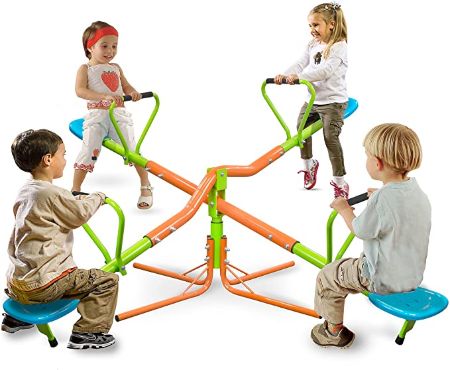 Playdates will be filled with giggles thanks to this quad seesaw.
There's no need to wait in line to use the seesaw since this will allow four kids to ride it at the same time.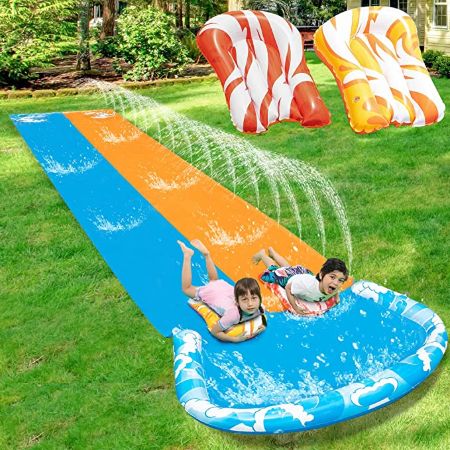 Beat the summer heat by playing outdoors in this water slide.
The slip and slide already comes with two bodyboards so the only thing that will be missing is your recipient and it will be good to go.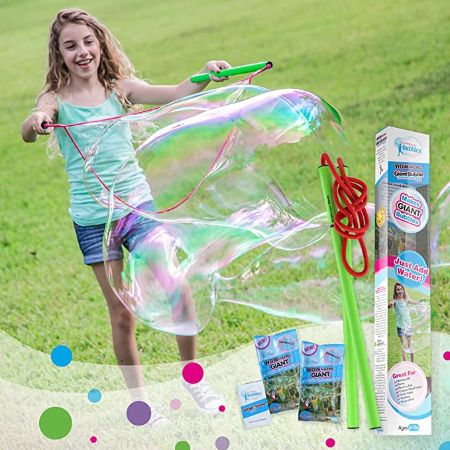 Did you know that there are a lot of benefits to bubble play? It improves motor, visual, and sensory skills.
Plus, everyone can join in the bubble fun since it's great for people of all ages.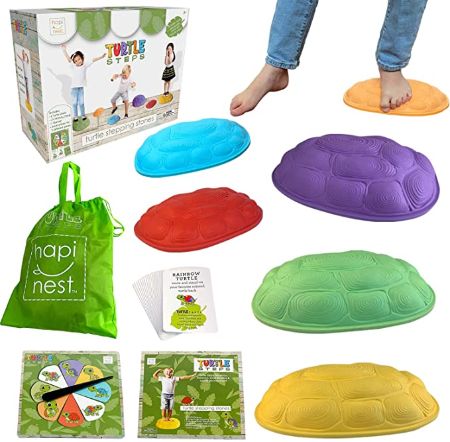 These may look like a simple outdoor toy for kids, but turtle steps will challenge your recipient's balance, coordination, and concentration.
The stepping stones are made with durable and non-slipping plastic that will be safe for kids aged three and above. Plus, the floor is lava can be played with these stones as well.
9 Fun Backyard Toys for Kids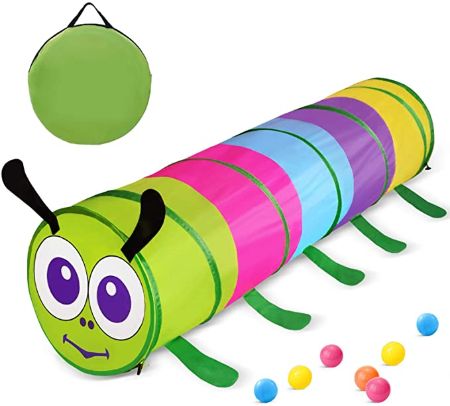 This colorful caterpillar tunnel will be a hit to your young recipient.
It's a great gift for growing kiddos since they'll love crawling through the tunnel while developing their motor skills simultaneously.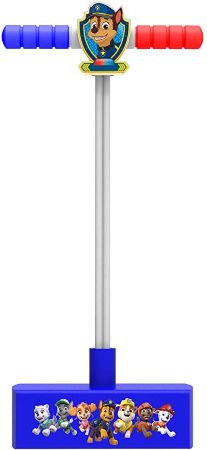 Give them their very first pogo stick with this gift. It's the perfect pogo stick since it's crafted from durable foam making it safe for kids.
Brownie points for the adorable designs like this Paw Patrol, unicorns, and fire trucks.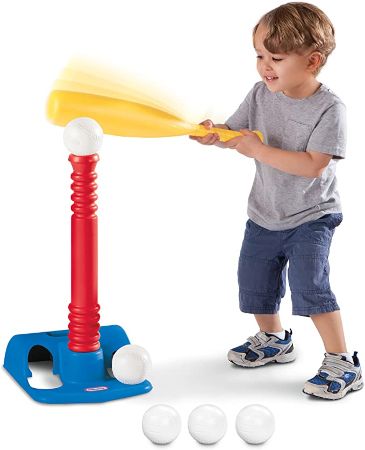 Support the future tee-ball superstar in your life by getting them this training set.
The set already comes with everything they'll need to start their sports journey. It has five tee balls, a stand, and a baseball bat.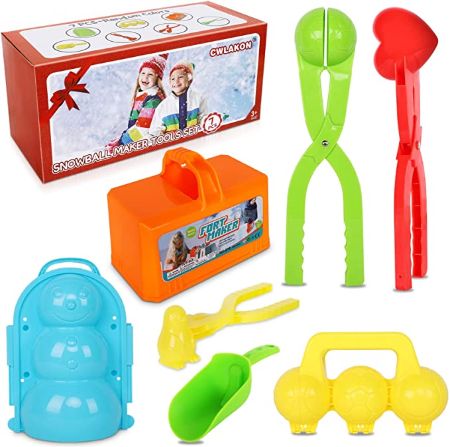 The cold never bothered me anyway.
Be like Elsa and create the perfect snowballs, snowman, and snow fort with this kit. This gift is versatile since it's usable in the sand, too.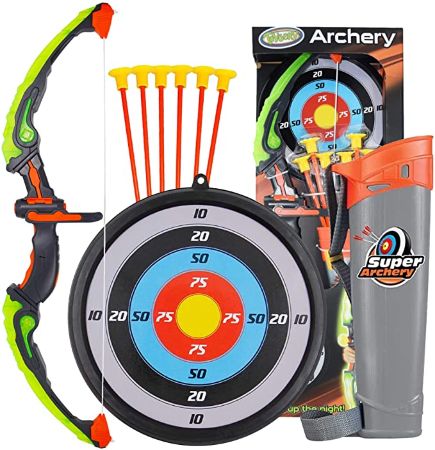 Introduce your little recipient to archery through this bow and arrow set. They'll be a pro archer in no time since the kit is simple and super easy to use.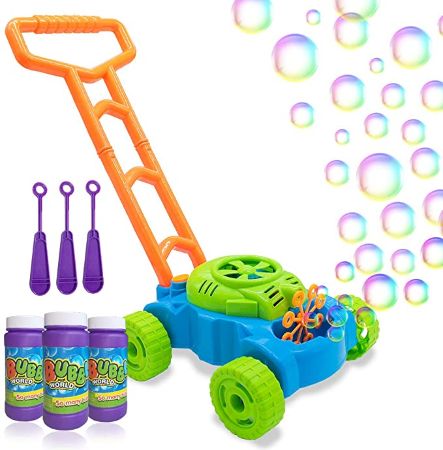 Your little recipient will be able to join you in your lawn mowing duty with their very own bubble mower.
Even though this can't grass, having them beside you will make the task more enjoyable.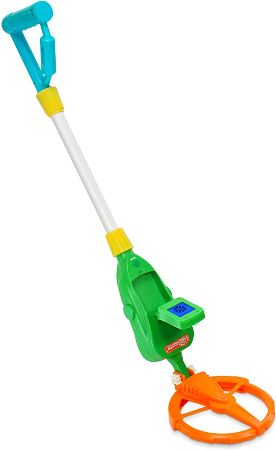 Take them on an exciting scavenger hunt and discover hidden treasures with the help of this metal detector.
Looking for more ideas to make the activity extra memorable? Check out this post for scavenger hunt tips.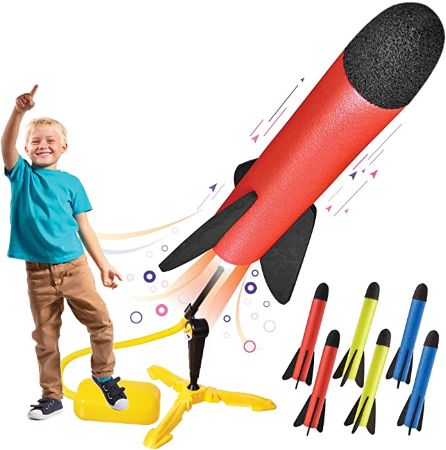 3…2…1…blast off!
If your recipient is interested in outer space, planets, and galaxies, then this rocket launcher will be a fantastic present. Launch the eight rockets included in the pack and be amazed as they soar up to a hundred feet in the sky.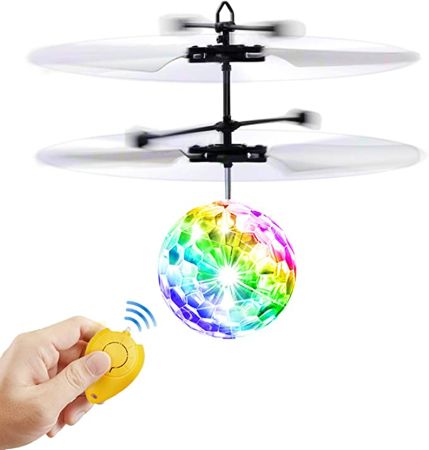 Here's a cool toy that they'll be able to play with even at night.
It features flashing LED lights that will be engaging to kids. A remote controller is also included in the pack to make it easier to land and launch the ball.
Outdoor Toys for Kids for Every Season
Let the kid in your life experience the wonders of playing outdoors with these cool stuff.
They'll be looking forward to spending the day out in the sun once they receive these awesome outdoor gifts for kids.
Check out these lists for more amazing gift ideas: