Despite the chilling and horrifying demeanor of dragons, people still can't get enough of this magical beast.
Different people are drawn to dragons for varied reasons (because they're cool, brave, or because of GoT), but one thing's for sure: there's a lot of people who are fascinated with this creature!
If you're looking for a dragon gift worthy of a dragon fan, then this list is for you! I've compiled the most awesome dragon-themed items that dragon fans of any age will love.
6 Dragon Gifts for Adults
1. Trinket Box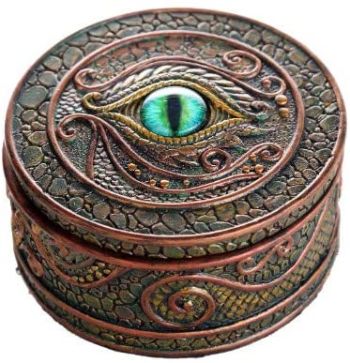 This trinket box is not your ordinary trinket box. It keeps valuables safe with added protection from a dragon's eye. This will be a cool addition to their renaissance and medieval-themed collection.
2. Dragon Mug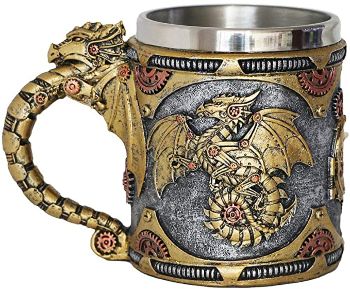 Your giftee will feel like they're traveling back in time every time they drink from this medieval dragon mug.
The mug is made from quality materials and is beautifully hand-painted, both features that add to the authenticity of the experience.
3. "Mother of Dragons" Travel Tumbler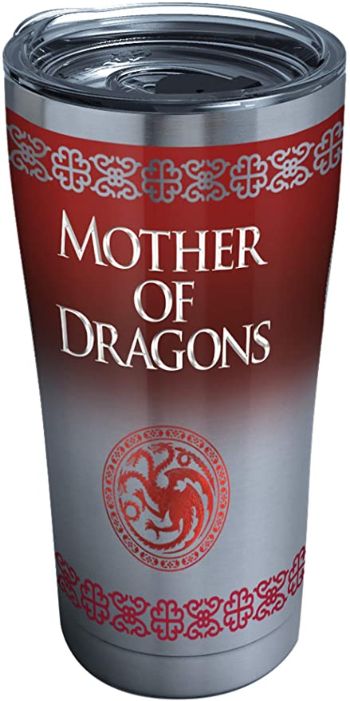 This "Mother of Dragons" tumbler is highly recommended for Game of Thrones fans, especially those who are obsessed with the formidable Queen Daenerys.
Aside from maintaining the temperature of their drinks while they binge-watch GoT for the nth time, it's handy for traveling and working out as well.
4. Dragon Egg Candles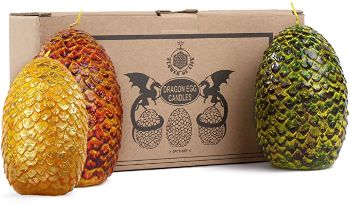 Candles are always a good gift choice for anyone, but for dragon fans, these dragon egg candles are the best choice!
Each box contains three unique dragon egg candles that are perfect for practical use and display.
5. Metal Bookmark
If your giftee is also a bookworm, then this metal dragon bookmark is a fantastic present for them. This bookmark is luminous too, so they'll easily find their book and current page even in the dark.
6. Dragon Wall Sticker Decals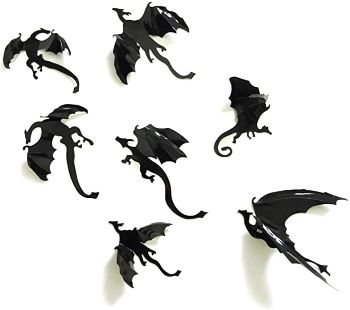 Turn their place into a mighty dragon's lair with these little flying dragons. These wall decals are waterproof and durable, which makes them a perfect addition to any dragon fan's room.
Each pack contains seven dragons that range from three to six inches in size.
6 Dragon Gifts for Kids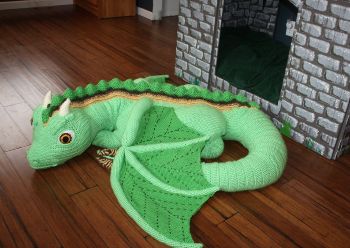 This dragon gift shows that you put A LOT of time and effort into creating this wonderful life-size creature, which makes it that much more meaningful.
Children can ride and play with Kiefer the Forest Dragon, a dragon that breaks stereotypes and proves that dragons can be kind and cuddly beasts, too!
Fair warning: this DIY pattern will definitely take some time to complete and is 56 pages long (with detailed instructions).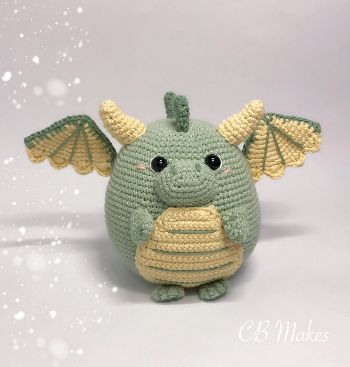 Not all dragons are monstrous and scary. There are also cute ones kids can sleep with, along with their other stuffed animals, to protect them from bad dreams.
There are also Toothless-inspired, Eastern dragon, and dragon lamp crochet patterns to choose from!
9. Drawing Dragons: Learn How to Create Fantastic Fire-Breathing Dragons (How to Draw Books) by Sandra Staple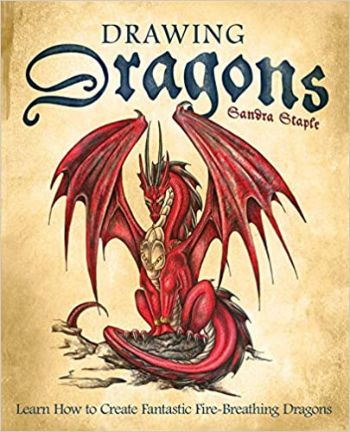 Teach kids how to draw a dragon of their own with this book. The easy-to-follow instructions will help them create the magical dragon of their dreams. It contains guidelines on how to draw a dragon's wings, eyes, and more!
10. Heat of the Lava Dragon by Tracey West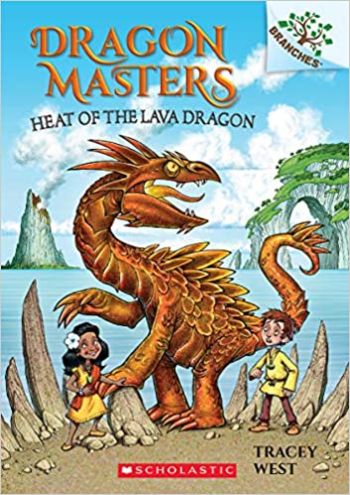 Join Drake and Ana in their search for the mystical dragon to save their friends and stop the evil wizard from spreading chaos on their island.
This book will take kids on a fun adventure filled with dragons and will teach them the value of bravery and friendship!
11. Remote Control Dinosaur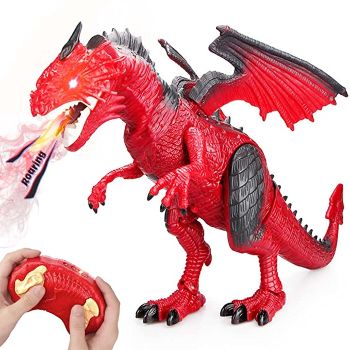 Has your giftee always dreamed of having their own dragon? Since dragons are mythical creatures and it's highly improbable that we'll see one in real life, this remote control dragon is the next best thing!
From its mighty roar and fascinating flapping of wings, there's no doubt that this dragon looks as realistic as it gets. It will make your giftee feel like they have a pet dragon!
12. Pajama Set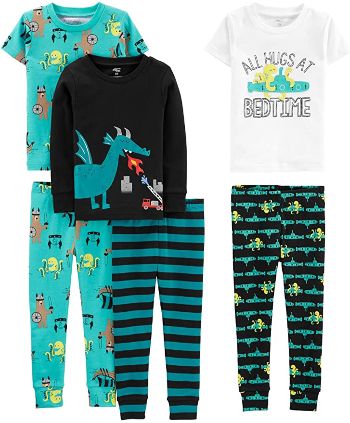 Bedtime will be more awesome and comfy with this cool dragon sleepwear set.
Each set includes a long-sleeve top, shorts, two short-sleeve tops, and two pairs of pants so kids can wear these no matter the weather or time of year.
4 Unique Dragon Gifts for Adults and Teens
13. Dragon Head Skull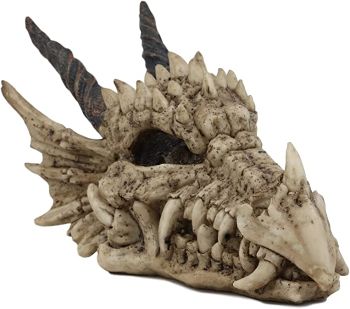 Dragon fans will be psyched to display this dragon head skull in their home. This conversation starter is a great and rare piece to add to their dragon collection.
14. Dragon Head Stapler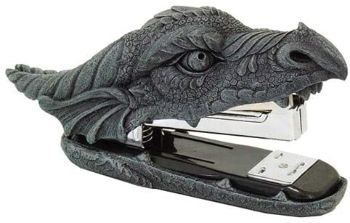 Their workspace will never be dull again when you give them this dragon head stapler. It's practical and adds character to their desk.
Complete their dragon office setup by adding a dragon staple remover and medieval dragon pencil holder.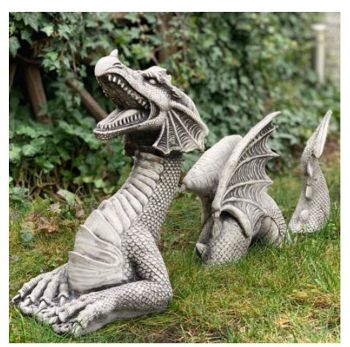 This loyal dragon will guard their house and garden day and night. It's made from high-quality concrete that can withstand all weather conditions, staying true to the dragon's character.
16. Dragon Lamp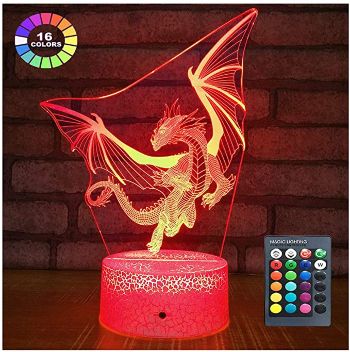 Light up their room with this dragon lamp (which can also be used as a kid's night light). This present will make any dragon fan's nightstand 10x cooler!
It features a smart touch that gives them the option to change the colors and dimness of the lamp.
4 Dragon-themed Movies for the Entire Family
17. How to Train Your Dragon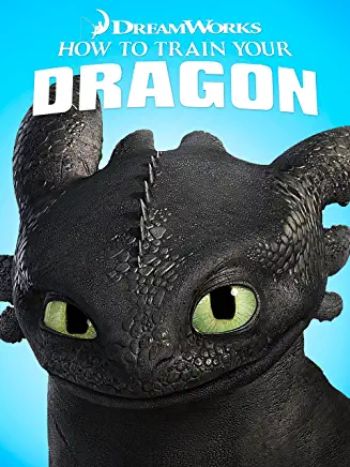 Relive the heartwarming tale of Hiccup and Toothless in this highly-acclaimed animated film. Watching How to Train Your Dragon is a great way to spend the weekend with family and friends.
Make it a movie marathon and include How to Train Your Dragon 2 and How to Train Your Dragon: The Hidden World!
18. Raya and the Last Dragon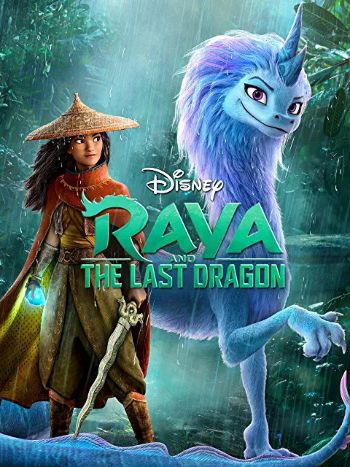 All dragon lovers must watch Disney's latest animated hit Raya and the Last Dragon at least once in their life. It tells the quest of Raya, the first Disney Southeast Asian Princess, as she finds the last dragon to save Kumandra from monsters that threaten their land.
It's an excellent and refreshing film filled with valuable lessons that your giftee will enjoy.
19. Pete's Dragon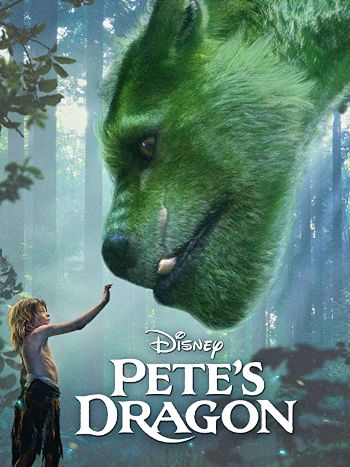 If they love the classic musical film of the same name, then they'll add this remake to their list of favorite films as well.
It's a heartfelt story of a boy and a dragon's friendship that fought against all odds, and one that kids and adults alike will enjoy.
20. I Am Dragon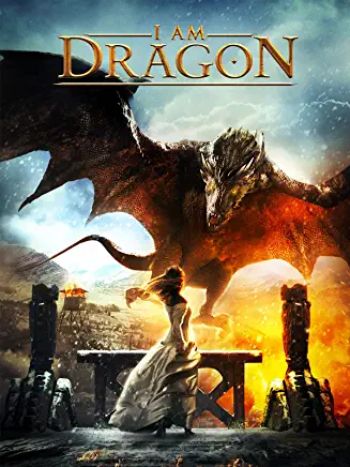 This movie has it all—an abducted bride, handsome rogue, and of course, a fiery dragon!
I am Dragon is based on the 1996 fantasy novel, The Ritual, and subsequently became the overall highest-grossing Russian film of 2016.
4 Dragon Figurines for Hardcore Dragon Fans
21. Dragon & Daenerys Funko POP! Action Figure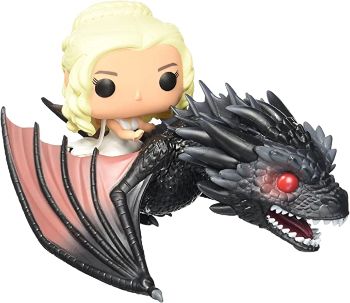 If they can't get enough of the Mother of Dragons, then get them this Dragon & Daenerys action figure to add to their workspace, bedroom, or Funko Pop! collection.
Funko Pop! also has action figures of the Night King on Dragon and of Jon Snow with Rhaegal.
22. Dragon with Sword Collectible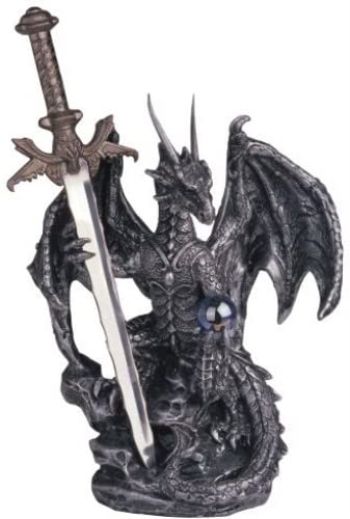 This figurine serves a double purpose. First, it will make their workspace the most badass in the office, and second, the detachable sword acts as a letter opener as well!
The debate about aesthetics vs. functionality is over because this figurine has both.
23. Guardian of Bibliophiles Dragon Trinket Box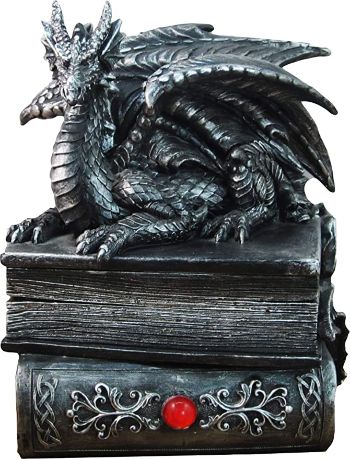 This dragon trinket box may be the only thing missing from your giftee's home library. Aside from adding flair to their space, it's also functional and has a secret compartment underneath the dragon.
After all, what's a better way to protect their treasures than by hiding them in a dragon's lair!
24. Medieval Dragon Utility Holder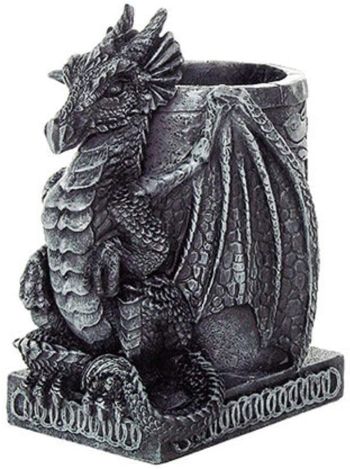 Keep all their writing essentials in this stylish dragon organizer. The details and quality of this item are phenomenal since it's sculpted from premium resin and individually hand-painted.
Your giftee can use it to store pencils, pens, makeup brushes, and whatever else they like.
The Most Majestic Dragon Gifts for Every Dragon Fan
Dragons are mystical creatures that continue to attract and captivate a lot of people's attention. The items listed here are not only cool but practical as well, making them the best dragon gifts you can give to a dragon fan. These will be a sure-hit for dragon lovers of any age.
Which among these dragon gifts do you think your giftee will love the most? Share in the comments below!
Looking for more gift ideas? Check out this post about the best gifts for Dungeons and Dragons fans!