Searching for the ripe avocado gifts for the avocado lover in your life? You've come to the right place, as I've handpicked the creamiest avocado gifts you can ask for.
Avocado is a versatile fruit that's mostly used in savory dishes, though avocado enthusiasts will attest that desserts made with avocado are just as delicious!
Packed with vitamins and minerals, the avocado is considered by many nutritionist experts as a superfruit, which refers to foods that provides maximum nutrients for minimal calories.
Avocado lovers will appreciate any of the gifts below, which vary from avocado-themed stuff to hot sauces made of avocado, and much more.
8 Avocado Items and Accessories
1. Avocado Heating Pad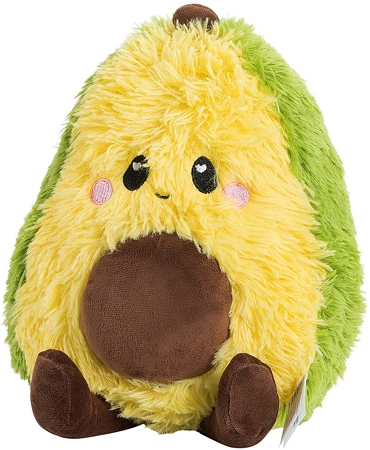 Get this adorable avocado for the people in need of a companion to hug during the cold weather.
This is not an ordinary plushie, though, because it also acts as a heating pad when heated in the microwave, making it perfect to relieve any aches, cramps, or stress.
2. Avocado Waterproof Stickers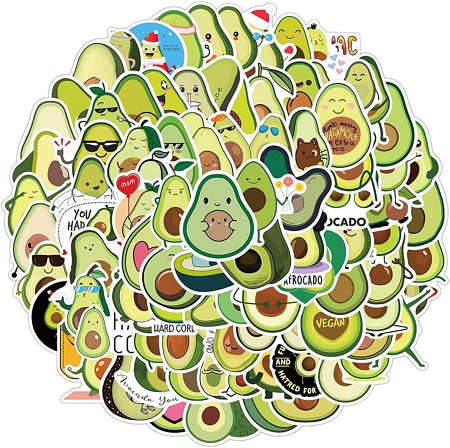 Tell me you're an avocado lover without telling me you're an avocado lover.
Your giftee can easily do that by placing these avocado waterproof stickers on their phone case, luggage, or even cups.
3. Avocado Silicone Case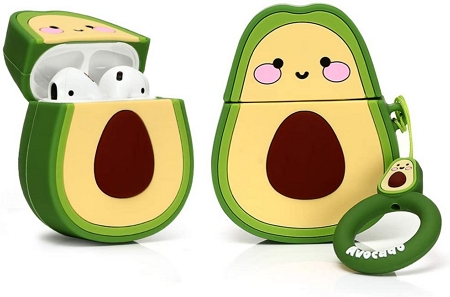 Don't you just hate it when you misplace these thumb-sized earphones and spend precious minutes searching for them?
If your avocado-loving recipient experiences that often, then this avocado silicone case is perfect for them. It will keep their earphones warm and cozy, ready for the next music listening experience.
4. Avocado Stress Ball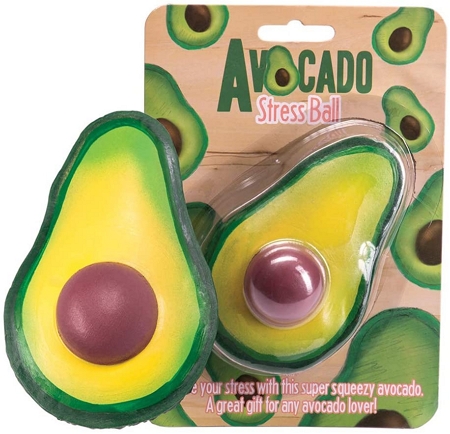 If eating their favorite food of all time isn't enough to take away the stress, an avocado stress ball might just do the trick.
People who love to fidget with stuff can now do it with their favorite thing. This squishy avocado is only four inches long so it can easily fit in any type of bag.
5. Avocado 3-Piece Kitchen Set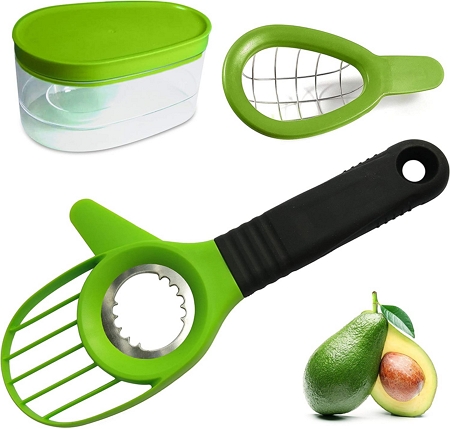 Stop cutting avocados with a knife and scooping them out with a spoon, and get this 3-piece kitchen set for your avocado lovers.
The set includes a multipurpose tool that cuts the avocado, pits the seed, and slices it into pieces; an avocado dicer; and an avocado container specifically designed to contain an avocado with the seed still intact, which helps it from turning brown.
6. Avocado LED Wire Lights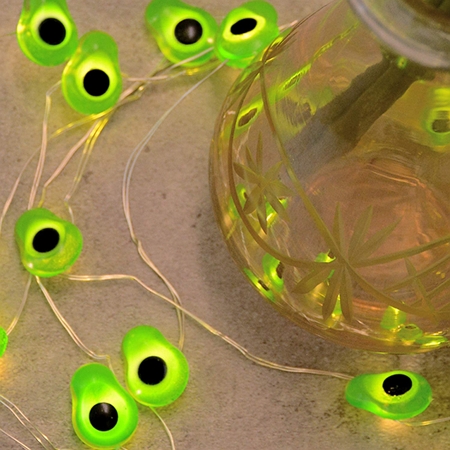 Since they love avocado so much, get your giftee these avocado LED wire lights to brighten up their room and really feel the creamy motif.
These 12-foot string lights can be easily placed in tight spaces and looped around objects, perfect for when your giftee is having an avocado party.
7. OXO Avocado Tool

I know using a fork is an easy way to mash avocado to make guacamole, but why mash it with a fork when it can be mashed with a tool that also acts as a spatula?
This sturdy 2-in-1 tool isn't only useful for mashing avocados, but also for potatoes, ground meat, or anything that needs to be mashed.
8. Guacamole Bowl with Spoon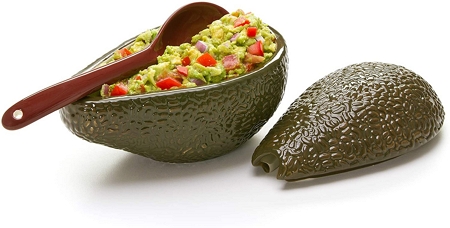 Serve guacamole in the most appealing bowl they could put it in. The bowl, made of hand-painted ceramic, reminds me of deviled eggs, which are made by taking out the yolk, mixing it with other ingredients, and putting it back in with the whites.
This avocado set, which includes a bowl, lid, and spoon, is sure to stand out at any party.
7 Gifts for Avocado Lovers
9. "Avo Cardio" Shaker Bottle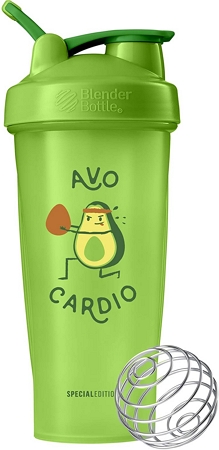 Help gym rats achieve those gains by giving them an inspirational "avo cardio" shaker bottle.
This 28-oz shaker bottle, which comes with a stainless steel Blender Ball that dissolves protein powder much faster, is BPA-free and can be safely placed in any bag because its leak-proof.
10. Avocado Growing Kit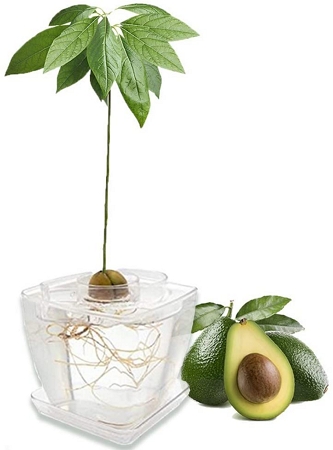 Passionate avocado aficionados can now sustainably grow their favorite fruit in their backyard (or even indoors) with this AvoSeedo starter pack, which contains a pot, a saucer, an AvoSeedo, and three flags.
The only thing that your giftee needs is an avocado seed, of which surely they'll never run out of stock.
11. Avocado Hot Sauce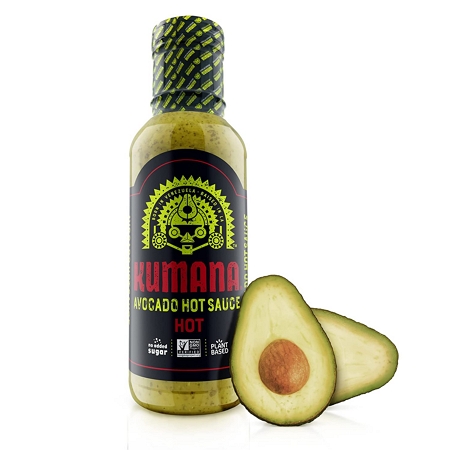 When in doubt about the flavor of the food, just put some hot sauce on it. Avocado lovers and hot sauce enthusiasts will appreciate this avocado-flavored hot sauce.
Even though avocado already has a creamy texture, this hot sauce pairs perfectly with greasy food, such as burgers, pulled pork sandwiches, and any type of meat that needs a touch of acidity and a little bit of kick.
12. "I Love Avocado" Engraved Spoon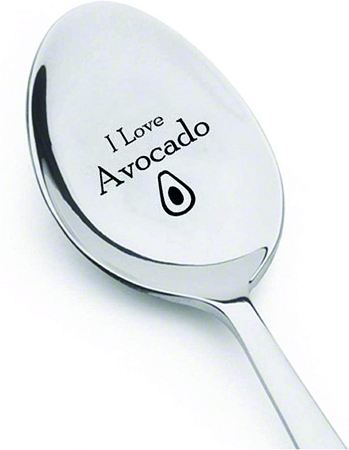 This spoon says it all for your giftee. "I Love Avocado", 'nuff said.
The engraved spoon is made of food-grade stainless steel that's dishwasher safe, making it the perfect utensil to scoop avocado with.
13. Avocado Oil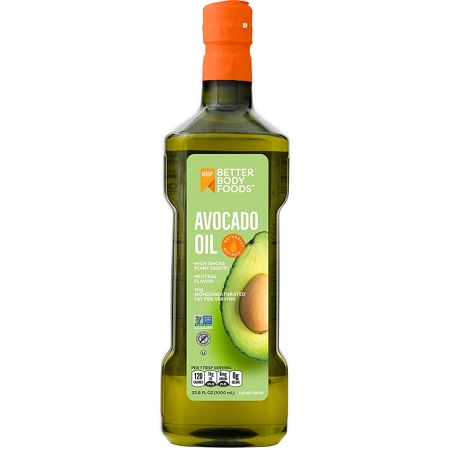 As mentioned before, avocado is full of monounsaturated fats. Avocado oil has a higher smoking point than most vegetable oils, so it's a great oil choice for deep frying or maintaining your cast iron skillets.
The con is that avocado oil is on the pricier side of oils, so an avocado oil gift received by your recipient will be much appreciated and cherished.
14. Guacamole Herb Blend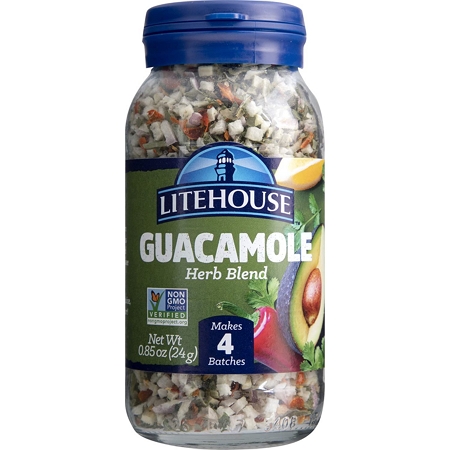 Anyone who loves making guacamole can now make their favorite dip with this guacamole herb bled without the hassle of chopping all the ingredients.
The herb blend can be added to breakfast burritos, scrambled eggs, and many more.
It might not taste as fresh, but it's a great option when you wanna make guac on the go.
15. The Avocado Show by Julien Zaal and Ron Simpson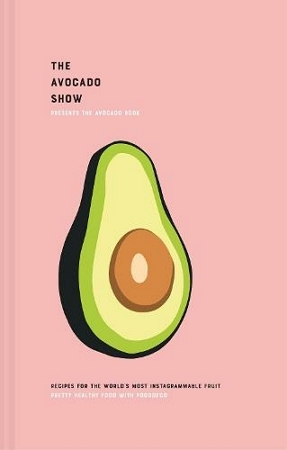 An avocado enthusiast might only know a couple of recipes, like guacamole or avocado on toast. But a simple book can revolutionize the way they think about the avocado.
Containing over 60 ways to transform the avocado, this recipe book by Julien Zaal and Ron Simpson will expand their culinary repertoire and deepen their connection with this superfood.
8 Avocado-Themed Gifts
16. Avocado Slippers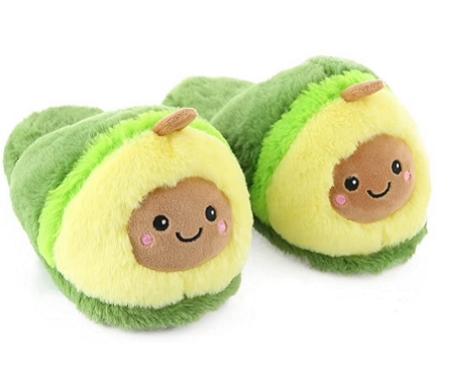 Avocados might be creamy and slippery but your recipient won't have a problem walking around the house with these adorable avocado slippers.
Just like eating their favorite fruit, your recipient will feel relaxed in these soft and comfortable slippers that will keep them warm and cozy on those cold nights.
17. Avocado Dad T-Shirt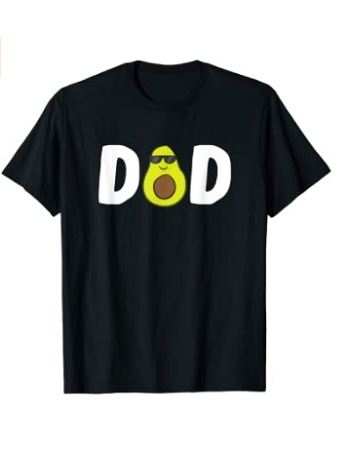 Here's a simple t-shirt for the dads who love eating avocados. This is lightweight t-shirt is a great gift option for baby showers and for dads who love avocado in general.
18. Avocado Coin Purse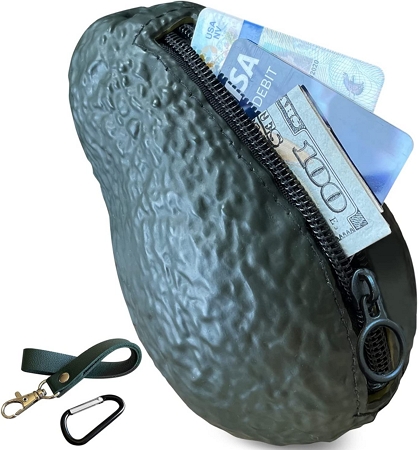 Get your recipient a very unique coin purse that safely stores their gas money, credit card, and IDs. A thief wouldn't even suspect that there are valuables in this fake avocado made of silicone!
It comes with a wrist strap to carry it around easily, as well as a carabiner to attach it to a bag.
This is also a great gift option for vegan friends who adore avocados.
19. Avocado Bandage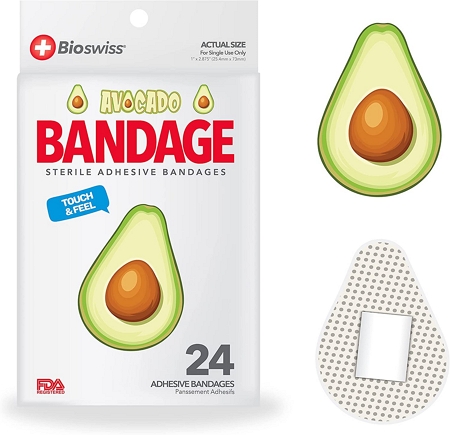 Here's a cute gag gift for all the avocado enthusiasts out there who frequently get a cut while slicing their favorite fruit. The bandage promotes quick healing for any scrape or cuts since antibiotic creams can be applied on the non-stick center.
20. Pajama Set with Avocado Design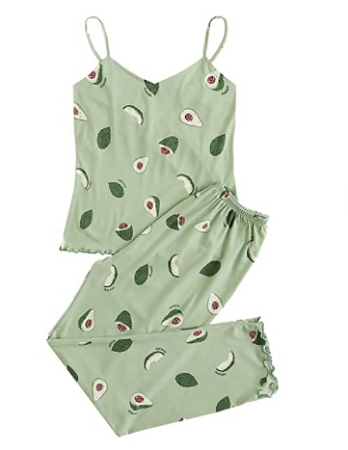 Those who would love to dream about avocados should get this avocado-themed pajama set for women. The fabric is comfortable enough and contains enough avocado images to provide a good night's sleep.
21. Avocado-Themed Socks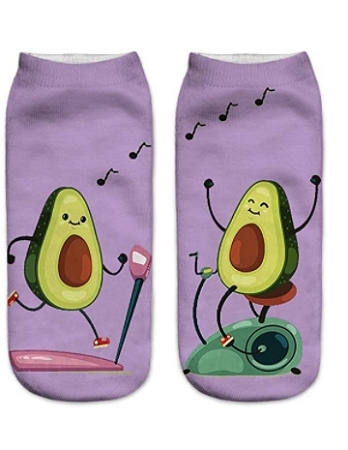 A list of avocado gifts wouldn't be complete without pair of avocado-themed socks to give to your avocado-loving friends.
These socks, made of polyester and cotton, are breathable and comfortable, and they come in six pairs, each with a unique and eye-catching avocado design.
22. Clay Mask with Avocado Scent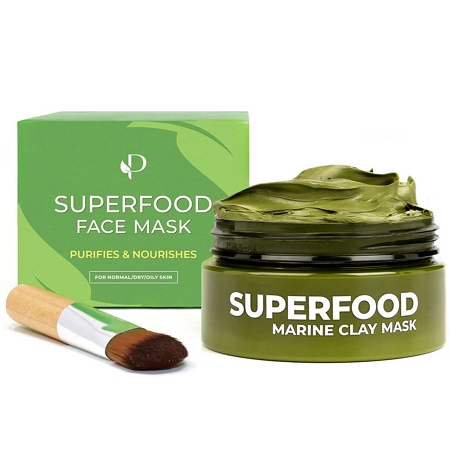 Those avocado aficionados who are meticulous with their skincare routine will be happy to receive an avocado-scented clay mask that will rejuvenate their skin.
The herbal mask leaves the skin moisturized and can prevent acne and any skin breakout when applied a couple of times a week.
23. Avocado Towel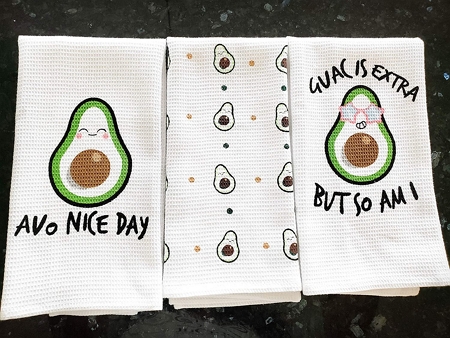 Here are some avocado towels that are perfect for your recipient's kitchen after making a mess with their guacamole recipe.
I Hope You Avo Good One!
I hope this list helped you in selecting the ripe avocado gift for your recipient. With plenty of gift options on the list, ranging from starter kits that gives them a chance to plant their own avocado to convenient guac herb mixes, I'm sure they wouldn't have any other gift.
Find more unique gifts by checking out our other gift ideas: