Turning 60 is such a milestone, and the 60 year old women in your life deserve to be happy! At this point in life, though, she might already have everything. So, what do you get a 60 year old woman who has everything?
Don't worry, there are still some lovely and thoughtful gifts you can give her. Below are 23 gifts for the 60 year old woman who is near and dear to your heart.
5 60th Birthday Gift Ideas for Mom
For the mom who is turning 60, here are 5 gifts to draw inspiration from to show her how much she's loved.
1. Mother – Daughter Necklace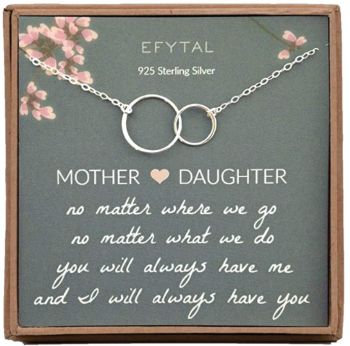 If you're a mama's girl, then get your 60 year old mom this interlocking circle necklace to remind her of your strong bond wherever she goes.
2. Compact with a Lovely Message for Mom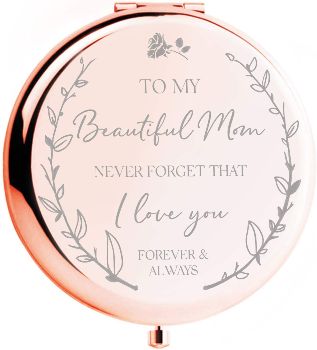 Moms are special, and this short and sweet message tells her how much you'll always love her every time she does or fixes her make-up.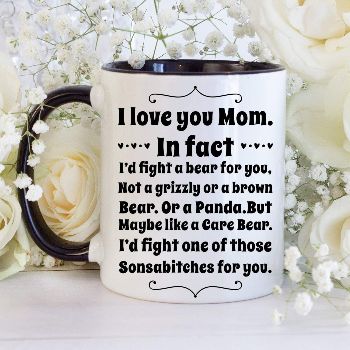 Get mom a mug with a fun and lovely message. While you're not really going to fight an actual bear, she'll understand that it's the thought that counts.
4. Encouraging Statement Tumbler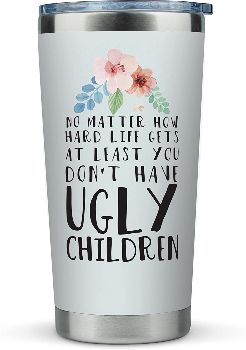 Is life bogging her down a bit lately? Remind her that at least she mothered incredible and good looking children with this funny travel tumbler that will help her get through her day with a smile.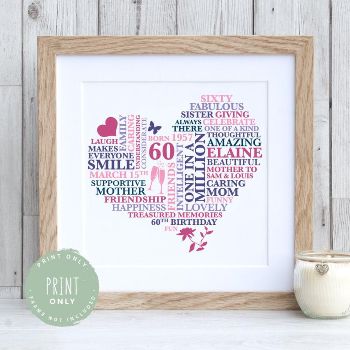 Give mom this creative text collage for her 60th birthday. Aside from her name, age, birth date, and childrens' names, you can include various adjectives to describe how awesome she is.
10 Unique 60th Birthday Gifts for Her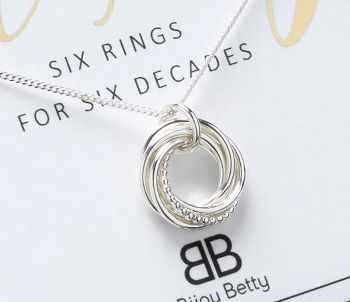 This symbolic necklace will go well with whatever she wears to celebrate her 60th birthday. Rings symbolize eternity, so this necklace will be a wonderful gesture for continued joy in life.
7. 60th Birthday Charm Bracelet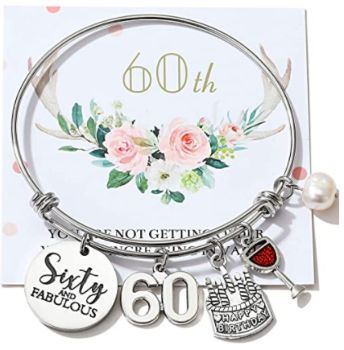 Keeping it sweet and simple at 60, this charm bracelet will let her show the world that she is sixty, and that she is indeed fabulous!
8. Morse Code Bracelet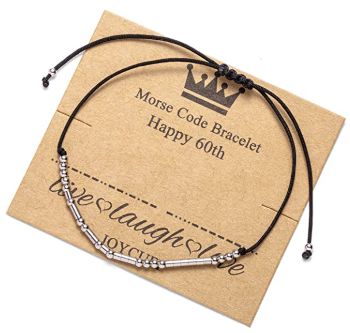 For an even simpler but more unique gift, here's a morse code bracelet. The beads and lines spell out "Happy 60th" in morse code. How cool is that? It's a neat bracelet for the minimalist 60 year old woman you know.
9. The Ultimate Retirement Bucket List by Sarah Billington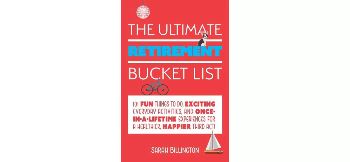 If the 60 year old woman you know recently retired, here's a bucket list book that'll keep her busy if she gets bored or is looking for exciting adventures.
10. Kit-Cat Clock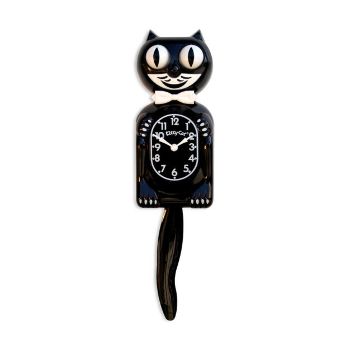 Give her a throwback to childhood with this classic and iconic Kit-Cat clock. These Kit-Cat clocks were introduced in the 1950s and became very popular in the 1960s, around the time she would have been a young girl. She probably even had one growing up!
11. Willow Tree Beautiful Wishes Angel
Give her a thoughtful hand-carved decorative angle figurine from the popular company Willow Tree to bless her on her big day and the days to come.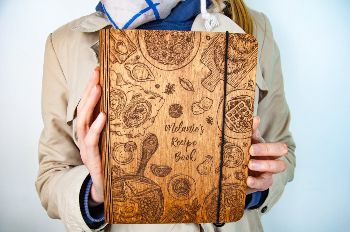 Whether you want to give her a binder for her recipes or a place to jot down her thoughts, this personalized wooden book binder is a unique gift she'll appreciate because of the effort that went into its customization.
With 12 styles to choose from, there's definitely something for everyone!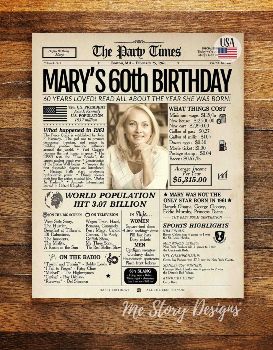 Has she ever wanted to be on the front page of a newspaper? Then here's her chance! Get her this unique faux newspaper poster that features her photo on the front page as well as other interesting facts and events that happened the year she was born.
14. Stylish Liquor Flask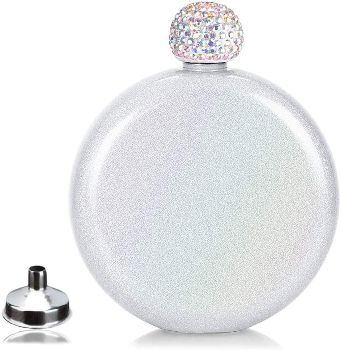 Get that 60 year old lady you know a cute and shimmery flask to take her favorite liquor wherever she goes. It's small and portable enough to fit in her bag, and comes with a funnel for easy refills.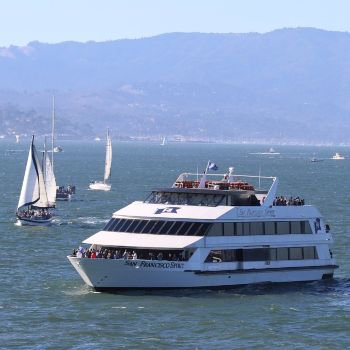 OR, in probably the most exciting item on this list, get her this champagne brunch cruise experience! If you live close to San Francisco, or are planning a trip there soon, then she can celebrate her 60th birthday in an epic way.
Complete with sightseeing on a cruise ship, bubbly champagne, and delicious brunch eats, this is sure to be a memorable way to kick off the next decade of life.
8 Funny Birthday Gifts for a 60 Year Old Woman
If she has a sense of humor, then these 8 funny 60th birthday gifts will definitely warm her heart.
Nothing beats a classic greeting card. It's a simple and personal gift to give the 60 year old woman to share your well wishes for her on this special day. Plus, the text in the front reminds her that she is just 21 with years and years of experience.
17. 60th Birthday Shirt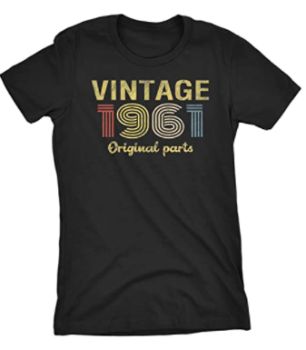 She is authentic! She is vintage! And she has been aged to perfection! Doesn't matter what it is – this shirt shows the world that she has been in mint condition since the day she was born.
18. "Looks/ Feels/ Acts" Makeup Bag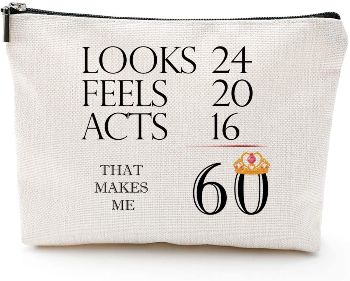 Turning 60 is a combination of different ages, and this bag shows them all! This makeup bag is a nice and useful gift to store make-up, money, or whatever other essentials a 60 year old woman carries with her.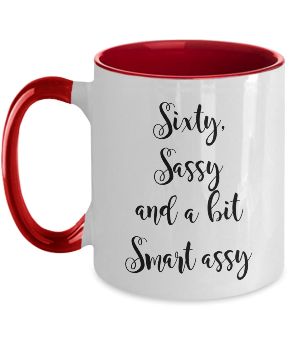 Here's a bit of a tongue twister. Let her showcase her sass when she drinks her morning tea or coffee with this sassy and smart assy mug for her 60th birthday.
20. "Is You 60?" Wine Glass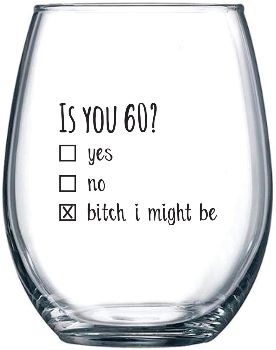 People should really never ask a woman her age. This wine glass will keep people from asking her about her age while she enjoys some birthday wine without a care in the world.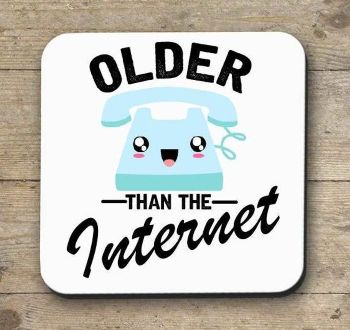 Here's a nice coaster to put that wine glass on. While this might make her feel really old, it's a really neat reminder of how much she's seen the world change.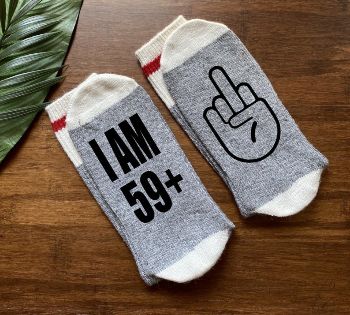 Here's a pair of socks that'll really get people to lay off the age questions.
23. 60th Birthday Gag Toilet Paper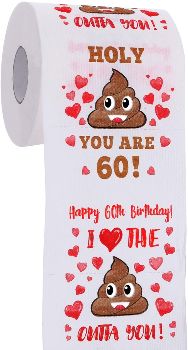 Turning 60 is a milestone, so remind her of that with this hilarious toilet paper. Aside from being reminded that she is now 60, it also reminds her that you love the s**t out of her, too!
Best Gifts for a 60 Year Old Woman Who has Everything
While she may have everything, these gifts will still put a smile on her face, and knowing that one of these 23 gifts for 60 year old women came from a person who loves her will warm her heart as well.
Any important women in your life turning 60 soon? Which of these gifts would she enjoy the most? Let me know in the comments below.
If that 60 year old is a coworker with a birthday coming up, then check out my article on gifts for coworkers for more gift ideas.