Are you looking for a 22nd anniversary gift for your spouse or a couple about to celebrate their 22 year anniversary? There is no traditional theme for a 22nd wedding anniversary, but modern gifts guides identify copper as the theme for the occasion.
While 22 years together may not seem particularly special, every year of marriage is still very much worth recognizing. How you choose to celebrate it is completely up to you and your partner.
Whether or not you choose to go big or small, make the day even more special by giving your spouse (or your favorite couple) a 22nd anniversary gift from this list.
11 Modern-Themed 22nd Anniversary Gifts for Couples
1. Handmade Anniversary Card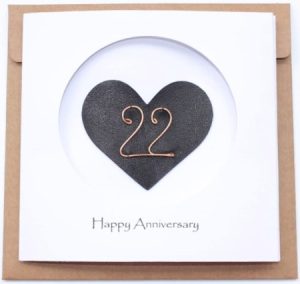 A card may be simple, but even the simplest gifts can go a long way, especially if you fill it with a heartfelt message saying how much you appreciate all 8,000 plus days with them in your life.
This 22nd anniversary card is made of copper, which goes with the modern theme. You can also pair this card with a box of their favorite treat, flowers, or a gift card to their favorite place.
2. Copper Champagne Flutes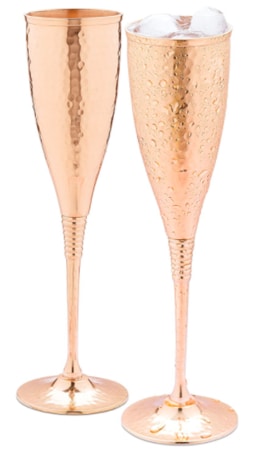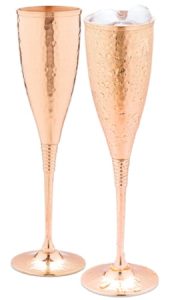 Give them these champagne flutes so they can sip champagne in style and toast each other for all 22 blissfully challenging years of marriage.
These flutes are handcrafted from the highest quality copper and coated in food-grade lacquer to keep them tarnish-free.
3. Copper Bowl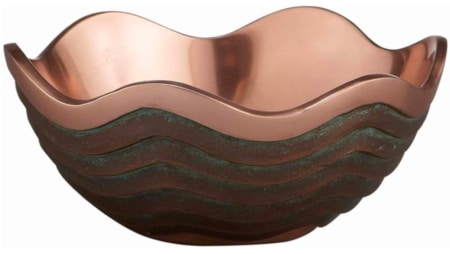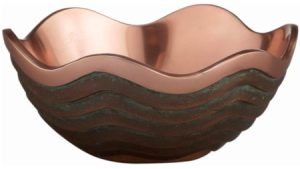 This copper bowl from Nambe's Copper Canyon Collection is a one-of-a-kind art piece by designer Lisa Smith.
This bowl features different textures and colors, and the naturally occurring patina differs with each bowl, make each one truly unique.
This bowl comes in three different sizes to serve different needs. With proper care, this is one 22nd anniversary gift that will last a lifetime.
4. Copper Lock and Key Keychain Set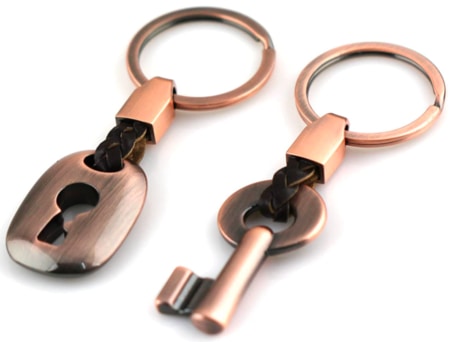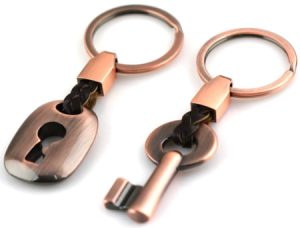 Because just like this lock and key keychain, they really do belong together. Cheesy, I know. But it's sweet.
This copper finish couple keychain is made from zinc alloy and braided top grain leather. The perfect 22nd anniversary gift for the couple who still enjoys being with each other after all these years.
5. Copper Wall Clock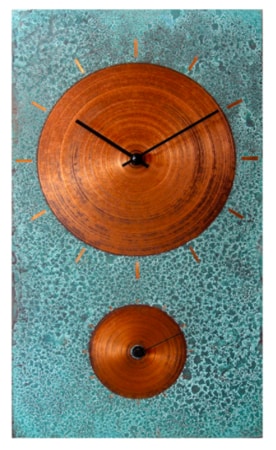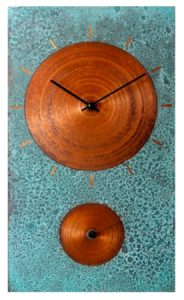 If you're looking for something unique that will instantly enhance any space in their home, give your favorite couple this beautiful copper wall clock/wall decor.
Each clock is handmade and since it's 100% copper, the patina will have a different pattern every time. This clock will surely be a conversation piece.
6. Personalized Copper Art Print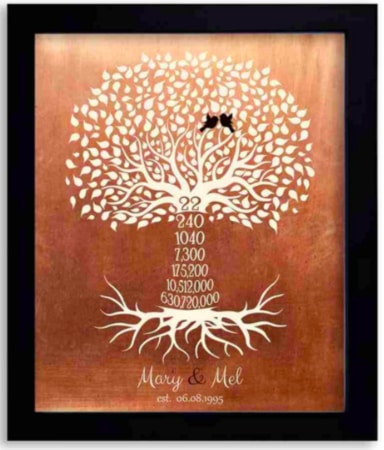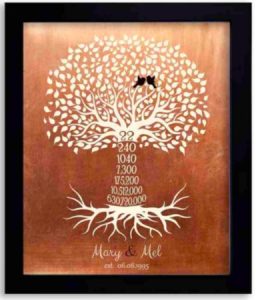 If your favorite couple enjoys decorating, how about this personalized faux copper art print? Aside from the couple's name and anniversary date, you can also include a thoughtful message to make the print more personal.
This print already comes with a wood frame, a sawtooth hanger, and is available in three colors.
7. Copper Stemless Wine Glasses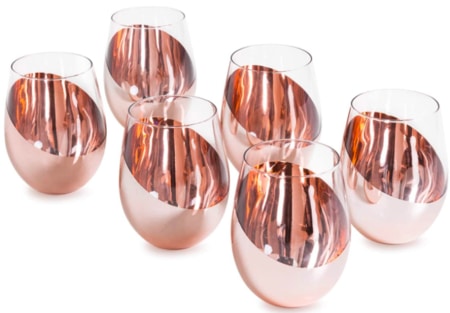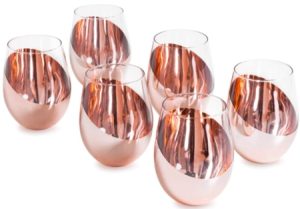 Another great 22nd anniversary gift is these stemless wine glasses. This set comes with six 18-ounce glasses with a diagonal copper tone plating at the bottom that adds a touch of modern elegance to any dinner party or wine tasting.
These glasses are hand wash only to maintain luster.
8. Copper Candle Shade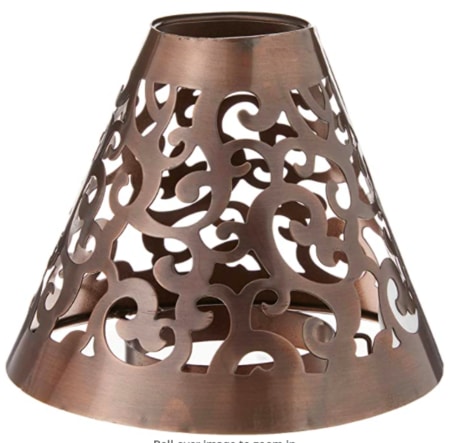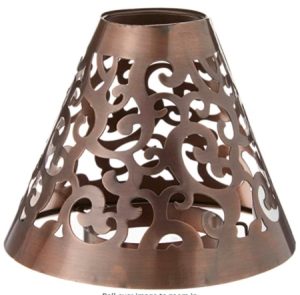 This Victorian-style copper candle shade will add a warm glow for at-home dinner dates and intimate gatherings with friends. This is a great gift for the couple who enjoys quiet nights relaxing at home.
9. Copper Salt and Pepper Mill Set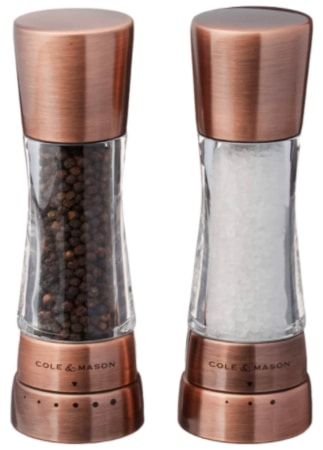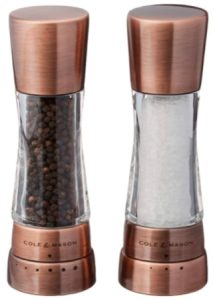 Give your favorite couple these copper salt and pepper mills to make them feel like professional chefs in their own kitchen.
What's great about these mills is the spice control feature with six different settings that allows them to produce fine powders to coarsely ground salt and pepper chunks, depending on what the recipe calls for.
10. Copper Cuisinart Coffeemaker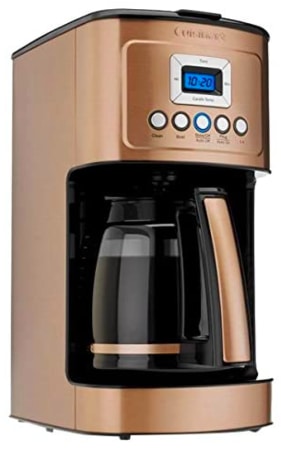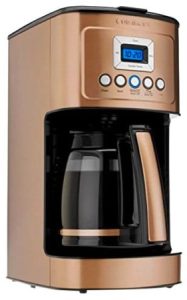 For the coffee-loving couple, this copper Cuisinart PerfecTemp coffeemaker is a gift they're both guaranteed to enjoy. Not only is this device capable of brewing hotter coffee, but it also has brew strength control that allows them to choose either regular or bold flavored coffee.
Plus, it's fully automatic so they can both wake up to the smell of coffee every morning which, in my opinion, is the perfect way to start the day.
11. Copper Measuring Cups and Spoons Set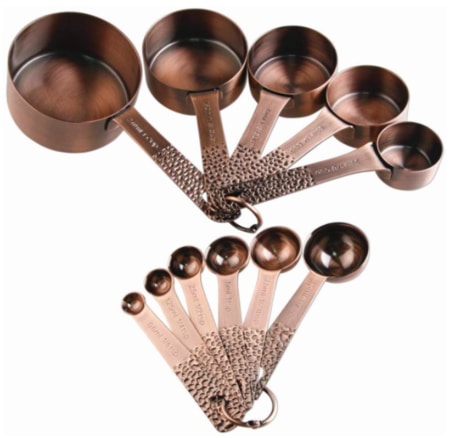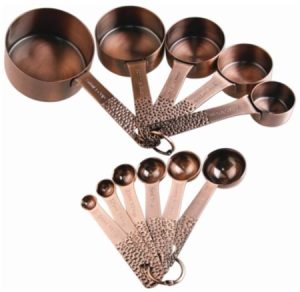 If baking has become their favorite quarantine bonding activity, then this set of measuring cups and spoons will be a welcome addition to their kitchen.
Not only are they beautifully made with hammered handles, they also have accurate U.S. and Metric measurements engraved on the handles.
Both the cups and spoons are made from stainless steel with a copper finish.
8 Lovely 22nd Wedding Anniversary Gifts for Her
12. Handcrafted Metal Rose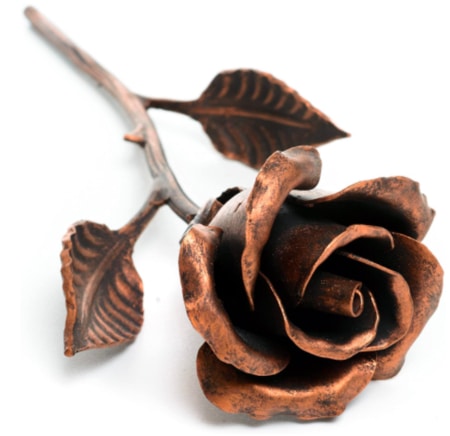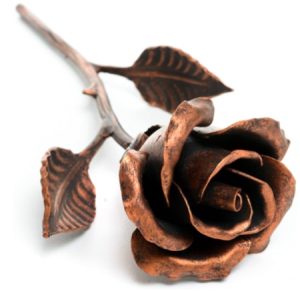 Instead of giving her the usual bouquet of fresh flowers, how about this single handcrafted metal rose? It's still as beautiful as the real thing, but it will keep forever.
This rose is made from metal with a copper patina so it hits the 22nd anniversary gift theme. Plus, it will look good placed next to her nightstand or her desk at work.
13. Triple Metal Ring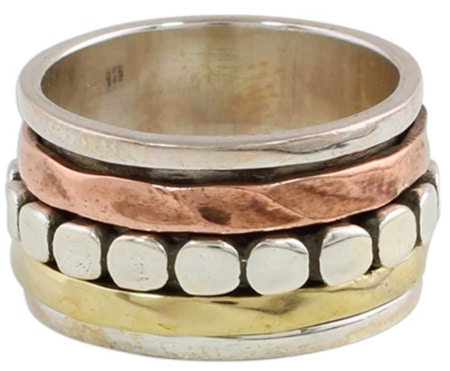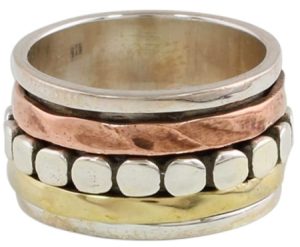 If you're thinking about getting your spouse jewelry but are scared of the price, give her this triple metal ring by NOVICA.
This company is fair trade and works with different artisans from different parts of the world for unique statement pieces that won't break the bank. This ring is made in India from 92.5 sterling silver with brass and copper bands.
14. Copper and Silver Dangle Earrings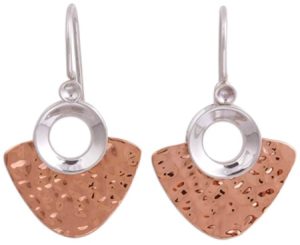 Another beautiful handcrafted NOVICA jewelry option is this combination of copper and sterling silver dangle earrings from Mexico.
While it's a statement piece, these earrings can easily become one of her favorites since it's still subtle enough to be worn for any occasion – from date nights to formal parties, the possibilities are endless.
15. Apple Watch Band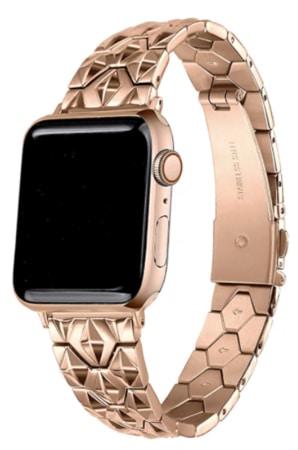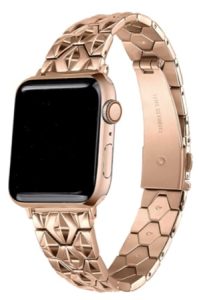 If she already has an Applewatch, there's no better way to dress it up than this copper-finished, diamond-cut stainless steel watchband.
This band works for both casual and more dressy occasions so she doesn't have to leave her watch at home. Plus, this band comes with a resizing tool, so she can easily remove some of the links for a better fit.
16. Copper Cuff Bracelet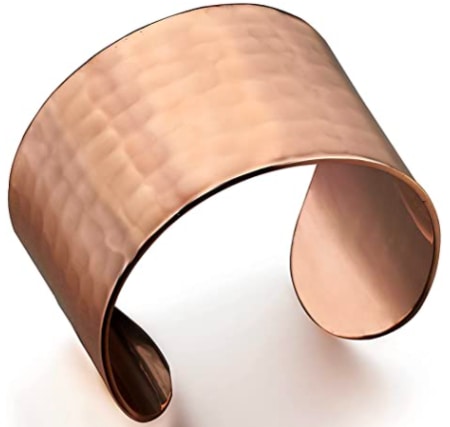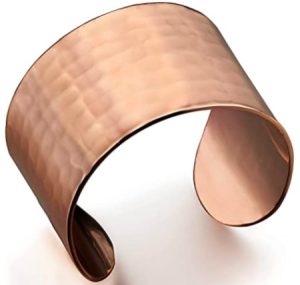 Still keeping with the modern 22nd anniversary theme is this hammered pure Turkish copper cuff bracelet. This bracelet does not contain other metals and coating, so it will provide the maximum therapeutic benefits of wearing copper directly on the skin.
This cuff is a one-size-fits-all and is available in 0.6 and 1.6 inches width.
17. Copper Water Bottle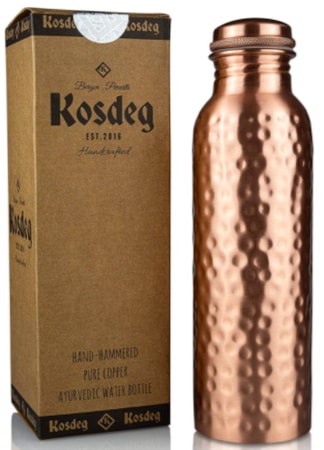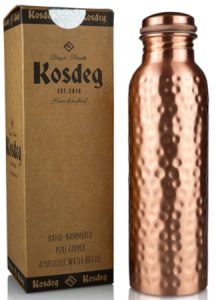 If your spouse often forgets to drink enough water throughout the day, give her something both handy and beautiful. Something that she won't hesitate to carry around.
This 1-liter water bottle is made from 100% copper so it's perfect for the occasion. It has a beautiful hammered body with a wide mouth that makes it easier to wash.
18. 22nd Anniversary Mug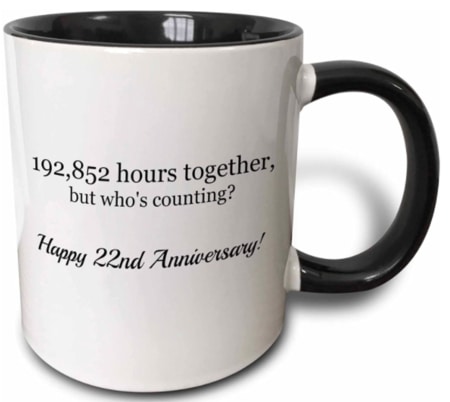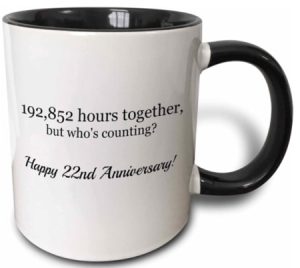 Coffee drinkers can never have enough mugs. If your spouse loves her coffee, this simple but sweet ceramic mug will be a great addition to her collection.
It doesn't matter if she already has a favorite mug. She can have more than one, trust me. This mug is microwave-safe, but hand washing is recommended to preserve the print.
19. Aromatherapy Gift Basket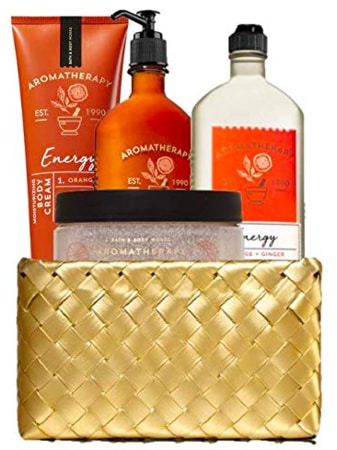 Another great 22nd anniversary gift idea is self-care gift baskets to pamper her and help her relax after a long day.  Give her this Bath and Body Works Aromatherapy gift basket so she can recharge.
This set contains a body cream, lotion, body wash, and a body scrub infused with orange and ginger essential oils that soothe her mind and lifts her mood.
7 Thoughtful 22nd Anniversary Gift Ideas for Him
20. Copper Decorative Paperweight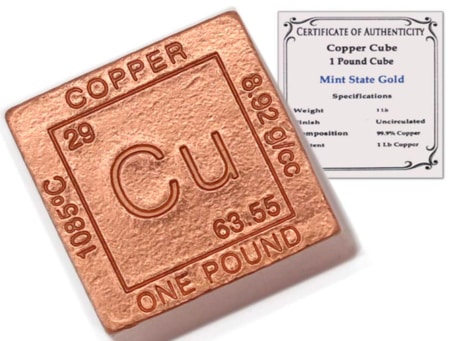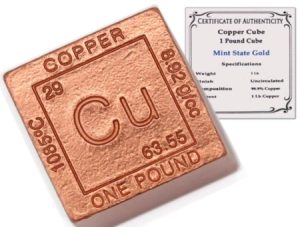 A great anniversary gift is something unique and unexpected, like this certified 99.9% copper cube that would look great as a paperweight or decorative item on his desk.
This cube is engraved with the copper symbol from the periodic table, weighs 1 lb, and comes with a  velvet pouch.
21. Copper Cuff Links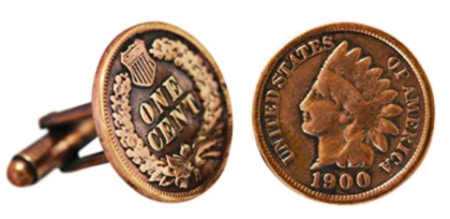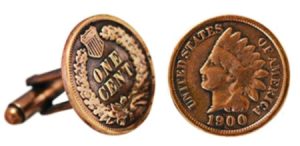 If your husband is a history buff and collects war memorabilia or coins, he'd love these copper Indian head penny cuff links.
They're made from real U.S. coins with a copper layer and even come with a certificate of authenticity. These cufflinks are a piece of history they can wear for work or formal occasions.
22. Fossil Watch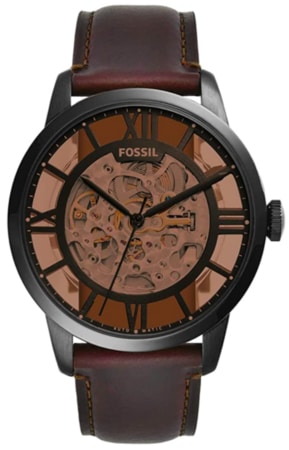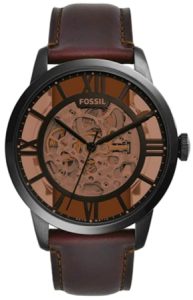 If he's been wearing the same watch forever, then it's time for an upgrade. Get him this Townsman Automatic watch from Fossil. What's cool about this watch is the see-through dial that shows the internal mechanisms both from the front and back.
Its genuine leather straps are interchangeable with other 22mm Fossil watch bands. This watch is suitable for short recreational swimming, but not for diving or snorkeling.
23. French Press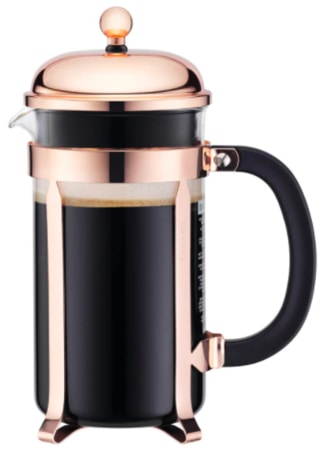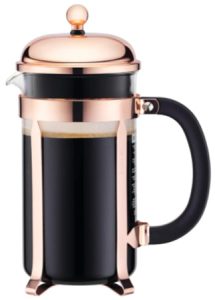 If your significant other is very particular about how he wants his coffee, give him this copper-finished french press. It will come in handy for camping, hiking, or fishing trips where good coffee is essential.
All they need is some hot water and their favorite coffee grounds, and they're all set. Plus, this press is big enough to make eight cups of coffee at one time so it's big enough to for sharing.
24. Fine Point Copper Pen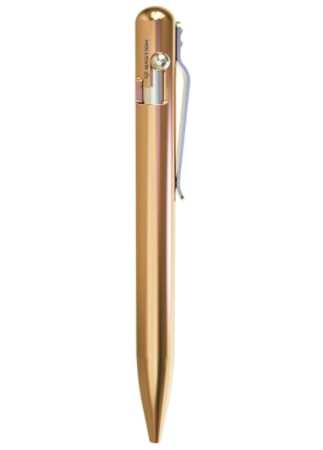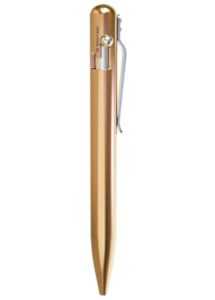 No matter how much we rely on gadgets and electronics for our writing needs, a nice pen is always a good gift idea. For your 22nd wedding anniversary, give your spouse this  sleek and stylish retractable ballpoint pen from Bastion.
This pen is refillable and is made from uncoated copper, so it will patina over time (but with proper cleaning, it will maintain its shine).
25. Stainless Steel Tumbler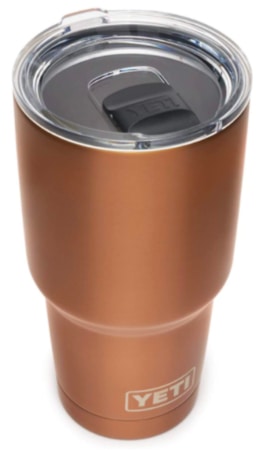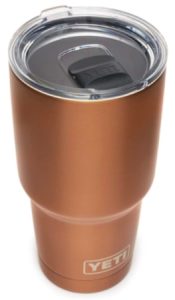 The last copper-related item on this 22nd anniversary gifts list is this YETI Rambler stainless steel tumbler. This tumbler is a pro at getting a lot of coffee fiends through their day by effectively keeping their morning coffee hot (or cold brews cold) for hours.
This tumbler is also crackproof and dishwasher safe so the color will stay vibrant for a long time.
26. 22nd Anniversary Mug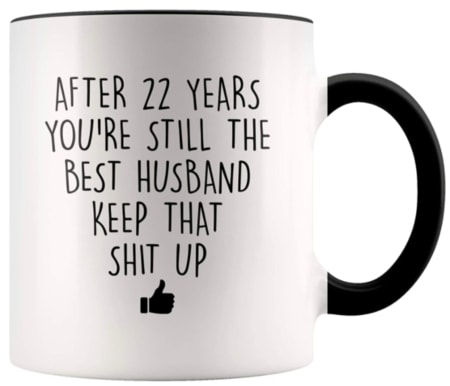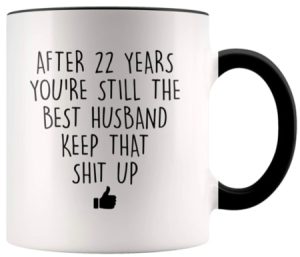 Rounding-off this 22 year anniversary gifts list is this sassy mug of encouragement for the best husband ever! It's cute, lighthearted, and since it comes from you, he'll appreciate the gesture.
Maybe even more so if you hand this to him with steaming coffee inside as soon as he wakes up on your anniversary morning.
Year 22 and Still Rocking It
Congratulations on making it to year 22! Everyone will agree that it's quite an achievement.
If you're looking for more gift ideas, check out our other equally awesome gifts list below. Have fun!