We can always count on our hairdressers to make us look beautiful. They're like our fairy godparents endowed with superpowers to transform us into stars. If you want to show your appreciation for them with something more personal than money, then choose one of these best gifts for hairdressers from this comprehensive list!
The gift items are grouped into two categories: gifts for hairdressers and salon warming gifts.
11 Gifts for Hairdressers
A ton of hairdresser-themed presents are on the internet, but do you know what items your stylist would actually like the most? Read on to learn what hairdressers really need and want!
1. Scissor Bangle Bracelet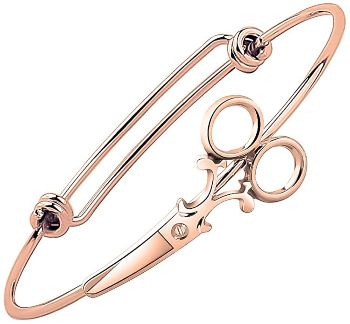 Thank your favorite hairdresser for all the fabulous haircuts they've given you with this precious scissor bangle bracelet.
This scissor charm bracelet is also perfectly sized, so wearing it won't be a problem even while they work.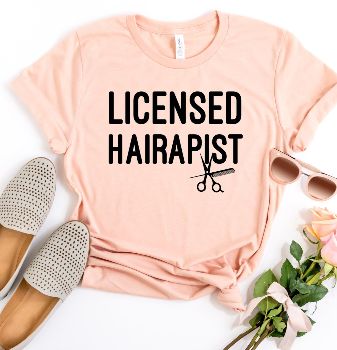 For your favorite hairdresser who has always fixed your hair problems, this witty shirt is a great present for them.
This unisex shirt is made with 100% cotton, making it super soft, comfortable, and perfect for everyday use.
3. Golden Scissor Hair Clips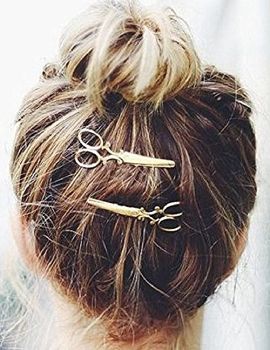 With these adorable hair clips, they'll always have a terrific hair day despite having a busy schedule!
Since these are chic accessories that are made from high-quality materials, they'll be able to use these for both special and casual wear.
4. Personalized Tumbler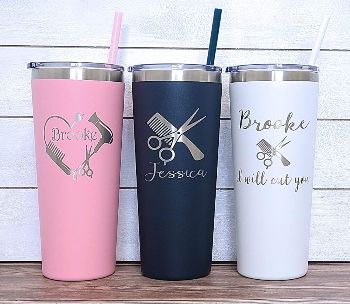 This personalized tumbler is multifunctional. First, it will keep your hairdresser hydrated all day long. Second, it will be a great addition to their station!
Choose from 11 colors and three cute designs.
5. Novelty Scissor Mug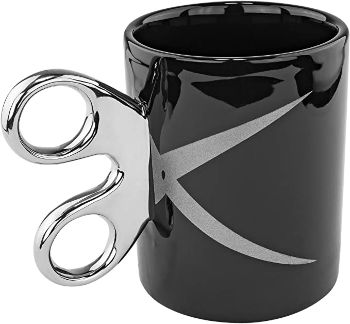 Hair emergencies happen anywhere and any time of the day. That's why hairdressers are like superheroes who must always be prepared and ready to jump into action whenever a hair disaster strikes.
A cup of coffee in this novelty mug will prepare them for any hair crisis that may come their way.
6. "Hair Life" Trucker Hat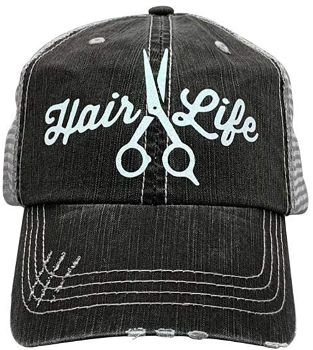 Even the best hairdressers experience a bad hair day once in a while. This stylish hat is one of the more versatile gifts for hairdressers and will give them a quick and easy fix, especially when they're on a tight schedule.
This trucker hat is made from 100% cotton and features an adjustable velcro closure and breathable back.
7. 3-in-1 Hairdresser Keychain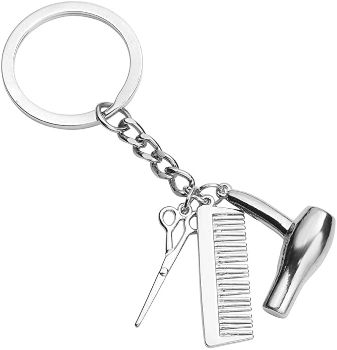 Give them a cute memento that will remind them of their passion for cosmetology wherever they go. This cute keychain includes a tiny hairdryer, scissors, and comb, and comes in three beautiful colors.
8. Hairdressing Bag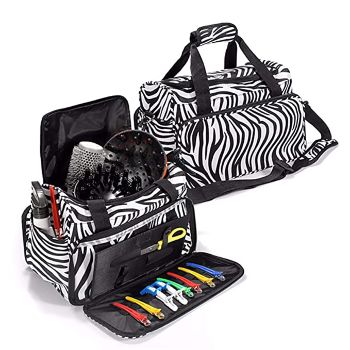 If your hairdresser is always on the go, this bag is perfect for them! It has a large capacity with many compartments where they can keep tools such as clips, scissors, brushes, and more.
9. Cosmetology Chart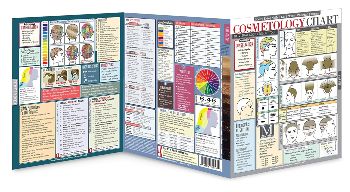 Is your giftee preparing for the licensing exam? This cosmetology chart will be their all-in-one reviewer.
It has step-by-step instructions and illustrations that will also be helpful when they're already practicing their profession.
10. Hair Stylist Vibe by Shirley Rose
If your giftee is planning on opening up a salon or is just starting out, this book will be a helpful guide on their new endeavor. It includes tips and tricks on how to get loyal customers, market a salon, and more!
11. You Don't Mess With The Zohan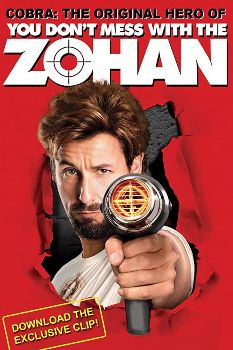 After a long day of making their clients look fantastic, it's time to relax and watch Adam Sandler's epic film, You Don't Mess With The Zohan.
It's a comedy film that follows the adventure of a counterterrorism agent who faked his own death to pursue his dream of becoming a hairdresser.
12 Salon Warming Gifts
Congratulate your giftee with these salon must-haves! Whether they're moving to a new salon or opening up their own, these gifts will help them in this new chapter of their life.
12. Metal Hairdresser Poster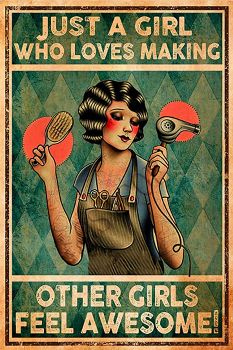 If your giftee has a vintage-themed salon, then this poster will be an excellent gift! This sign is made of heavy-duty metal and is rustproof, waterproof, and weather-resistant.
13. Client Profile Book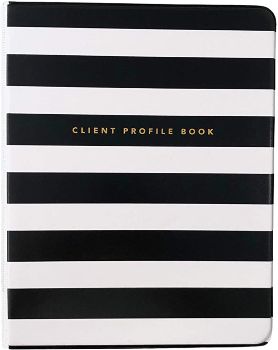 Organize their client records with this pretty profile book. It includes a binder and record cards that note their clients' names, hair conditions, and hair textures that will help your giftee prepare for every appointment.
14. Portable Rinse Basin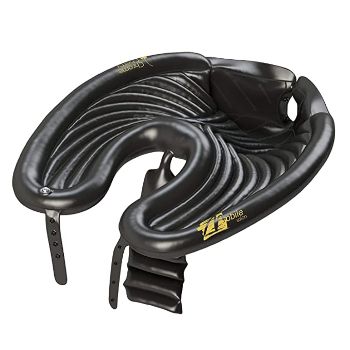 This portable rinse basin will bring them closer to having a mobile salon! With this basin, they can offer home beauty services.
Plus, it's very convenient since it's inflatable and compact and can be easily transported.
15. Accessories and Tools Organizer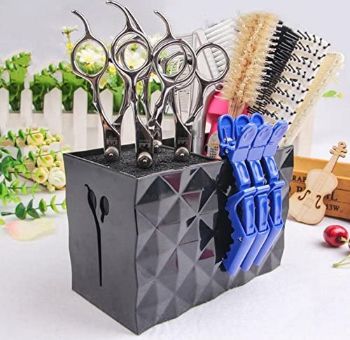 A hairdresser's space can get messy quickly, but they'll have a designated place for each tool with this organizer that will also save them a lot of time looking for what they need.
16. Heat Resistant Mat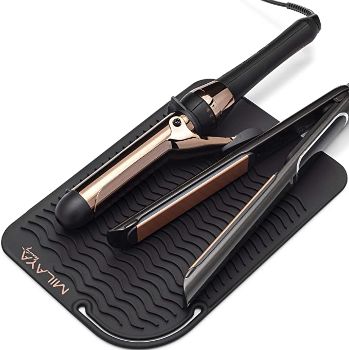 The last thing that the hairdresser in your life should worry about is causing a fire when they're working their magic on a client.
This heat-resistant mat will not only protect surfaces from heat damage, it will also keep the tools safely organized and in one place.
17. Salon Cape with See-Through Window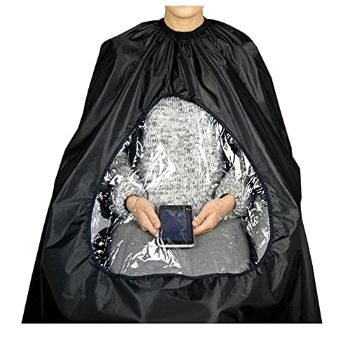 Their customers will appreciate this salon cape with a see-through window since they can be productive while getting their hair cut.
18. Hair Styling Set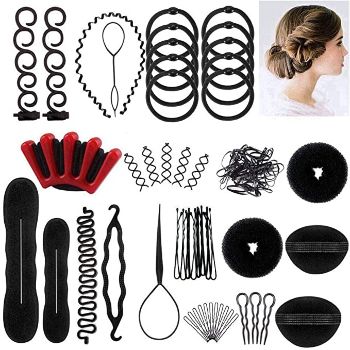 Complete their hair styling tools collection with this set! Each pack comes with bobby pins, hair clips, and braiding tools that will allow them to create unique and beautiful updo hairstyles for their clients.
19. Real Hair Mannequin Head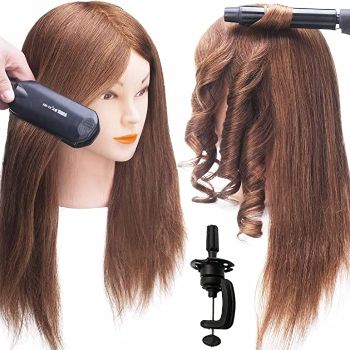 Practice makes perfect. With this mannequin head, your giftee can practice different haircuts and hairstyles to widen their portfolio. This mannequin head also has real hair, which is a huge plus!
Give them this Afro mannequin head so they can practice on a different hair type as well.
20. Hair Spray Bottle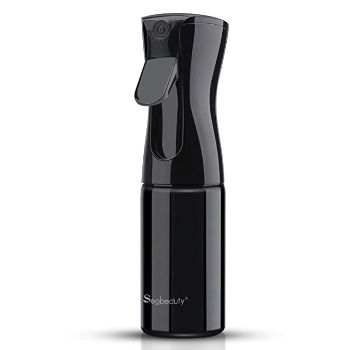 There are a lot of spray bottles on the internet, but this one is the best because of its ultra-fine mist spray pattern that distributes water evenly. The bottle is also airless, which prolongs the shelf life of hair mixtures.
21. Hairdresser Apron with Rhinestones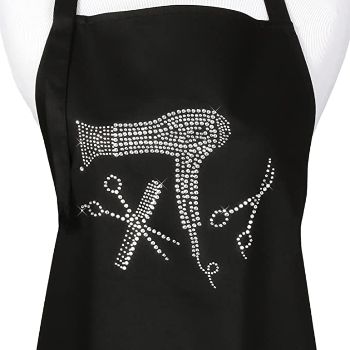 Is your giftee tired of plain and boring aprons? Dazzle it up with this lovely apron!
It's made with 50% cotton and 50% polyester and has three pockets that will fit their phone, business cards, and tools.
22. Hair Stylist Travel Case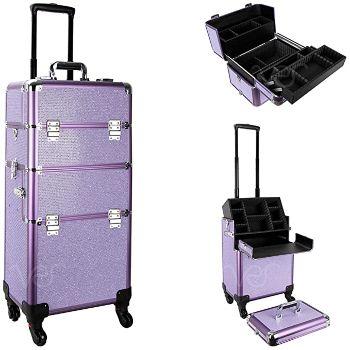 Give them a heavy-duty case where they can store all their makeup products and hair tools. It features removable cases and extendable trays for convenience. Plus, the heat-resistant exterior will protect their tools on the inside.
23. Anti Fatigue Mat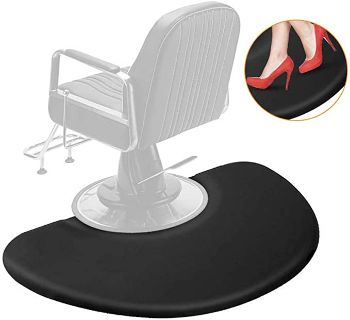 Standing for long periods of time can cause back and feet aches. This anti-fatigue mat will help lessen the stress and tension their body may feel.
This mat is high heel proof, so your giftee can still rock whatever footwear they want without compromising comfort.
The Best Gifts for Hairdressers
Whether it's a special occasion or just an ordinary day, it's always nice to show our appreciation to people who make us feel and look good.
Our hairdressers work hard to make us presentable and beautiful, so they deserve to be recognized for all their hard work, even with small but sweet gestures such as these amazing gift ideas.
Looking for more awesome gifts? Check out this article that has the best gift ideas for a coworker!