Are you looking for an amazing giraffe gift that will make the giraffe fan in your life happy? You're not alone.
Since giraffes are fun and adorable animals, a lot of people (regardless of age and gender) love these animals!
I've made this list specifically to help people like you on your search for the best giraffe gifts on the internet.
8 Giraffe Gifts for Adults
1. Giraffe Salt and Pepper Shaker Stand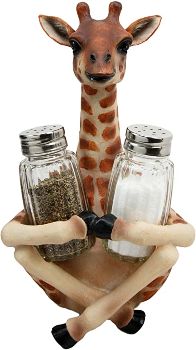 Spice up the kitchen with this giraffe salt and pepper holder! It's a unique and functional piece that every giraffe lover must-have.
Make this gift even more special by adding this cute spoon rest.
2. Wood Giraffe Coasters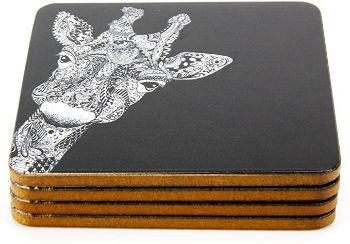 Avoid annoying water ring marks with these coasters. Since they're made from wood, the coasters are also odorless and absorbent. This set comes in round or square-shaped coasters.
3. Giraffe Wine Bottle Holder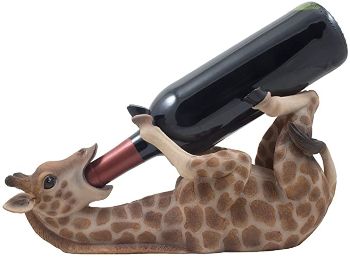 This wine bottle holder will add character and life to any countertop. It's beautifully handcrafted and made from polyresin, so it will hold most wine bottles steady.
Add a bottle of wine to complete the gift!
4. Giraffe Wine Bottle Stopper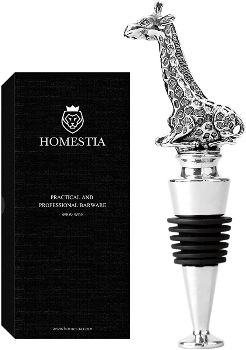 Preserve their leftover wine with this classy stainless steel wine stopper. The highly detailed design and pattern on this bottle stopper make it a great present for a giraffe fan.
The product is also made from eco-friendly and BPA-free materials, so drinking wine will be safer and guilt-free.
5. Giraffe Wine Glass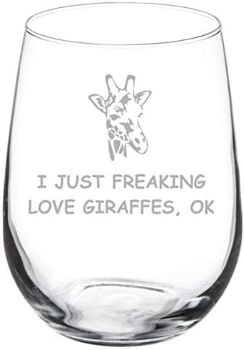 For days when your giftee just wants to relax and chill, this present will be their new bestfriend.
This wine glass comes in three sizes (10 oz, 17 oz, and 20 oz) and also has the option for a stemmed glass.
6. Giraffe Throw Pillow Cover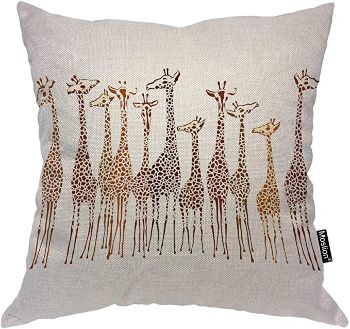 If your giftee likes Safari-themed decor, then this minimalistic pillowcase will be an awesome present for them! It's made from cotton and features a hidden zipper that guarantees a secure and tight fit.
7. Giraffe Keychain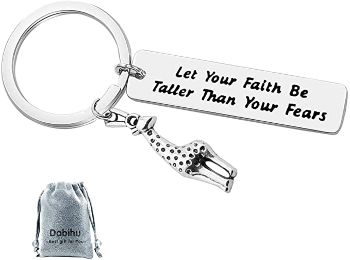 If you want to give the giraffe fan in your life a special gift that will guide them through the challenges of life, then this giraffe keychain is an excellent choice.
This inspirational keychain even comes with a drawstring pouch, making it gift-ready.
8. Giraffe Mouse Pad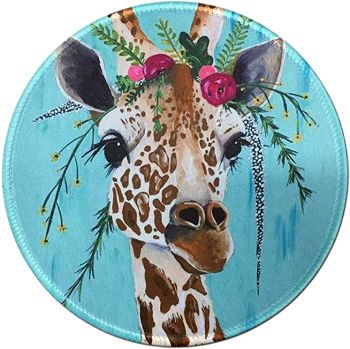 Bring the fun and good vibes of giraffes into their workspace with this lovely mousepad. It's an all-in-one type of gift since this mouse pad is suitable for both work, entertainment, or simply as desk decor!
5 Giraffe Decor Gifts
9. Giraffe Statue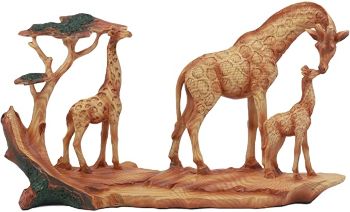 What's better than a single giraffe? A tower of giraffes! This wildlife scene figurine will be a beautiful addition to their collection.
Aside from showing the caring nature of giraffes, it also shows the unconditional love a parent holds for their child.
10. Giraffe Welcome Sign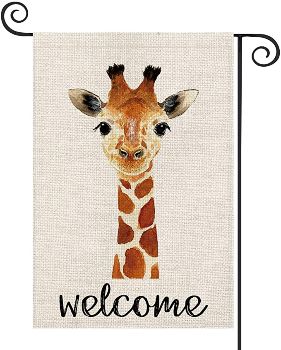 This sign will warmly greet guests and instantly show the home owner's adoration for giraffes.
Since it's made with spun polyester it's machine washing safe, so they won't have to worry about getting it dirty.
11. Giraffe Wind Chime

If you want a thoughtful and meaningful present, then give them this wind chime that creates melodic sounds.
Made from high-quality materials, this giraffe with calf home decor is guaranteed to be durable and long-lasting.
12. Giraffe Planter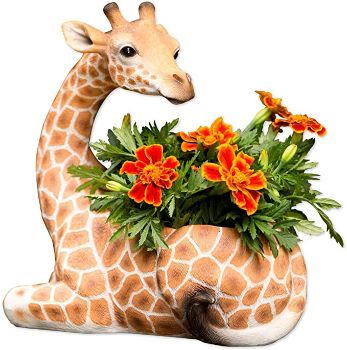 For giraffe fans who also love plants, this gift is like hitting two birds with one stone! This planter measures 10 L x 6 W x 9.5 H inches, which is the perfect pot size for cacti and succulents.
13. Cute Giraffe Canvas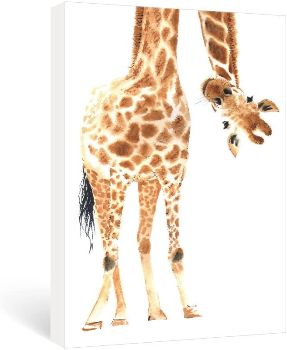 This cheery giraffe canvas will add personality to their home or office and brighten up their space!
Hanging this wall art won't be an issue since it comes with panels that already include metal hooks mounted on a wooden bar.
5 Giraffe Jewelry Gifts
14. Giraffe Necklace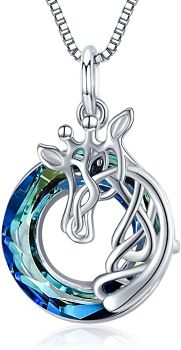 Your giftee will love the intricate and unique design of this necklace. The combination of a giraffe head and crystal gives the right amount of chicness to this giraffe necklace.
Plus, the necklace is lead and nickel-free, so they can wear it for long periods of time.
15. Giraffe Ring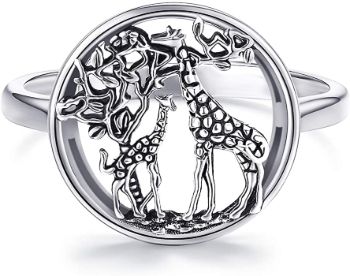 If you're looking for a gift for your child who loves giraffes, then this ring is the one! It's a meaningful gift that symbolizes deep connection and affection.
This ring also features a comfortable fit so it's suitable for any occasion.
16. Giraffe Earrings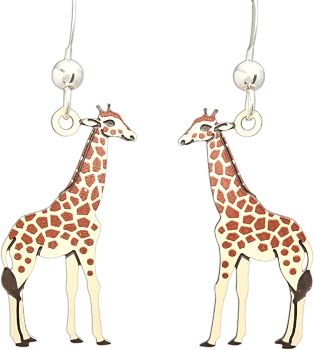 These bold dangling earrings will proudly help anyone express their love for giraffes! It's a fantastic present because not only is it super cute, it won't break the bank!
17. Giraffe Necklace and Earrings Set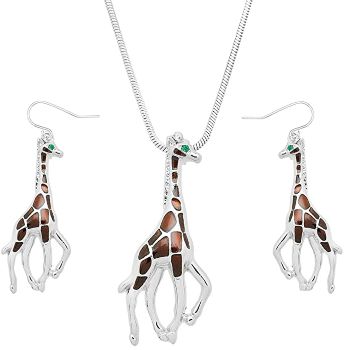 This adorable jewelry set is a great solution if you can't decide whether to give them giraffe earrings or a necklace. The set comes with a 17″ necklace, two 2″ earrings, and a storage pouch.
18. Giraffe Hand-Painted Jewelry Dish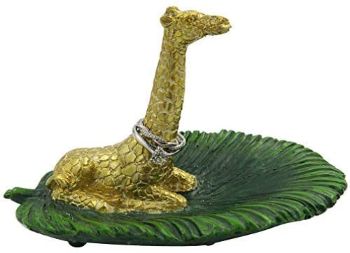 This fancy jewelry dish will keep and protect all of their precious jewelry safe. The cool thing about this dish is that the neck of the giraffe doubles as a ring holder!
Aside from being a trinket dish, this gift is also great decor and can be used as a key holder.
5 Giraffe Apparel Gifts
19. "You Aren't Even On My Level" Hoodie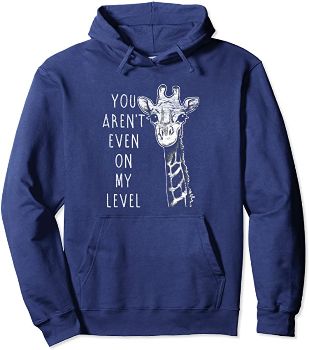 Get this hoodie to give your giftee some giraffe swag. Aside from its cool design, this hoodie is also not too thin nor too thick.
20. Loose Fit Shirt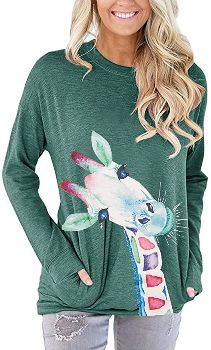 This cozy long sleeve shirt is any girl's dream because the fabric is comfortable and the cut is flattering. Plus, it has pockets!
21. "Ask Me About My Giraffe" Shirt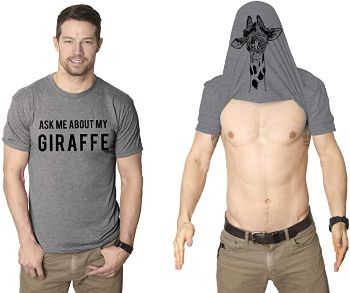 Your giftee will have a laugh with this funny and creative shirt. It's made with a blend of polyester and cotton, making it a great everyday shirt.
Looking for more great gift ideas for a silly guy? Check out this post!
22. Fuzzy Giraffe Socks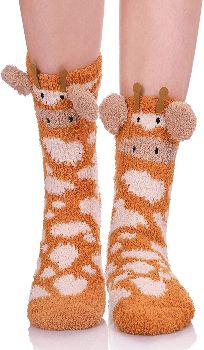 Ordinary socks are good gifts, but fuzzy giraffe socks are the best! These adorable 3D fuzzy socks are lightweight, warm, and soft. It's the perfect sock to sleep and lounge in.
23. Giraffe Slippers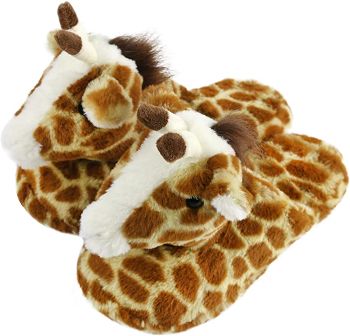 On the hunt for a cute and practical present? These anti-slip slippers are a great choice!
It's a fantastic slipper that will give their feet comfort and a break from constantly wearing sneakers or high heels.
7 Giraffe Gifts for Kids
24. Giraffe Toddler Backpack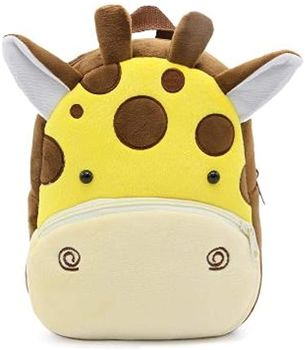 If you thought that little giraffe fanatic couldn't get more adorable, wait until you see them with this cute giraffe backpack on!
This plush animal bag is also functional since it fits a book, toys, and water bottle nicely. It's suitable for children aged two to six.
25. Giraffe Floor Puzzle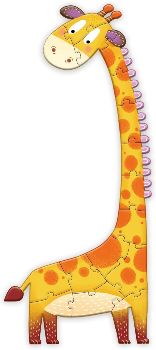 Puzzles are great presents for kids since they teach shape recognition, concentration, and patience. This floor puzzle is an excellent gift since it will be a fun learning activity as well.
26. Electric Toothbrush Set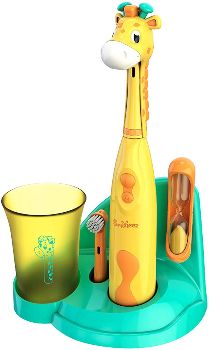 Brushing their teeth won't be a chore anymore with this giraffe electric toothbrush set! It will keep kids motivated to take care of their pearly whites.
Each set includes a toothbrush, toothbrush cover, cup, replacement brush, sand timer, and more!
27. Kids Giraffe Onesie
Whether they want to be a giraffe on Halloween or on a daily basis, this giraffe onesie will grant their wish!
Add these adorable giraffe shoes to complete the look.
28. Inflatable Kiddie Pool Set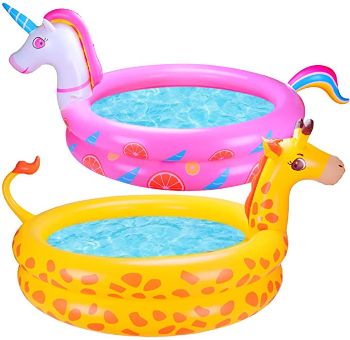 With this present, your giftee won't have to wait for summer to have fun in the sun! Aside from being a pool, these can also be used as a play area, ball pit, and sandbox.
The set includes a unicorn and giraffe kiddie pool, so you're getting a lot of bang for your buck.
29. Little Tikes Rollin' Giraffe Tricycle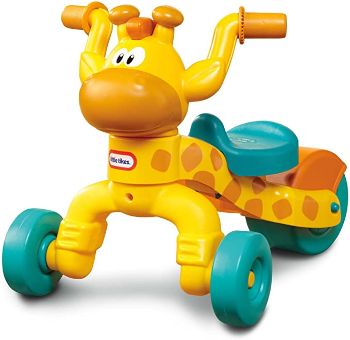 This fun ride will be a huge hit with the little giraffe fan in your life! This tricycle is perfect for toddlers since it provides stability and ensures their safety.
Plus, it's suitable for indoor and outdoor use!
30. LEGO Safari Wildlife Treehouse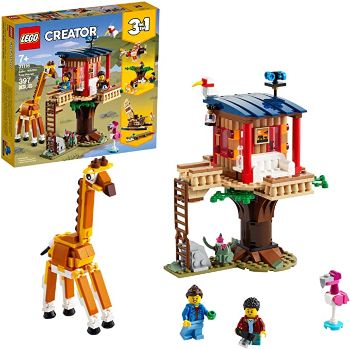 Spark their creativity with this awesome LEGO building kit! It will also be an enjoyable activity to do with family and friends.
This 3-in-1 set comes with a treehouse, plane, and boat figures.
Wrapping Up the Best Giraffe Gifts
There you have it, the most amazing giraffe gifts on the internet! Whether you're looking for decor, apparel, or jewelry, this list has it all.
Which item on the list do you think your giftee will like the most? Are you a fan of giraffes, too? Share with me in the comments!
Check out this list of adorable llama gifts for more great gift ideas!