Rose quartz gifts (or anything crystal-related) are perfect for friends, coworkers, or loved ones who are spiritual or are into self-care and wellness.
Aside from being a pretty stone, rose quartz is believed to provide an overall feeling of warmth and compassion to the person wearing it.
Maybe you're looking for a gift for someone born in January or who is celebrating their 5th wedding anniversary. Whatever the reason, I'm here to help you find the perfect gift for the rose quartz lover in your life.
10 Rose Quartz Gifts
1. Rose Quartz Crystal Tree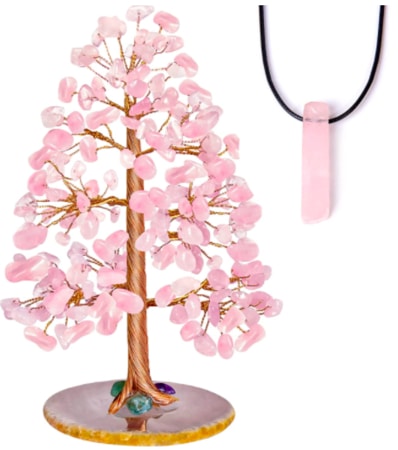 This crystal tree is made from tumbled rose quartz chips, copper wire, and an agate plate base with two green stones and amethyst to harness luck and money.
It comes with a crystal point pendant necklace so they can have a piece of rose quartz with them wherever they go.
2. Crystal Water Bottle and Tea Infuser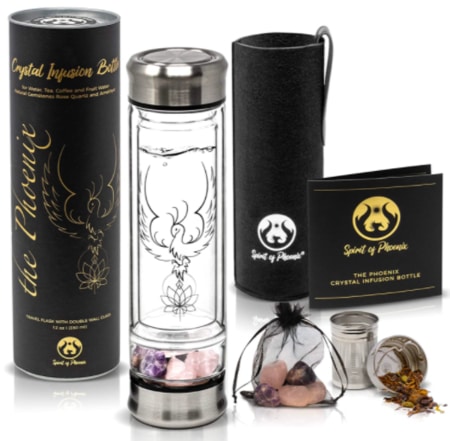 Wellness enthusiasts and celebrities like Gwyneth Paltrow have all raved about the benefits of drinking from crystal-infused water bottles.
This bottle has a separate crystal chamber to customize the gemstone elixir. It's also made from double-walled borosilicate glass and is safe to use with hot drinks.
It's leakproof and comes with a stainless steel tea or coffee infuser and a felt sleeve for protection on the go.
3. Rose Quartz Coasters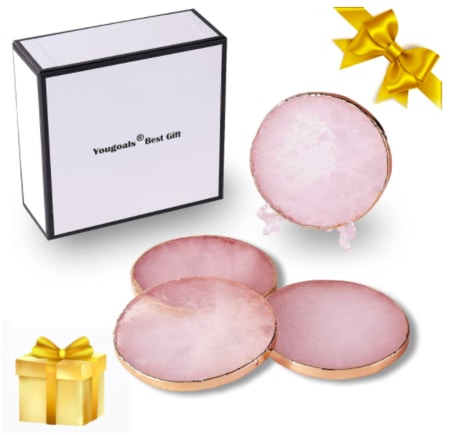 These drink coasters are not only functional, they're also decorative. The rose gold plated edges on the naturally pink rose quartz plates lend a romantic elegance to any table, bar, or countertop.
These coasters are hand-cut from natural rose quartz geodes, which is something the crystal lover in your life will appreciate.
4. Rose Quartz Face Roller
Give their skin the healing benefits of rose quartz with this bestselling face roller by Inotka. This roller reduces undereye circles, fine lines, and improves circulation.
All they need to do is put on their favorite facial oil or moisturizer and roll in an upward motion along the jawline, cheeks, and forehead.
They can also leave this roller in the fridge overnight and use it in the morning to reduce puffiness.
5. Rose Quartz Eye Mask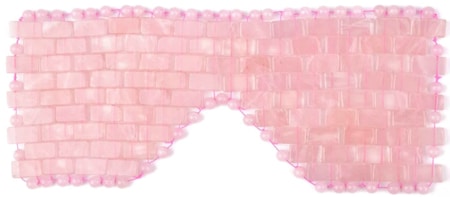 Another beauty and wellness-related gift is this rose quartz eye mask. This mask relieves eye strain, relaxes the eye muscles, improves circulation, and enhances sleep.
They can add a cooling effect by putting the mask in the fridge a few hours before use.
This mask is made from real rose quartz crystals and comes in three sizes for a more comfortable fit.
6. Raw Rose Quartz Ornament

If the crystal lover in your life prefers raw, unpolished crystals, give them this raw rose quartz ornament.
This ornament is made from carefully selected nuggets with interesting shapes, patterns, and textures, just the way nature made them.
They can hang this in their bedroom, by their desk at work, in their car, or in any space where they feel the need to infuse this crystal's calm and peaceful energy.
7. Rose Quartz Decorative Lights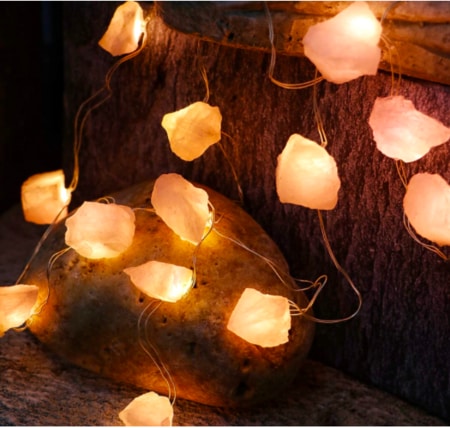 Fill any room with a gentle, calming glow from these raw rose quartz decorative LED lights.
Each stone is embedded with two different colored LED chips which can be turned on individually or together.
This decorative light is made with untreated rose quartz crystals and comes with a remote to control brightness, color, timer, and the flicker feature.
8. Rose Quartz Candle Holder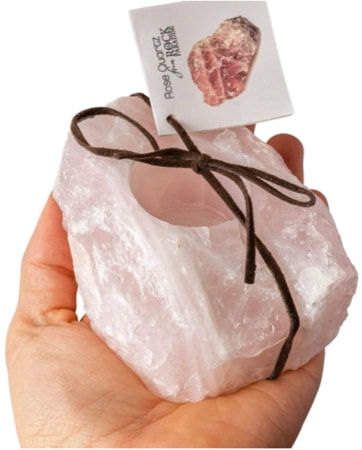 Make the crystal lover in your life happy with this candle holder. it's made from raw rose quartz gemstone from Brazil and comes with a certificate of authenticity so you can be sure you're getting the real thing.
This holder can hold tea-light candles perfectly and will add a lot of positive energy to their space, meditation practice, intimate gatherings, or self-care rituals.
9. Crystal Jewelry Making Kit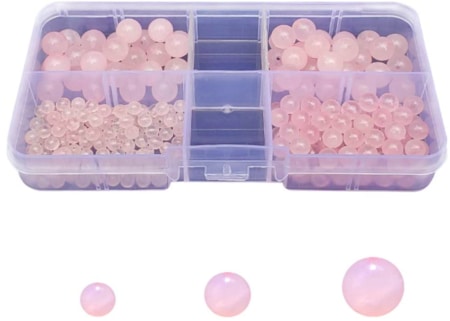 If they're a big DIY fan, give them this jewelry-making kit for another fun project.
This kit comes with 94 pre-drilled and differently-sized polished rose quartz beads – enough for several bracelets or necklaces.
10. Raw Rose Quartz Nuggets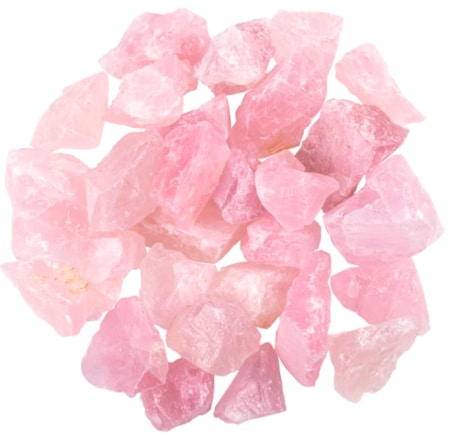 If they can't get enough of this beautiful, relaxing crystal, why not give them this set of raw rose quarts nuggets?
They get 1 lb. of their favorite gemstone in different shapes and sizes to put in every room and or to give to loved ones. Perfect for newbie collectors and crystal lovers of all ages.
11 Rose Quartz Jewelry Gifts
Rose quartz is one of the most popular semi-precious stones on the planet, so there are plenty of options out there for rose quartz jewelry.
Here are 11 of the best pieces of rose quartz jewelry for every budget.
11. Rose Quartz Dangle Earrings
Check out these beautiful rose quartz and .925 sterling silver dangle earrings from Novica. These fair trade earrings are handcrafted by artisan women in India.
You can tell just from looking at them that they're made with great love and attention to detail, making them all the more precious. Perfect for the boho chic crystal lover.
12. Faceted Stud Earrings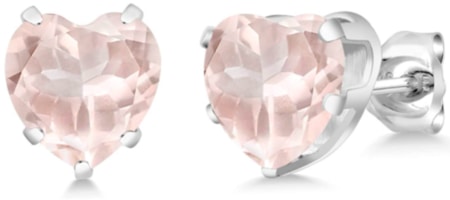 Or, how about these fine jewelry-grade faceted rose quartz in .925 sterling silver? These stud earrings are cut and polished to remove any occlusions and showcase each gemstones natural shine.
It's beautifully subtle and can go from casual to formal depending on the outfit.
13. Rose Quartz Gold Ring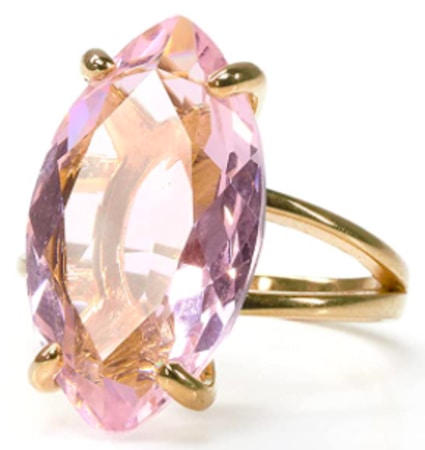 If you're looking for a real rose quartz show stopper, this marquise-cut faceted rose quartz ring in 14K yellow gold is the perfect piece.
Both the gemstone and the gold band are polished to achieve their highest shine, and the band can be customized by type of metal setting and also includes a free engraving option.
Perfect as an anniversary, birthday, or Valentine's Day gift for a loved one.
14. Real Rose Quartz Silver Ring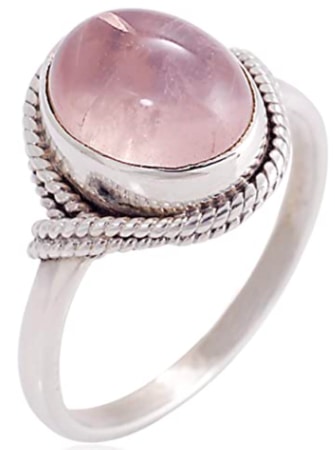 For a simpler vintage vibe, give her this rose quartz ring set in a nickel and lead-free 925 sterling silver band.
It can easily be their go-to ring to add a little dose of crystal happiness to their everyday outfit.
15. Handmade Statement Ring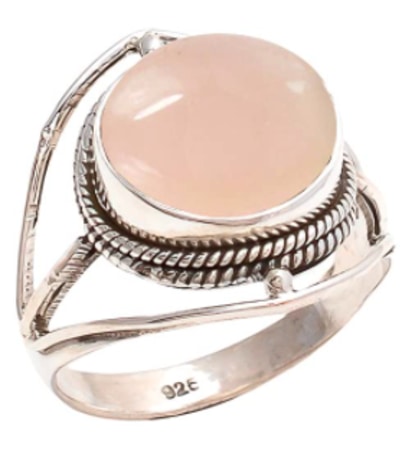 For a bolder choice, go with this handmade rose quartz and 925 sterling silver ring that features a 12mm polished rose quartz cabochon in a unique setting.
It's the perfect statement piece for crystal lovers that won't break the bank.
16. Adjustable Rose Quartz Bracelet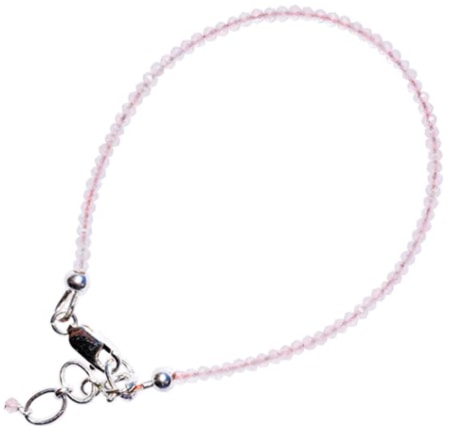 If you're looking for real rose quartz bracelet, this adjustable faceted 3mm bead bracelet from Zenergy Gems is something to consider. It has .925 sterling silver extenders to fit most wrist sizes.
This bracelet will layer nicely with their other crystal wrist accessories. Plus, it comes with a Moroccan selenite charging crystal so they can cleanse and charge all their other crystals to maintain good energy.
17. Lotus Charm Stretch Bracelet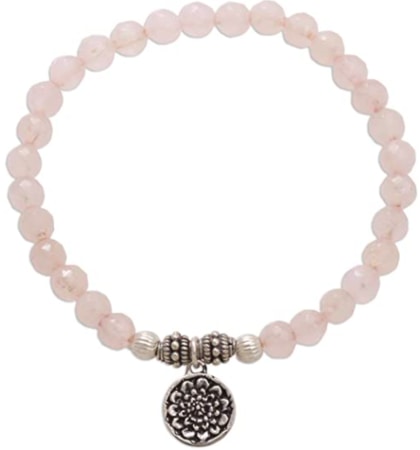 Another great piece from Novica is this stretch bracelet from Bali, Indonesia that features 6mm faceted rose quartz beads and an intricately carved sterling silver lotus charm.
This bracelet is stretchy, so you don't have to worry about the fit.
18. Rose Quartz Bead Bracelet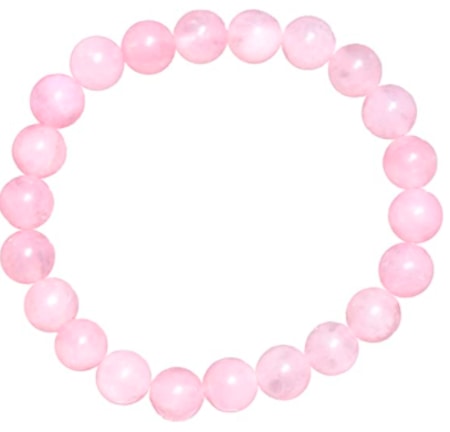 This rose quartz bead bracelet is the perfect gift for someone who prefers simple, straightforward crystal jewelry.
This braelet also comes with a selenite crystal and instructions for cleansing and charging.
19. Layered Diffuser Necklace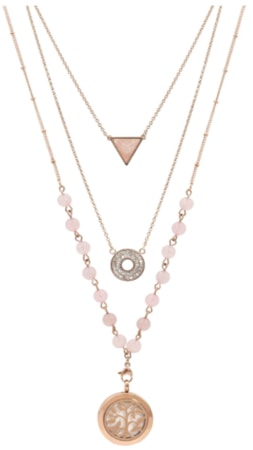 Give the crystal lover in your life  the calming and therapeutic benefits of crystals and aromatherapy while wearing this beautifully feminine real rose quartz layered necklace.
This necklace is made from polished round rose quartz beads and surgical grade stainless steel with triple rose gold plating. It features an essential oil diffuser locket with a tree of life design.
20. Antique Rose Quartz Necklace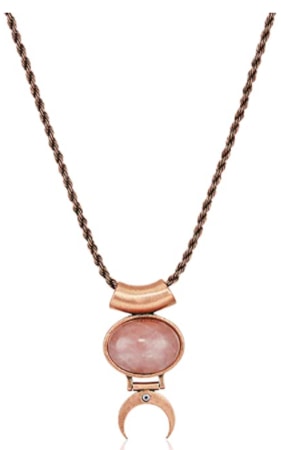 This Rafaelian rose gold finished with rose quartz cabochon necklace by Alex and Ani is the perfect special occasion gift for your favorite crystal lover.
It is made from rose gold plated brass with an antique matte finish. It features a 22-inch adjustable chain that's hypoallergenic and lead and nickle-free.
21. Wire Wrapped Pendant Necklace

Or, if you want a more budget-friendly but still beautiful option, give them this necklace. It features a tree of life wire wrapping on a natural rose quartz crystal point pendant.
It has an adjustable stainless steel chain so they can vary the length of the necklace and comes in a gift box with a velvet pouch.
4 Rose Quartz Gifts for Him
22. Adjustable Teardrop Pendant Necklace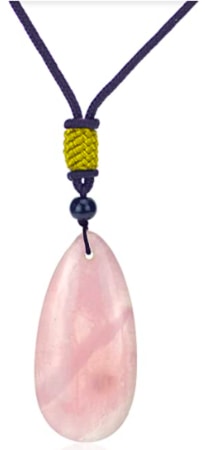 Help him achieve inner peace, self-love, and healing with this adjustable teardrop rose quartz pendant necklace with leather chain. This necklace is versatile and would look great on both men or women.
They can wear this to enhance their intention during meditation, yoga, or as an everyday crystal accessory.
23. Chakra Pendant Necklace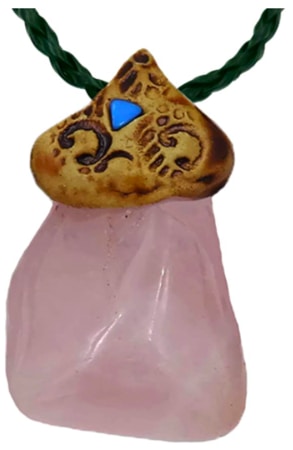 Give him this chakra pendant necklace for a unique piece that looks cool and functional.
This necklace has a blue howlite stone embedded in the pendant to enhance the healing energy of the natural rose quartz nugget.
It's a perfect gift for anyone who identifies as a Cancer, Virgo, Taurus, Libra, and Capricorn.
24. Chakra Bracelet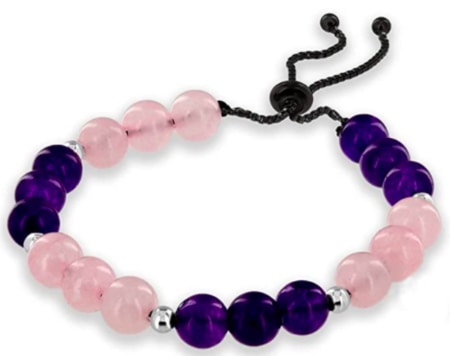 This bracelet combines the healing energies of rose quartz and amethyst to help release stress and negative emotions and bring in peace, protection, and unconditional love.
It features silver beads as separators and a strong elastic band to accommodate most wrist sizes.
25. Rose Quartz Night Light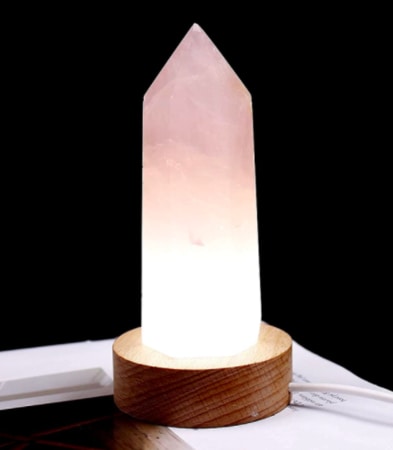 And finally, last on this list is a beautiful rose quartz night light. This lamp features LED bulbs that emit a relaxing glow for a relaxing ambience to help achieve a good night's sleep.
Promote Love and Peace with These Rose Quartz Gifts
I hope you find the best gift for the person on your list just in time for the holidays. Let us know in the comments below what gifts list you want us to do next.
If you're not done gifts shopping, check out our other equally amazing gifts list: