Is someone in your life a hopeless romantic and a huge Jane Austen fan? Then they also probably love one Ms. Austen's most popular novels, Pride and Prejudice.
Here are 39 Pride and Prejudice gift ideas arranged by hobby kits and collectibles, decorations, accessories, posters and postcards, kitchenware, and other cute P&P themed supplies.
Pride and Prejudice Hobby Kits and Collectibles
Let's start with these 10 lovely Pride and Prejudice collectibles fans can display for guests or marvel at at their own leisure.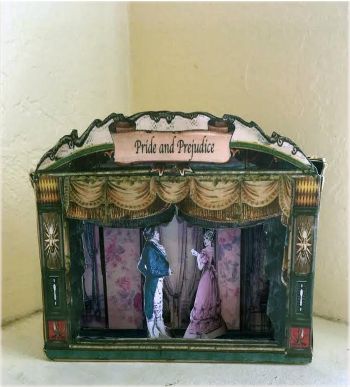 Give your P&P loving fan this neat printable paper theatre. They'll appreciate the effort as you'll be the one printing the components for them to assemble.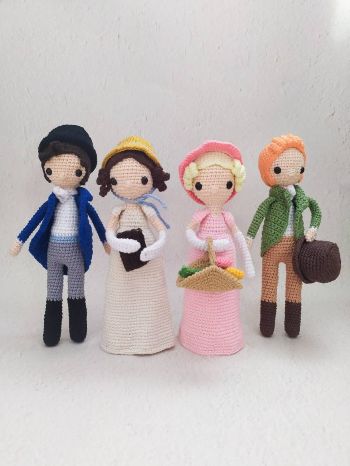 Let the P&P fan in your life bring home some of the fondest Pride and Prejudice characters with these handmade crochet dolls.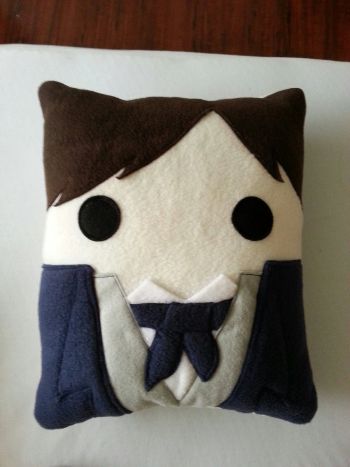 Or let Pride and Prejudice fans take home a cute Mr. Darcy plushie! Now they can fulfill their dreams of holding Mr. Darcy while he recites some of his most famous lines from the movie.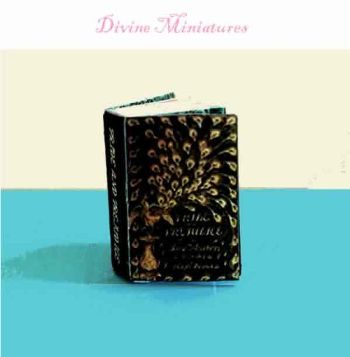 For P&P lovers who love miniatures or already have character dolls, give them a miniature of the book itself. This novelty gift will be fun for them to share with fellow Austen fans and earn them bragging rights.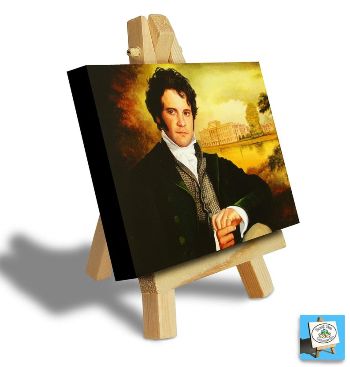 An even better miniature you can give the Pride and Prejudice fan in your life is this Mr. Darcy canvas set that features Colin Firth as the iconic gentlemen.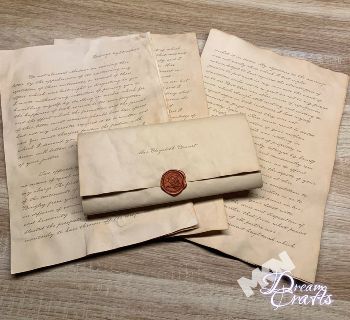 Any P&P fan who is one thousand percent team Mr. Darcy will definitely love this handmade replica of his letter (yes, THAT letter) to Ms. Elizabeth. This is a must have for any fan of the book or film!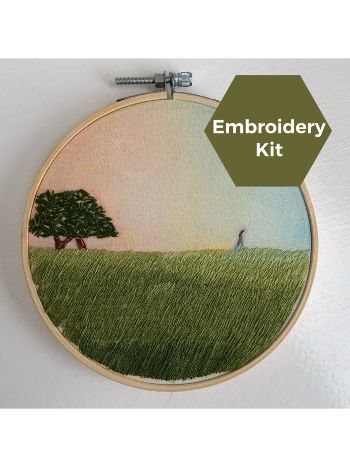 If your P&P fan is on the creative or crafting side, give them this embroidery kit so they can recreate this iconic scene from the story. This kit comes with all the necessary materials and patterns.
8. Pride and Prejudice Playing Cards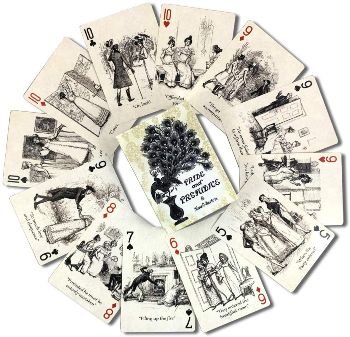 Pride and Prejudice fans will love showing off these playing cards with lines and characters from the book. Book Club just got a little more interesting!
9. Marrying Mr. Darcy Card Game
If they also love game night, then this unique Pride and Prejudice Marrying Mr. Darcy card game is a fun gift option! They'll especially enjoy how intuitive the cards are.
10. Pride and Prejudice and Zombies by Seth Grahame-Smith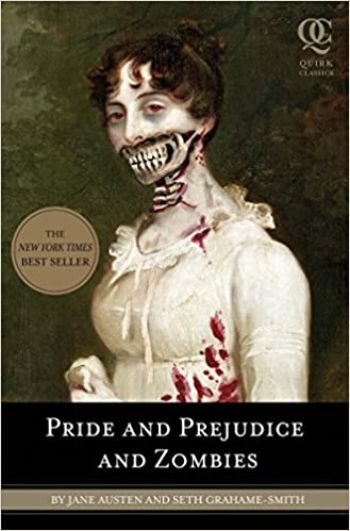 If they loved the original novel, then they'll probably have a good laugh with this parody that adds zombies to the mix.
Not exactly a collectible item, but definitely something exciting to add to their Pride and Prejudice themed collection.
Pride and Prejudice Themed Household Decorations
Up next, here are 6 gifts Pride and Prejudice fans can decorate their rooms or home with.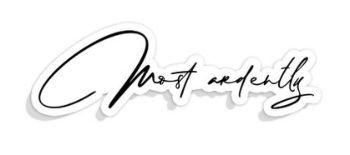 Only those who've watched the movie or read the book will understand the significance of this line. Giving your significant other this sticker will have them feeling most giddy.
For the uninitiated, click here.
12. Pride and Prejudice Book Line Magnets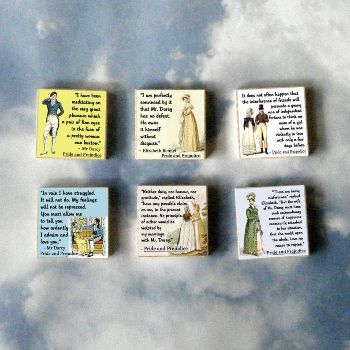 Give that Pride and Prejudice fan in your life these wooden fridge magnets featuring famous lines from the book that they can read to relive one of the most romantic stories of all time.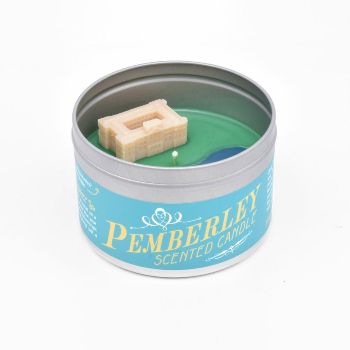 You can also give them this cute earl grey tea scented candle that features a tiny sculpted Pemberley Estate to set the mood when they watch the movie or book. It'll be like they're there!
14. Pride and Prejudice Blanket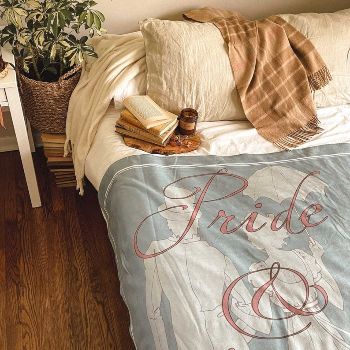 Help them stay warm while they dream about being Mr. Darcy's beloved Elizabeth with this comfy Pride and Prejudice blanket.
15. Pride and Prejudice Pillow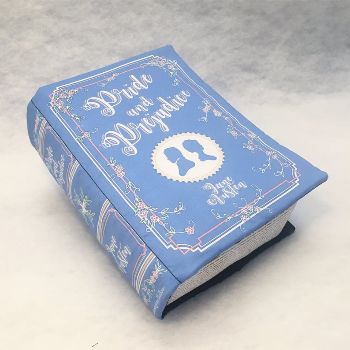 Or fans can rest their heads after reading the book for the 100th time on this adorable Pride and Prejudice book pillow.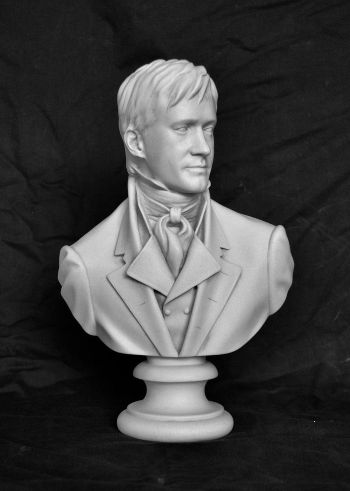 Of course, for those Pride and Prejudice fans who fawn over Mr. Darcy, give them this bust they can display and show off to guests.
Pride and Prejudice Themed Accessories
Here are 6 gifts Pride and Prejudice fans can wear or take wherever they go.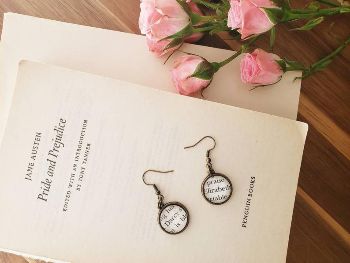 Here's a simple pair of earrings any P&P fan will appreciate that features a piece of page from the book on each one, specifically the names of Mr. Darcy and Ms.Elizabeth.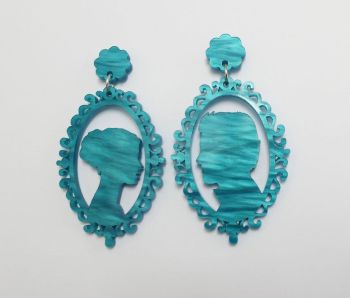 A more elaborate pair of earrings you can give are these featuring the silhouettes of the two main Pride and Prejudice characters.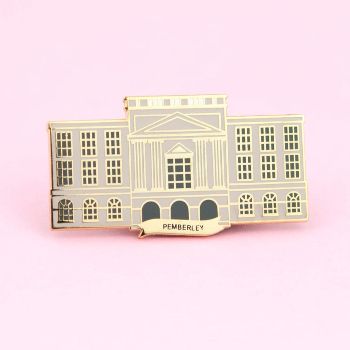 A Pride and Prejudice fan will appreciate a pin of the esteemed Pemberley Estate which they can attach wherever they please.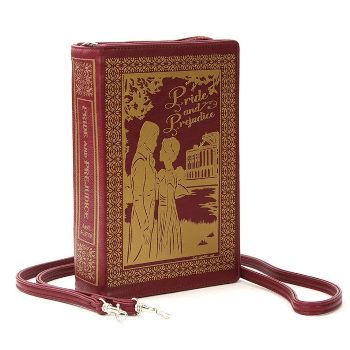 For die-hard fans who can't get away from their Pride and Prejudice book, give them this book themed handbag where they can store their copy of the book and take wherever they go (as well as their other essentials, of course).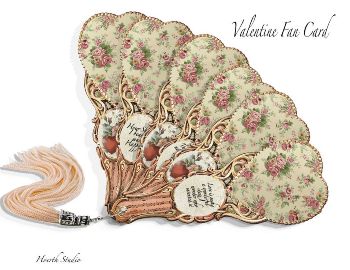 Let the P&P lover in your life beat the heat by putting together this printable Victorian fan featuring lines from the novel. You can either craft it yourself or print it out for your giftee to fix themselves.
22. Pride and Prejudice Umbrella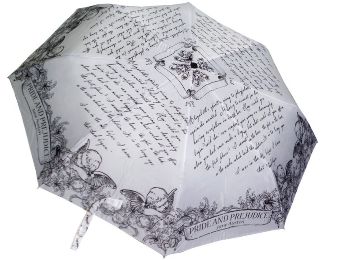 Give the Pride and Prejudice fan in your life this umbrella and so they can shade themselves with famous lines from the book!
Pride and Prejudice Themed Posters and Cards
These are 7 posters and greeting cards for the sentimental Pride and Prejudice fan in your life.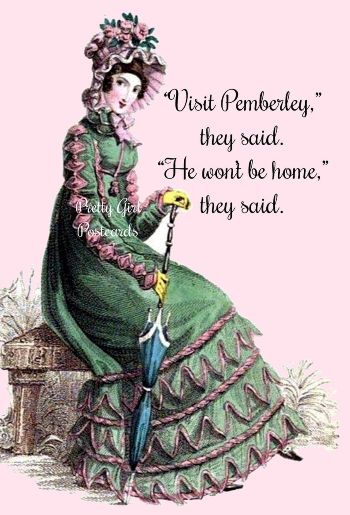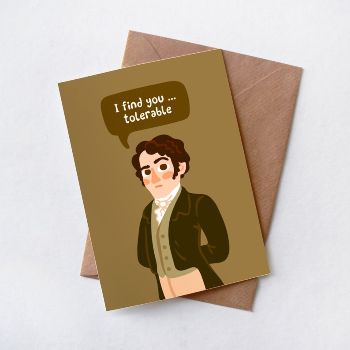 The sentimental P&P fan will appreciate these pre-printed Pride and Prejudice greeting cards along with a personal message from you.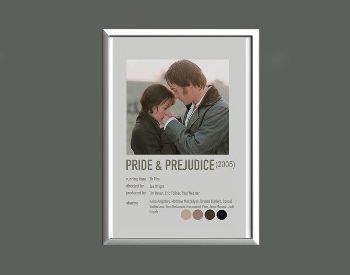 The fans of the 2005 movie will adore this simple minimalist poster featuring Keira Knightly (Ms. Elizabeth) and Matthew Macfadyen (Mr. Darcy) in the moment they finally come together forever.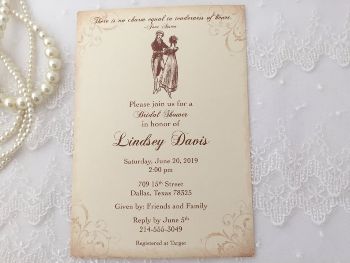 Planning a bridal shower or bachelorette party for a die-hard Pride and Prejudice or Jane Austen fan? Why not make it a themed party with these charming P&P themed invitations?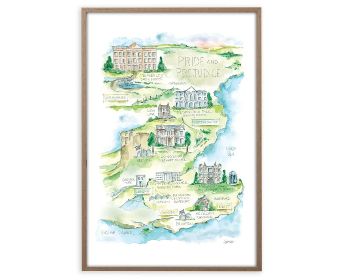 Here's a neat poster to give to the P&P fan in your life. This watercolor map is simple yet gorgeous and will brighten up any fan's wall.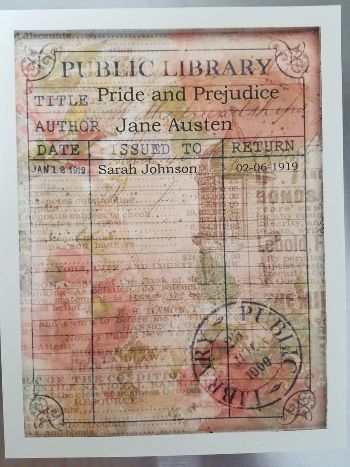 If they're a librarian, this unique vintage library card print can be hung on the wall of their office or library.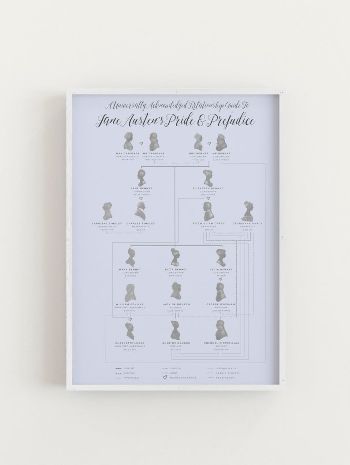 Fans of P&P will enjoy staring at this Pride and Prejudice characters chart poster that shows the connections and relationships between the main characters of the story.
29. BBC Pride and Prejudice Series Gold Foil Print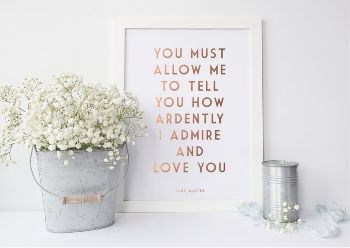 Here's another minimalist print for fans of the classic BBC Pride and Prejudice series starring Colin Firth and Jennifer Ehle that features another famous Mr. Darcy line.
Pride and Prejudice Themed Kitchenware
Let that Pride and Prejudice lover in your life who loves to cook bring the story into the kitchen cook with these 6 gift ideas.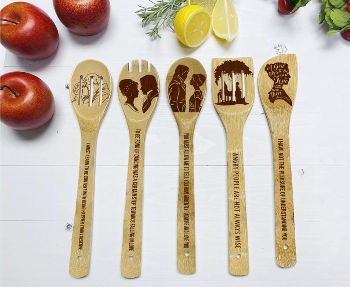 Spice up their time in the kitchen by giving P&P fans these wooden utensils with designs and lines from the story etched on to them.
31. Mr. Darcy and Ms. Elizabeth Cookie Cutters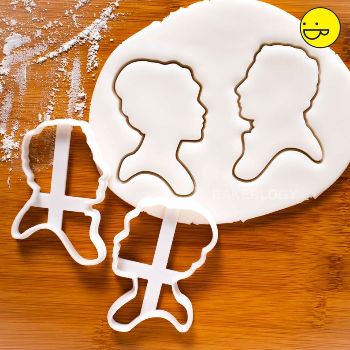 Let them serve up Mr. Darcy and Ms. Elizabeth shaped cookies at their next gathering with these profile cookie cutters!
32. Pride and Prejudice Inspired Tea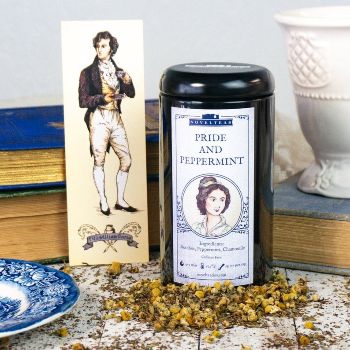 A fun gift to give to Pride and Prejudice fans, especially those who love drinking tea as they read, is this P&P inspired loose leaf tea. It also includes bookmarks of Mr. Darcy and Ms. Elizabeth!
33. "Talk Darcy to Me" Mug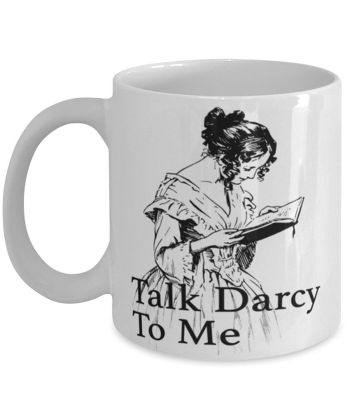 Those who've read the book or watched the film will get the meaning behind the phrase featured on this mug – a nice gag gift to give that Pride and Prejudice fan in your life.
34. "Headstrong Girl" Travel Mug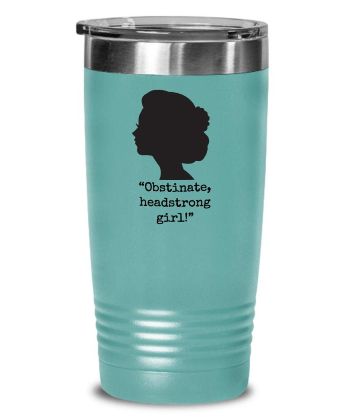 Or if they want their tea or coffee to go, give them this "Obstinate, headstrong girl" (a phrase used to describe Ms. Elizabeth) travel mug so they can bring their drink wherever they go while owning how uncompromising they are about their ideals.
35. "Headstrong Girl" Flask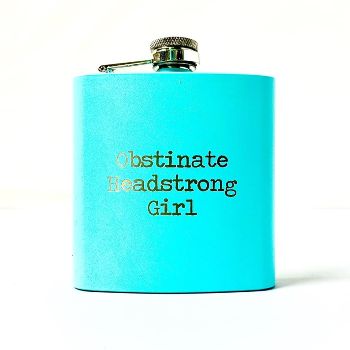 If they want to drink something stronger than tea or coffee, give the Pride and Prejudice fan in your life this travel flask.
Other Pride and Prejudice Merch
Lastly, here are 4 Pride and Prejudice gift ideas fans will definitely appreciate.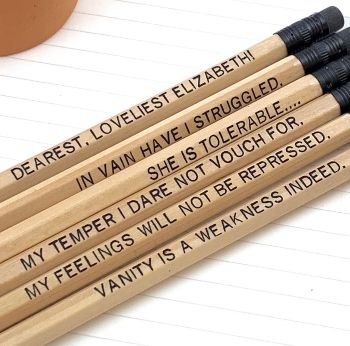 Here's a set of pencils featuring quotes from Mr. Darcy that P&P fans will adore and will probably never want to use.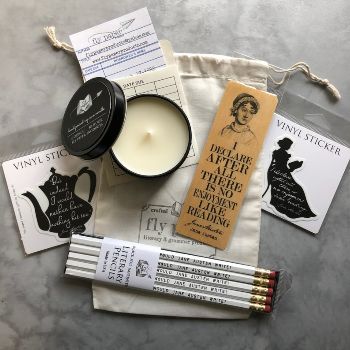 This gift set is not only for Pride and Prejudice fans, but for Jane Austen fans in general. It includes a wooden bookmark, stickers, pencils, a scented candle, and a drawstring pouch.
38. Pride and Prejudice Inspired Body Lotion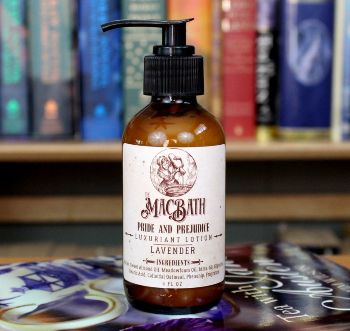 Do they need to prepare for a ball? Then give that Pride and Prejudice lover in your life this lavender lotion so they can nab themselves their very own Mr. Darcy or Ms. Elizabeth.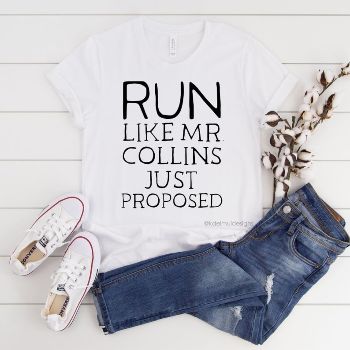 And last but not least, remind them to stay true to themselves with this t-shirt that's a nod to one of the most hilarious scenes from the 2005 film.
For the Most Ardent Jane Austen Fan
Whether it's playing cards or a bust of Mr. Darcy or a replica of his letter or just a simple mug, Jane Austen fans will enjoy these 39 Pride and Prejudice gifts.
Are you a fan of Pride and Prejudice yourself? Which one of these gifts would you appreciate the most? Let me know in the comments below.
If you're looking for a more romantic gesture, then check out my article on long-distance relationships gift ideas.