Steampunk is a genre of science fiction that deals with futuristic technology and has highly appealing retro aesthetics. It derives its name from the alternate worlds which authors imagine as powered by steam instead of electricity.
The aesthetics and style of the steampunk genre are immediately recognizable through art, objects, or fashion that involves industrial components such as cogs, pipes, and valves.
There's no doubt that any steampunk enthusiast would love to receive one of these 30 steampunk gifts.
11 Unique Steampunk Gifts
1. Steampunk Skull Mug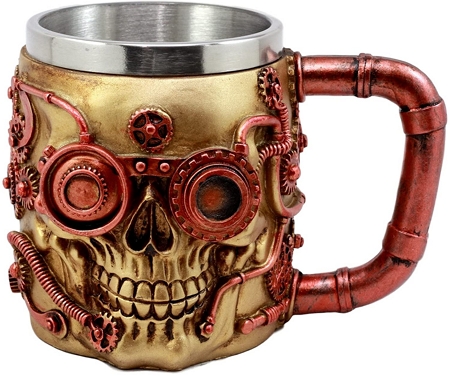 There's not a more stunning cup for Steamers (aka, steampunk enthusiasts) to drink their freshly brewed coffee or tea from than this steampunk skull mug.
2. Journal with Steampunk Aesthetics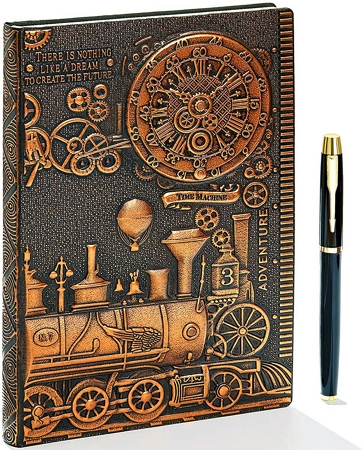 Help inspire your science fiction writer friend with this journal that features a mechanical parts design.
With 200 pages to write in, your recipient will have no trouble painting with words in this inspiring journal, whether they're writing about a future world that runs on steam energy or an alternate mid-19th century history.
3. Antique Manual Coffee Grinder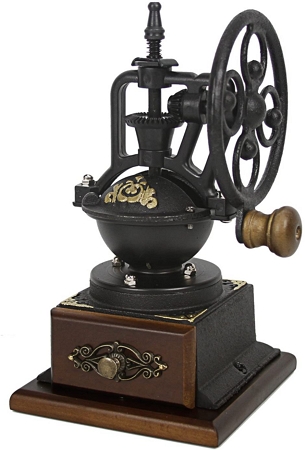 Allow your recipient to feel like they're living in a steampunk world through this antique coffee grinder.
This is a great gift for coffee lovers and steampunk enthusiasts alike, and they will feel a certain joy and excitement in manually grinding their own coffee in the morning.
4. Pipes Liquor Dispenser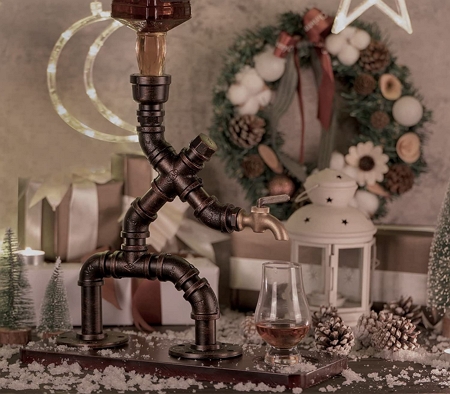 Get yourself the perfect birthday present and impress your guests with this liquor dispenser designed as pipes. This is a great gift for luxurious people who have a taste for the finest liquor.
5. Steampunk-Themed Dragon Cup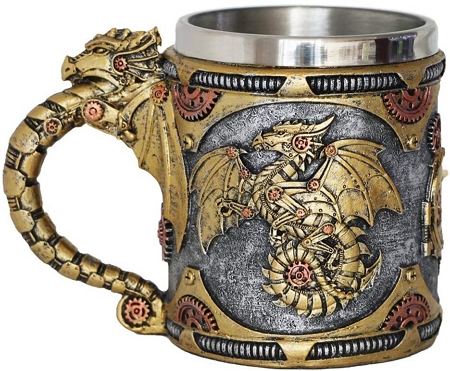 If your recipient is less into macabre skull mugs and is more passionate about fantasy worlds, then this mug is perfect for them.
While it seems weird to see a dragon with mechanical parts, that's exactly the essence of steampunk aesthetics.
6. Coasters with Steampunk Diagrams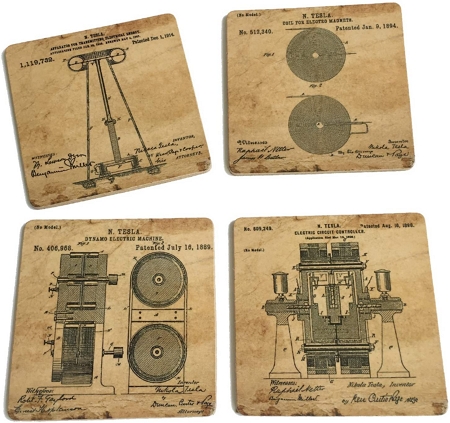 Your recipients can pretend to have found some old scientific writings and diagrams with these coasters.
Engineers will particularly love these cork coasters, which are colored in a way that makes coffee stains less conspicuous.
7. Steampunk-Inspired Shoulder Bag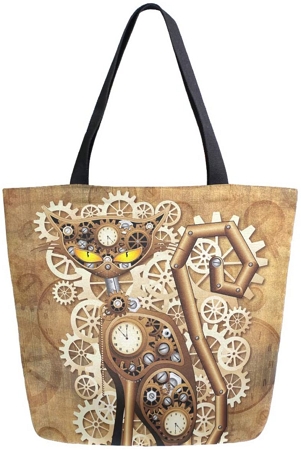 Steamer women who are also cat lovers will enjoy this shoulder bag with a mechanical cat design.
With all those cogs in the design, you can't possibly mistake this for anything else other than steampunk fashion, which proud Steamers love showing off.
8. Mechanical Heart Case for Trinkets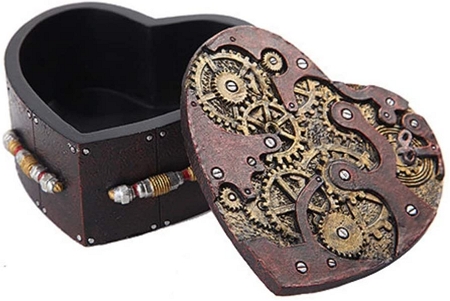 Get your favorite lady a steampunk case where she can safely store all her trinkets and jewelry.
This mechanical heart adorned with decorative cogs, screws, and nails will make her feel like she's storing valuable things in an unbreakable safe.
9. Men's Steampunk Wristwatch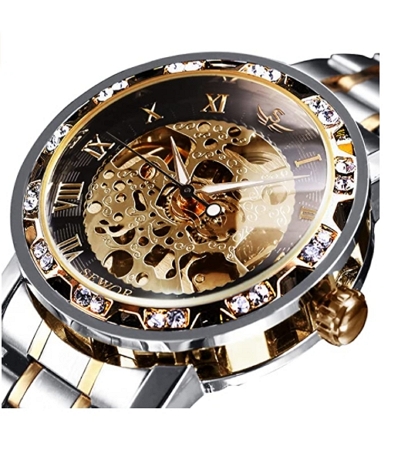 Although wristwatches have mechanical parts that make the hands move, most of them don't show the beauty of those components like this steampunk watch does.
This watch combines Victorian aesthetics with a modern finish, which will boost his confidence during any business or social event.
10. Gaming Mousepad with Steampunk Design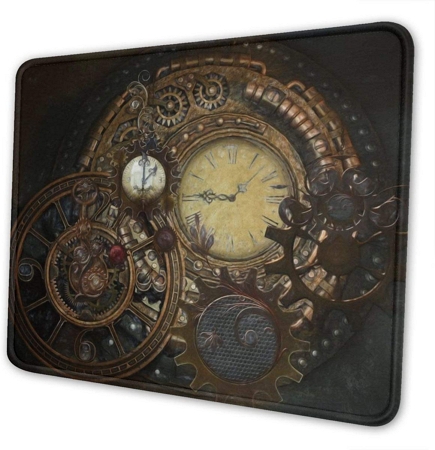 If the Steamer in your life is also a hardcore gamer, then get them this gaming mousepad.
The look of this mousepad is reminiscent of game franchises like BioShock and Dishonored, which I'm sure your recipient has already played if they're a steampunk enthusiast.
11. Steampunk USB Flash Drive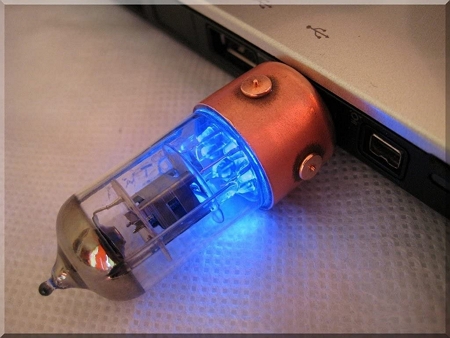 It's awesome to see a modern gadget with a retro design, and this USB flash drive exemplifies what most Steampunk stands for, which are objects designed with retro aesthetics that have a contemporary use in technology.
10 More Unique Steampunk Accessories
12. Antique Ink & Quill with Steampunk Design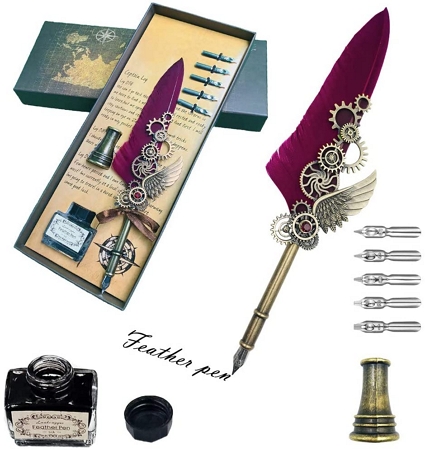 Just how readers can feel the difference between reading a physical book and a digital one, writers also feel the difference when writing rather than typing.
Whether they're interested in writing their ideas or simply love a steampunk ink and quill to display, your recipient will appreciate this elegant gift.
13. Steampunk Retro Sunglasses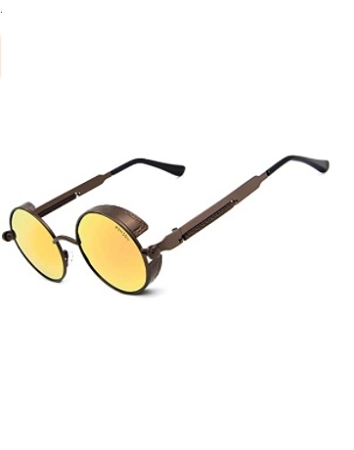 Get your partner these stylish and retro steampunk glasses. There are plenty of frame and lens color combinations to choose from, ranging from eye-catching yellow lenses to more traditional black tints.
With a UV Protection coating, these sunglasses will allow your recipients to bask in the sun for much longer periods of time.
14. Unisex Steampunk Ring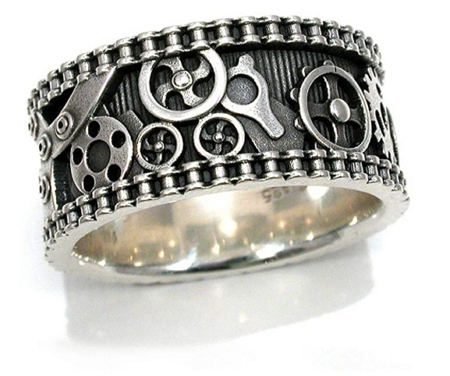 People who love to show off their love for the steampunk genre will be glad to receive this unisex steampunk ring. It's a great gift for any Steamer's birthday or as a Christmas present.
15. Hollow Metal DnD Dice with Steampunk Design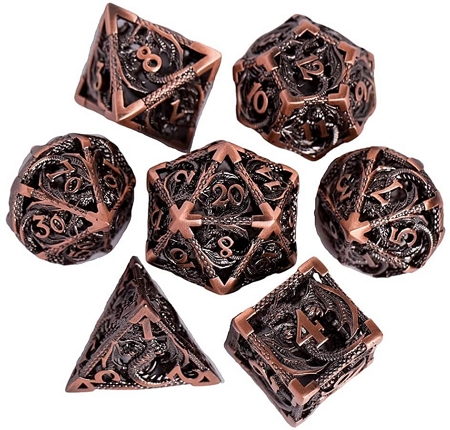 Dungeons & Dragons enthusiasts will rejoice to know that they have a new collection of exciting Steampunk dice to mix things up with after months of completing quests.
With these awesome and realistic dice designs, players (even DnD beginners) won't have a difficult time getting into character.
Get ideas for other DnD accessories, trinkets, and related DnD stuff from this list of Dungeons and Dragons gifts.
16. Steampunk Accessories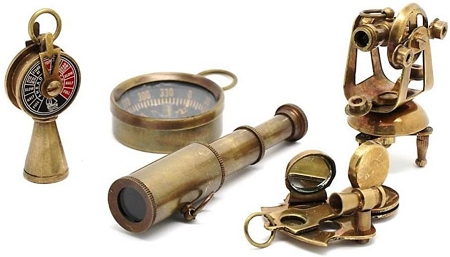 Here are several items that steampunk enthusiasts and antique item collectors will enjoy placing in their home. The set includes a telescope, a compass, a telegraph, and more.
17. Necklace with Steampunk "Poison Bottle" Pendant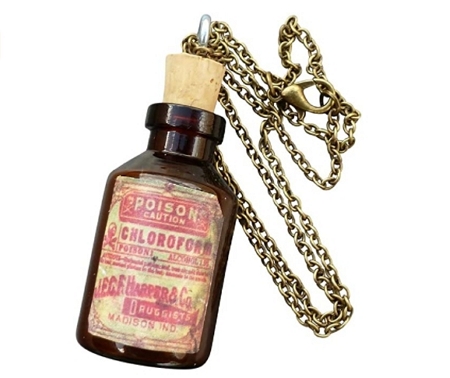 Allow your recipient to travel back to a time when poisonous liquids were conspicuously stored in bottles like this.
This necklace is a great gift for people who love to cosplay and pretend to be from the distant past.
18. Simple Bolts & Cogs Pencil Holder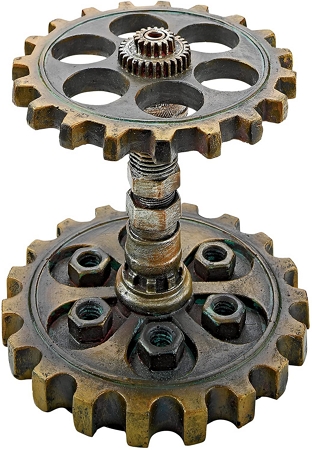 Are you looking to embellish your wooden desk with an industrial and stylish pen holder?
Steampunk lovers will appreciate this functional present that can serve as a pen holder or even as a paperweight.
19. Steampunk Owl Phone Stand & Pencil Holder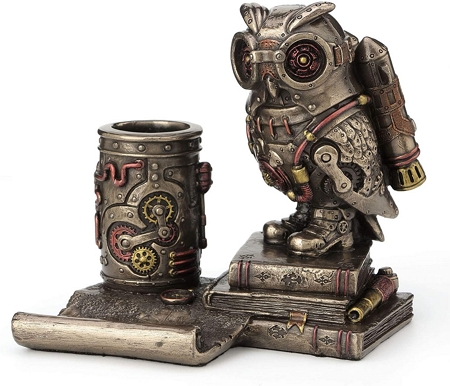 Here's another decoration that demonstrates your recipient's love for all steampunk things. Nothing screams steampunk more loudly than this owl adorned with all kinds of mechanical contraptions.
This charming set serves as a pen holder and a phone stand. Talk about hitting two birds with one stone.
20. Steampunk Face Mask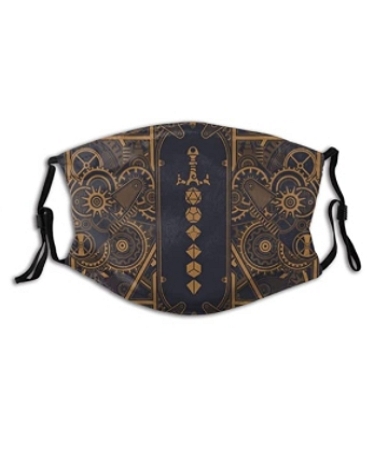 If they play Dishonored, a steampunk-inspired game where you become a masked assassin to save your daughter, then they'll instantly feel the connection with this Dishonored-themed face mask.
21. PopSocket with Intricate Steampunk Clock Design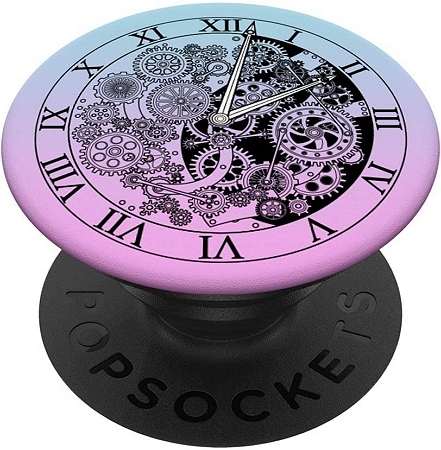 Don't you hate it when your brand new phone keeps slipping from your hands? Well, with this PopSocket you can avoid having those risky moments.
The design of this PopSocket is perfect for any steampunk lover.
9 Steampunk Knick Knacks for Home Decor
22. Pipe Robot Table Steampunk Lamp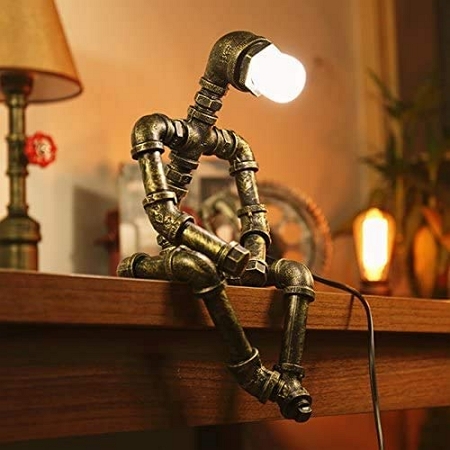 Would you like to decorate your teenager's room with this charming robot lamp?
They won't have lonely nights studying on their own anymore when they've got this little companion on their desk.
23. Minimalist Steampunk Desk Lamp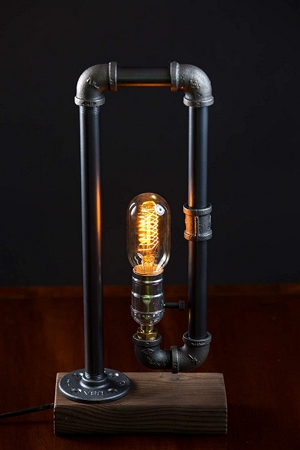 Here's another lamp with a minimalist design, perfect for those steampunk lovers who hate too much clutter.
The lightbulb on this lamp is attached to a pipe that's attached to a wooden base, making it a very good gift choice for those looking to have a functional and elegant lamp.
24. Locomotive Steampunk Wall Clock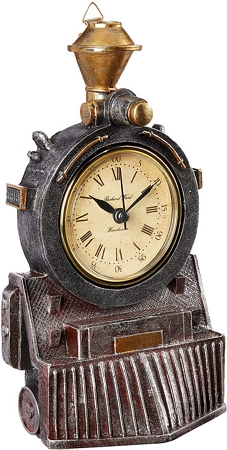 Travel back in time with this locomotive wall clock. It's a great rustic timepiece and welcome addition to any living room lovingly decorated with a Steampunk motif.
25. Steampunk Airship Wall Art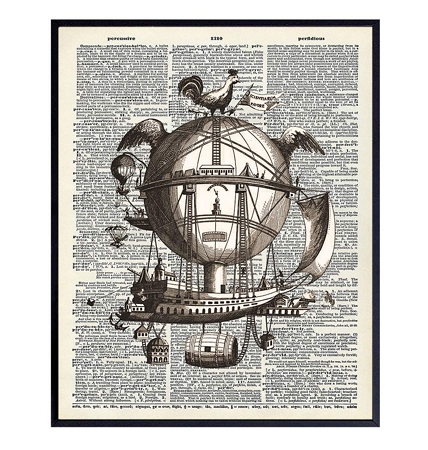 You'll often notice unusual but appealing inventions that are typical of the steampunk genre, such as super light airships that run on steam.
If you know someone who is fascinated by such imagery, get them this steampunk-inspired airship wall art. Keep in mind that this doesn't come with a frame.
26. Steampunk Howling Wolf Statue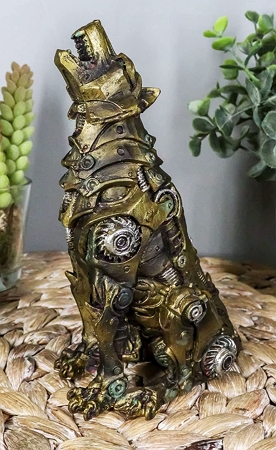 Give your recipient this steampunk howling wolf statue to take their interior or garden decor to another level. Guests who visit your recipient's home are guaranteed to be impressed by this astounding wolf statue.
27. Steampunk Octopus Trinket Case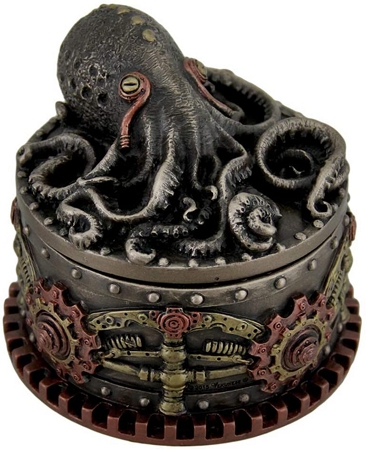 Here's a useful and unique-looking trinket case for Steamers to showcase in their favorite room. It's functionality lends itself to practical use as well!
28. Steampunk Submarine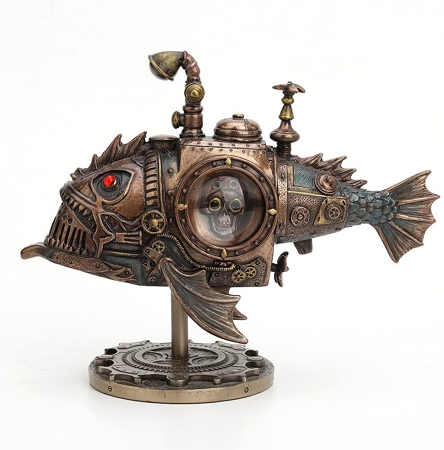 The submarine is a prominent vehicle in the Steampunk genre, so it's not surprising to see such a grotesque yet intriguing figure.
Real steampunk aficionados will love to flaunt such a display, especially when they learn that this object is hand painted.
29. Steampunk Tree Decoration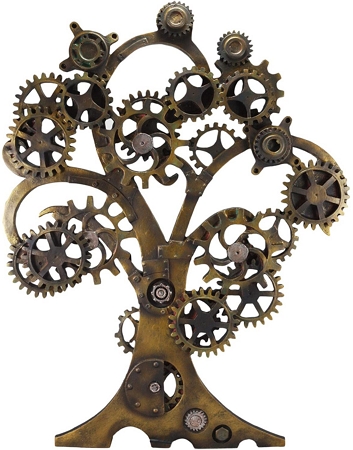 Not every gift has to be functional. Get your favorite Steampunk enthusiast this cool tree decoration to fill any gaps in their home decor.
30. Steampunk Hot Air Balloon Statue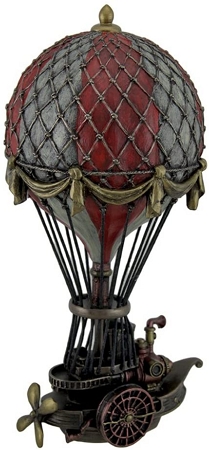 It wouldn't be a steampunk list without some sort of hot air balloon display, like this beautifully crafted statue of a hot air balloon that's powered by steam.
Its dark shades that are characteristic of steampunk designs can easily complement or contrast the motif they've already got going on.
Steampunk Gifts Ideas for Everyone
Whether your recipients are long-time steampunk admirers or they're just getting into the vast genre, these steampunk gifts will be put to good use.
Which of these steampunk gifts did you end up buying? Let me know in the comments section below.
For more gifts ideas for your favorite Steampunk aficionado, check out these other gift lists: