With a whopping estimate of more than six million active players, it's no surprise if you know someone who plays or is a fan of the World of Warcraft franchise. The game launched back in 2004 but continues to garner loyal players even today.
World of Warcraft is a role-playing game created by Blizzard Entertainment. Players come from different demographics and age ranges (from 18-90), but it's mostly dominated by males (58.53%).
You don't need to know everything about WoW to pick the best present for your giftee. That's what this list is here for! Read on to find the coolest World of Warcraft gifts.
5 World of Warcraft Gifts
1. WoW Mouse Pad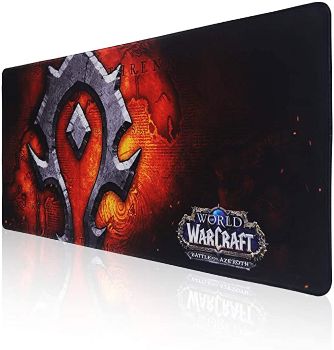 Give your giftee the best gaming experience possible with this epic mouse pad. Aside from the cool design, what makes this product great is that it's also highly functional since it helps the mouse glide smoothly.
Plus, it will keep their desk tidy and organized.
2. World of Warcraft: Horde Hardcover Ruled Journal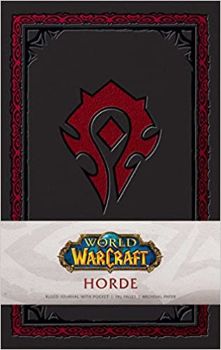 For the hardcore Word of Warcraft fan in your life, this journal will be an excellent present to celebrate any occasion. With 192 lined pages, there's plenty of writing space for cheat sheets, journaling, note-taking, and more!
3. Funko POP! Deathwing the Destroyer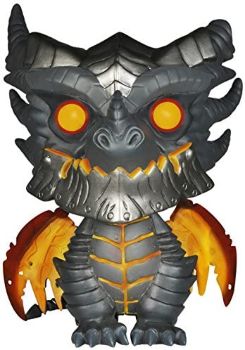 Deathwing the Destroyer is known for its fierce and frightening appearance in the game. This Funko POP! figure gives a different and adorable take on the famous character.
This six-inch figure will be a great addition to their collection of WoW stuff. It will also be an awesome display piece for their desk, workspace, and man-cave.
4. World of Warcraft: Rise of the Horde & Lord of the Clans: The Illustrated Novels by Christie Golden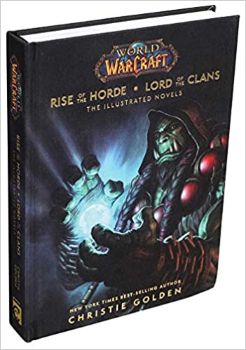 Can't get enough of WoW? Take their love for WoW into the offline world with this 2-in-1 book. The story follows the journey of Orc Thrall in the world of the Alliance and the Horde.
The book also features amazing illustrations and maps.
5. World of Warcraft: The Official Cookbook Gift Set by Chelsea Monroe-Cassel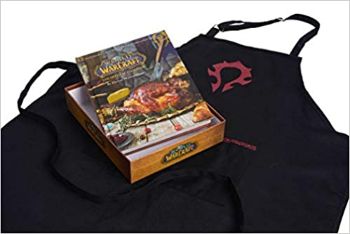 This cookbook will combine your giftee's love of food and WoW in one amazing present. They'll impress their fellow gamers with more than 100 unique recipes inspired by the game, such as the Dragonbreath Chili and Mulgore Spice Bread.
Brownie points for the reversible apron that comes with the set!
5 Gifts for World of Warcraft Players
6. USB Microphone

Does your WoW gamer stream their games? Or are they an aspiring podcaster that wants to share some tips and tricks with the WoW community? This mic will be the perfect gift for them!
This mic is high-quality and even has an awesome feature that will make them sound like their favorite character in the game. Use it on Twitch, Discord, and Facebook.
7. World of Warcraft Zip-Up Hoodie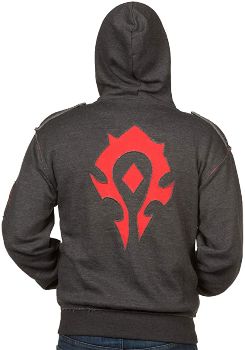 WoW players are extremely dedicated. They play no matter the season, weather, or even time. Most of them even play all day (or night) long!
This hoodie will be a nice addition to their World of Warcraft clothing collection. It has everything a gamer needs in apparel — it's cool, comfy, and functional.
8. WoW Blackout Curtains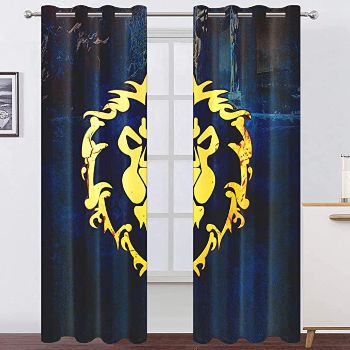 Transform their space into a World of Warcraft haven with these aesthetic blackout curtains. Aside from blocking harmful ultraviolet rays, these curtains also save energy because they act as insulation barriers.
9. World of Warcraft Horde Mug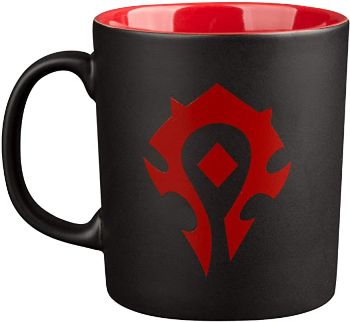 Time spent playing WoW varies from minutes to hours. Don't let your gamer become dehydrated while doing something they're passionate about – give them a mug that they can conveniently keep on their desk. Whether it's for water, soda, or coffee, this mug will be useful.
10. "Do Not Disturb, I'm Gaming" Socks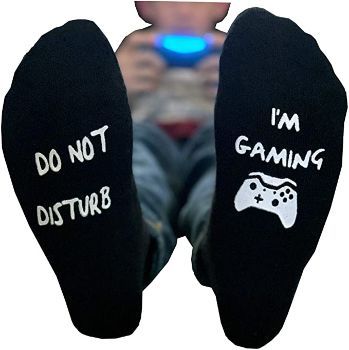 Give the World of Warcraft fan in your life these socks to help them avoid distractions while playing. These socks are also durable, stretchy, and non-slip.
5 WoW Gifts for Fans
11. The Lich King Figure
To own Lich King merch is every WoW fan's dream — whether it's a figurine, a shirt, or decor — because he's famous for being the master and lord of the Scourge.
This nine-inch collectible figure will be an incredible display piece in their space and great conversation starter.
12. WoW Seal Stamp Kit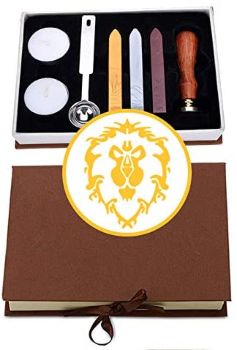 If you want to give them a unique WoW inspired gift, then this seal stamp kit is the best choice. Creating a wax seal stamp is easy and fun to do. Follow these instructions to learn how it works.
The set has everything a World of Warcraft fan needs to create a cool wax stamp such as a melting spoon, wax, and sealing sticks.
13. World of Warcraft Official T-Shirt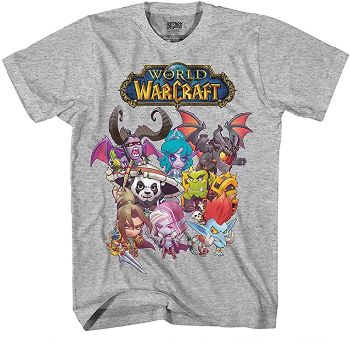 When you think of World of Warcraft apparel, you think of dark-colored shirts with terrifying creatures, but this shirt shows a different and adorable side of the characters.
This graphic tee is also made from 100% cotton, so it's breathable and comfortable.
14. WoW Trading Card Game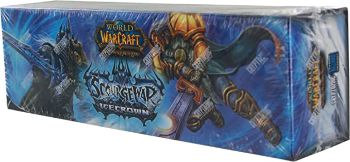 Any fan will be delighted to receive these WoW Scourgewar Ice Crown card trading game. Each pack contains a storage box, placemat, pocket guide, and more! Game nights will be more fun and epic thanks to this new game.
15. Mega Bloks World of Warcraft Deathwing's Stormwind Assault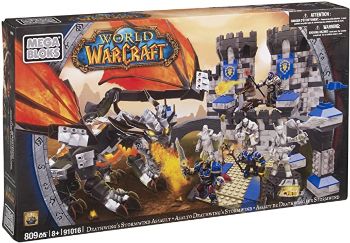 Build the awesome Stormwind Castle using this Mega Bloks set. It includes more than 800 bloks and pieces that will challenge your giftee's creativity. It's suitable for both children and adults.
5 Bonus WoW Gift Ideas: Gaming Essentials
16. L Shaped Gaming Desk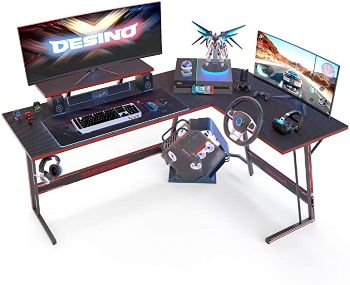 This L-shaped desk will give that WoW fan a gaming experience like no other. It's very spacious and can fit two monitors, keyboards, and even some WoW action figures perfectly.
Choose from the colors available (black, white, and gray) to match your giftee's gaming set-up.
17. Logitech G502 Gaming Mouse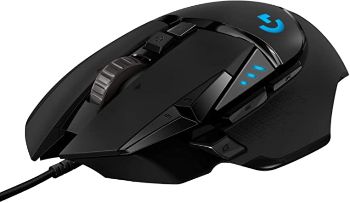 Playing World of Warcraft entails using a mouse a lot. So if they're dedicated and a massive player of the game, having a mouse is nonnegotiable.
The Logitech G502 is one of the best mice for gaming since it features 11 customizable buttons players can use to assign a specific command. Plus, the weight is also adjustable to better fit their needs and wants of the player.
18. Stereo Gaming Headset
These headphones will make World of Warcraft players feel like a pro not just because of their epic design, but also because of their functional features.
The headphones offer high-quality sounds and noise-canceling microphones. Aside from gaming, these headphones can also be used with a tablet, laptop, and phone.
19. Headphone Stand with Charger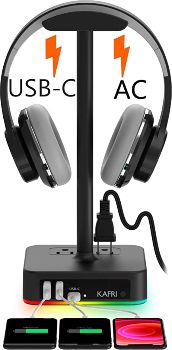 This headphone stand is a functional tool that will keep their gaming desk organized and hold their headphones when not in use, and also works as a charger.
It's also durable and fire-resistant making, it long-lasting and very safe to use!
20. Cleaning Gel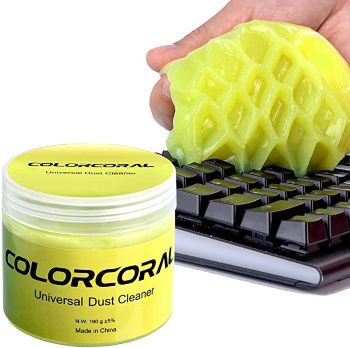 If the gamer in your life likes eating at his gaming desk (and let's face it, which gamer doesn't?), then this cleaning gel is a must. It removes crumbs, dirt, and dust from hard-to-clean areas, like a keyboard.
This gel is also reusable that guarantees that they'll make the most out of your gift.
The Coolest World of Warcraft Gifts
World of Warcraft is more than just a game for loyal fans and players. New friendships, skills, and memories are created because of W0W, and that makes it an important and special aspect of a fan's life. Whatever you choose, I'm sure that your giftee will love any of these World of Warcraft gifts.
Find more gift ideas for the WoW fan in your life here:
Have you played World of Warcraft? Share your thoughts and ideas in the comments!