Rick and Morty centers on Rick Sanchez and his grandson Morty as they go off on adventures across the multiverse.
The show has amassed quite a following and almost as big as the following itself is the sheer amount of merch out there.
If you are looking for the perfect gift for a fan of the show, I've rounded up 24 different Rick and Morty gifts for both casual and diehard fans.
Side-note: I'm going to make a lot of references to different episodes that will sound like utter nonsense if you haven't seen the show. I apologize in advance and will link to various clips to (hopefully) provide some context.
Pickle Rick Gift Ideas
To avoid going to family counseling, Rick devises a plan that turns himself into a pickle which spawned probably the most iconic phrase to come from the show, "I'm Pickle Rick!"
1. Pickle Rick Funk Pop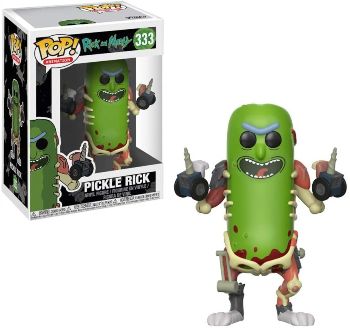 This is a must have for Rick and Morty fans who love Pickle Rick. Funkos are (typically) cute display pieces, and this figure has the awesome arm mounted drills among other interesting and grotesque features.
2. Pickle Rick Action Figure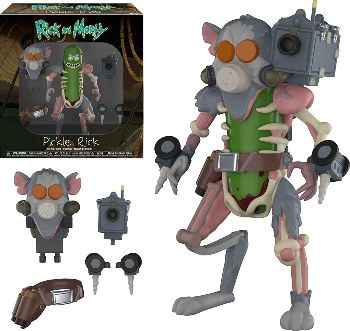 For the Rick and Morty fans who want to do more than just display Pickle Rick, here's an action figure from Funko that has various accessories (such as a rat head helmet) that fans will love playing with.
3. Talking Pickle Rick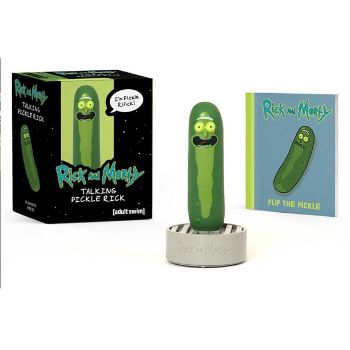 "I'm Pickle Riiiiiiick!" They'll love hearing this phrase along with "I turned myself into a pickle, Morty!" from this talking Pickle Rick figure that comes with a tiny illustrated booklet of the episode.
4. Pickle Rick Board Game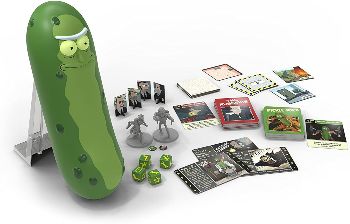 Can you believe they crafted an entire board game out of this episode alone?
Put them in the shoes of Pickle Rick and try to escape while Russians and Jaguar try to stop you. It's fun, simple, and comes with a Pickle Rick carrying case!
5. Huge Pickle Rick Plush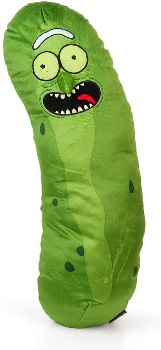 Whether they want to strangle him for going to this length to avoid the family counseling session or just give him a hug for how ridiculously awesome he is, this huge Pickle Rick plush is a must have for lovers of the show.
6. Pickle Rick Herb Grinder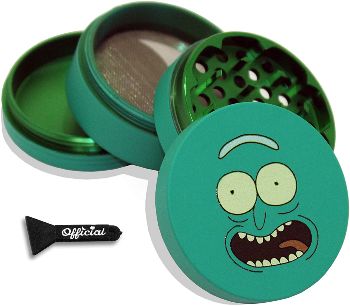 Parsley? Oregano? Pickles? Whatever a Rick and Morty fan's herb needs are will be elevated by giving them this Pickle Rick herbal grinder.
7. Pickle Rick Slippers
While they won't be able to build a lab with their tongue, fans of the show can keep their feet comfy by giving them this awesome pair of Pickle Rick slippers.
Fun and Unique Rick and Morty Gift Ideas
Moving from the Pickle Rick merch, here are 7 other toys and collectibles of other characters from the show.
8. Portal Gun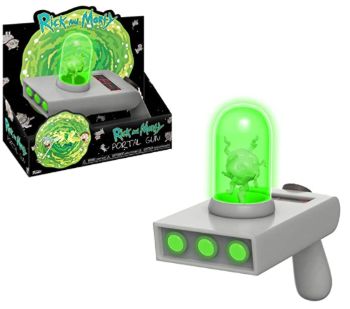 Do they want to travel the multiverse? Then get them this portal gun toy that glows and projects a "portal" display. Just remind them that it's only a projection and not an actual portal!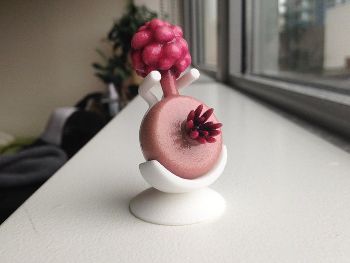 If that Rick and Morty fan you know doesn't have a plumbus yet, then what rock do they live under? Everyone has a plumbus in their home! Made from the finest dingle pop, this all purpose tool is a must have for fans of the show.
10. Space Cruiser Coin Bank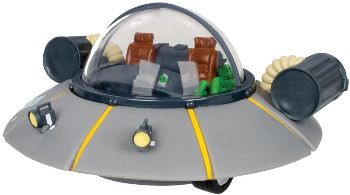 "Keep Summer safe." Help them keep their money safe by giving them this coin bank in the shape of Rick's space cruiser. Disclaimer: Killer lasers not included.
11. Morty Monster Mayhem Figure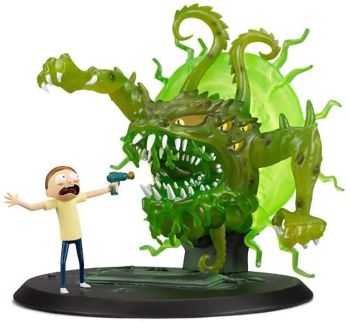 We can't forget about Morty. Hardcore fans of the show will love this figurine of Morty attempting to shoot a monster.
Whether or not Morty succeeds or even lives here is irrelevant. It's a sweet display.
12. "You Shall Now Call Me Snowball" Kit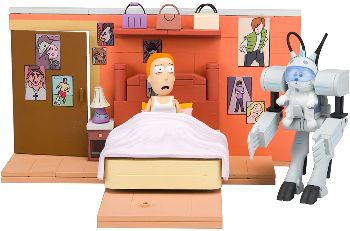 "Where are my testicles, Summer?" Snuffles err…Snowball here comes with a terrified Summer and her room in this buildable kit based on the first season's episode Lawnmower Dog. Fans of the show, or specifically Snowball, will love building and recreating this scene from the episode.
13. Snowball Plushie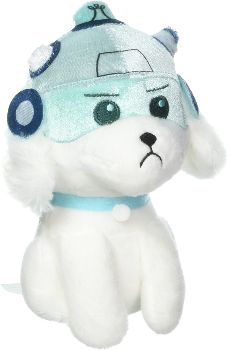 If they want a huggable Snowball without the exoskeleton, then get them this adorable little plushie. With this, they can have their very own Snowball they can treat well and who won't enslave humanity.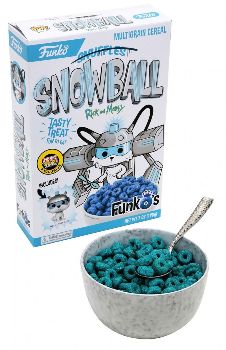 Here's a uniquely packaged Funko Pop of Snowball! In the guise of a "toy inside a cereal box," this collector's piece even comes with actual cereal.
While the cereal is nothing to write home about, Rick and Morty lovers can choose to have it unopened and displayed on their shelf for a terrific display piece or emergency food.
Rick and Morty Catchphrase Merch
The show has spawned numerous memorable phrases that have become memes. Here are 3 Rick and Morty merch with iconic lines from the show.
15. "I Turned Myself Into a ___, Morty!" Mug and Flask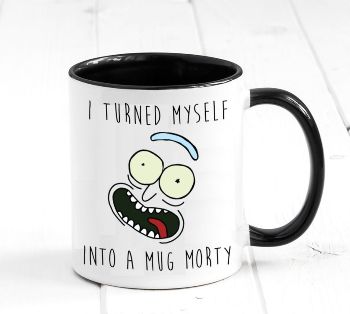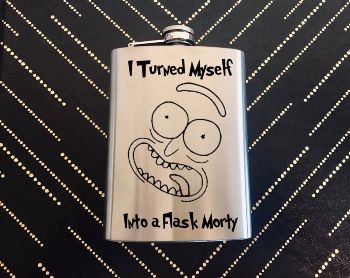 A pickle isn't all that Rick can turn into with these creative "I turned myself into" mug and flask. Let them drink their coffee or alcohol in Rick and Morty style with these items that Rick might conceivably turn into.
16. "Schwifty" Shirt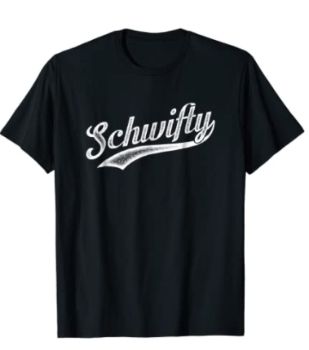 "Get schwifty!" Get them this shirt that features Rick and Morty's catchy word from their hit song that satisfied Cromulons and won them the contest that spared Earth.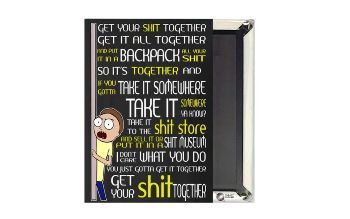 Does your giftee need a constant reminder to keep things organized and just get it together? Let Morty remind them to always get their act together with this magnet.
Personalized Rick and Morty Gifts
These are 4 Rick and Morty things that are useful or can feature them!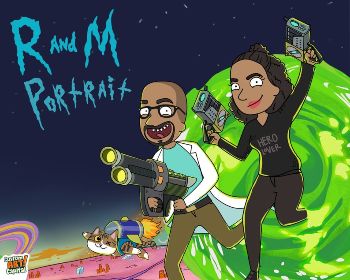 Why not make them a part of the series with this personalized Rick and Morty poster featuring them? Whether it's for a wedding or graduation, they can be customized to fit just about any occasion.
19. Space Cruiser USB Lamp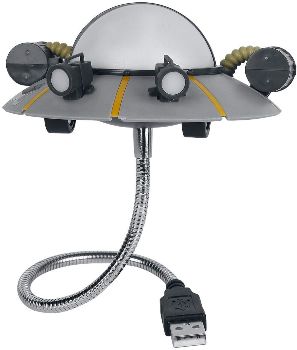 Help them avoid eye strain with this space cruiser USB lamp. While it doesn't have an on/off switch, it can be easily plugged and unplugged in any USB port. Sadly, it's not powered by a planet.
20. Szechuan Sauce Shot Glass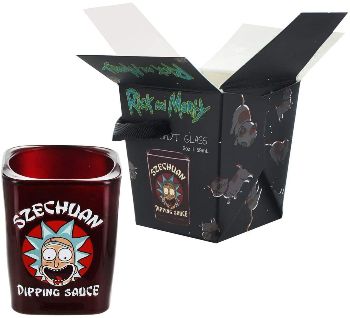 You've probably heard of the Szechuan sauce from McDonald's when they were promoting Mulan in 1998. It featured briefly in a scene from the show and caused quite a stir in some branches of McDonalds.
Regardless of the trouble that caused, this shot glass won't cause any of that. Remind fans Rick and Morty how amazing this sauce was hyped up to be on the show everytime they take a shot.
21. Mr. Meeseeks Mug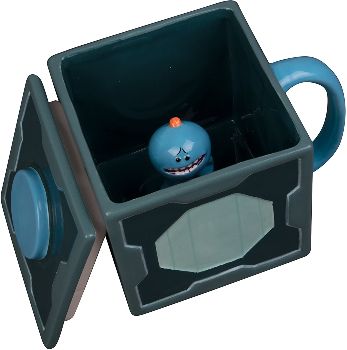 Meeseeks are creatures that only exist for a singular purpose, and your Rick and Morty fan can take one home in this Mr. Meeseeks box shaped mug that comes with a cute Mr. Meeseeks inside. Just remind them to keep the requests simple.
Rick and Morty Games
Lastly, below are 3 fun hobby kits/games for the Rick and Morty fans in your life.
22. Shy Pooper Puzzle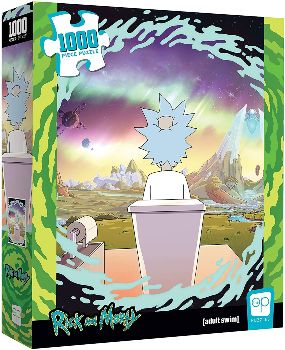 Let them build a jigsaw puzzle of this beautiful scenery from behind Rick on the toilet from the episode The Old Man and the Seat. With 1000 pieces, this should keep them busy for a few days.
23. Rick and Morty UNO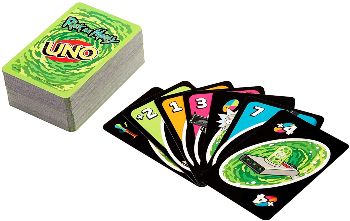 They thought all the +4 cards have been used? Think again! Watch chaos and rage unfold as players pick up discarded +4s to be used once more.
The friendship ending game with a Rick and Morty twist is a lovely and fun gift to give fans of the show. It plays like regular UNO but has a new card and mechanic called the Mr. Meeseeks rule, where players can get a card from the discard pile and play it.
24. Rick and Morty Monopoly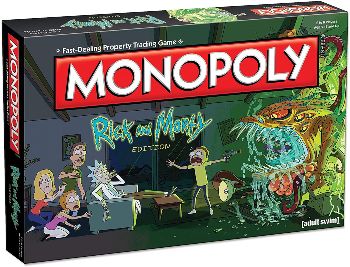 Lastly, get them this Rick and Morty Monopoly set and let them buy/sell property from across the multiverse! They and a few fans of the show can use one of the iconic stuff from the show as tokens such as the portal gun, Snowball's helmet, a plumbus, etc.
A must have for Rick and Morty Fans who are also Monopoly fans!
Rick and Morty Gifts for All Fans
Whether they're travelling to distant planets or in another reality where they're shrimp people, these 24 Rick and Morty gift ideas will get them schwifty!
Are you looking for Rick and Morty gifts for a big time fan? Have they tried getting Szechuan sauce when it became available for a day? Tell me in the comment section below!
Rick and Morty has spawned various memes, and if you know someone who loves memes, then check my article on gifts for meme lovers.