More than 70 years ago, one of the most beloved dog characters in the world was created (and Snoopy is his name). Snoopy, together with Charlie Brown, Lucy, Linus, and Woodstock go on memorable adventures that are both entertaining and educational to their readers.
Whether it's on newspapers, television, or the big screen, these characters continue to be a hit with fans all across generations.
Even if your recipient discovered Snoopy in the 60s, 80s, or 2000s, the perfect Snoopy gifts for them can be found here so keep on reading.
5 Snoopy Merchandise for All
1. Snoopy Starry Night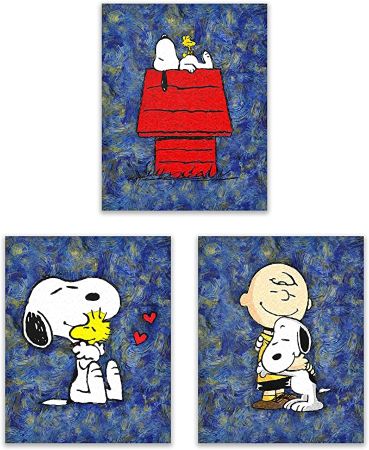 Combine Snoopy, Charlie, and the Starry Night and voila,  you've got yourself a masterpiece!
These adorable photos will add a hominess feeling to their space. Whether the Snoopy gift you're looking for is meant to be a going-away, housewarming, or birthday present, this present will be a great choice.
2. Snoopy Typing Miniature Figurine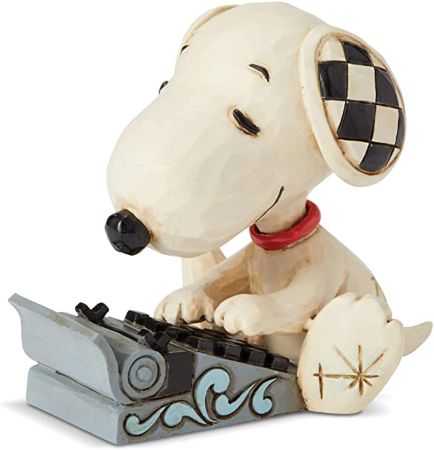 Here's an awesome present for your recipient who's a gifted writer, editor, or novelist. This Snoopy figurine will keep them company while they pull an all-nighter to meet a deadline.
Check this out for more useful gifts for writers.
3. Mouse Pad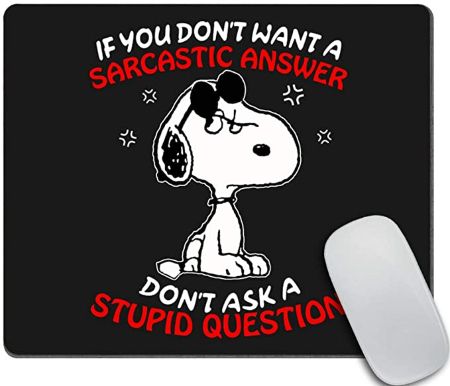 Looking for an awesome present to give to your friend who you always run to when you need advice, guidance, and intervention? Even though the truth can be brutal, this present will show them that you appreciate and value their honesty.
4. Snoopy Shoulder Bag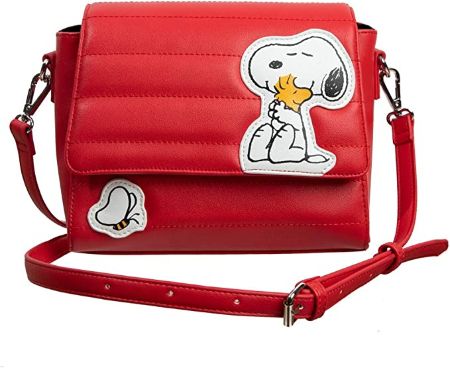 Look cute and chic while sporting this Snoopy shoulder bag. It has a magnetic closure and multiple spacious compartments that will hold her necessities like phones, wallets, and keys.
5. Revers-A-Brella Umbrella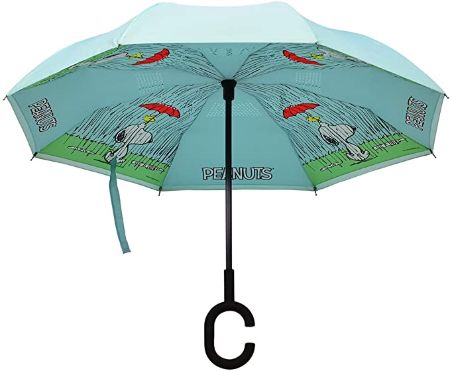 Get this umbrella for the biggest Snoopy fan who will love the Peanuts character rain or shine. For protection against the pouring rain or heat of the sun, this umbrella will be very useful.
6 Snoopy Collectibles for the Ultimate Fan
6. 70 Years of Snoopy Keychain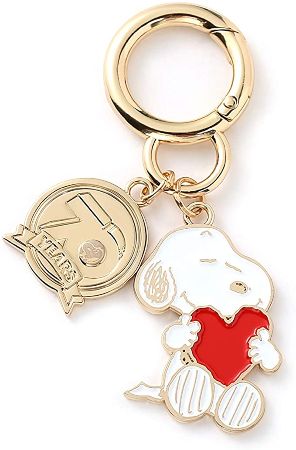 Does Snoopy have the power to bring a smile to their face? Then this keychain will be a fantastic present! Through this simple yet thoughtful gift, they can have a little dose of happiness whenever they need it.
7. 65th Anniversary Snoopy Mug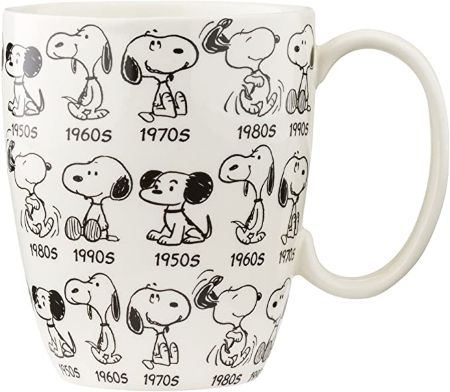 See the evolution of Snoopy through the decades with this mug. A lot may have changed in the features and appearance of Snoopy but his personality and appeal to his fans remain the same.
8. Snoopy 1965 Collectible Glass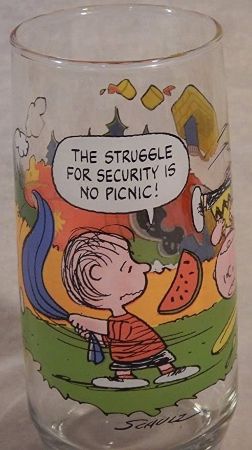 For Snoopy collectors who specialize in collecting glasses, this will be a holy grail. It's a vintage glass from Mcdonald's in the 60s that makes this super rare and valuable.
9. Snoopy Peanuts 23K Gold Card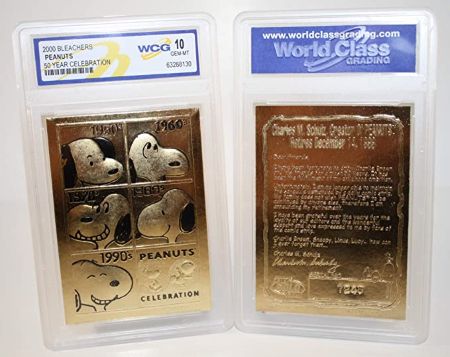 This limited edition Snoopy card was made to commemorate Peanuts' 50th Anniversary. It's a 23k gold card with sculpted pictures of Snoopy throughout the years. It will be an awesome addition to their Snoopy collection.
10. Peanuts 2020 Commemorative Print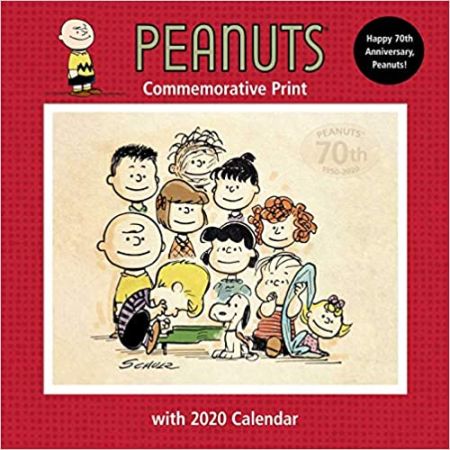 The year 2020 was a big year for Snoopy fans because it's Peanuts' 70th anniversary.
This commemorative print includes exclusive strips, post arts, and history about the comics. Just add a frame to the print and they'll have a cute decor as well.
11. The Complete Peanuts Comics & Stories (1999-2000)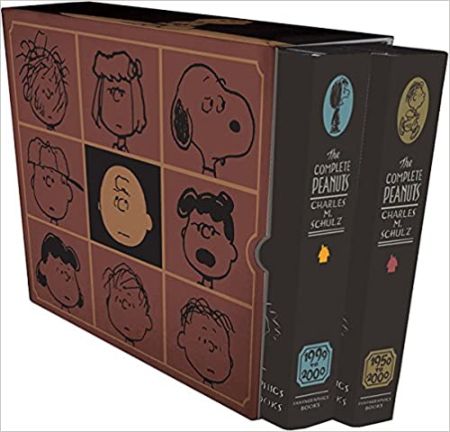 Relive childhood memories with this Peanuts box set that includes volumes 25 and 26 of one of the most iconic comic strips in history. Aside from the four years' worth of strips, the set also comes with a Peanuts index, essays, interviews, and more!
5 Peanuts Gifts
12. Peanuts Holiday Figurine Set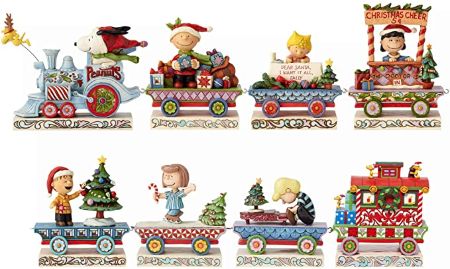 Feel the Holiday spirit and cheer by displaying these Peanuts characters' figurines. It's an eight-piece set intricately handpainted that makes the present more unique and special.
13. Peanuts Playing Cards
Spend quality time with family and friends by playing Crazy Eights, Go Fish, and Chase the Ace. Playing cards is a must-have for game nights, road trips, and parties.
14. Peanuts Throw Blanket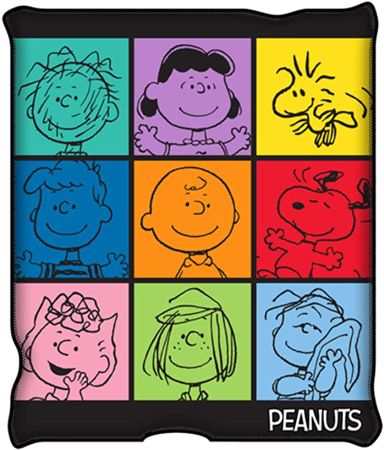 Wrap them up with their favorite bunch in this oh-so-soft blanket. It will keep them warm and cozy throughout the night so they can enjoy a peaceful and relaxing sleep.
15. Peanuts Characters Wall Clock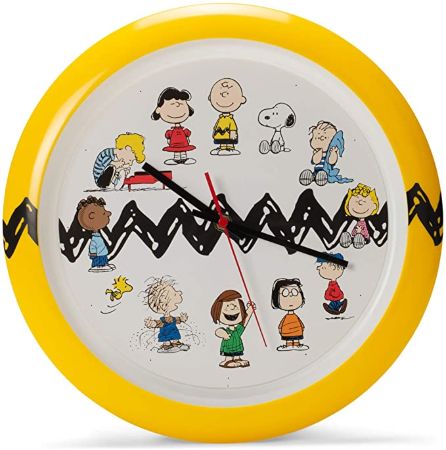 What time is it? It's Peanuts time!
Add this clock to their Peanuts-themed space.  You've got to get this wall clock if you're looking for a functional and cute Snoopy gift because it ticks both boxes.
16. Peanuts Cast Puzzle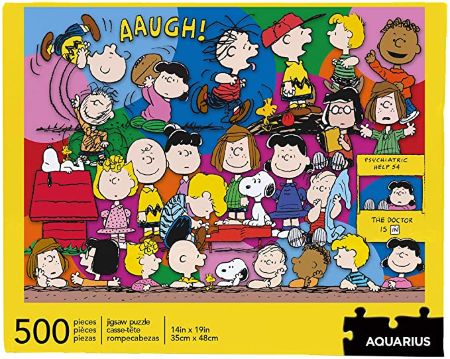 Start a new project and complete a 500 piece puzzle. Doing jigsaw puzzles improves memory and concentration so this will be a great (and fun) mental exercise for your recipient.
Click the link for more amazing gifts for puzzle lovers.
5 Charlie Brown Gifts
17. Charlie Brown Plush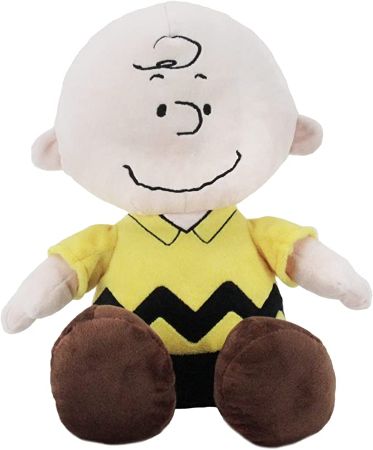 Growing up, we watched Charlie Brown and the Peanuts friends take on a new and exciting adventure every day. Now, your recipient will be able to take the adorable Charlie Brown on their own adventures.
Complete the gang by adding Lucy, Snoopy, and Woodstock to your gift as well.
18. Charlie Brown Scream Shirt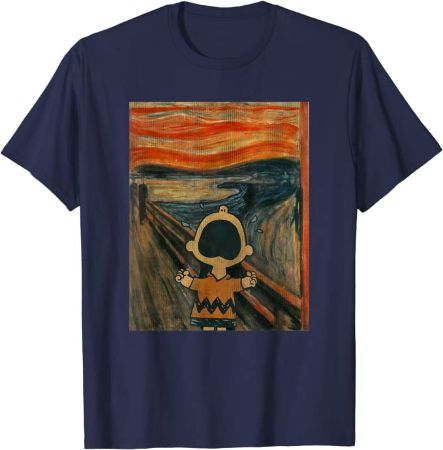 Good grief!
This comical shirt is a must-have for all Charlie Brown fans. It's a cool mash-up of The Scream by Edvard Munch and the beloved Charlie Brown. Choose from five available colors (or better yet, take all of them!)
19. Men's Charlie Brown Shirt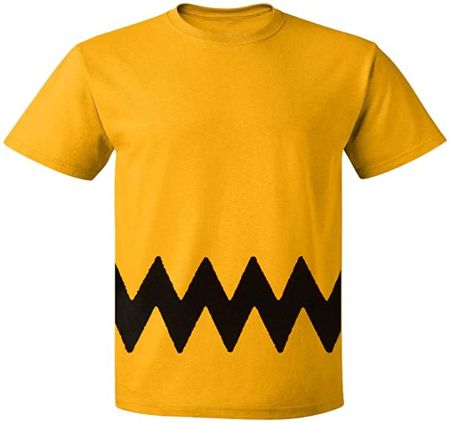 Channel their inner Charlie Brown with this shirt. The iconic yellow shirt with a black zigzag line is simple yet one of the most recognizable outfits in the comics world.
It's a great choice since it's a 2-in-1 present—it works as an everyday shirt and costume.
20. Charlie Brown Mug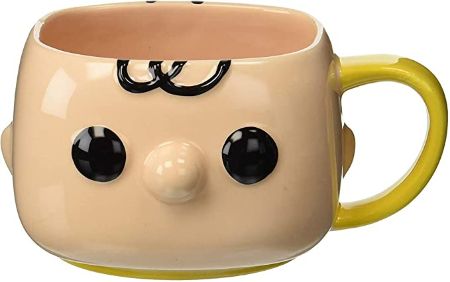 There's nothing better than welcoming a new day with Peanuts comics in one hand and a cup of coffee in another. It's a fantastic way to boost their mood and start the day on the right foot.
21. Charlie Brown Light Set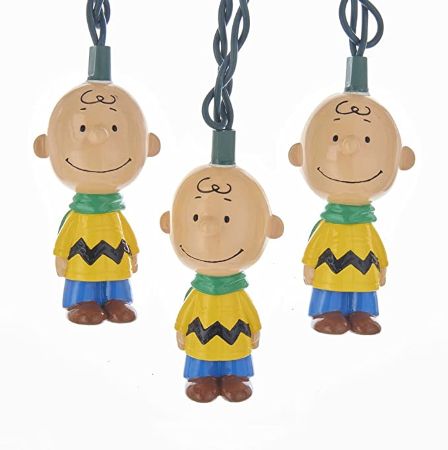 Decorate their space, room, or tree with these cute Charlie Brown lights to feel and spread the Holiday cheer. These can also be displayed throughout the year because let's be honest, Charlie Brown is timeless.
7 Snoopy Gifts for Kids
22. Snoopy By Camp Fire Night Light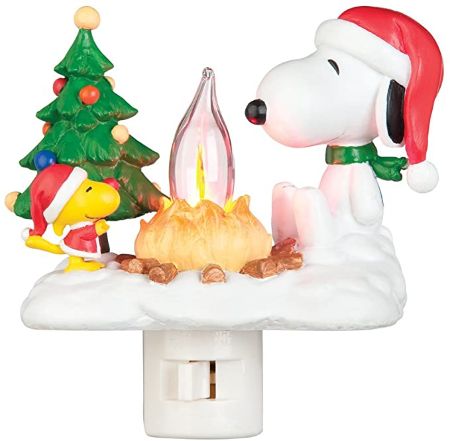 The young Snoopy fan in your life won't be afraid of the dark anymore because they've got Snoopy and Woodstock to keep them company. Instead of fearing the darkness once the light turns off, they'll be mesmerized by this cute Holiday scene.
23. Peanuts Coloring and Activity Book Set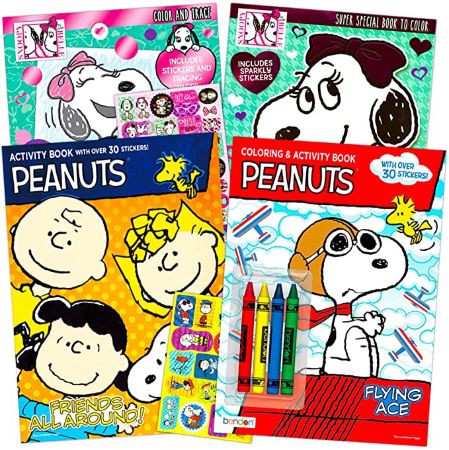 Enrich their mind while keeping them entertained by giving this cool Snoopy activity book set. It's also perfect for sharing since it includes four activity books.
24. Snoopy File Folder Set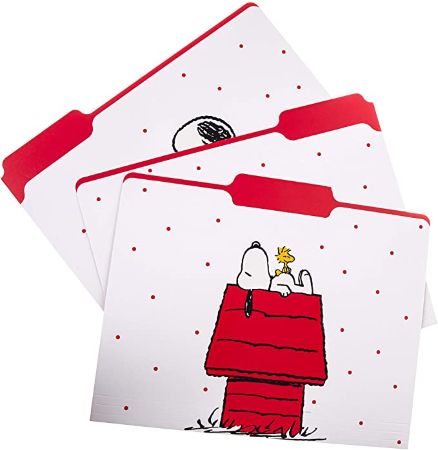 For older kids who like to keep their notes, quizzes, and activity sheets clean and organized, these Snoopy folders will be a cool gift choice.
Each folder has a different design so they can assign one folder for a specific subject to make organization easier.
25. Snoopy Kids Spoon & Fork Set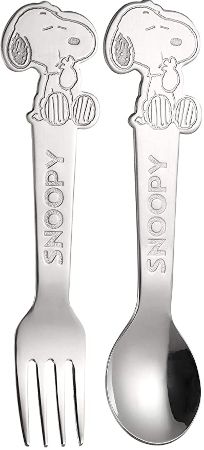 These Snoopy utensils will make them look forward to breakfast, lunch, and dinner. So if your recipient is a picky eater, this gift will be a good choice.
26. Mini Crew Socks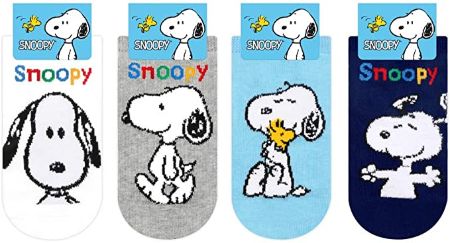 Keep their little feet warm and cozy with these adorable Snoopy socks. The socks feature different designs and colors so they have the option to pick one that will complement their #OOTD the best.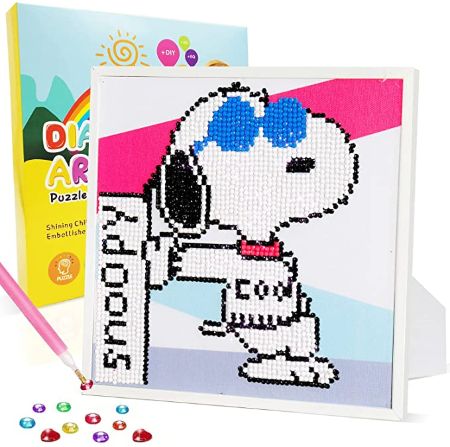 Does your recipient love to do arts and crafts? Introduce them to a new kind of art— diamond painting. It's beginner-friendly and fun so your recipient will enjoy this activity.
28. Snoopy Sno-Cone Machine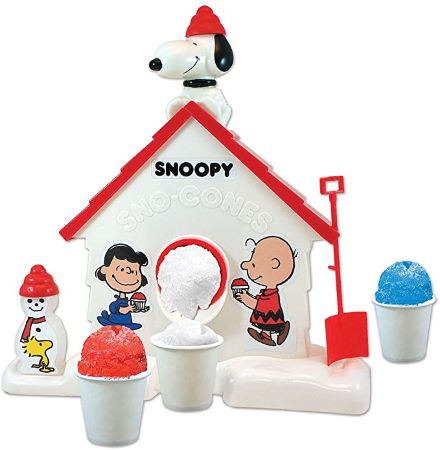 There's nothing that can stop them from having fun under the sun especially when they have this cool snow-cone machine ready to refresh them.
This snow cone syrup set contains six popular flavors among kids like blue raspberry, grapes, and cherry.
6 Snoopy Gifts for Adults
29. Snoopy Silver Lamp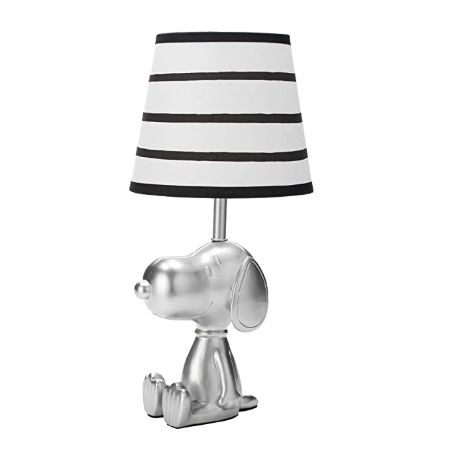 Even if their taste and interests evolved, Snoopy will always be the beloved character from their childhood that will remain constant. For a minimalist and elegant Snoopy decor, this will be the ideal choice.
30. Snoopy and Woodstock Perpetual Calendar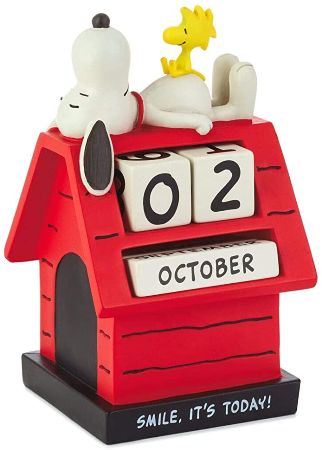 Smile it's today!
This Snoopy gift will remind them to relax and celebrate each day. They'll also get the most out of this calendar since it can be used endlessly.
31. Snoopy Pottery Mugs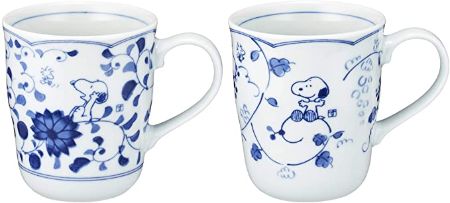 Prepare the biscuits, scones, milk, and condiments because it's time for an afternoon tea party! Get these elegant Snoopy mugs for the sophisticated bunch who loves tea and Snoopy.
32. Medicine Tablet Holder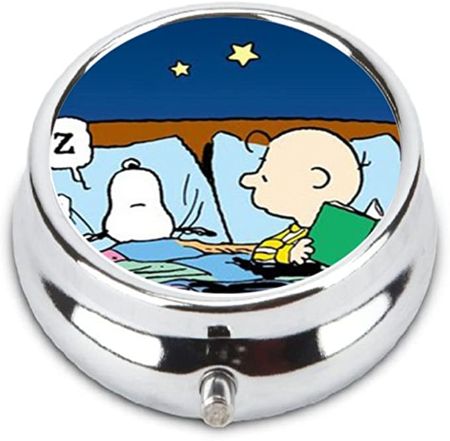 Here's a great present for your recipient who always forgets to take their medicine. Bring this to school, business trips, and vacations as a reminder to take their medication before hitting the sack.
33. Throw Pillow Cover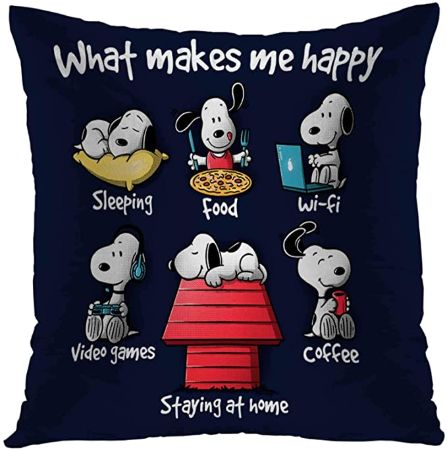 Is your recipient the human version of Snoopy? This will be a great present if they too love sleeping, eating, and staying at home like Snoopy.
34. Snoopy Crochet Kit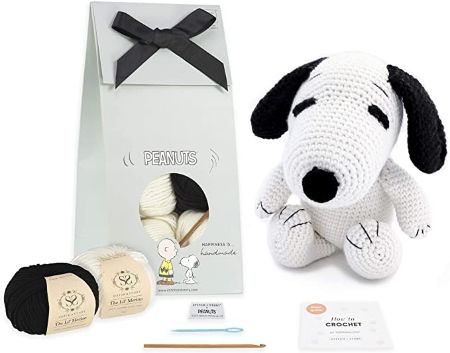 Let them have a unique gift and experience by creating their very own Snoopy by crocheting. Completing this project will give them a rewarding and nice feeling.
Plus, they get to keep another Snoopy plush for their collection. It's a win-win!
Snoopy Here, There, and Everywhere!
Dog person or not, the imaginative and loyal Snoopy will always have a special space in everyone's heart.
Get more exciting gift ideas here:
Who's your favorite Peanuts character? Which among the Peanuts Specials is the most memorable for you? I'd love to know your thoughts. Share them in the comments below.