Wonder Woman is an iconic superhero not only because of her special powers, but also because of her capacity to empower women everywhere.
If you're wondering what a fan of Wonder Woman likes, this list is here to help you! Without further ado, here a the coolest Wonder Woman-themed presents you can find on the internet.
13 Wonder Woman Gifts for Kids
1. Wonder Woman Backpack
This backpack will be handy as the wearer explores and goes on wonderful trips! It's made with canvas and adjustable shoulder straps, making it a great bag for adventurous kids.
Plus, it comes with a cool detachable cape!
2. Wonder Woman Pop Up Play Tent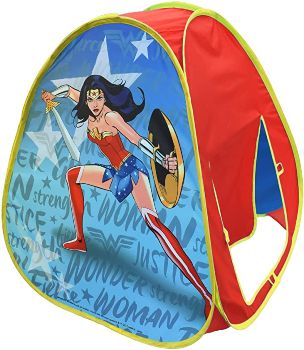 Playtime will be more fun with this cool tent! It's an awesome place where kids can let their imagination run wild and play pretend with friends and family. Plus, it's easy to assemble and foldable.
3. Wonder Woman Action Doll
Your giftee will have tons of fun fighting and solving crimes with this awesome action doll! Action dolls aren't common, so this daring will be a fresh addition to any toy collection.
Want to complete the gang of DC Super Hero Girls? Check out this Supergirl action doll, too!
4. Wonder Woman Bandages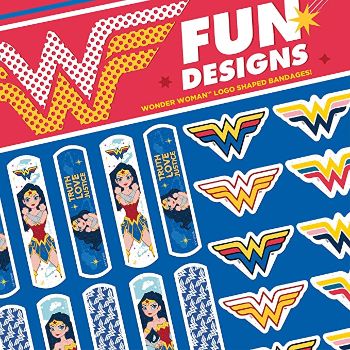 Scrapes and cuts won't stop kids from having a blast thanks to these cool bandages! Each box contains 10 logo stickers and 10 strip bandages.
5. Wonder Woman Digital Watch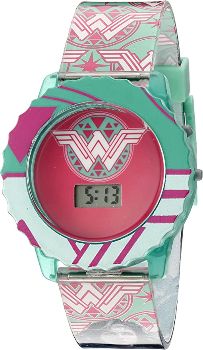 If you want to give the Wonder Woman kid fan in your life a cute and practical present, then this digital watch fits the bill perfectly!
It's a straightforward watch that won't confuse kids who are just starting to learn how to read the time.
6. Wonder Woman Costume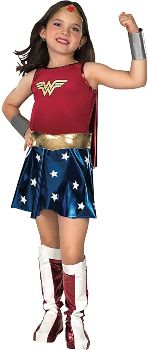 Whether it's for Halloween, a costume party, or an ordinary day, fulfill their dream of dressing up as their favorite superhero with this Wonder Woman costume!
Complete the look with this Wonder Woman shield!
7. DC Comics Super Hero Girls T-Shirt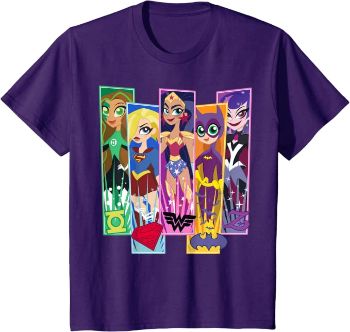 Fans of the DC Comics Super Hero Girls will be thrilled to receive this adorable shirt!
It's a comfy and lightweight shirt that also features a classic fit. Choose from three colors: black, blue, and purple.
8. Wonder Woman Pajama Set with Slippers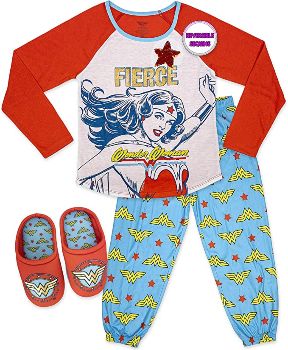 Let them look fierce while staying comfortable with this Wonder Woman pajama set!
This two-piece pajama set is made from 100% polyester for a comfy and snug fit. Plus, it comes with adorable matching slippers!
9. Wonder Woman Girl's Swimsuit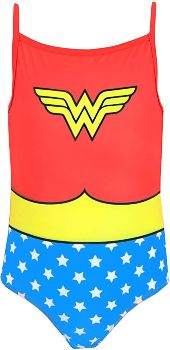 Let that mini Wonder Woman enjoy fun in the sun with this adorable Wonder Woman girl's swimsuit.
The quality and fit are fantastic and won't ride up in the back, so she can play and enjoy swim time without worrying about her swimsuit!
10. Wonder Woman Rain Boots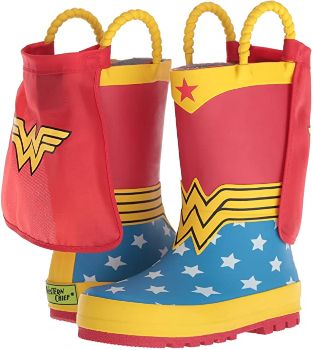 Make a splash and have fun in the rain with these bright Wonder Woman rain boots!
Aside from being comfortable from the cushioned insoles, they're also very cute and feature the iconic Wonder Woman cape.
11. Whiskware Wonder Woman Stackable Snack Pack

This lunch box is very convenient since it's stackable and easy to carry. It features three containers that can be used as a group or separately.
12. Coloring and Activity Books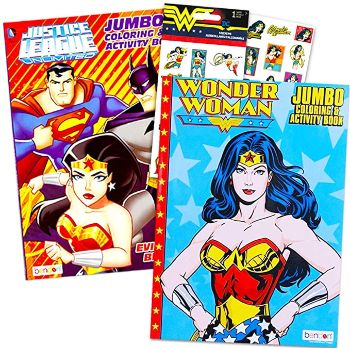 Keep your giftee busy with fun activities found in these books! They'll have hours of fun solving puzzles, playing games, and coloring.
13. Wonder Woman Diary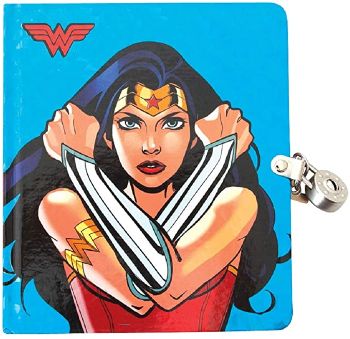 One of the best gifts you can give a child is a safe space where they can freely express their feelings and thoughts without the fear of being judged.
This Wonder Woman diary also includes a lock that will keep their writings secure and private.
13 Wonder Woman Gifts for Adults
14. Coffee Maker with Mug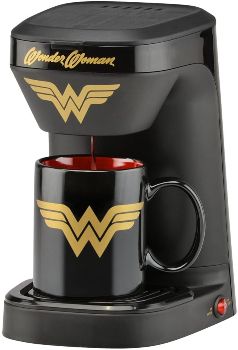 This item is perfect for the Wonder Woman fan in your life who can't go a day without coffee.
It conveniently serves one cup of coffee and has an easy on and off switch. Plus, it comes with a permanent coffee filter and a matching 12 oz ceramic mug.
15. Wonder Woman Art Wood Plaque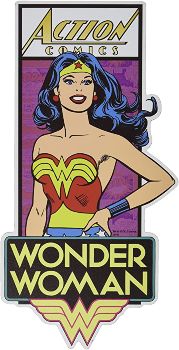 Decorate their space with this cool and unique wood wall art! It's a great piece that will proudly show their love for the superhero.
16. Wonder Woman Blanket with Sleeves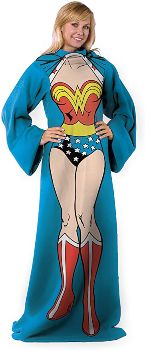 Your giftee will enjoy this gift because it's a blanket and costume all in one! Made from soft, thick, and luxurious fleece, this blanket will give let them lounge around while also looking chic, like Wonder Woman.
17. Wonder Woman Apron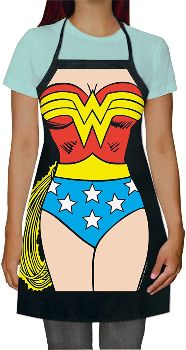 For the heroes in the kitchen who cook amazing food, this Wonder Woman apron will be a fantastic gift choice!
It's made from 100% cotton with adjustable straps that will make their cooking experience more convenient, safe, and fun.
18. Wonder Woman Sports Bra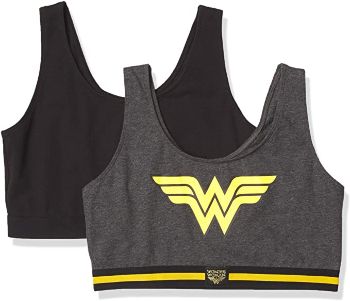 With this sports bra, they'll look stylish even while working out! It's made from 95% cotton and 5% spandex with a pull-on closure that provides a great fit and support while exercising.
19. Justice League Candles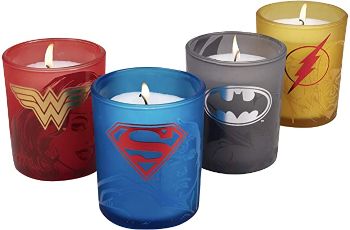 This candle set will receive two thumbs up from the ultimate Justice League fan. It includes four unscented candles and glass containers with symbols of the legendary Superman, Wonder Woman, Batman, and The Flash.
20. Wonder Woman Apple Watch Band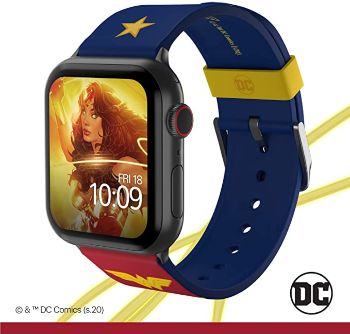 Level up their Apple watch with this cool Wonder Woman watch band!
This officially licensed band features the iconic symbol and colors of Wonder Woman. It's also high-quality and durable since it's made with sweat and UV-resistant silicone.
21. Wonder Woman Bracelet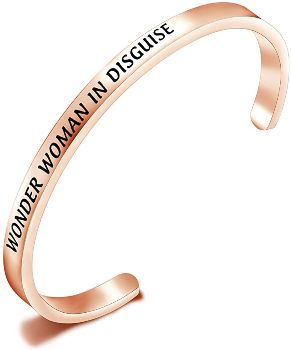 If you're looking for a subtle Wonder Woman gift, then this is the perfect present!
It's made from stainless steel and is hypoallergenic, so your giftee can wear this minimalistic cuff bracelet for many years to come.
22. Wonder Woman Oversized Bag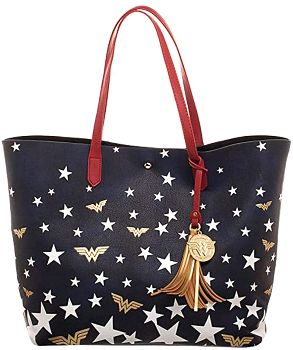 Give this bag to a Wonder Woman fan who prioritizes functionality. This spacious bag is made from faux leather and has a snap closure. Plus, it comes with an adorable Wonder Woman metal charm.
23. Wonder Woman Metallic Finish Coffee Mug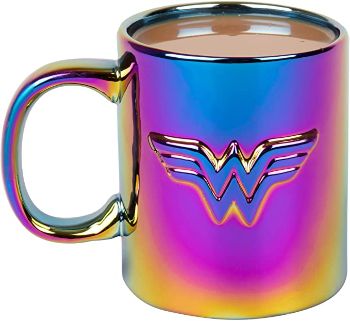 Drink in style with this epic 11 oz mug that has an iridescent metallic finish! Not only does it shine, it also brightens up the day of the drinker as they sip their coffee, tea, or hot chocolate.
24. Wonder Woman and Superman Couples Pillowcases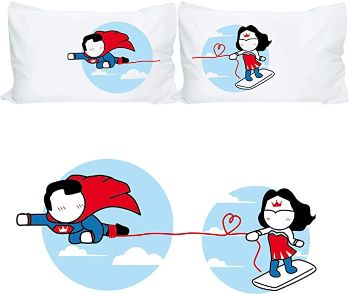 If you're looking for a sentimental Wonder Woman present for your SO, this pillowcase is the best option! It's a cute couple's gift that fits standard and queen-sized pillows.
25. Wonder Woman Hair Wrap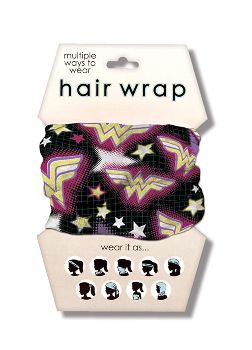 Don't let hair strays distract them from their daily tasks. With this Wonder Woman hair wrap, their hair will be kept secure and styled!
Aside from being a hair wrap, it also works as a scarf, top, mask, and more!
26. Wonder Woman Musical Pop Up Card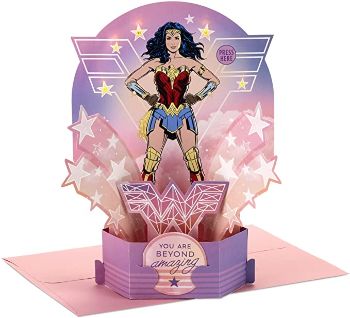 A card with a sweet message is a classic present that will never grow old. This Hallmark card is special not only because it features the warrior demigoddess, but also because it plays the Wonder Woman theme song!
The Greatest Wonder Woman Gifts
Unleash the inner Amazonian warrior in the Wonder Woman fan in your life with these great Wonder Woman gifts! They'll be thrilled to receive these practical, unique, and high-quality presents.
Who's your favorite superhero? Share in the comments! And while you're at it, check out these awesome Harry Potter gifts for more gift inspiration.