Gryffindor is arguably the most famous House in all of the Wizarding World (and the muggle world as well). The protagonists of the book (like Harry, Ron, and Hermione) all belong to this renowned House.
The House is also known for its bravery and is represented by the colors scarlet and gold. Likewise, the roaring bravery of Gryffindors makes the lion the most suitable emblematic animal for them.
If you know someone who has a clear sense of morality, unwavering courage, and a heart of gold, then they'll be a Gryffindor. Here's a list of the best Gryffindor gifts that your recipient will appreciate.
12 Gryffindor Gifts
1. Gryffindor Sword Letter Opener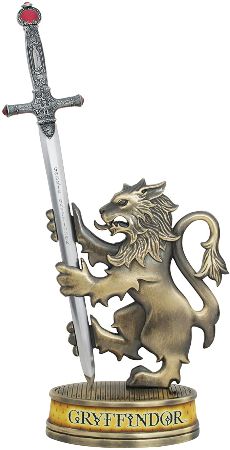 Your recipient will feel like they're in Hogwarts while using this epic letter opener. They'll be excited to receive handwritten notes and letters because it will give them the chance to unsheath the magical sword.
Plus, having this at their desk will make them the coolest Potterhead in town.
2. Coffee Mug with Gryffindor Crest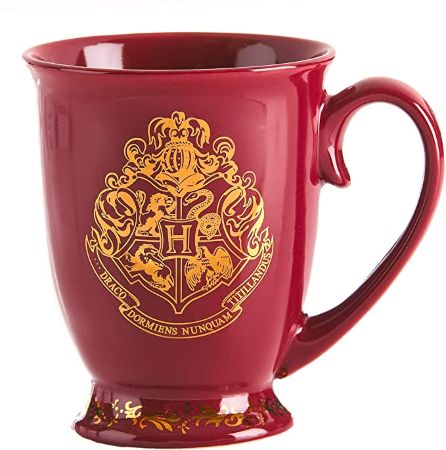 Anyone fancy a cup of tea? *in British accent*
Whether your recipient likes to drink tea, coffee, or hot chocolate, this red mug will make the drinks of the Gryffindor in your life more delectable.
3. Gryffindor Cap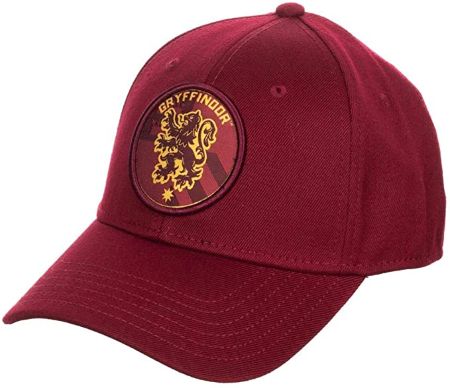 Gryffindors don't need the sorting hat to tell them that they belong to the House of the Brave. Only the coolest wizards and witches will be able to wear this proudly and rock this cap even while wearing muggle clothes.
4. Crossbody Bag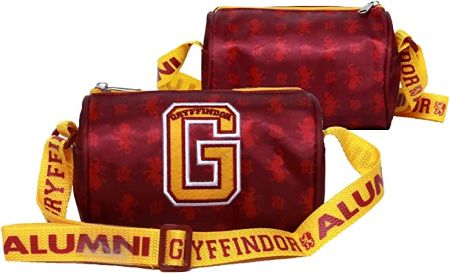 Still waiting for the letter of acceptance to Hogwarts School of Witchcraft? This bag will help them prepare the things they'll need while they wait for the letter that will change their life.
This bag will also let the other kids know that they're a proud Gryffindor through and through.
5. Gryffindor Knit Hood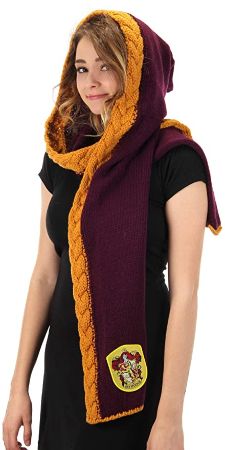 It can get a little chilly even in the world of wizards. Protect your recipient from the cold (while staying fashionable) with this Gryffindor knit hood.
6. Hogwarts Alumni Knapsack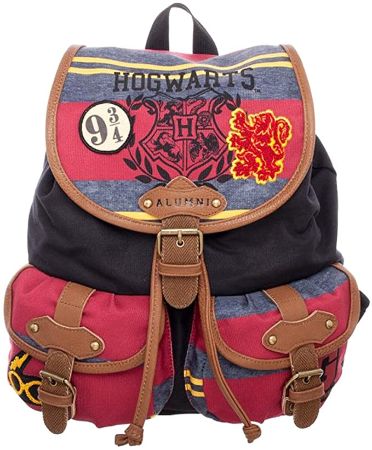 Studying in a muggle school sucks especially if you know there's an awesome school just for wizards and witches in the highlands of Scotland.
Although getting into Hogwarts is one in a million chances, this bag will still make them feel like a student of the prestigious school.
7. Gryffindor Vinyl Stickers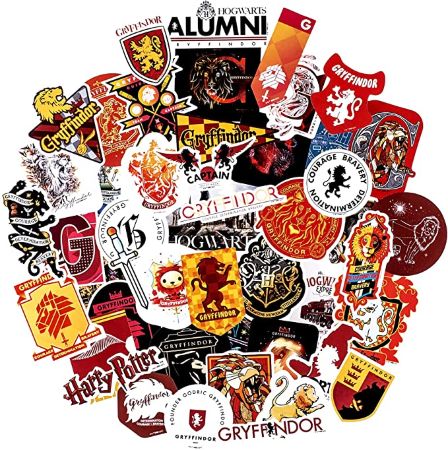 If your recipient wants all of their things to be Harry Potter-related, then this sticker set will be a hit. They won't need to buy new notebooks, mugs, and cases since all they have to do is to stick one of these vinyl stickers, and voila! they have Gryffindor-themed items.
Imagine the fortune that they'll save thanks to your gift!
8. Golden Snitch Lava Stone Necklace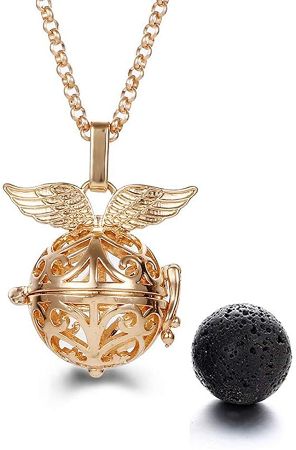 Fans of Harry Potter know how desirable the golden snitch is. It may be the smallest ball in Quidditch but it's the most important one in the game.
Save your recipient all the trouble of chasing the snitch while riding the Firebolt by giving them this beautiful necklace.
9. Gryffindor Charm Bracelet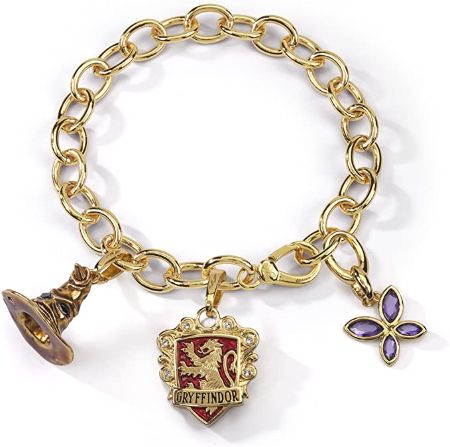 Gryffindors don't desire fancy worldly possessions because they believe in simplicity and substance. This bracelet has three charms that will embody a Gryffindor: the sorting hat, Gryffindor House crest, and Lumos butterfly.
10. Harry Potter Bookmark Set
Ravenclaws are best known for their intellect but Gryffindors also love reading books (like Hermione). These bookmarks will be a treat to the Harry Potter fan in your life since they won't have to fold the edges of the books because of your present.
11. Gryffindor Crest Puzzle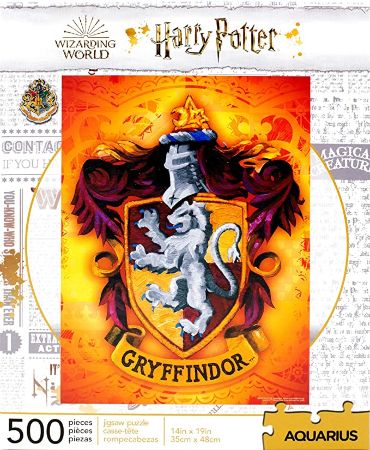 Gryffindors live for adventures but they also appreciate a quiet afternoon of alone time completing a puzzle. This puzzle will be a cool present since it will also be a great decor once they're finished with it.
12. Gryffindor Head Girl Badge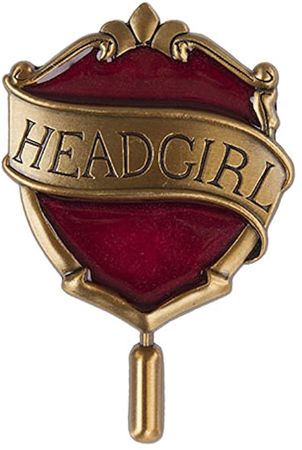 Being a Head Girl is a great opportunity for seventh-year students because professors trust her and students look up to her. Your recipient will have the chance to live up their dream with this badge. It's a symbol of authority that any Potterhead aspire for.
12 Gryffindor Merch Gifts
13. Harry Potter Boxed Set: Gryffindor Edition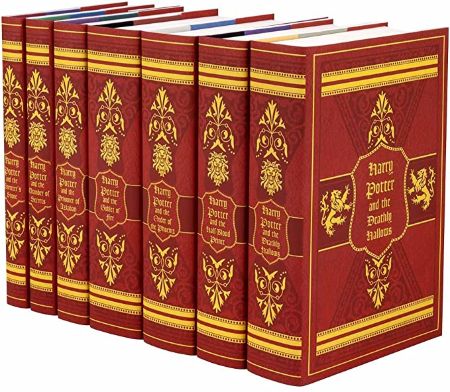 Nothing beats a Harry Potter book set if you're looking for a foolproof present for the Potterhead in your life. But if you want to impress your recipient further, this Gryffindor edition is the way to go!
More magical Harry Potter gifts can be found here.
14. Gryffindor Blanket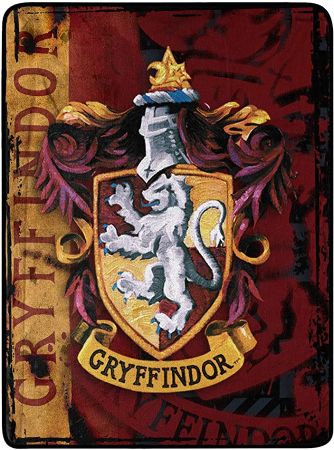 The Gryffindor common room is the coziest in all of Hogwarts. It's no secret why Gryffindors love spending time there especially with its blazing fireplace and soft couches.
This blanket will give your recipient a taste of what it feels like to be in the Gryffindor common room.
15. Gryffindor Journal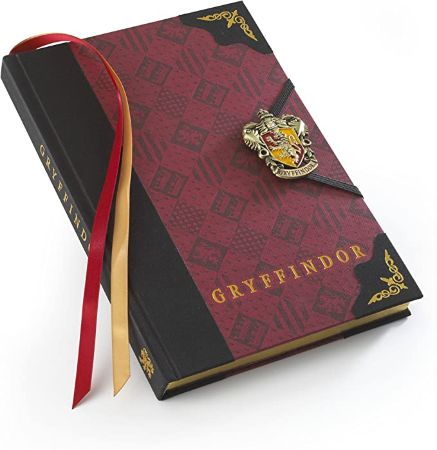 Give them a safe space where they can write all their secrets and spells (aka this cool notebook). It's the best gift to give a certified Gryffindor because of its scarlet and gold ribbons and House crest.
16. BlenderBottle with Gryffindor Crest
Gryffindors have to be in tip-top shape, especially if they'll fight dementors and dragons. This Gryffindor-themed bottle will motivate them to be healthy and achieve their fitness goals.
It even comes with a wire whisk that's only found in BlenderBottles.
17. Hermione Wand Pen and Bookmark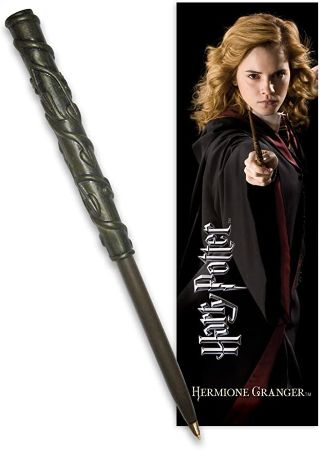 Here's the best gift for the biggest Hermione fan you know. It's a two-in-one gift that includes a wand pen and bookmark. No better gift will perfectly describe Hermione than these two!
18. Hedwig the Owl Insulated Lunch Box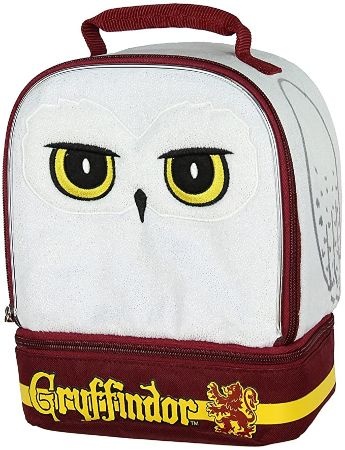 Get this Hedwig lunch box for your recipient so that they'll have the coolest lunch box in school. The dual compartment feature of this gift will easily fit a snack and a water bottle. It's also insulated which will maintain the temperature of their food.
19. Gryffindor Bracelet Set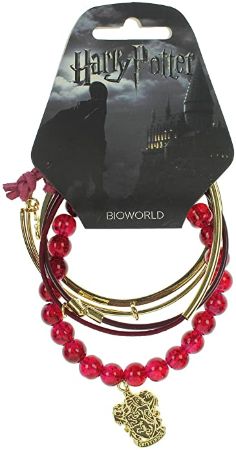 Going to a Harry Potter watch party? Don't forget to accessorize with these pretty bracelets!
Each pack contains five bracelets so your recipient can pick which one matches their mood and outfit for the day (or they can simply wear all of them).
20. Harry Potter- Inspired Trifold Wallet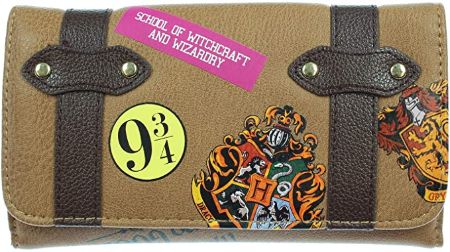 The Summoning Charm may make it more convenient to locate money but for wizards who are still learning the spell, this wallet will come in handy.
It's perfect for people who own a lot of cards since it has 10 card slots and four billfolds.
21. Collectible Quidditch Set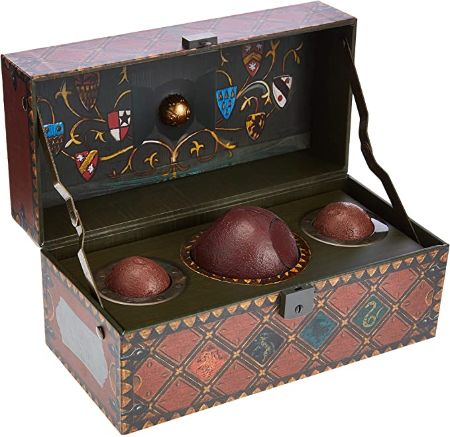 Get this quidditch set if you're looking for an awesome piece to add to their Harry Potter collection. You'll definitely get what you pay for with this product since your recipient will get two bludgers, a quaffle, a golden snitch, and more.
22. Silver Plated Stud Earrings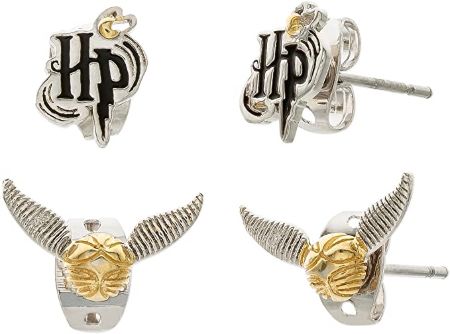 The Yule Ball is the perfect event for wizards and witches to dress up and have a good time with friends. These earrings will be an excellent accessory to wear since they're elegant and will make the wearer more confident.
23. Quidditch Pitch Arena Mini Playset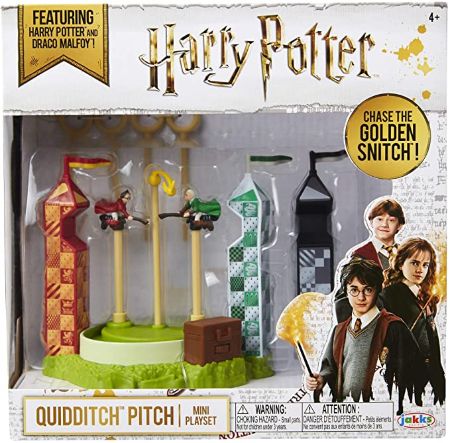 Gather up their family, friends, and fellow Potterheads because it's time to play Quidditch with this mini playset. Choose between Harry and Draco as your player and let the fun begin!
24. Hermione Granger Doll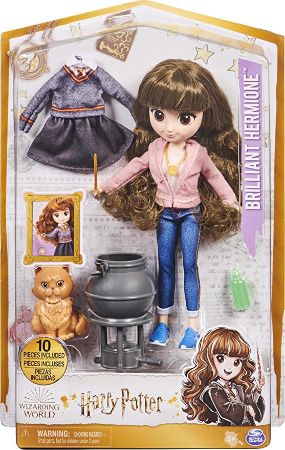 It's not hard to see why most girls admire Hermione Granger. She's smart, logical, and loyal to her friends. Your recipient will love having this Hermione doll since it will let them be like their favorite shero.
7 Gryffindor Clothing Merch
25. Gryffindor Long Sleeve Nightgown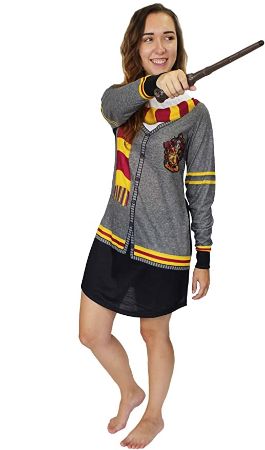 Who knew that wearing the Hogwarts uniform can be this comfortable? It makes Hogwarts School of Witchcraft and Wizardry even more appealing (if that's even possible).
26. Hogwarts Uniform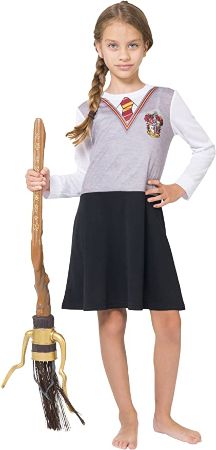 All Potterheads regardless of age have the Hogwarts uniform on top of their wish list. Make their wish come true by surprising them with this present.
27. Quidditch T-Shirt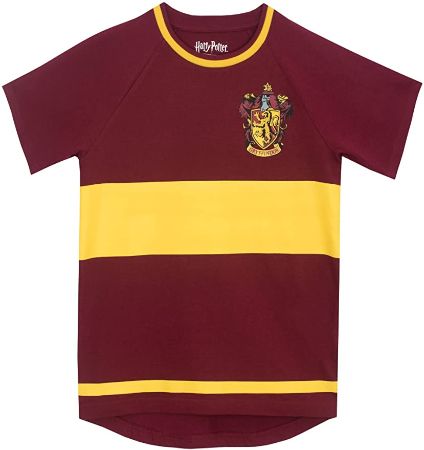 Does your recipient dream of making it to the Gryffindor quidditch team? Or are they the biggest fan of Oliver Wood? You can never go wrong with this shirt either way.
28. House Crest Logo Baby Pajamas

Make the little Gryffindor in your life cuter with this pajamas gift set. After all, loving Harry Potter has no age.
It will even be better if their parents are also big Gryffindor fans.
29. Gryffindor Shield T-Shirt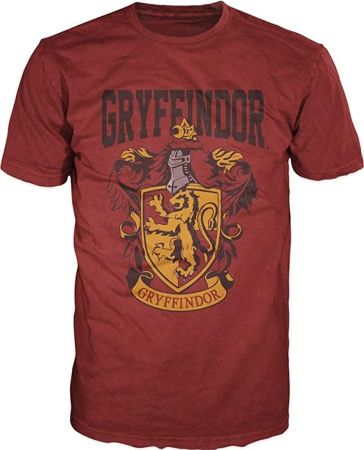 A Gryffindor shirt will always be in demand for a Potterhead. It's a practical merchandise that they'll be able to wear daily while still showing their Potterhead-ness to the world.
This is a Gryffindor-approved shirt since it features the House crest and is in the House color.
30. House Crest Racerback Tank and Shorts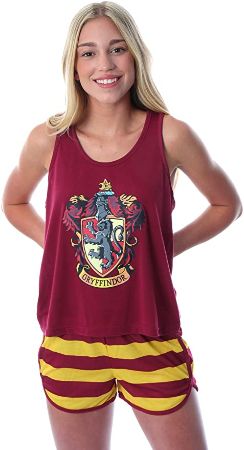 Choosing between comfort and style won't be a problem if they have this gorgeous gift set. This will allow them to stay fashionable even while they sleep.
31. Gryffindor Robe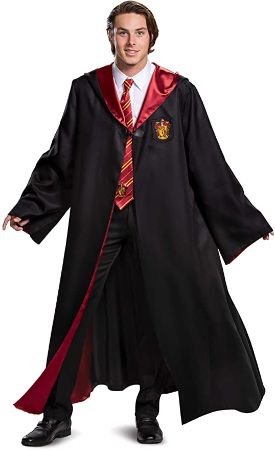 Living out their fantasies of casting spells and defeating Lord Voldemort will be more enjoyable if they have this Gryffindor robe. The texture and material of this robe will make them feel like they're really a wizard or witch.
Let's Hear It for the Most Fearless House — Gryffindor!
Most Potterheads associate themselves with Gryffindor. It's one of the most sought-after Houses in Hogwarts because it's seen as a House that fosters bravery, chivalry, and daringness.
You're lucky if you know someone who's a Gryffindor because they're a great friend to have. Show your appreciation to them by picking a Gryffindor gift from this list.
Want more awesome gift ideas? Check out these posts:
Do you think that Gryffindor is the best House in Hogwarts? Or would you rather be sorted in Slytherin, Hufflepuff, or Ravenclaw? I'd love to hear your thoughts! Let me know in the comments below.