It's raining tacos! Wouldn't it be amazing if this happened in real life?
Crunchy or soft corn tortilla, ground beef, cheese, onion, and more. Just thinking about it makes my mouth water! Tacos are one of my favorite food and I'm sure that I'm not the only one when I say that I can eat them for every meal of every day.
This article is dedicated to tacos and all the taco lovers out there. You'll find amazing gifts for taco lovers below so keep on reading.
11 Gifts for Taco Lovers
1. Taco Blanket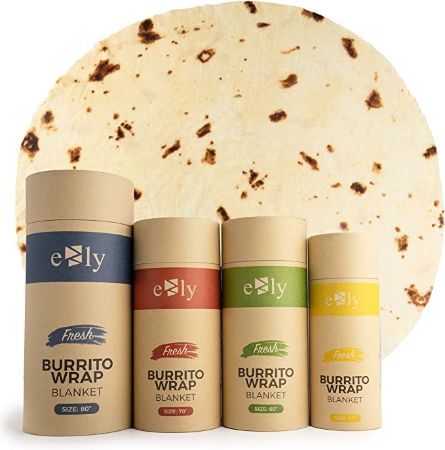 Let them feel your love by wrapping them in this soft taco blanket. This eco-friendly gift is made from fleece fabric (nope, not corn wheat) which is perfect for cuddling.
Plus, using this blanket will make them feel like a real-life taco.
2. "Not A Taco" Inset Sign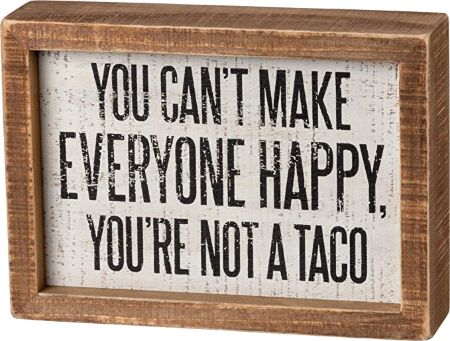 Let's be honest, no one can make everyone happy (unless you're a taco).
Remind your recipient to live life without a care for what other people might say through this rustic sign. It's a great gift choice since it's an inspirational sign plus the taco reference is on point.
3. Taco Socks Box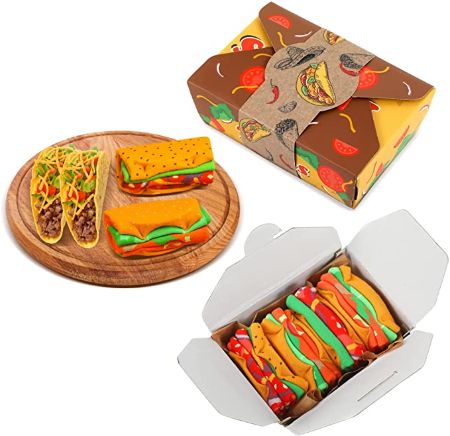 Win the award for the most creative gift ever with this taco socks box. A fun surprise awaits your unsuspecting recipient through this gift.
Each box comes with two pairs of taco socks.
4. Zipper Pouch Bag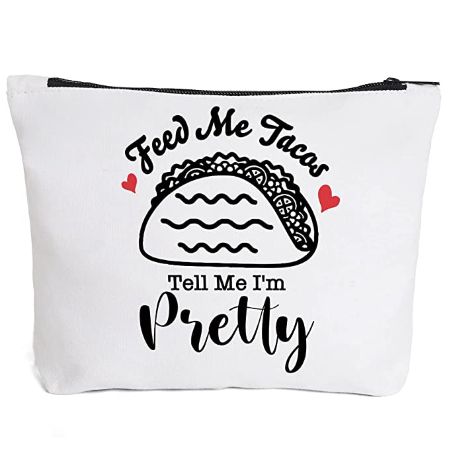 All women really want are two simple things: to be appreciated and of course tacos. Amiright, ladies?
This zipper pouch will be a combination of those two things. Plus, it will be useful since your recipient will be able to organize their makeup, accessories, and trinkets in this.
5. Taco Necklace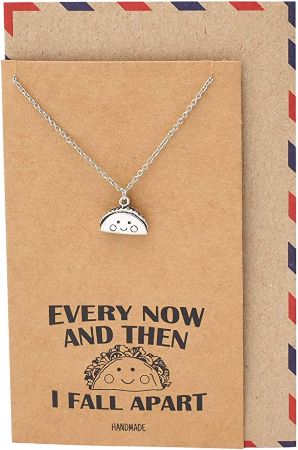 Every now and then we fall apart. And that's okay as long as we get back up and look cute while doing it— just like tacos!
This taco necklace will be a great reminder for your recipient to be strong no matter what life throws at them.
6. Tacos Christmas Ornament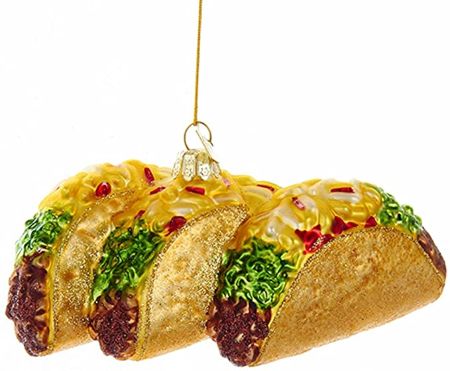 Their tree won't just be pretty but will also be mouthwatering with this taco ornament. All the other ornaments will look ordinary as compared to this one.
This gift is a must-have for my fellow taco lovers.
7. Taco Belle Shirt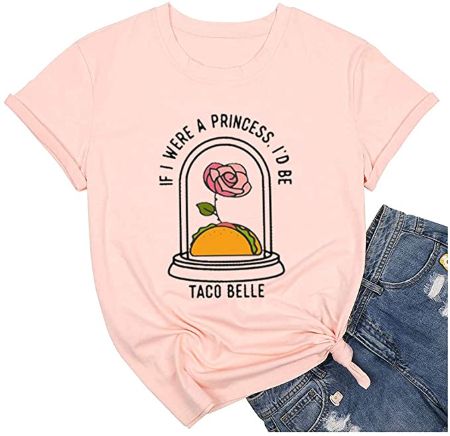 Make your recipient laugh with this hilarious shirt. This is one of the funniest gifts for taco lovers and it will be like hitting two birds with one stone if the taco lover in your life's favorite Disney princess is Belle.
Here's a post all about the best Beauty and the Beast gifts.
8. Graphic T-Shirt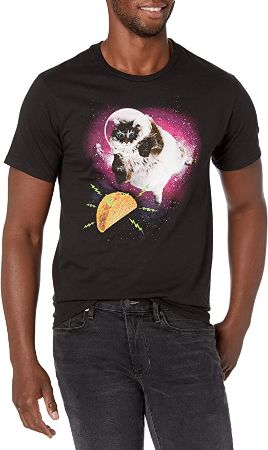 A space cat and a taco? Who knew they'd make a great combination for a shirt design?!
Flaunt their love for tacos and cats by wearing this graphic t-shirt. This Hanes shirt is soft and lightweight so it will be suitable for everyday use.
9. Taco 'Bout Cute One-Piece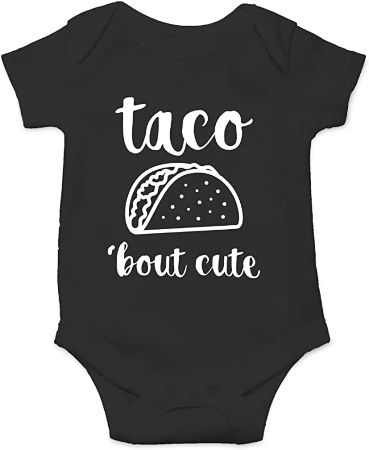 Teach them young to love and appreciate tacos even if your recipient is too young to eat them. This shirt will also be perfect for baby showers for mommies-to-be who love the Mexican treat.
Not a fan of black? Don't worry since it also comes in blue, pink, gray, and white.
10. Retro Metal Sign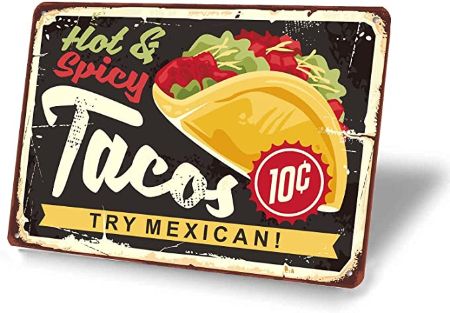 Hang this retro design in their kitchen, man cave, or any other space in their house. Displaying this will add a nostalgic and cool vibe to their space. It's also durable since it's made of metal that's waterproof and rust-proof.
11. Taco vs Burrito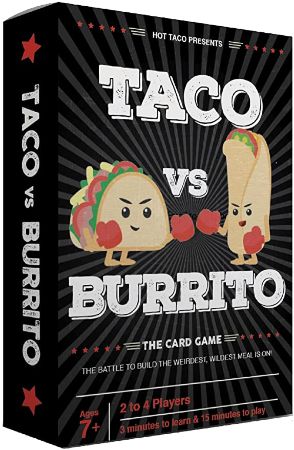 A game about tacos and burritos made by a seven year old? Count me in!
This game is also multi-awarded (2021 winner of Hot Diggity Awards, Best Family Fun Award winner, etc.) so your recipient will definitely have a lot of fun playing with it.
10 Gifts for Making and Eating Tacos
12. Trejo's Tacos: Recipes and Stories from L.A. by Danny Trejo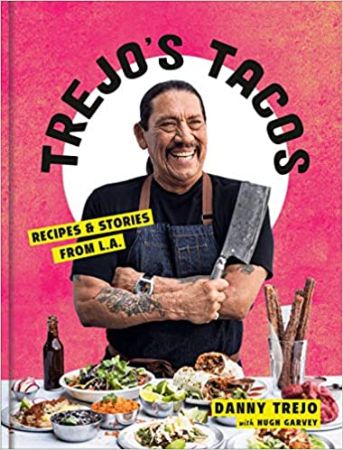 Learn how to make tacos from none other than the master himself, Danny Trejo.
This best-selling book will not only share authentic and unique taco recipes like vegan cauliflower tacos but will also share Trejo's inspiring rags-to-riches life story.
13. Tortilla Warmer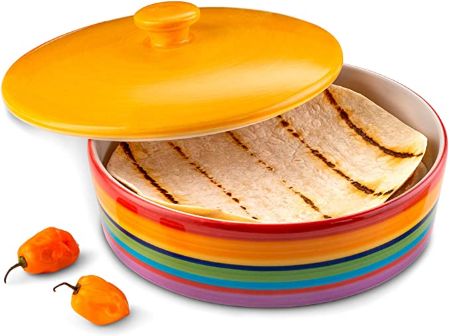 Sharing their crowd favorite tacos is now made possible through this tortilla warmer. Your recipient won't have to cook on the spot since this will keep the tortillas warm for up to an hour.
It's also easy to clean up since it's made with ceramic.
14. Taco Bar Tray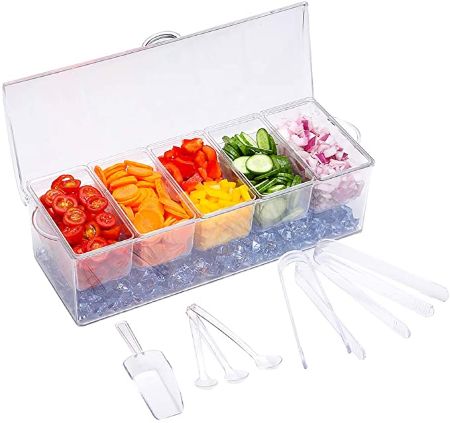 It will be easier to make DIY tacos according to their preference with this tray. It has five compartments where they will be able to place cheese, tomato, peppers, and more.
Plus, it has a compartment below for ice that will keep the ingredients fresh.
15. Taco Shell Tong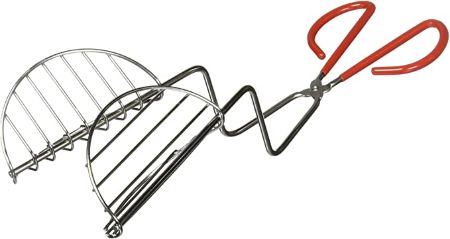 Every taco lover knows how frustrating it is to cook homemade tacos since the shells easily break. That problem is now solved thanks to this useful taco shell tong.
The tongs feature open wires for easy oil drainage for the crunchiest taco ever!
16. Mi Taco Stand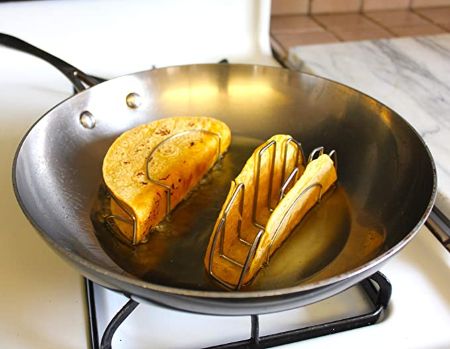 Here's another useful kitchen tool that will help your recipient perfect their tacos. This taco stand can be used for baking, frying, or air frying.
Plus, the flatbottom stand is suitable for corn and flour tortillas and egg roll wrappers.
17. Kids Taco Holder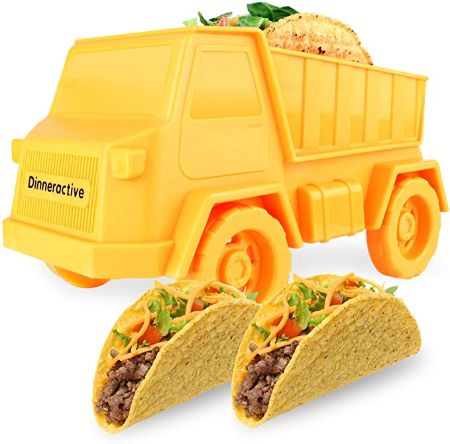 Your young recipient will enjoy eating tacos even more (if that's possible) with this adorable taco holder. You'll also get a bang for your buck for this one since they'll always choose this bright truck over ordinary plate anytime of the day.
18. Dinosaur Taco Holder Stand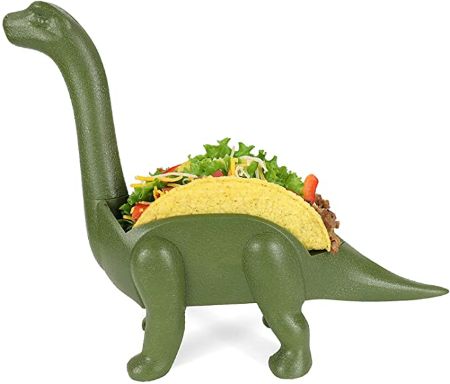 If your recipient is a paleontologist like Ross from Friends or just someone passionate about dinosaurs, then this one of those gifts for taco lovers that will definitely be a hit.
More Friends TV show gifts can be found here.
19. Fun Taco Holder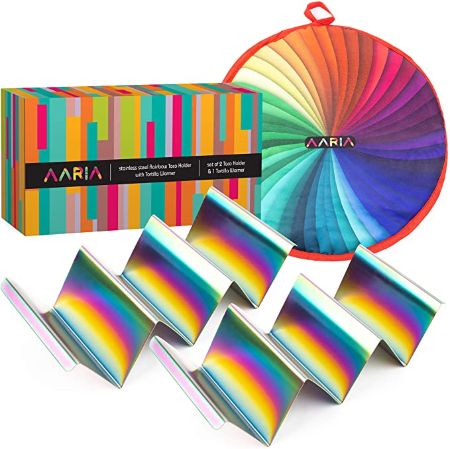 Tacos are more fun to eat when it's shared with people we care about. This taco holder will make that possible since it can hold up to three tacos in each stand.
Choose between a set of two or four.
20. Hot Sauce Gift Set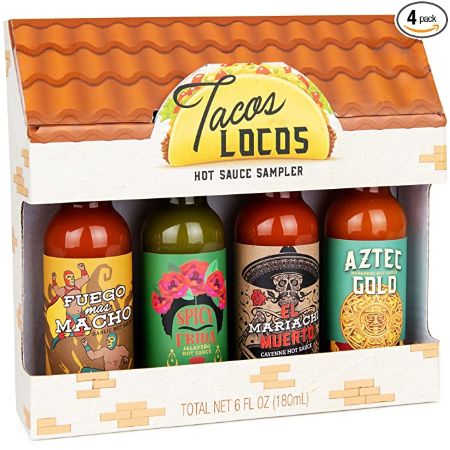 Everyone has their definition of "the perfect tacos". Some like it spicy while others don't. This taco hot sauce sampler will be the best gift for those who enjoy their tacos more when it's spicy.
The pack comes with four hot sauces: jalapeno, garlic, cayenne, and habanero.
21. Taco Bell Gift Card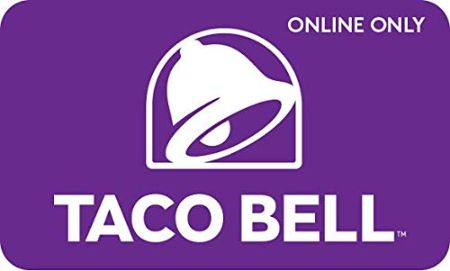 Taco cravings can come at any given moment. This Taco Bell gift card will come in handy when they're busy and suddenly crave tacos. All they have to do is order online, sit back, and wait for their delicious tacos.
The gift card comes in amounts between $25-$100.
5 Taco Tuesday Gifts
22. Ceramic Mug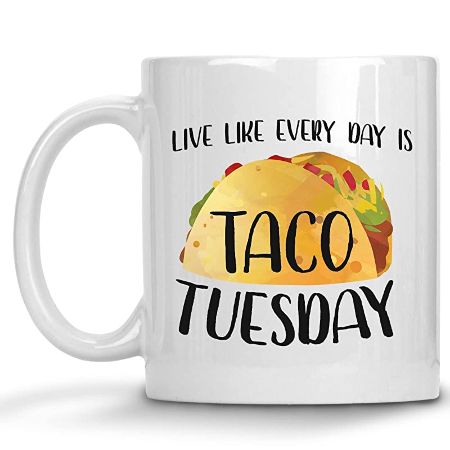 Taco Tuesdays are the best part of the week. Your recipient can make every day like Taco Tuesday through this cute mug.
This mug also makes as an excellent present since it's UV-protected, FDA compliant, and dishwasher safe. It's all a taco lover wants and more.
23. Fisher-Price Taco Tuesday Gift Set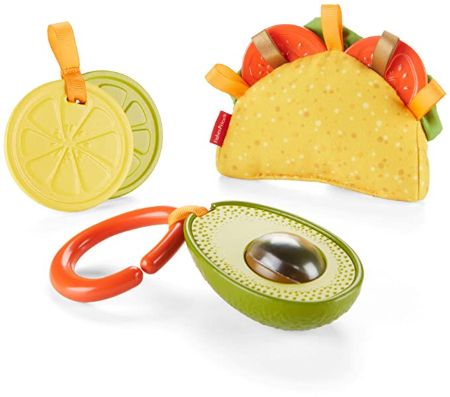 Give these three-piece sensory toys to your little recipient. They're a great buy because they're also educational toys that stimulate the senses and hearing skills of babies and toddlers. It comes with a plush taco, avocado rattle, and lime clackers.
24. 2-Speed Chopper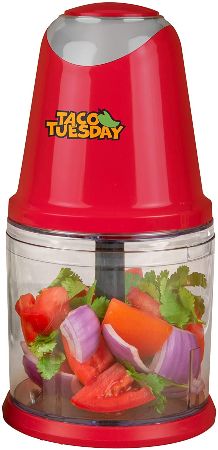 This chopper is a must-have for Taco Tuesdays since preparing salsa, dips, and guacamole will be so much easier with this kitchen tool. It's also multi-function because it has mince, chop, grind, and blend functions.
25. Taco Tuesday Set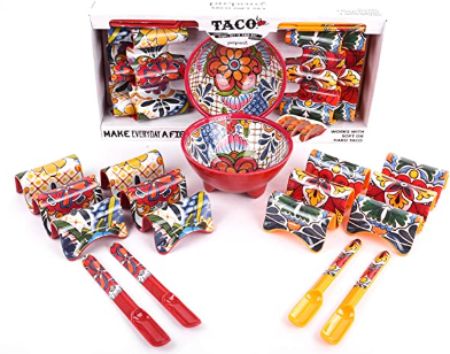 Have a blast at every Taco Tuesday with this set. It includes four taco holders, spoons, and a bowl. Plus, the theme of the set makes eating tacos feel more authentic.
26. Apron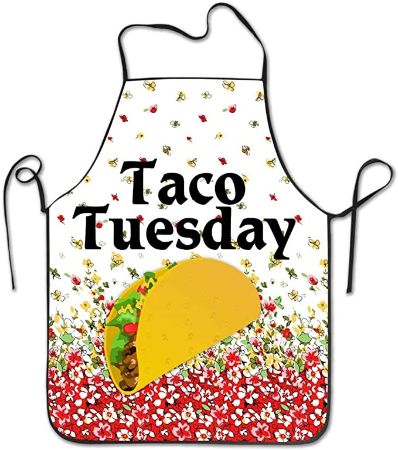 You'll know it's time for the most-awaited Taco Tuesday whenever you see your recipient sporting this apron. It's also made with 100% polyester so it's durable and easy to clean.
Thoughtful Gifts for the Taco Lover in Your Life
Tacos! Everybody get your tacos!
I'm sure that your recipient will be psyched to receive these gifts as they've been compiled by a fellow taco fan (aka me). These cool gifts for taco lovers will be the best taco gifts they'll ever receive.