Looking for Die Hard gifts for die-hard fans? Well, you've come to the right place! Since the first Die Hard movie is set during Christmas Eve, it's typically associated with the holiday season.
Reuniting with loved ones is important for many Die Hard enthusiasts, but there's another special moment that they look forward to during the Christmas season, and that's rewatching their favorite action movie of all time.
Don't worry there will be plenty of gifts that are perfect any time of the year. Surprise the John McClane in your life on their birthday, an anniversary, or just because with one of these 17 Die Hard gifts.
The 6 Best Die Hard Gifts
1. Die Hard Christmas Gift Set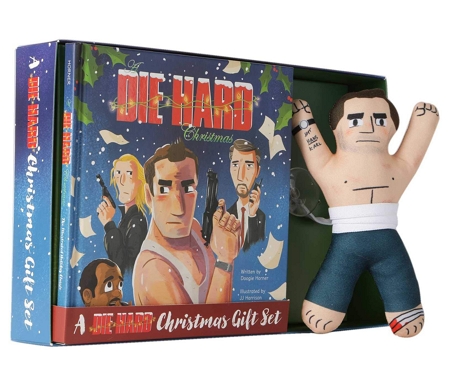 Here's the perfect Die Hard gift set for Christmas. The set includes a Christmas storybook based on the Die Hard film and a toy plushie of McClane, which comes with a suction cup for easy attachment.
Fans will be glad that through this holiday-themed gift, Die Hard is being acknowledged as a Christmas movie.
2. Die Hard: The Ultimate Visual History by James Mottran and David S. Cohen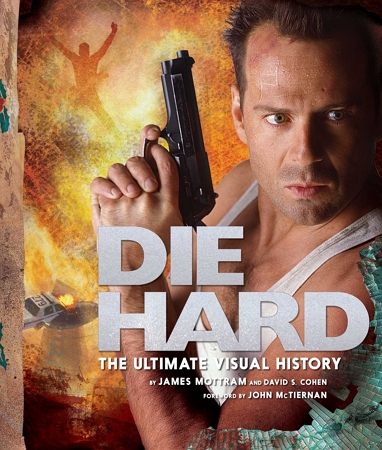 Give your recipient a richer experience when they rewatch the movie by getting them its illustrated history.
Die Hard: Ultimate Visual History doesn't just feature behind the scenes from the original installment, but it also releases exclusive photography and concept art and takes a deep dive into the other appearances of John McClane, be it in the comics or video games.
3. John McClane Funk POP!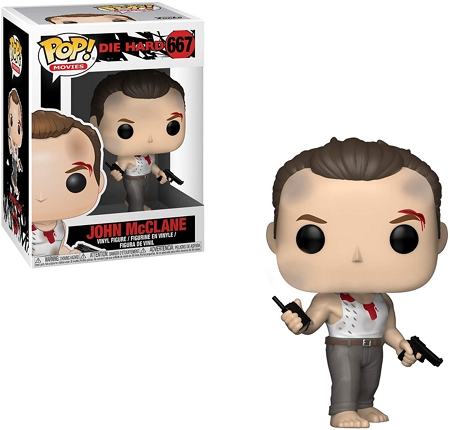 Owning an action figure of your favorite hero shows their love and admiration for the character. This John McClane looks worn out, bloody, and dirty, which are small details that fans will no doubt appreciate.
This action figure is the type of gift that can be given at any point of the year, so make a fan's Christmas or birthday even more special by giving them this battle-hardened Funko Pop!
4. Hans Gruber Funko POP!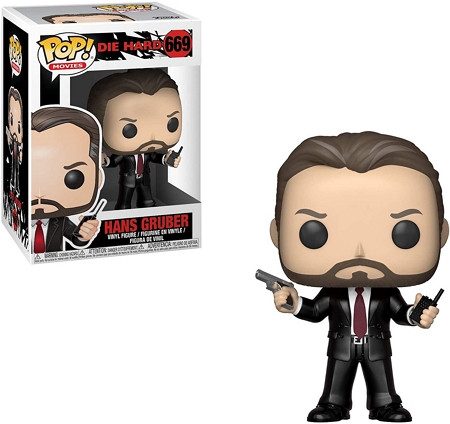 Die Hard simply wouldn't exist without the main villain of the story, Hans Gruber, who was played by the late Alan Rickman.
He's an intelligent and educated man, and his Nakatomi Plaza heist was devised perfectly – except for the fact that he didn't consider a certain NYPD detective foiling his plans.
5. Die Hard 30th Anniversary (4K + Blu Ray + Digital)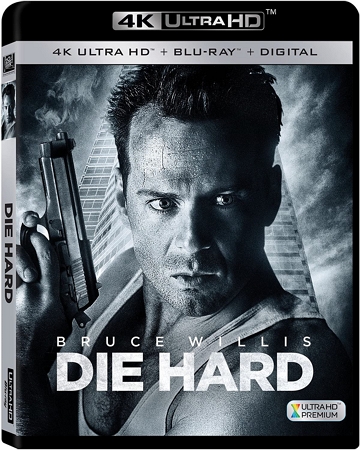 Die Hard first came out in 1988, back when 4K and Blu-Ray didn't exist. Many rejoiced when a much more refined version of the film was released on its 30th anniversary, allowing fans to relish the action that happened on Nakatomi Plaza.
6. Nothing Lasts Forever by Roderick Thorp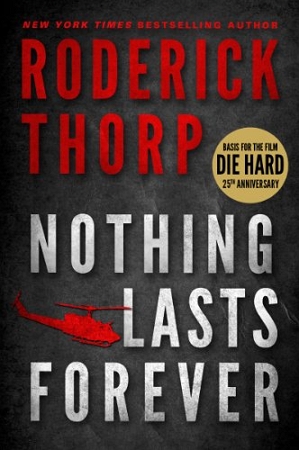 Many films are inspired by real-life stories and novels, and Die Hard is not an exception. The film is based on Roderick Thorp's action thriller, Nothing Lasts Forever.
While the action movie is not a full adaptation of the novel, with plenty of noticeable differences between the two mediums, it surely takes the fundamental aspects that Die Hard fans love about the movie, like the plot of one vulnerable protagonist who faces insurmountable odds.
Die Hard enthusiasts will deepen their love for the franchise after reading the source material that started everything.
6 Die Hard Merchandise Gift Ideas
7. Nakatomi Plaza Christmas Party Sweater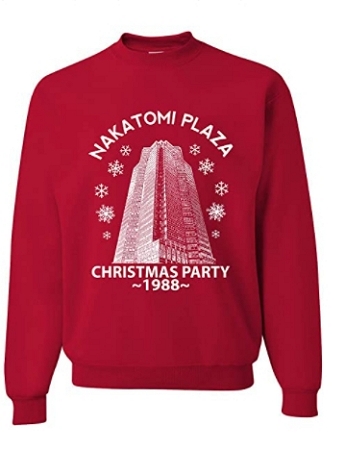 As I mentioned earlier, the setting of the movie is during the holidays, when cop John McClane tries to reunite with his wife Holly. So it's inevitable that the movie will produce a fanbase that loves to watch it during the Christmas season.
Here's a sweater to set the tone for your recipient's Christmas party and remind everyone that Die Hard is a Christmas movie. The sweater comes in eight sizes, and with 17 colors to choose from, you won't have a hard time finding the perfect one for your John McClane.
8. "Yippee Ki-Yay" Mug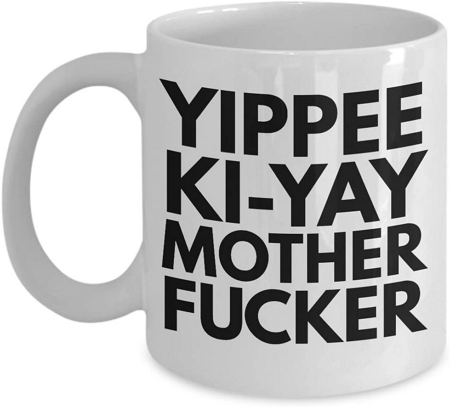 One of the most quotable and most popular one-liners in the history of action movies, "Yippee Ki-Yay, motherf*cker" is John McClane's catchphrase when he's about to blow something up. Every fan needs to own this mug.
9. "Die Hard is My Christmas Movie" Fridge Magnet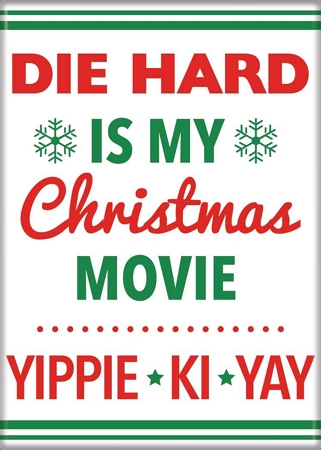 A movie with a plot that centers around a police detective trying to save hostages in a high-rise building doesn't sound like it's related to Christmas at all.
Die Hard fans beg to differ. While haters say it came out in July and thus doesn't count as a Christmas film, devotees simply point to the fact that the story could've been set around Thanksgiving, Easter, or a random weekend.
But it's specifically on Christmas eve and there are a lot of small details in the film that proves it's meant for the Yuletide season, so here's a fridge magnet to reaffirm a fan's belief that Die Hard is a Christmas movie.
10. Pre-Print Autographed John McClane Print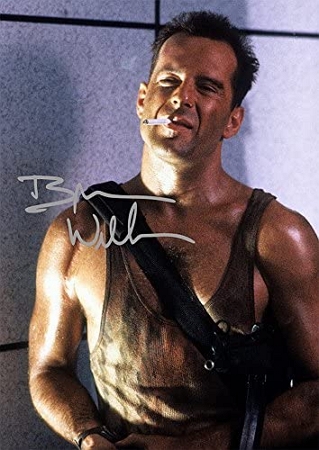 There's no doubt about it – Die Hard is the movie that launched Bruce Willis into stardom. Admirers of the franchise and the amazing actor that made it happen will appreciate this poster of Bruce Willis, complete with a pre-print autograph that's just as authentic as the real one.
This one is printed in ultra-high quality on a heavyweight glossy photo, ready to be framed and hung on your giftee's man cave or bedroom.
11. "Yippee Ki-Yay" Die Hard T-Shirt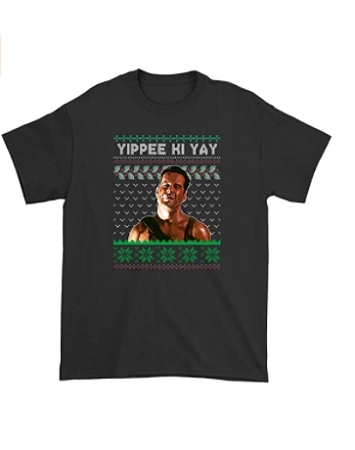 Here's a Die Hard t-shirt to express exactly what your recipient has in mind during any party. Just like John McClane has no time to pay attention to the outfit when there's a heist happening, a Die Hard fan doesn't need to worry if their shirt is too casual, as long as they can freely express their love for the film.
12. "Now I Have a Machine Gun" Pull-Over Sweater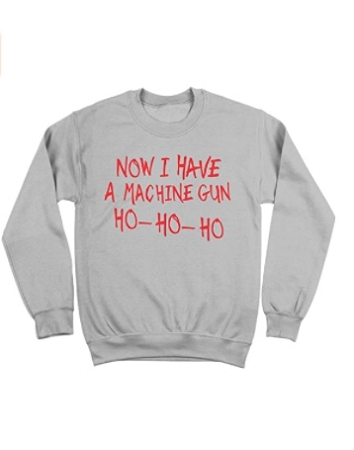 "Now I Have A Machine Gun, Ho-Ho-Ho" is a message that John McClane writes to Hans Gruber and his henchmen letting them know that the tides are slowly turning in his favor.
5 Die Hard-Themed Gifts
13. McClane in the Vents Christmas Ornament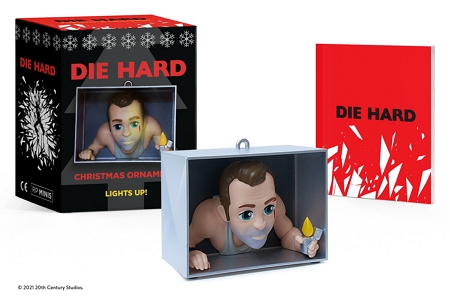 Here's a funny scene when John McClane was crawling in the ventilation shaft and hiding from the henchmen looking for him. Now your recipient can also have a few laughs when they see this hanging on the Christmas tree.
The ornament comes with a booklet full of memorable quotes from the film, and the lighter in John's hand also illuminates!
14. "Yippee Ki Kay" Travel Mug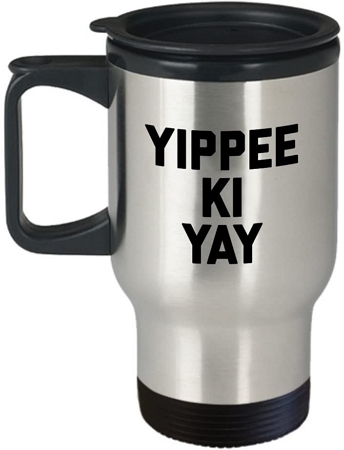 Get this travel mug for your co-worker who is a true Die Hard fan. This mug holds 14 ounces of liquid and features double-wall insulation to keep their beverage warm or cold for longer periods of time.
15. "Christmas, Die Hard, Santa" Ornament
There's no debate for obsessive fans that Die Hard is a Christmas movie, so allow them to win the argument just this once by giving them this "Christmas, Die Hard, Santa" ornament that shows you acknowledge it's a movie for the holidays.
16. Nakatomi Plaza Christmas Ornament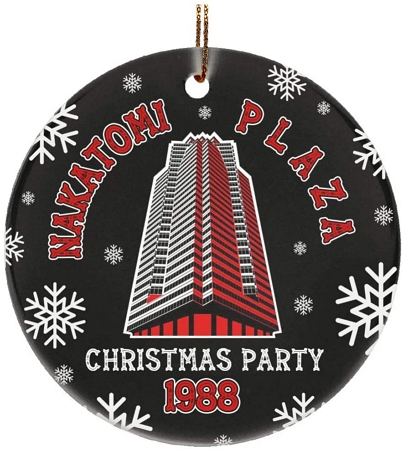 Here's another Christmas ornament to commemorate the spectacular, but also terrifying, events that occurred on Nakatomi Plaza on Christmas eve of 1988.
Of course, Die Hard fans don't see the film as terrifying at all, considering they've probably seen it an unhealthy number of times.
17. John McClane's Iconic Tank Top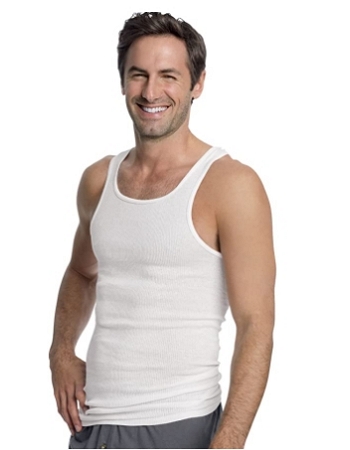 John McClane wasn't even given the time to change his outfit when he went on his mission to save hundreds of hostages, but fans know that John was dressed to kill from the beginning with his white tank top, which becomes brown halfway through the movie.
Give the John McClane fan the ultimate gag gift, which will undoubtedly be remembered for all the Christmases to come.
Things that Die Hard Fans Will Look Forward to – Yippee Ki-Yay!
Die Hard fans wait an entire year for the exciting and nostalgic moment that Christmas bring, but they don't have to with these exiting Die Hard gift ideas they can receive year-round.
Looking for more gifts? We've got you covered with more iconic franchise gifts: