If you're looking for gifts for vinyl lovers, there are plenty of options out there. Even in the digital age, plenty of audiophiles still prefer to get their music fix from the good old turntable and vinyl records.
Vinyl sales are at the highest in decades, which proves that vinyls are back and for some people, they never really left.
Maybe you need help finding the perfect vinyl record accessories or gifts for record collectors and analogue enthusiasts in your life.
This list of awesome gifts for vinyl lovers will narrow it down for you. Just keep scrolling and pick whatever suits the person and your budget.
6 Gifts for Vinyl Lovers: Record Players and Accessories
The first category on this list are record player gifts and accessories to help maximize the audiophiles listening experience.
1. Audio-Technica USB Turntable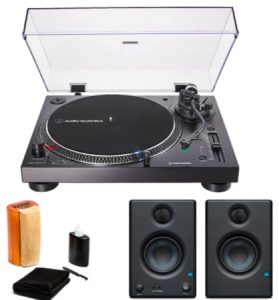 If you're looking to splurge a little on your favorite audiophile and you've heard them say they need a set-up upgrade, this midrange Audio-Technica USB turntable is just for them.
It delivers great sound quality for its price, has USB connectivity, and comes bundled with a pair of Presonus speakers, and a vinyl record-cleaning kit. Plus, setting it up is a breeze so they can immediately enjoy their favorite record.
2. Sony PS-LX310BT Automatic Record Player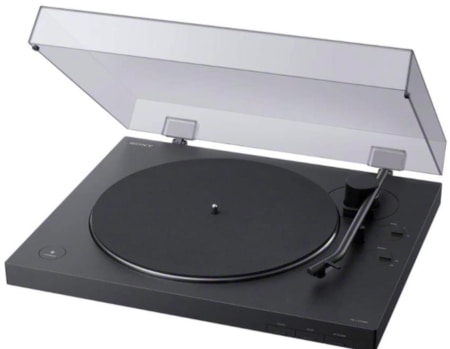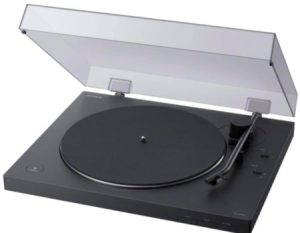 The Sony PS-LX310BT is a great, no-fuss introduction to the world of vinyls for newbie enthusiasts. Since this model is made for beginners, there's no need for them to worry about aligning cartridges, setting the anti-skate, or the tracking force.
They're ready to spin as soon as they put the belt around the motor pulley. It's that simple.
Plus, this record player has strong Bluetooth connectivity and can pair with up to eight Bluetooth devices – from stereos, speakers and headphones all at the same time.
3. Edifier Bluetooth Bookshelf Speakers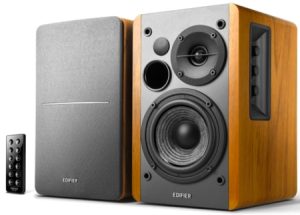 Their vinyl listening experience won't be complete without a set of good quality speakers.  If you're looking for great quality audio and value for money, the Edifier R1280DB Bluetooth Speaker is one of the top reviewed models for its price range.
Audiophiles are rightfully impressed with this model's sound quality, great connectivity, and its rustic but modern finish. Plus, it comes with a remote control that allows them to change the settings from wherever they're sitting.
4. Speaker Stands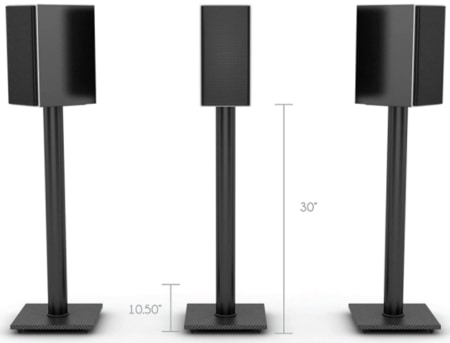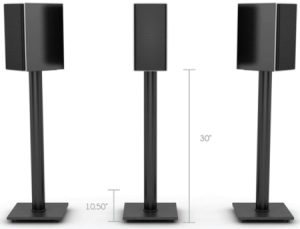 If they're running out of counter space for all their various audio equipment, give them these pedestal-style metal speaker stands by Atlantic.
These stands feature adjustable mounts with a built-in wire path to hide the cables so the speaker wires are not all over the place.
Their made from a high-grade metal and are sturdy enough to support up to 20lbs of speaker weight.
5. Turntable Stand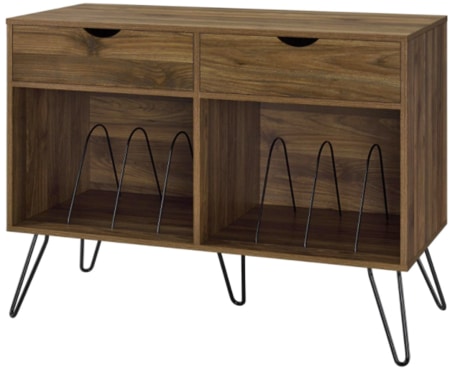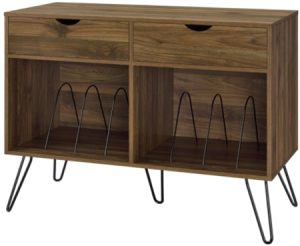 The best gifts for vinyl lovers are items that help organize or showcase all their records and audio equipment neatly and in one place, like this turntable stand with drawers and a record display rack.
This stand has a double walnut finish, sleek but sturdy metal legs, and dividers for keeping their records organized and easy to find.
6. Headphones Stand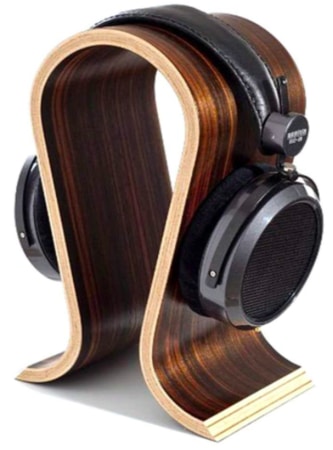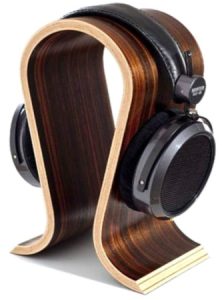 Give the vinyl enthusiast in your life this beautiful Omega headphone stand for Christmas, their birthday, graduation or any other occasion. Chances are, they already have expensive headphones they' want to protect and store properly.
Because of its unique design, this stand offers full earcuff and headband support and won't deform the headphones no matter how long it stays there. Plus, it would look cool on top of their turntable stand with its beautiful dark walnut finish.
10 Useful Gifts for Record Collectors
7. 4-in-1 Vinyl Record Cleaning Kit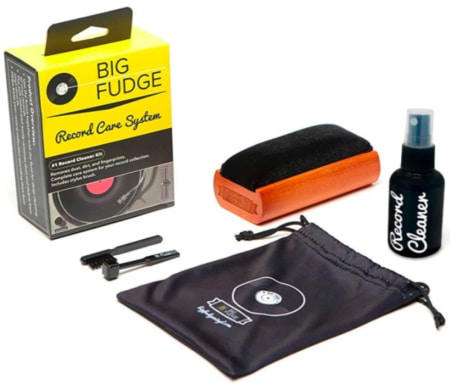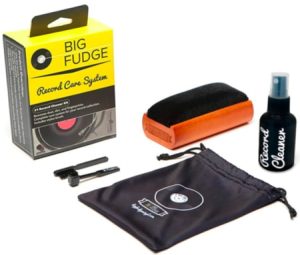 Ask a vinyl collector what they do with their free time and chances are it has something to do with their record collection. Give them this 4-in-1 record cleaning kit by Big Fudge for everything they need to take care of their records and record player.
It comes with an all-in-one cleaning solution, an anti-static vinyl record brush, a stylus brush, and a storage pouch to keep everything in place. A useful present for vinyl lovers for any occasion.
8. Modern Vinyl Record Holder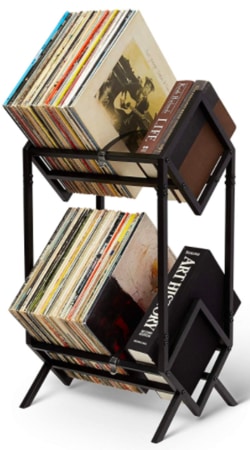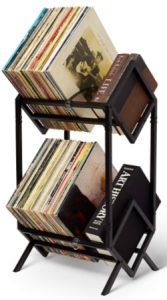 Add a little aesthetic to their records display with this modern vinyl record holder that will allow them to organize their listening corner and showcase their favorite records beautifully.
This matte black metal rack can hold up to 200 LPs, which is roomy enough for any normal-sized collection. And, since it's made of metal, this stand is sturdy and will not break or topple over from the weight.
9. Vinyl Record Display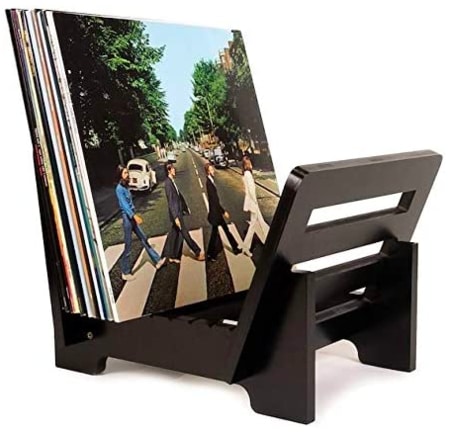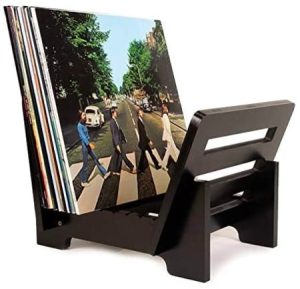 Or, how about this desktop vinyl holder that can hold their special 7″ and 12″ records and keep them right where they can see them? With this display case, they can easily flip through their favorites, pick whatever they're in the mood for, and listen away.
This stand takes seconds to assemble and is made from sustainably sourced bamboo wood that won't break, warp, or wobble over time.
10. Floating Display Shelf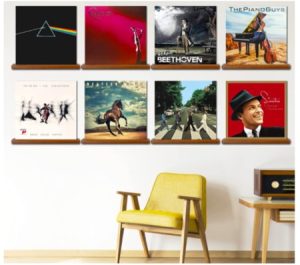 A lot f vinyl album covers feature beautiful artworks and amazing images. And because of their size, these covers also make great wall display pieces.
Give them this set of eight floating display shelves from Labend Home to not only maximize their vinyl enjoyment and space, but also to give it a great update. These shelves are easy to install and are made from pine wood with two colors to choose from.
11. Vinyl Record Storage Box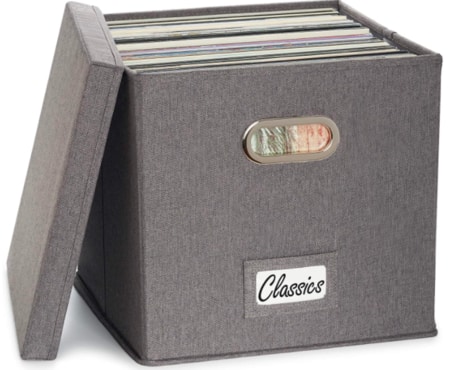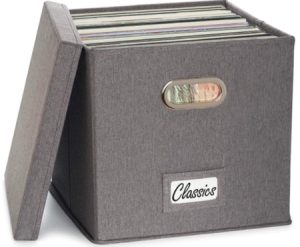 This collapsible and stackable linen LP storage box will allow them to safely transport or store their beloved collection without worry. It has a solid construction with built-in handles on the sides and a lid for extra protection.
Its made from a sturdy vinyl material with a linen cover which also makes it good enough to use for display.
12. Record Sleeves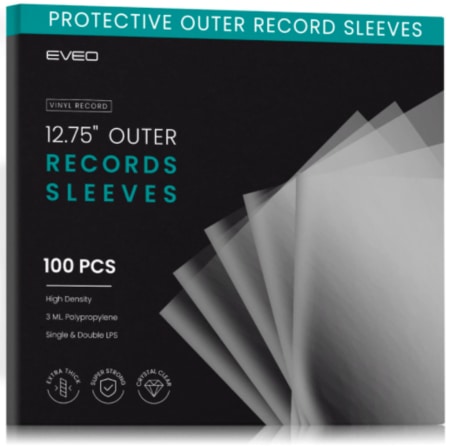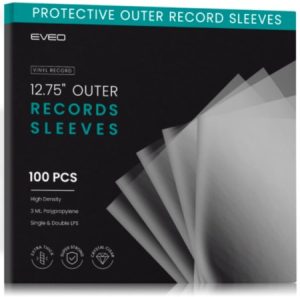 Another great gifts for vinyl lovers are these outer record sleeves to protect record jackets from wear and tear. These sleeves are made from durable, 3 mil thick polyethylene sleeves for maximum protection.
The pack contains 100 pieces so it will last them for a while (hopefully).
13. Record Jacket Repair Strips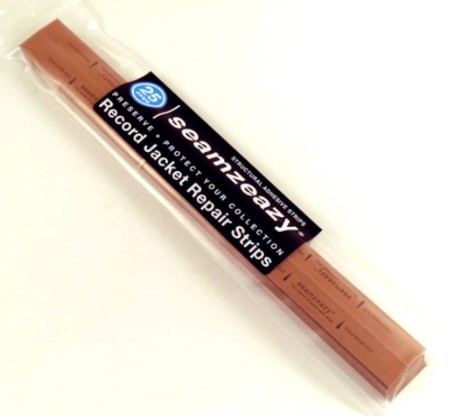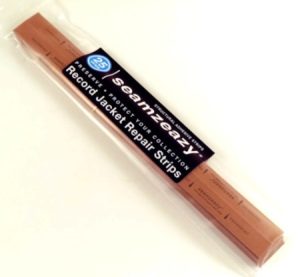 No matter how carefully they handle their records, ripping and tearing of the jacket sleeves still happens, especially to older ones. These Seamzeasy record jacket repair strips will easy fix damaged edges by replacing them from the inside.
These strips easily beat the usual tape fix without any visible signs or repair.
14. Dust & Grooves: Adventures in Record Collecting by Ellon Paz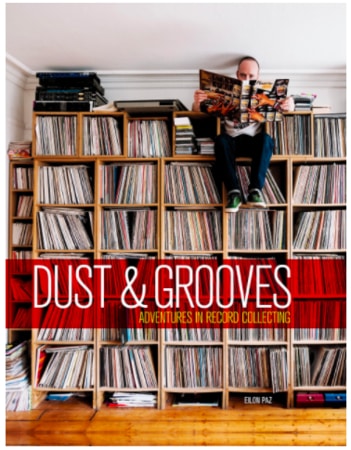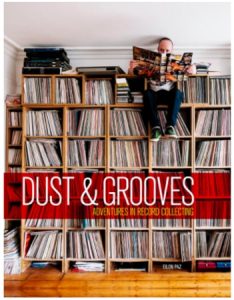 This coffee table book by photographer and vinyl enthusiast Ellon Paz is a deep dive into the world of vinyl record collecting.
The in-depth interviews and compelling pictures provide an intimate look into the lives of avid collectors, their motivation, and other personal vinyl stories.
The book contains 250 full-spread photos that feature drool-worthy record collections and 12 full-length interviews that inform and entertain readers.
15. In Vinyl We Trust: The Vinyl Record Collector's Log Book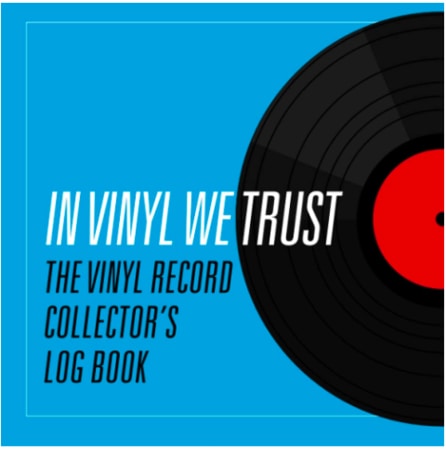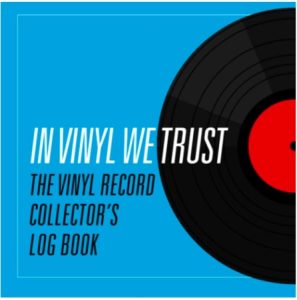 They have to keep track of their collection somehow. While digital spreadsheets will do the job, why not give them this analog version of a spreadsheet?
Just like their choice of music format, there's still nothing better than holding this logbook open to write or read through album titles, artists, genres, and notes.
16. Vinyl Me, Please: 100 Albums You Need in Your Collection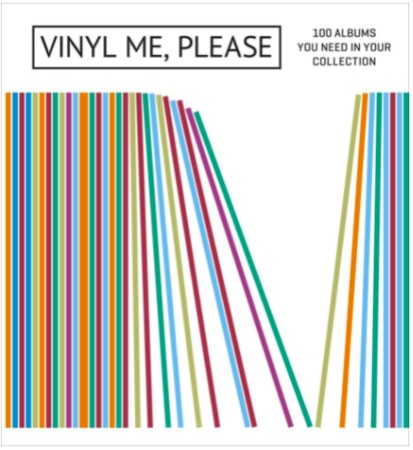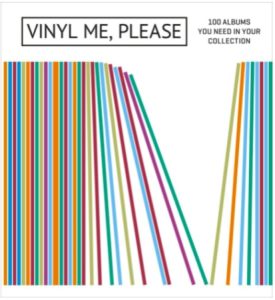 Vinyl Me, Please is brought to you by the premier vinyl subscription club of the same name. This book is an informative guide to curating records and building a noteworthy collection. It contains fun album art and essays from famous music writers on must-haves titles.
Plus, it features cocktail recipes for the musical version of a food and wine pairing to help them maximize their listening pleasure. This book rocks for this alone!
Fun Vinyl Gift Ideas for Record Lovers
17. The Beatles Special Edition Film Cell Plaque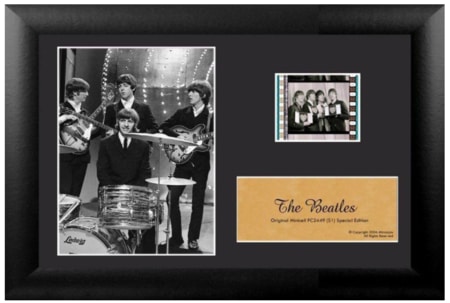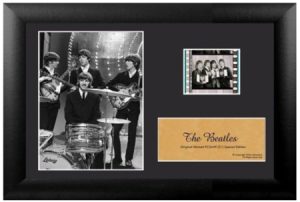 While this is not exactly vinyl related, this special edition The Beatles film cell plaque deserves a place in the gifts for vinyl lovers list.
Why? Because it's the Beatles!
And because it will make any records/music room or nook look 100 times cooler. Also, it will make the music lover in your life happy. Enough said.
18. Personalized Vinyl Wall Clock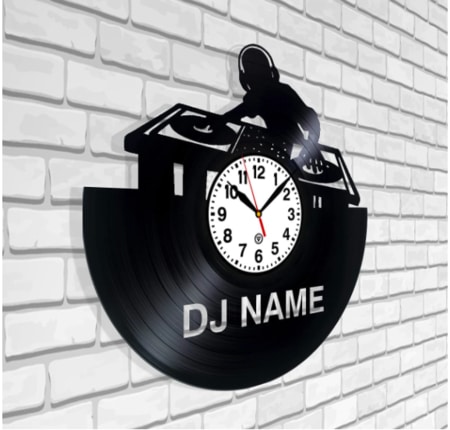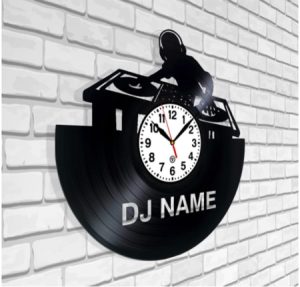 If you're looking for personalized vinyl gifts, how about this wall clock that's made from a 12-inch vintage vinyl record? This clock features an analog clock display and a carved image of a DJ spinning records on a turntable.
It can also be customized with the name of your favorite vinyl enthusiast.
19. "It's Not Hoarding" T-Shirt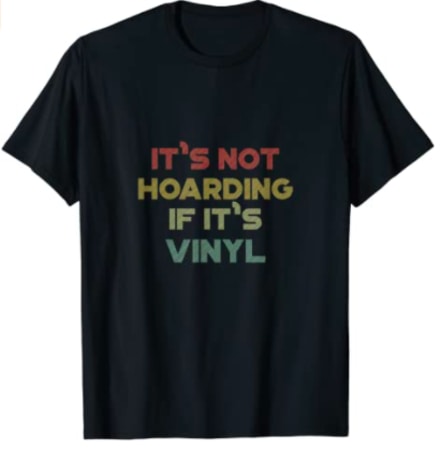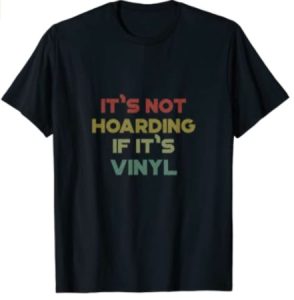 This fun t-shirt has a phrase every vinyl enthusiast has probably said aloud or to themselves at least once. Giving them this shirt is like giving them a pat on the back to let them know that it's okay and that they don't have to explain their passion to you.
On days when they feel like they do, they can just wear this shirt and let it do the talking. This shirt is available in different sizes and five colors.
20. "Too Many Records" T-Shirt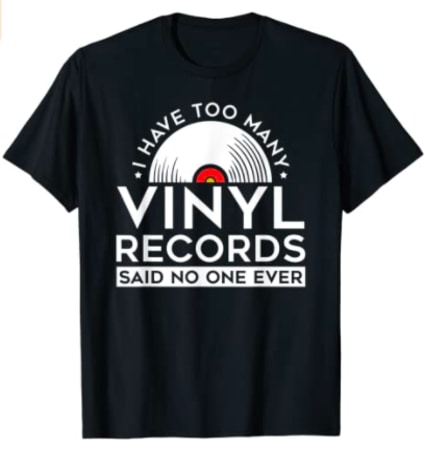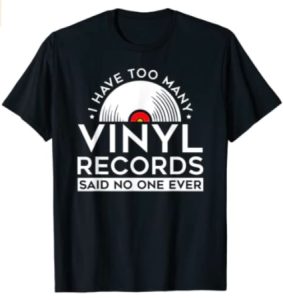 As you can see, this t-shirt will help them to unapologetically embrace their love for vinyl records. And it looks cool, too. You can choose another color if black is too basic. This shirt is also available in men's, women's and youth sizes.
21. Vinyl Coasters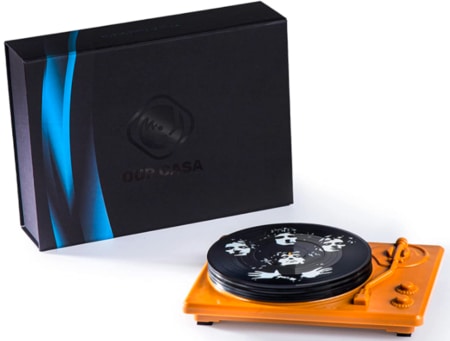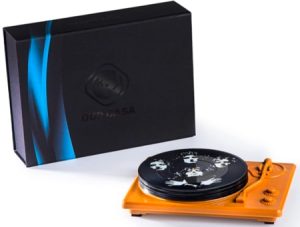 They'd love how realistic these vinyl coasters are and the fact that they can effectively protect furniture surfaces from coffee rings, water marks, and stains.
These coasters have a silicone-like texture on the bottom so it stays in place and won't scratch tables, counters, or desks. This set contains six coasters with a "turntable" holder.
22. "Vinyl Snob" Novelty Socks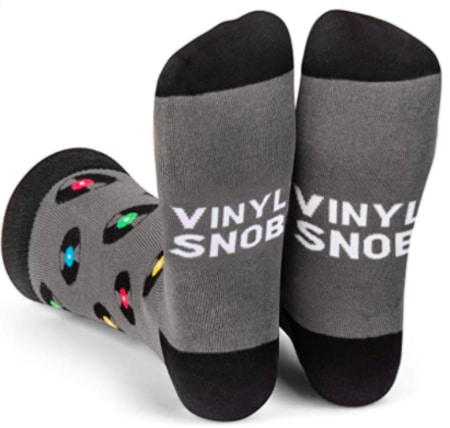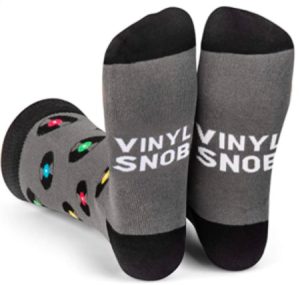 Novelty socks are a fun little gift anyone can appreciate, and there are plenty of options out there to choose from. That being said, these socks are perfect for the vinyl lover in your life.
They feature multi-colored records are are made from a blend of quality cotton, spandex, and elastic for durability and more stretch.
23. Novelty Coffee Mug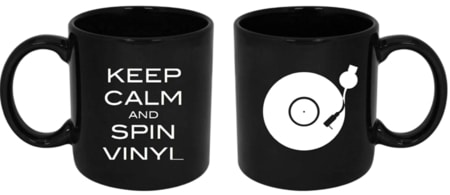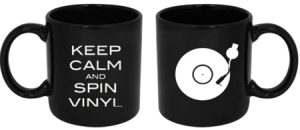 How about this Keep Calm and Spin Vinyl mug to drink their coffee from white listening to their favorite record? This mug is microwave and dishwasher safe and also features a record player on the other side.
I'm sure it will become their new favorite mug in no time.
24. Vinyl Record Ornament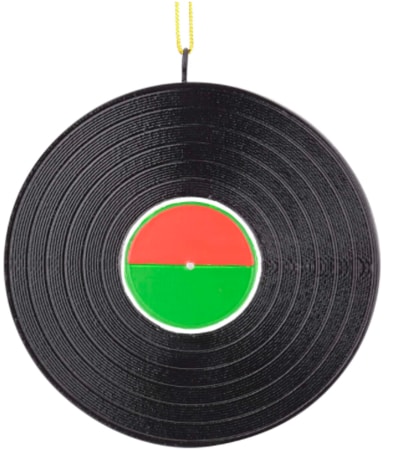 Rounding off this list of gifts for vinyl lovers is this unique record-shaped ornament. This ornament is made from hard plastic and features cheerful holiday colors and gold twine for easy hanging.
All the Goodies to Fill your Vinyl Records Giftbox
Whether you decide to go with one big item or to bundle several small items from this list, I'm sure the record lover in your life will appreciate the gesture.
If you found this list helpful, share it with someone you know who might also be looking for similar gifts.
We have other great gifts lists for you to check out as well. Happy shopping!