All of us agree that driving a bus is not an easy job. Through heat, rain, and snow, you can always count on bus drivers to get your kids to school, various field trips, and sports trips safely and on time regardless of the weather.
Maybe you take the bus to get where you need to go or have a friend or loved one who drives a bus for a living.
No matter how badass you think your (or your kid's) bus driver is, letting them know that you see them and appreciate them is sure to warm their hearts.
Send a little laugh or love their way with one (or two!) of these 26 bus driver gift ideas.
7 Funny Bus Driver Gift Ideas
Funny novelty items always make for good gifts for school bus drivers. After all, aside from an unlimited supply of patience, a little sense of humor goes a long way (especially on the road). 
1. Funny Bus Driver T-Shirt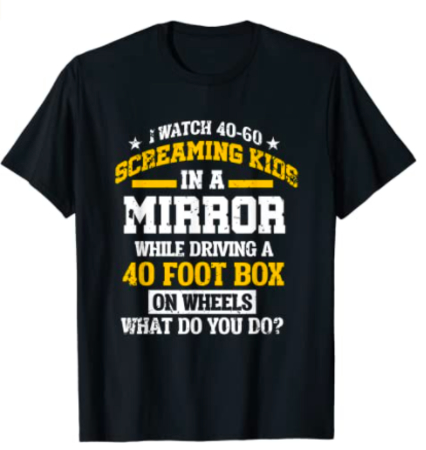 You'll see a lot of t-shirts on this gifts list, and for good reason. They're practical, everybody wears them, and you can easily find a t-shirt to suit everyone.
This tee features a funny quote about the amazing superpowers all school bus drivers have. This shirt comes in men, women, and youth sizes and in five different colors to choose from.
2. Novelty Mug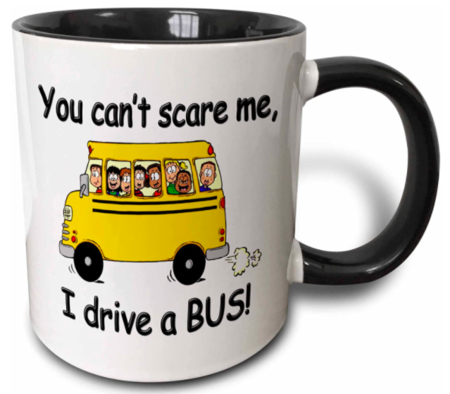 Your favorite bus driver has seen it all. All they need is to drink their morning coffee in this funny novelty mug and they're good to go.
Because if driving 40 to 60 energetic souls five days a week doesn't scare them, nothing will.
3. Funny Bus Driver Shot Glass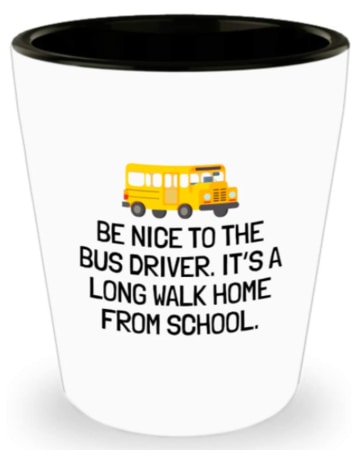 Just like the rest of us, bus drivers deserve to relax at the end of a long day with a little nightcap. Whatever their drink of choice is, this shot glass is the perfect way to drink it.
It's made from high-grade ceramic so it works with any temperature and can also be used for their morning espresso shots.
4. Novelty Socks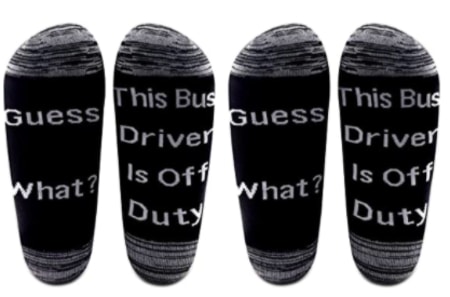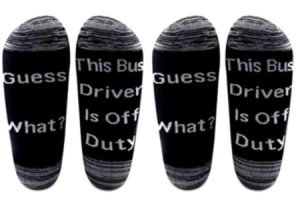 Everybody needs socks, especially fun ones. These mid-calf novelty socks are made for bus drivers and include a funny print on the soles. After all, they deserve to relax with warm and comfortable feet, too.
This pack comes with two pairs of socks that are made from a durable fabric blend that holds up quite nicely in the wash.
5. Funny Beanie Hat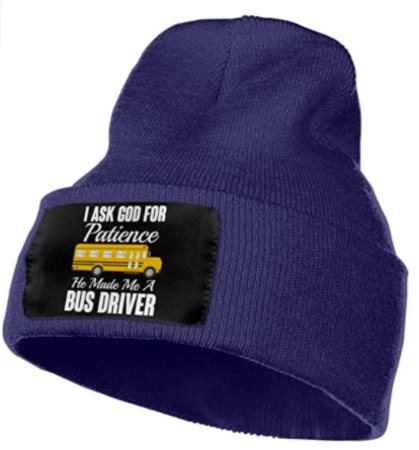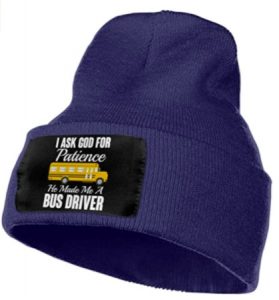 This beanie hat will come in handy for chilly days and for a little comic relief when they need it. This hat is also perfect for other outdoor activities like hiking, camping, and whatever else they like to do on their days off.
This hat is made of warm and stretchy fabric, so it fits most adult sizes and comes in three colors.
6. "Keep My Bus Clean" T-Shirt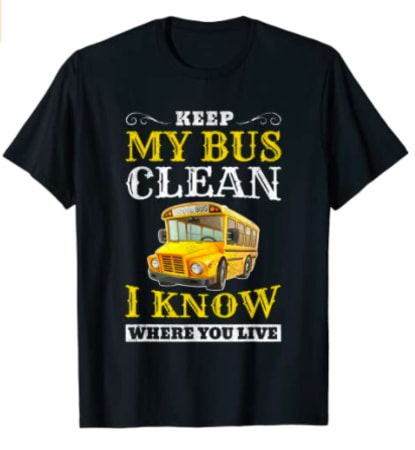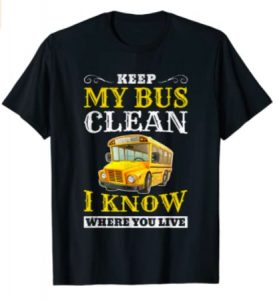 This shirt features a funny little reminder from your favorite bus driver. Maybe if they wear it instead of having to keep repeating it, their energetic cargo will remember this important bus rule.
This style is also available in hoodies, long-sleeved t-shirts, tank tops, and women's shirts and sizes.
7. Funny School Bus Driver T-Shirt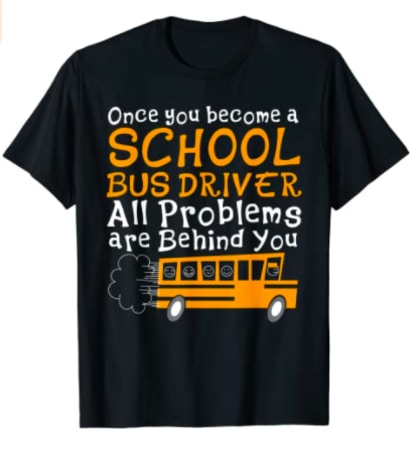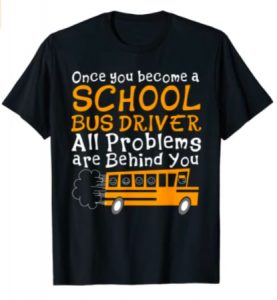 Last, but definitely not least in our funny bus driver gifts category, is another t-shirt that's just as funny as the first two.
Read what this t-shirt says and you'll definitely have a little chuckle. Or, at the very least, nod in agreement.
This shirt is available in a variety of colors and in men's and women's sizes, too.
7 Bus Driver Christmas Gifts
8. Tree Ornament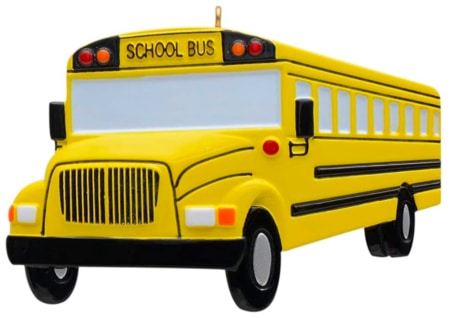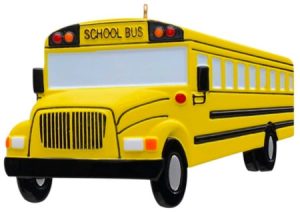 Ornaments are great gifts because they're relatively inexpensive and are made from a variety of materials and countless fun designs that will make everyone happy.
This holiday season, give your favorite bus driver this school bus ornament. It's made from durable resin so it's sure to last a long time and will serve as a nice reminder of this part of their lives.
9. "Super Bus Driver" Canvas Tote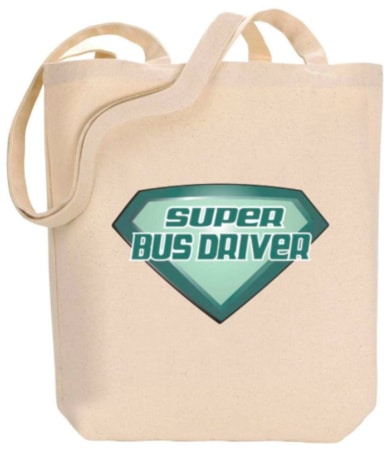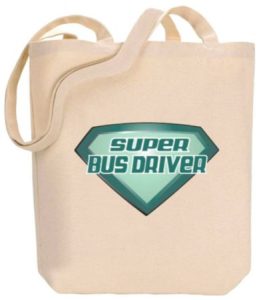 How about this super bus driver tote bag? Because, let's face it, your favorite bus driver is super and this tote bag is a super convenient way to carry groceries, a water bottle, an extra shirt, snacks, or whatever else they need for a day at "the office."
10. School Bus Socks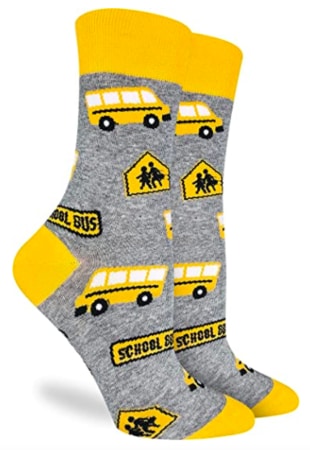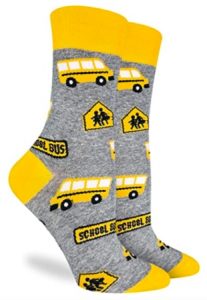 These socks are fun, cheery, and practical.  They feature a lively school bus themed print and reinforced heels and toes for a more comfortable fit that won't slip and slide. 
11. Amazon Gift Card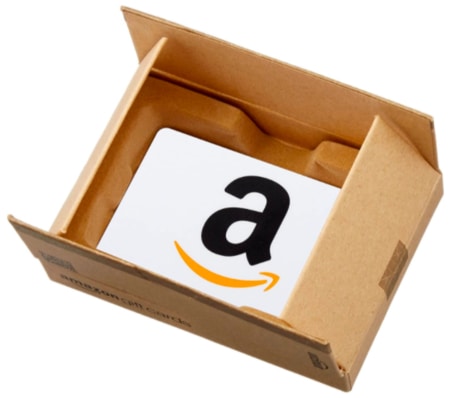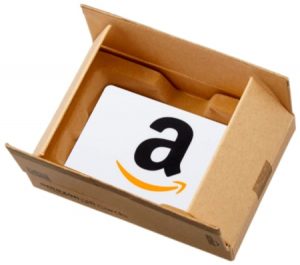 Give them an Amazon gift card so they can get what they want. This way you can be sure that they'll actually like and use your gift!
You can choose from different price options and even customize it to the amount you want. Add a card to this gift to make it more personal.
12. Portable Neck and Back Massage Pillow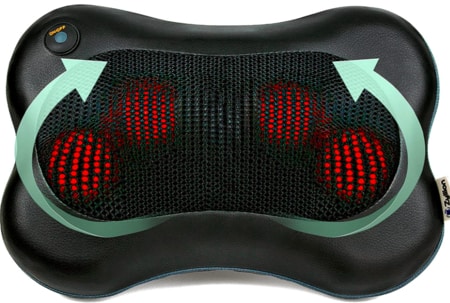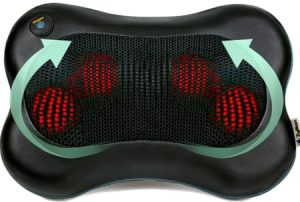 Your favorite bus driver can pamper themselves any time with this portable neck and back massage pillow. All they need to do is strap it on their headrest using the elastic strap and plug in the AD and DC connectors.
This pillow features 3D massage nodes and an optional heating function for greater relief from neck and back pain.
13. Hand Sanitizer Holder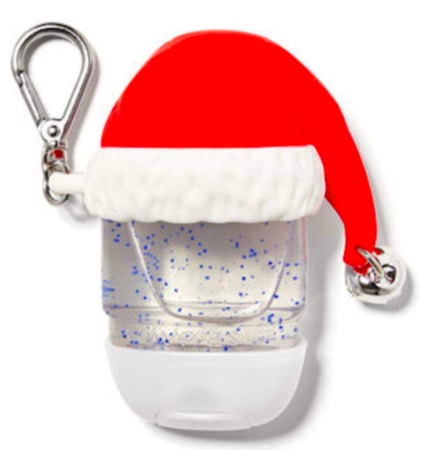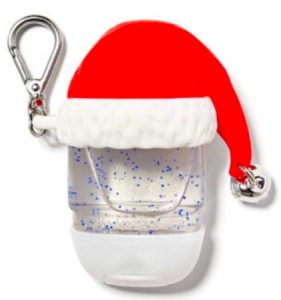 Here's a fun knick knack that's also very functional (especially these days). This Santa hat hand sanitizer holder features a clasp they can attach to their bags or keychain to keep it handy.
This holder fits the Bath and Body Works pocket bac hand sanitizers perfectly, too!
14. Shower Steamers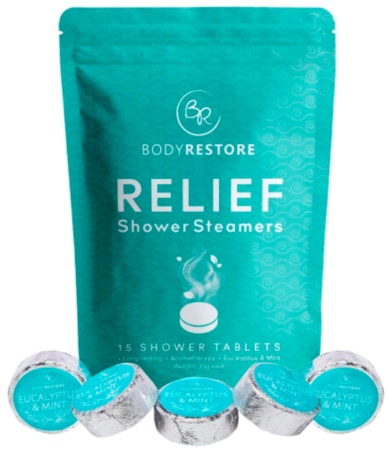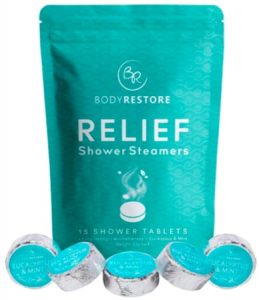 These shower steamers from Body Restore can help your favorite bus driver wash their stress away and get a good nights sleep. It's like having a relaxing aromatherapy spa treatment right in their bathroom.
These shower steamers contain all natural eucalyptus and mint essential oils to help them relax and relive nasal congestion.
5 Bus Driver Appreciation Gifts
15. Stainless Steel Tumbler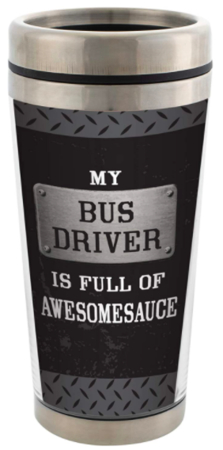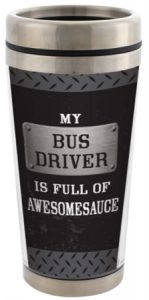 Ever wonder what your favorite bus driver is made of? Awesomesauce, that's what. Let them know you think so with this stainless steel tumbler.
Function-wise, it has all the amazing qualities of a goof tumbler: keeps drinks hot or cold for long periods, prevents leaks and spills, and is dishwasher safe.
16. "Awesome Bus Driver" Keychain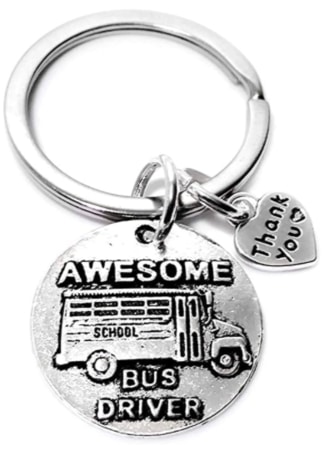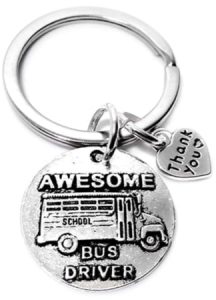 Keychains are also great bus driver gifts to help express your appreciation.
This one in particular is made from stainless metal alloy, features a charm that says "awesome school bus driver," and includes a smaller "Thank You" heart charm.
Now they can keep track of all their keys, which is really important for their job. 
17. "Worlds Best Bus Driver" Mug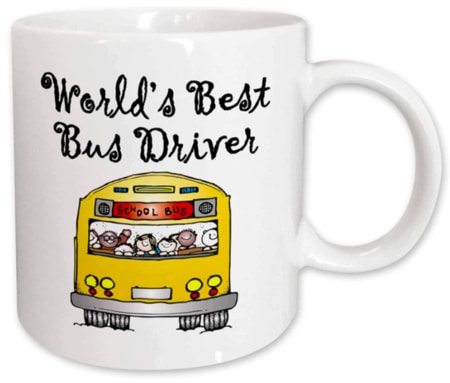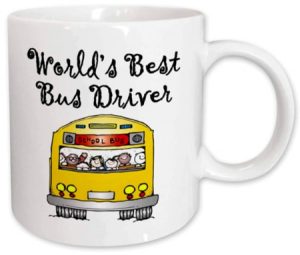 Speaking of bus driver appreciation gifts, here's a great mug. This World's Best Bus Driver mug shows plenty of appreciation and can hold their morning coffee at the same time. How awesome is that?
18. Bus Driver Pouch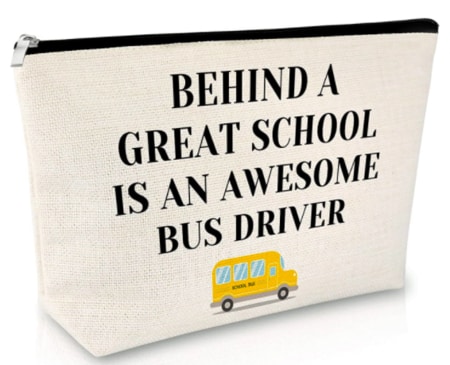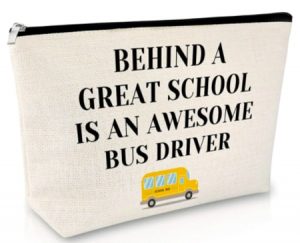 Show them your appreciation for how hard they work with this useful bus driver pouch. It's a great way to organize essentials and avoid losing stuff in big bags.
You can also personalize this gift by filling the pouch with little stuff like hand sanitizer, wipes, or their favorite candy.
19. School Bus Driver Pot Holder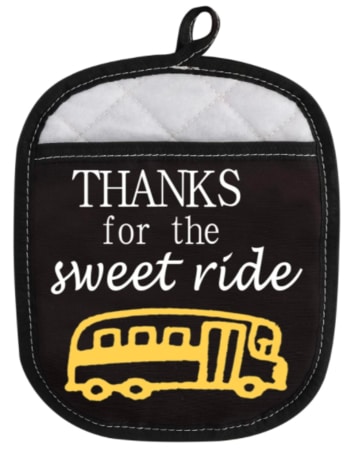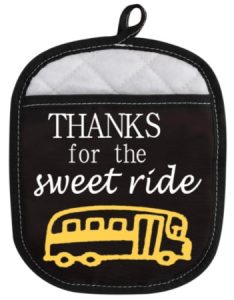 This padded, heat-resistant pot holder can protect your favorite bus driver's hands as they take hot pots out of the oven, while grilling, or when picking up a hot pan.
This may be a small gift, but it will still go a long way towards showing your appreciation for what they do.
7 Best Bus Driver Gifts
20. Vintage Style T-Shirt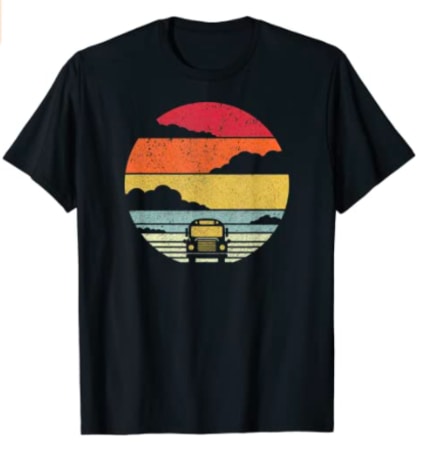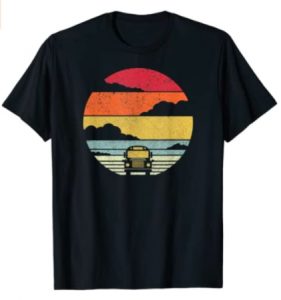 Help them bring the 70's back with this cool T-shirt that features a vintage-style print of a bus with a sunset backdrop.
This t-shirt is lightweight, has a classic fit, and is offered in five colors to choose from. This shirt is also available in men's, women's, and youth sizes.
21. Seat Cushion and Lumbar Support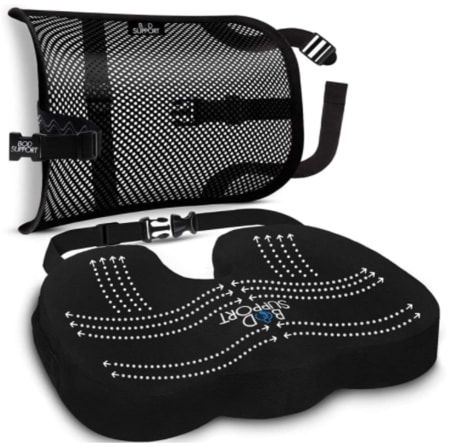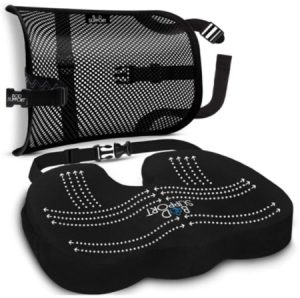 Driving a bus for living is bound to take its toll on backs and backsides, and this memory foam seat cushion and lumbar support can definitely help keep your favorite bus driver comfortable during long hours behind the wheel.
The lumbar support's arch can be adjusted to conform to their back and the memory foam seat cushion features an ergonomic design, anti-slip bottom beads, and removable washable covers for easy cleaning.
22. Insulated Lunch Bag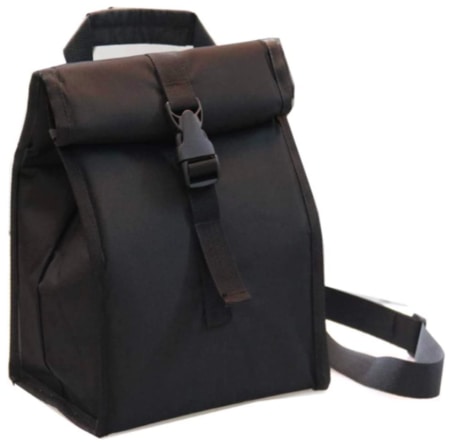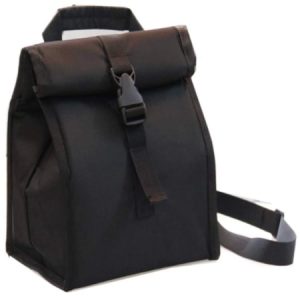 Keep their food safe and protected with this insulate expandable lunch bag. Not only will this bag keep their food hot or cold for longer, it's also big enough to hold an entire day's worth of food.
Plus, its extra thick aluminum inner lining can be cleaned up with just a few wipes in case of leaks and spills.
23. Insulated Food Jar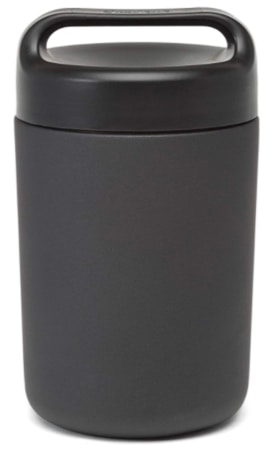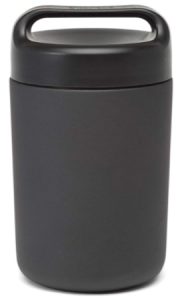 There's nothing better than hot soup on cold days. This stainless steel, double insulated food jar can hold 16 ounces of their favorite hot or cold food and keep it that way for hours without leaks or spills.
Plus, it features a built-in handle and is available in four colors.
24. Thin Leather ID Wallet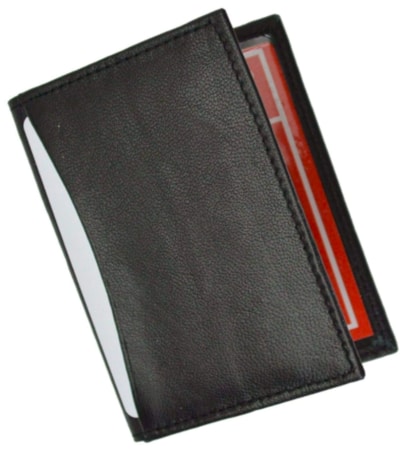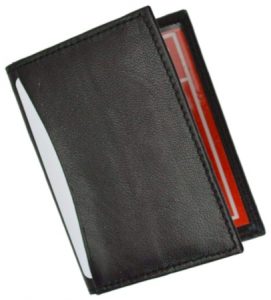 This thin leather ID wallet will protect their drivers license, credit cards, and other IDs without becoming too bulky in their pocket.
For its price, this wallet delivers the quality you'd expect from a more expensive wallet of similar design. It's made from soft genuine leather, has two window pockets, and can fit up to eight standard sized cards.
25. Bluetooth Earbuds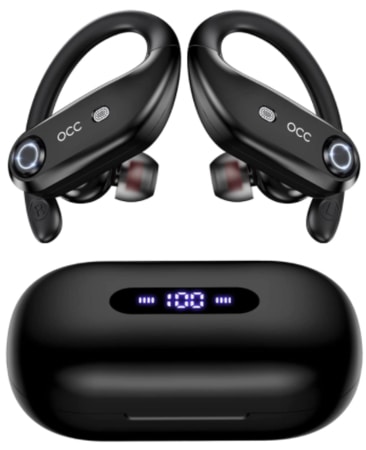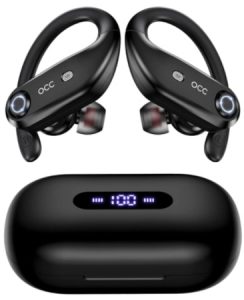 Why would a bus driver need noise-canceling Bluetooth earbuds? Have you ever been on a school bus full of kids?
If you have, then I think you'll understand why they need the noise reduction feature of these earphones along with the four built-in microphones that can isolate background noise.
26. Digital Alarm Clock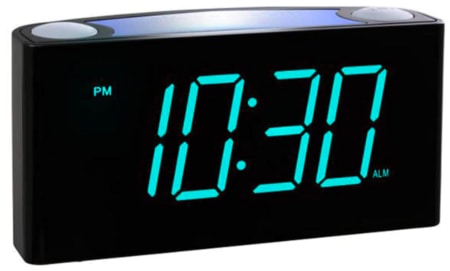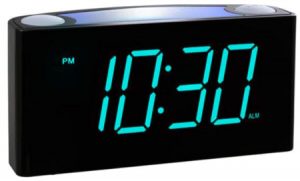 All bus drivers are early risers and this digital alarm clock/ night light will help them wake up when they have to without fumbling around in the dark.
This alarm clock features a 7-inch LED light display with adjustable brightness level. With this gift, not only will they get to work on time, your kids will also be on time for school.
The Best Bus Driver Gifts Found Online
Whether you're shopping for your children's bus driver or a family member who dedicates their life to taking kids to and from school, you'll find some of the best (and funniest) bus driver gifts on this list.
Check out these other gift lists as well for more present inspiration: