If you're looking for the perfect gift for the person who helps you put your (or your children's) best smile forward, we've put together a list of the 29 best gifts for dentists found online.
Whether you want something funny, practical, or thoughtful, you're likely to find something on this gift list a dentist would appreciate.
We've organized this list into categories that will hopefully make your gift shopping experience much more pleasant than being in the dentist's chair.
8 of the Best Dental Office Gifts
1. Throw Pillow Cover
This colorful dental-themed throw pillowcase will surely help brighten up your dentist's waiting area. It comes in different colors and sizes to choose from.
2. Dental Themed Large DIY Wall Clock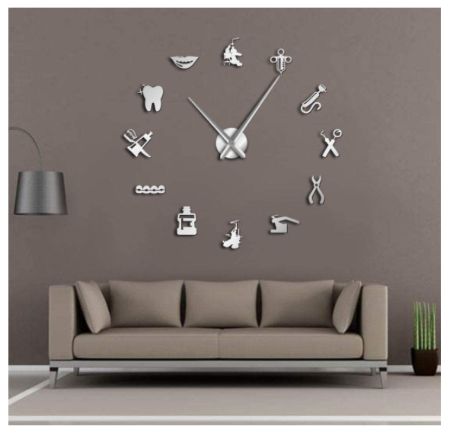 The crafty dentist will have fun installing this large DIY wall clock that's functional and decorative at the same time.
It's made from 3D acrylic with a mirror-like surface. Since it's frameless, the clock diameter can easily be adjusted to fit perfectly on any wall.
3. Vintage Style Dentist Themed Print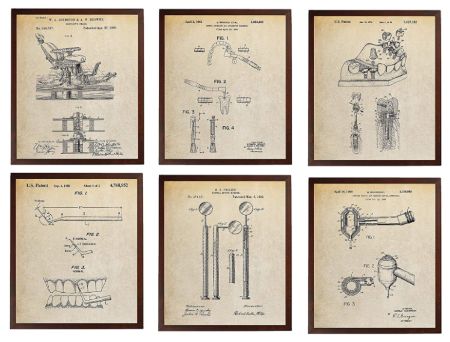 Prints are a great way to liven up an otherwise blank wall. This comes in a set of six vintage-style prints on premium-grade photo paper. Each print measures 8×10 inches and can fit any standard frame.
4. Hand Painted Figurine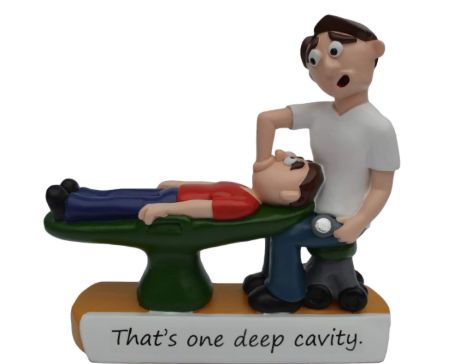 If you want something funny and a little crass, you might consider this figurine featuring a dentist-in-action that's sure to make your close friend who is a dentist laugh!
This funny dentist gift is hand-painted and made from a durable resin material that would look great on any surface.
5. Decorative Wood Block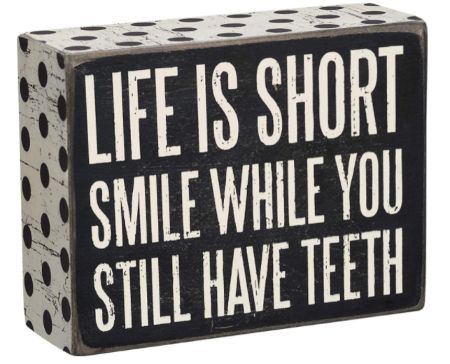 We all could use this funny little reminder once in a while, and what better place to see it than at a dentist's office?
This 4×5 inch decorative block is made from high-quality wood and distressed paint. It can stand freely on its own or hang on the wall to give any space a rustic vibe.
6. Crystal Tooth Model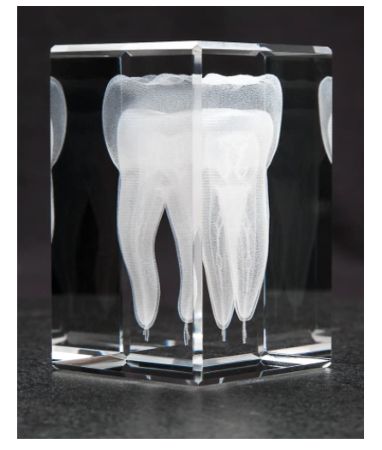 Get the dentist you know this beautiful addition to their dental clinic or office. This crystal block features a bright, anatomically correct model of a tooth etched in durable glass. This item may be small, but it's heavier than it looks.
It's not only a great display piece, it can also be a tool to help explain things to patients.
7. Tooth-Shaped Stress Relievers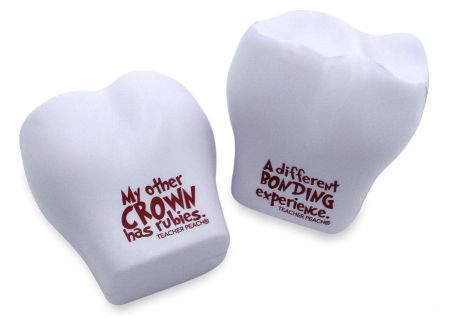 Made from high-quality squishy foam, these tooth-shaped stress relievers would come in handy either for your dentist or their patients.
They come in a set of two and are available as either a set for dentists or for their patients. The clever messages printed on each one adds an extra layer of stress relief that's suitable for everyone.
8. Dentist Model Playset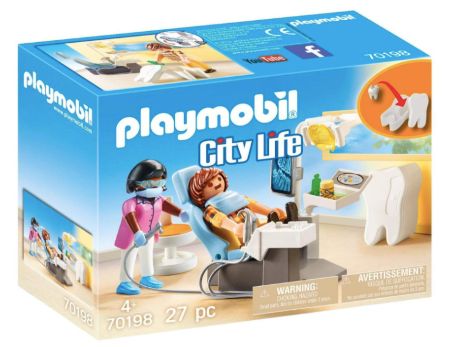 Get them this fun playset for their clinic that can help make waiting time for kids (and parents!) a lot less stressful. This 27-piece playset comes with a movable treatment chair, tray, dentist's tools, and other accessories.
You can also check out these other toys that can help entertain younger kids in the dentist's waiting room:
Bendable Toys Set
Wooden Dentist Toolbox Playset
6 Dentist Clothing and Accessories Gifts
9. Dentist Themed T-Shirts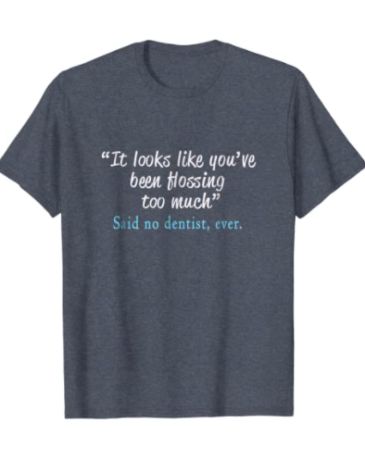 Bring out your dentist's quirky side with these funny t-shirt options. They all come in a variety of colors and sizes made with a comfortable blend of cotton and polyester fabric.
Whatever you choose, they'll definitely appreciate the humor printed on these tees.
Said No Dentist Ever T-Shirt
Plaque Is Wack T-Shirt
Captain Tooth T-Shirt
10. Tooth Print Tie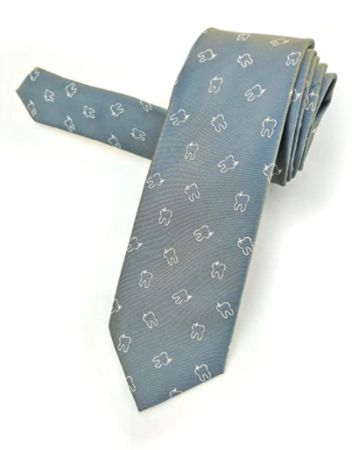 From afar, this tie looks just like any other tie, so it's subtle enough to wear anywhere. But up close, it's a lovely conversation starter.
Whatever the occasion, this tooth tie will be a great and helpful addition to any dentist's wardrobe.
11. Dentist Infinity Scarf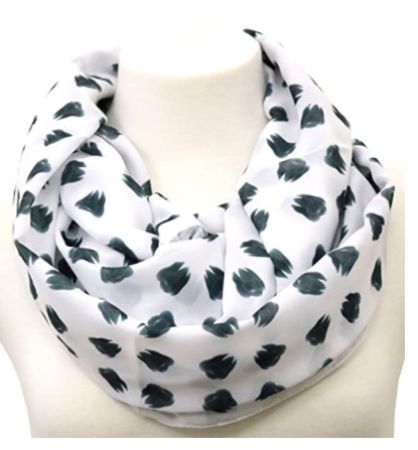 This light-weight infinity scarf with silky-soft fabric will easily become a staple piece. The print is subtle and comes in neutral white or beige, which makes it appropriate to wear anywhere and easy to compliment any outfit.
12. Dentist Novelty Socks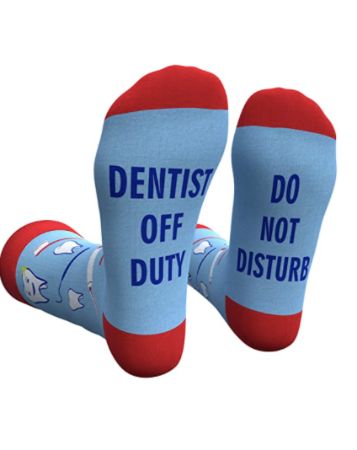 Whether they're on the couch giving their feet a rest or on their feet tending to patients, any dentist on your list will surely love these socks.
They're made to be durable, so they won't shrink or disintegrate after just one wash.
13. Gold-Plated Tooth Pendant Necklace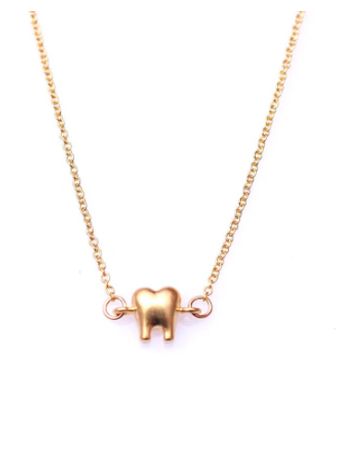 This dainty 14k gold-plated necklace is handmade in Turkey and would make for a lovely surprise gift for your favorite dentist who loves jewelry.
The quality is great for the price and with proper care, this necklace will last a long time without fading or tarnishing.
14. Dentist Keychain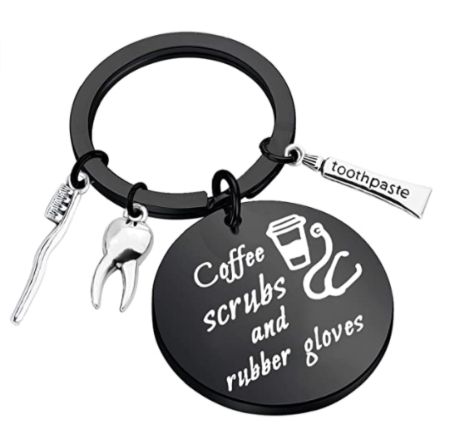 This keychain is hypoallergenic and made of high-quality, scratch-resistant stainless steel. It comes in cute designs featuring different dental-themed charms and a quote only a medical professional could relate to.
This gift is both a beautiful and practical way to show your dentist you appreciate them.
5 Kitchen and Household Gift Ideas for Dentists
15. "Yoda Best Dentist" Mug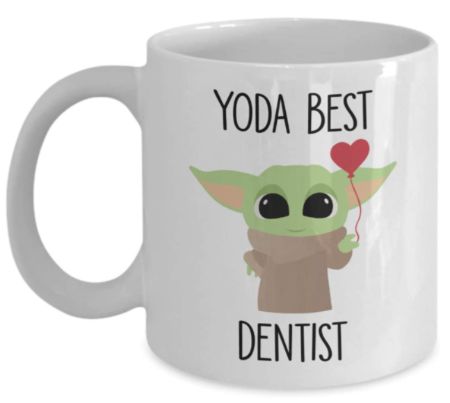 Along with their morning coffee, you can help make your dentist's day even better with this adorable baby Yoda mug that's made from high-quality ceramic and is dishwasher and microwave safe – perfect for reheating cold coffee!
For the outdoorsy dentist, check out this Stainless Steel Camping Mug featuring a humorous "Dentists' Pledge."
16. Coffee Mug and Stemless Wine Glass Set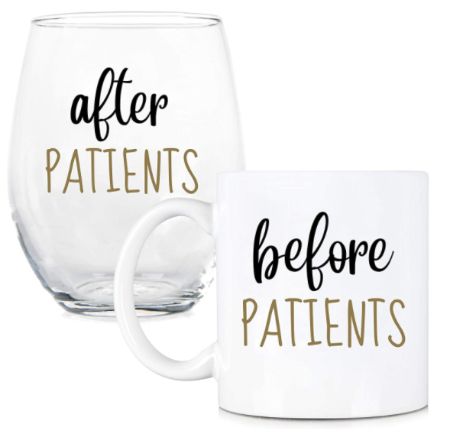 This "before and after patients" mug and wine glass set can jump start their day with coffee in the morning and help them chill out with a little wine after work.
Both the mug and wineglass are dishwasher safe and printed with a high-quality ceramic ink that won't fade after several uses.
17. Tooth Magnet Set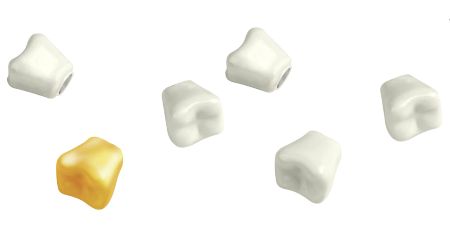 This cool tooth magnet set is a great gift for dentists who like to keep notes on their fridge or board.
The set includes one gold tooth and five white teeth. Each magnet measures less than an inch but is strong enough to stick to any magnetic surface.
18. Silicone Tooth Mold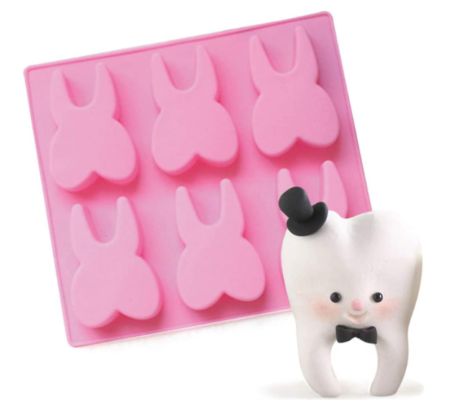 This adorable mold tray is made of quality silicone that is non-toxic and BPA-free, and perfect for throwing parties for kids and adults alike.
It's safe for making ice or molding sweets and desserts. Whatever it may be, this mold will add a playful twist to any party.
19. Tooth-Shaped Cookie Cutter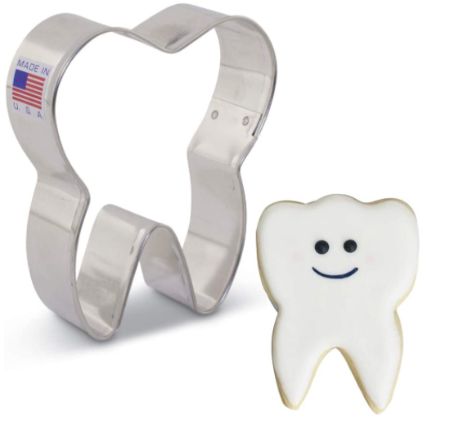 If your dentist likes to bake, this adorable toothed-shaped cookie cutter is perfect for them! Make their baking time more fun with this 3.5 inches certified food-safe American steel cookie cutter.
Making fun-shaped cookies, biscuits, brownies, or anything else you can think of has never been this easy.
5 of the Best Gifts for Dental Graduates
20. Engraved Hanger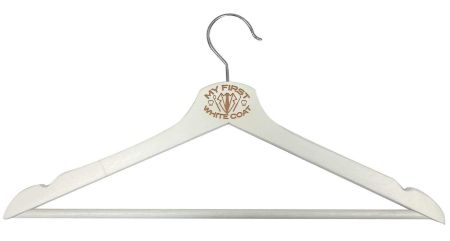 Their first white coat deserves a place of honor, and this 3D laser engraved hanger is the perfect way to showcase it, acknowledge their hard work, and mark this important occasion in their lives.
21. Cosmetic Bag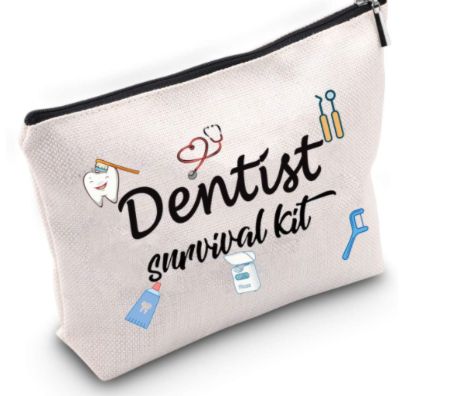 Fill this pouch with their favorite snacks or useful little things that can help them get through their day as a newly-minted dentist.
Or they can use it to store their bags to keep things more organized.
22. Tooth Lapel Pin Set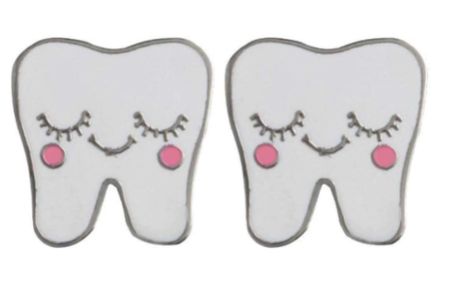 These tooth-shaped lapels are a cute way to complete any outfit. They feature adorable designs fit for a young (or young at heart) dentist and are made from a durable zinc alloy that won't tarnish or fade.
Aside from lapels or collars, they can also pin them on their bags, scarves, shirts, or anywhere needing a little extra pop of color.
23. Dental Implant Model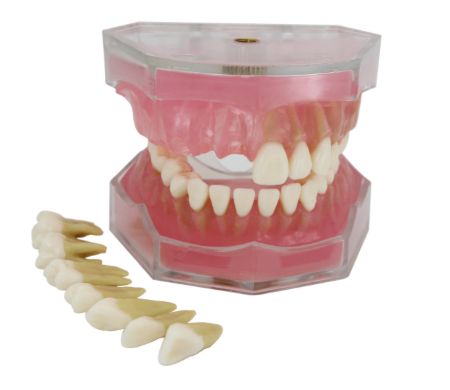 Every new dentist should own one of these! This dental implant model comes with 28 removable teeth made from soft and translucent rubber.
It's a great tool for explaining anything from simple to complicated dental procedures to their patients without using complicated X Ray films.
24. 2-in-1 Pen and Stylus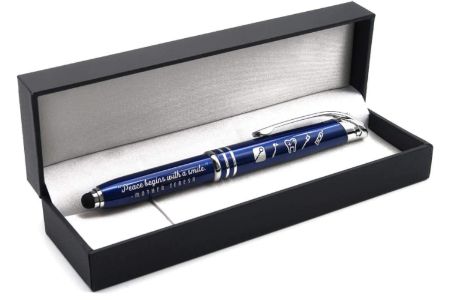 Just because they graduated doesn't mean the writing stops. This elegant metal pen features both a lit writing tip and a stylus for their touch screen devices.
It's also engraved with dentistry symbols and a famous inspirational quote that's perfect for the new dentist on your list.
5 Christmas Gifts for Dentists
25. Personalized Christmas Tree Ornament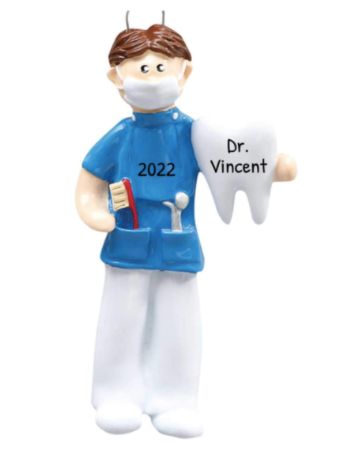 This personalized tree ornament is a great addition to any dentist's Christmas tree because it can be customized to best represent the dentist in your life. Made from lightweight cast resin, it's handpainted and comes with a ribbon for easy hanging.
For more traditional ornaments, check out these two other options:
Dental Charm Ornament
Star-Shaped Dentist Ornament
26. "Here Comes Santa Floss" Notebook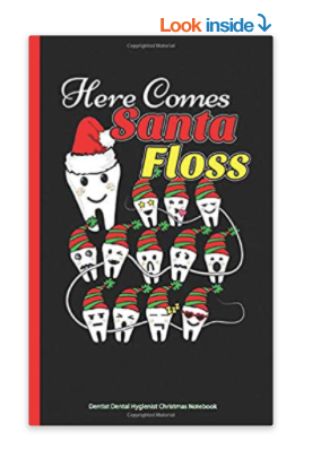 This handy dandy soft cover lined notebook is a great stocking stuffer for any dentist or dental student. It's lightweight and convenient to carry anywhere for when they need to write down something and a napkin is nowhere in sight.
27. Hand Massager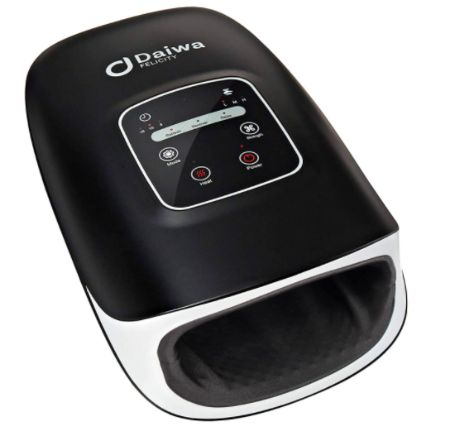 Since they're always working with their hands, why not show them how much you appreciate them with this portable hand massager?
It comes with three automatic massage modes and three strength levels so they're sure to find the combination that's perfect for them.
Plus, they can add some heat into the mix for added therapy and hand relaxation. This gift will earn you a huge smile from your favorite dentist.
28. Heated Neck and Back Massager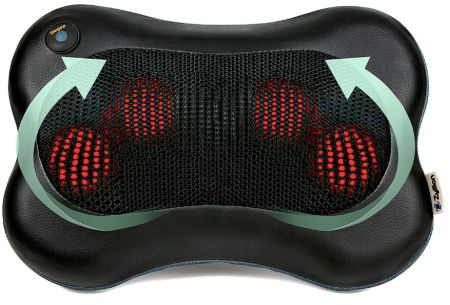 Dentists are prone to suffer from neck and back pain from bending over patients all day. This heated neck and back massager can relieve sore muscles and stiffness with its 3-dimensional, deep-kneading shiatsu massage nodes that automatically change direction every minute.
29. Gift Basket Set
You can never go wrong with this healthy deluxe set gift basket. The dried fruit comes in a foldable wooden fruit bowl and is bundled with an assorted nut crate that includes a variety of flavors.
The beautiful wooden trays can be reused to hold teas, baked goods, or fresh fruit once the snacks are finished. Nothing goes to waste with this gift!
The Best Gifts for Dentists Are Right Here
As you can see, I've shared the best dentist gifts for that special dentist, dental student, or dental graduate in your life.
Be sure to let me know in the comments if there's a gift topic you need help with that isn't yet on this website! Meanwhile, you might find something worthwhile on these gift lists below: