It's a Bird… It's a Plane… It's Superman!
Superman is known for his extraordinary strength, superhuman speed, and heat vision. But more than that, fans also admire him for his human-acquired traits such as selflessness, humility, and compassion.
People of all ages idolize The Man of Steel because of these characteristics and if your gift recipient is one of the millions included in his fan club, then this gift guide will be super helpful.
There's a ton of Superman items on the internet, so it can be intimidating to pick the best one. Don't worry because this list will make that decision easier. Read on to find the coolest Superman gift the Superman fan in your life will love.
5 Superman Gifts for Kids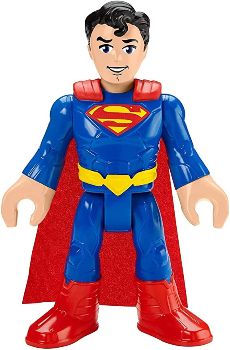 For your little Superman fan who wishes to become a superhero themself, this action figure will make their dream come true! Let their imagination run wild during pretend play with this Superman toy.
The figure's head, shoulders, wrist, and legs are movable, making it easier to fight off evil in Metropolis.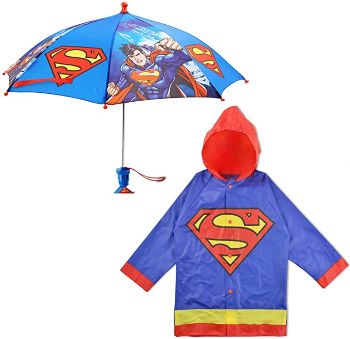 The rainy season won't dampen their spirit because they'll be ready with this cool Superman rainwear set. Even though we're not endowed with the superhuman immune system of Superman, this raincoat and umbrella will let your kid be invincible in the rain.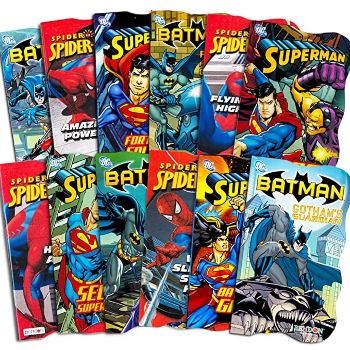 Superheroes are known for their superpowers, but more than that, they're also clever, strategic, and inventive. This activity book set will sharpen the mind of your little superman fan to be bright like his or her superhero idols.
Your recipient will have a great time learning with these 12 books that are filled with educational activities.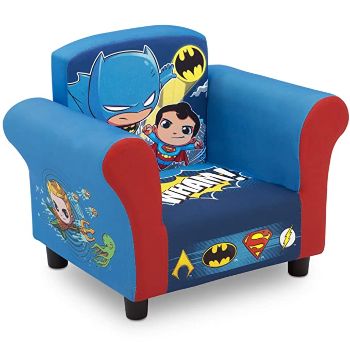 They'll feel like the boss while sitting in this comfy Superman chair that's perfect for watching DC Super Friends or their favorite  Superman movies. Brownie points if they also like the Flash, Batman, and Aquaman.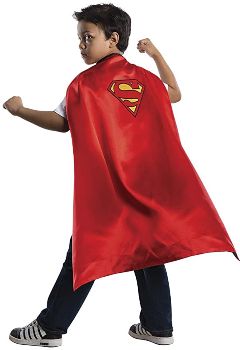 Superman wouldn't be Superman without his red cape! Get the little hero in your life this cool satin cape to complete their Superman look.
What's unique about this cape is that it's reversible and features both the logos of Superman and Batman on each side. Whether they choose to be Superman or Batman for the day, this cape has got them covered.
8 Superman Gifts for Adults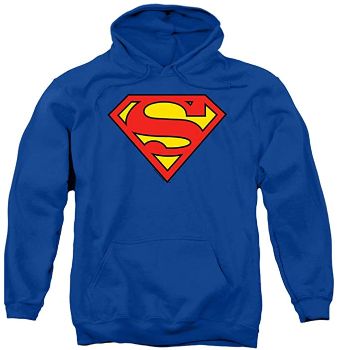 Feel like Superman all day, any day with this epic hoodie. Made with cotton and polyester, this hoodie will allow any Superman fan to move freely and comfortably. Whether it's for running, biking, or for their #OOTD, this hoodie is perfect.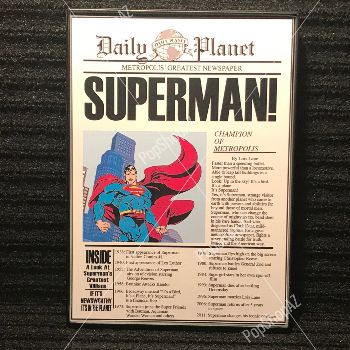 Your recipient will be psyched to have their very own copy of The Daily Planet (aka Metropolis' greatest newspaper) and read through the headlines to know what's going on in Superman's home.
This wall art will is great decor for a bedroom, workspace, or man cave.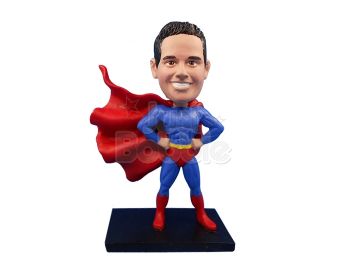 Want a unique gift that will make your recipient feel special and super? This bobblehead is a great gift option! JustBobble will make your vision a reality. Send them a photo of your recipient and watch them work their magic.
This customizable bobblehead has a production timeline of four to six weeks.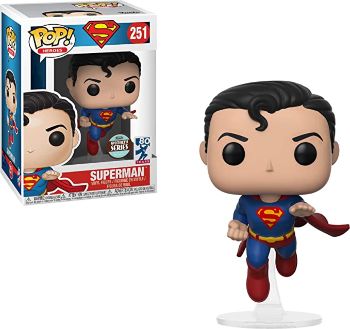 Is your recipient a collector of Funko POP! figures? Then this Flying Superman is a win-win present. This iconic flying pose action figure is a must-have for Superman fans.
Also, this 251 Funko POP! is highly collectible since it's a special edition made specifically for the superhero's 80th anniversary.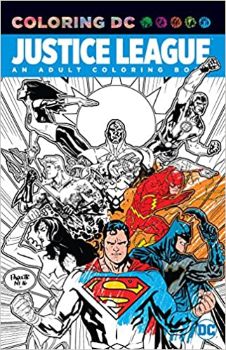 Coloring books aren't just for children – they're proven to be fun and beneficial even for adults. Add some color to their life (literally) by getting them this Justice League adult coloring book.
Some of the advantages of coloring include improvement in motor skills, vision, and focus.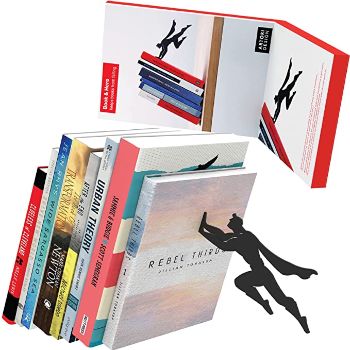 Superman can be seen everywhere whenever there's an emergency — from buses, trains, and buildings. Now, he's also in your giftee's bookshelf, holding their books and preventing them from falling.
Superman sure is the master of multitasking!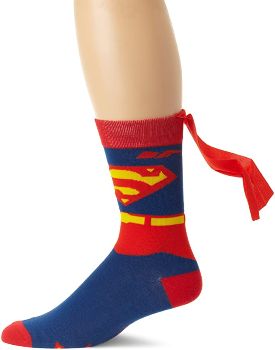 When t-shirts aren't enough to show their love for Superman, adding these crew socks to their closet will be a fantastic gift.
These are durably made to withstand extreme conditions so they can walk, jog, and run easily in them. Plus, the attached cape flowing in the wind make the socks 10x cooler.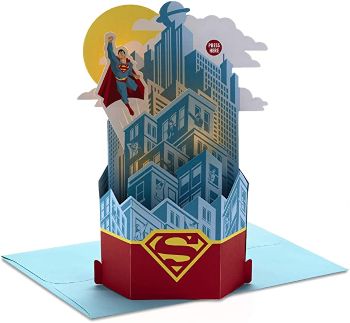 Surprise them with an exceptional birthday card that also plays Superman's theme song when you press a button.
A note special note is already printed on the card, but you can also add your own message personalize this Superman present.
5 Superman Gifts for Him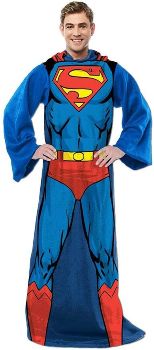 Is your giftee the ultimate Superman fan? Does he wish to wear his costume 24/7? Since it's not possible (unfortunately), this throw blanket with sleeves is the next best thing!
Plus, it's super comfy and a lot better than wearing Superman's tight costume.

If you're looking for a sturdy thermos that will maintain the temperature of his drinks all day, then this stainless tumbler is a great choice.
It's made with double-wall stainless steel that makes it durable and long-lasting, just like Superman. It's the perfect gift for the biggest fan of the Man of Steel.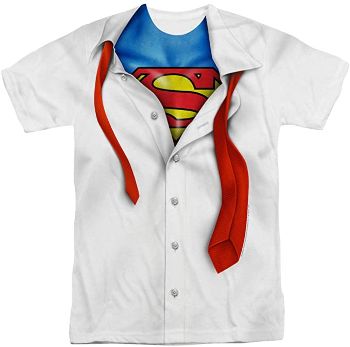 This shirt is a fantastic present for the fan who wants to inconspicuously show off his inner Superman (or Clark Kent).
It features a drawstring closure that makes it possible to adjust the fit of the shirt. The shirt is also inclusive since it's available in sizes small to 5XL.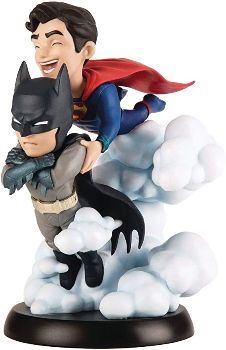 The debate about who's better between the two great superheroes, Superman and Batman, is never-ending. But this epic figurine has a good point.
Batman may have his Batmobile, gauntlets, and Bat Eye, but he'll never be able to fly on his own like Superman. Superman FTW!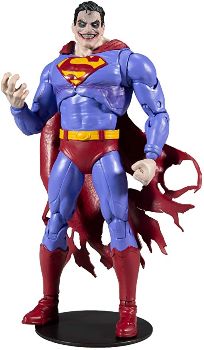 His Superman and DC collection won't be complete without this Superman Infected action figure. It's a unique and cool figure that shows a different side of Superman's story.
Plus, it's made with movable parts so he can display it with his chosen pose.
5 Superman Gifts for Her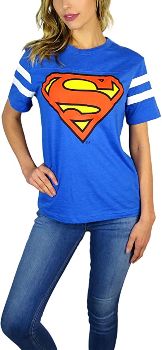 Good Superman shirts for women are hard to come by — they're either too boyish or outdated. That's why this football tee is perfect! Pair it with some jeans and she'll look effortlessly chic and stylish.
Looking for more gift ideas for the female Superman fan in your life? Check out these Wonder Woman gifts!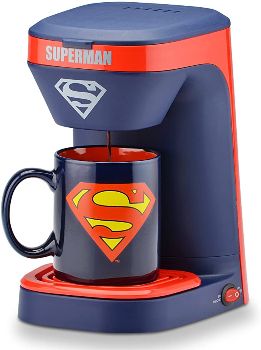 Superman energizes and gets his powers from the sun. This Superman coffee maker will be a great gift if she gets her powers from drinking coffee.
It comes with a matching mug so all she needs is coffee and it's good to go!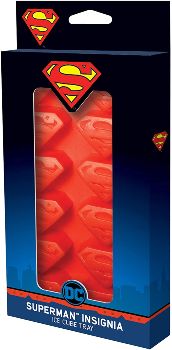 This awesome ice tray mold will be a fantastic housewarming present for the Superman fan in your life. The Superman-shaped ice will make their drinks a whole lot cooler.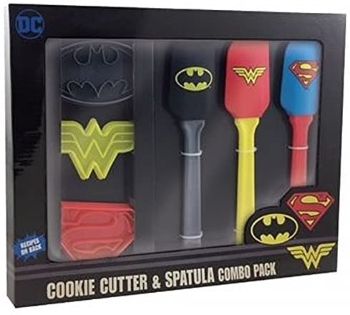 This baking supplies kit will help her bake some tasty treats worthy of the Justice League. The kit also includes some cool recipes such as Buttercream X-ray icing, Golden Suger Cookies of Truth, and more!

Does your recipient have a massive crush on Henry Cavill? Then she'll enjoy this huge gift she can display in her space while she watches Man of Steel, Batman v Superman: Dawn of Justice, and Justice League for the nth time.
Superman Gifts for the Super Human in Your Life
"Do good to others and every man can be a Superman."– Superman #149
With these awesome and thoughtful Superman gifts, your recipient will see you as a hero, too.
And if this list wasn't enough, check out these other gift lists to get more super gift ideas:
Which Superman movie and comic did you like the most? Share in the comments below!