It's time for a grand celebration! Finishing 8th grade is no easy feat, so make this big accomplishment more memorable by giving your recipient one of these 24 awesome 8th grade graduation gifts.
This list includes useful gifts for both him and her, so read on to give them the best graduation gift they've ever received.
9 Useful Middle School Graduation Gifts
1. The Work-Smart Academic Planner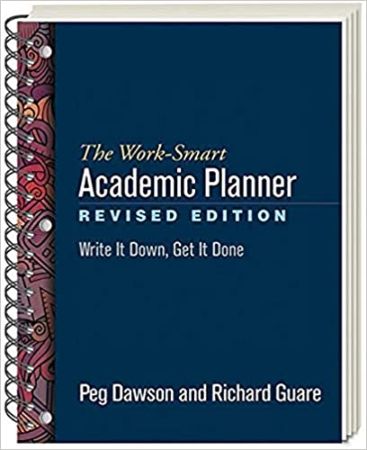 Unfortunately, finishing the 8th grade is not the end of it. They'll still have to go through the 9th, 10th, 11th, and 12th grades. But the great thing is that this academic planner will help them ace their subjects by organizing their schedule.
The Work-Smart planner isn't your ordinary planner. It also gives tips on how to create study plans and how to effectively stick to them. Definitely a must-have for young achievers!
2. Canvas Backpack Set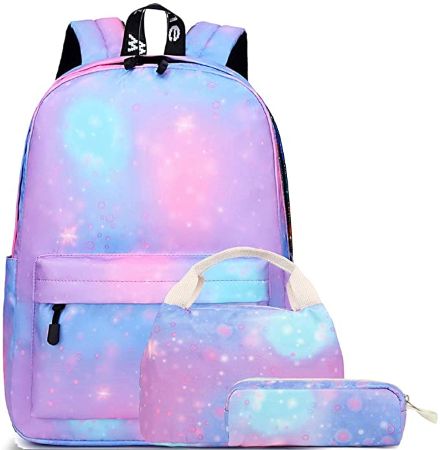 They'll be known as the cool kid with the pretty bag through this gift. Galaxy-themed items are currently in right now for Gen Zs which is a huge plus.
This 3-pack combo comes with a backpack, lunch bag, and pen case.
3. Laptop Shoulder Bag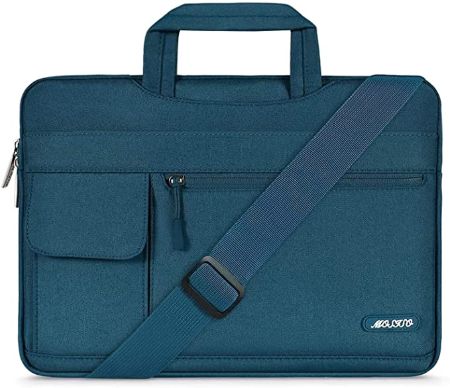 Your recipient's laptop will be their constant companion in high school. All their papers, projects, and notes will be in it so it's crucial to give it the right protection.
This briefcase sleeve case will be a great pick. Choose among the four sizes and 19 colors available.
4. Graduation Bookmark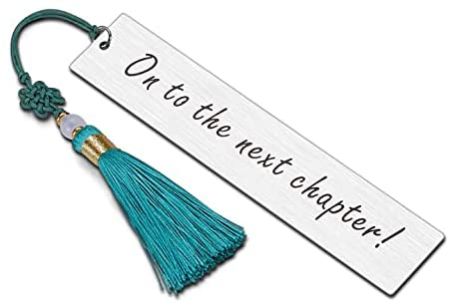 They'll have more time to read books once they complete the 8th grade. Here's an awesome bookmark for the bookworm in your life.
Complete the gift by adding these titles that are suitable for teenagers: The 7 Habits of Highly Effective Teens, The Book Thief, and The Maze Runner Series.
5. "Peace Out 8th Grade" Shirt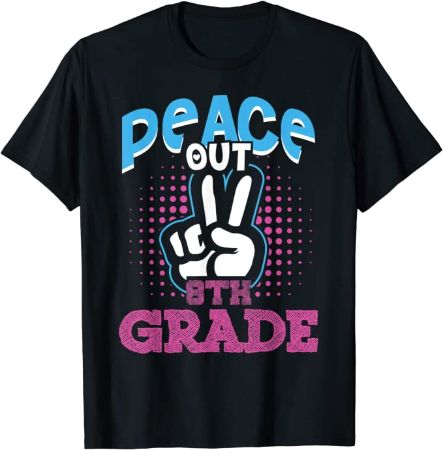 While 8th grade can be a magical period in a teenager's life, it also comes with a ton of challenges. Leaving 8th grade is a bittersweet moment. Commemorate the day when they can finally say goodbye to the hardest and best grade yet with this shirt.
6. Leather Bound Journal Gift Set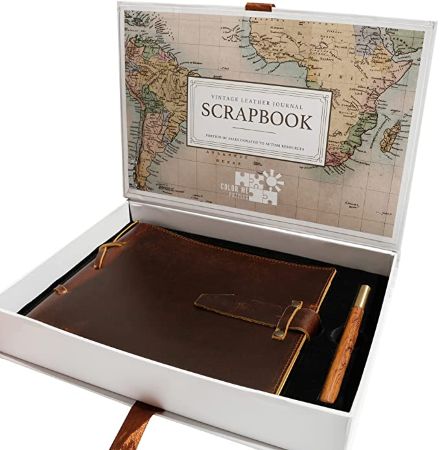 Having a journal at their age has its advantages. It reduces stress, makes them more self-aware, and can even raise their grades.
This durable journal will be there in every ups and down of their life. The gift set includes a notebook, pen, and decorative box.
7. Personalized Class Pens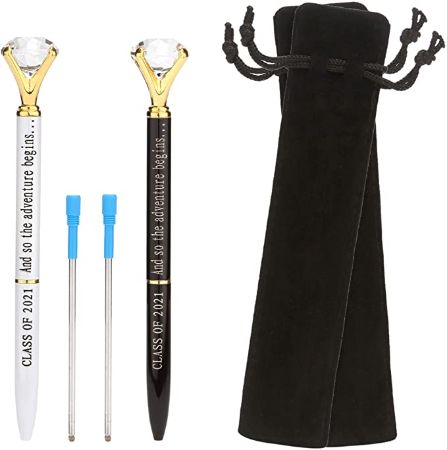 Surprise the 8th grader who made the year more special with this pen set. Customize it with beautiful quotes to inspire them as they enter a new chapter in their life.
The set comes with two diamond pens, refills, and velvet bags.
8. Neck Reading Light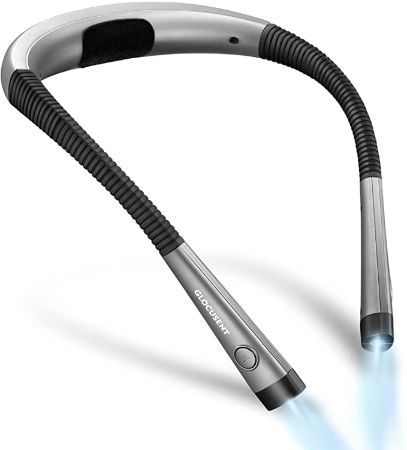 Foster their love for reading by giving this cool reading light.
Darkness won't be able to stop them from reading amazing stories and journeying with their favorite characters. Reading will be so much easier and convenient with this present.
9. Gift Card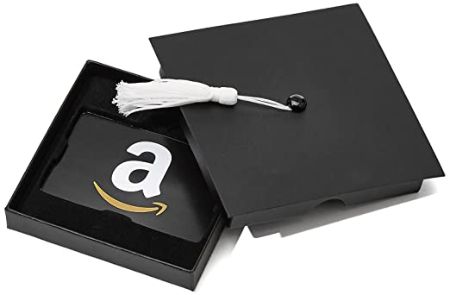 Give them the freedom to choose whatever will make them the happiest graduate with this gift card. The sky's the limit since they can pick clothes, instruments, or game consoles.
Brownie points for the graduation-themed box.
8th Grade Graduation Gifts for Him
10. Gamer Graduate Shirt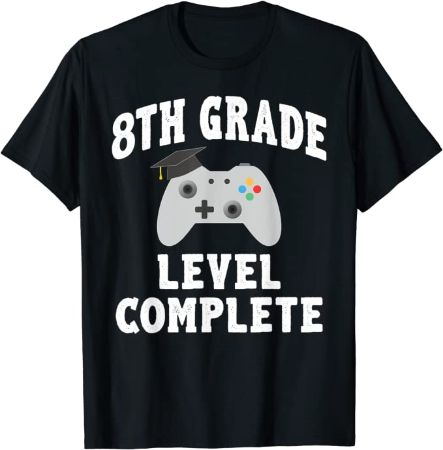 Is your recipient a gamer? Then he'll love the gaming reference on this shirt.
Congratulate him as he finishes one of the most difficult grades ever. Plus, it's lightweight and durable so he'll be able to use this throughout high school.
11. Engraved Pocket Watch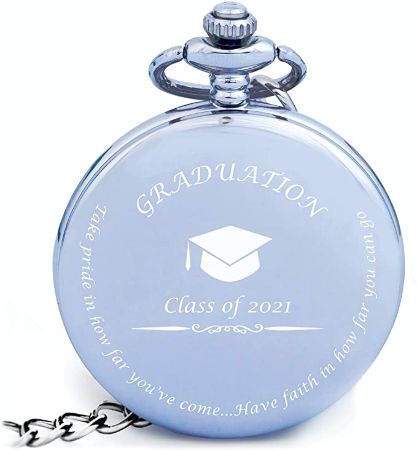 Your recipient is becoming more and more of a gentleman each turn of the year.
All gentlemen need a pocket watch and this one will be a great first of his. It even includes an engraved note and date of graduation that will remind him of the special day.
12. 3D Mechanical Model Puzzle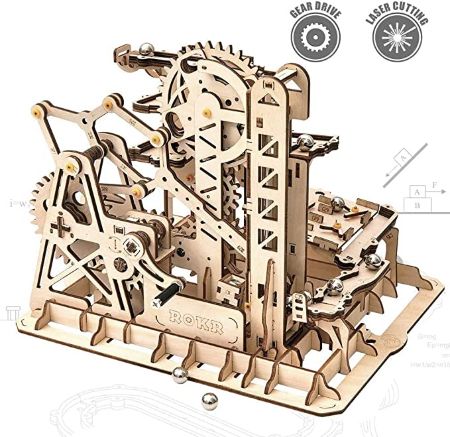 Engage his mind even during summer breaks by building this cool puzzle. Completing this puzzle will be a big accomplishment since it combines Physics and logic.
He'll also be able to display his work once it's done since it will look great as decor.
13. Art Set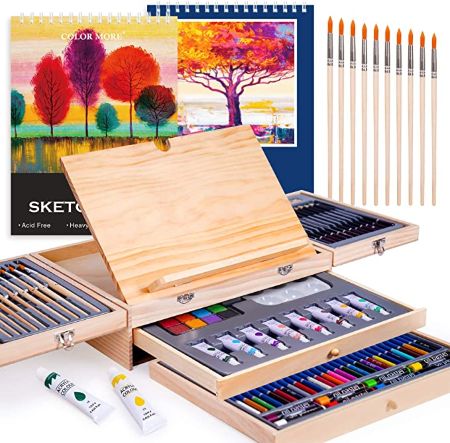 Discover the hidden artist inside of him with this art set. He'll be able to explore different mediums and techniques since it's complete with watercolors, acrylic paints, and more.
It's also great for travelling since the art box is portable.
14. Solar Rover Kit DIY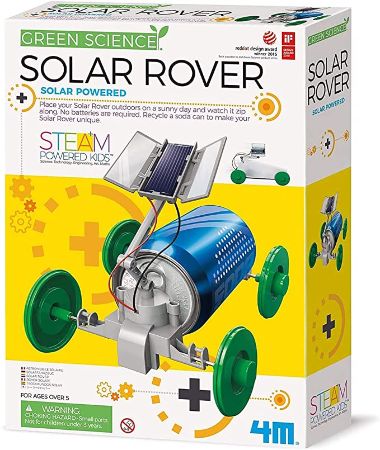 Do you think the 8th grader in your life has the potential to be the next biggest scientist?
Get them this awesome STEM kit to ignite their love for science. He'll enjoy building this kit while also learning in the process.
15. LED Strip Lights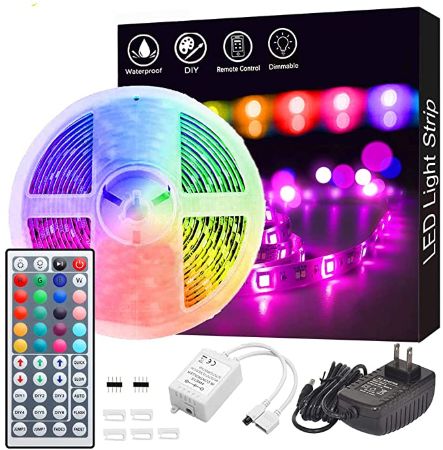 These LED strip lights are a must-have for TikTok users. Regardless of whether they're dancing, singing, or acting, these lights will increase the production value of their videos.
Check out this video to get inspiration.
16. Hallmark Graduation Card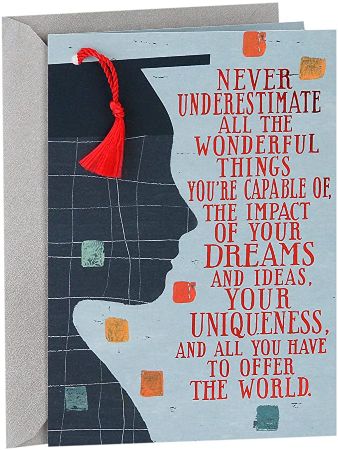 Show him how proud you are of him for not only finishing 8th grade but also because of the man he's becoming through this card. He'll appreciate the time and effort you've put into this gift.
8th Grade Promotion Gift Ideas for Her
17. Graduation Gift Set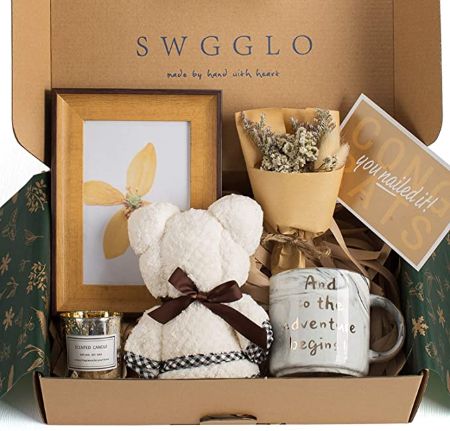 Get her all the best presents that will put a smile on her face with this gift set. It has everything that a teenager needs and wants such as a mug, bear towel, and flowers.
18. Rose Teddy Bear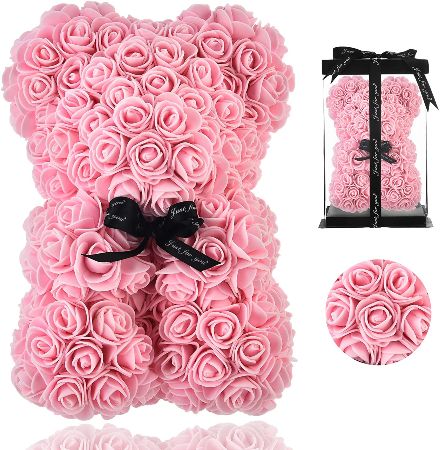 Let this cute rose teddy bear be a reminder of her academic accomplishments. Seeing this will be an adorable reminder that all her hard work will eventually pay off.
This will look good in her room or study area.
19. Compass Zircon Bracelet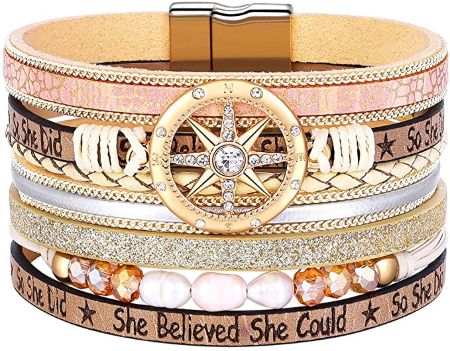 This beautiful accessory will also be a great choice. It's chic and has a thoughtful quote that will keep her motivated even when the going gets tough.
They also offer different pendants such as an arrow, compass, and diploma.
20. Graduation Keychain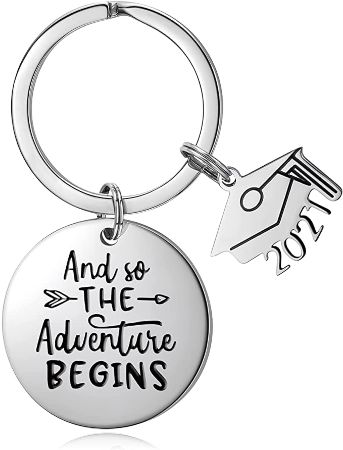 The end of a chapter means a start of a new beginning. Cheer her up as she enters into a new chapter of her life with this thoughtful keychain.
This gift will tell her that more memories and adventures await her in the years to come.
21. Lock Necklace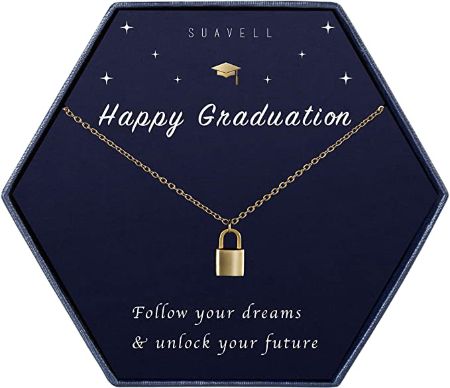 Not only is this necklace super pretty but it also has a deeper and thoughtful meaning. Giving this necklace to the graduate in your life will show her that you completely support her as she continues to achieve her dreams one grade at a time.
22. Jewelry Box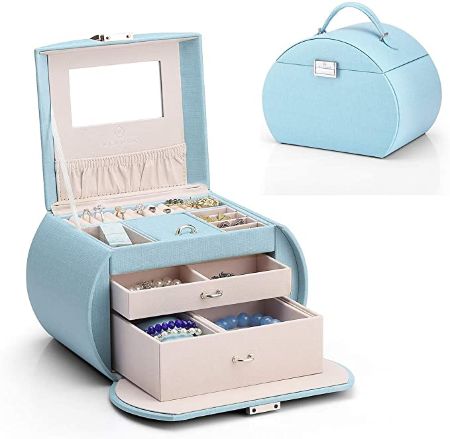 Store all her jewelry and trinkets in this gorgeous present. This will be useful as she starts her jewelry collection since it will protect and keep all her items in one place.
It also comes in green, pink, and purple.
23. Calligraphy Pen Set

Is your recipient into calligraphy? This pen set will be a treat!
She'll be able to practice her pen strokes with this set since it comes with two pens, 12 ink bottles, a pen holder, and a cleaning cup. She'll be a master calligrapher in no time.
Bonus: Graduation Decorations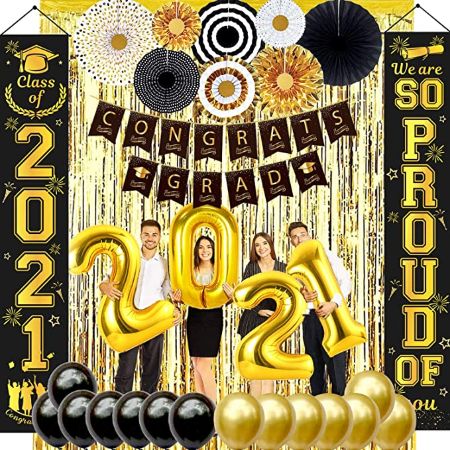 Plan a graduation party for your recipient and their friends that they won't forget. Aside from food and drinks, decorations are also important to make the party more festive. This gold and black decor set is a great pick.
It's complete with a banner, balloons, fans, fringe curtains, and more.
8th Grade Graduation Gifts to Celebrate Their Achievement
8th grade is a year of challenges and triumphs. It's important to celebrate finishing this year since your recipient worked really hard to get to the finish line.
These simple yet thoughtful gifts will be a great reward for all the sleepless nights and stress they had to go through just to finish 8th grade and make it to high school.
Here are more amazing gifts that your recipient might also love: