Looking for a 9 year anniversary gift for your loving spouse is difficult since it can't be anything less than perfect. It's a moment they'll cherish and remember, so it puts a lot of pressure on the giver.
However, it doesn't have to be that difficult. I've listed some foolproof gifts that your spouse will undoubtedly love.
These 9 year anniversary gifts will show how happy you are for the past nine years with them and how much you're looking forward to spending the next nine, 20, and 50 years with them. Dive in and read this post to get the best gift ideas.
5 Traditional 9 Year Anniversary Gifts: Pottery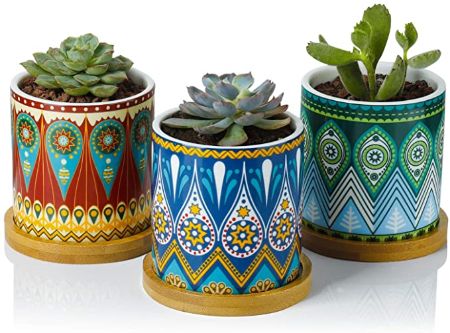 Here are pretty planters that will brighten up their space. These will be a fantastic new home to their favorite succulents and cactus since it's the perfect size for these types of plants.
Each planter has a bamboo tray that will keep the area clean.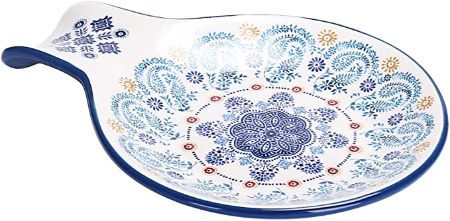 Give this beautiful spoon rest to your spouse who loves to cook for you. It will be a great present since it will lessen the mess that they'll have to clean after cooking.
Plus, the design and print are exquisite!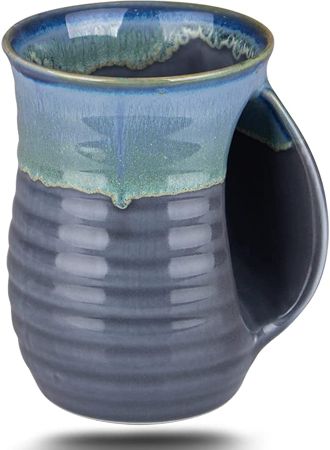 If you're looking for something unique and unconventional, then this coffee mug is what you're looking for.
It will keep their drinks and fingers warm which is a cool feature of this mug. Plus, it's made by artisans from China using ancient technology making this present more fascinating.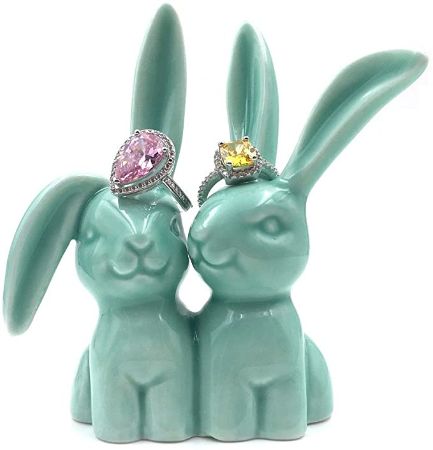 They'll be hopping with delight because of the cuteness of these little bunnies.
The four bunny ears will be a great accessory keeper since it fits most rings. Plus, it's made from high-quality ceramic. Only the best for your loyal spouse!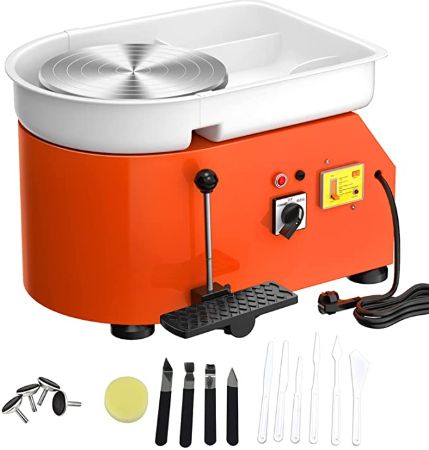 Impress your SO by creating a beautiful piece yourself using this pottery forming machine.
You'll be able to create incredible pieces with the help of this gift even if you have no prior experience in pottery since this is user-friendly. The kit already comes with a scraper, sponge, trimmer, cutter, and more.
5 Modern 9 Year Anniversary Gifts: Leather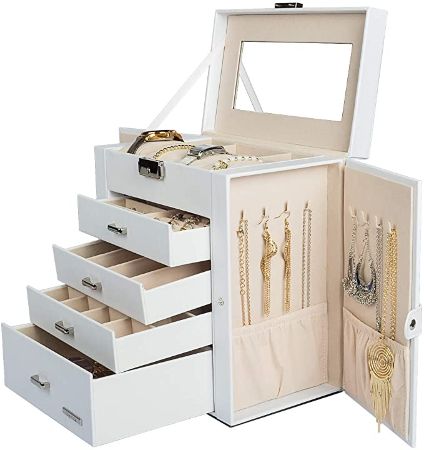 All her valuables and precious jewelry will be safe in this elegant jewelry box.
It's spacious and has a designated space for necklaces, rings, watches, etc. The white leather along with the soft velvet lining makes it feel luxurious and fancy.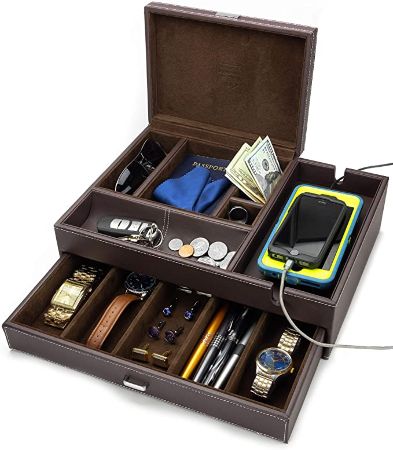 Even the man in your life needs an organizer where he'll be able to conveniently keep all his stuff. This valet box will do the job well.
Aside from his watch and loose change, it also has a charging station which will be perfect for your techy husband. It comes in black and gray.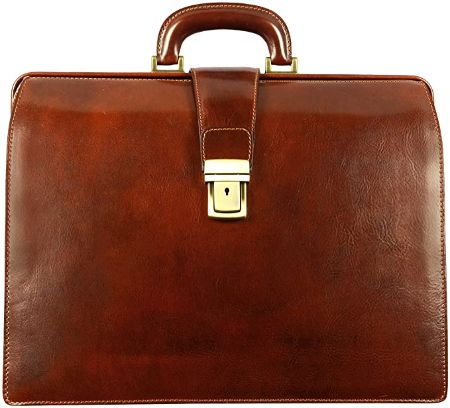 This leather briefcase will not only add to the wow factor of their outfits but will also help them exude authority and confidence.
Plus, this bag is made to last. It's made by Italian artisans who have perfected their craft throughout generations and was made with high-quality materials—all the zippers, lining, buckle, etc.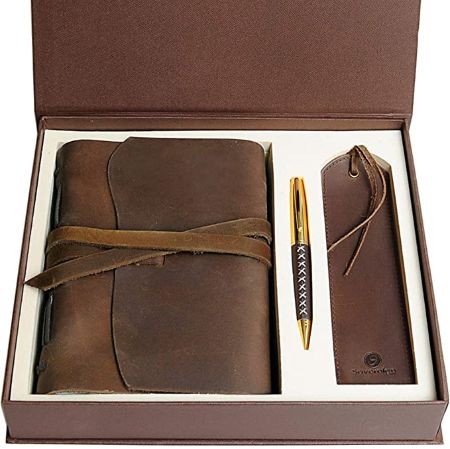 Sometimes all we have to do is let it all out in writing to make ourselves feel better. There's no shame in keeping a journal even as an adult (it's actually recommended by science).
Start the habit of journaling through this complete set. They'll have a journal, pen, and bookmark, with this present.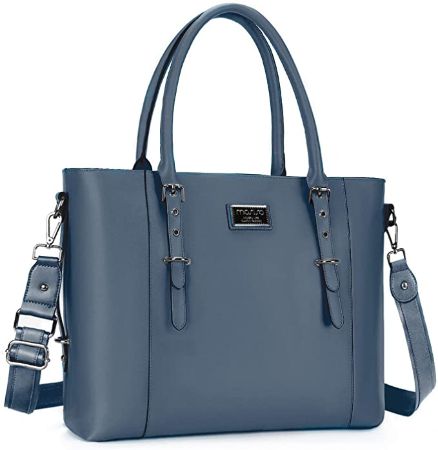 You won't have to choose a gift that's either functional or chic since this gift has it all.
It has a classy design and is huge enough to fit a laptop. Plus, its versatile design makes it look good with any outfit regardless of whether it's for an office event or for watching a football game.
9 Thoughtful 9 Year Anniversary Gifts for Her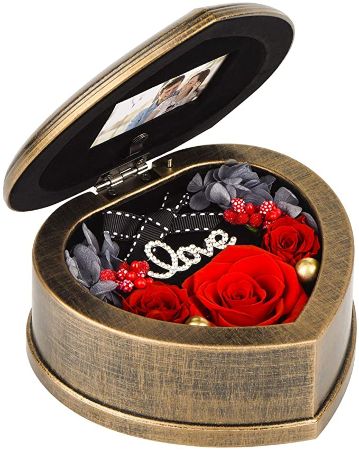 Surprise your lovely wife with this delightful gift.
She will love these eternal roses since they're a huge step up from fresh flowers (they can last for up to five years). She'll always remember you whenever she hears Castle in Sky because of this musical box.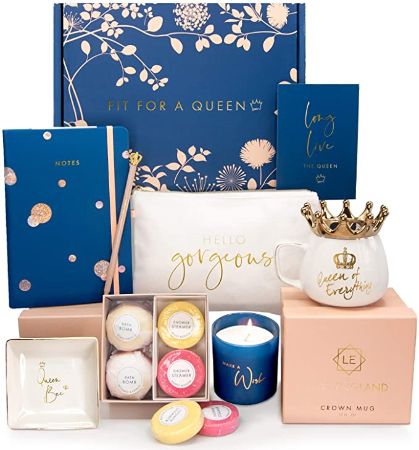 Treat your queen to a day full of relaxation and serenity by giving her this elegant gift basket.
This gift is fit for royalty. It comes with a coffee mug with a crown lid, notebook, trinket dish, and more. This is all she'll need for a me-time that she won't forget.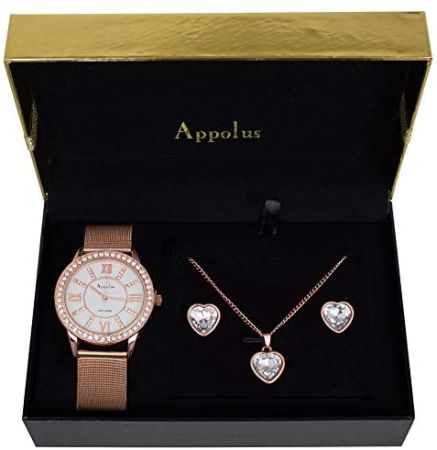 She'll be the center of attention and the star of the room whenever she wears this lovely set. This is a beautiful gift that she'll instantly love the moment she sees it.
Plus,  she'll be able to wear it Is for any occasion such as your anniversary date night, weddings, and graduations.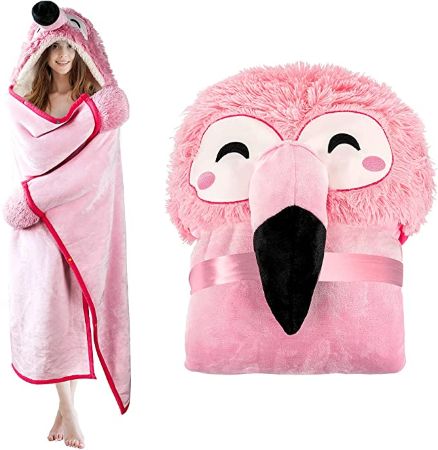 Does your ideal date night include popcorn, a movie, and lots of cuddles? Then this wearable blanket will be a hit! It will be hard to go back to shirts and pants once she wears this comfortable blanket.
More pretty pink flamingo gifts can be found in this list.
Girl night outs will be more epic with this chic bottle insulator. It's more fun to catch up, share stories, and watch rom-com movies with a bottle of champagne involved.
Brownie points for the pretty color and design.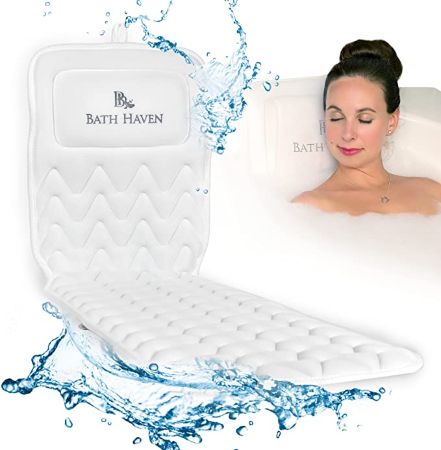 Let your wife know how much you appreciate her for all of her hard work in maintaining your home and keeping the family in one piece with this bath pillow.
It will help her energize so she can always be a superwoman, super wife, and super mom.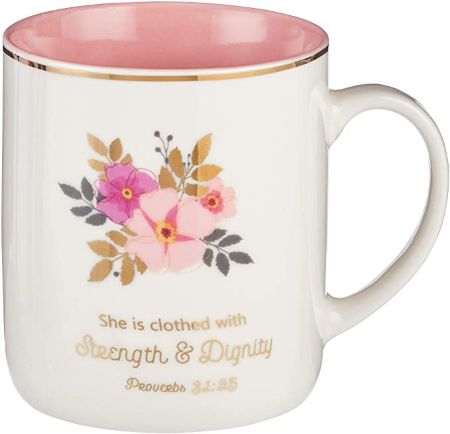 Is your wife the greatest woman and the best blessing you've ever received in your life? Give her this beautiful mug.
Thank her for always being there for you and the family and for being such a brave woman through this simple yet thoughtful present. She'll know that she's loved and appreciated everytime she drinks her tea or coffee.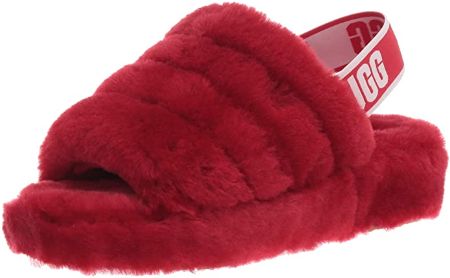 These UGG slippers will be your wife's new favorite footwear because of how comfy and stylish it is. Even if she has to run errands all day, her feet won't feel pain because of how soft they are.
The backstrap also serves as an extra safety feature along with the rubber sole.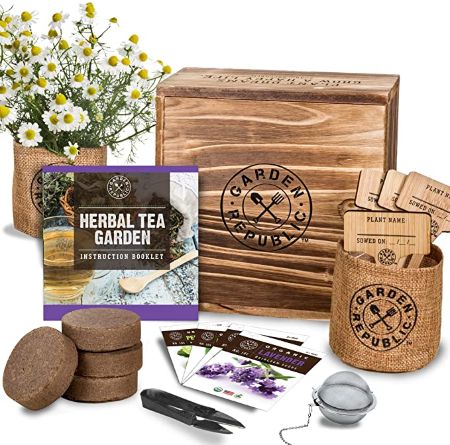 Does your wife love to drink tea? This growing kit will allow her to plant, grow, and harvest tea that she herself labored for.
The tea will be a lot tastier and refreshing knowing that it's the fruit of her hard work. The seeds that are included in the kit are chamomile, lavender, lemon balm, and peppermint.
8 Useful 9 Year Anniversary Gifts for Him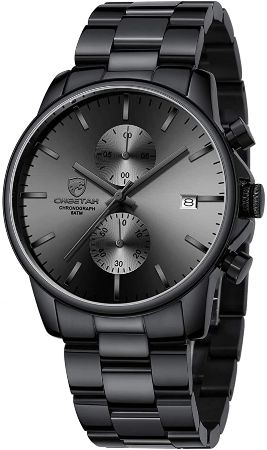 Your husband will look extra handsome and dapper because of this stylish steel watch.
It's a great buy since it features Japanese analog movement and a 304 steel case. The watch is also waterproof so he'll be able to use it for all of his adventures.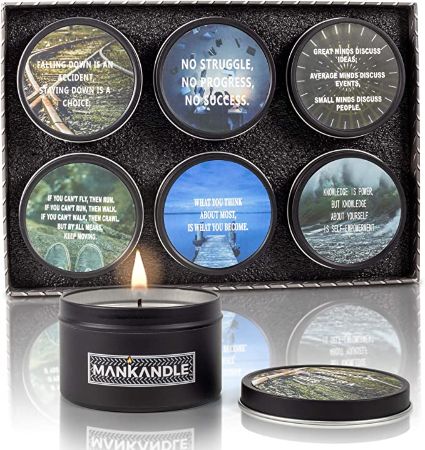 Here's an awesome gift that will be a perfect addition to his mancave: scented candles. I know it's not the usual thing that you'd get for a man cave but that's what makes it special.
It features manly packaging with inspirational quotes. Light it up after a long day at work.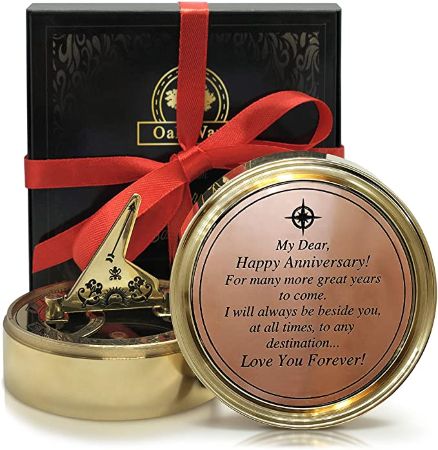 Get this brass sundial compass for your husband who gave your life purpose and direction.
Display this beautiful piece in your bedroom or workspace as a reminder of your love for him. Brownie points for the thoughtful engraved message included in the compass.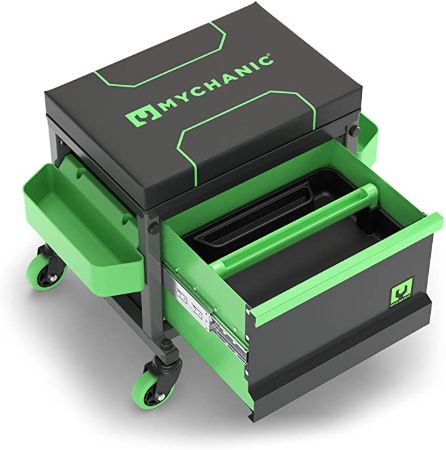 Fixing the house will be a lot easier and more convenient thanks to this rolling toolbox.
He'll be able to take all of his tools and equipment in one go using this gift. It also works as a stool which is a huge plus.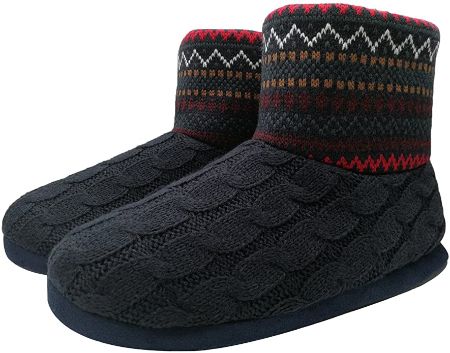 These comfy slippers will be a treat to their tired and weary feet. Wearing these will remove all the exhaustion they're feeling after a particularly challenging workday.
Choose from the 14 available colors and designs.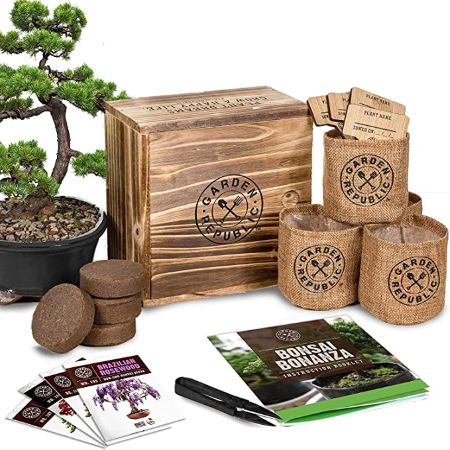 Gardening is a fantastic hobby since it yields numerous benefits. Gardening burns a lot of calories, lowers blood pressure, and strengthens the bones.
Support your husband's hobby by giving him this bonsai tree starter kit.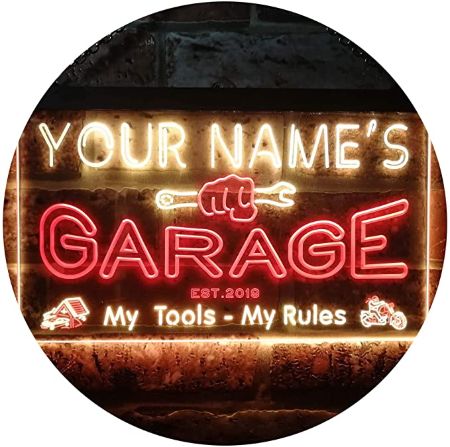 Another cool present you can give your husband is a personalized sign for their man cave. It's a great gift that will add character to their personal space.
Here are more man cave gifts that you need to check out.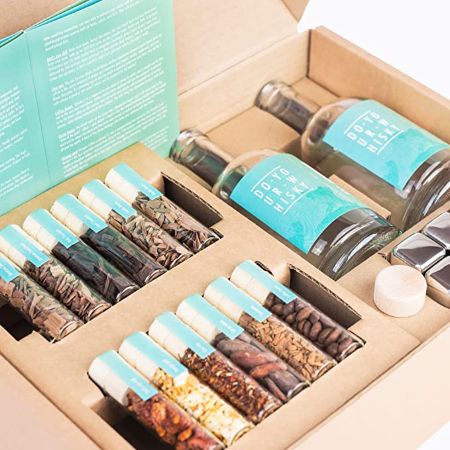 He'll learn how to craft his own homemade whiskey flavor with this starter kit. What's cool about it is that he'll be able to adjust the flavors to create the perfect drink for him.
Plus, his guests and colleagues will be impressed knowing he made the delicious drinks himself.
The Best 9 Year Anniversary Gifts for Lasting Memories
I hope that you have a wonderful ninth-year anniversary celebration with your spouse with these gifts will make the occasion much more special. Here's to more years of happiness, laughter, and joy with the love of your life.
Get more amazing anniversary gift ideas right here: