We're all humans and inevitably make mistakes sometimes (even if that means hurting the people who matter to us the most).
When you're at fault and want to make up for the things that have been said or done, these 27 apology gifts will help show how incredibly sorry you are.
Read on to find heartfelt gifts for your SO, family, and friends to start the healing process and rebuild your relationship.
5 Apology Gifts for Significant Others
1. Elephant Plush Toy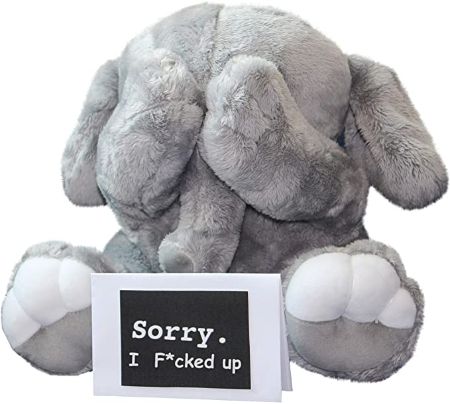 Get this "sorry" elephant stuffed toy for your significant other to show how remorseful you are. Combined with sincerity and promise of change, they won't be able to resist you and this adorable plush.
2. "Why I Love You" Personalized Journal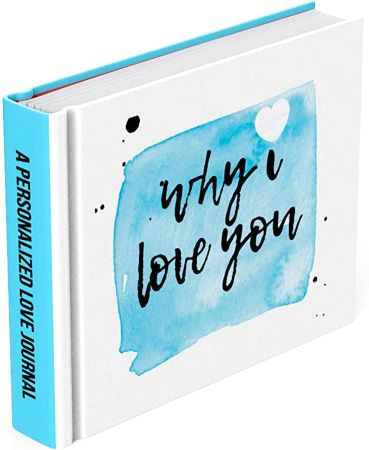 Remind your SO why you'll always love and choose them despite sometimes having misunderstandings with this personalized journal. Place your favorite photos, ticket stubs, and letters to immortalize and preserve your precious memories together.
3. "I'm Sorry" Necklace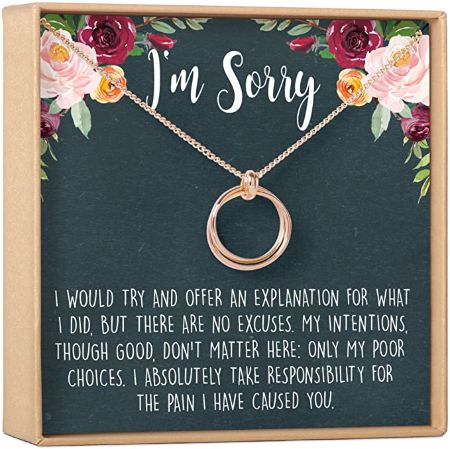 You don't have to be good with words to show that you're truly sorry for what you did because this necklace will do the job for you.
Aside from a beautiful necklace, this present also has a thoughtful message that will warm your SO's heart.
4. "I Love You More" Wallet Insert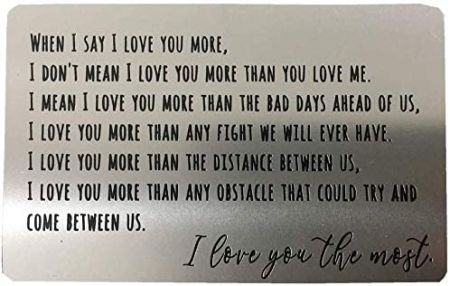 This wallet insert is a thoughtful and sweet reminder that no matter what happens, your love for them will always remain —that no fights, heartbreak, or disagreement will ever lessen your love.
5. "Not All Those Who Wander Are Lost" Magnetic Compass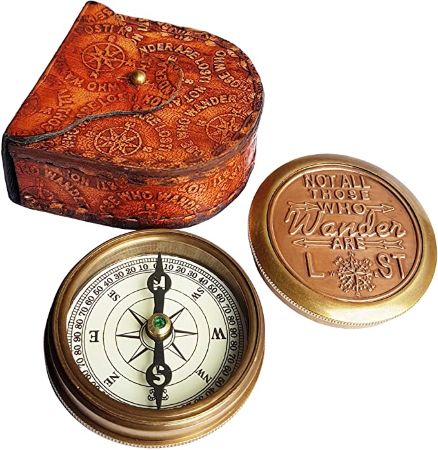 This magnetic compass is an excellent symbol to represent the person in your life you'd be lost without. The compass is high-quality and made with brass while the case is made with premium leather.
5 Apology Gifts for Family
6. Scented Candle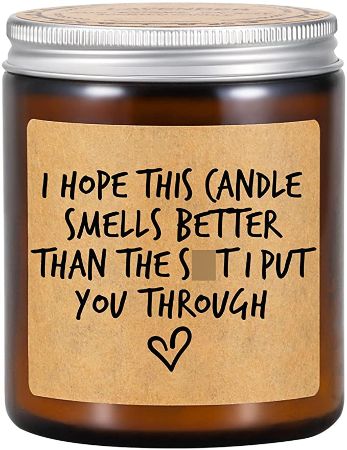 Breathe all the negative feelings and thoughts away with this scented candle. Your recipient will appreciate both the funny but sincere note and floral notes of this apology gift.
7. Heart Bracelet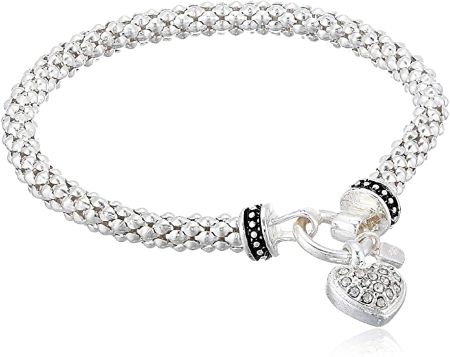 Like the heart that's tightly woven into this bracelet, this is a nice gift that displays your permanent bond that is forever secured by blood relations. Plus, it's an elegant piece of jewelry that will remind them of you whenever they wear it.
8. "Brother Nutritional Facts" Mug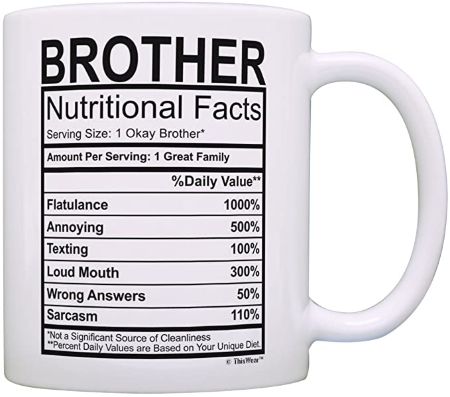 This mug will let your brother know that you accept and love him with all his quirkiness. Even if you don't get each other all the time, he'll know that you always have his back no matter what.
9. Willow Tree "My Sister, My Friend" Hand-Painted Figurine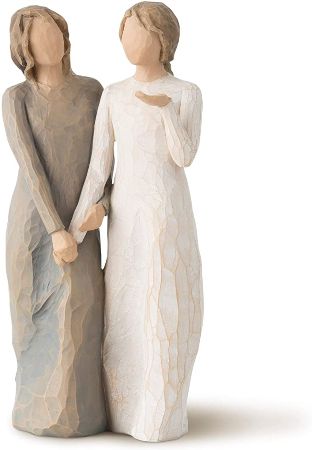 Life is better with sisters (even with all its ups and downs). She's the one who knows you inside and out and is one of the few people you can trust.
Life is too short for fights with your sister, and this figurine will help mend and strengthen your sisterly bond.
10. Bronze Family Tree Picture Frame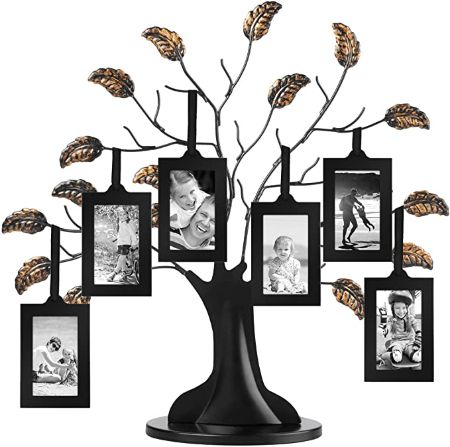 Got a cherished photo showing a memorable moment in your life as a family? Why not display it in this beautiful picture frame to make your apology gift more personalized?
Place six wonderful snapshots of your family within these exquisite frames.
5 Apology Gifts for Friends
11. "We'll Be Friends Until We Are Old" Pouch
For the BFF you've had a falling out with, this pouch will help in rebuilding your friendship. It's cute, functional, and pretty, which makes it a worthy present for one of the most important people in your life.
12. Affirmations Pillow Cover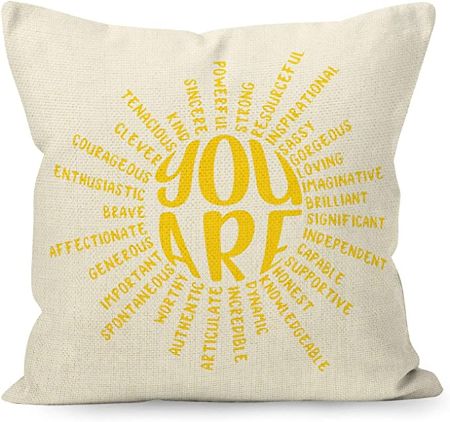 When emotions are high and hurtful words are thrown during a fight, one's self-image and confidence can be severely damaged.
This affirmation pillow cover will remind your best friend that they're strong, kind, courageous, and more!
13. Decorative Box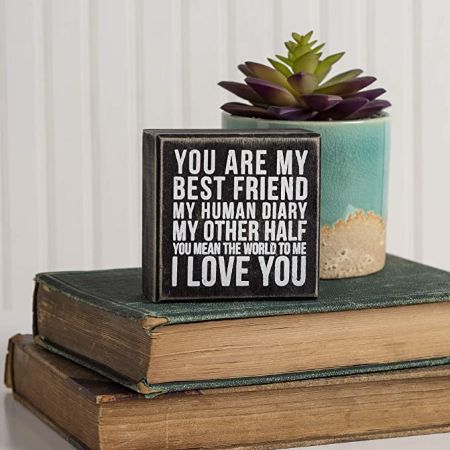 Looking at this sweet decorative box will always remind your best friend that whatever fight, misunderstanding, or struggle life may throw at you, you'll always have each other until the very end.
14. BFFs Amazon Gift Card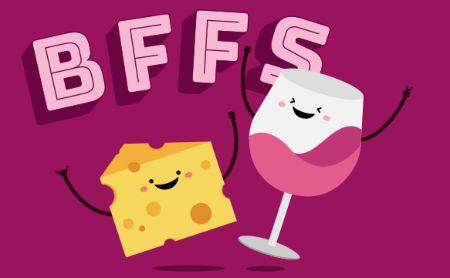 Treat your best friend to a gift of their own choosing with this Amazon gift card. By giving them a gift card, you're giving them the freedom to choose a present that they really want.
The amount of this eGift card ranges from $25-$150.
15. Flickering Flameless Candles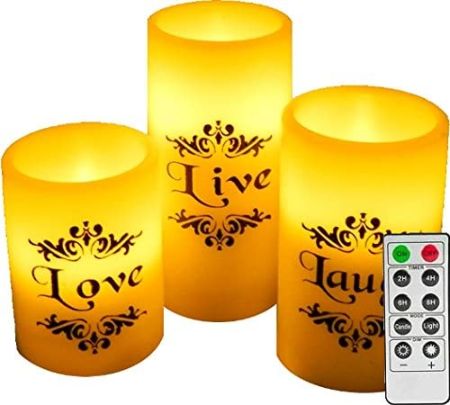 Decorate their space with these beautiful flameless and remote controlled candles that will add positive vibes to their life.
7 Apology Gifts for Anyone
16. Grand Gift Basket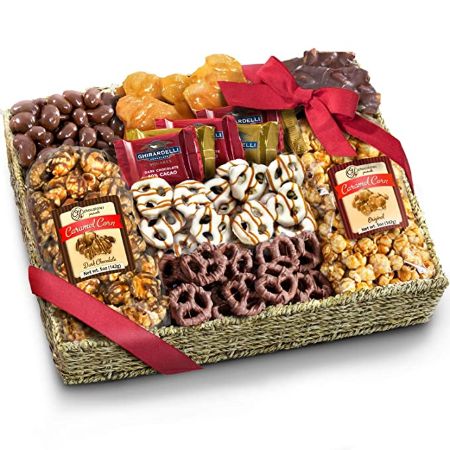 This sweet gift basket is the next best option when your other efforts aren't so effective. After all, they DO say that the way to a person's heart is through their stomach!
17. Apology Card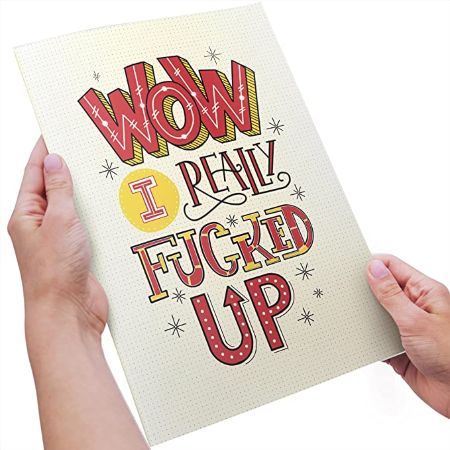 A simple card with a heartfelt message may be the key to your recipient's forgiveness. Plus, this card is huge and will allow you to write your heart out without worrying about limited space.
18. "Sorry I Was a Little" Tiny Bottle
Show that you're sorry for what happened with this cute bottle. This apology present will show that you value them and are genuinely trying to mend your relationship.
19. Beer Soap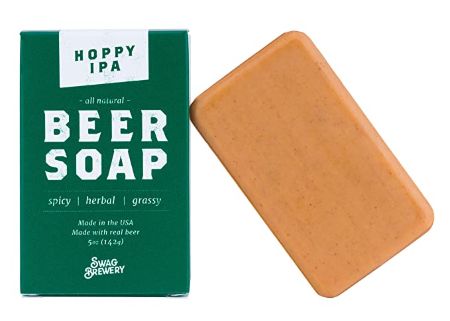 Give this natural beer soap for a one-of-a-kind apology gift. It may not be an explicit apology gift with the word "Sorry" on the package, but giving them a well thought-out present is a nice gesture.
20. Bullet Shot Glass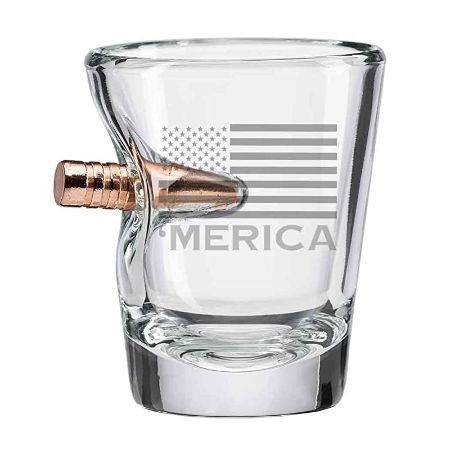 If you're looking for a novelty item that's also patriotic, then this shot glass is a fantastic apology gift. It's the perfect present for soldiers, technicians, carpenters, and anyone else who is proud to be an American!
21. Trinket Dish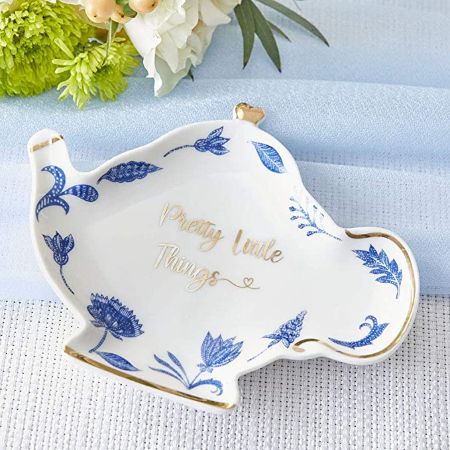 Does your recipient always misplace their things? This trinket dish will keep and organize their jewelry, keys, and change.
It will also lessen the possibility of future conflicts brought about by lost borrowed items.
22. Burt's Bees Classics Gift Set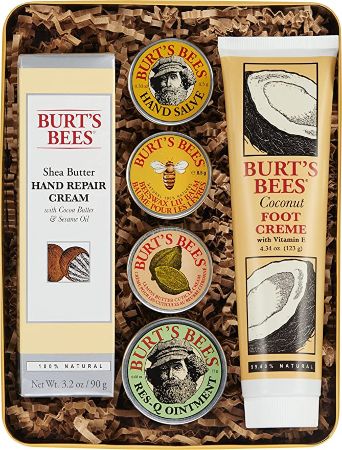 Pamper them with love and affection with this Burt's Bees classic gift set. The set includes products for a whole-body treatment such as a lip balm, hand salve, foot cream, and more!
5 DIY Apology Gifts
23. Bath Bomb Kit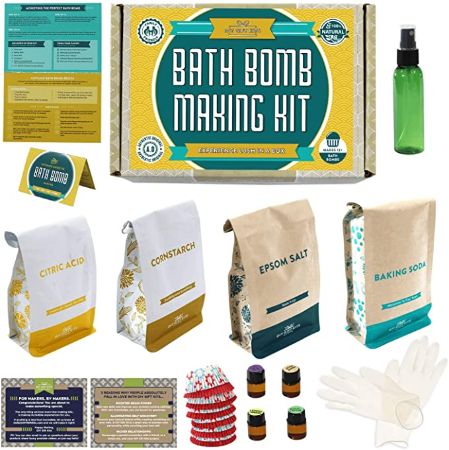 Bath bombs are essential for me-time since it helps in relaxation and moisturizes skin. With this set, you can create a specific bath bomb that will be suitable for your recipient's wants and needs.
The set comes with four essential oil scents such as lavender, lemon, eucalyptus, and grapefruit.
24. DIY Paper Message Pills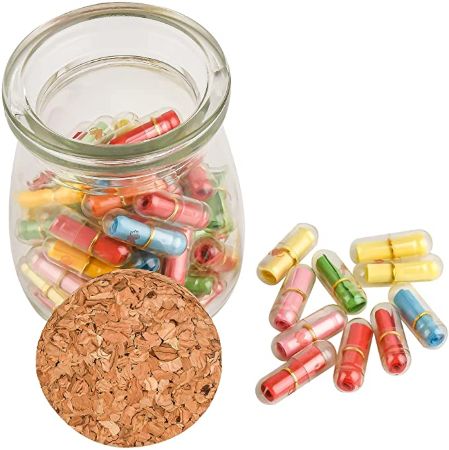 Handwritten letters are effective apology gifts since it shows that you put a lot of thought and effort into your gift. Write notes, quotes, and messages in these love capsules and you'll be forgiven in no time.
25. Craft Crush Paper Bowls Kit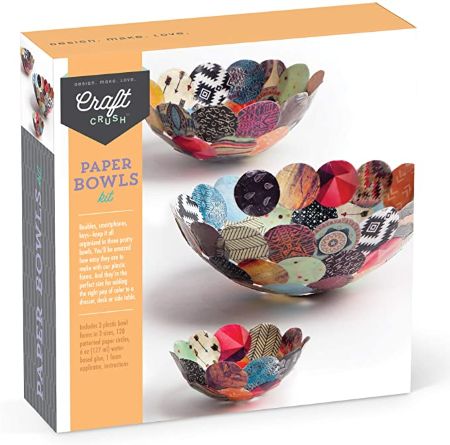 Show your artistic side by making a modern and decorative bowl. The set includes easy-to-follow instructions to help you create a wonderful art piece for your recipient.
Plus, it's a fun activity to do!
26. Cute Animal Painting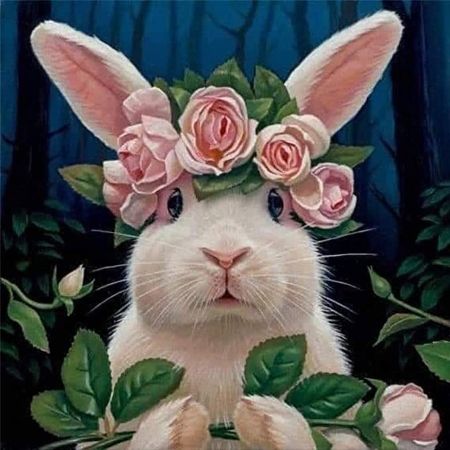 You don't need to practice for 10,000 hours to create a masterpiece like this. With this paint by numbers kit, anyone (even someone with zero experience in painting) can create a beautiful and stunning piece.
Not a fan of this adorable bunny? There are also flowers, sceneries, and destination kits to choose from!
27. Indoor Herb Garden Starter Kit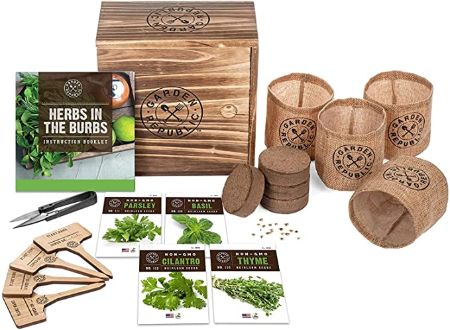 Does your recipient have a green thumb? This indoor herb starter kit will be a fantastic apology gift. Plus, plants symbolize new beginnings and wonderful life – the perfect gesture to say "I'm sorry."
Apology Gifts to Say You're Sorry
Apology gifts don't need to be expensive or extravagant. As long as you're sincere and learned from your mistakes, your recipient will welcome you in their life once again with open arms.
If you need more inspiration for the perfect way to apologize, check out these other gift lists:
Did I miss something you think would make an awesome apology gift? Share your tips in the comments below.